The latest on the coronavirus outbreak for Sept. 25
Canada signs deal to secure 20 million more COVID-19 vaccine doses, though none have proven successful yet
Canada has signed an agreement to secure another 20 million vaccine doses as the global race for a COVID-19 vaccine intensifies. During a news conference in Ottawa Friday, Prime Minister Justin Trudeau announced a deal with AstraZeneca on access to a vaccine prospect now being developed at Oxford University. As a result, the federal government has now secured access to six leading vaccine candidates. None of the candidates have been proven to work so far.
"We've been guided by science since the very beginning, and right now, both the COVID-19 vaccine task force and the immunity task force are doing important work to help us identify the most promising vaccine options and strategies," he said. There is no approved vaccine yet for COVID-19, though there are many in clinical trials and in development.
Public Services and Procurement Minister Anita Anand said the global market is intense and unpredictable. "Each supplier and therefore each negotiation is unique, with its own set of concerns," she said. "The resulting agreements contain terms specifying the quantity, the price, the anticipated delivery schedule, the manufacturing and finishing parameters for each vaccine. When a vaccine is ready, Canada will be ready."
The federal government already has reached vaccine agreements with Sanofi and GlaxoSmithKline, Johnson & Johnson, Novavax, Pfizer and Moderna, for a total of 282 million doses. Full payments to drug companies are contingent on the vaccines passing clinical trials and obtaining regulatory approval. Health Canada says it will review the evidence on safety, efficacy and manufacturing quality for each vaccine to determine if individual vaccines will be approved for use in Canada before they are made available to Canadians.
The government is also procuring equipment and supplies needed for vaccine manufacturing and packaging, as well as immunization equipment such as syringes, needles and alcohol swabs.
Trudeau also announced that Canada will provide $440 million to COVAX, a global procurement initiative meant to ensure fair, equitable and timely access to vaccines for less wealthy countries. "This pandemic can't be solved by any one country alone because to eliminate the virus anywhere, we need to eliminate it everywhere," Trudeau said.
Click below to watch more from The National
IN BRIEF
RCMP mask policy for bearded front-line officers 'must be rectified': Ottawa
The RCMP is facing accusations of discrimination because of a policy requiring front-line officers to wear properly fitting N95 respirator masks — something that might not be possible with a beard. Calls for a change in policy arose after some front-line officers with beards — including Sikh and Muslim RCMP members who leave their hair unshorn for religious reasons — were reassigned to desk duties over the mask issue.
On March 19, as Canada began dealing with the first wave of the COVID-19 pandemic, RCMP Commissioner Brenda Lucki sent out a directive outlining the use of respirator masks for front-line officers. Lucki said officers must ensure the respirator is sealed correctly, and "one of the most common causes of a breached seal is facial hair."
World Sikh Organization legal counsel Balpreet Singh said Thursday the move has resulted in some Sikh officers being removed from their front-line duties during the pandemic. "It's clearly a case of discrimination in that once again, Sikh officers are able to serve in the Canadian forces, were able to serve in different police forces, and there's been really no issue. The fact that this has been allowed to linger for almost six months without a resolution — to me, it points to a larger issue of not understanding the need to accommodate."
Public Safety Minister Bill Blair condemned the policy in a statement to CBC News on Friday. "All officers must be given equal opportunity to serve their community while practicing their faith. They must not experience discrimination based on religion," read an email from the minister's spokesperson. "The reports from the World Sikh Organization are concerning. It is essential for the RCMP to provide necessary personal protective equipment in a timely manner for Sikh officers. We have raised this matter with the RCMP, and expect that this be rectified as quickly as possible."
Ontario closes strip clubs, imposes tighter restrictions on bars and restaurants 
The Ontario government is implementing a number of new provincewide restrictions and public health measures aimed at curbing a surge in new cases of COVID-19.
"Over the past five weeks, Ontario has experienced an increase in the rate of new COVID-19 cases," the province said in a news release Friday afternoon. "Private social gatherings continue to be a significant source of transmission in many local communities, along with outbreak clusters in restaurants, bars, and other food and drink establishments, including strip clubs, with most cases in the 20-39 age group."
As a result, the government is taking the following measures:
Last call at bars and restaurants, including nightclubs, is 11 p.m. All strip clubs will be closed until further notice. Require all businesses and organizations to comply with the advice of Chief Medical Officer of Health Dr. David Williams, including screening people who wish to enter their premises for COVID-19 symptoms. The orders take effect at 12:01 a.m. Saturday.
The provincial government also said it will work with municipalities to ramp up enforcement of public health regulations.
Why stock markets are up 44% amid the worst economic contraction in history
The economy is in a ditch, and millions of Canadian workers still find themselves unemployed or underemployed compared with where things were before COVID-19. And still the stock market is posting some record gains.
"It's surprising how quickly they came back," Robert Kavcic, senior economist at the Bank of Montreal, said of the markets. In March, stocks crashed. They fell so steep and so far that many assumed it would take years to rebound. In the end, the stock market recovery took just 150 days. Since it bottomed out on March 23 of this year, the broadest marker of the U.S. stock market — the S&P 500 — is up 44 per cent. So, what gives?
It's always important to remember that the stock market is not the economy. Stocks are meant to reflect the future value of a given company's stock, not the state of Main Street today. Kavcic said the sharp rise in equities shows how the pandemic has hit different sizes of businesses in different ways. For the most part, the big fish are doing OK, but the little ones are hurting.
"If you look where most of the economic damage was, it was and still is in smaller businesses and Main Street-type businesses that don't necessarily trade on the equity market," Kavcic said. "You don't have a hair salon or a restaurant trading on the Nasdaq." And yet, he said, digital companies such as Netflix, Cisco and Microsoft have fared incredibly well. And those are the companies driving stock market gains.
Stay informed with the latest COVID-19 data from Canada and around the world.
THE SCIENCE
Black Canadians get sick more from COVID-19. Scientists aim to find out why
Race-based data shows that Black Canadians are far more likely to get sick and be hospitalized for COVID-19 than other ethnic groups. A new study looking at antibodies in the blood of Black Canadians aims to understand the reasons in an effort to reduce the impact of the disease on Black communities.
The study is being led by Dr. Upton Allen, chief of infectious diseases at the Hospital for Sick Children in Toronto. He says the data shows that across North America, Black communities are disproportionately affected by the pandemic, according to data from cities such as Toronto and Ottawa, and organizations such as the Edmonton-based African Canadian Civic Engagement Council and the Innovative Research Group.
In Toronto, for example, data from May 20 to July 16 found that Black patients made up 21 per cent of COVID-19 cases, even though they were only nine per cent of the population. "What is less clear in the Canadian context is why?" Allen said. "We suspect that it has to do with the types of exposures that people have. However, we really need the data to substantiate that."
Researchers suspect that a number of risk factors might play a role: the work that people in the communities do, including how many are front-line workers and how many work several different jobs at different locations to make ends meet; living conditions, such as crowded, multigenerational homes; and pre-existing medical conditions that can increase risk, such as obesity and diabetes, which are often associated with poverty.
In order to find out if that's the case, the study will be recruiting 2,000 Black Canadians and 1,000 non-Black Canadians from across the country, including both adults and children over two years old. Participants will answer a questionnaire and do a blood test.
The study aims to show: the extent to which certain communities are protected by "herd immunity"; the biggest risk factors in certain communities; and opportunities for support, such as providing a place for infected people to self-isolate.
AND FINALLY…
Royals facing $60M Cdn hit as pandemic drags tourism numbers down
Queen Elizabeth and her family are facing a 35-million-pound ($60 million Cdn) hit from the coronavirus pandemic, partly due to a shortage of tourists, the monarch's money manager said Friday.
Releasing the royal household's annual accounts, Keeper of the Privy Purse Michael Stevens said a lack of income from visitors to royal buildings was likely to bring a general funding shortfall of $25.6 million Cdn over three years. He said the impact of the pandemic is also likely to cause a shortfall in a 10-year program to replace antiquated heating, plumbing and wiring at Buckingham Palace, the Queen's London home. Officials have said the palace's aging infrastructure, which had its last major upgrade after the Second World War, is at risk of a catastrophic failure if it's not replaced.
Stevens said the royal household would not ask for more government money but would "look to manage the impact through our own efforts and efficiencies."
Source:- CBC.ca
Canada sees 3,069 new coronavirus cases as total infections top 890K – Global News
Canada added 3,069 new cases of the novel coronavirus on Monday, pushing the total number of infections in the country to 890,703.
Health officials also said another 31 people have died after contracting COVID-19, meaning to date, the virus has claimed 22,276 lives in Canada.
However, since the disease was first detected, 838,095 people have recovered after falling ill.
In a series of tweets on Monday, Canada' top doctor Theresa Tam said Canada continues to "make progress with overall declines in severe illness and deaths."
"But the decline in case counts has slowed and #VariantsOfConcern are increasing so we need to remain vigilant," she wrote.
[ Sign up for our Health IQ newsletter for the latest coronavirus updates ]
According to Health Canada, as of March 7, a total of 2,039 cases of the variants of concern had been reported across Canada.

0:48


Ontario is seeing 'significant increase' in number of coronavirus variants



"We've got what it takes to keep these variants down — public health measures + individual precautions — and as #COVID19vaccines continue to roll out, our future keeps looking brighter," Tam wrote.
"Let's hold on together to not give these variants an inch."
So far, more than 2.5 million COVID-19 vaccines have been administered across Canada, meaning approximately 3.26 per cent of the country's population has now been inoculated.
While Canada's vaccine rollout has been slow, the federal government has repeatedly stated that all Canadians who want a COVID-19 vaccine will have access to one by the end of September.
New cases, deaths
In Ontario, 1,631 new cases and 10 new deaths were reported, while Quebec added 579 new infections and nine more fatalities.
Meanwhile, health officials in Saskatchewan said 97 more people have contracted the illness and one more person has died.
In Manitoba, 63 more people have tested positive for COVID-19, while also reporting one additional death.

1:20


Coronavirus: Manitoba's top doctor says positive tests being screened for variants



In Atlantic Canada 10 more people have tested positive for COVID-19.
Five new infections were reported in New Brunswick, while health authorities in Newfoundland and Labrador said three more people have fallen ill.
Prince Edward Island officials said two new cases were detected in the province.
None of the Maritime provinces or Newfoundland and Labrador reported any more fatalities on Monday.
In western Canada, hundreds of new cases were detected.
British Columbia added 385 new infections and four new fatalities, while health officials in Alberta said 304 more people have fallen ill. Six more deaths have occurred since Saturday in Alberta as well.
No new cases or deaths were reported in any of Canada's northern territories.
Global cases top 117 million
The total number of COVID-19 cases around the world topped 117 million on Monday.
According to the latest tally from Johns Hopkins University, a total of 117,055,507 people have been infected with the virus globally.
Since the coronavirus was first detected in Wuhan, China in late 2019, it has claimed 2,597,213 lives, according to Johns Hopkins.
The United States has reported the highest number of cases at 29,030,476. The country has also seen the most fatalities associated with COVID-19, with 525,541 to date.
© 2021 Global News, a division of Corus Entertainment Inc.
U.S. issues advice to those fully vaccinated, but no shift in Canada yet – CTV News
New U.S. guidelines say people fully inoculated against COVID-19 can drop some precautions when gathering with others, but at least two provincial health ministers say existing public health advice holds for now.
The Centres for Disease Control and Prevention said Monday that Americans who have waited two weeks since their second required shot can spend time with other immunized people indoors without masks or social distancing.
The same applies to gatherings by those at low-risk of severe disease, such as fully vaccinated grandparents visiting healthy grandchildren.
The U.S. guidelines recommend that fully vaccinated people continue to wear masks, avoid large gatherings and physically distance when in public.
British Columbia Health Minister Adrian Dix said Monday that physical distancing and other public health guidelines will be around for some time.
He said about 15 per cent of B.C.'s eligible residents are expected to be immunized by the end of the month, which is "nothing like herd immunity."
"The future is bright, but we can't live the future right now. We've got to live the now right now."
Dix does expect visiting restrictions to be loosened in B.C.'s long-term care homes this month as about 90 per cent of residents and staff have been vaccinated.
University of Alberta infectious diseases specialist Dr. Lynora Saxinger said evidence on which the U.S. health agency based its advice is "very much in evolution" and such recommendations might not work everywhere.
Virus variants with the potential to break through vaccine protection are also a "wild card," she said.
But Saxinger said the principles underlying the U.S. guidance make sense, especially since the initial vaccine rollout has targeted older individuals, many of whom have been kept away from their grandchildren for almost a year.
"They're basically taking a balance-of-probabilities approach to say that if you've received vaccine, you should be highly protected against severe disease. Therefore this should be hopefully OK."
Ontario Health Minister Christine Elliott said her province is still recommending people take precautions with gatherings and will take its cues from the National Advisory Committee on Immunization.
Ontario reported 1,631 new cases in its latest update, but said the higher-than-expected count was due to a system "data catch-up." The seven-day average for new cases was at 1,155.
There were also 10 more deaths linked to the novel coronavirus.
Ontario lifted stay-at-home orders in Toronto, Peel Region and North Bay on Monday — the last three regions subject to the government's strictest measures introduced two months ago.
Alberta also loosened some rules for banquet halls, community halls, conference centres, hotels, retail shops, performances and post-secondary sports, as hospitalizations stayed well below the provincial target of 450.
Health Minister Tyler Shandro said he believes it is safe enough to immediately ease more restrictions
The province reported 278 new cases of COVID-19 and six additional deaths. Six cases of the more contagious variant were also detected, bringing that total to 659. There were 254 people in hospital.
And residents in five regions of Quebec, including the capital, were again able to eat in restaurants and work out in gyms.
Restrictions remain in place in the Montreal area due to fear that variant cases will cause a spike in infections and hospitalizations.
Quebec reported 579 new cases in its update. New daily infections had been above 700 for the five previous days. The province also recorded nine more deaths.
All of New Brunswick shifted to a lower pandemic response level Monday. That means a circle of 15 regular contacts can socialize, up from 10. The Atlantic province had five new cases and 36 active ones.
Saxinger said a "judicious and slow" reopening is the safest approach.
She noted that many countries have seen their case counts come down, but the proportion of more contagious variants is higher, planting the seeds for a spike.
"We know that it's possible that the variants can be responsible for another surge, that a variant surge is harder to contain and you need longer and more stringent restrictions to contain them."
Also Monday, Prime Minister Justin Trudeau announced that Thursday will be a "national day of observance" to commemorate the 22,000 people in Canada who have died from COVID-19 and to acknowledge all the ways the virus has changed our lives in the last year.
This report by The Canadian Press was first published March 8, 2021
The latest news on COVID-19 developments in Canada for March 8 – The Tri-City News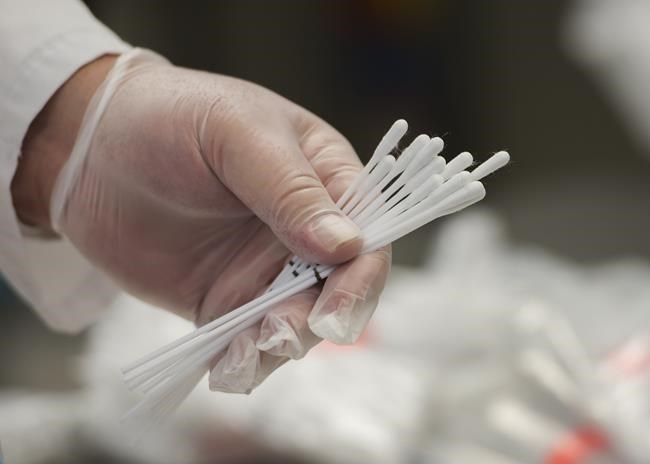 The latest news on COVID-19 developments in Canada (all times Eastern):
6:35 p.m.
Alberta is reporting 278 new cases of COVID-19 and six additional deaths.
The province says six cases of a more contagious variant have also been detected, bringing that total in Alberta to 659.
There are 254 people in hospital, with 36 of them in intensive care.
Health Minister Tyler Shandro says he believes it's safe enough to immediately lift some more public-health restrictions.
—
6:30 p.m.
Alberta is lifting more COVID-19 public-health restrictions, including allowing more people to shop in retail stores and malls.
Health Minister Tyler Shandro says the retail limit is increasing to 25 per cent capacity from 15 per cent.
He says banquet halls, community halls and conference centres can open for meetings, while weddings of up to 10 people and funeral services with a maximum of 20 people are allowed.
Lessons and practices for youth and post-secondary sports can go ahead with a cap of 10 participants.
And there can be rehearsals and performances — without an audience and confined to 10 people — for youth and adult dance, singing and theatre activities.
—
6:15 p.m.
B.C. is reporting 11 more deaths and 1,462 new cases of COVID-19 over the last three days as the death toll in the province nears 1,400.
Provincial health officer Dr. Bonnie Henry says more than 4,800 cases are active, including 240 people hospitalized with the illness.
She says 144 more cases of variants of concern have been detected in B.C. for a total of 394, of which 87 cases are active.
There have been 333,327 doses of COVID-19 vaccine administered in B.C., including nearly 87,000 second doses.
—
4 p.m.
Prince Edward Island is reporting two new cases of COVID-19 today.
Health officials say the new cases involve two men in their 20s.
They say one man recently travelled outside Atlantic Canada and the other is a close contact of a previously reported infection.
P.E.I. has 28 active reported cases of COVID-19.
—
3:05 p.m.
Saskatchewan is reporting 97 new cases of COVID-19 and two more infections caused by a more contagious variant.
Health officials say a provincial lab confirmed two additional cases of the variant first detected in the United Kingdom in the Regina area.
The ministry also confirmed a previously reported presumptive case to be the B.1.1.7 variant.
To date, Saskatchewan has seen nine cases of variants of concern.
—
3 p.m.
Quebec is announcing it will not follow recommendations from Canada's national vaccine expert panel regarding the newly approved Oxford-AstraZeneca vaccine.
The province said today in a news release its provincial vaccine expert committee is recommending that all approved doses be used immediately — particularly for people in their 70s — to reduce death and hospitalizations.
Canada's National Advisory Committee on Immunization has said the AstraZeneca vaccine is not recommended for people aged 65 years and over because of insufficient data.
Quebec says the fact the AstraZeneca vaccine doesn't need to be kept frozen will help officials conduct more mobile vaccinations campaigns and reach patients at home.
—
2 p.m.
Ontario's health minister says people won't be asked to provide proof of their pre-existing health conditions to access a COVID-19 vaccine during the second phase of the rollout.
Christine Elliott says she believes most people will come to the clinics when they are permitted and not take advantage of the honour system.
The vaccine will be offered starting in April to people with specific health conditions like organ transplant recipients, those living with obesity and those receiving treatments that suppress the immune system.
Elliott says local public health units will screen people as they arrive at the clinics and may be able to check with a person's family physician, but that will not be mandatory.
—
1:35 p.m.
New Brunswick is reporting five new cases of COVID-19 today.
Two cases in the Moncton region involve people in their 20s and are travel-related.
The other cases are in the Miramichi area and are linked to a previously reported infection.
There are currently 36 active reported cases in the province and three people in hospital with the disease, including one in intensive care.
—
1:35 p.m.
Manitoba is reporting 63 new COVID-19 cases and one death.
On a per capita basis, the northern part of the province continues to be hardest hit.
—
12:55 p.m.
Manitoba is expanding its vaccination program again.
The minimum age to book an appointment for the general public is being dropped by five years — to 60 and up for First Nations people and 80 and up for all others.
—
12:45 p.m.
Newfoundland and Labrador is reporting three new cases of COVID-19.
Health officials say all three cases involve close contacts of previously reported infections.
The province has 84 active reported cases and three people in hospital with the disease.
Newfoundland and Labrador has reported a total of 1,009 COVID-19 cases and six deaths linked to the virus.
—
12:15 p.m.
Prime Minister Justin Trudeau says March 11 will be a "national day of observance" for the COVID-19 pandemic.
The day is meant to commemorate the 22,000 people in Canada who have died from the disease and to acknowledge all the other ways lives have changed over the past year.
In a statement, Trudeau says that includes kids' missed birthday parties, seniors' increased isolation, lost jobs and failing businesses.
The day is also meant to honour workers in health care and other essential front-line services.
—
12 p.m.
Nova Scotia is reporting no new cases of COVID-19.
Health officials say the province has 24 active reported infections.
Two people in the province are in hospital with the disease, including one in intensive care.
Nova Scotia has reported a total of 1,659 COVID-19 cases and 65 deaths linked to the virus.
—
11:45 a.m.
Ontario is reporting 1,631 new cases of COVID-19 and 10 more deaths today.
The province says the daily case count is higher than expected due to a "data catch-up process" in its system.
No other details about the issue have been provided.
The province has lifted its stay-at-home order in Toronto, Peel Region and North Bay, the last three regions where it was still in effect.
—
11:05 a.m.
Quebec is reporting 579 new cases of COVID-19 as well as nine additional deaths due to the illness.
None of the deaths occurred in the past 24 hours.
Hospitalizations declined by two to 590, with 108 people in intensive care, which is one more than a day earlier.
The province administered 15,249 doses of vaccine Sunday, bringing the total to 564,302.
—
This report by The Canadian Press was first published March 8, 2021
The Canadian Press