The politics of the necktie — 'colonial noose', masculine marker or silk status symbol? – The Conversation AU
Neckties made global news last week when Maori MP, Rawiri Waititi, was ejected from the debating chamber of New Zealand Parliament. He refused to wear a tie, evocatively describing it as a "colonial noose".
It wasn't that Mr Waititi eschewed neckwear. Rather, he explained that the traditional hei tiki — the greenstone pendant he wore instead — represented for him both a necktie and a tie to his people, culture and Maori rights.
In the intense debate that followed, ideas around acceptable business attire — long based on Western dress codes — were questioned against the expression of Indigenous cultural identity. Ties are now no longer required as part of men's "appropriate business attire" in the NZ Parliament.
In Australia, Members of Parliament were allowed to ditch the necktie in 1977 when safari suits were officially considered business attire. Since then, however, Parliament House dress standards have informally shifted, with our male politicians uniformly donning ties in the chamber.
Ties have been tangled up in controversy here as in New Zealand. This narrow strip of fabric has many meanings for its wearers.
---


Read more:
The tie that binds: unravelling the knotty issue of political sideshows and Māori cultural identity


---
From throat to groin
Shells, feathers, gold and fabrics have adorned people's necks for millenia. The origin of the necktie is most commonly traced to 17th century Croatian mercenaries who wore cloth around their necks. One purpose was to protect the neck from the sword's blade.
Cravats, draped or tied in bows, and "stocks" — a stiffened cloth that tied at the back of the neck — were worn in Europe for subsequent centuries, and by Australia's early colonial administrators. They were made from lace, linen, silk and muslin.
The bow tie and the necktie — in a form recognisable today — were increasingly visible in the 19th century.
The tie's symbolism attracts especially heated discussion around the styling of the masculine body. While the suit jacket creates a v-shape from the shoulders to the waist, the tie draws the eye from the throat to the groin — in the same way, some argue, as the codpiece did.
It has been suggested that this "overcompensation" explains former US President Donald Trump's preference for long neckties, with one observer comparing them to the codpiece.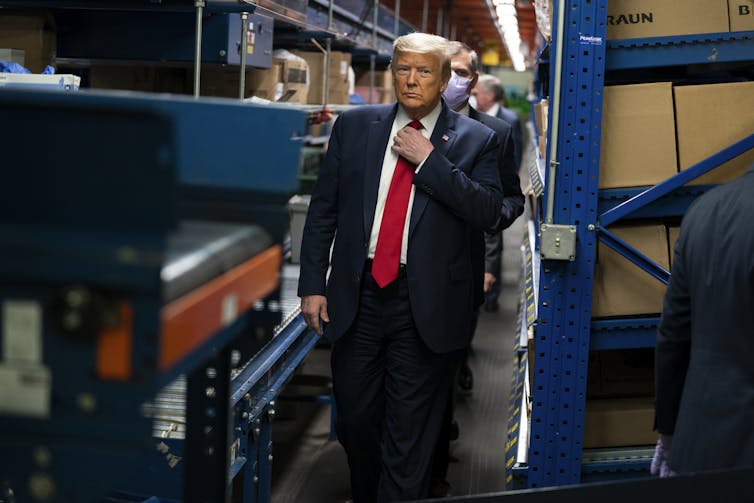 ---


Read more:
Research Check: do neckties reduce blood supply to the brain?


---
Tie-wearing in Australia
When Captain James Cook landed on Australian shores, he was dressed in uniform with linen tied at his neck — or so many paintings suggest.
Early administrators, too, wore crisp, clean neckwear, while convicts had a neckerchief issued as part of their uniform.
Influential Aboriginal people, meanwhile, were sometimes presented with a breastplate to be worn around the neck.
Artist S. T. Gill illustrated life on the Victorian goldfields in the 1850s, with some of his hard-working diggers tying handkerchiefs around their necks. But the wastrels and dandies he drew splurged on flash clothing including vividly-coloured silk cravats worn with gold pins in the style of gentlemen.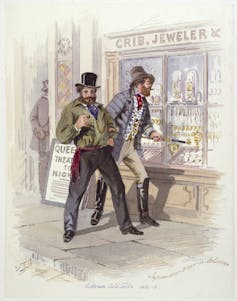 In the early 20th century, as manual workers removed their jackets and ties, wearing a three-piece suit and necktie become shorthand for authority and professionalism.
As the business suit became a menswear staple at the turn of the 20th century, the popularity of ties skyrocketed. In 1950, when Sydney's Sun newspaper published the Everyman's Ideal Wardrobe, the extensive list recommended 18 ties alone.
However suits and ties were hot, if not oppressive, as Australia's climate "dress reformers" insisted. When Ray Olson photographed David Jones' new season fashions in 1939, he captured two men in contrasting attire walking along a city street.
One wore a fashionable double-breasted suit, jaunty hat and close-fitting tie. The other was dressed in a short-sleeved shirt — without a necktie — and tailored shorts. Radical for the time, this look was adopted decades later, with South Australian Premier Don Dunstan leading the charge on relaxed dress standards.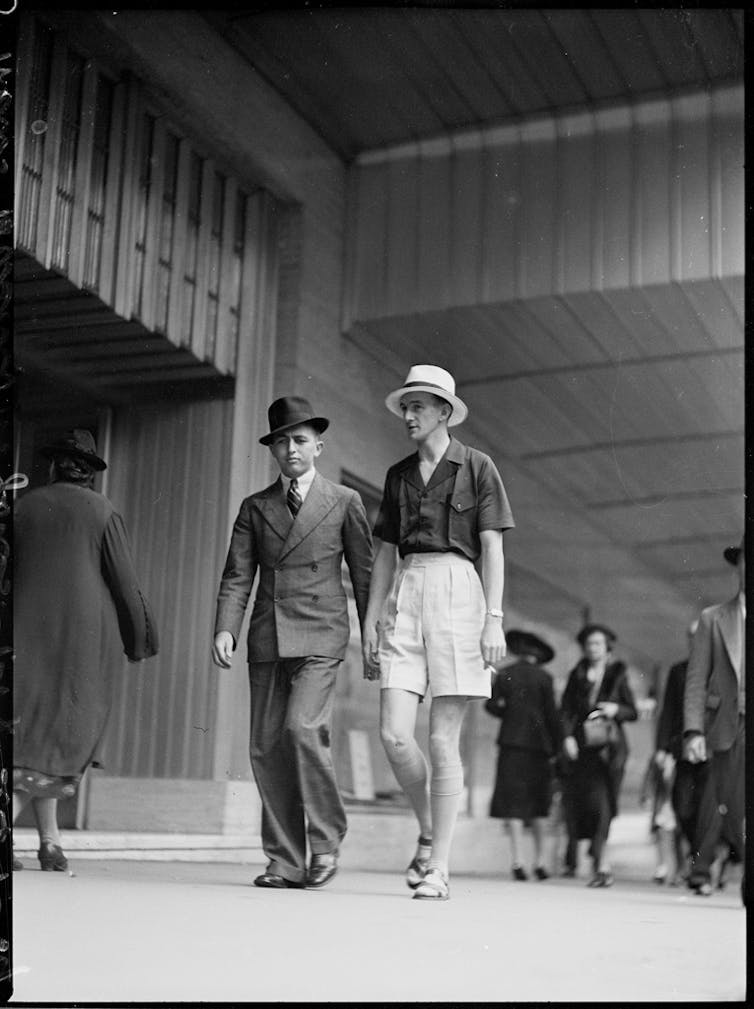 In 1967, The Bulletin described Dunstan's ensemble of shorts, long socks and a short-sleeved shirt worn without a tie as a "summertime example" for government and bank employees.
Skinny, wide, loud or patterned
As attitudes to ties have transformed across decades, styles have gone in and out of fashion. The skinny tie popularised by bands such as the Beatles in the 1960s was favoured by young Australian mods.
The wide tie, too, has had its moments. In the 1970s, loud, wide patterned ties were the height of fashion. For flamboyant politician Al Grassby, wearing wide colorful ties signalled a move to "a new colorful Australia".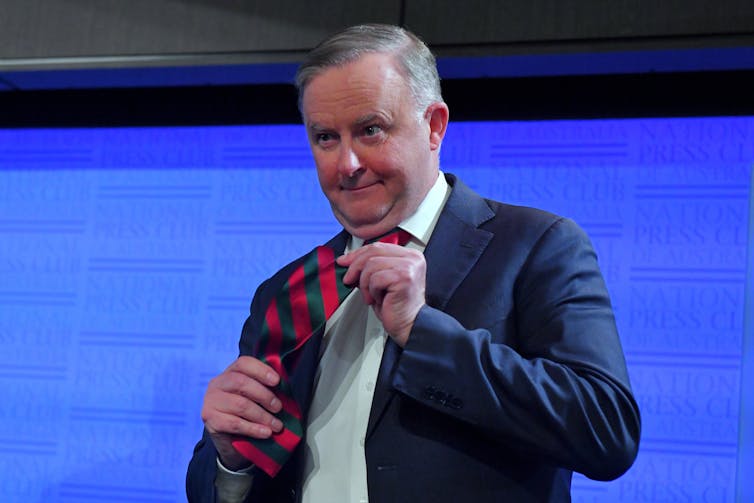 ---


Read more:
A scarf can mean many things – but above all, prestige


---
These days politicians might wear certain colours to mark their allegiance: the coalition has a widely commented on preference for blue, for example, though this isn't always evident.
Minister for Indigenous Australians Ken Wyatt often chooses a necktie with an Indigenous design to signal his heritage.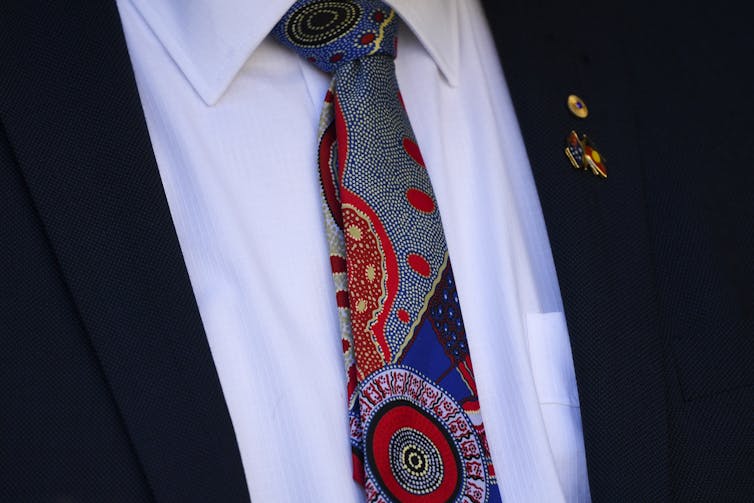 Ties do many things. Though they express identity, they can just as readily act as a "uniform" for their wearers. They give power to some, while taking it from others. Does Rawiri Waititi's criticism of the "colonial noose" suggest Australia, too, might be heading towards a reckoning with the tie's place in our history?
COMMENTARY: Gas-price politics, from British Columbia and beyond – Globalnews.ca
If you're fed up with high Canadian gas prices, you can at least be grateful that you don't live in British Columbia.
Unless you do live in B.C. In that case, then go ahead and be mad as hell.
British Columbians are once again experiencing particular pain at the pumps as rising oil prices drive up the cost of gasoline.
It's an extra-nasty case of gas-fuelled road rage in B.C., home to North America's highest gasoline taxes.
How does the taxman sock it to B.C. drivers? Let us count the ways.
There's the B.C. carbon tax, once fiercely opposed by NDP Premier John Horgan.
When he was on the opposition benches, Horgan used to rail against the burden of the provincial carbon tax on B.C. families. Now the tax has risen steadily on his watch, with further increases set to kick in.
There's also the B.C. Motor Fuel Tax. And the B.C. Transportation Financing Authority fuel tax. And Metro Vancouver's TransLink fuel tax.
Ottawa takes a cut, of course, courtesy of the federal fuel excise tax.
Don't forget the sour cherry on top: the federal GST, charged on the entire gas purchase, including all the other taxes.
Add it all up and Metro Vancouver drivers are getting hosed at the gas pump, creating a recurring political problem for Horgan and his B.C. government.
Now that he's a convert to the carbon tax, you might think Horgan would be pleased that high gas prices would discourage the use of polluting vehicles.
But Horgan has walked a political tight rope, jacking up the punitive carbon tax while griping about high gas prices at the same time.
His theme: Don't blame me, blame greedy oil companies.
"This is not a tax question, it's a gouging question," he said. "This is not about taxation."
To drive the point home, the Horgan government recently passed a law forcing oil companies to reveal secret price-setting data.
Stopping short of government regulation to cap B.C. gas prices, the Horgan government instead said it would shame the oil companies into lowering prices themselves.
But the oil companies are fighting the forced disclosure of their corporate secrets. Now the dispute is snaking its way through the courts, while British Columbians are left paying sky-high gas prices.
Gas-price analyst Dan McTeague said B.C.'s strict low-carbon fuel standard — mandating cleaner-burning gas — also drives up B.C. fuel prices.
"All told, adding up all the government regulations and taxes, you're looking at about 62 to 63 cents a litre in B.C.," he said.
McTeague has had a fascinating career as a one-time MP who transformed into a fierce critic of Prime Minister Justin Trudeau and his Liberal government's energy policies.
"I'm a former Liberal MP, with the emphasis on 'former,'" he understated, revealing that the federal Conservatives unsuccessfully courted him to run in the last election.
Now, McTeague is closely watching the fortunes of the Conservatives under new party leader Erin O'Toole.
O'Toole is under pressure to steer his party toward the middle of the political spectrum by adopting more environmentally friendly energy policies.
That includes the astonishing possibility that O'Toole might endorse a federal carbon tax, after years of slamming Trudeau's federal tax.
If O'Toole does back a national carbon tax — especially with gas prices already spiking — McTeague thinks it would be a political disaster for the Conservatives.
"Trying to mimic the federal Liberals in the next election will get him zero votes — it will cost him votes instead," McTeague said.
"I think it would be a fatal mistake for Mr. O'Toole. If he does that (promise a federal carbon tax), his time as leader of that party would be nasty, brutish and, of course, short."
Mike Smyth is host of 'The Mike Smyth Show' on Global News Radio 980 CKNW in Vancouver and a commentator for Global News. You can reach him at mike@cknw.com and follow him on Twitter at @MikeSmythNews​.
© 2021 Global News, a division of Corus Entertainment Inc.
On a frozen Minnesota lake, political antagonisms melt away – CNN
In my years wandering the upper heartland, I've found that when you want to hear what people think, there are few more target-rich environments than an ice-fishing lake. Ninety-five percent of the sport involves sitting, drinking and talking. On a good day, you catch more new friends than fish.
But these have not been good days. In the 30 years since I covered sturgeon spearing for a tiny TV station in Minnesota, the United States has become is a lot less united. Covering the
presidential election and inauguration in neighboring Wisconsin
included more ply-wooded windows, body armor and "no comments" than I ever thought possible in my home state.
Walking out on Lake Minnetonka, I was worried. But it wasn't 25 paces before a friendly couple walking huge dogs walked over and melted the worry with Midwestern warmth.
"Everybody should be loving each other," Leah Beamish told me as she played tug-o-war with Huxley. "There doesn't need to be this …" she shook her head at the ice. "So divided. So divided."
But as I walked from hole to hole, Northern pike to bluegill, Democrat to Republican, they all seemed united against disunity. "There's no common ground anymore," Tim Delaney said. "And everyone's so angry about it. I think we're just tired."
'People are a lot more optimistic'
Minnesota is understandably tense these days. Up north, they are bracing for a Standing Rock-sized standoff over
the controversial Enbridge Line 3
oil pipeline. Down in the Twin Cities, concertina wire winds around civic buildings as they brace for the start of
the George Floyd murder trial
. And in every town in between,
the Covid-19 pandemic
is met with varying degrees of fear, loathing and pent-up frustration.
In this blue suburb of Minneapolis however, where families perched on buckets fish in front of the frozen front yards of million-dollar homes, there is some cautious relief. "I'm really happy with our new President," said Cindy Garin, a 63-year-old health care worker, said as she described her first vaccination and plans for a Florida escape. "I think things are getting better … and I think people are a lot more optimistic."
But Ben Calvert, 27 and at college to become a wrestling coach, is fast losing faith with Democrats given that they are in charge in the White House, the Senate and the House. "A lot of my friends are really frustrated because they were like, 'We've got to elect these two senators in Georgia! We've got to get Joe Biden in office and then everything's going to be better! It's not a $1,400 dollar check, it's $2,000 checks,'" Ben said, making gloved air quotes.
"But now, they're putting that stimulus check and minimum wage hike on the back burner while they're dropping bombs in Syria. And those bombs are kind of expensive for a dude who owes me $2,000."
Calmer criticism
Ben's father, Valdo, has more patience for the new President but told me, "I don't see it smooth sailing for Biden. I see it always going to be about obstructionism, but at least it's more calm." And like so many others on the lake frustrated by American disunity, the retired Forest Service emergency manager wonders how to unite with true believers of
conspiracy theories like QAnon
.
His son nods in agreement. "I grew up wrestling and playing sports. You get liberal people, you get conservative people, but we all got along. Now those guys aren't my friends anymore because I know what they really think," Ben told me. "Maybe it's not who they are in their heart, but can you hang out with someone who's like, 'I think it would be a good thing to assassinate the sitting [Speaker of the House.]'"
But just a short, fragrant stroll away, barbecue smoke master Tim Delaney described his desire to replace Nancy Pelosi with Donald Trump.
"What if Trump ran for Congress, right?" Tim said, waving a silver tallboy. "And then we took the House and we took the Senate and then he could impeach the President and Vice President. He would be president for the next two years plus then he would be reelected for another four. Good idea?"
Laughter overcomes politics
None of his friends thought it was a good idea. As far as I could tell, they were all Democrats who obviously believed in the peacekeeping mantra repeated to me by Leah's husband Kevin Beamish as we walked on to the lake. "It's the old story," he smiled. "Don't talk politics or religion with friends and family."
I don't have that luxury, and the energy shifted noticeably when I strolled over with camera and asked, "How's everybody feeling after the election?"
"We don't go there," Tim said before going there. And while he joked that his burst of MAGA honesty might spoil the barbecue brotherhood, the laughs proved the opposite.
I walked out onto Lake Minnetonka braced for icy suspicion and dread, but I walked off with a stomach full of barbecue and hope. I'll take it.
CORRECTION: An earlier version of this story misstated the first name of Leah Beamish's husband. His name is Kevin.
Politics and the public good – Gazette
The ongoing provincial election is unusual in more ways than one.
But faculty members from the Department of Political Science at Memorial are helping voters make sense of the situation through public engagement.
Dr. Kelly Blidook, an associate professor in the department, made a video explainer to help people understand Newfoundland and Labrador's current political circumstances.
A question from anti-poverty advocate Dan Meades prompted Dr. Blidook to make the video, he says.
"There wasn't anything out there that kind of captured the whole thing," he said, adding that interviews with media can be piecemeal because they are usually reactionary and focused.
With the video, he hopes to provide a beginners' overview of the situation.
"I tried to think of it as a regular lecture for an introductory level class, or even for a high school class," Dr. Blidook said. "It was meant to bring together a lot of different ideas and try to figure out what the best path is."
Watch the video below.
[embedded content]
Sharing expertise
The video is one of several ways that he is contributing to public discourse about the election, which moved to mail-in ballots only when the province went into another pandemic-related shutdown in mid-February.
Dr. Blidook is also a regular commentator for CBC. He also does interviews with other media outlets and contributes to conversations online via Twitter.
"Academics, in Canada at least, are significantly funded by the public," Dr. Blidook said.
Writing books and articles is one way he and his colleagues provide a public good, he says, but most people won't read them. Social media and media interviews are a way to share knowledge and spur conversation in real time.
Department-wide contributions
Dr. Blidook is one of several instructors and faculty members in the department who are sharing their political science expertise with the public.
Dr. Amanda Bittner also does regular media interviews and appearances, and shares insights and expertise on social media.
"This election is tough to navigate — both as a "regular" citizen and an expert on elections and voting," Dr. Bittner said.
She says she values the behind-the-scenes conversations she has with colleagues as they try to make sense of both the election and what it means for the province.
Some of those Political Science colleagues are having conversations with the public, too. Dr. Russell Williams uses social media to engage on the election and also does regular media interviews.
And along with lawyer Lyle Skinner, his colleague Dr. Alex Marland helped with Dr. Blidook's video content.
"I'm grateful to my colleagues for sharing their expertise on social media and in traditional media interviews," Dr. Bittner said.
A positive response
Dr. Blidook says the response to his video, which he uploaded to YouTube a week ago, has been largely positive so far.
The 22-minute video has almost 600 views and sparked discussion on Twitter. In the meantime, Political Science faculty and instructors continue to do media interviews as the election continues.
Amid the ongoing discussion, Dr. Bittner says that nobody has a crystal ball for the province's future. But she hopes the importance of planning and preparation is one takeaway from the "pandemic" election.
"We have much to learn from this. It is my hope that on a go-forward basis, we take political processes more seriously in the province."
Terri Coles is a communications advisor with the Faculty of Humanities and Social Sciences. She can be reached at tcoles@mun.ca.