The Top 10 Art Exhibitions to See in 2020 – Financial Post
(Bloomberg) — The remarkable thing about major museum shows is that they can transcend the objects themselves to become global cultural phenomena. You might not be in Paris for the Louvre's record-breaking Leonardo da Vinci show (on now through Feb. 24), but you'll certainly have heard of the waiting list, not to mention the multiple controversies.
So while you may not be in New York in March, Paris in May, or Madrid in October, we've compiled a list of what should be the biggest and/or most influential shows of the year.
Check them out in chronological order. Or wait a few months, and they'll be clogging your social media feeds on their own.
"Furusiyya: The Art of Chivalry Between East and West" at the Louvre Abu Dhabi
Feb. 19–May 30In a textbook example of what the two year-old Louvre Abu Dhabi set out to achieve, a sweeping show of more than 130 historic objects from France, Iraq, Spain, and Syria will tell the story of knighthood in the medieval ages. The artworks have been culled from a series of French museums including France's national museum of the Middle Ages in Paris, the Musée de Cluny, and they combine objects in the permanent collection of the Louvre Abu Dhabi. Expect lots of swords.Louvre Abu Dhabi, Saadiyat, Abu Dhabi
"Gerhard Richter: Painting After All" at the Met Breuer
March 4–July 5Richter is a fantastically interesting artist who, through no fault of his own, has principally become known for the prices his art achieves at auction. In 2015 a very large abstract work he painted in 1986 sold for $46.3 million at Sotheby's in New York. But once you move past the prices (the highest of which, not incidentally, go to some of his most boring paintings), you'll discover one of the 20th century's most interesting painters. His art manages to blur the lines between photography and painting to evoke memory, loss, and repression. Now, 100 works, which comprise Richter's first major U.S. show in more than 20 years, will allow viewers to see his genius for themselves. The Met Breuer, New York
"Niki de Saint Phalle" at MoMA PS1
April 5–Sept. 7Saint Phalle, who was born in 1930 and died in 2002, was something of a late bloomer. She didn't start to make art professionally until she was in her 30s, after her first career as a model ended. She quickly became famous for her ebullient sculptures of flying women, Gaudi-esque architectural monuments, books, paintings, jewelry, and women's- and LGBTQ-rights activism. This show, her first in New York, will include 100 objects that convincingly make the case for her continuing relevance and visual potency. The Museum of Modern Art, New York
"Body and Soul: Sculpture in Italy from Donatello to Michelangelo" at the Louvre
May 6–Aug. 17Once the dust has settled from the Louvre's Leonardo show, visitors will be able to turn their sights onto a new exhibition of Italian masterworks, assembled in collaboration with the Castello Sforzesco museum in Milan. The exhibition is a sequel, of sorts, to the 2013 show "Springtime in the Renaissance," which outlined the genesis of arguably the most important sculptural period of the last 1,000 years. The show will be more triumphant than its predecessor, with an emphasis on sculptures that highlight bodily movement and contortions and others that demonstrate sculptors' ability to evoke heightened emotion. It might not get the crowds that the Mona Lisa does, but that means you'll be left alone with one of the most interesting exhibitions in recent memory. The Louvre, Paris
"The Princely Collections, Liechtenstein: Five Centuries of Painting and Sculpture" at the National Gallery of Canada
June 5–Sept. 7Even royal families can fall on hard times, and the Princely House of Liechtenstein is no exception. After the Second World War, the Soviets annexed their vast landholdings in then-Czechoslovakia. In an effort to make themselves whole, the family sold off a trove of artworks including a painting by Leonardo da Vinci. Now these and other works will be reunited in a traveling exhibition comprised of 86 paintings and sculptures. Masterpieces in themselves, the exhibition will be particularly fascinating as seen through the lens of a single collecting family.National Gallery of Canada, Ottawa
"Marina Abramović: After Life" at the Royal Academy of Arts
Sept. 26–Dec. 8This solo exhibition will be Abramović's first major survey in the U.K. and, more astounding, the Royal Academy's first female solo show in its 250-year history. Most people know Abramović for her endurance-style performance art, and understandably so. When someone spends more than 730 hours staring at strangers in the Museum of Modern Art, it's hard to forget. But Abramović's 50 year-career has entailed much more than mere endurance, and the survey will include photos, video, and work she's made specifically for the exhibition that have nothing to do with performance. Don't worry, though, there will be plenty of performances, too.Royal Academy of Arts, London
"Raphael" at the National Gallery
March 5–June 14Next year will mark the 500th anniversary of Raphael's death at age 37. There will be multiple exhibitions to honor the painter, who created a spectacular amount of paintings, drawings, and frescoes in a relatively short period. Among others, the Gemäldegalerie in Berlin has already opened a show of five of the artist's paintings of the Virgin Mary, and the Scuderie del Quirinale in Rome will put on a sweeping exhibition in the spring. In the fall the National Gallery will put on its own major show, with its 10 Raphaels augmented by loans from the Vatican, Louvre, and Uffizi. The National Gallery, London
"Gego" at the Guggenheim
Oct. 9–March 21Gertrud Goldschmidt (1912-1994), who went by the name Gego, is famous for her hanging wire sculptures. At the work's best, its spidery lines and disorienting asymmetry give viewers the impression of having tripped and stumbled into a computer simulation. She produced much more than sculpture, and the Guggenheim's retrospective, which will include about 200 artworks from her very long, storied career, should have something for everyone. The Solomon R. Guggenheim Foundation, New York
"The Morozov Collection" at the Fondation Louis Vuitton
Oct. 13–March 15Four years ago, the Fondation Louis Vuitton put together an unprecedented exhibition of modern masterworks that once belonged to the industrialist Sergei Shchukin, a man whose fortune (and art) were confiscated by the Russian state after the revolution. Now, in a sequel of sorts, the Fondation is resurrecting another prewar collection assembled by Moscow philanthropists Mikhail and Ivan Morozov, with work lent from museums including the State Hermitage Museum in St. Petersburg and the Pushkin State Museum of Fine Arts in Moscow. The Morozov brothers amassed a spectacular impressionist and modern collection with art by Monet, Van Gogh, Matisse, and Picasso, all of which was dispersed into the aforementioned Russian museums. For anyone unwilling or unable to schlep to see individual works in those individual museums, this exhibition is a rare treat. The Fondation Louis Vuitton, Paris
"The Magritte Machine" at the Thyssen-Bornemisza National Museum
Oct. 27–Feb. 28In 1950 the surrealist painter Rene Magritte wrote out a thought experiment where he conceived of a "universal machine for making paintings" in an attempt to automatize artistic creation. Now the Thyssen-Bornemisza museum is taking Magritte at face value with an exhibition that attempts to connect the artist's work to the so-called Magritte Machine. Shaky as the exhibition's premise might sound, the organizers have stacked the deck with about 65 canvases in an effort to ensure the execution is a slam dunk. The Thyssen-Bornemisza National Museum, Madrid
To contact the author of this story: James Tarmy in New York at jtarmy@bloomberg.net
Nanaimo lawn bowler turns sport's 'bowls' into art | CTV News – CTV News VI
NANAIMO, B.C. –
Judy MacNeal will never forget the first day she tried lawn bowling.
She learned that the balls were called bowls, and that they didn't roll straight. And then, one of the members of the Nanaimo Lawn Bowling Club threw Judy a metaphorical curve ball.
"She said, 'Maybe you could paint a little flower on there,'" Judy says, recalling the woman pointing to her bowl.
The woman wondered if Judy could put a blossom on an old bowl after hearing that Judy had had a career in graphic design that began with creating pages as a paste-up artist for Sears catalogues during the late 1960s.
"You got all the little photographs and you had to cut them out with scissors and stick them on with rubber cement glue," Judy recalled.
The pre-computer design process sounds similar to Judy's post-game bowl transformation.
Instead of simply painting a little flower on the sports equipment, Judy used clay to turn the bowl into a bountiful bouquet.
"You have to make each petal out of clay, paint it, and stick it on," Judy laughs, simplifying a creative process that can take up to 15 hours.
Judy was so inspired by covering that first bowl with bespoke flowers, she threw a curve ball of her own, after seeing a shed-full of used bowls at the club that were destined for the dump.
"I took home 120 bowls!" Judy laughs.
Judy set-up a studio in her garage, where she proved to be a prolific bowl painter.
"They were a good thing to have on hand during the pandemic," Judy laughs.
Judy has painted about 80 bowls so far, ranging from blond bowls (Marilyn Monroe), to dog bowls (a pair of bull dogs), to Christmas bauble bowls (Santa Clause and a nativity scene).
Dozens of others (including bejewelled mandalas) were given as gifts to friends and family.
"I have about 35 to 40 (unpainted) bowls left," Judy says before laughing. "Then (the club's) shed will have to be cleaned out again!"
Perhaps Judy will use her catalogue-creating skills to sell them. After being bowled-over by the pleasure of making them, she has no intention to throw another curve ball and stop.
"I've learned to do your own thing," Judy smiles. "And make yourself happy by doing it."
New show at Art Gallery Kimberley | Kimberley – E-Know.ca
Second Chance – Journey to the Butterfly: soapstone sculptures, flipstones, drawings and paintings that invite contact, interaction, and introspection.
Born on the prairies, Barbara Maye found herself moving and travelling as a nomadic seeker for decades. But when she hugged her first Giant Cedar near Radium in 2005, she knew she had finally found home in B.C.
Inspired by Indigenous beliefs from around the globe, and the spiritual wisdom of healing energies both in our bodies and in entities of nature, Barbara's artworks acknowledge the origins; wood as tree, stone as mountain, and body as spirit.
As a multimedia artist, sculptor, and art instructor based in Revelstoke, Barbara has dedicated more than 20 years to creating art that invites contact, interaction, and introspection. By presenting close-up perspectives of figural movement, pure abstraction and objects from nature, her method invites the passive observer to interact and self-identify with the art.
This summer, Barbara is presenting not one, but two art exhibitions in Kimberley. After a successful solo art exhibition at the Centre 64 Gallery where she filled the main gallery with her soapstone sculptures and paintings, Barbara's journey continues with a completely new art exhibition at Art Gallery Kimberley.
"Second Chance – Journey to the Butterfly" will feature Barbara's soapstone sculptures, as well as multi-media/multi-genre paintings and drawings inspired by the story of soapstone.
According to Barbara, soapstone is the result of a metamorphosis. "Like the transformation to a butterfly inside the chrysalis, soapstone undergoes a complete physical restructuring when the correct environmental conditions are present. The resulting rock is coloured uniquely by the minerals present and the flow of the molten experience. It is understandable why many honour soapstone for its healing properties associated with openness, flexibility, communication, imagination, and change," said Barbara.
Emulating this rolling, molten formation, Barbara created her innovative Flipstones, which are interactive sculptures that you are encouraged to pick up, examine closely, and 'flip' into a new resting position. By changing the position of the Flipstones, you shift the initial perspective for the next person and create an ever-changing art exhibition.
"When carving stone, I am deeply aware of the release of energy stored in the stones over millennia," said Barbara. "My free-form style of carving is a co-creation process with the stone, during which my role is to help the stone take a new form
to express itself. I see myself as merely a channel for creative energy to flow through."
Barbara uses soapstone dust and rock chips from her carving studio to create rich textures in her paintings. This texture can be found in her Landscape paintings – which are memories of locations visited in search of soapstone; her Lava Study paintings exploring the stones' metamorphosis; and in the Emergence series paintings, where she expresses the euphoria of post-transformation.
Immediately after graduating from the University of Calgary with a Bachelor of Fine Arts with Distinction, Barbara studied with Chaka Chikodzi, a Zimbabwean Canadian master stone carver. He taught her the Shona people's way to carve; approach the rocks with respect and no expectations then co-create the form intuitively. This ignited a passion for stone carving and the free-form style Barbara practices to this day.
Deeply influenced by the generous teachings of Noreen E. Saddleback of the Samson Cree Nation and Elder Bart Thomas, Splatsin Band, Guardian and Knowledge Keeper of the Secwepemc First Nation, Barbara's artworks respectfully explore Nature for the arcane wisdom she holds.
It took 10 years to realize Barbara's dream of harvesting stone directly from the land to carve, but Mark McKay, a retired carver and prospecting took her on a mentorship in the mountains surrounding Revelstoke. Understanding the tectonics (earth processes) that form soapstone, locating and respectfully harvesting the raw stone and the original locations of the rocks all inform the creation process of Barbara's abstract sculptures – some carved into Flipstones and some in the traditional pedestal style.
When asked what she enjoys most about creating art, Barbara says "I think what I like most about art are the gifts found in the 'happy accidents.' If we can stay open minded during the creative process, a mistake can be a generous reward. It's how the Flipstones came to be. I was carving a large stone and at the very end, it broke into five pieces. Yes I was upset, but it taught me about stone fractures, and acceptance that the stones were in charge. Later I picked up those pieces and turned them into multiple-position, interactive sculptures … and the concept of interplay and changing perspectives is the language of my work today."
Barbara says the greatest challenge she faces during the creation of her art is her mind getting in the way. "I try to approach my work like meditation, keeping my critical mind quiet. But overthinking and self-criticism are my nemesis. The techniques I discover and practice to overcome this challenge are the methods I teach in my art classes."
As an art instructor, Barbara strives to make the language of art more attainable to everyone. She began teaching while in university and continues today as a freelance and on-line instructor of primarily adult art education classes in several media. Barbara's teaching philosophy is rooted in the belief that anyone, given a fresh perspective, can recapture their creative voice.
"I think my greatest pride as an artist comes from teaching; seeing the opening in a student as they recognize their creative self; sharing what I have learned in my own creative journey; and the genuine friendships that have evolved from the classroom," said Barbara. "I have many students who have continued classes with me for years, just to keep their practice going, and several who have gone on to exhibit and sell their work as much better artists than me. It's so rewarding to be a small piece of their growth."
Barbara's exhibition will be in the art gallery from August 3 to 27. The art gallery will be participating in this year's Columbia Basin Culture Tour on August 6 and 7.
As part of this tour, Barbara will be presenting a slide show on Abstract Art and she will set up art creation stations introducing visitors to: Upside Down Drawing; Drawing on our Senses; Surrealist Inspired Abstraction; and Fauvist Inspired Abstraction. More information can be found at artgallerykimberley.com.
Submitted
Please enable JavaScript to view the comments powered by Disqus.
---
Article Share
Article Share
---
Art, not arch, proposed for downtown Collingwood – CollingwoodToday.ca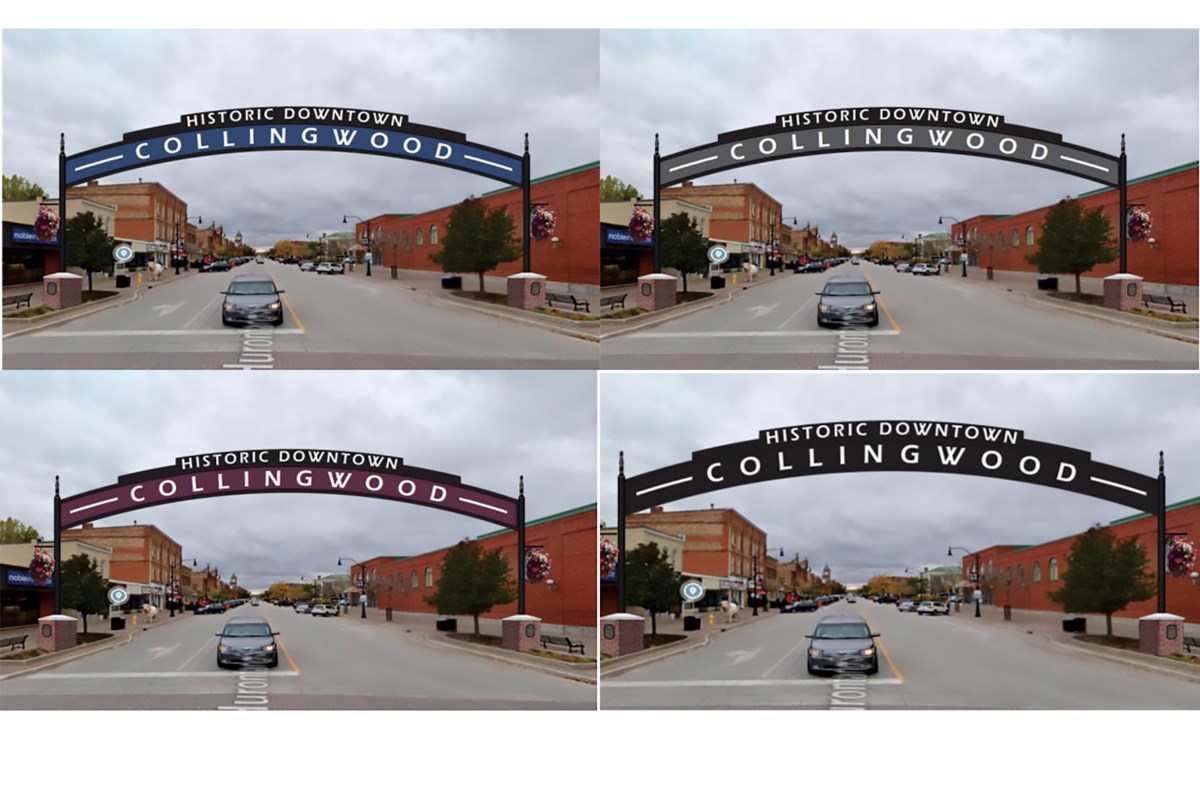 After an overarching negative response to a proposed archway in downtown Collingwood, the local business association is proposing public art instead.
A report from Downtown Collingwood Business Improvement Area (BIA) general manager Susan Nicholson headed to council on Aug. 8 proposes a gateway feature, that is not an archway, to be designed and chosen through the use of the town's existing public art policy.
This new approach, states Nicholson's report, is meant to provide an attraction that encourages customers downtown without losing the federal grant of $215,000 earmarked for the archway project.
The proposed archway was presented to council in early March 2022. The design showed two tall poles with a black metal archway between spanning Hurontario Street at the intersection with First Street/Huron Street. On the arch were white letters reading "Historic Downtown Collingwood" on one side and "Historic Harbourfront Collingwood," on the other. The idea, according to the BIA, was to help people find the downtown and encourage them to turn onto Hurontario Street.
The proposal was immediately and vehemently rejected by public opinion. Letters to CollingwoodToday.ca decried it as an eyesore and the BIA received dozens of emails and submissions opposing the design and concept of an archway in the downtown.
A public survey put out by the town in April received nearly twice as many responses as the 2022 town budget survey with 727 responses to the archway survey and 529 of them (72.8 per cent) against an archway altogether.
Town council was also bombarded with opposition from residents culminating to a meeting on May 30 when Mayor Keith Hull (then acting mayor) said he was surprised by the ferocity of the response to the archway.
At the May 30 meeting, council told the BIA and town staff to go back to the drawing board to find a different way to spend the $215,000 federal grant.
Nicholson's proposal to use the town's Public Art Policy to commission a gateway feature that is not an arch is in response to council's May order.
Based on a plan approved by the BIA board, the process for the public art gateway feature, if it is approved by council, would begin with planning by an ad-hoc committee to come up with a budget and theme with an invitation to the community to participate on the committee.
Later there would be a call to artists, a selection process with interviews, and, ultimately, the installation of the piece.
There would be a public art working group selected for the project including town staff, BIA, community members, and representatives from the Collingwood Museum, the historical society, and the Blue Mountain Foundation for the Arts.
The BIA's goal is to move quickly through the process to have a final design and artist contracted by the end of January 2023. The federal grant must be spent on a project that is substantially complete by March 31, 2023.
If council approves this approach to commissioning a gateway feature that will double as public art, the BIA will be asking the town to cover a loss of $35,350 spent to design and commission the former arch design.