The U.S. economy is showing some sparkle again, but the dark days are far from over – MarketWatch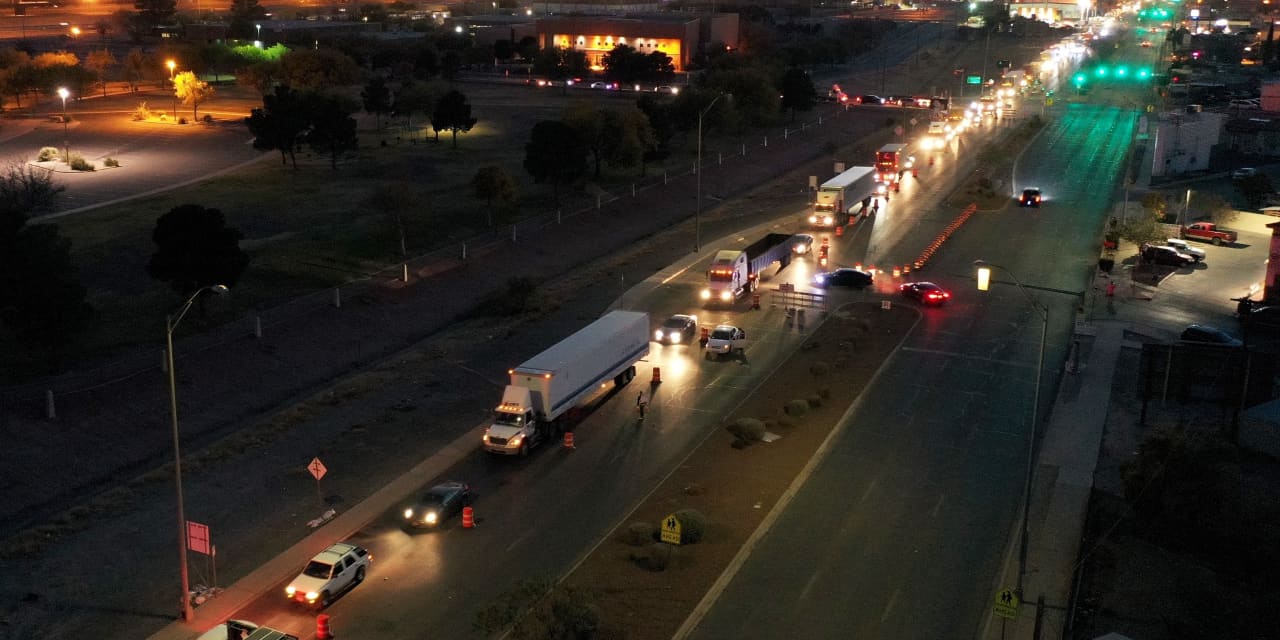 The U.S. economy is showing signs of emerging from the winter frost of the coronavirus pandemic that set in at the end of last year, but that doesn't mean growth is going to heat up quickly.
The first flurry of economy signposts for January showed the thaw is underway.
Retail sales surged 5.3% and caught Wall Street
DJIA,
+0.00%
by surprise, for one thing. Sales had fallen three months in a row after a record surge in coronavirus cases late last year.
Manufacturers, for their part were already ahead of the curve. They ramped up production for the fourth month in a row in an effort to keep up with rising demand for their goods.
More good news is likely to come this week. Consumer spending, one-third of which reflects retail sales, is all but certain to show a healthy increase in January after two straight declines when the data is published next Friday.
See: MarketWatch Economic Calendar
New orders for durable goods in January — computers, appliances, furniture and the like — could also show a sizable gain. Manufacturers are investing more to rebuild low inventories and get ready for what they expect to be a stronger increase in sales later in the year.
The economy still has plenty of shackles, however.
MarketWatch special: The coronavirus pandemic has remade our working lives, and it's been anything but fair
The number of people losing their jobs each week, for example, is still running above 1 million. That's been the case since last May.
Read: Rising jobless claims show layoffs are still severe
There's no way the economy can get back to the way it was before the pandemic struck in March 2020 unless most people return to work. But that's going to take quite awhile with more than 10 million unemployed Americans still unable to find a job.
To keep the economy going until then, the Biden administration is aiming to pass a nearly $2 trillion stimulus bill within the next month. The bill is expected to include an extension of emergency benefits for the unemployed.
The huge amount of money Washington has plowed into the economy, however, might create problems of its own.
Investors are growing more worried about a surge in inflation caused by massive government spending and easy-money policies by the Federal Reserve. Bond yields have risen from record lows, as have mortgage and other rates.
Read: Inflation worries are back. Here's what you should worry about — and what you shouldn't.
Is the U.S. really in danger of high inflation, 1970s style? Hardly. Inflation has been low for years owing largely to fierce global competition for labor and production — and those trends aren't going away.
"There is no evidence that level of demand will create inflation that did not exist beforehand," said Steve Blitz, chief economist of TS Lombard.
Yet the fear of inflation itself can act as a brake on the economy. The Fed could be forced to raise interest rates sooner than it would like or investors could flock to bonds and kill off a bull market in stocks that has pushed equities to record highs.
Those problems are probably still well into the future, but they are already having an effect now.
What could really become a problem is if those worries about inflation jump from Wall Street to Main Street. So far there is little indication of that.
Surveys of consumer confidence and consumer sentiment, both due this week, have shown that Americans expect somewhat higher but still fairly low inflation in the months ahead.
They are less confident about the economy, but the increasing rate of vaccinations could start to turn the tide soon.
South Korea's factory output falls in warning for global economy – Al Jazeera English
Asia's fourth-largest economy sees industrial output shrink a worse-than-expected 1.8 percent in August.
South Korea's factory production fell for a second straight month in August, a warning sign for the global economy as it faces risks from the war in Ukraine to rising interest rates.
Asia's fourth-largest economy saw industrial output shrink a worse-than-expected 1.8 percent on a seasonally-adjusted monthly basis after falling 1.3 percent in July, government figures showed on Friday.
Compared with the same month a year earlier, factory output rose 1.0 percent, the slowest pace since September 2021.
However, output for the services sector rose 1.5 percent on the month, while retail sales jumped 4.3 percent, the fastest gain since May 2020.
The figures follow a raft of data showing slowing factory output in other major Asian economies, including China, Japan and Taiwan.
China's factory activity slowed further in September following a decline the previous month, as Beijing's ultra-strict "zero COVID" policies hit production and sales, according to a private sector survey released on Friday.
South Korea, one of the world's biggest manufacturers of cars, chips and ships, is seen as a barometer of the health of global trade as its companies span a vast swathe of the world economy.
South Korea's exports, which account for nearly 40 percent of gross domestic product (GDP), are expected to slow sharply in September, with a survey of economists by the Reuters news agency predicting the slowest growth in nearly two years ahead of the release of official figures next month.
"This is certainly concerning for the domestic and global economy," Min Joo Kang, senior economist for South Korea and Japan at ING, told Al Jazeera.
"The weaker than expected industrial production was driven by Korea's main export items such as semiconductors and petrochemicals. This would have a negative impact on GDP for Korea for sure and also suggests global demand weakness. Usually it takes 4-5 quarters for semiconductors to come out of their downward cycle, thus the bottom hasn't come yet."
German Economy Seen Shrinking Next Year Due to Energy Crisis – BNN Bloomberg
(Bloomberg) — Germany's economy will likely contract by 0.4% next year due to the impact of the energy crisis, according to the nation's leading research institutes, who slashed their forecast from April of a 3.1% expansion.
German output will be €160 billion ($154 billion) lower this year and next than projected five months ago partly due to the drastic increase in energy costs, the four institutes predicted Thursday in a twice-yearly report which the government uses as guidance for its own outlook.
"The Russian attack on Ukraine and the resulting crisis on the energy markets are leading to a noticeable slump in the German economy," said Torsten Schmidt, head of economic research at the RWI Institute and spokesman for the Joint Economic Forecast Project Group.
Germany is one of the countries hardest hit by the energy emergency triggered by the Ukraine war thanks to a reliance on Russian fuel imports built up over decades. Chancellor Olaf Scholz's ruling coalition is racing to cut back that dependence but Germany still faces a tough winter with the prospect of gas rationing and blackouts.
The government has assembled three packages of aid measures worth nearly €100 billion to offset the impact on households and companies but has also cautioned that it doesn't have the resources to ease the pain completely.
"Record inflation rates, especially exploding energy prices, are hitting many companies hard," Martin Wansleben, managing director of the DIHK industry lobby, said Thursday in an emailed statement.
"The consequences are production stops, losses in value creation, the relocation of production abroad and even plant closures," he added. "The number of companies that either do not receive any energy supply contracts at all or only receive them at extreme prices is currently increasing."
Although the energy crunch is expected to ease over the medium term, gas prices are likely to remain well above pre-crisis levels, meaning "a permanent loss of prospe­rity for Germany," the institutes warned.
They cut their growth estimate for this year to 1.4% from 2.7% and said they expect inflation to accelerate in coming months, climbing to an average rate of 8.8% next year — compared with 8.4% this year — before gradually falling back toward 2% in 2024.
Europe's biggest economy will likely return to growth in 2024, with expansion of 1.9%, the institutes predicted.
The four institutes which compile the twice-yearly forecasts are Munich-Based Ifo, the IfW in Kiel, the IWH in Halle and the Essen-based RWI. The Wifo and the IHS institutes in Vienna also contribute. The government is expected to publish updated economic projections next month.
(Updates with industry lobby comment from sixth paragraph)
©2022 Bloomberg L.P.
U.S. economy shrinks at 0.6% annual rate in Q2 – Advisor's Edge
Consumer spending grew at a 2% annual rate, but that gain was offset by a drop in business inventories and housing investment.
The U.S. economy has been sending out mixed signals this year. Gross domestic product, or GDP, went backward in the first half of 2022. But the job market has stayed strong. Employers are adding an average 438,000 jobs a month this year, on pace to be the second-best year for hiring (behind 2021) in government records going back to 1940. Unemployment is at 3.7%, low by historic standards. There are currently about two jobs for every unemployed American.
But the Fed has raised interest rates five times this year — most recently Sept. 21 — to rein in consumer prices, which were up 8.3% in August from a year earlier despite plummeting gasoline prices. Higher borrowing costs raise the risk of a recession and higher unemployment. "We have got to get inflation behind us," Fed Chair Jerome Powell said last week. "I wish there was a painless way to do that. There isn't."
The risk of recession — along with persistently and painfully high prices — poses an obstacle to President Joe Biden's Democrats as they try to retain control of Congress in November's midterm elections. However, drops in gasoline prices have improved consumers' spirits in the past two months.
Thursday's report was the Commerce Department's third and final take on second-quarter growth. The first look at the economy's July-September performance comes out Oct. 27. Economists, on average, expect that GDP returned to growth in the third quarter, expanding at a modest 1.5% annual pace, according to a survey by the data firm FactSet.
Commerce also on Thursday released revised numbers for past years' GDP. The update showed that the economy performed slightly better in 2020 and 2021 than previously reported. GDP rose 5.9% last year, up from the previously reported 5.7%; and, pounded by the coronavirus pandemic, it shrank 2.8% in 2020, not as bad as the 3.4% previously on record.