The UK economy is heading back into recession – CNN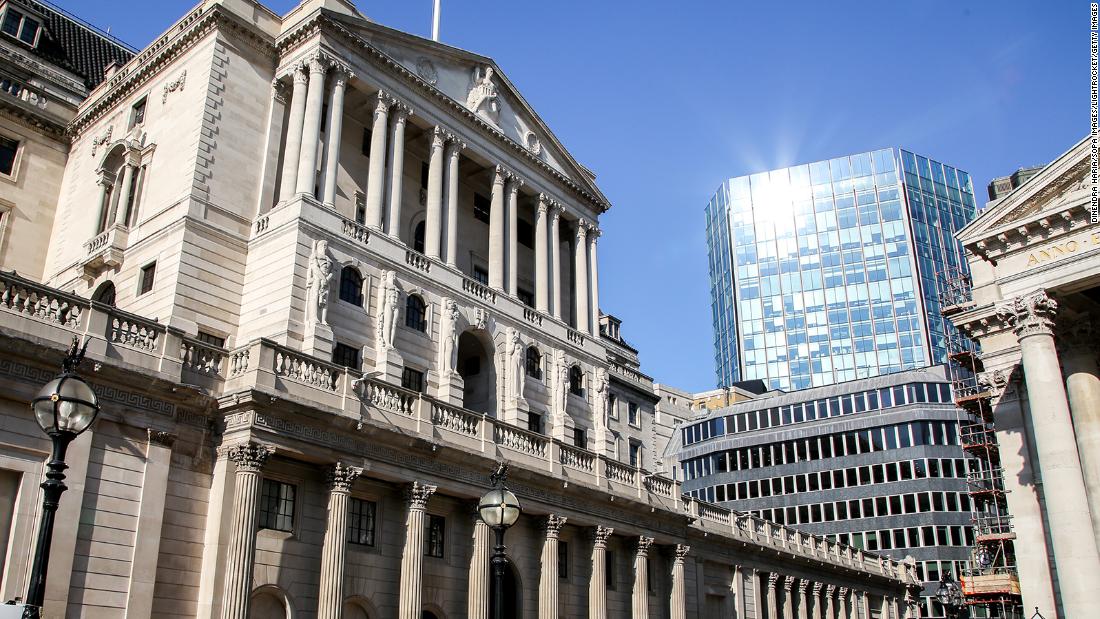 The UK central bank said on Thursday that it would keep interest rates unchanged at a record low of 0.1% but would increase its purchases of UK government bonds to £875 billion ($1.1 trillion).
Restrictions introduced to tackle a rapid rise in Covid-19 cases would weigh on consumer spending to a greater extent than the bank projected in August, "leading to a decline in GDP" in the fourth quarter of this year, it added.
England re-entered a national lockdown
on Thursday, with restaurants, bars and non-essential businesses closed until December 2. The United Kingdom reported its second-largest daily increase in Covid-19 cases on Wednesday with 25,177 new infections recorded in 24 hours.
The lockdown and unresolved talks on a post-Brexit trade deal with the European Union left the outlook for the UK economy looking "unusually uncertain," the Bank of England said. Without an EU deal, UK-based companies face hefty tariffs, quotas and other barriers to doing business with the country's biggest export market from January 1.
"It depends on the evolution of the pandemic and measures taken to protect public health, as well as the nature of, and transition to, the new trading arrangements between the European Union and the United Kingdom. It also depends on the responses of households, businesses and financial markets to these developments."
A survey of business activity published Wednesday showed the increase in private sector activity last month was the weakest since June, with new orders declining and employment dropping.
"November's lockdown in England and a worsening Covid-19 situation across the rest of Europe means that the UK economy seems on course for a double-dip recession this winter and a far more challenging path to recovery in 2021," said Tim Moore, economics director at IHS Markit, which compiled the survey.
The UK economy is expected to rebound in the third quarter after suffering the biggest GDP fall of any major economy in the second. It also shrank by 2.5% in the first three months of 2020.
Canadian dollar moves to extend weekly win streak as oil rebounds
The Canadian dollar strengthened against its U.S. counterpart on Friday and was on track for its seventh straight weekly gain as oil prices rose and domestic data added to evidence of robust economic growth in the first quarter.
Canadian factory sales rose 3.5% in March from February, led by the motor vehicle, petroleum and coal, and food product industries, while wholesale trade was up 2.8%, Statistics Canada said.
The price of oil, one of Canada's major exports, reversed some of the previous day's sharp losses as stock markets strengthened, though gains were capped by the coronavirus situation in major oil consumer India and the restart of a fuel pipeline in the United States.
U.S. crude prices rose 1.2% to $64.61 a barrel, while the Canadian dollar was trading 0.6% higher at 1.2093 to the greenback, or 82.69 U.S. cents, moving back in reach of Wednesday's 6-year peak at 1.2042.
For the week, the loonie was on track to gain 0.3%. It has climbed more than 5% since the start of the year, the biggest gain among G10 currencies, supported by surging commodity prices and a shift last month to a more hawkish stance by the Bank of Canada.
Still, BoC Governor Tiff Macklem said on Thursday if the currency continues to rise, it could create headwinds for exports and business investment as well as affecting monetary policy.
The U.S. dollar fell against a basket of major currencies, pressured by a recovery in risk appetite across markets after Federal Reserve officials helped calm concerns about a quick policy tightening in response to accelerating U.S. inflation.
Canadian government bond yields were lower across much of a flatter curve, with the 10-year down 2 basis points at 1.549%. On Thursday, it touched its highest intraday in eight weeks at 1.624%.
(Reporting by Fergal Smith; Editing by Nick Zieminski)
Toronto Stock Exchange rises 1.21% to 19,366.69
* The Toronto Stock Exchange's TSX rises 1.21 percent to 19,366.69
* Leading the index were SNC-Lavalin Group Inc <SNC.TO​>, up 16.0%, Village Farms International Inc​, up 9.8%, and Denison Mines Corp​, higher by 9.4%.
* Lagging shares were Aurora Cannabis Inc​​, down 7.2%, Centerra Gold Inc​, down 3.8%, and Canadian National Railway Co​, lower by 3.7%.
* On the TSX 194 issues rose and 35 fell as a 5.5-to-1 ratio favored advancers. There were 25 new highs and no new lows, with total volume of 225.7 million shares.
* The most heavily traded shares by volume were Enbridge Inc, Manulife Financial Corp and Cenovus Energy Inc.
* The TSX's energy group rose 3.32 points, or 2.7%, while the financials sector climbed 4.80 points, or 1.3%.
* West Texas Intermediate crude futures rose 2.65%, or $1.69, to $65.51 a barrel. Brent crude  rose 2.68%, or $1.8, to $68.85 [O/R]
* The TSX is up 11.1% for the year.
This summary was machine generated May 14 at 21:03 GMT.
U.S., Mexico, Canada to hold 'robust' talks on trade deal
The United States, Mexico and Canada will next week hold their first formal talks on their continental trade deal, with particular focus on labor and environmental obligations, the U.S. government said on Friday.
Trade ministers from the three nations are set to meet virtually on Monday and Tuesday to discuss the U.S.-Mexico-Canada (USMCA) deal, which took effect in July 2020.
"The ministers will receive updates about work already underway to advance cooperation … and will hold robust discussions about USMCA's landmark labor and environmental obligations," the office of U.S. Trade Representative Katherine Tai said in a statement.
The United States is also reviewing tariffs which may be leading to inflation in the country, economic adviser Cecilia Rouse told reporters at the White House on Friday, a move that could affect hundreds of billions of dollars in trade.
The United States, testing provisions in the new deal aimed at strengthening Mexican unions, this week asked Mexico to investigate alleged abuses at a General Motors Co factory.
(Reporting by David Ljunggren; Editing by Hugh Lawson and Jonathan Oatis)