The US economy has a momentum problem – CNN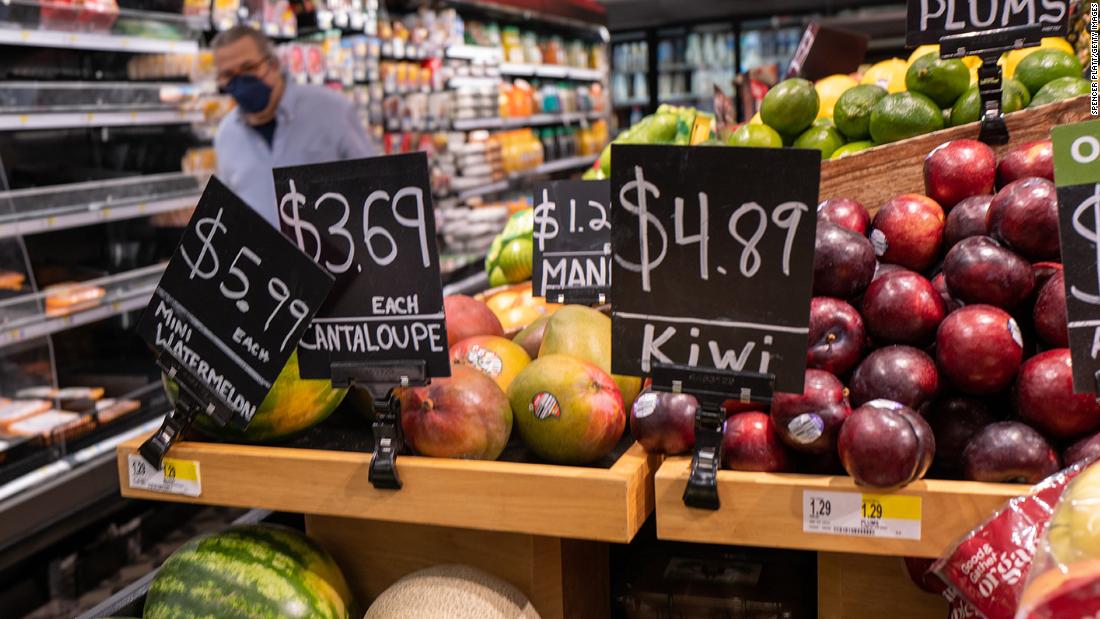 A version of this story first appeared in CNN Business' Before the Bell newsletter. Not a subscriber? You can sign up
right here
. You can listen to an audio version of the newsletter by clicking the same link.
New York (CNN Business)If you're reading this it means you've made it through the worst first half of a year for US stocks in more than 50 years. Congratulations.
In America, a recession is officially
determined by eight economists
who deliberate in private. But a
recession is commonly defined by analysts as two consecutive negative quarters of gross domestic product growth.
Real GDP shrank in the first quarter of 2022, but monthly data suggests there may have been solid growth in the second quarter and spending picked up in Covid-impacted sectors like travel and entertainment.
The third quarter, however, isn't looking so hot, says David Kelly, chief global strategist at JP Morgan Asset Management. He sees storm clouds gathering that threaten to seriously temper economic momentum.
David Bianco, chief investment officer for the Americas at DWS Group, says his team has already trimmed GDP forecasts several times over the course of the year.
"In past cycles investors and economists would tend to focus on the demand side: How strong is the consumer?" he said on a recent call with reporters. "People make the arguments that the economy's fine right now because the consumer is healthy. Our argument would be that this is an environment where the focus should be on the supply side."
"The underlying problem is that inflation has been a function of not enough supply versus too much demand," wrote Ivan Feinseth of Tigress Financial Partners in a note.
But faltering demand could become a bigger problem. An end to stimulus checks, enhanced unemployment benefits, enhanced child tax credits and other programs that aided lower and middle-income households during the height of the pandemic could cause a drag on spending in the near future, said Kelly.
Kelly predicts that the end of these stimulus programs could lead to a drop in the federal budget deficit from 12.4% of GDP in 2021 to less than 4% of GDP in 2022. That would be the largest decline since the end of World War II.
No matter where you fall on matters of the
rapidly growing US national debt
, a decrease in stimulus spending will likely slow the economy, at least in the short term.
Add to that a surge in 30-year mortgage rates, an 8% increase in the dollar against key currencies this year that makes exports more expensive and dropping consumer confidence and you've got a fairly heightened "risk that the US economy falls into recession in the near term," said Kelly.
Boris Johnson and the falling pound
On Tuesday, the Conservative Party leader was dealt a huge
blow when two of his top ministers announced their resignations, saying they could no longer work for a
government mired in scandal
.
Chancellor of the Exchequer Rishi Sunak and UK Health Secretary Sajid Javid turned in their letters of resignation via Twitter within minutes of each other on Tuesday evening. Johnson has weathered multiple storms during his time as prime minister, but this may be one crisis too many.
Speculation is now swirling about a renewed bid by his own lawmakers to unseat him, possibly as earlier as next week.
"When your chancellor and health secretary both resign — it's only a matter of time before a prime minister is out," Jordan Rochester, a strategist at Nomura International, wrote in a note Tuesday.
The pound fell about 1.5% against the US dollar on Tuesday and remained mired near its lowest level since March 2020 on Wednesday. The cabinet changes likely won't impact the pound in the short term, Rochester said, but the political instability caused by Johnson may do so.
The world's fifth biggest economy ground to a halt in February and started shrinking in March. Retail sales fell in May for the second consecutive month. The Bank of England has already raised interest rates five times and is promising more to tackle soaring inflation that could peak above 11% later this year, piling on the pain for millions struggling with a cost-of-living crisis.
Many of Johnson's critics, including some in his own party, believe he doesn't have the answers.
In his letter of resignation, finance minister Sunak cited insurmountable differences with Johnson on the economy.
"In preparation for our proposed joint speech on the economy next week, it has become clear to me that our approaches are fundamentally too different," Sunak wrote. "I am sad to be leaving government but I have reluctantly come to the conclusion that we cannot continue like this."
It would only be possible to deliver a low-tax, high-growth economy and strong public services if Johnson was prepared to "take difficult decisions," he went on. "Our people know that if something is too good to be true then it's not true."
A hard landing and softening inflation
Analysts and investors are gearing up for a potential recession, and from
Wall Street to Washington DC
fears of an economic downturn are deepening.
Inflation remains at 40-year highs and the Federal Reserve shows no sign of slowing down its rate hikes to combat rising prices, while consumer confidence is at record lows. Even Fed Reserve Chair Jerome Powell has admitted that a soft landing will be exceedingly difficult to achieve.
But there may be a small beacon of hope. It appears that fear of an economic downturn has been enough to ease fears of inflation.
Jeffrey Buchbinde and Jeffrey Roach of LPL Financial see some signs of a post-peak inflation world:
The inflation rate implied by TIPS, a type of Treasury security issued by the US government, over the next five years has fallen from 3.1% to 2.6% in the last month, down from a peak of 3.7% earlier this year.
New supply chain data from the New York Fed indicates that supply bottlenecks are easing.
In June, the University of Michigan survey of consumers' long-term inflation expectations fell from 3.3% to 3.1%.
Oil prices are down over 10% since June 8, which will hopefully translate into lower prices at the pump soon.
Up next
US ISM non-manufacturing index; US Fed minutes from June meeting.
Extreme heat is slamming the world's three biggest economies all at once – CNN
London (CNN Business)Estimating just how catastrophic climate change will be for the global economy has historically proven challenging. But this summer, it's increasingly evident how quickly costs can pile up.
Extreme heat and drought conditions are battering the United States, Europe and China, compounding problems for workers and businesses at a time when economic growth is already slowing sharply and adding to upward pressure on prices.
In China's Sichuan province, all factories have been
ordered shut for six days
to conserve power. Ships carrying coal and chemicals are struggling to make their usual trips along Germany's Rhine river. And people living on America's West Coast have been asked to use less electricity as temperatures soar.
These events "have the capacity to be quite significant for the particular regions that are affected," said Ben May, director of global macro research at Oxford Economics.
The extent of the pain could depend on how long the heatwaves and lack of rain last. But in countries like Germany, experts warn there's little relief in sight, and companies are preparing for the worst.
Extreme weather and an economic slowdown
It's not just the Rhine. Around the world, rivers that support global growth — the Yangtze, the Danube and the Colorado — are drying up, impeding the movement of goods, messing with irrigation systems and making it harder for power plants and factories to stay cool.
At the same time, scorching heat is hampering transportation networks, straining power supply and hurting worker productivity.
"We shouldn't be surprised by the heat wave events," said Bob Ward, policy and communications director at the London School of Economics' Grantham Research Institute on Climate Change and the Environment. "They're exactly what we predicted and are part of a trend: more frequent, more intense, all over the world."
China is facing its fiercest heat wave in six decades, with temperatures crossing 40 degrees Celsius (104 degrees Fahrenheit) in dozens of cities. Parts of California could see temperatures as high as 109 degrees Fahrenheit this week. Earlier this summer, temperatures topped 40 degrees Celsius in the United Kingdom
for the first time ever
.
The global economy was already under pressure. Europe is at high risk of a recession as energy prices soar, stoked by Russia's invasion of Ukraine. High inflation and aggressive interest rate hikes by the Federal Reserve jeopardize growth in the United States. China is grappling with the consequences of harsh coronavirus lockdowns and a real estate crisis.
"At present, we are at the most difficult point of economic stabilization," Chinese Premier Li Keqiang
said this week
.
Something else to worry about
Extreme weather could exacerbate "existing pinch points" along supply chains, a major reason inflation has been difficult to bring down, May of Oxford Economics said.
China's Sichuan province, where factories have shuttered production this week, is a hub for makers of semiconductors and solar panels. The power rationing will hit factories belonging to some of the world's biggest electronics companies, including
Apple
(AAPL)
supplier Foxconn and
Intel
(INTC)
.
The province is also the epicenter of China's lithium mining industry. The shutdown may push up the cost of the raw material, which is a key component in electric car batteries.
The neighboring city of Chongqing, which sits at the confluence of the Yangtze and Jialing rivers, has also ordered factories to suspend operations for a week through next Wednesday to conserve electricity, state media The Paper reported.
Forecasts for China's economy this year are already being downgraded as a consequence. Analysts at Nomura cut their 2022 projection for GDP growth to 2.8% on Thursday — way below the government's 5.5% target — while Goldman Sachs trimmed its forecast to 3%.
Germany's shrinking Rhine, meanwhile, has dropped below a critical level, impeding the flow of vessels. The river is a crucial conduit for chemicals and grain as well as commodities — including coal, which is in higher demand as the country races to fill storage facilities with natural gas ahead of the winter. Finding alternative forms of transit is difficult given labor shortages.
"It is only a matter of time before plants in the chemical or steel industry are shut down, mineral oils and building materials fail to reach their destination, or large-volume and heavy transports can no longer be carried out," Holger Lösch, deputy director of the Federation of German Industries, said in a statement this week.
Low water levels along the Rhine shaved about 0.3 percentage points off Germany's economic output in 2018, according to Carsten Brzeski, global head of macro at ING. But in that instance, low water wasn't a problem until late September. This time around, it could lower GDP by at least 0.5 percentage points in the second half of this year, he estimated.
Economic sentiment in Germany continued to dip in August, according to data released this week. Brzeski said the country "would need an economic miracle" to avoid falling into a recession in the coming months.
In the American West, an extraordinary drought is draining the nation's largest reservoirs, forcing the federal government to implement new mandatory water cuts. It's also forcing farmers to destroy crops.
Nearly three quarters of US farmers say this year's drought is hurting their harvest — with significant crop and income loss, according to a survey by the American Farm Bureau Federation, an insurance company and lobbying group that represents agricultural interests.
The survey was conducted across 15 states from June 8 to July 20 in extreme drought regions from Texas to North Dakota to California, which makes up nearly half of the country's agricultural production value. In California — a state with high fruit and nut tree crops — 50% of farmers said they had to remove trees and multiyear crops due to drought, which will affect future revenue.
Without significant investment in upgrading infrastructure, costs will only keep rising, Ward of the London School of Economics noted. And the impact may not be incremental.
"There are signs these heat episodes are not just becoming slightly more intense and frequent over time. It's happening in a kind of non-gradual way, and that will make it more difficult to adapt," Ward said.
— Laura He, Shawn Deng, Simone McCarthy, Benjamin Brown, Aya Elamroussi, Taylor Romine and Vanessa Yurkevich contributed reporting.
Chile's Economy Stagnates in Second Quarter as Demand Withers – Bloomberg
Fed saw evidence of a slowing economy at its last meeting – Advisor's Edge
Slower growth, they noted, could "set the stage" for inflation to gradually fall to the central bank's 2% annual goal, though it remained "far above" that target.
In both June and July, the Fed sought to curb high inflation by twice raising its key rate by an unusually large three quarters of a percentage point. At their meeting last month, the policymakers said it might "become appropriate at some point to slow the pace of policy rate increases."
The U.S. central bank had been slow to respond to a resurgence of inflation in the spring of 2021 as the economy roared back from the 2020 pandemic recession. Chair Jerome Powell characterized high inflation as merely "transitory," mainly a result of supply chain backlogs that would soon unsnarl and ease inflationary pressure. They didn't, and year-over-year inflation hit a 40-year high of 9.1% in June before edging lower last month.
So the Fed raised its benchmark rate at its meeting in March and again in May, June and July. Those moves have raised the central bank's key rate, which influences many consumer and business loans, from near zero to a range of 2.25% to 2.5%, the highest since 2018.
Powell has said the Fed will do what it will take to tame inflation, and more rate hikes are expected. But many economists worry that the Fed will overdo it in the other direction by tightening credit so much as to trigger a recession.
Concerns about a potential recession have been eased, for now, by the ongoing strength of the job market. Employers added a robust 528,000 jobs last month, and the unemployment rate has hit 3.5%, matching a half-century low that was reached just before the pandemic erupted in 2020.
In the minutes released Wednesday, the Fed's policymakers acknowledged the strength of the job market. But they also noted that hiring tends to be a lagging indicator of the economy's health. And they pointed to signs that the job market might be cooling, including an increase in the number of Americans filing for unemployment benefits, a drop in Americans quitting their jobs and a reduction in job openings.