Three Stars from Day 6 of WJC: Stuetzle, Amirov shine in historic wins – Sportsnet.ca
The intensity on Day 6 of the 2021 World Junior Hockey Championship was on display with a lot at stake in a couple of high-pressured games.
In arguably the game of the tournament so far, Sweden and Russia needed overtime to crown a winner with top spot in Group B still up for grabs. The stunning win for Russia saw Sweden's 54-game win streak in the preliminary round come to an end in heartbreaking fashion as they pushed hard to tie the game late but were unable to overcome a late penalty in the extra period.
Germany survived a late scare against Switzerland to move on to the quarterfinals round for the first time since the current tournament format was adopted in 1996. It has been a big redemption story for Germany who rebounded from a pair of crushing losses and a shorthanded lineup because of COVID-19.
Finland continued to display their fine form with a convincing 6-0 win over Slovakia, setting up a must-watch showdown against Canada for first place in Group A.
Before we look at the top three players from Day 6, there are a couple of players from Finland who deserve honourable mentions for their performances against Slovakia.
Florida Panthers prospect Anton Lundell continues to be a force for Finland as he notched his third goal of the world juniors while adding two assists. Samuel Helenius helped his draft stock with a pair of goals while Toronto Maple Leafs prospect Topi Niemela had a goal and an assist to join Lundell with six points to lead Finland.
Third Star: Rodion Amirov, Russia
Russia and Sweden pushed each other to the limit in the final game of the day and it was the top line that got the job done for Russia.
Rodion Amirov led the way for Russia with a goal and an assist — with the helper coming on the play that set up the overtime winner by Marat Khusnutdinov — and was named the player of the game for Russia. Amirov's initial shot was saved by Jesper Wallstedt but the Swedish keeper was unable to hold on to the rebound which was scooped up by Khusnutdinov.
The Toronto Maple Leafs prospect thought he had his second of the tournament 37 seconds in the game but it was called back for goaltender interference. The Russian winger was determined to get it back and got his chance as he finished off a great tic-tac-toe play with Vancouver Canucks prospect Vasili Podkolzin finding Amirov open for the easy tap in.
While the goal was a big one for Russia, many couldn't help but point out (no pun intended) the celebration by Amirov, who channelled his inner Auston Matthews after signalling a good goal.
That's a familiar celly

Rodion Amirov has his second goal in as many nights at the #WorldJuniors pic.twitter.com/ypwjtqIBAg

— Toronto Maple Leafs (@MapleLeafs) December 31, 2020
It looked like Russia was on their way to ending Sweden's streak in the third period after Amirov started the play that led to Kirill Kirsanov's power-play goal with just over 10 minutes left.
Russia currently sits in first place in Group A but will have wait for the result of Thursday's game between the United States and Sweden to see if they will stay there. A win by either team in regulation would push Russia out of first and out of a chance to face Slovakia in the quarterfinals.
Second Star: John-Jason Peterka, Germany
A lot of attention has been paid to Tim Stuetzle at the world juniors but John-Jason Peterka is making sure he is getting his fair share of praise as well.
The Buffalo Sabres prospect scored a hat trick and had two assists against Switzerland and was named the player of the game for his efforts.
Peterka got Germany on the board early in the first period as he took a rebound behind the net and beat an outstretched Thibault Fatton with the wraparound. His second goal came later on in the period on the power play as he took the feed from Stuetzle and snapped the perfect shot past Fatton.
His third goal of the game turned out to be a crucial one for Germany as he found a way to power through a couple of Swiss players who did all they could to try and prevent him from scoring on the empty net. That late goal would become the game-winner as a late push from Switzerland provided some nervous moments for Germany.
First Star: Tim Stuetzle, Germany
After playing a big role in Germany's overtime victory over Slovakia, Stuetzle was back at it again against Switzerland with a pair of goals and three assists.
The third overall pick from the 2020 NHL Draft continues to show why he's one of the more dangerous players at the world juniors when the puck is on his stick. Stuetzle put the puck through the legs of Swiss defender Cedric Fiedler and outmuscled him to the net for his first of the game.
Then in the second period, the Ottawa Senators prospect displayed some great patience as he went across the ice and beat Fatton with a quick release to put Germany up 4-0.
Stuetzle and Peterka finished the preliminary round with 10 points each and sit tied with Trevor Zegras of the United States for the tournament scoring lead. The dynamic duo will look to continue their dominance when Germany plays in the quarterfinals Saturday.
Patrick Mahomes' greatness on display again as Chiefs beat Bills to get to Super Bowl LV – Yahoo Canada Sports
The Canadian Press
Sentimentality couldn't save Frank Lampard. Being Chelsea's record scorer counted for little when the team's decline, on Lampard's watch as manager, alarmed owner Roman Abramovich after $300 million invested in new talent for this season. After just 18 months in charge, and five losses in the last eight English Premier League games, the novice coach was fired on Monday. It was the 14th change of managers in 18 years at Chelsea under Abramovich, and former Borussia Dortmund and Paris Saint-Germain coach Thomas Tuchel is set to arrive in London this week as Lampard's replacement. The German could attend Wednesday's match against Wolverhampton using a slight English pandemic allowance for workers flying into an elite sports environment to avoid full quarantine — if he tests negative for the coronavirus. What Lampard's status at the club did afford him was a public statement of explanation from the Russian billionaire, for whom he helped to win so many trophies as a player. "This was a very difficult decision for the club, not least because I have an excellent personal relationship with Frank and I have the utmost respect for him," Abramovich said. "He is a man of great integrity and has the highest of work ethics. However, under current circumstances we believe it is best to change managers." Those circumstances see Chelsea down in ninth place in the Premier League with the worst points-per-game record of any of Abramovich's managers. The performances had "not met expectations" and left the team "without any clear path to sustained improvement," Chelsea concluded. "On behalf of everyone at the club, the board and personally, I would like to thank Frank for his work as head coach and wish him every success in the future," Abramovich said. "He is an important icon of this great club and his status here remains undiminished. He will always be warmly welcomed back at Stamford Bridge." The lack of fans being allowed into the stadium due to the pandemic might have hastened Lampard's departure. There was no opportunity for supporters to demonstrate their public support for "Super Frank Lampard," as they chant, or for any backlash against his removal at upcoming games. As the pressure has grown, the cracks were showing ahead of the FA Cup win over Luton on Sunday, when Lampard hit out at perceived negative coverage of the team. But his own shortcomings of a fledging coaching career were being exposed, and sentimentality was cast aside despite him being instrumental to the trophy-laden revival of the club as a player since the takeover by Abramovich. Chelsea brought back its midfield great as coach in 2019 even though Lampard had only a single season's experience in management in the second division with Derby. He achieved Champions League qualification in his first season by securing a fourth-place finish in the Premier League despite the club making no signings, in part due to a FIFA transfer ban. The rush to dismiss Lampard is indicative of the impatience shown by Abramovich, particularly when the team is slipping away from the Champions League spots despite having already achieved a spot in the last 16 this season — unlike Premier League leader Manchester United, which was eliminated in the group stage. Getting the best out of expensive squad reinforcements proved beyond Lampard — particularly Germany forward Timo Werner, the headline signing of the summer transfer window spending spree. Since Nov. 14, the only goal he has in all competitions for Chelsea was a tap-in against fourth-division club Morecambe in the FA Cup and he missed a penalty against another lower-league side — Luton. After securing one of the biggest jobs in English management so early in his coaching career, Lampard leaves Stamford Bridge without any success, having lost the 2020 FA Cup final to Arsenal. "Frank has had a short amount of time with a new set of players," said former England teammate turned Sky Sports pundit Gary Neville, whose own spell as a manager lasted less than four months at Valencia. "He was given a period under a transfer embargo — it shielded him. He did a great job in that period, but the minute they spent the money they did, it was always going to bring more expectation and we know what happens at Chelsea when expectation comes. "When you have one of the biggest budgets in the league and biggest spend, expectation comes with it and at Chelsea their approach to managers has been consistent and Frank knew that when he got the job." Lampard is a Chelsea great after scoring 211 goals from central midfield from 2001-14, during which he won every major honour at the club including three Premier League titles and the Champions League. Next in the dugout at Stamford Bridge is set to be Tuchel. It would be a swift return to coaching for the German less than a month after being fired by PSG following a power struggle with the Qatari ownership. Like every other arrival into England, he would have to test negative before flying but he could leave quarantine in London to attend training and games if he is negative again when undergoing another test with Chelsea. Anyone coming into England can then stop isolating after a negative test on the fifth day in the country. Tuchel is only five years older than Lampard but vastly more experienced in coaching having been forced to retire from playing at 24 due to injury. Tuchel made his name in Germany by showing faith in young players during a five-year stint with unheralded Mainz. In 2009, he was promoted to take charge of the Mainz first team after just one year in charge of the youth side, and quickly promoted young talent. He lasted only two years at Borussia Dortmund before being fired despite winning the German Cup after falling out with officials — just as he would do at PSG. ___ More AP soccer: https://apnews.com/Soccer and https://twitter.com/AP_Sports Rob Harris, The Associated Press
Rodgers uncertain of future with Packers – theScore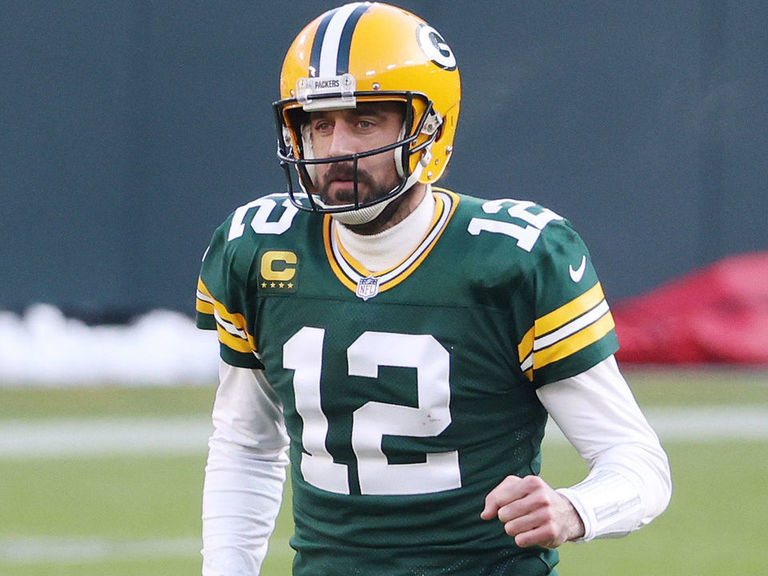 Aaron Rodgers refused to make any guarantees regarding his future with the Green Bay Packers following Sunday's loss to the Tampa Bay Buccaneers.
"There's a lot of guys' futures that are uncertain, myself included," Rodgers said postgame, according to Ryan Wood of the Green Bay Press-Gazette. "That's what's sad about it most, getting this far."
"I'm going to have to take some time away for sure and clear my head, kind of see what's going on with everything," he added. "But it's pretty tough right now."
Rodgers enjoyed one of the most productive campaigns of his career and is the favorite to win MVP. However, his standing with the club was called into question when Green Bay selected Jordan Love in the 2020 draft.
Earlier in the week, the 37-year-old called his future "a beautiful mystery," acknowledging he may not get many more opportunities to play in a Super Bowl. Following the defeat, the star signal-caller admitted it was difficult to watch Tampa Bay celebrate a victory Sunday.
"This one stings, and is going to for a long time," Rodgers said, according to ESPN's Rob Demovsky.
Despite the looming uncertainty over his quarterback, Packers head coach Matt LaFleur backed Rodgers as the team's leader going forward.
"I sure as hell hope so," LaFleur told reporters, per Wood. "I mean, the guy is the MVP of this league. He's the heart and soul of our football team. So, hell yeah. He better be back here. He's our leader."
Rodgers is under contract through the 2023 season, but a potential out exists in his deal after the 2021 campaign.
Daily news: Maple Leafs start western road trip with a win – Pension Plan Puppets
The Leafs opened their Alberta road trip with a win on Sunday. It was a rare afternoon game but that didn't faze the team as they picked up two point in the 3-2 win over the Flames with Jack Campbell in net for the Leafs, and Auston Matthews returning from an undisclosed illness which caused him to miss Friday's game. Our recap is in the related item box below.
There were some questions out of the game, most notably what happened to Jack Campbell in the last few moments of the game. Was he injured, and was it serious? There's little information as of now, though he certainly looked very uncomfortable after Matthew Tkachuk lunged down on him.
After the game, Campbell said "I feel great" but, that's Jack Campbell. He would say that if he had just stared at the Elephant's Foot in Chernobyl.
Meanwhile we learned more about Auston Matthew's injury.
Auston Matthews said it's his hand that was bothering him, but he feels "more than good enough" to play. Will keep an eye on it.

— Kristen Shilton (@kristen_shilton) January 24, 2021
Now they only have to figure out which one of the Oilers hurt him in Friday's game and how to get revenge later this week.
Before that happens the Leafs will play the Flames again tomorrow, but you'll have to stay up late for this one. Game time will be 9:00 p.m. ET.
Other News
Speaking of the Oilers topped the Jets 4-3 yesterday with a literal last second goal in the third period.
Brent Burns completely undresses the whole Minnesota Wild team here, and the Wild eventually lost. I wonder why?
The Six weekend in review: first games and first goals, but still no wins – The Ice Garden
It was a flurry of firsts for the Toronto Six this weekend — and some lessons to build upon in search of their first win.
Former Leafs captain George Armstrong dead at 90 – CBC
Armstrong played a franchise-record 1,188 games for the Leafs, with 296 goals and 417 assists over 21 seasons — including 13 as team captain.
Mikhail Abramov picked up a goal and an assist in Victoriaville's first game back after the QMJHL was forced to pause their season.

Abramov now has 14 points in 10 games. pic.twitter.com/WeVwlWBMo7

— Spence (@MagicianMarner) January 25, 2021