Thunder Bay Art Gallery continues to support and highlight Indigenous artists and curators – Tbnewswatch.com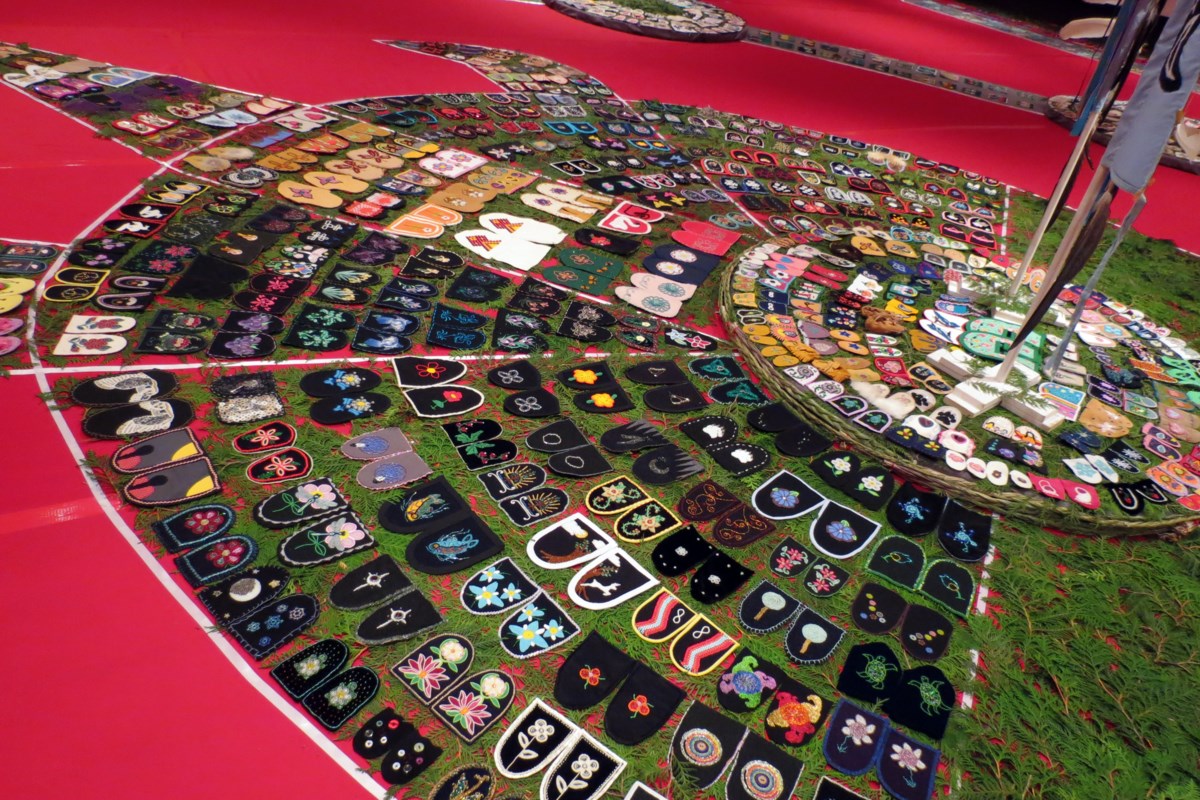 Exhibiting, interpreting and collecting art is a specialized process and the Thunder Bay Art Gallery has amassed an incredible collection of art created by Indigenous artists from across the country and lead the creative world in our isolated corner of Canada.
Throughout the years, the Thunder Bay Art Gallery has stood on the campus of Confederation College, showcasing the works of established and emerging Indigenous artists from every corner of Canada.
"We work with artists from Northwestern Ontario, but we also have works from Indigenous artists from every province and territory [except for Nunavut] in our collection," says Sharon Godwin, director of the Thunder Bay Art Gallery.
Godwin beams when discussing the new generation of local and regional Indigenous artists and watching their art catch the attention of larger institutions throughout Canada, like the Indigenous Arts Centre in Ottawa.
As the only non-profit, public art gallery in Northwestern Ontario, the Thunder Bay Art Gallery exhibits and collects art with a focus on the work of Indigenous artists, and in 2021 their exhibitions are breaking ground for up-and-coming Indigenous artists throughout all of Canada.

Inclusivity for every artist
Godwin says the Gallery approaches every show by collaborating closely with the artist and taking their lead on the presentation of the work.
"It's important to remember that individual Indigenous artists come from different communities with unique traditions, languages and customs. Each artist we work with brings a unique history and contributes to our understanding of the richness of Indigenous cultures in this country," she says.
When the gallery expanded in the early 1980s, the work of Indigenous artists was often still relegated to historical museums. The Thunder Bay Art Gallery was one of the first in the country to focus on the work being produced as important art.
Because of their focus on contemporary Indigenous art, they now have a collection of more than 1,600 works of art and have curated shows for such notable names as Roy Thomas, Christi Belcourt, Ahmoo Angeconeb and Alex Janvier.
One such notable show was Walking with Our Sisters.
"The Gallery provided a space for this memorial project, and work for over a year with a local planning committee of Elders, artists and community representatives. Over 800 pairs of moccasin vamps were created by friends and family in memory of the many murdered and missing Indigenous women and girls in Canada. It was life changing for many in the community, and eye-opening for non-Indigenous people," Godwin says.
This year, post-lockdown, the gallery is presenting two exhibitions, Piitwewetam: Making Is Medicine and Dakobinaawaswaan (Baby in a Cradleboard), both curated by local Indigenous artists, opening doors for young artists to have even more opportunities in the world of art within Thunder Bay.

Creating and curating for the future
Even though gazing at art in-person is on hold for our safety, the gallery has been creating virtual experiences for those, young and old, wanting to stay in-the-loop with their programs.
With virtual field trips for schools and virtual studio visits with their new curator, Penelope Smart, the gallery has stayed ahead of this new normal for everyone discovering how valuable art is.
"We have had to accelerate this new way of working and we see many positive aspects of digital engagement that we'll adopt and add the way we work moving forward," Godwin notes.
She's excited about the future and the change the world has created for the art community. More people are buying from local artists and supporting Indigenous creators, in and outside of the gallery.
With a new space being built on the waterfront, the Thunder Bay Art Gallery is continuing to create spaces for Indigenous and non-Indigenous artists and after 45 years of operating, the future is nothing but promising.
People know that the arts are important and a result of the pandemic is a genuine awakening to the value of art and those who create it.
Art Beat: 2021 writers' festival looking up – Coast Reporter
The cancellation of the 2020 Sunshine Coast Festival of the Written Arts (SCFWA) left a big cultural gap in a year full of them, and this year is still littered with question marks about local arts and entertainment. But word is that the festival looks more likely to happen than not, depending. (That d-word seems mandatory in 2021.) "The ground we walk upon is not quite settled as we await vaccines and keep an eye on the COVID-19 variants," festival producer Jane Davidson wrote in the SCFWA February newsletter. "Our plan for the summer of 2021 is based on our ability to gather in groups of up to 50. We are hopeful that restrictions will relax enough to allow us to do at least that and we hope they relax even more to allow us to increase that number," Davidson said. "Compliance with public health guidelines and safety will lead our way forward."
The extra good news is that festival events would not be confined to a weekend in August. "Our plan is to produce a summertime Sunday afternoon series of readings from July 4 to August 8. On Festival weekend, we will have 7 p.m. events on Friday, Saturday and Sunday (August 13, 14, and 15) and 2 p.m. events on the Saturday and Sunday. That's 11 events in total with capacity for an audience of 42-44," the newsletter said. Also, "[e]very event will be recorded by a professional videographer and the entire series (July 4 to Aug. 15) will be posted online as a virtual Festival for the last two weeks of August." Fingers crossed. Davidson provides several more details about the current 2021 plans at writersfestival.ca.
Shout Out
It soon will be time again for the annual youth arts show at Gibsons Public Art Gallery (GPAG). The show, Shout Out! 2021, is open to all Sunshine Coast residents age two to 18. "Participating youth may submit up to two pieces of artwork in any medium (drawings, painting, prints, mixed media, photography, animation, video, sculpture, etc.)," gallery manager Christina Symons said in a release. Submission forms and artwork may be dropped off at the gallery at 431 Marine Drive in Gibsons starting March 4, from 11 a.m. to 4 p.m. The deadline is 4 p.m. on Sunday, March 7. More information and submission forms can be found at www.gpag.ca. The show runs from March 11 to April 4.
Space is limited in Art Beat but please let us know about your events at arts@coastreporter.net
Focus – Looking back at the Arab Spring: The role of art and music – FRANCE 24
Issued on: 25/02/2021 – 16:23Modified: 25/02/2021 – 16:29
Ten years ago, the winds of change swept across several Arab nations, from Tunisia to Yemen via Egypt. The desire for political change was also expressed through art and music, which became vehicles for political ideas and the hopes and dreams of millions. Anmar Hijazi and Wassim Cornet look back at some of the highlights from the arts and culture world during the Arab Spring.
Programme prepared by Rebecca Martin and Wassim Cornet.
Oil heiress's $150-million art collection could ease a market crunch – Financial Post
Thanks to trepidation over online-only transactions, top-tier artworks are in short supply at auction
Postmedia may earn an affiliate commission from purchases made through our links on this page.
Article content
This spring, Sotheby's New York will auction off about US$150-million worth of art and jewels from the estate of the late oil heiress Anne Marion, who died last year.
Consisting of multiple blue-chip artworks that remained in Marion's collection for decades, the sale comes at a time when, thanks to trepidation over online-only transactions, top-tier artworks are in short supply at auction.
Marion, who inherited a Texas oil fortune built on a Texas ranching fortune, was president of Burnett Oil Company, Burnett Ranches, and the Burnett Foundation in Fort Worth, Texas.
A major philanthropist, she founded the private Georgia O'Keeffe Museum in Santa Fe in 1997 with US$10 million in seed money. She also spearheaded the US$65 million expansion of the Modern Art Museum of Fort Worth, and served for a period of time as a trustee of the Museum of Modern Art in New York. Through her charitable donations, Marion gave away more than US$600 million.
Article content
Lifelong collector
All the while, Marion was acquiring art for herself.
"She was a lifelong, passionate collector," says Michael Macaulay, a senior vice president and senior international specialist for contemporary art at Sotheby's. The works coming to auction, he continues, "were mostly acquired in the 1980s and some in the 1990s."
Roughly 200 lots from Marion's collection will be included multiple sales, Macaulay says. Eighteen of the top artworks will be featured in a standalone evening sale; the rest, including a standalone jewelry sale featuring a pair of emerald and diamond ear clips that carry a US$150,000 high estimate, will be spread across 2021.
Marion is survived by her husband John Marion, the former chairman and chief auctioneer of Sotheby's North America, whom she married in 1988.
Top lots
The top lot of the entire sale is a work by the Abstract Expressionist painter Clyfford Still, PH-125 (1948-No. 1) from 1948. Estimated between US$25 million and US$35 million, the work is a rare instance of the artist's output coming to market: Approximately 95 per cent of everything he ever created resides in the Clyfford Still Museum in Denver.
There's also a Richard Diebenkorn, Ocean Park No. 40 from 1971, estimated between US$20 million and US$30 million, which Macaulay says Marion acquired in the early 1980s.
An abstract painting by Gerhard Richter from 1992 "is a bit of an outlier," Macaulay says, insofar as Marion purchased in 2012 at Sotheby's fairly late in her life. "It's representative of her lifelong passion for collecting," he says, "in that she never stopped."
Article content
Marion bought the work for US$16.9 million; currently, it's estimated between US$14 million and US$18 million, an estimate that reflects a softening of Richter's market.
Similarly, Sotheby's will be selling a Warhol Double Elvis from 1963, which carries an estimate of US$20 million to US$30 million. The Warhol market has been depressed for more than half a decade, Macaulay acknowledges, but cautions against reading into overall numbers too much.
"Yes, there's been an absence of many big prices [for Warhol] for a number of years," he says. "But that's not exclusively representative of demand, it's also 'Well, where is the supply for outstanding, top-tier early 1960s icons of pop art?' And it's pretty thin."