TIFF is pairing their Japanese cinema series with an art show
To walk into the atrium of the Toronto International Film Festival's Bell Lightbox Theatre right now is to be hit with a wave of wild and often fantastical imagery. A whale emerges from the sea, its innards visible, x-ray style. A goblin walks down a city street. The neon-lit skyline of Tokyo at night takes over a wall.
TIFF's new slate of programming, Pop Japan, is a broad look at the last century of Japanese cinema, split up into three series: a look at the work of Japanese New Wave auteur Seijun Suzuki, a retrospective of anime classics, and an examination of animator Hayao Miyazaki, founder of Studio Ghibli.
The film series will be accompanied by an art show — called Reimagining: Narratives of tension and wonder — featuring works by two Canadian-based Japanese artists, Mitsuo Kimura and Toko Hosoya, as well as a mural by Japanese-Canadian artist Tim Fukakusa. Elyse Leonard, TIFF's manager of community and public spaces, says that the TIFF curatorial team selected these artists because their work invoked similar themes and feelings as the featured films.
Leonard explains that they were looking for artists that evoked "Suzuki's experiments in form and storytelling [and] bold use of colour, the wondrous and mythical worlds of Miyazaki, and this theme of transformation that unifies all the world of anime films."
[embedded content]
"After we had that sort of curatorial frame established, we approached programming partners and artists and invited them to co-create a showcase of their work with us that would bring their own practices and experiences into dialogue with these elements."
Kimura grew up in Japan, and came to Canada in 2009 to study at the Ontario College of Art and Design. His work combines the dark lines and natural themes of traditional Japanese ukiyo-e printmaking with elements of fantasy and to create work that is riveting, unique and, in his own words, occasionally "grotesque."
He says that he was surprised to be selected for this show — he's not actually a huge movie guy.
"To be honest, I only know very major movie directors," he says. "I am not so into watching Japanese animation."
Still, he does see some commonalities between his work and the films being shown. "Visually, maybe [the curators] found similarities [between the directors'] depiction of fantasy and mine," he says.
He adds that, at the risk of generalizing, he thinks that many Japanese artists share an ability to bring what he calls "imaginary expression" into their depictions of day-to-day life.
Fukakusa, a.k.a. Ekwal, started doing graffiti as a teenager in the early '00s. As an adult, he says, his work has become a way to connect with his Japanese heritage, including working on various projects for the National Association of Japanese Canadians. That said, he says that usually when he's asked to do Japanese-themed murals, the request is to do something traditional.
"It's usually, 'Paint a waterfall or a tiger or a stork,'" he says. "A lot of Japanese iconography and ukiyo-e."
For Pop Japan, though, he was able to tap into the modern Japanese culture that has fascinated him since he was a kid. His piece "Neon Otaku" is influenced by both anime and Japanese noir cinema.
"When [TIFF] told me the theme of this, it was right up my alley," he says. "It was a no-brainer."
"[The title] has to do with neon lights, that classic kind of anime [visual] of Tokyo at night. An Otaku is a person who's obsessed with a certain character or a particular anime or something like that. And earlier in my life I would define myself as that. There's certain anime that I was obsessed about. I had a huge action figure collection from it. I still have it, actually — it's just not displayed."
Fukakusa says that he's also happy to be included in the show because Japanese film has always been important to him. Growing up in a family that he describes as "whitewashed" — something that was a long-tail result of his grandparents undergoing internment during the Second World War — film was one of the ways he was able to access Japanese culture as a kid.
"My aunts and uncles and my father, they don't speak Japanese," he says. "My grandmother spoke Japanese. A lot of these movies, these old Japanese movies, I used to watch with my grandmother."
He adds that, overall, he sees Pop Japan as a celebration of how Japanese popular culture has entered the North American mainstream, and he's glad to be a part of it.
"When I was growing up, I was almost embarrassed to tell people how much I was into anime," he says. "And now it's so mainstream. Everybody loves Ghibli, and this is just celebrating the fact that it's not such a niche anymore."
Jaw-dropping immersive environmental art exhibit 'Arcadia Earth' is coming to Toronto this fall – NOW Toronto
Just when you think Toronto has been spoiled enough with world-class interactive art exhibits we get yet another one.
But we're not complaining.
A jaw-dropping immersive environmental art exhibit called Arcadia Earth is coming to Toronto this fall and from the looks of it, it's not one to pass up.
READ MORE: Explore centuries of Inuit life with a new exhibit at the Royal Ontario Museum
After a wildly successful run in New York, Las Vegas and Saudi Arabia, the exhibit is making its way up north for its Canadian debut.
Visitors can experience a 17,000-square-foot journey through planet Earth in all its glory and weaknesses.
The exhibit combines both large-scale art installations and technology.
"Arcadia Earth Toronto will transport visitors to the heart of global challenges such as overfishing, plastic waste, and biodiversity loss," the exhibit creators said in a statement.
"From an underwater world built from salvaged commercial fishing nets to a large-scale beehive made from thousands of pages of reclaimed books, the spaces promote individual empowerment and equip guests with actionable suggestions to help protect the future of our planet."
The exhibit will officially open in the fall of 2023 and set up shop at The
Well in Toronto.
Theatre, art, and water security central in international USask exhibition – USask News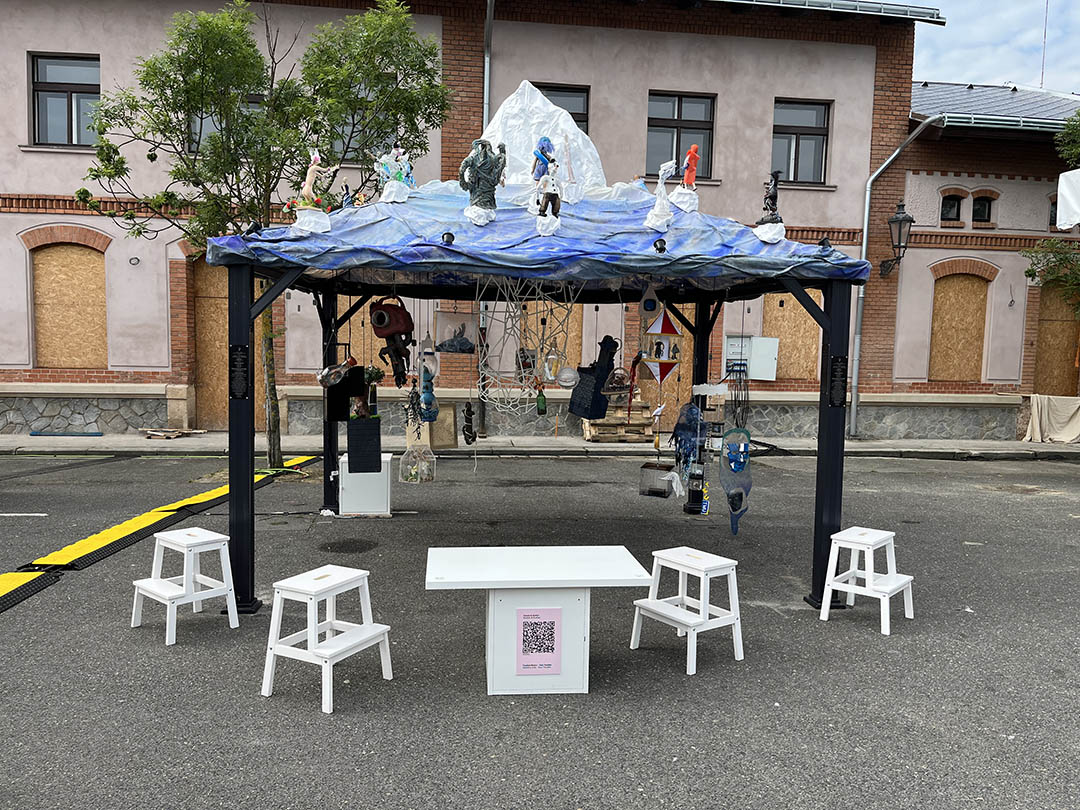 Per Orosz, the main "gazebo-like" structure is meant to invoke the idea of an iceberg, with other art pieces attached above or suspended below the structure's roof to symbolize thoughts and ideas that are either visible and talked about, or metaphorically "below the surface" when it comes to water security.
Six USask undergraduate students and two recent alumni contributed artwork to the exhibit. In addition, 20 USask students will be travelling to Prague to perform and engage with the public for the Canadian exhibition. Overall, around 150 students from across Canada will be participating in the exhibition at PQ.
Orosz spoke glowingly about the students' dedication to creating something that reflected ideas of water security and access to clean water in Canada, as well as their eagerness to collaborate with like-minded students from across the country.
"I feel pure pride for what USask does," she said. "It's an international stage, we're showing off the work to the rest of the world, but it's also important to show off to the rest of Canada."
In addition, Dr. Graham Strickert (PhD) with USask's School of Environment and Sustainability, and the Global Institute for Water Security, spoke to the students involved with the project about being mindful and thoughtful about the topic their artwork is focusing on.
USask has identified water as one of its signature areas of research that garners the university recognition and distinction around the world. Orosz and the students taking part in the PQ exhibition are shining a light on that focus in a unique and interdisciplinary way.
"What's important about these kinds of connections between art and science is that we're collaborating and feeding off of each other," Orosz said. "We're showing that scientists are hearing from us and thinking about new ways to approach their work, and we think about new ways to approach ours."
Richmond youth visual art contest draws worldwide participation – Richmond News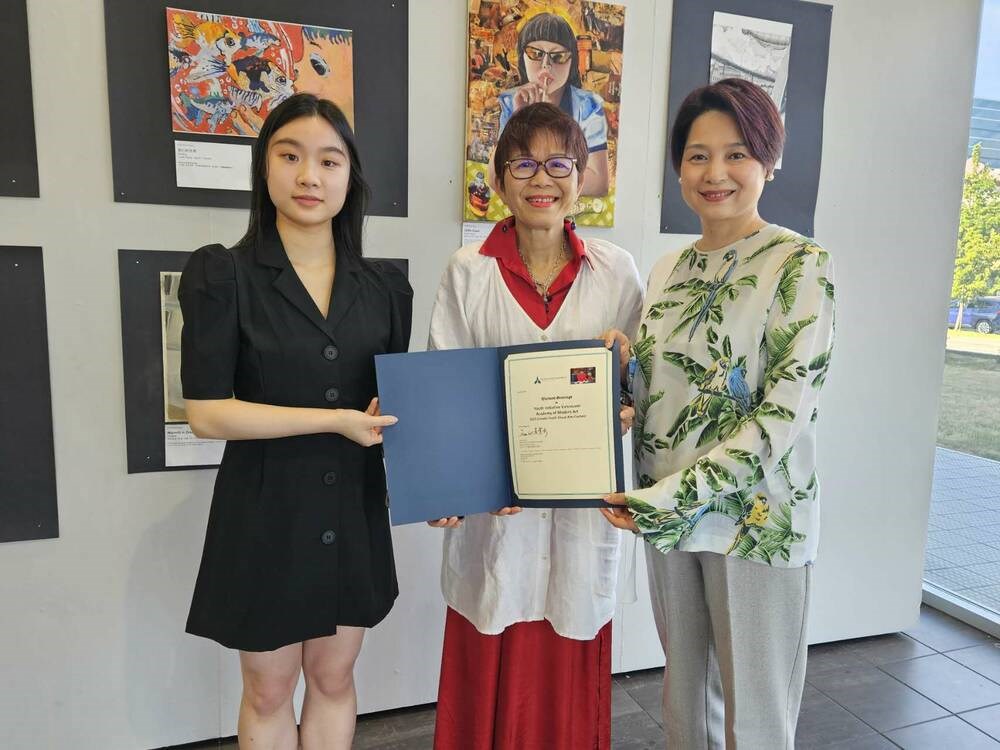 A Richmond-based visual art contest has received hundreds of submissions from across the world this year.
Canada Youth Visual Art Contest, an annual competition open to young people around the world is held by Youth Initiative Vancouver and Academy of Modern Art (AOMA) and was first launched in 2021.
This year, the contest received 660 pieces of artwork from 13 countries. The majority of the artwork will be on display at Lipont Place on No. 3 Road this weekend and can be viewed online after.
"Our competition was to connect young artists worldwide, especially during the global segregation because we started during the pandemic years," said Yoshier Hu, a student from Hugh McRoberts secondary and co-president of Youth Initiative Vancouver.
"We believe art is basically a universal language for creativity, especially in youth."
The contest is open to any type of art media, including traditional painting, mixed media, digital art, photography, 3-D models, sculptures and more.
A jury panel from different countries have selected 177 artworks as award recipients that will be announced at an award ceremony in Vancouver Saturday evening. More than 300 young artists are expected to attend the in-person event. The students also hope to raise funds for charities through the contest with the goal of raising $15,000 this year, Hu explained.
"In the past, we have raised money for UNICEF Canada, BC Children's Hospital Foundation, and this year we are doing VGH and UBC Hospital Foundation," she said.
"One of our main fundraising methods is artwork donation and charity auctions. Contestants and award recipients can choose to donate their artwork, and then we will auction it and raise funds that way."
The winning artwork will be available on AOMA's website.