Tom Brady's post to social media
A lot of people are worried this is the end of the greatest career in NFL history, or the end of the greatest run with the league's dominant franchise.
Are you staying or are you going?
WE NEED TO KNOW! And some of us aren't even New England Patriots fans.
Around suppertime on Thursday, Brady posted a photo to Twitter and Instagram. It looks like him walking out of the tunnel toward a field. We think. He's silhouetted and it's not clear where he's going.
Brady is 42 ½. He's an old football player. He's played 20 seasons.
For a change, he's not playing in the
Super Bowl this year
. Maybe he's just feeling left out and wanted a little bit of attention. Or maybe he's following in his famous wife's footsteps and starting a modeling career.
Or is he feeling his age?
Tom, c'mon, man. Let us know.
ESPN's Adam Schefter, a leading NFL reporter, tried to calm fans down.
"Am told that this tweet is not related to Tom Brady's football future. Repeat, not related to his football future. But the speculation sure is fun," he tweeted.
On TikTok, Chinese State Media Pushes Divisive Videos About U.S. Politicians
Many of the videos attacked specific U.S. politicians before the midterm elections and pushed divisive social issues, without clear labels disclosing they were coming from state-controlled media.
---
TikTok accounts run by the propaganda arm of the Chinese government have accumulated millions of followers and tens of millions of views, many of them on videos editorializing about U.S. politics without clear disclosure that they were posted by a foreign government.
The accounts are managed by MediaLinks TV, a registered foreign agent and Washington D.C.-based outpost of the main Chinese Communist Party television news outlet, China Central Television. The largest of them are @Pandaorama, which features cute videos about Chinese culture, @The…Optimist, which posts about sustainability, and @NewsTokss, which features coverage of U.S. national and international news.
In the run-up to the 2022 elections, the @NewsTokss account criticized some candidates (mostly Republicans), and favored others (mostly Democrats). A video from July began with the caption "Cruz, Abbott Don't Care About Us"; a video from October was captioned "Rubio Has Done Absolutely Nothing." But @NewsTokss did not target only Republicans; another October video asked viewers whether they thought President Joe Biden's promise to sign a bill codifying abortion rights was a "political manipulation tactic." Nothing in these videos disclosed to viewers that they were being pushed by a foreign government.
The TikTok accounts run by MediaLinks do provide some information about the entity behind them: Profile bios for the accounts say, "Material distributed by MediaLinks TV LLC on behalf of CCTV. More info at DOJ, D.C." But the vast majority of people viewing MediaLinks videos never see this language. According to data posted on LinkedIn by a MediaLinks employee, NewsToks garnered 8.3 million video views between May 8 and July 6, 2022, but only 57,600 profile views during the same 60-day period.
Moreover, American viewers who did visit the accounts' bios might not be aware that in this case, CCTV stands for China Central TV, or that this entity is Chinese state media. NewsTokss's "More info at DOJ, D.C." disclaimer appears to be an oblique reference to MediaLinks's foreign agent registration.
Chinese state media entities have long sought to use social media to influence U.S. audiences — they've built audiences and bought ads on Facebook and Twitter to disseminate misinformation about topics such as the detainment of Uyghurs in Xinjiang, the 2019 protests in Hong Kong and the Russian invasion of Ukraine. But this is the first report of a Chinese state media entity using TikTok to influence U.S. audiences' opinions about U.S. politics.
---
Got a tip about TikTok or ByteDance? Or about Chinese state media's social media strategy? We'd like to hear from you. Write Emily Baker-White at ebakerwhite@forbes.com or Iain Martin at iain.martin@forbes.com.
---
TikTok, which is owned by Beijing-based ByteDance, is the first foreign social media app to achieve mass adoption in the U.S. It is also the only major social media platform in the U.S. that does not label videos posted by Chinese state media entities, so that viewers know where their content is coming from. Several of the videos posted by @NewsTokss (including "Cruz, Abbott Don't Care About Us") were also posted by MediaLinks affiliate China Global Television on YouTube, Facebook, and Instagram, where each post and video is labeled as Chinese state controlled media. (Disclosure: In a previous life, Emily Baker-White, an author of this story, held policy positions at Facebook and Spotify.)
TikTok has said it is developing a global policy to address content posted by state-controlled media outlets. In a statement, TikTok spokesperson Jamie Favazza told Forbes: "We plan to introduce our state-controlled media policy and corresponding labels globally next year as part of our continued focus on media literacy. As we previously confirmed, the global rollout will include China state media." Forbes previously reported that according to LinkedIn profiles, more than 300 employees at TikTok and ByteDance previously worked for Chinese state media.
The most popular NewsTokss videos available on TikTok today largely focus on divisive U.S. social issues like guns, abortion and structural racism — all topics that were also used by Russian election meddlers seeking to divide Americans and weaken confidence in democratic institutions. These topics were also discussed by fake Facebook and Instagram accounts linked to a China-based election influence operation earlier this year.
But @Newstokss has also found success with other subjects, including conspiracy theorist Alex Jones, Hungarian autocrat Viktor Orban and Russian president Vladimir Putin. In one NewsTokss video, taken from the Conservative Political Action Conference, Orban says "the West is at war with itself," and "the globalists can go to hell." In another video, Jones says that the judge in the Sandy Hook trial is "guilty of tyranny" along with "all the rest of the New World Order." Jones's media company, Infowars, is banned from TikTok. TikTok spokesperson Favazza said in an email that "violative content has been removed," including the video of Jones.
TikTok is currently negotiating a contract with the U.S. government to mitigate national security threats posed by its foreign ownership. Some U.S. lawmakers have long feared that the Chinese government could use TikTok to harvest private data about American citizens, or use TikTok's recommendation engine to influence what they see on the app. BuzzFeed News previously reported that ByteDance had instructed employees working on one of its other apps, a now-defunct news aggregator called TopBuzz, to push pro-China messages to U.S. users. ByteDance denied the claims.
On July 5, TikTok's Head of Public Policy for the Americas, Michael Beckerman, fielded questions from CNN's Brian Stelter about national security questions raised by the company's Chinese ownership. Stelter asked whether the Chinese government might use TikTok to "put a thumb on the scale" in favor of certain political candidates. In response, Beckerman said: "I'm really glad you raised this issue. Look: We are not the go-to place for politics."
Stelter also asked Beckerman about concerns that the Chinese government could use TikTok to "influence Americans' commercial, cultural, or political behavior." In response, Beckerman said, "Yeah, I just don't see that."
@NewsTokss posted six videos that day: four about mass shootings (one of which is captioned "A Uniquely American Plague"), and two about police officers killing an unarmed Black man.
The extent of MediaLinks's operation on TikTok is unclear, but LinkedIn posts by two MediaLinks employees — one current and one former — provide some sense of scale: In addition to the post claiming that NewsToks generated 8.3 million video views within 60 days, the LinkedIn profile of a different, former producer also said that by March 2022, Pandaorama had accumulated more than 10 million views, and The Optimist had garnered another 4.5 million. Neither producer responded to an interview request.
In addition to these three main accounts, MediaLinks manages several additional TikTok accounts that cross-post its videos, including @PandaoramaTrends, @NewsToks (different from @NewsTokss), and @PandaoramaLink, which is now defunct. Two much smaller Twitter accounts, @PandaoramaLink and @Panda_Paws, also contain the MediaLinks disclosure in their account bios. Those accounts and their tweets are labeled by Twitter as "Chinese state-affiliated media."
Though MediaLinks did not reply to multiple requests for comment, the LinkedIn post containing statistics about the NewsToks TikTok account disappeared shortly after they were sent.
Nelson: It's time to leave Smith's 'controversial' media track record behind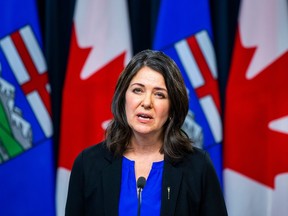 If, by some miracle, I were elected to public office, my first action would be to demand a recount.
Because, as Dirty Harry Callahan once intoned, during the cinematic culmination of Magnum Force: a man's got to know his limitations.
Well, it doesn't need Clint Eastwood to explain mine, certainly not when it comes to any political ambition, even though newspaper columnists have been on an electoral roll recently — first Boris Johnson in the U.K. and now Danielle Smith here in Alberta.
Because there's a huge gulf between the simplistic solutions column-writing or talk show hosting encourage and the complexity involved in running any sizable constituency. A flair for words and grandiose promises will soon collide head-first with the reality of balancing multiple competing interests and judging endless shifts in the general mood of those you're expected to serve and not just entertain.
Yes, it's a whole different ball game, which Premier Smith quickly rediscovered while settling into her new role.

Speaking days after becoming premier she described the COVID-19 unvaccinated as the most discriminated against bunch in her lifetime. Wow! It sounded more like an opinion page column or an intro to a talk show segment than the usual boilerplate pronouncement from a new leader.

The outrage stirred seemed genuine enough — though some undoubtedly revel in exuding permanent umbrage — and Smith probably deserved the public mauling. After all, she was speaking as premier.

Yet it's different when opponents constantly regurgitate things Smith wrote or said during her previous media work, an occupation demanding controversy as a job requirement. Sure, people say they want good news and unbiased coverage, but columnists and talk show hosts seeking refuge beneath the bland phrase "on the other hand" soon find themselves rediscovering the joys of covering late-night council meetings or reading the weather forecast.
Smith is no dummy, so it didn't take long to understand the flavour had shifted beneath her tongue. (Not being her first go-round on the political carousel, after all.)

She realizes each time announcing anything as premier — and she's announced a boatload lately — opponents will dig out some earlier statements on that same issue and, given the abundance of her publicly available material, it then becomes the political equivalent of shooting fish in a barrel.

"Having spent decades in media and hosting talk shows, I discussed hundreds of different topics and sometimes took controversial positions, many of which have evolved or changed as I've grown and listened to you," is how she framed it last week, after a provincewide announcement involving a multibillion-dollar giveaway to soften the effects of rising prices.
See, it didn't take long. She's taking refuge in the politicians' handy-dandy dictionary — evolving, listening and changing with the best of them. Of course, still being a columnist, I'd have simply said: "That was then, this is now. Get over it." (Reference that earlier bit about knowing your limitations.)

Meanwhile, Smith also executed a neat political pincer movement upon NDP Leader Rachel Notley — flying so high just weeks ago — by essentially stealing the Dippers' platform.

Hey, money for families, money for seniors, money for AISH folk, money for food banks, rebates on electricity, taxes axed on gasoline, subsidized low-income bus passes, more cash promised for front-line health-care delivery. It was a smorgasbord of caring, sharing giveaways, leaving the NDP Opposition with little complaining room other than suggesting yet bigger bribes for your future vote.
And no mention of COVID. While the somewhat inflammatory proposal of a Sovereignty Act was watered down to become the Alberta Sovereignty Within A United Canada Act. (Seems a bit like a kiss on the cheek from your sister after hoping for a hot date with the neighbourhood beauty, doesn't it.)

Oh well, such is politics. In the end, every participant has one goal: to be elected. Danielle Smith the columnist/radio talk show host is gone. Premier Smith has entered the room.

That was then, this is now. Get over it. (And don't forget: never vote for me.)

Chris Nelson is a regular columnist for the Calgary Herald.
Social media tools were key to 'Freedom Convoy' protest, expert tells inquiry – CBC News
Social media acted as the "central nervous system" of the "Freedom Convoy" protest in Ottawa last winter, the Public Order Emergency Commission heard Tuesday as it considered the role played by misinformation in the lead-up to the invocation of the Emergencies Act.
The commission's policy phase this week follows six weeks of fact-finding hearings on the events that led to the federal government's decision to invoke the act to end the convoy protests. Those hearings included testimony about online threats and the role social media played in organizing the protests against COVID-19 public health measures.
Before thousands of trucks started rolling toward Ottawa last January, a loose group of protest organizers communicated mainly over TikTok and Facebook, the commission heard over those weeks of testimony. Many of them had never met in person until the protests began.
"Social media was the central nervous system of the convoy, and exploration of its role crosses numerous domains, such as law, psychology, history, sociology and public policy, to name a few," Emily Laidlaw, the Canada Research Chair in Cybersecurity Law at the University of Calgary, wrote in a report for the commission.
Social media was used to raise funds, connect organizers and spread their message. It was also used to contrast the accounts of traditional media outlets and provide a different view of what was happening on the ground, Dax D'Orazio, a political scientist and post-doctoral fellow with Queen's University, testified during an expert panel discussion before the commission Tuesday.
"It was a way of creating meaning, finding community and building, eventually, momentum for social and a political movement," he said.
The inquiry is seeking expert input to bolster its analysis of whether the government was right to use the Emergencies Act in response to protests that took over downtown Ottawa and halted trade at several border crossings.
The expert testimony will inform Commissioner Paul Rouleau's recommendations about how to modernize the Emergencies Act and identify other areas for further study. It will also help him and his team study the impact of the purposeful or inadvertent spread of false information during the protest, which was explicitly written into the commission's mandate.
Experts testified that regulating disinformation is a difficult prospect — especially since it's not illegal to spread falsehoods.
"It's lawful but awful," said Laidlaw during the panel discussion. "For the government to create legislation that targets lawful expression, it likely won't survive constitutional scrutiny."
The experts defined disinformation as the intentional spread of false information, while misinformation was described as people spreading false information that they themselves believe to be true.
It would be difficult to draft laws that distinguish between the two, said Jonathon Penney, a legal scholar at York University. "It's a question of intent," he said.
The panellists also explored the relationship between extremist views and social media, which can provide an echo chamber that serves to confirm people's existing biases.
Studies have shown the internet can help entrench extremist values, said Vivek Venkatesh, an education professor at Concordia University.
People who subscribe to extremist views increasingly turn to "fringe media" instead of taking in news from traditional sources, said David Morin, a national security expert with Sherbrooke University, who spoke to the panel in French.
He said "self-made journalists" associated with those fringe outlets were present in Ottawa during the convoy protest, and produced "alternative information" for viewers.
For example, Morin said, some alternative media sources reported that hundreds of thousands of protesters attended the Ottawa demonstration, when police reports show the true number was far lower.
Windsor blockade affected thousands of jobs
A second panel on the flow of essential goods and services, critical infrastructure and trade corridors told the commission on Tuesday afternoon that 339,275 jobs depend on the Ambassador Bridge in Windsor, Ont., that protesters blockaded for six days in February, halting trade to the United States.
Those jobs account for 1.8 per cent of all jobs in Canada, according to a report prepared by economist Francois Delorme and economics student Florence Ouellet.
The blockades highlighted the vulnerability of some of Canada's critical infrastructure, which is governed by a patchwork of government and private sector jurisdictions.
If the federal government hopes to protect critical infrastructure with legislation, it should be very transparent about defining what that is, and what is and isn't permissible nearby, said Phil Boyle, a legal studies professor at the University of Ottawa. Otherwise, he said, the legislation could be overbroad and used to stifle lawful dissent.
Drawing up a list of what constitutes critical infrastructure could be tricky, though, said Kevin Quigley, a director at the MacEachen Institute for Public Policy and Governance at Dalhousie University.
Different infrastructure is critical to different people at different times, he said, depending on the context. A small bridge that serves as the main route to transport food to a small community could be considered critical on a local scale, for instance.
Ambarish Chandra, an economics professor at the University of Toronto Scarborough, pointed out that when it comes to Canada's land border crossings, trade is heavily concentrated in southern Ontario.
If something unexpected were to happen there, the effects could be catastrophic for the whole country, he said, adding that Canada could encourage the diversification of trucking networks to make greater use of border crossings in Quebec and in the Prairies.
The inquiry is on a tight timeline to complete its work. Rouleau is expected to submit final recommendations to Parliament at the beginning of February.
Policy panels continue on Wednesday.