Top 10 real estate sales in North and West Vancouver 2022
Wine room? Check. Heated driveway? Check. Infinity pool, boat lift, putting green? Check, check, check.
While the real estate market took a cooler, even icy, turn in the last six months of 2022, that doesn't mean that sales of luxury real estate vanished on the North Shore.
Au contraire!
In fact, those for whom the mortgage "stress test" isn't a worry were still flexing a certain amount of buying power. Buyers at the high end of the market favoured large mansions – most clocking in at around 10,000 square feet – along with large lots, waterfront or expansive water views. Finishing touches like outdoor fire places, movie theatres, gyms, spa rooms and hot tubs didn't hurt either.
Here's a look at the top 10 real estate sales of 2022 on the North Shore.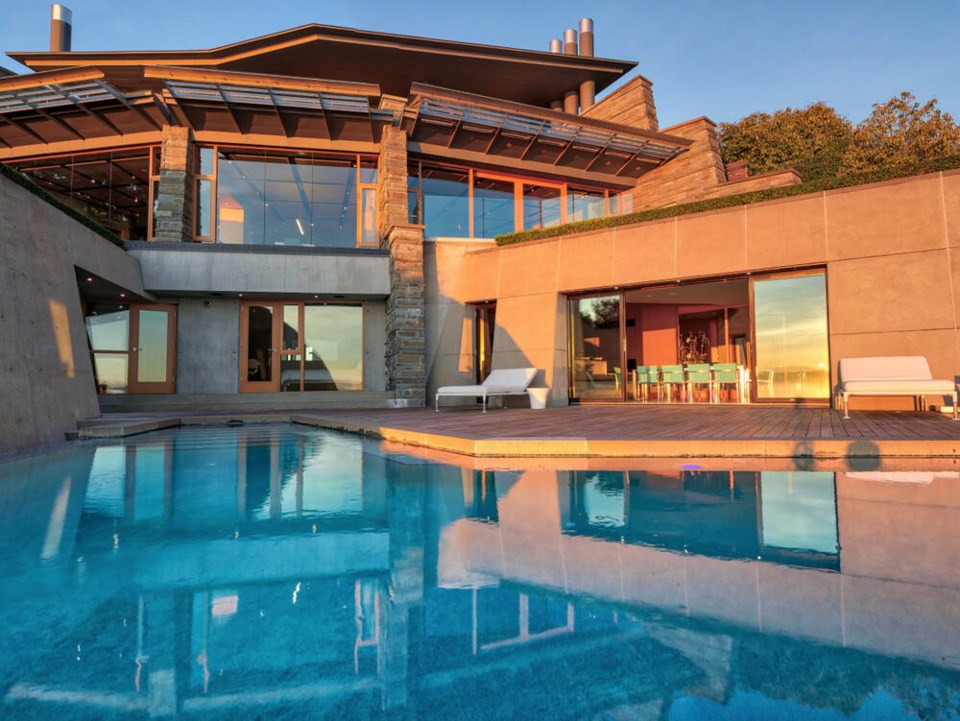 1. 2910 Park Lane
According to public real estate records, the top sale on the North Shore last year was an iconic five-bedroom, seven-bathroom luxury estate at 2910 Park Ln. on the Altamont waterfront which sold for $21.5 million on Aug. 10.
The 14-year-old, 9,400-square-foot home sits on a lot of almost half an acre of high-bank waterfront, including 98 feet of shoreline.
The home was built in 2008 by its former owner Mossadiq Medaly, a former chair of BC Hydro and a leader in the renewable energy industry, on the site of an apple orchard formerly owned by a member of Vancouver's Woodward family.
Designed by architect Peter Grant, the home features luxuries like an elevator, indoor-outdoor speaker sound system, in-floor heating system, heated driveway, five fireplaces, infinity pool, floor-to-ceiling windows and a professional music room.
The luxury home, assessed at $14 million, was originally listed for sale at about $30 million.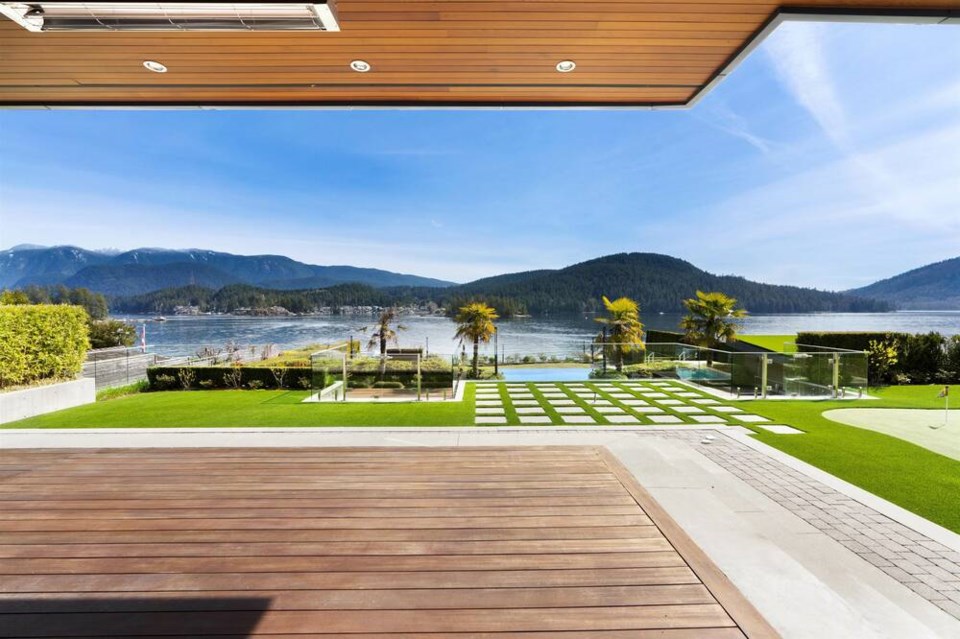 2. 754 Beachview Drive
A deluxe six-bedroom, eight-bathroom home at 754 Beachview Dr. was the only home in North Vancouver to make the Top 10 sales list. The luxury home on three-quarters of an acre was assessed at just under $12.55 million this year. The 8,850-square-foot home sold in September for $14.9 million.
Features of the oceanfront mansion include an infinity pool, 10-person hot tub (now that's a party!), golf putting green, dock with boat lift, four-jet-ski slip and private ramp. Inside features double height ceilings, Miele appliances, movie theatre, billiard area, gym, sauna, steam room and wine room.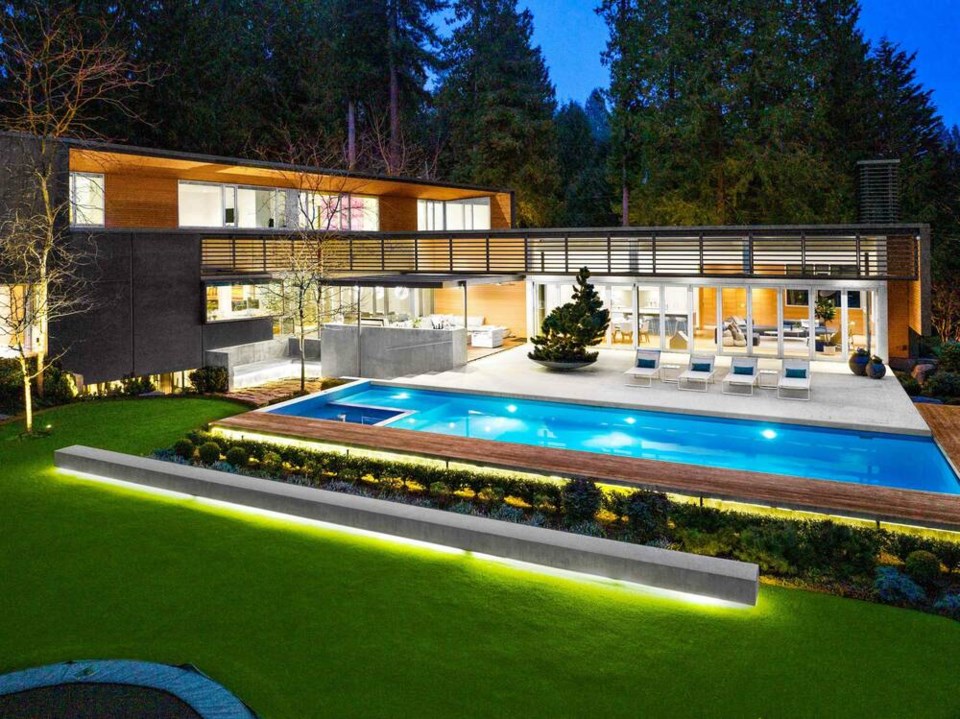 3. 2975 Palmerston Avenue
Located in West Vancouver's sought after Altamont neighbourhood, this distinctly modern mansion by architectural firm Battersby Howat sold for $14.75 million in February after just 24 days on the market. The six-year-old, 10,000-square-foot three-storey house on a landscaped half-acre lot sold for close to its asking price of $14.88 million. The home features floor-to-ceiling windows and glass doors that create a dramatic open feel leading to spectacular garden views. Outside, a hot tub and pool beckon. The home also boasts an array of technology for controlling lighting, a private elevator, security system, air conditioning and garage parking for five vehicles.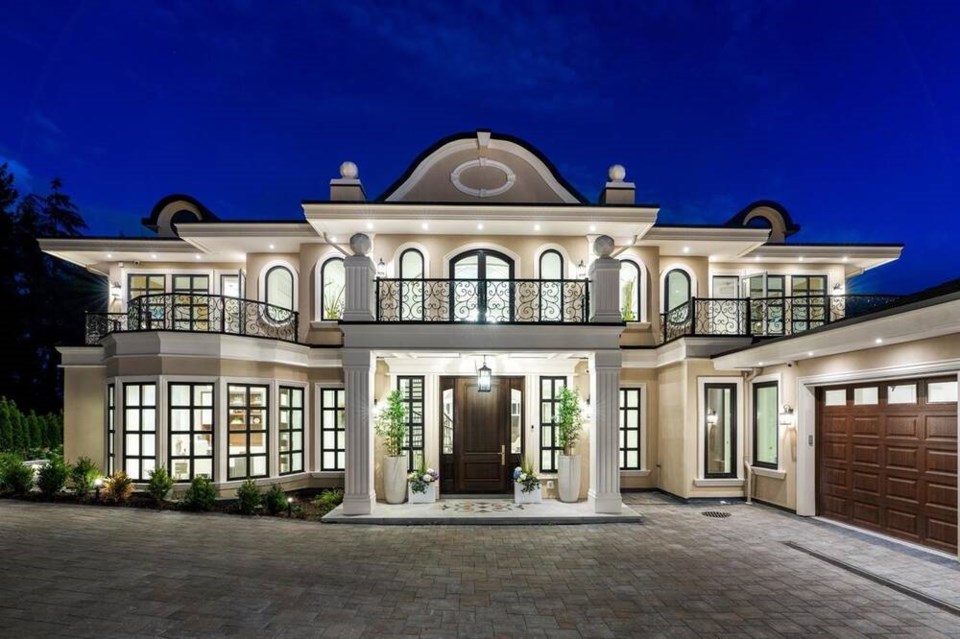 4. 1335 Chartwell Drive
Homes in the British Properties are among those often sought out in the higher echelons of the real-estate market. It's all about the views up here, and showing off luxury details. The fourth-highest sale on the North Shore, at 1335 Chartwell Dr., which sold for $12.8 million July 23 after just 15 days on the market, ticks those boxes. A one-year-old custom build, the six-bedroom, eight-bathroom 10,000-square-foot house features a "grand foyer" with a 20-foot hand-painted dome ceiling rising above a crystal chandelier. Italian tile, Miele and Wolf appliances, four marble gas fireplaces and a wine cellar, theatre, sauna, gym, pool, hot tub and heated driveway complement the bling.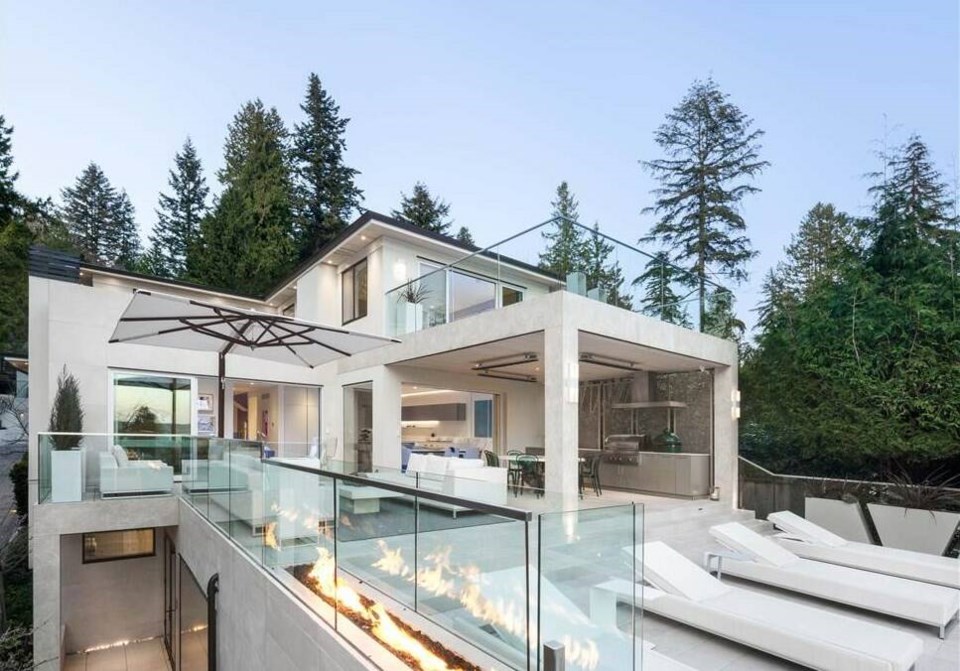 5. 2919 Mathers Avenue
A "health and wellness wing" including a massage room, separate "staff quarters," "butler's pantry" and a 27-foot, 11,000-litre tropical aquarium are among the unique features of the fifth-highest property sale on the North Shore in 2022 at 2919 Mathers Ave. The seven-bedroom, 11-bathroom 8,000-square-foot Mediterranean-inspired home on almost a half acre in Altamont sold for $11.8 million on April 11 after 55 days on the market. That's significantly less that the original asking price of $14.3 million. An integrated Band & Olufsen audio visual system, fitness room, infinity pool and jacuzzi complete the package.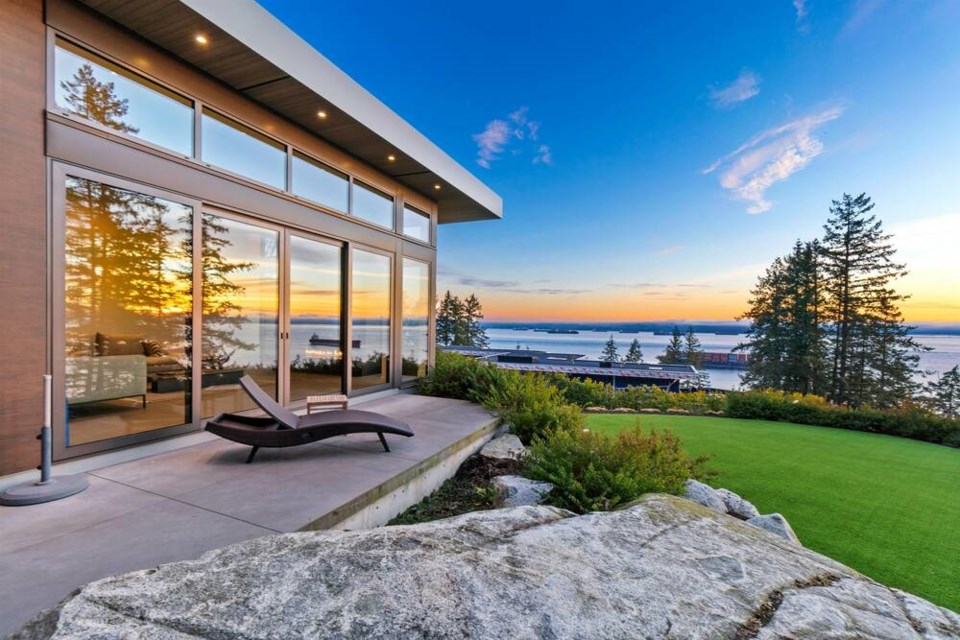 6. 3704 McKechnie Avenue
A contemporary custom-built home, nestled among trees on a "trophy property" backing on to McKechnie Park, this three-year-old 5,300-square-foot home at 3704 McKechnie Ave. sold for $11 million on Feb. 18, 2022 – less than the asking price of $12.8 million.
The five-bedroom, six-bathroom home on a third of an acre in Westmount features an open floor plan drenched in light with all rooms offering sweeping ocean views.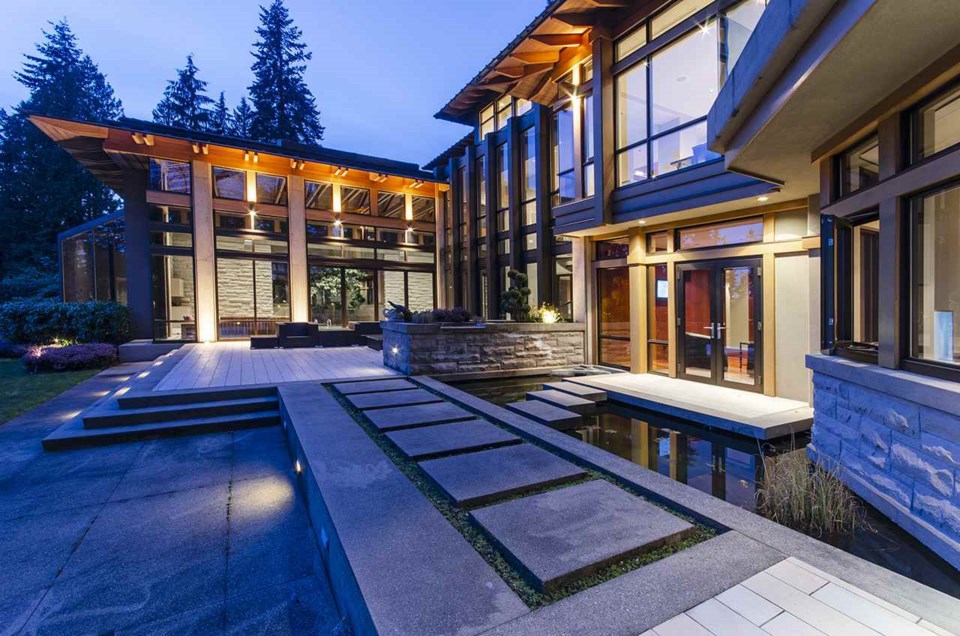 7. 2860 Mathers Avenue
A 17-year-old 12,000 square-foot home on Altamont's "Golden Mile" was the seventh highest real estate sale on the North Shore last year. The three-storey, seven-bath, six-bedroom home at 2860 Mathers Ave. sold for $10.7 million, considerably below the $14 million asking price, on April 20, after 75 days on the market. The modern concrete home features a wine room, gym and indoor swimming pool and has geothermal heating and cooling. There are also solar panels for hot water, a rainwater reclamation system and a heated driveway.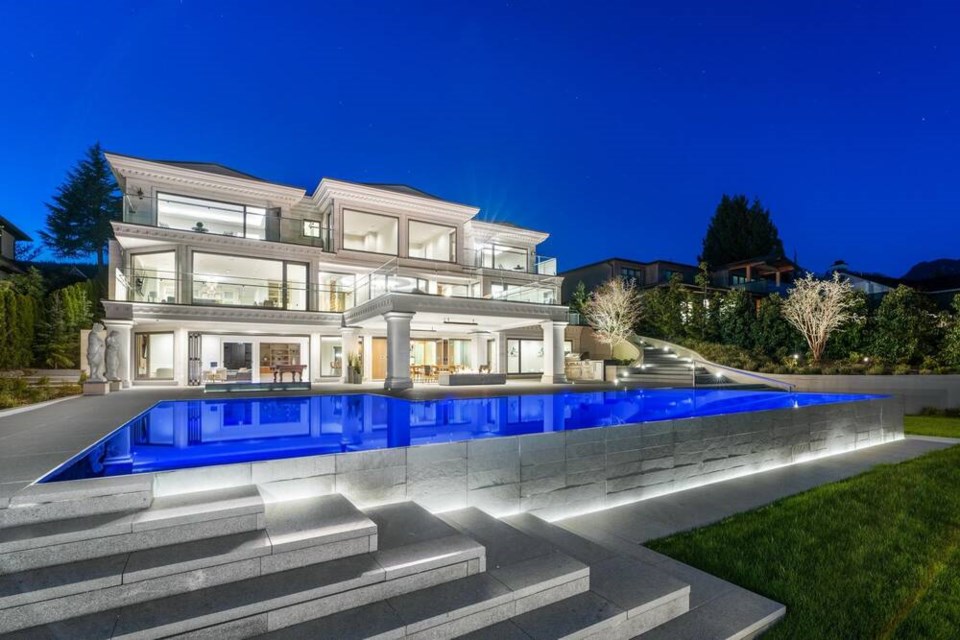 8. 1022 Eyremount Drive
If a mini golf course and elevator are among the luxurious touches you expect in home, this one-year-old British Properties mansion fits the bill.
The almost 10,000-square-foot home at 1022 Eyremount Dr. features gasp-worthy views of the ocean, city and Lions Gate Bridge. The five-bedroom, eight-bathroom mansion is billed as having "every imaginable luxury" including a walk-in wine cellar/cigar room, billiard area, home theatre and sauna, as well as five fireplaces. It sold for $10.5 million Sept. 18, after 69 days on the market, a relative bargain compared to the asking price of $16 million.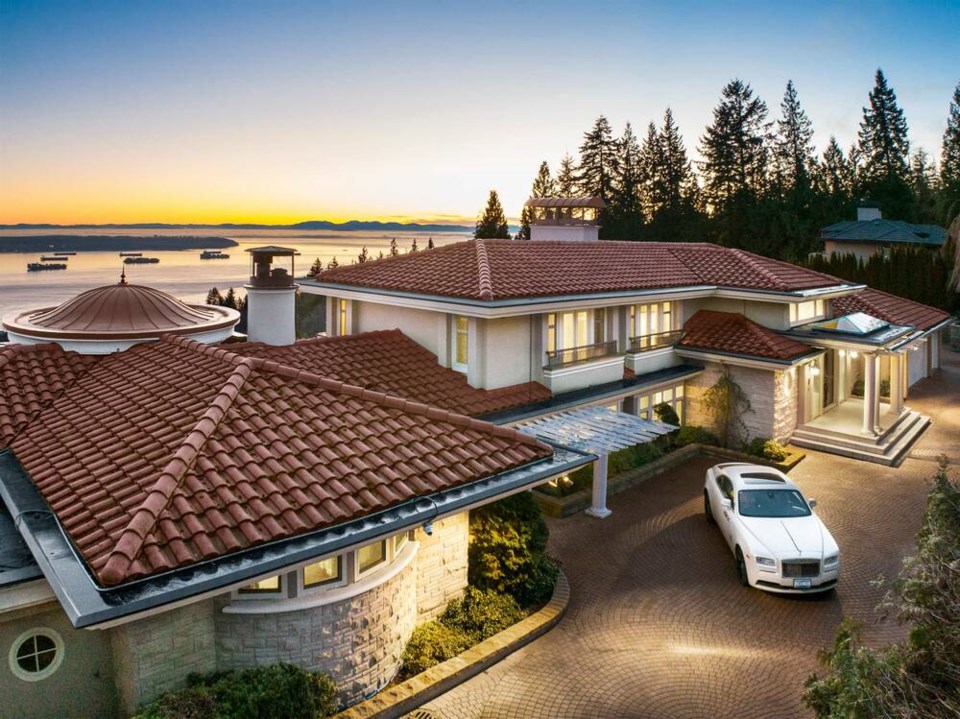 9. 1578 Chippendale Road
Amazing views from the British Properties are the key feature of this 9,700-square-foot 23-year-old home on a huge flat lot at 1578 Chippendale Rd. The three-storey, six-bed, five-bathroom mansion sold April 15 for just under $10.3 million. Almost 300 feet of frontage allows for a "massive street presence." A library, sauna and media room are also among the features of the home.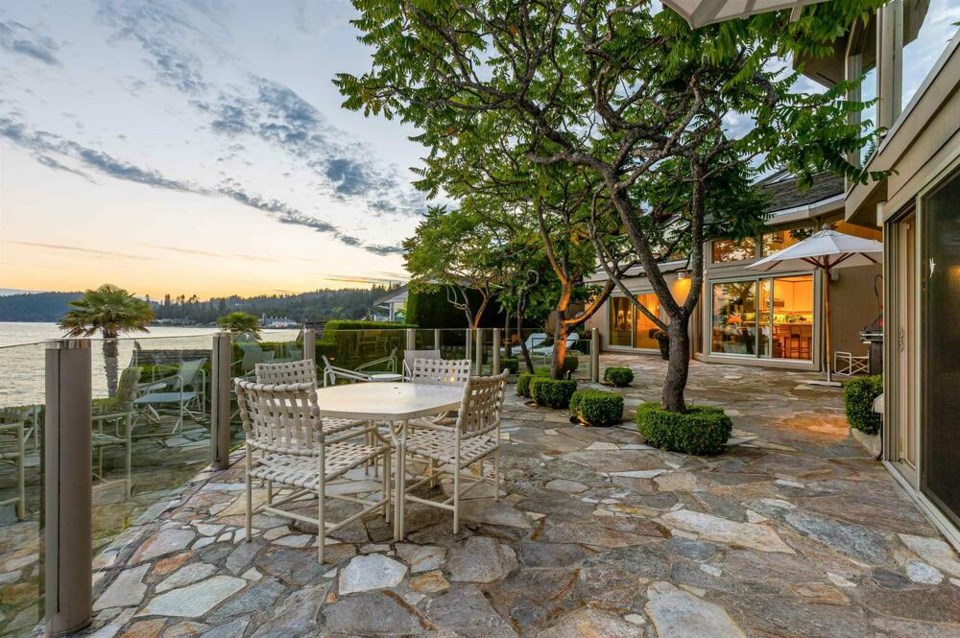 10. 3874 Marine Drive
This two-storey, four-bedroom four-bathroom home on the waterfront in West Bay at 3874 Marine Dr. is the smallest of the top ten homes to sell last year at 3,700 square feet. It's also the oldest at 73 years. But what it lacks in sheer size it makes up for in gorgeous west coast character on a spectacular 17,600-square-foot property that slopes gently to the water's edge. Tiered patios, a waterside pool and boathouse lead down to about 80 feet of natural shoreline. There's also tranquil gardens a pond and gazebo. Inside features large rooms with stunning views, all in a comfortable home.
This home was the only one on the North Shore's top ten sales that sold for under $10 million last year, fetching $9.8 million on Sept. 17, after just 17 days on the market.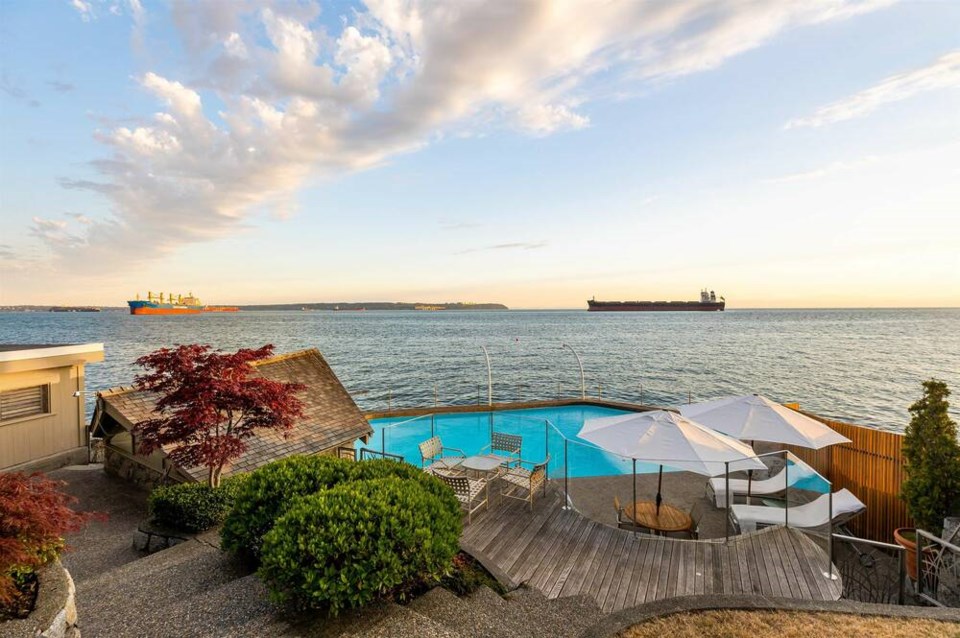 Billions of dollars in commercial real estate loans are due; here's why you should care – KARE11.com
[unable to retrieve full-text content]
Billions of dollars in commercial real estate loans are due; here's why you should care KARE11.com




Source link
How distress in office real estate could ripple out into the markets – Axios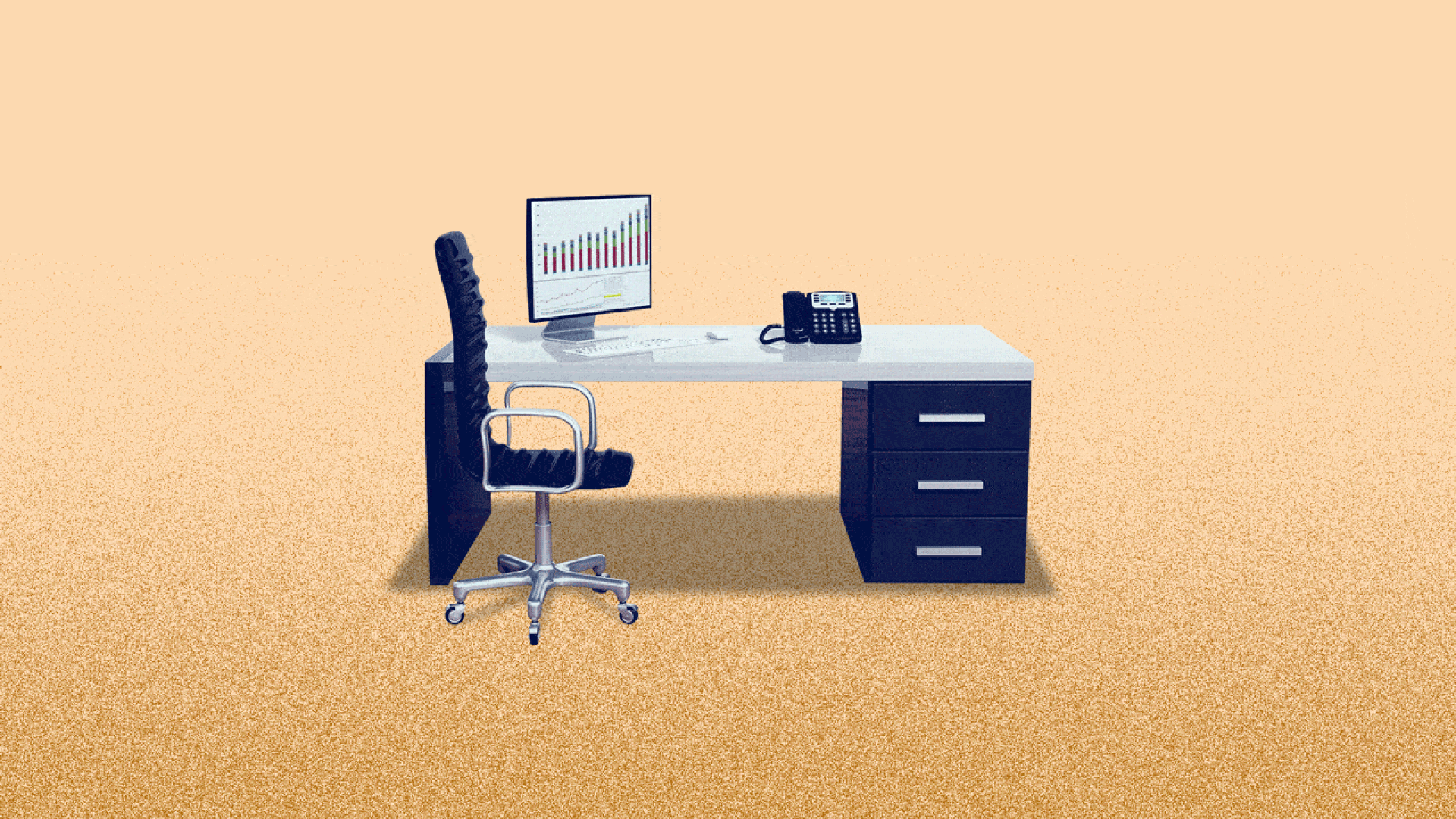 Illustration: Sarah Grillo / Axios
Office vacancies — plus the still simmering banking crisis — have us considering what a potential bust in the $6 trillion U.S. office property market might mean.
Why it matters: A deep downturn in property values is more than a problem for oligarchs, feuding billionaire clans and oil-rich foreign wealth funds.
State of play: Office utilization is still low compared to the before-times, with WFH and hybrid set-ups now standard for millions of former office drones.
By the numbers: Nearly 30% of companies still have remote or hybrid options — though that's come down from 40% in 2021, the latest government data shows.
Utilization — how many people actually use the offices that their companies rent — is down roughly 50% from pre-COVID levels, according to swipe-card systems operator Kastle Systems.
Office building appraisal values were down 25% in February compared to a year prior, according to a Goldman Sachs note that cites research shop Green Street.
Office rents — especially in large cities with lengthy commutes — have fallen, too.
The latest: Signs of stress are picking up, with delinquencies on commercial office mortgages touching 2.4% in February, up from 1.5% six months ago, according to Trepp. Defaults are starting to appear as well.
The impact: The value of commercial property produces anywhere between 20% and 40% of tax revenues for states and localities.
If those revenues fall, governments will have to cut services, raise taxes, or both, making cities less attractive.
Meanwhile, smaller banks are big lenders to real estate developers, putting them at risk if office defaults spike.
Goldman Sachs analysts estimate that banks hold roughly half of the $5.6 trillion in commercial property mortgages outstanding, with the overwhelming majority of that half held at small banks.
Many of those same regional banks have been under pressure since Silicon Valley Bank failed. With deposits migrating to larger institutions — or simply to higher-interest accounts like money markets — they'll have less capacity to refinance loans on office properties.
Property loans typically need to be refinanced every five to seven years — and failure to refinance or pay off the loan can result in a default. When that happens, the debt gets renegotiated, and the lender often takes losses.
If defaults pile up, it could worsen the pressure on office building values and make banks leerier of making office loans — exacerbating the defaults and the banks' losses.
Finally, pension funds have also sunk billions into real estate in recent years. The top 200 institutional managers owned about a half-trillion worth of real estate in 2022, according to trade publication Pensions & Investments.
"How those real estate portfolios of buildings are doing, will then affect, in the end, returns which these pension funds are getting. And that will also affect households which are dependent on these pension funds," says Vrinda Mittal, a Ph.D. candidate in finance and economics at Columbia Business School who has studied private real estate investments.
The bottom line: We're still in the early stages of the post-COVID era for offices, and how it will shake out is the trillion-dollar question.
B.C. real estate: 2 resort properties on sale for $8.25M
A pair of sprawling resort properties in B.C. – complete with a hotel, ski runs and lifts, lakefront cabins, a campground, and a pub – are on sale for less than the price of some Vancouver tear-downs.
Colliers has listed the Powder King Ski Resort and its "sister property" The Azouzetta Lake Resort for $8,250,000. It's being billed as a "once in a lifetime opportunity" to purchase the two properties, which are located at the base of the Pine Pass in Northeastern B.C.
The properties are remote, located 67 kilometres east of Mackenzie and 195 kilometres north of Prince George.
This image from an online listing by Colliers shows a resort property for sale in Northeastern B.C. (Image credit: collierscanada.com)
The ski resort, according to the listing, has been rated number 1 for snow in Canada, getting an average of 12 metres of snowfall each winter. In total, there are 364 hectares of skiable terrain, comprised of 37 runs serviced by three lifts.
Accommodations at the ski resort include a 50-room hotel, two cabins for staff, a lodge with a licensed pub and a cafeteria. The possibility for expansion is built in, the online listing says, noting the resort has a master plan with the province.
"There is a three-phase development plan which allows for land acquisitions, real estate development, commercial development, ski runs, lifts, and summer recreation activities," the realtor's website says.
This image from an online listing by Colliers shows a resort property for sale in Northeastern B.C. (Image credit: collierscanada.com)
The second resort is roughly six kilometres away from the ski resort, situated on the "pristine," 340-acre Azouetta Lake. The property includes several rustic but fully equipped A-frame cabins, RV sites, a campground, and on-site accommodations for a manager.
"The lake supports rainbow trout and an array of natural wildlife as well as numerous recreational opportunities such as kayaking, canoeing and boating as well as mountain biking, hiking, and other pursuits nearby," the description from Collier's says.
This image from an online listing by Colliers shows a resort property for sale in Northeastern B.C. (Image credit: collierscanada.com)
The property also has a gas station, a convenience Store and a restaurant called Café 97 which is open seven days a week, year-round.
A video tour of the property shows more of what it has to offer.