Toronto Raptors open unusual season with uncharacteristic loss – TSN
TORONTO – At one point, it looked like the Raptors might bring some much-needed normalcy to a predictably bizarre night around the NBA.
Even with the unfamiliar surroundings of Tampa's Amalie Arena – the team's temporary residence, some 2,100 kilometres away from the friendly confines of Scotiabank Arena – serving as the backdrop, Toronto's season opener began as most of its home games do.
The recognizable voices of Herbie Kuhn and Mark Strong – the club's long-time public address announcers – introduced the starters, while Kyle Lowry led his teammates through their regular, and still delightful, exercise-themed intro routine.
The team's performance provided comfort, as well, at least early on. Pascal Siakam looked like the pre-pandemic, All-Star version of himself. Lowry was in mid-season form, hitting four of his six three-point attempts in the first half, and doing all the little things you've come to expect from the 15-year vet.
Even in uncertain times, you can count on Lowry drawing a charge or two each night, and he didn't disappoint – getting in front of Pelicans guard Josh Hart early in the second quarter, setting his feet, and absorbing the contact, like we've seen him do so many times before.
The bench came in, gave the team a lift and a double-digit lead, and Toronto went into the halftime break with a seven-point cushion.
It looked as if the Raptors we've come to know were back. Then, like just about everything else in 2020, things went off the rails. They shot an abysmal 3-for-22 from long range over the final 24 minutes, while New Orleans went 11-for-20. They committed 21 turnovers, many of them a result of some "early-season misgivings", as head coach Nick Nurse put it afterwards. Their lead evaporated, and while it's not entirely unusual to see them give up a lead, they rarely surrender as quickly as or as easily as they did on Wednesday. This time there was no late-game run, no comeback bid.
It was the first time they dropped their season opener since 2012 and the first time they fell below .500 since they were 16-17 on January 7, 2014 – the year that launched this current era of Raptors basketball.
"It got tough for us," said Norman Powell, who scored 12 points off the bench but shot just 2-of-11 in his team's 113-99 loss to the Zion Williamson and Brandon Ingram-led Pelicans. "They were aggressive and were able to hit shots. Our defence was kind of lax, and our offence wasn't really there to carry us. We missed a lot of open shots. I missed a lot of open shots."
Any semblance of normalcy will be hard to come by this season, as Powell and the Raptors – as well as the rest of the league's teams – were reminded before most clubs even kicked off the new campaign.
Powell spent the past few days going through the league's COVID-19 protocols after somebody in his inner circle returned an inconclusive test. He wasn't cleared to play until Wednesday afternoon, roughly two hours prior to game time, having been forced to miss a couple of practices in the days leading up to it.
"I did everything right in terms of following the protocol, making sure that I was good, I was safe, people around me were safe, but still, you can get caught up in inconclusive tests and whatnot," said the 27-year-old guard. "It was kind of frustrating, you know, to sit out the important days leading up to the game. Just being at home, hoping, wishing, praying that you get cleared [in time] to be able to get a workout in before [the game]. It was tough."
It's also the reality that the league and its teams face as they try to get through the season as smoothly – and as safely – as possible, given the circumstances. Nobody said basketball in a global pandemic would be easy, especially with teams travelling around the United States and attempting to squeeze 72 games, and the playoffs, into a condensed seven-month window.
Other sports have pulled off variations of this undertaking, to varying degrees of success, but the NBA will have to overcome some unique challenges along the way. Basketball rosters are smaller than baseball or football clubs, meaning that a few positive cases are more likely to disrupt a team's season. And, given the nature of the schedule, it'll be far more difficult to postpone games than it has been for the NFL, where they only play once a week.
It didn't take long for the virus to make its presence felt on the 2020-21 campaign. Earlier on Wednesday, the league was forced to call off a game between Houston and Oklahoma City because the Rockets didn't have enough available players. Three Rockets players returned tests that were either positive or inclusive and four others were considered close contacts and had to be quarantined.
To make matters worse, James Harden – the disgruntled superstar who has taken his protest to another disturbing level – was deemed unavailable and subsequently fined $50,000 for violating the NBA's health and safety protocols by attending a private indoor party earlier in the week.
It may have been the first postponement of the season – on its second day, no less – but it almost certainly won't be the last.
"I mean this is 2020," said Siakam, one of the Raptors' bright spots on Wednesday, with 20 points, six rebounds and six assists in the opener. "I feel like we kind of got warned a bit. I kind of knew that there were going to be some games that were going to be postponed, and we've just got to get used to it… We've got to focus on us and continue to be pros and go out there and be ready to play. If a game is postponed or whatever the case might be, it is what it is."
From a basketball standpoint, the Raptors should be fine. Although their ability – or lack thereof, on occasion – to generate offence in the half court remains an issue, you can probably chalk the Game 1 loss up to cold shooting and some early-season rust.
The real concern supersedes anything that took place on the court Wednesday. It's the new normal – positive and inconclusive tests, postponed games, and what it could all mean for the viability of this season.
"Things like this are going to happen throughout the season," Powell said. "You've just got to stay disciplined and continue to follow the protocol to keep the people around you, and the team, and your loved ones, safe. I'm going to continue to do so, and hopefully this won't happen again."​
Randall the Handle's divisional round picks – Toronto Sun
Article content continued
Browns (12-5) at Chiefs (14-2)
LINE: KANSAS CITY by 10
Suddenly, the Browns are a hot ticket for bettors. According to sources that track betting information, it is Cleveland receiving the majority of wagers placed on this contest. It seems that a lot of weight is being put on last week's 48-37 win over Pittsburgh. While it is a huge monkey off of Cleveland's back, having won a playoff game for the first time in a quarter-century, it was against a team that was reeling in the final quarter of the season and one that offered up five turnovers to their division rival. The same won't happen here. Kansas City is well-rested after sitting a bunch of front liners in a meaningless Week 17 of the regular season and then having last week off as the AFC's top seed. Now, the defending Super Bowl champs return to the field with added time to study the 22nd ranked pass defence in the NFL. Somewhat surprisingly, Cleveland ranked even lower with its passing game when placing 24th overall. Should the Browns fall behind, as most expect they will, their strong running tandem of Kareem Hunt and Nick Chubb is suddenly negated. We also can't ignore that the Browns were -11 in point differential this season while the Chiefs were +111. Reigning MVP, Patrick Mahomes threw for 4,740 yards, 38 touchdowns and just six interceptions this season when guiding the league's top offence in both yardage and passing yards. The Chiefs also expected elusive rookie RB Clyde Edwards-Helaire back in action after missing a couple of weeks with an ankle injury. A big number, yes. But a big discrepancy in capability as well.
TAKING: CHIEFS –10
KOSHAN: Maple Leafs fall with ugly effort against Senators – Toronto Sun
Article content continued
Morgan Rielly was on the ice for all three of those Ottawa goals. Auston Matthews, Joe Thornton and Brodie were on for two.
"I just sensed that we stopped playing," Keefe said. "Scoring that (Kerfoot) goal, for us, if we want to be a team that's going to accomplish anything, the game should be over from there."
Some 11 months ago, Leafs general manager Kyle Dubas used the words "Jekyll and Hyde" to describe the team's inconsistencies. The term continues to ring true, even after the off-season additions and belief that the core would grow.
Oh, two games is a small sample size, sure. Still, it shouldn't be happening.
"Being hard on pucks," was Zach Hyman's answer to a question about the strides the team can make defensively.
"We have all the tools. We just need to do it every shift. I don't think that we're good enough to take shifts off and that goes for all lines. I think everyone can be better defensively."
The first period featured a goal from both sides, and the Leafs were bitten after taking a bench minor for the second time in as many games.
Ottawa's young stud defenceman, Thomas Chabot, tied the game in the final minute of the opening period on a two-man Sens advantage, the second Toronto penalty coming for too many men.
Hyman, whose wife Alannah recently gave birth to the couple's first child, son Theo, got the Leafs on the board at 9:59. Hyman's goal came on a Toronto power play and resulted when Hyman bunted the puck out of the air and past Murray. After a review for a possible high stick, the goal stood.
Keefe indicated on Friday morning that Jack Campbell will be in goal on Saturday.
twitter.com/koshtorontosun
Connor McDavid lights up the lacklustre Canucks in Edmonton – Vancouver Is Awesome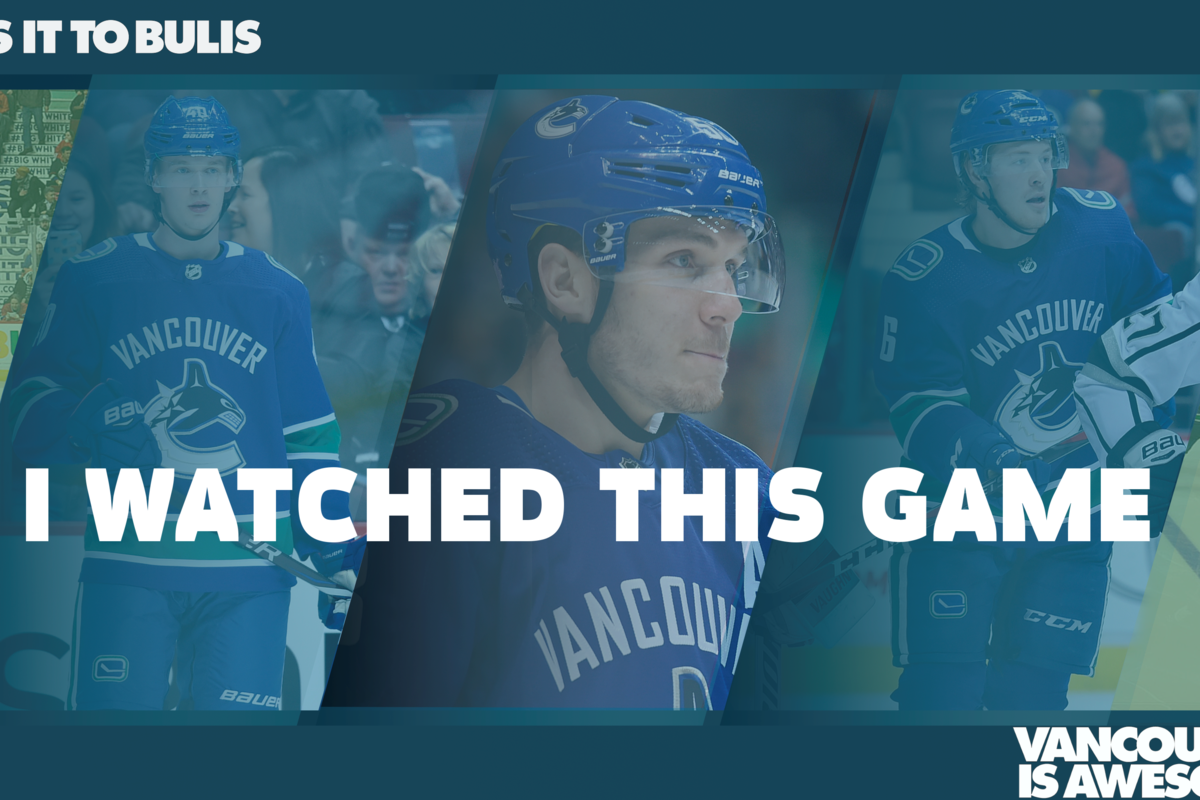 The second game of the Canucks season saw the long-awaited return of two much-beloved voices in Vancouver: John Shorthouse and John Garrett. It had been ten long months since John and John had called a Canucks game and it was wonderful to hear their dulcet tones once more.
There was just one problem: Shorthouse's play-by-play, normally right on top of the action, if not a step ahead with his excellent anticipation, was delayed by 2-3 seconds. His commentary was completely out of sync with what viewers saw on the screen.
Travel restrictions due to the COVID-19 pandemic meant Shorthouse and Garrett were calling the game from Vancouver rather than live in Edmonton, which meant a several second delay. Frequently, Shorthouse would excitedly describe a developing scoring chance that fans had already seen saved and turned up ice by the opposition. It was discombobulating.
Unfortunately, much like John and John's commentary, the Canucks seemed a few seconds behind the play all game.
The Edmonton Oilers bounced back from their opening night loss to the Canucks and evened up the season series. Or rather, Connor McDavid bounced back. He bounced back like he was made of Flubber.
McDavid looked unstoppable. He had a game-high 12 shot attempts, 9 shots on goal, and scored a hattrick while dominating puck possession. The Canucks simply had no response.
"He was exceptional," said Canucks head coach Travis Green. "He's one of the best players in the world, so he definitely played well tonight."
Defenceman Nate Schmidt pointed out that there's only so much you can do to prepare to play against star players.
"You can scrimmage, you can do those types of things, but real games aren't mimicked until you get out there and you have McDavid and [Leon] Draisaitl flying around and their D activating, making plays," said Schmidt. "Those things, you can't mimic in practice."
You can't mimic watching a game in practice either. My eyes weren't quite up to game speed when I watched this game.
[embedded content]
Thatcher Demko made his first start of the season and immediately faced 46 shots on goal. That means in four of his last five starts, he's faced more than 40 shots. Every time he's in the net he gets more shots than a Bachelorette party at the Roxy.

To the Canucks' credit, they also had 40 shots on goal. It seems like it might not be the best idea to get into a run-and-gun firefight against a team boasting McDavid and Draisaitl, but maybe that's just me.

While Demko gave up five goals, it's hard to put too much blame on him. Early on, he was sharper than a carefully-honed candy cane, making a stunning glove save early on Zack Kassian then recovering to kick aside a rebound chance from McDavid.
Demko couldn't stop them all and the Oilers opened the scoring on the power play. The penalty-killing unit of Brandon Sutter, Antoine Roussel, Travis Hamonic, and Alex Edler got stuck on the ice for a long shift while the Oilers' top unit ran them ragged. Eventually, Draisaitl found some space and beat Demko under the arm, only to hit the post. Ryan Nugent-Hopkins, however, was first to the puck and tucked it home like Porkchop.

I don't know why, but this little head fake from Nate Schmidt made me smile. So now I'm showing it to you.
There were a couple of moments that could be termed turning points. One came at the end of the first period when McDavid, with less than a second on the clock, swatted in a rebound to give the Oilers a 2-0 lead. It came off a faceoff with only 1.7 seconds remaining in the period, so perhaps the Canucks let their guard down for a moment, but as anyone who has played Wii Sports Resort Swordplay knows, you can never let your guard down, even for a moment.

"That's on me," said Schmidt. "At the end of the period, you've got to know the most dangerous player is out there. Shot comes, you freeze for a second to try and see if you can see where it goes. You can't freeze for a second when you know you've got a guy barreling down on the backside. That's really all it comes down to, I have to have that play."

Schmidt made up for his error with his first goal as a Canuck. It was a low screamer of a slap shot through multiple layers of screens, including Brandon Sutter parked in front of the net. "It feels a lot better when you win," said Schmidt about scoring. "It does feel good to get that goose egg off the scoresheet… We needed more of that tonight, our D didn't do a particularly great job of getting pucks through."

The Oilers struck again on the power play thanks to McDavid's speed. He burned rubber through the neutral zone and caught the entire Canucks' penalty kill standing still or, at least, they looked like they were standing still compared to McDavid. As soon as Alex Edler's skates turned to the outside to try to keep pace, McDavid immediately cut inside and unleashed a shot past Demko's blocker.

Special teams made a big difference on Thursday. All five Canucks goals on Wednesday night came at even-strength, which was seen as a positive — they didn't need the power play to score. On Thursday, the power play went 0-for-5 and they gave up two power play goals. Obviously, we must immediately panic, crack each other's heads open, and feast on the goo inside.

The Canucks got one back off the stick of Tyler Motte. Quinn Hughes made a great pinch down the boards to win a puck battle with Jesse Puljujarvi, then fed Travis Hamonic at the point. He spotted Motte heading to the slot and sent a low slap-pass that Motte neatly tipped over Mikko Koskinen's right pad.

That's the last goal the Canucks would get and Green hit the Line Blender 4000X™ to try to get things going again. Elias Pettersson, Brock Boeser, and Jake Virtanen was struggling against the McDavid line, so Green shuffled Virtanen off the line and tried some other wingers.

"The line just wasn't doing anything, they weren't playing very well," said Green bluntly. "We couldn't get away from the matchup that easy. McDavid's line spent a lot of time in our zone so we tried to change it up a little bit."

First, Green tried Motte with Pettersson and Boeser, then Nils Höglander got a shift in the third period, Tanner Pearson took a couple shifts, and even Adam Gaudette got bumped to the wing on the top line. In the offseason, I suggested Gaudette might fit on the wing in the top-six, but on Bo Horvat's line. It was unexpected to see him skate with the top line, but the Canucks had limited options.

"There's always potential to try Gauds on the wing," said Green. "I've thought about it. We haven't done it yet, but I thought tonight was a good time to try it a couple times. I also thought the Beagle, Motte, Sutter line has had two pretty good games. So it's a give and take. If you move Gaudette off the other line now you're breaking up pretty well three lines then."

When asked if one of those combinations on the top line might start next game, Green said, "I'll go back and watch the tape and take a look at it tomorrow and give our guys a day off and we'll see what we come up with."

If the last second goal in the first period wasn't the turning point, Hughes taking a penalty on a second-period power play was. He took exception to a high hit from Nugent-Hopkins on Boeser and broke his stick on him with a crosscheck. That took the Canucks off the power play and, when Hughes got out of the box, he missed his defensive assignment, which was McDavid. Which is bad, because McDavid is good.

So, instead of a chance to score on the power play and tied the game, McDavid scored the 4-2 goal. But some fans will like that Hughes stepped up to defend his teammate.
In the third period, Höglander looked like a rookie for the first time in his young career. He was the last man back and he tried to force a puck uup the middle of the ice, tuurning the puck over to Nugent-Hopkins. He got the puck back and immediately gave it away again with a bank pass that was picked off by Kailer Yamamoto. To top it off, Höglander couldn't tie up Nugent-Hopkins's stick in front and he deflected in Yamamoto's centring pass.

It was a terrible, horrible, no good, very bad shift for Höglander, but those happen. On the bench, Hamonic gave his helmet a tousle and Pettersson gave him a little, "Head up, kid," chin rub. It was adorable. Everything's going to be okay.