Toronto Raptors: What's next following the NBA trade deadline? – NBA CA
The 2020-21 NBA Trade Deadline has passed, and the Toronto Raptors now have their roster for the remainder of the season.
While a trade for six-time All-Star guard Kyle Lowry never came to fruition, the Raptors have reportedly dealt scoring wing Norman Powell, as well as reserve guards Terence Davis and Matt Thomas. With a revamped roster that's set to make a playoff push, Toronto will look to build off of its losing streak-snapping win over the Denver Nuggets and make something out of this helter-skelter season.
With the madness behind us, what were the returns of those deals, what does the depth chart look like and what's next for Toronto?
Reported trades
Projected depth chart
| | | | | |
| --- | --- | --- | --- | --- |
| | Starter | 2nd | 3rd | 4th |
| G | Kyle Lowry | Malachi Flynn | Jalen Harris | |
| G | Fred VanVleet | DeAndre' Bembry | Patrick McCaw | |
| F | Gary Trent Jr. | Rodney Hood | Paul Watson | |
| F | Pascal Siakam | Stanley Johnson | Yuta Watanabe | |
| C | OG Anunoby | Chris Boucher | Aron Baynes | Henry Ellenson |
The post-trade deadline state of the Raptors
Prior to the trade deadline madness, Toronto snapped a nine-game losing streak in an impressive fashion against a strong Nuggets squad. While it was believed it could have been Lowry's last game in a Raptors uniform, the franchise reportedly couldn't find a worthwhile deal for him. The team's floor general and leader will remain as they prepare for an eighth-consecutive playoff push.
MORE: Instant analysis on every reported deal of the trade deadline
Lowry will still be an unrestricted free agent this offseason, but the six-time All-Star will continue to make his regular impact on this year's team. Through 37 games, he's averaging 17.4 points, 7.5 assists, 5.6 rebounds and 1.1 steals despite all of the rumours and rumblings.
Even though they're 1-9 in their last 10 games, the Raptors are still only 1.5 games back from a spot in this season's play-in tournament to get into the playoffs and only 4.0 games back of the highly coveted No. 6 seed to avoid said play-in tournament. With the roster back to full strength after being decimated by COVID-19 and the league's health and safety protocols, plus two new pieces in place in Trent and Hood, can Toronto turn this bizarre season into yet another gritty playoff run?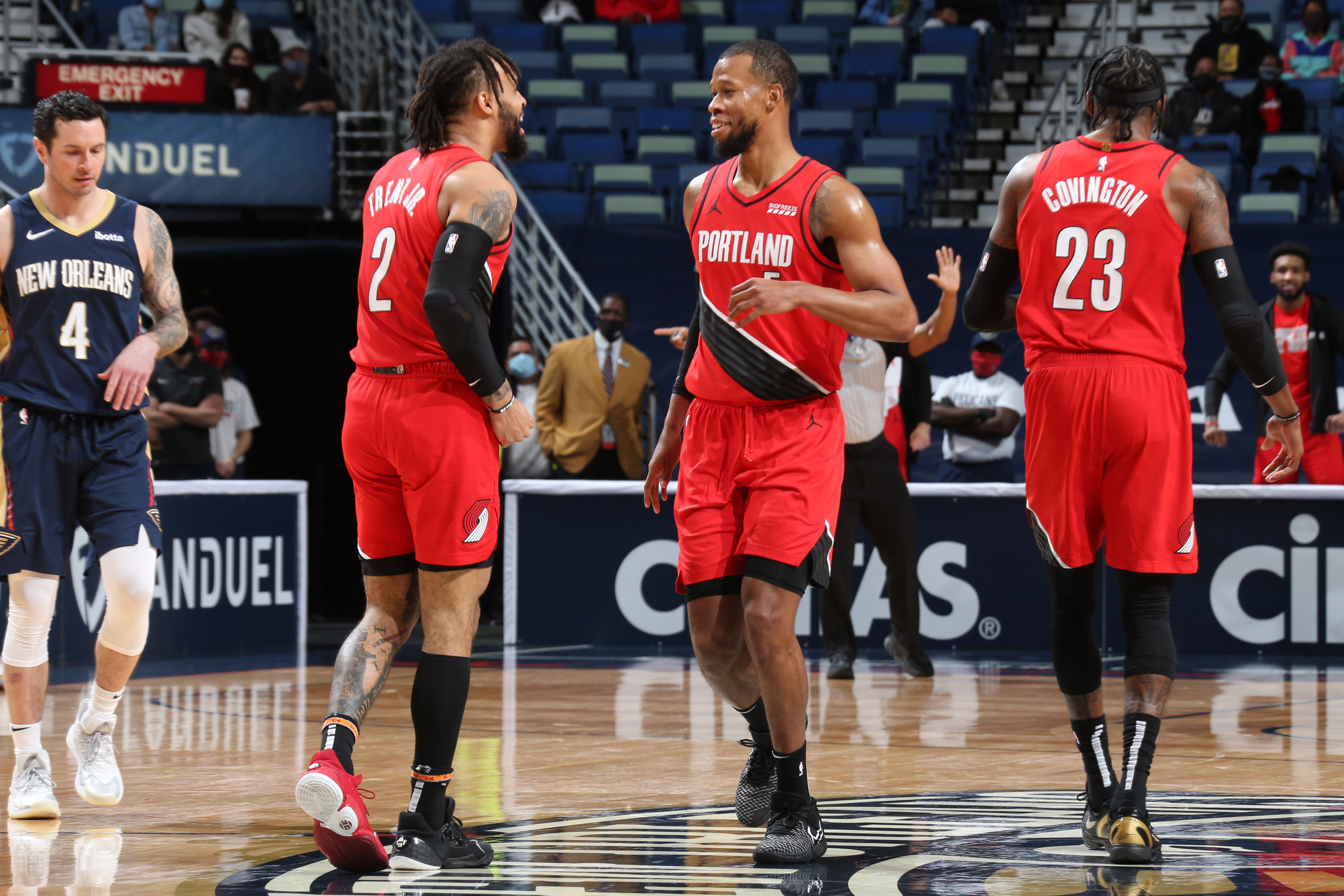 Losing a red-hot Powell hurts, but returning Trent and Hood gives the Raptors two versatile wings who can both shoot, bolstering Toronto's depth a bit even with the reported departures of Thomas and Davis.
Trent is only 22 years old and has just begun to figure things out at the NBA level. NBA.com's Scott Rafferty went into more detail on what the Raptors are receiving in Trent, but the sharpshooting wing is amidst the best season of his career following an impressive run in last season's NBA bubble. He is averaging 15.0 points, 2.2 rebounds and 1.4 assists per game while shooting 39.7 percent from 3-point land.
As Rafferty noted, where he'll make the biggest impact is on catch-and-shoot 3s, where he has converted a blistering 42.1 percent of his attempts this season.
Gary Trent Jr. dropped 28 points with seven 3s against LA this season 👀

The newest Raptor can really shoot it! pic.twitter.com/9GaHbaEKTM

– TSN (@TSN_Sports) March 25, 2021
Trent will likely slot right into Powell's spot in the starting lineup. He'll be an upgrade at that position as a perimeter defender.
Trent is set to be a restricted free agent this offseason, meaning Toronto will have the option of matching any offer he receives, but the price will be much lower than what Powell is expected to command as an unrestricted free agent, making him a much more cap-friendly option moving forward.
As for Hood, the 28-year-old wing has struggled to find a rhythm this season after suffering a season-ending torn Achllies in December of 2019. Prior to that injury, Hood was the perfect glue guy for the Blazers, averaging 11.0 points per game while shooting 49.3 percent from 3. The rust he's shown from that devastating injury impacted his playing time in Portland this season, and only shooting 29.8 percent from 3 made it tough for him to carve out a role.
Hood's size at 6-foot-8 makes him a versatile defender that should fit in nicely with head coach Nick Nurse's scheme. For a team that could use some added bench depth, Hood will have quite the opportunity to prove he belongs somewhere on an NBA roster this upcoming offseason. (Hood's contract for the 2021-22 season is non-guaranteed, so the Raptors will have free reign to decide what his future is with the franchise).
With Lowry still in the fold, VanVleet, Anunoby, Siakam and Boucher maintaining their level of play and the addition of these two new players, Toronto will have 28 more games to right the ship.
While it is unknown when Trent and Hood will be available to suit up, the Raptors will next take the floor on Friday, March 26 when they host the surging Phoenix Suns.
The views on this page do not necessarily represent the views of the NBA or its clubs.
Sabres select Owen Power with No. 1 pick in 2021 NHL Draft – Sportsnet.ca
The NHL draft turned Michigan maize and blue Friday night. And there's a Hughes sibling reunion set to happen in New Jersey.
The Buffalo Sabres opened the draft by selecting Wolverines defenceman Owen Power with the top pick, and were immediately followed by the expansion Seattle Kraken choosing Michigan centre Matthew Beniers at No. 2. It marked the first time since 1969 that teammates went with the first two selections.
Three picks later, the Wolverines became college hockey's first program to have three teammates go in the first round after the Columbus Blue Jackets selected Michigan winger Kent Johnson fifth.
"Extremely excited for Owen, Matty and their families. Its' already a great night for Michigan Hockey. Go Blue," Michigan coach Mel Pearson texted to The Associated Press after the Kraken made their selection.
That's not all, however. Luke Hughes, who is committed to playing at Michigan, was chosen fourth overall by the the Devils, where the defenceman is united with brother Jack, who was the No. 1 pick in the 2019 draft.
Hughes watched the draft on his family's living room couch with both of his NHL-playing brothers, rounded out by Quinn, who was selected seventh overall by Vancouver in 2018. Jack Hughes immediately jumped up and began hugging Luke upon hearing Devils GM Tom Fitzgerald announce the pick.
Ontario junior centre Mason McTavish was the only player without Michigan ties to round out the top five, after he was selected third overall by Anahiem.
The draft was held remotely for a second consecutive year due to the coronavirus pandemic, with commissioner Gary Bettman hosting the draft in New Jersey, where he introduced teams to make their selections from their home arenas.
On a day the Sabres traded Rasmus Ristolainen to the Philadelphia Flyers, general manager Kevyn Adams continued his offseason bid to overhaul a struggling franchise by choosing the stalwart defenceman's heir apparent. Power is listed at six-foot-six and 213 pounds and was the NHL's Central Scouting Bureau's top-ranked North American prospect. After scoring three goals and adding 13 assists in 26 games during his freshman season at Michigan, the 18-year-old Power cemented his draft stock by helping Canada win the world hockey championships.
From Mississauga, Ontario, Power is leaning toward returning to school for his sophomore season, something Adams has said would not play a factor into his selection.
"Not thinking about it too much right now, trying to enjoy the night. That's something I'll worry about later," Power said of his future, while surrounded by his family and friends in his backyard.
As for a message to Sabres fans, he said: "I'm super excited to be part of the franchise and ready to get going."
Power was the third player drafted first directly out of college, joining Michigan State forward Joe Murphy in 1986 and Boston University goalie Rick DiPietro in 2000. And he became the 16th defenceman to go No. 1 since 1970, and first since the Sabres chose Rasmus Dahlin at No. 1 in 2018.
Power and Dahlin have similar two-way, play-making skills, and will have the opportunity to form the backbone of a retooled defensive unit for years to come.
Beniers was ranked sixth overall among North American prospects. He had 14 goals and 24 points in 24 games for the Wolverines.
In 1969, Rejean Houle and Marc Tardif were Montreal Junior Canadiens teammates, who were selected with the first two picks by Montreal. In 1963, Garry Monahan and St. Michael's Juveniles teammate Peter Mahovlich were selected first and second.
The Sabres made a splash earlier by adding a second first-round pick, 14th overall, and defenceman Robert Hagg in dealing Ristolainen to Philadelphia.
The trade is part of Adams' bid to rebuild through youth after Buffalo finished last in the overall standings for a fourth time in eight seasons and extended its playoff drought to an NHL record-matching 10th year.
The acquired pick from Philadelphia is actually 13th in the draft order after the NHL stripped the Arizona Coyotes of their first-round pick, 11th overall, for testing players in violation of league's combine policy.
The Coyotes, however, moved back into the first round by acquiring the Canucks' pick, ninth overall, in a five-player trade that sent Arizona captain Oliver Ekman-Larsson to Vancouver earlier in the day.
The first European players selected were from Sweden in back to back selections. Defenceman Simon Edvinsson went sixth to the Detroit Red Wings, followed by under-sized forward William Eklund, who was chosen seventh by the San Jose Sharks.
More people watched Seattle NHL expansion draft on ESPN2 than Cubs-Cards on ESPN – Awful Announcing
In the grand scheme of things, 637,000 viewers nationally is not a huge number for a cable channel with any level of significant distribution. Most things on broadcast TV not only beat that, but beat it by quite a bit, and that kind of number isn't usually even amongst the top cable broadcasts. However, the news that ESPN2 pulled that number in for its (NHL-produced, but featuring ESPN figures) coverage of the NHL expansion draft for the Seattle Kraken Wednesday night was certainly interesting, especially as so much of the actual news around that draft was reported in advance, and also given that their main-network coverage of the MLB game between the Chicago Cubs and St. Louis Cardinals drew fewer viewers. Here's a comparison of Wednesday night sporting events from John Ourand of Sports Business Journal:
Sports TV of note from Weds:
AEW Dynamite on TNT: 1.148 million viewers
Primetime Oly programming on NBCSN: 773,000
PTI on ESPN: 648,000 viewers
NHL Expansion Draft on ESPN2: 637,000 viewers
Cubs-Cardinals on ESPN: 509,000 viewers

— John Ourand (@Ourand_SBJ) July 22, 2021
On the negative side, that draft didn't even draw the numbers of studio show Pardon The Interruption (however, that airs on ESPN rather than ESPN2; they're similar in distribution, but many people turn on main ESPN first). It also didn't draw the numbers of early Olympic programming from NBCSN. On the positive side, it outdrew a national MLB game. And it drew more than the Vegas Golden Knights' expansion draft five years ago (595,000 on NBCSN for a combined broadcast of that draft and the NHL Awards). And it's a good sign for ESPN, as this is their first big NHL event they aired under their new deal.
And yes, as Ourand noted in a follow-up tweet, that Cubs-Cards game didn't have regional sports network blackouts, so Cubs and Cardinals fans could still watch it on their local RSNs. And most probably did, so it likely primarily pulled the national audience that didn't have those RSNs. But it's still interesting to see an ESPN2 event outdraw an ESPN event, especially when the ESPN event is a live game and the ESPN2 event is a one-team expansion draft (and one where most of the information was previously available to the public).
If ESPN versus ESPN2 programming decisions were made strictly from a standpoint of what they thought would draw more viewers, this result would go against that. That's not entirely the case here, as the MLB on ESPN package comes with some restrictions on where games can air. But it's still interesting to see the NHL expansion draft on ESPN2 outdraw a live MLB game between two prominent teams.
That is also perhaps further evidence that draft "spoilers" don't always damage the ratings that much. That's long been a debate, from the NFL's heavy pushes against pick-tipping to the NBA's more moderate approach (which sees pick-tipping still happen with some different language, and which hasn't really led to obvious ratings losses).
In the case of this draft, figures who don't work for expansion draft rightsholders Sportsnet (Canada) and ESPN (U.S.) reported many of the picks early, with Frank Seravalli (formerly of TSN, now of Daily Faceoff) and Pierre LeBrun (TSN/The Athletic) getting many of those, other national figures getting some more, and local reporters getting some others. So a mostly-full picture was available before the broadcast for those who wanted to find it. But that didn't stop a significant amount of people from watching this, and that maybe shows that the league pushes against pick-tipping aren't always that impactful.
[John Ourand on Twitter]
Cleveland changes MLB team nickname to Guardians after months of discussion – CBC.ca
Known as the Indians since 1915, Cleveland's Major League Baseball team will be called Guardians.
The ball club announced the name change Friday with a video on Twitter narrated by actor Tom Hanks, ending months of internal discussions triggered by a national reckoning by institutions and teams to permanently drop logos and names that are considered racist.
Together, we are all… <a href="https://t.co/R5FnT4kv1I">pic.twitter.com/R5FnT4kv1I</a>

&mdash;@Indians
The choice of Guardians will undoubtedly be criticized by many of the club's die-hard fans.
The organization spent most of the past year whittling down a list of potential names that was at nearly 1,200 just over a month ago. But the process quickly accelerated and the club landed on Guardians.
Social unrest spurred name change
Team owner Paul Dolan said last summer's social unrest, touched off by the killing of George Floyd in Minneapolis, spurred his intention to change the name.
Dolan is expected to provide more details on the choice and background on the change at a news conference at Progressive Field before Cleveland hosts the Tampa Bay Rays.
Dolan said the new name mirrors the city and its people.
"Cleveland has and always will be the most important part of our identity," he said in a statement. "Therefore, we wanted a name that strongly represents the pride, resiliency and loyalty of Clevelanders. 'Guardians' reflects those attributes that define us."
In 2018, the team stopped wearing the contentious Chief Wahoo logo on their jerseys and caps. However, the team continues to sell merchandise bearing the smiling, red-faced caricature that was protested for decades by Native American groups.
The name change has sparked lively debate among the city's passionate sports fans. Other names, including the Spiders, which is what the team was once called, were pushed by supporters on social media platforms.
But Guardians does seem to fit the team's objective to find a name that embodies Cleveland's ethos while preserving the team's history and uniting the community.
Not far from the downtown ballpark, there are two large landmark stone edifices — referred to as guardians — on the Hope Memorial Bridge over the Cuyahoga River.
The team's colours will remain the same, and the new Guardians' new logos will incorporate some of the architectural features of the bridge.
The change comes as the Washington Football Team continues to work toward a similar makeover. The franchise dropped its name before the 2020 season and said it will reveal a new name and logo in 2022.