Toronto remains 'very attractive' CRE market: Altus – Real Estate News EXchange
"The GTA remains a very attractive place to put your real estate dollars," said Patricia Arsenault, executive vice-president of research consulting for Altus Group Data Solutions, while opening Altus Group's recent 12th annual Toronto State of the Market event.
Arsenault and Altus Group Data Solutions vice-president of data operations Raymond Wong covered a wide range of topics related to the Greater Toronto Area commercial and residential real estate markets in front of a large audience at the Fairmont Royal York Hotel's Concert Hall.
Commercial property transactions in the GTA totalled $22.6 billion in 2019, up seven per cent from 2018 and the second-highest level on record next to 2017. Q4 activity of $7.8 billion set a record.
Investment transactions involving improved properties rose by 16 per cent to $14.7 billion and investment transactions involving land decreased by six per cent to $7.9 billion.
In the various key sectors:
* residential land sales declined 12 per cent to $5.1 billion;
* industrial, commercial and institutional land sales rose seven per cent to $2.8 billion;
* office sales rose two per cent to $4.1 billion;
* retail sales dropped six per cent to $2.3 billion;
* industrial sales increased 31 per cent to $4.4 billion;
* apartment sales were up 40 per cent to $3.8 billion;
* and hotel sales dropped 26 per cent to $0.1 billion.
Industrial, office and apartment investment sales all set records.
What investors want
Investors most covet multi- and single-tenant industrial, industrial land and suburban multiple-unit residential properties, according to Wong.
Seniors housing, data centres, self-storage and cold-storage facilities are also in demand as investors diversify their portfolios.
Canadian private investors are the most prevalent buyers in the GTA in almost all asset classes, totalling almost $12 billion in 2019.
Developers were second at more than $3 billion, with a large majority of that total being residential land. The next biggest buyers, in order, were institutions, users, Canadian public investors, builders, governments and foreign investors.
"Investors are being a little bit more selective on pricing with the assets they're targeting," said Wong. "You're not seeing, compared to two or three years ago, lineups of 10 or 15 bidders on particular properties.
"You're seeing a little bit less and you're seeing buyers being more diligent with respect to returns and anticipated yields. But, overall we still see Toronto as a prime market for both foreign and domestic buyers."
Office vacancies, leasing and rents
New office space completions declined 20 per cent to one million square feet in 2019, due more to construction timelines than a lack of demand.
Office vacancy rates continued to shrink, with the technology sector dominating absorption and pre-leasing. Seventy-five per cent of the office space under construction in Toronto is pre-leased.
The financial services sector has always been the main driver of Toronto office demand and accounted for 37 per cent of GTA leasing activity in 2019. It was followed by business and professional services at 24 per cent, tech at 19 per cent, government at 11 per cent, manufacturing at five per cent and co-working at four per cent.
"A lot of that space that's being leased by financial services is tech-related," said Wong.
The downtown Toronto office vacancy rate is 3.2 per cent, while it's 10.3 per cent in the suburbs.
Some suburban office space doesn't meet the needs of current tenants. As a result, Wong expects more redevelopment and mixed-use developments, particularly at retail sites with public transit access, to meet the demand.
A shortage of new office supply is forecast through 2024. With construction costs expected to increase 10 to 15 per cent over the next five years, rents of $95-plus per square foot will be needed to justify new construction.
"That's not uncommon for Manhattan, Seattle or San Francisco," said Wong. "Downtown Toronto still has plenty of runway based on being a transportation hub and the demographics of people still wanting to be downtown."
Industrial vacancies, leasing and rents
New industrial space completions rose 35 per cent to 8.1 million square feet in 2019.
"That was a welcomed situation in a market that desperately needs some additional space," said Arsenault.
However, the industrial sector remains under-supplied. Pre-leasing activity in buildings under construction has been strong, as just 36.9 per cent of the approximately 15 million square feet of space under construction in Toronto is available. The industrial space availability rate is just 1.9 per cent in the GTA.
There was a big spike in industrial rents from 2018 to 2019, especially newer buildings with higher ceiling heights. Wong said both rents and sale prices will continue to climb.
"For institutional investors, this is a great asset to have, especially if e-commerce continues to grow."
Office preferences
A trend among tenants to shorter leases – one or two years instead of five to 10 – has led to the growth in co-working spaces. There are 35 different co-working companies or concepts in the GTA, according to Wong.
Three very different generations of workers are now sharing office space, which Wong said can present additional challenges.
What tenants want most are: abundant natural light; coffee shops; free WiFi; room sensors and temperature controls; efficient elevators; soundproofing; and the ability to receive packages.
The desire for abundant natural light is so strong Wong said corporate tenants will pay at least 6.1 per cent more in rent for it.
"It's not just what employees want, but it's actually good for them," he said, adding 70 per cent of employees say a workplace that enhances their health and well-being would encourage them to stay at their current job, or accept a job offer.
Capitalization rates
Capitalization rates trended downward in the office, industrial, retail and multiresidential sectors through the past decade, and Wong expects them to remain largely flat this year.
"For the assets with upside potential or redevelopment opportunities, you're still going to see record low cap rates," he said.
New home sales
There were 36,471 new home sales in the GTA in 2019, up 47 per cent from 2018 when sales plunged to their lowest level since the mid-1990s. Single-family home sales in 2018 were the lowest since 1981.
New single-family home sales increased 157 per cent to 9,500, which Arsenault said was "still pretty low in historical terms." New condominium apartment unit sales rose 27 per cent to 26,900.
The release of pent-up demand after the 2018 slump, lower effective mortgage rates and more availability of single-family homes were factors in the turnaround, according to Arsenault.
The price gap between new single-family homes and new condo apartment units is narrowing, as the price of single-family homes has moderated while condos have continued to increase. Arsenault doesn't expect a major decline in prices for either this year.
The number of cancelled condo projects — due to poor sales, increased costs or interest rate increases changing financing — in 2019 was back in line with more historical numbers after a high number of cancellations in 2018.
While new purpose-built rentals capture a larger share of apartments in Toronto, they still account for a relatively small share of the rental market.
Arsenault said the construction of new purpose-built rentals is likely to stay elevated and a higher level of condo completions is coming, which will also add to new rental supply.
"At least half of the condos on a GTA-wide basis" are rented out by owners, and that number is higher in "central areas," according to Arsenault. Rents are increasing at a slower rate for condo units, she said.
While people still want to own homes, Arsenault said there were softer home-buying intentions for principal, vacation and rental properties last year. That was due to competition from lower-priced areas surrounding the GTA and benchmark mortgage rates for stress testing still being relatively high.
Arsenault believes new single-family home sales could reach 10,000 this year.
While Arsenault believes it will be difficult for 2020 new condo unit sales to better 2019, "There's still momentum in the condo market. There are lots of new openings planned and we're expecting that they're going to do reasonably well with absorption."
Impact of climate change
Wong also talked about the potential impact of climate change on the GTA real estate market. The legacy of Hurricane Hazel, which killed 61 people in flooding in 1954, has guided Toronto's flood plain management and infrastructure systems.
However, the GTA has experienced 99.8 millimetres of rain in 10 hours (formerly viewed as a once-in-a-100-year storm scenario) six times over the past two decades. That is expected to become more frequent, more severe and less predictable.
More attention is expected to be paid to building standards, efficiencies, future-proofing, reporting and location in the years ahead due to climate change's potential impact on real estate values and returns, higher insurance premiums and payouts, and how more widely varying temperature changes could stress heating, ventilation and air-conditioning systems.
Toronto-area commercial real estate deals total $7B in Q2, up 43% from year ago – Alberta Prime Times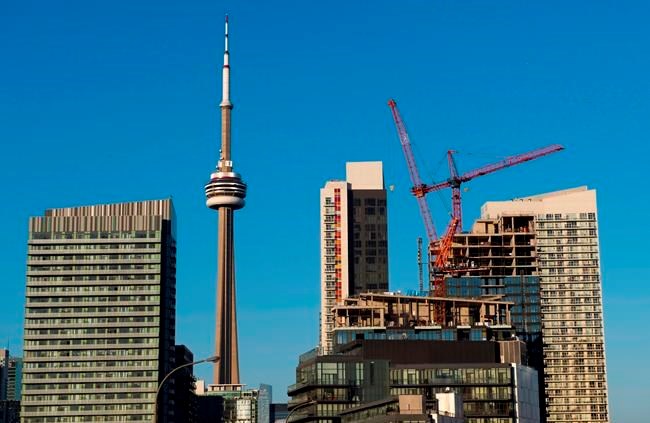 TORONTO — A new report says the total value of commercial real estate sales in the Greater Toronto Area in the second quarter rose 43 per cent compared with a year ago.
The report by Avison Young says sales of office, industrial, retail, multi-residential and industrial, commercial and investment (ICI) land across the region totalled $7 billion for the three-month period, up from $4.9 billion a year earlier.
The result brought total investment to $14 billion for the first half of 2022.
The report says the industrial sector saw the highest investment dollar volume during the quarter with $2.6 billion compared with $1.4 billion in the same quarter last year.
The ICI land category garnered $1.7 billion, up from $1.6 billion a year ago, while office properties saw $1.1 billion in deals, up from $349 million in the second quarter of 2021.
Multi-residential deals totalled $1 billion, up from $815 million in the same quarter last year and retail property deals amounted to $696 million, down from $725 million a year ago.
This report by The Canadian Press was first published Aug. 18, 2022.
The Canadian Press
From Homebuyers To Real Estate Investors – AccessWire
TORONTO, ON / ACCESSWIRE / August 18, 2022 / To say that a mortgage is just a loan is far from the truth. It is much more than that. A mortgage is your key to home/property ownership, and if you land the right one, it will become a crucial financial tool for building a strong financial future through real estate.
How would you be able to land the right mortgage and make millions yourself? You're in luck because you don't have to do it alone. We know a mortgage agency that can hook you up with a certified mortgage professional to speed up the process, ensure you get the best deal, and teach you how to earn your fortune in real estate.
Mortgage Alliance is one of Canada's most established mortgage companies, with years at the industry's top. The Canadian mortgage agency enjoys a reputation as a prime source of mortgage solutions for homebuyers, homeowners, and investors alike. They cater to clients all around Canada, providing professional mortgage services and financial guidance to "help people improve their financial health in the short, medium, and long term through real estate," according to Mortgage Alliance agent Lesley Hepditch.
To that end, the agency takes a comprehensive approach to helping its clients achieve their goals. Their agents don't use any cookie-cutter solutions. Instead, they work closely with clients to understand their financial situation or needs and provide personalized strategies to secure the best results for their mortgage and their financial future. "We also act as financial coaches, so while I myself am chiefly a mortgage professional, I am also licensed to handle investments and insurance. This allows Mortgage Alliance agents like me to help clients in ways not many other companies can. In short, we look at their overall financial health, then help them craft ways to achieve their goals." Lesley said.
Mortgage Alliance covers all the usual mortgage services, including new home purchases, refinancing, and renewals. It promises clients unbiased advice and expert education on what they need to know to make the best decisions. Lesley explained that the end goal is simple: "We want to help people earn more income and become properly protected, debt-free, and financially independent by helping them build their four pillars of investing: investments, income protection, debt elimination, and real estate. For us, client education is just as important as results because we want to help them achieve lasting wealth."
With their agents' mortgage expertise and deep financial acumen, landing the right mortgage will be the least of your worries, or rather successes, with Mortgage Alliance. If you're ready to take the first step toward securing a thriving financial future, don't hesitate to contact the mortgage and financial experts at Mortgage Alliance using the details listed below.
Contact:
Lesley Hepditch
Mortgage Alliance
+19022237166
[email protected]
www.mortgagealliance.com/LesleyHepditch
About Mortgage Alliance:
Mortgage Alliance is one of Canada's most trusted mortgage companies. They offer the full selection of mortgage services, with a focus on providing custom solutions for any of their clients' financing needs.
SOURCE: Mortgage Alliance
Real estate at critical juncture to embrace dynamic workplaces – PR Newswire
JLL's Future of Work Survey shows that while hybrid work is here to stay, the office remains critical to business operations
CHICAGO, Aug. 18, 2022 /PRNewswire/ — As businesses continue to evolve their workplaces to best meet the needs of their employees, JLL's (NYSE: JLL) global Future of Work Survey finds that 72% of decision makers believe the office is critical to doing business. The research shows that over the next several years companies anticipate hybrid work to become the dominant model and will be looking across their real estate portfolios to re-think their office spaces, invest in new technology and prioritize sustainability.
"The next three years will prove to be an inflection point for real estate as businesses plot their future path and rethink the purpose of their portfolio," said Dr. Marie Puybaraud, Global Head of Research, JLL Work Dynamics. "The changes accelerated by the pandemic represent an opportunity to pause, think about a long-term real estate strategy and how it aligns with future business priorities."
Rethinking the office layout to accommodate hybrid working in the long-term
The mass adoption of hybrid work will have a lasting impact, with 77% of CRE leaders agreeing that offering remote or hybrid working will be critical to attracting and retaining talent in the future. As the trend toward dynamic working will continue, successfully operationalizing hybrid working will be the most important strategic priority for commercial real estate (CRE) executives over the next three years. This includes exploring flexible space options, with 43% of companies planning to accelerate investment in flexible space between now and 2025, and 51% saying they will lease flexible space through a third-party provider.
"As the office finds a new purpose post-pandemic as a destination for collaboration in employees' hybrid workstyles, occupiers will need to continue increasing their investments in creative spaces," said Cynthia Kantor, Chief Client Value & Growth Officer, JLL Work Dynamics. "Enhancing socialization, especially among a large, often geographically dispersed, workforce will be critical to future talent strategies, as the office accelerates its role as the innovation hub of the work ecosystem."
Forty-five percent of organizations consider collaboration to be one of the primary purposes of office space and 73% have planned or are planning to make all office spaces open and collaborative, with no dedicated desk spaces. Many companies are also investing in spaces that support new workforce priorities around health and wellbeing.
Environmental and social aspirations will shape future portfolio transformation
As organizations face ever increasing pressure to deliver clear outcomes in the race to net zero and create social value through real estate, 77% say investing in quality space is a priority. With green strategies having a direct impact on real estate decisions, 74% say they are likely to pay a premium for green credentials; further, more than half of occupiers (56%) plan to do so by 2025.
However, stakeholder aspirations are not solely environmental, with nearly 8 out of 10 companies saying their employees expect their workplaces to have a positive impact on society. This means increasing investment in social considerations will be equally as important as funding environmental objectives. With diversity, inclusion and wellbeing now falling high on the corporate agenda, companies are underpinning these objectives with further investment and resources. Seventy-nine percent of respondents agree that their organizations are acting today to make the workplace more inclusive and diverse for all employees.
Investing in technology investments to boost workplace performance and productivity
Technology and data will be critical foundations in the future of successful real estate operations, but the gap that needs to be filled is immense. Only 13% of CRE executives say they are collecting data on an ongoing or real-time basis using advanced analytics. With the transformative power of technology to shape the dynamic workplace, companies are focused on ramping up investments in intelligent solutions to unlock new opportunities for boosting workforce performance and productivity.
The research finds a clear roadmap for CRE technology shaped around 15 anchor technologies, including workplace apps, remote working technology and virtual reality.1 As organizations plan future investments, CRE leaders are focused on key strategic areas like sustainability and employee wellbeing. By 2025, most companies (78%) plan to have incorporated over ten of the anchor technologies in their operations, and 40% plan to incorporate all 15.
Real estate needs are becoming more sophisticated and complex
To respond to the complex range of future of work challenges, CRE leaders will focus more on harnessing specialist skills to achieve their strategic objectives. Seventy-five percent of leading CRE functions anticipate greater reliance on external partners, with the two top areas for outsourcing growth expected to be health and wellbeing services (44%) and sustainability strategy (44%). Further, as technology becomes a crucial platform to boost performance levels on all fronts, 43% say they will need more outsourcing support for CRE technology solutions over the next three years.
___________________________
1 For a list of the 15 anchor technologies, refer to p. 30 in JLL Future of Work Survey (August 2022)
About JLL
JLL (NYSE: JLL) is a leading professional services firm that specializes in real estate and investment management. JLL shapes the future of real estate for a better world by using the most advanced technology to create rewarding opportunities, amazing spaces and sustainable real estate solutions for our clients, our people and our communities. JLL is a Fortune 500 company with annual revenue of $19.4 billion, operations in over 80 countries and a global workforce of more than 102,000 as of June 30, 2022. JLL is the brand name, and a registered trademark, of Jones Lang LaSalle Incorporated. For further information, visit jll.com.
Connect with us
https://www.linkedin.com/company/jll
https://www.facebook.com/jll
https://twitter.com/jll
Contact: Gayle Kantro
Phone: + 1 312 228 2795
Email: [email protected]
SOURCE JLL