Trade analysis: Hall, Coyotes needed each other – theScore
Taylor Hall says he remembers each of his playoff games in "great detail."
That's either a testament to the 28-year-old's memory retention or a reminder of how sad it is that a player of Hall's caliber has dressed for a grand total of five NHL postseason contests.
Either way, Hall feels he's finally in a position to reverse his fortunes by joining the Arizona Coyotes, who sat atop the Pacific Division and ranked 10th among 31 teams in points percentage prior to Monday's slate of games.
"That's what this is all about," Hall said during a conference call Monday following the blockbuster trade that sent him from the lowly New Jersey Devils to the 19-12-4 Coyotes. "It's not about what line I play on, or what power-play unit (I'm assigned to). I'm really just looking forward to winning games."
We'll get back to the fit with Hall and Arizona, but, first …
What's the Devils' angle?
It's never a positive sign when the team parting ways with the only NHL player in the deal – a star, no less – receives nothing concrete in return. For that reason, Devils general manager Ray Shero gets a failing grade for his role in the Hall trade.
Shero shipped Hall and AHL forward Blake Speers to Glendale for a top-three-protected first-round pick in 2020, a conditional third-round pick in 2021, and three promising but unspectacular prospects in forwards Nick Merkley and Nate Schnarr, and defenseman Kevin Bahl.
The Devils, who are retaining $3 million (50%) of Hall's salary cap hit, clearly hope the Coyotes go on a deep playoff run and convince the winger, who's a pending unrestricted free agent on July 1, to stay long term. The 2021 pick becomes a second-round selection if the Coyotes win a playoff round or re-sign Hall. And it becomes a first-round selection if the Coyotes win a playoff round and re-sign Hall – a double whammy, of sorts.
"I've been open to anything, and I haven't closed the book on signing with any team prior to July 1," Hall said of his thought process in the leadup to his first crack at testing the UFA market.
So, if the best-case scenario for Shero and the Devils comes to fruition, it's fair to say this trade will look decent, in hindsight. The haul would be two first-rounders and three prospects for a star on an expiring contract and an AHLer.
Shero could then walk away from the disaster that is the 2019-20 season and feel he's at least made a little progress toward a better future. Right now, though, there's no way New Jersey can claim this year is going according to plan with Hall officially gone, Shero changing coaches earlier this month, and last offseason's splashy additions contributing less than expected.
Now, if one of the other scenarios play out, in which that 2021 pick remains a third-round selection or is upgraded to a second-rounder, this trade will be a tougher pill to swallow for Jersey.
Realistically, given Arizona's trajectory this season, the 2020 first-rounder is probably going to be a mid- or late-round pick. Then, you factor in the prospects, who, based on sources around the league, don't project to be NHL stars, and there's not much to get excited about.
One, two, or perhaps all three of Merkley, Schnarr, and Bahl may blossom into everyday NHLers – the latter, a 6-foot-7 blueliner with some solid upside, is considered the best of the bunch – but that's a long shot. In the end, the Devils didn't yield a single blue-chip prospect for the best rental in the league. That hurts.
How's the fit in Arizona?
As for Arizona and GM John Chayka, there's significantly less hedging required because the fit with Hall is, in a word, apt.
This is exactly the kind of trade that Coyotes fans have been clamoring for since Chayka was crowned GM in spring 2016. Yes, the 30-year-old has developed a reputation as one of the NHL's most active executives, but he hadn't landed one bonafide offensive spark plug prior to the Phil Kessel swap.
Hall injects a dynamism that was sorely lacking within Arizona's forward group. To get him at this rate, and in the middle of December rather than late February, promotes this to a two-thumbs-up victory for a club that believes in itself already.
"He's a game-changer. He's an electric player. He's one of my favorite players to watch, just in terms of entertainment value," Chayka said. "Then, when you really start to dig into some of the deeper analytics of how this guy impacts the game and impacts his teammates in so many different ways."
It helps that Hall is motivated to turn around a season in which his counting stats aren't matching his credentials as the Hart Trophy winner of two seasons ago. Though a career-low shooting rate of 5.5% suggests he's been the victim of poor puck luck, Hall's accumulated just six goals and 19 assists for 25 points in 30 games this year.
"I feel like the organization in Arizona does a lot of due diligence. They respect the analytics of the game, and for them to want to pursue a player like myself, it's definitely flattering," said Hall. "It's been a tough year, and it hasn't gone the way that I've wanted, but coming into a new situation and a team that has confidence that you can help them, it's a really nice thing."
Hall is a rare goal-scoring winger who tilts the ice for his teams. He's speedy, crafty, and consistently on the right side of the puck. Over his career, which includes six years in Edmonton and three-and-a-half in New Jersey, Hall's teams have owned 50.7% of the even-strength shot attempts when he's on the ice, versus 46.1% of the attempts when he's not. Both Hall's supreme abilities and the poor quality of his former squads have contributed to that huge gap.
The Coyotes, meanwhile, aren't serial winners themselves. Only the Buffalo Sabres have a longer playoff drought than Arizona's seven-season skid. The narrative around the organization is changing, though, with new ownership giving the green light to spending to the cap, Chayka improving the roster bit by bit and now enormously, and head coach Rick Tocchet providing ultimate credibility.
"We know Taylor wants to win. That's kind of the main criteria for him to re-sign," Chayka said. "We feel like we have a chance to win for a long time here, so we feel like our opportunity is as good as anybody."
The Coyotes are set between the pipes, with Darcy Kuemper and Antti Raanta providing one of the best one-two punches in the NHL. Their group of defensemen, led by Oliver Ekman-Larsson and Jakob Chychrun, is deep. Up front, they've traditionally failed to generate much offense but have some guns, including Kessel, Nick Schmaltz, and Clayton Keller.
It'll be fascinating to watch how Hall's presence alters Tocchet's forward combinations and how opposing teams change their defensive tactics. All of a sudden, a creative guy like Keller is less of a priority for shutdown units and can move about the ice more freely.
Regardless of what transpires over the next few months, as the Coyotes attempt to clinch that elusive playoff spot, Chayka made what he calls a "potentially once-in-a-lifetime" move. He believes the Coyotes' timeline aligns well with Hall's and has been asking a simple yet profound question both internally and externally: "Why not us, at this stage?"
John Matisz is theScore's national hockey writer.
Brady, Buccaneers top Brees, Saints to reach NFC Championship – TSN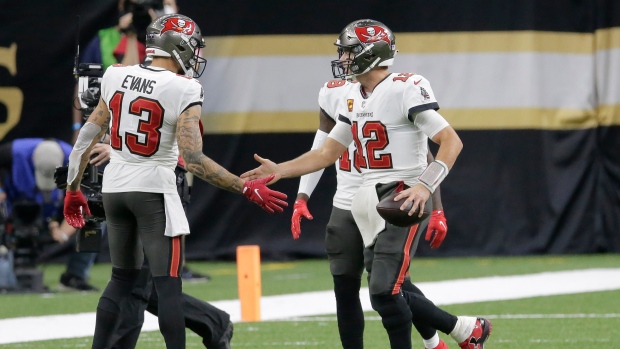 NEW ORLEANS — Tom Brady's best game in three tries against New Orleans kept the Buccaneers moving on in the NFL playoffs, and has Saints quarterback Drew Brees headed home — perhaps for good.
Brady and the Bucs' offence turned three Saints turnovers, including two interceptions of Brees, into touchdowns, and Tampa Bay beat New Orleans 30-20 in the divisional round of the NFL playoffs Sunday night.
Two of those touchdowns came on short passes to Mike Evans and Leonard Fournette. And after Brees was intercepted by linebacker Devin White in the middle of the fourth quarter, Brady drove the Bucs to the 1, from where he scored himself to all but ensure his 14th trip to a conference championship game — his first in the NFC.
That game will take place in Green Bay next week, where the 43-year-old Brady will try to advance to his 10th Super Bowl in a showdown with Packers All-Pro QB Aaron Rodgers.
"We worked hard to get to this point. Two road playoff wins is pretty sweet," Brady said. "We've got to go beat a great football team we know pretty well. Aaron's playing incredible."
Meanwhile, the Brees era in New Orleans could be over after 15 seasons.
The game may have been the last in the Superdome for the 42-year-old Brees, who is under contract for one more year but has not discussed any plans to play beyond this season, and has sometimes hinted at his impending retirement.
While just 3,750 tickets were distributed in the 73,000-seat Superdome to comply with local COVID-19 restrictions, the fans made themselves heard with an eruption of cheers when Brees took the field for New Orleans' first offensive series.
If it was his last game, it won't be one he'll want to remember. The NFL's all-time leader in completions and yards passing was 19 of 34 for 134 yards, one touchdown and three interceptions.
Brady finished 18 of 33 for 199 yards in what often resembled more of a defensive struggle. Unlike his previous two meetings with the Saints — both losses — he was not intercepted and largely avoided pressure, taking only one sack.
"Really just locking in and playing a lot better than we did the first two times we played them," he said. "We had a bunch of turnovers last time. This time they turned it over and that's usually the story of football games."
After Brees' third interception on a tipped pass late in the fourth quarter, the Bucs were able to close out the game with Brady, in his first season with Tampa Bay after 20 with New England, taking a knee.
The Saints led 6-3 when Brees, while trying to flee pressure, underthrew Michael Thomas and was intercepted by Sean Murphy-Bunting, who raced 36 yards along the sideline to the Saints 3. Brady hit Evans one play later to put the Buccaneers up 10-6.
The Saints answered, helped by a drive-extending third-down defensive holding call on Murphy-Bunting. New Orleans drove to its 44 before unleashing a trick play.
Kamara took a direct snap and gave the ball to receiver Emmanuel Sanders on a reverse Sanders lateraled back to Jameis Winston. The reserve QB launched an accurate pass down the middle to Tre'Quan Smith for a 56-yard score.
Ryan Succop's 37-yard field goal capped an up-tempo Bucs drive powered by Fournette's 40 yards from scrimmage, tying the score at 13 to end the half.
Brees' 16-yard pass to Smith put the Saints ahead 20-13, and New Orleans appeared primed to build on that lead when Brees completed a third-down pass to Jared Cook across the 50. Bucs safety Antoine Winfield Jr. stripped Cook from behind and White snagged the loose ball as it bounced to him, returning it 18 yards to the New Orleans 40.
Five plays later, Brady hit Fournette over the middle for a 6-yard score.
Succop's 36-yard field goal made it 23-20 before White's interception of a pass intended for Kamara gave the Buccaneers the ball at the New Orleans 20.
STATS
Fournette finished with 107 yards from scrimmage, 63 on the ground. Kamara had 105 yards from scrimmage, with 85 on the ground. Thomas was held without a catch in his final game of an injury-plagued season.
INJURIES
Buccaneers: Linebacker Jack Cichy went out with an elbow injury in the first quarter.
Saints: Deonte Harris, who returned the first Tampa Bay punt 54 yards to set up a field goal, left with a neck injury in the first half.
UP NEXT
The Bucs will try to advance to the second Super Bowl in franchise history with Brady, no stranger to high-stakes games in cold weather after his two decades in New England.
New Orleans might have to ponder life without Brees.
___
More AP NFL: https://apnews.com/NFL and https://twitter.com/AP_NFL
Maple Leafs place veteran forward Jason Spezza on waivers – CBC.ca
The Toronto Maple Leafs placed veteran forward Jason Spezza and goaltender Aaron Dell on waivers Sunday.
Spezza, 37, skated in all three games so far this season and registered one assist while averaging 7:44 of ice time.
He signed a one-year deal for the league minimum of $700,000 USin October, hoping for one more shot at winning his first Stanley Cup with his hometown team.
Spezza has scored 941 points (341 goals, 600 assists) in 1,126 career games with the Ottawa Senators (2002-14), Dallas Stars (2014-19) and Maple Leafs. He tallied 25 points (nine goals, 16 assists) in 58 games in his first season with Toronto in 2019-20.
Spezza was the No. 2 overall pick in the 2001 NHL draft by Ottawa.
Dell, 31, has not played yet for the Maple Leafs. He signed a one-year, $800,000 contract in October following four seasons with the San Jose Sharks.
He compiled a 48-34-12 record with a 2.76 goals-against average and .908 save percentage in 107 games (89 starts) for the Sharks from 2016-20.
Chiefs' Patrick Mahomes ruled out vs. Browns due to concussion – Sportsnet.ca
KANSAS CITY, Mo. — Kansas City Chiefs quarterback Patrick Mahomes was knocked out of the divisional-playoff game against the Cleveland Browns on Sunday with a concussion in the third quarter.
Mahomes tucked the ball on a quarterback option with 7:27 left in the third quarter and tried to reach the first-down marker on third-and-1 near midfield. He was brought down hard by Browns linebacker Mack Wilson, who had managed to get ahold of him around his helmet. Mahomes was wobbly when he got up and had to be helped from the field, then was checked briefly in the blue tent on the sideline before jogging into the Kansas City locker room.
Chad Henne entered the game for Mahomes, who had been hobbling for much of the game after hurting his foot in the first quarter. Henne played the entirety of Kansas City's loss to the Chargers in Week 17, when coach Andy Reid sat Mahomes and several other starts with the No. 1 seed and first-round playoff bye already secured.
Henne led the Chiefs to a field goal that made it 22-10 with 4:24 left in the third quarter. Henne went down the tunnel to check on Mahomes when the third quarter ended.
The Chiefs announced early in the fourth quarter that Mahomes will not return.
Meanwhile, the Browns lost left tackle Jedrick Wills Jr. to an ankle injury and his backup, Kendall Lamm, to an elbow injury, forcing them to turn to Blake Hance. Hance was signed from the Jets practice squad on Jan. 2 to provide some depth to an offensive line that has been decimated by injuries and COVID-19 since the start of the new year.
Hance made his NFL debut in the fourth quarter of their wild-card win over Pittsburgh.
Wills remained down after Nick Chubb's carry on the Browns' first offensive play of the game before limping to the sideline with help from the training staff. He was listed as questionable to return before being ruled out at halftime.
Lamm was replaced at the start of the second half, helping the Browns drive 77 yards for a touchdown.
The injuries to the two left tackles made it even more important that Jack Conklin was active. The All-Pro right tackle had been questionable after hurting his hamstring in last week's wild-card win in Pittsburgh.
The depth of the Browns offensive line has been decimated this season. Backups Chris Hubbard, Nick Harris and Michael Dunn are all out with season-ending injuries.