Trend to work from home cited as real estate takes off in Cochrane, Airdrie – Calgary Herald
Article content
Norma and Alan Kehoe said leaving the beauty and friendships of Cape Breton wasn't easy.
Article content
But living near grandchildren in Cochrane was a strong enough pull to make the move west and purchase a home in the Fireside area of the town just west of Calgary.
"We love Cochrane. We love the closeness to the mountains and to the city without having to be in it," said Alan Kehoe.
"(Cochrane is) an older community but it's growing quickly."
The couple, who take possession of their 1,430-square-foot house next month, are among the home buyers driving a real estate boom in towns and cities surrounding Calgary.
According to new data from the Calgary Real Estate Board (CREB), the 725 home sales in the first six months of the year in Cochrane nearly equal the record 754 purchases in the entire record year of 2014.
Much the same can be said for Airdrie to the north of Calgary, where the annual average number of home sales — 1,300 — has already been exceeded.
Article content
The benchmark price for a single detached home in Airdrie was $432,700 in June, 15 per cent higher than the previous year.
But the average price of a detached home in Airdrie so far this year is $411,011, well below the $500,183 in Calgary, according to CREB.
"My record sales in previous years were surpassed by May this year," said Natalie Bethiaume of CIR Realty, who specializes in Airdrie.
Lower lot prices are a draw for buyers, she said, in the city that's nearly doubled in size since 2009 to a population of more than 70,000.
"None of us saw this market coming. When COVID-19 really became a concern, all the predictions were this market was going to tank, but the opposite happened," said Berthiaume.
The COVID-inspired trend to work from home has made places such as Airdrie more attractive, she said.
Article content
Echoing that is Cochrane CIR realtor Kendra Watt, whose town's population has grown by 30 per cent in the past five years to more than 34,000.
"Working from home gives people the flexibility to live farther from the city centre . . . We've seen a significant increase in people moving from Calgary since the pandemic," said Watt.
"And your money goes further here than Calgary — it always has."
Over the past six months, prices in Cochrane were four per cent higher than they were in same time frame in 2020, says CREB.
Even so, it remains attractive to people from much costlier locales in the area such as Canmore, said Watt, where the benchmark price of more than $1.15 million has shot up by 17 per cent since last year.
"We're seeing quite a few Canmore people coming out," she said.
Article content
It's a demand that's seen Watt and her associates "run off our feet — it's certainly been at least double the production of 2020."
But that means the market has been playing catch-up from the first months of the pandemic, said Watt, when sales slowed.
But now, that late-pandemic surge has meant more expensive building materials and a less predictable time frame for construction, said Watt.
"So, instead, people come to the resale market, which is something we haven't seen before," she said.
That's also meant more cash purchases as buyers seek to stake a more solid claim in a competitive sellers' market, added Watt.
Both Berthiaume and Watt say at least 10 per cent of their more recent buyers also hail from out of province.
Article content
"That's more so than previously. People are retiring to spend their summers here and are cashing out in expensive places like Vancouver and southern Ontario," said Berthiaume.
"They don't even blink at our prices. They see the value here."
But the surging demand for life outside the city limits has taken its toll on affordability, says CREB.
Okotoks south of Calgary has seen its benchmark price for single family homes climb to $508,200 last month, an increase of nearly 14 per cent from the year before and seven per cent since the start of 2021, they say.
"Record sales and low inventory have caused the months of supply to remain just above one month," states the latest CREB report.
"The low level of inventory relative to sales has persisted in this market since the third quarter of last year, causing steady gains in prices, especially for detached homes."
Okotoks' population has grown by eight per cent in the past five years, to 31,569 in 2020.
Twitter: @BillKaufmannjrn
Real Estate newsletter: A billionaire buyer revealed – Los Angeles Times
Welcome back to the Real Estate newsletter, which arrives on the heels of a mystery being solved.
Reporters and readers alike have been trying to figure out who paid $25 million for San Marino's famed USC presidential mansion, and records finally revealed that the buyer was Chinese billionaire Tianqiao Chen. It makes a lot of sense, as the philanthropist recently donated $115 million to Caltech for neuroscience research, and the university dedicated a new 150,000-square-foot facility to him that opened earlier this year just a mile away from the home.
It's still a great time to sell, and this week saw a few celebrities test their luck in the high-risk, high-reward real estate market. "Charlie's Angels" star Shelley Hack did about as well as one can do, selling her Santa Monica Craftsman for $11.43 million — or $2.58 million more than her asking price.
Actress Helen Mirren and director Taylor Hackford are hoping for similar success in Hollywood Hills, where their colossal compound on 6.5 acres is on the market for $18.5 million. If the power couple get their price, it'll be one of the priciest sales the ritzy neighborhood has seen so far this year.
If you don't believe me regarding the seller's market, believe the data. The numbers are in for June, and Southern California's median home price soared to $680,000 last month. That's an all-time high, shattering a record that stood for all of … 31 days.
Some news on what may come ahead: UC Berkeley researchers published a new report on a California Legislature bill that would allow denser home building in single-family zones. The study says the bill, which passed the state Senate, would produce an uptick in the state's housing supply, but it likely wouldn't cause the mass redevelopment that skeptics fear.
While catching up on the latest, visit and like our Facebook page, where you can find real estate stories and updates throughout the week.
Billionaire buys USC house
When USC's presidential mansion set a San Marino record by selling for $25 million in early July, it was initially unclear who the buyer was. Real estate records now show it was purchased by Tianqiao Chen, a Chinese billionaire with deep philanthropic ties to the community.
It was pure circumstance how he first came to the area. While watching the news, he and his wife, Chrissy, saw a story of a Caltech scientist helping a quadriplegic man use his thoughts to control a robotic arm and grab a beer.
Shortly after, the couple flew to Pasadena to meet the scientist — a trip that led Chen to give Caltech $115 million for neuroscience research, one of the largest gifts the university had ever received. In 2016, he founded the Tianqiao and Chrissy Chen Institute for Neuroscience at Caltech complete with a three-story, 150,000-square-foot facility on campus that was dedicated to the couple earlier this year.
He'll have a short commute if he ever visits it, because his home sits about a mile away from the facility.
Actress gets way over asking
In the latest example of Southern California's seller's market, "Charlie's Angels" actress Shelley Hack sold her Santa Monica Craftsman for $11.43 million — or $2.58 million more than she was asking.
Hack and her husband, director Harry Winer, are walking away with a huge profit. Not only did they haul in significantly more than their original asking price of $8.5 million, but they also paid just $1.6 million for the property in 1988.
The secluded compound sits about a mile from the ocean in Santa Monica's North of Montana neighborhood. Across half an acre, there's a 99-year-old main home, one-bedroom guesthouse, rustic barn and manicured backyard with a deck and pool surrounded by gardens and fruit trees.
Power couple will either sell or lease
Space is at a premium in Hollywood Hills, but not on the sprawling hillside compound of actress Helen Mirren and director Taylor Hackford. The power couple's longtime property, which spans 6.5 acres at the foot of Runyon Canyon Park, listed for sale at $18.5 million.
If you're eyeing a shorter stay, it's also available to be leased at $45,000 per month.
At 6.5 acres, it's the second-largest property currently available in Hollywood Hills. To put its relative size into perspective, only three estates on the market in the star-studded neighborhood claim more than 3 acres.
According to the listing, there have only been four owners — all famous — since the home was built more than a century ago: "The Squaw Man" actor Dustin Farnum, writer Mark Hellinger, "Perry Mason" producer Gail Patrick, and Mirren and Hackford, who acquired the estate in the 1980s.
SoCal home prices break another record
Southern California's real estate market hit another historic peak in June, with home prices soaring to yet another all-time high, though analysts see the extreme bidding wars of the last year beginning to ease.
June's median home price of $680,000 tops the previous record of $667,000, set in May, according to data released Tuesday by data firm DQNews. It represents a 22.5% increase from June 2020, when the market in the six-county region slowed significantly as sellers pulled homes off the market because of COVID-19 stay-at-home orders.
Since then, a dramatic rebound has seen 11 straight months of double-digit median home price rises.
Experts credit multiple factors: the fast-expanding buyer market of millennials, more demand for space as more people work from home, and ultra-low mortgage rates, which are attracting wealthy investors who compete with the middle class for limited housing stock.
Housing bill put in perspective
A bill advancing through the California Legislature to allow for denser home building in single-family zones would be likely to produce an uptick in the state's housing supply, but the so-called upzoning probably won't cause mass redevelopment, according to a report published Wednesday.
Andrew Khouri and Ari Plachta write that the study by the Terner Center for Housing Innovation at UC Berkeley offers the most detailed analysis yet of the potential effect of Senate Bill 9, designed to allow up to four homes on most single-family lots and spur the construction of badly needed new housing.
Because of the way unit development would pencil out, the study found that "the vast amount of single-family parcels across the state would not see any new development," said David Garcia, policy director at the Terner Center, which supports the bill written by Senate President Pro Tem Toni Atkins (D-San Diego).
SB 9 passed the state Senate and is expected to be taken up in the Assembly Appropriations Committee by Aug. 27. If approved, it would go to a final vote in the Assembly and then to Gov. Gavin Newsom's desk. The Terner Center study found that under the bill, a total of 714,000 new homes would make financial sense to build, and it would take years to build them — if they ever are, since not all homeowners would want to sell or develop their own property.
What we're reading
USC is on a selling spree. After unloading its presidential mansion, the school is offering up another home it owns in the Hollywood Hills for $4.25 million, according to House Beautiful. Designed by Frank Lloyd Wright, the stunning abode is listed on the National Register of Historic Places.
If you're bidding for a home, there's an increasing chance that the other contenders aren't trying to live there. They could be an investor, a house flipper, or even a hedge fund, according to NBC News, who reported that investment groups are scooping up homes across the country thanks to their unmatchable financial firepower.
Real estate transfers June 26 – July 2 – Massillon Independent
Bethlehem Township
Hoover Jerry & Nancy from Burkhart Andrew & Cydney, parcel 1100192 Safari Trl, $5,300.
Penick Michael D Jr & Danielle from Snyder James G, parcel 1001007 Woodlake Cir SW, $7,500.
Seibert Terry L & Penny D from Rootring George A &Lynn L Trustees, 908 Market St NE, $85,000.
Stantz Donald P from Stantz Donald P & Reicosky Steven L, 103 Canal St W, $35,000.
Yoder Brandon J from Henry Eva O, 8200 Fohl Rd SW, $125,000.
Zimmerman Michael A & Twila D from Taylor James L & Mary K, 9819 Elton St SW, $430,000.
Canal Fulton
Fahrni Pharm LLC from Linmark Enterprises LLC, 977 Cherry St E, $300,000.
Hawthorne Gary J & Brenda S from Harwich Laurie, 91 Forge St, $155,000.
Martin Justin T & Jessica from Gramse John M Trustee/ Jag Irrevocable T, 873 Colonial Ave, $307,000.
Partlow Frances from Cleland Mark J Trustee of the James P CL, 912 Shackleton Dr, $194,000.
Powell Myrissa A from Allman Barbara J, 721 Tamwood Dr, $195,500.
Russell Kent L & Nancy L from Ruehling Judith A, parcel 9502730 St Helena Dr NW, $400,000.
Jackson Township
Ashley Joseph A & Lauren M from Barnett Tyler W, 631 Leecrest St NW, $200,001.
Chung Hanh Duc & Quyen Hue from Berkshire Farms LLC, 7306 Greenview Ave NW, $96,900.
Diana Timothy Lee & Kathrine Elaine from Swensgard Brett E Successor Ttee, 7110 Corniche St NW, $245,000.
Diaz Leslie E & Fisher Kathleen from Kellamis Daunia, 5368 S Island Dr NW, $680,000.
Dougherty Brian P from Rand Esther L, 4577 Morgate Cir NW, $150,000.
Ganz Kathryn & Petrus Nicholas from Fink Max & Lisa, 8492 Portage St NW, $270,000.
Joy Lauren E from Butera Shannon C, 3589 Pinehurst Ave NW, $265,000.
Kari Henriette Sally from Maxsam Investments LLC, 3335 Jackson Park Dr 11B, $205,825.
Keith Jeffrey A & Jimsey F from Ruwadi Brain D, 6565 Culpepper St NW, $455,000.
Kitson Samuel Douglas from Pettigrew James A &Vicki D, 4154 Sunquest Cir NW, $251,000.
Lee Daniel E & Swallen Mary Catherine from Pemberton Matthew N, 7131 Shady Hollow Rd NW, $399,000.
Lush Properties LLC from Windows of Heaven Foundation, 5459 East BLVD NW, $500,000.
Lustig Todd C & Amy M from Wengerd Susan I, 9270 Shady Trail NW, $140,000.
Mason Kenneth C II & Meghan S from Trennell Paul & Helen, 3959 Bramshaw Rd NW, $369,000.
Mossor Joan Marie from Lemons Douglas, parcel 1602901 Fleetwood Ave NW, $25,000.
Nervo Taylor v & Conner Jacob W from Fearon Michael J & Norma J Co Trustees O, 2973 Carie Hill Cir NW, $317,940.
Popa Daniel E from Manning Ralph E & Jo Ann, 5611 Comanche St NW, $185,000.
Rose William W & Whitaker Danielle from Hamstra Jeffrey L & Heather, parcel 10013514 Emerson Cir NW, $105,000.
Snyder Dennis L & Linda K from Wiedlebacher Eric S & Monette J, 8816 Lake Bluff St NW, $380,000.
Swan Alexander W from Harvey Michael & Hannah & Frank H Jr, 4561 Rohrdale Ave NW, $140,000.
Thunder Holdings LLC from Gallucci Rosemary & Rufo Matthew G Co TT, 3463 Harris Ave NW, $175,000.
Walsh Thomas & Alexandra from Harbaugh Lorraine, 1844 Woodlawn Ave NW, $195,000.
Lawrence Township
Helms Eric & Samantha from Helms Edward J & Lenora, 8834 Indian Hill Cir NW, $160,000.
Russell Kent L & Nancy L from Ruehling Judith A, 12445 St Helena Dr NW, $400,000.
Venditti Elizabeth from Stanford Dennis R & Marnita K, 14821 Cenmont St NW, $146,000.
Massillon
Asplin Nathan A from Woods Harvey A & Denise L, 2866 17th St SW, $220,000.
Asplin Nathan A from Woods Harvey A & Denise L, 2870 17th St SW, $220,000.
Auctus Properties LLC from 1370 Sanders LLC, 1370 Sanders Ave SW, $324,500.
Davidson Chancler from Stark Ronald F & Jill L, 1919 Vermont Ave SE, $110,000.
Greegor David from Witmer Melvin, 906 Niles St SW, $145,000.
Hill Angela R from Edmonson David P & Patricia S L/E Hill, 725 Milburn Rd NE, $106,750.
Home at Last Properties LLC from Knopp Phyllis I, 941 10th St NE, $85,200.
Lippert Robert L Jr from Shuck Loomis A, 1202 Duncan St SW, $61,000.
Mcdonald Donald R & Jeanette from Blackhawk Investments LLC, 2339 Lincoln Way W, $98,500.
MD Enterprises of Apple Creek Inc from Tocor Investments Ltd, 2611 Erie St S, $73,500.
Milenkovski Metodija from Ledgewood Investments LLC, 1746 Oak Trl NE, $125,000.
Murgatroyd Larry J & Rebecca L Trustees from Wilson Ronda M, 720 16th St NE, $111,200.
Obes Agustina from Barkheimer Realty Ltd, 19 Edwin Ave SE, $1,000.
R&W Home Improvement LLC from Langley David C & Lynne M, 4862 Sippo Reserves Dr NW, $36,000.
Rightside Investments LLC from Stewart Arnold R, 319 Valleyside Cir NE, $100,000.
Scharver Joseph P & Wayman Chelsea M from Rodocker Ryan, 624 24th St NW, $162,500.
Stevenson William from Epm Properties LLC, 539 29th St NW, $137,000.
Thomas Lisa M & Webb Judith A from Bruce Rental One Inc, 802 Warren St SW, $115,650.
Waicak Jeffery S from Lunsford Joey M, 521 Tremont Ave SE, $12,000.
Webb Jordan Dale & Robson Jamie Lee from Stanford Alan E & Kimberly A, 1715 Woodruff Ave NW, $195,000.
Weinland Samuel & Jackson Emily from Kreiger Ryan A, 2144 Main Ave W, $118,000.
Whitt Christina Marie from Blackhawk Investments LLC, 605 Wellman Ave SE, $91,000.
Perry Township
Baugh Kevin F from Berg Dorothy A, 1130 Singing Brook Ave NW, $210,000.
Bischoff Michell J & Savannah from Cornerstone Real Estate Holdings Ltd, parcel 4308202 Wynnbrook Rd SW, $6,500.
Erie Avenue LLC from Smith Stanley L, 6201 Fairacres St SW, $120,000.
Evans Robert E & Diana L Ttees from Koepf Linda M Trustee of the Miller Irre, 2936 Fasnacht Cir NW, $165,000.
Grosschmidt Virginia L Ttee from Amato Stephen L & Mary K, 2429 Ashwell Ave SW, $324,900.
Hinamon William J from Ferrell Hattie M, 1128 Manor Ave NW, $175,000.
Hooper Katelyn D from Gillard Diane L, 4517 Tioga St NW, $119,900.
Knapp Stephen from Ehret Cortney J, 313 Ingall Ave NW, $100,000.
Kuller Janet from Noggle Jeffrey W & Karen L, 1003 Norwich Ave NW, $192,000.
Mac's Convenience Stores LLC from Kooshtard Property VII LLC & Coutar Rema, 6341 Navarre Rd SW, $1,056,273.
NVR Inc A Virginia Corporation DBA from Dehoff Agency Inc, 6079 Longview St SW, $60,000.
NVR Inc D/B/A Ryan Homes from R L Deville Holdings Ltd, 6955 Gauntlet St SW, $47,895.
Quinn David J & Jill A from Huntsman Cynthia M, parcel 10013357 Klick St SW, $92,400.
Ulrich Robert P from Morales Kathryn A, 181 Gnau Ave SW, $40,000.
Whitehurst Amber & Quinn from Dash Residential LLC, 335 Eden Ave NW, $160,000.
Pike Township
Davy Jeffrey & Laurie from Selby Gregory S, 9237 Oak Ave SE, $150,000.
Jones Anthony S & Cynthia M from Bevington Diana Lynn, 2275 Farber St SE, $240,000.
Kinnerson James M & Annemarie from Mowery Steven E, 2225 Kingsbury Dr SW, $4,000.
Sugarcreek Township
Davis Brandon M & Rager Stephanie from Kamban Landon & Pietro James, 180 4th St SE, $135,000.
Davis Brandon M & Rager Stephanie from Kamban Landon & Pietro James, parcel 7001443 4th St E, $135,000.
Menyes John D & Donna Marie from Jordan Dennis C, 11327 Crestline St SW, $325,000.
Tuscarawas Township
Csokmay Joseph from Ries Joseph & Elizabeth, 12056 Lochwood St SW, $250,000.
Feijoo Tony & Corina S from Triplett Kerry & Stephenie, parcel 10003293 Poorman St SW, $19,000.
Luxury Real Estate Sees Unprecedented Growth in First Half of 2021 – Storeys
Canada's luxury housing markets were on fire the first half of the year.
The Engel & Völkers 2021 Mid-Year Canadian Luxury Real Estate Market Report reveals that Canada's luxury market experienced unprecedented levels of growth in the first six months of 2021.
The report combines market data with intel from Engel & Völkers' local Canadian market experts to produce a residential property analysis for the markets in Halifax, Montréal, Ottawa, Toronto, and Vancouver. It shares notable trends, in-demand neighbourhoods, economic factors, and changing buyer and seller preferences in three different price segments; under $1 million, $1-$3.99 million, and over $4 million.
Factors like changing homeowner priorities, low interest rates, easy access to borrowing, and extra savings amongst professionals who stayed employed during 2020 combined to accelerate what Engel & Völkers calls 'the COVID shuffle'. The report acknowledges the slight cooling of Canada's red-hot housing market as of mid-April as competition levelled out. Overall, it forecasts that prices in premium markets are anticipated to stabilize in the short term while still increase in the long term as borders reopen in the wake of COVID-19 recovery.
RELATED: Sale of Opulent Estate in Point Grey Breaks Vancouver Real Estate Record
In the luxury market, the start of 2021 brought an increase in demand for high-end condominiums. Driving the luxury condo sales market were (somewhat surprisingly) first-time homebuyers looking to enter the real estate market and retirees hoping to cash in their suburban homes, says Engel & Völkers. As many clients who moved to rural areas during the pandemic kept their city properties, luxury condo prices are expected to continue to rise with reopening rollouts across the country.
Interestingly, there is also an increase in multigenerational living. In fact, it's the fastest-growing housing type in the country. Defined as homes with three or more generations living together, multigenerational homes allow families to redistribute and pool their resources to attain higher-quality luxury homes, says Engel & Völkers. The company forecasts that this fast growing phenomenon will become more frequent in Canada's urban and surrounding areas.
Engel & Völkers also reports global pent-up demand for properties in Canada's major metropolitan cities. As international borders have remained closed since start of the pandemic, international demand upon their reopening is expected to drive the luxury market in Vancouver and Montreal in particular. Given Canada's limited housing supply, this influx of buyers is anticipated to significantly strain the market.
"After an unprecedented run, premium real estate markets are normalizing across Canada's most in-demand cities, and that's a good thing. At a global level, Canada's real estate market is largely undervalued," said Anthony Hitt, President and CEO, Engel & Völkers Americas. "But with low housing inventory and the buyer frenzy we saw in the first half of the year, Engel & Völkers believes the unprecedented demand for luxury properties will sustain. Local demand for luxury housing increased exponentially during the pandemic and international buyers are excited to return after a year of border closures. 2022 will be a year to watch."
Halifax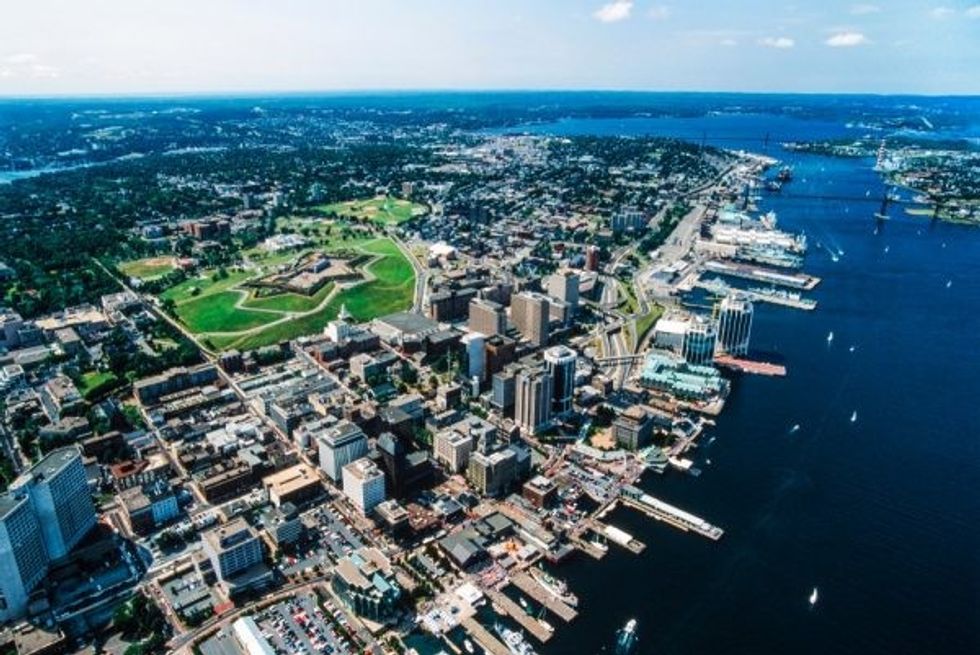 Engel & Völkers finds that The Halifax Regional Municipality (HRM) is a strong seller's market that continues to draw both interprovincial and international interest. Draws of the city include its cultural attractions, the stunning landscape, and relatively attractive prices compared to other parts of the country, says the company. Last year, the average price for a home in Nova Scotia was $304,590 compared to a national average of $607,250.
Throughout the first half of this 2021, Halifax's real estate market began a historic run. From January to June, homes priced between $1 million and $3.99 million stayed on the market for an average of only five days, while homes priced below $1 million spent 43 days on market. Despite record low inventory numbers in February 2021, total sales in Halifax increased from the previous year.
Overall, single-family detached homes were by far the most popular housing type. In the luxury bracket, 21 homes were sold from $1 million to $3.99 million in both April and May 2021, respectively. The average price hovered at $1.4 million during both months. This is a marked difference from the previous year, highlights Engel & Völkers, which saw zero sales at this price point in April 2020 and only five in May 2020 (though that was also at the height of COVID's first wave). Now, as Halifax is open to the rest of Canada, Engel & Völkers anticipates a floodgate of interest from clients who were not prepared to purchase site unseen. Historically low inventory levels could create an even more pressurized situation, says the company.
Montreal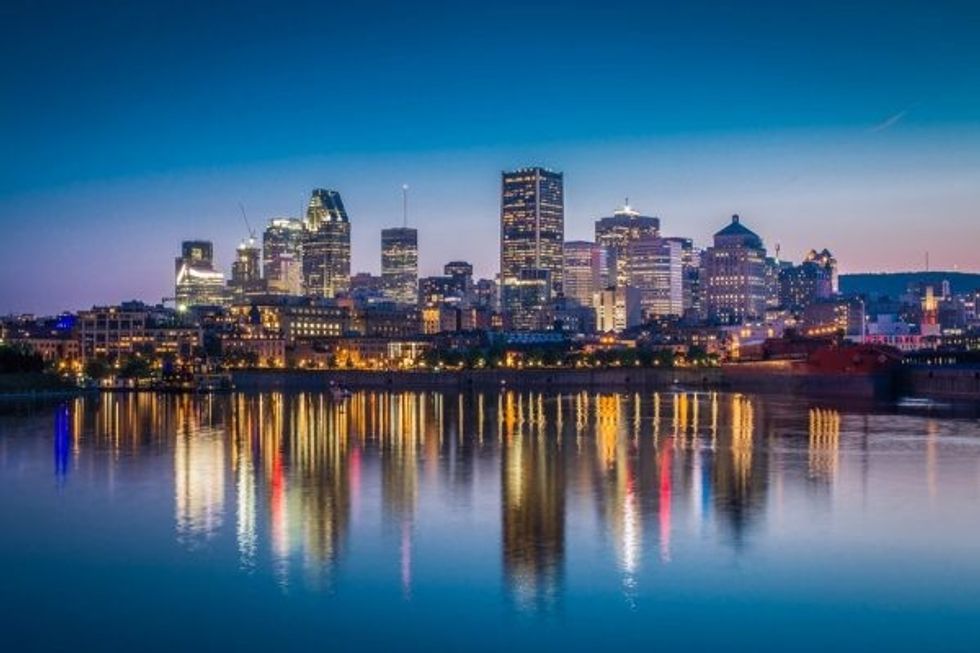 Montreal's position on the urbanization curve is steadily climbing, says Engel & Völkers, as the city continues to attract buyers from French-speaking regions around the world. "Additionally, strong working and education opportunities paired with a charming European-like lifestyle have garnered interprovincial and international attention," says Engel & Völkers.
Both home prices and production in Montreal continued to rise during the first half of 2021. Total sales priced $1 million or higher grew 115% in January, from 61 to 131 year-over-year. This compares to an only 17% increase in sales for all homes in the market, says Engel & Völkers, signalling a new era for premium real estate. Plexes did exceptionally well in the first four months of 2021, seeing a 74% increase in sales compared to the first four months of 2020. Similarly, condo sales for units priced $1 million or higher climbed from January to April 2021, totalling 138 units.
While Montreal is still one of Canada's most affordable cities on the real estate front, Engel & Völkers forecasts it entering a strong growth period, with investors creating funds specifically for purchasing luxury detached homes in coveted neighbourhoods like Westmount and Outremont. This, coupled with growing opportunities and new construction projects, has positioned Montréal to be the new investor favourite of Canada's real estate markets, according to Engel & Völkers.
Ottawa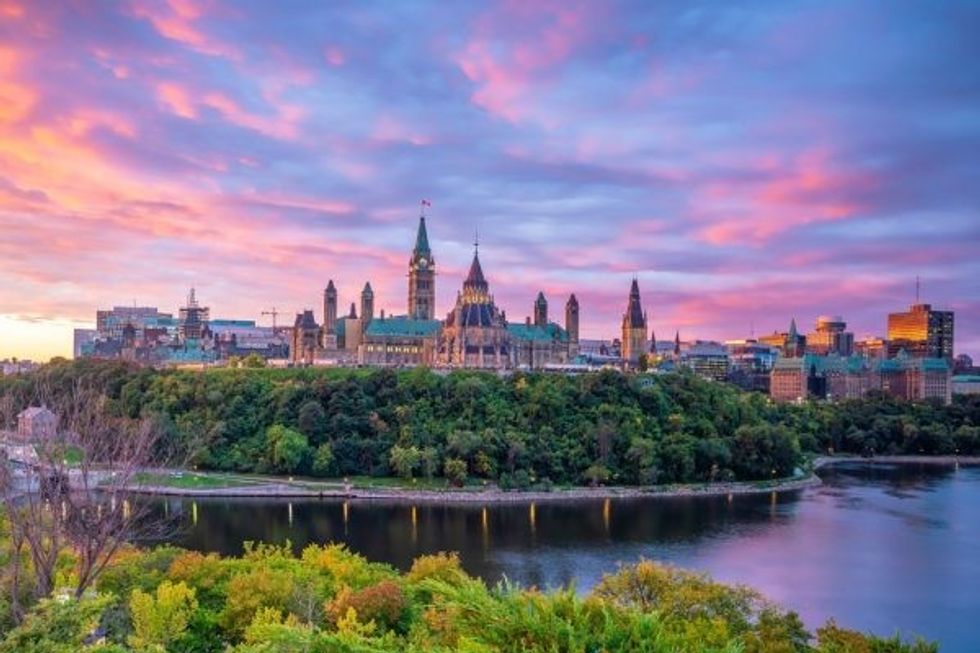 In the nation's capital, the first half of the year brought a strong seller's market that drove home prices to increase exponentially. Engel & Völkers point to fear of missing out among buyers that has resulted in a 513% increase in the number of homes sold in the $1 million to $3.99 million category from January to May 2021 compared to the same period in 2020. The uptick in notable sales in Ottawa was replicated in surrounding rural areas as well, says Engel & Völkers.
Since January 2021, average days on market for all homes decreased steadily in Ottawa. In April, the average days on market for all residential properties dropped to 18, down 40% from April 2020, in the thick of the first wave of the pandemic.
In May, Ottawa houses sat on the market for an average of 13 days. For condos, however, days on market increased. In April and May 2021, units sat for 122 and 110 days, respectively, an increase from 90 days in May 2020, says Engel & Völkers. The market began to level off by May. Although prices continued to increase, sales returned to pre-pandemic levels and there was a notable drop in seriously interested buyers.
Engel & Völkers anticipates a return to a more balanced market in the fall. "As more government and tech jobs become available and borders reopen, Ottawa will likely see increased domestic and international migration," says the company. "On a global scale, the city's real estate is largely undervalued compared to other capital cities, leaving room for growth as Ottawa rises from a government town to a dynamic hub of tech and business."
Toronto
Like other major Canadian cities, Toronto saw a record-breaking population loss from July 2019 to July 2020, with 50,375 residents leaving the city for rural areas. However, as restrictions ease and vaccines roll out, the city is seeing a renewed interest in urban living, says Engel & Völkers.
January 2021 started off strong, with average home prices rising to $967,885, growing by 15.5% year-over-year in the Greater Toronto Area (GTA). Overall, home sales were up by more than 50% compared to January 2020, for a total of 6,928. All homes sold in the $1 million to $3.99 million bracket nearly doubled from January 2020, with single-family detached homes driving this increase. Homes in this category sat on the market for 24 days in January 2021, down 33% from January 2020. "The luxury condo market, deemed almost extinct in 2020, has remarkably held its value into 2021, as the number of condo units sold valued between $1 million to $3.99 million has also doubled and prices have held," says Engel & Völkers.
The company predicts the market will continue to normalize. New inventory coming on the market will remain low, which will likely increase pressure for buyers looking to enter, it says. While the city and GTA have not run out of buyers and sellers, Engel & Völkers predicts a slow summer and holding pattern scenario as lockdown restrictions ease.
Vancouver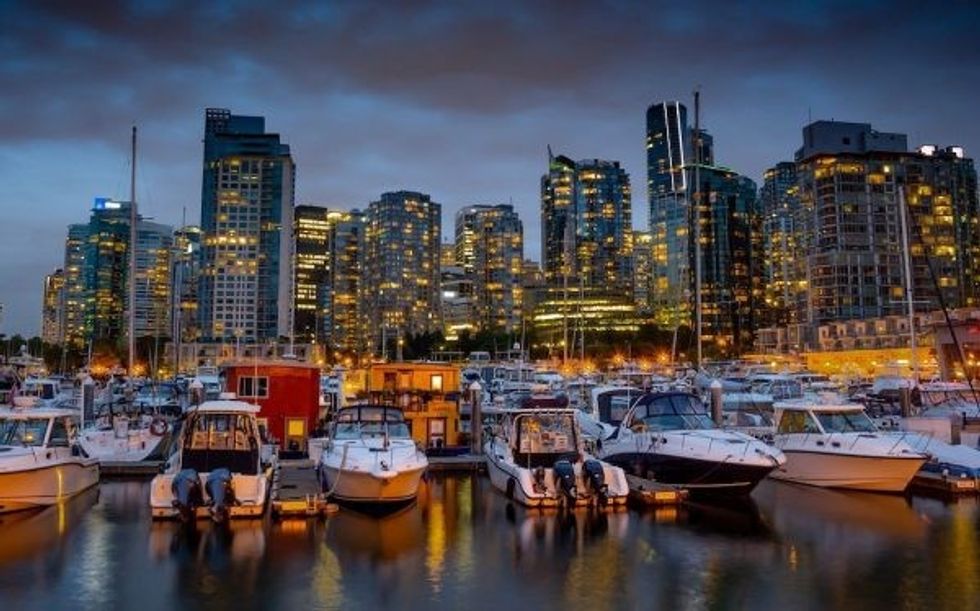 Engel & Völkers reports a robust condo market in Vancouver since the start of 2021. "Sales remain stable and are continuing to increase, indicating that buyers are still interested in condo living or taking an initial step into real estate," says the company. Condos at all levels within premium and ultra-luxury markets continue to sell to discerning buyers with an increased focus on quality over quantity. Rather than a focus on the amount of money they're spending on a home, wealthy buyers are more concerned with the quality of the home, as its reflected in things like amenities, square footage, and parking, says Engel & Völkers.
"Like Toronto, Vancouver is emerging from the third wave of the pandemic in a promising position," says Engel & Völkers. The company says significant growth in the pricy city is fuelled by buyers' growing interest in real estate as an investment and desire to own primary residences. As in Toronto, recreational homes and property outside of Vancouver continue to experience high sales as city residents crave an escape from the concrete and more space.
Vancouver is still in a seller's market, but Engel & Völkers predicts that the west coast city will start to see a normalization period and return to a more balanced market in the fall, thanks largely in part to Canada's new mortgage stress test. Finally, as we emerge from the pandemic, the city will experience an influx of national and international migration. According to Engel & Völkers, the luxury market will continue to grow steadily and see increasingly more ultra-luxury home sales.