Trudeau weighs options as NDP calls for action on Ford use of notwithstanding clause
OTTAWA — Prime Minister Justin Trudeau said Wednesday his government is looking at its options to respond to Ontario Premier Doug Ford's use of the notwithstanding clause.
He made the brief comment in French outside the House of Commons moments after NDP Leader Jagmeet Singh called for more action from the federal government.
"We're seeing right now a clear attack on workers, on vulnerable workers and on workers' rights.… There has to be a response," Singh told reporters Wednesday afternoon.
"We're open to any solution to be put on the table and to evaluate if it will work or not and if it will help workers' rights."
The union representing the 55,000 affected educational workers in Ontario says it still plans to hold a strike on Friday, despite the looming legislation that would impose fines on strikers.
The Liberals have been critical of the Ford government this week, with Trudeau previously describing the legislation as outright "wrong."
Justice Minister David Lametti didn't bite on a question earlier Wednesday about what options might be on the table.
"I'm not going to discuss options here," he said before a Liberal caucus meeting, though there are "a number of different things one might do."
Lametti said the pre-emptive use of the clause is "very serious" and "anti-democratic."
"It guts Canadian democracy," he said. "It means the Charter doesn't exist."
An NDP MP, Matthew Green, is calling on the House to hold an emergency debate on the issue.
In a letter to the House Speaker, Green said the proposed legislation to impose a new contract on education workers undercuts their rights and imposes "disproportionate punitive measures" on those who seek to take action.
Green said the use of the notwithstanding clause to bypass the Charter of Rights and Freedoms is part of a "disturbing trend" of provinces seeking to trample constitutional freedoms.
"This particular case could present a precedent for provincial governments across the country that might seek to use this to further undermine the collective agreement rights of workers," he told reporters.
Green was also expected to table a motion Wednesday afternoon calling on MPs to unanimously condemn the move.
Trudeau and others have called on federal Conservatives to respond, but MPs on their way into a Conservative caucus meeting Wednesday morning declined to comment.
The Canadian Union of Public Employees, which is representing the workers, presented a counter-offer late Tuesday night in response to the imposed contract terms in the legislation, but has not yet provided details about the proposal.
Ontario's education minister has suggested that there won't be much movement at the bargaining table this week and insisted that any new offer from the union must include cancelling the strike.
This report by The Canadian Press was first published Nov. 2, 2022.
Marie-Danielle Smith, The Canadian Press
Has Pierre Poilievre's social media output made him the first influencer in Canadian politics? – The Hub
Is Pierre Poilievre Canada's first "influencer" politician?
Influencers are online celebrities with large social media followings that promote anything from sneakers to lip gloss to hunting products, with the intent of convincing their audiences to buy them.
The products that influencers promote are often niche and appeal to a specific audience. Poilievre does not promote $975 sneakers, but he is certainly selling promises and principles.
Long popular with the Conservative base for his stern questioning and rhetorical attacks on the Liberal government, Poilievre's brand skyrocketed during the party's leadership race following Erin O'Toole's ousting in February.
YouTube is a favoured outlet for Poilievre. He has released dozens of short to medium-length videos on the platform and received millions of total views. The videos are marked by grabbing slogans like "Remove Gatekeepers" and "Justinflation", targeting issues affecting Canadians like the rising cost of living, or more specific topics like delays at Toronto's Pearson Airport.
Ginny Roth, who is the national practice lead for government relations at Crestview Strategy and who worked on Poilievre's leadership campaign, says Poilievre's audience is far too broad to be properly classified as an influencer.
"Where influencers are looking to sell something to a niche group of people through a marketing channel…Poilievre is trying to build a movement that's really broad," says Roth. "He's doing it through a variety of different channels, and he knows that a lot of Canadians are on social media, and they're casual users…they're not niche expert users."
Others have different opinions.
In March, Ben Woodfinden, Poilievre's freshly-hired director of communications, and former Hub contributor, described the then-Conservative leadership frontrunner as having an "influencer kind of vibe".
"In many ways, yes, there's an influencer part to his discourse," agrees Vincent Raynauld, associate professor of communications at Emerson College in Boston, Massachusetts. "But there's also a populism part to his discourse, and I think this is where social media is really pushing politicians to become ever more populist in their approach to political communication."

Poilievre is frequently described as a populist, an assessment Raynauld agrees with, but notes that the Conservative leader is not alone in his approach.
"When you talk to folks, they often associate populism (with) your political ideology, but increasingly you can look at populism as a form of political communication," says Raynauld. "An everyday, charismatic person talking about associating themselves with the people, and so making sure that they connect on a more personal level."
In the recent U.S. midterm election in Ohio, Democratic senate candidate Tim Ryan released a video of himself throwing footballs at television screens showing the phrase "Defund the Police", and politicians who Ryan accused of signing bad trade deals with China and selling out Ohio workers.
This contrasts with more conventional campaign ads from 10 years ago produced by other U.S. politicians, like Republican presidential nomination contender Rick Perry, who stood in front of a camera to outline his political principles in a 30-second, single-take monologue.
According to Raynauld, Poilievre is also bringing politics back to what Raynauld refers to as "kitchen table politics."
Fittingly, Raynauld points out a Poilievre video titled "Breakfast with Justin", where Poilievre eats breakfast at a diner while listing the rising costs of his meal due to inflation.
Popular Posts
"He's really trying to connect on a more personal level with members of the public and he's trying to take a more informal way to reach out to the people," says Raynauld.
Raynauld mentions another video where Poilievre tours his childhood neighborhood in Calgary, and how his upbringing made him well-suited to become prime minister.
"These are all things that I think are meant to be personal, they are meant to be, in some ways, private," says Raynauld. "They are really meant to foster this sort of intimate connection between the social media user on one end and Pierre Poilievre on the other."
Poilievre is a controversial politician due to his promises to fire Bank of Canada governor Tiff Macklem, defund the Canadian Broadcasting Corporation, and most recently, his critiques of drug-addiction policies in British Columbia.
Furthermore, Poilievre's lack of engagement with members of the parliamentary press gallery in Ottawa, in favour of reaching out to smaller community papers read predominantly by Canada's many immigrant communities, has led to additional criticism.
Writing in the Toronto Star, commentator Chantal Hébert asserted that Poilievre's momentum has stalled due to his communications strategy of avoiding the press gallery and unfavourably compared him to former Conservative leaders who made more time for mainstream media outlets.
Poilievre is routinely criticized or praised in traditional newspapers, but Roth says those publications' influence has declined since their heyday.
"People get their news and information and content from a variety of sources now, and they don't inherently trust the mainstream media in a way that they used to," says Roth.
Recent surveys suggest Canadians' trust in the "mainstream media" has declined to historic lows of 42 percent in recent months.
Susan Smith is the co-founder of Bluesky Strategy Group with experience working on Liberal Party campaigns.
"People are influenced by their families and peer groups, and by others in the social media and news funnels that they live in," says Smith. "The traditional media are just one voice in the cacophony that accompanies a campaign."
Smith says that if the endorsements of traditional publications do have an effect, it is only towards the end of the general election, and among older demographics.
While Poilievre's videos don't necessarily attract millions of views on an individual basis like a celebrity or influencer, they are far more popular than the average Canadian politician's media output.
For example, among Justin Trudeau's twelve most recent videos published on the prime minister's official YouTube channel, the most viewed video garnered less than 8,000 views. By comparison to Trudeau's channel, Poilievre's most viewed video among his last twelve released, titled "The Message", has been viewed just shy of 100,000 times. Others, though, like his leadership campaign launch video, have reached numbers well into the hundreds of thousands.
"Poilievre is unencumbered from the responsibilities, realities, and the experience of governing so has more time to film rants on his topic-du-jour," says Smith. "Less scripted is better for Trudeau. I expect you'll see more of that in the weeks and months to come."
The Liberal Party's official YouTube account's videos typically garner a similarly low view count to Trudeau's.
"I think people are now their own curators of what's true, and what's interesting, and that's compelling to them," says Roth. "The benefit of that is that people with a strong message don't need to be filtered through those outlets necessarily, they can speak to people directly on social media."
Raynauld says the use of social media in political communication has radically changed over the last two decades, listing the campaigns of viral U.S. political figures like Howard Dean in 2004, Barack Obama in 2008, and Donald Trump in 2020 as exemplifying instances of this shift.
Of those three candidates, only Dean never became president. Raynauld also singles out 2006 as a Canadian election year where personal blogs became prominent in Canadian politics, contributing to the change in communications.
YouTube itself launched in 2005, providing a popular platform for video blogs, better known as vlogs.
"Campaigning has really evolved over the past years, and I really think that Pierre Poilievre probably is one of the few first ones in Canada that has adopted more of an informal tone when it comes to the approach to political campaigning online," says Raynauld.
Poilievre is not the only federal party leader attempting to harness the power of social media to grow their presence.
New Democratic Party leader Jagmeet Singh frequently uses Tik-Tok as a platform to try and connect with younger voters by taking part in dance trends, and also shared a Twitch stream with prominent American progressive Democrat Alexandria Ocasio-Cortez.
However, Singh's strategy appears to have had little effect on his party's fortunes, with the NDP making only marginal gains in the last election.
"I think Mr. Singh is really mimicking trends and other people are innovating, and that gives him some reach, but not the same kind of reach as Mr. Poilievre," says Roth.
Noting that Singh's Tik-Toks backfired, Smith says Poilievre's strategy is effective at targeting politically conservative and youthful demographics, with some surveys suggesting the latter prefer the Poilievre-led Conservatives.
Yet Smith says that by taking a non-traditional route, Poilievre, like Singh, is missing out on communicating with large swathes of the public who want to see him tested outside his bubble.
"Poilievre is giving lots of voters an opportunity to explore on their own time whether they like or dislike him," says Smith.
Raynauld says that people have different expectations for traditional print media and more modern mediums like YouTube.
"When you open up a newspaper…you have different expectations than for example, when you are on the metro…and you open up your Facebook account, or you open up your YouTube account, and you start looking at videos that have been posted by politicians," says Raynauld.
Roth states Poilievre is not the first politician to utilize social media, saying the federal Liberals have successfully used targeted paid advertising on Facebook during general elections.
Prior to his ouster, Erin O'Toole also published videos on his YouTube channel to try and connect with voters but reached vastly smaller audiences.
"What makes the Conservative leader (Poilievre) different is he, I think, has understood from day one that the kind of content that people engage with in a YouTube environment is just good content," says Roth. "That sounds simplistic, but good communication [is using] compelling communications that actually deliver a message that people can connect with, and speaks to real concrete issues with real concrete solutions, and words and phrases that connect with people, that they can understand, that they could see themselves using."
Influencer or not, the biggest test of Poilievre's communications strategy will be the next general election. Jagmeet Singh found little electoral success with Tik-Tok the last time Canadians went to the polls. Can Poilievre do better?
This kind of week could break Donald Trump – CNN
Former President Donald Trump's bad week is bad news for his comeback.
His family business was convicted Tuesday of criminal tax fraud. On the same day, his hand-picked candidate lost a winnable Senate race in a red state. The House January 6 committee has decided to make criminal referrals to the Justice Department – possibly of him or his close associates. And his call to terminate the Constitution has once again backed Republicans into a corner.
<div data-uri="archive.cms.cnn.com/_components/video-resource/instances/h_c81afe5d9e7fbe460e9a3b8792caebab-h_606fb4721b629a7531d52495b11c42ec@published" data-component-name="video-resource" data-editable="settings" class="video-resource" data-video-id="politics/2022/12/06/trump-constitution-termination-gop-anderson-cooper-kth-ac360-vpx.cnn" data-live data-analytics-aggregate-events="true" data-custom-experience data-asset-type data-medium-env="prod" data-autostart="false" data-chromeless="false" data-show-ads="true" data-featured-video="true" data-headline="Hear how Pence reacted to Trump's call to terminate Constitution" data-description="Anderson Cooper looks at how former and current GOP lawmakers reacted to former President Donald Trump's statement on terminating the Constitution in this "Keeping Them Honest." " data-duration="04:42″ data-source-html=" – Source:
CNN
" data-fave-thumbnails=""big":"uri":"https://media.cnn.com/api/v1/images/stellar/prod/221202111239-donald-trump-file-110722.jpg?c=16×9&q=h_540,w_960,c_fill","small":"uri":"https://media.cnn.com/api/v1/images/stellar/prod/221202111239-donald-trump-file-110722.jpg?c=16×9&q=h_540,w_960,c_fill"" data-vr-video data-show-name="Anderson Cooper 360″ data-show-url="https://www.cnn.com/shows/ac-360″ data-check-event-based-preview data-network-id data-details>
Hear how Pence reacted to Trump's call to terminate Constitution
So many premature political obituaries have been written for Trump that it would be foolish to write him off as he embarks on his third consecutive White House bid.
But it's getting more and more difficult to figure out how the man who rewrote the American political playbook can come back from weeks like this.
"I think Georgia, after this midterm, after what happened in 2020, may be remembered as the state that finally broke Donald Trump," senior CNN political commentator Scott Jennings, a Republican, said after CNN projected that Democratic Sen. Raphael Warnock would win a full six-year term.
Jennings is no Trump fan, but he is an astute follower of GOP politics.
"Losing Georgia in the presidential election, losing the Senate race, this is not a state Republicans ought to be losing," he said.
<div data-uri="archive.cms.cnn.com/_components/video-resource/instances/h_5fac488d45054f562b2b2ef28bb5fd95-h_606fb4721b629a7531d52495b11c42ec@published" data-component-name="video-resource" data-editable="settings" class="video-resource" data-video-id="politics/2022/12/07/trump-impact-georgia-senate-runoff-farah-griffin-analysis-vpx.cnn" data-live data-analytics-aggregate-events="true" data-custom-experience data-asset-type data-medium-env="prod" data-autostart="false" data-chromeless="false" data-show-ads="true" data-featured-video="true" data-headline="Ex-Trump White House official says Trump is liable for Walker's loss" data-description="CNN political commentator and former Trump official Alyssa Farah Griffin says the former president negatively impacted Georgia's Senate runoff race for the Republican Party." data-duration="01:21" data-source-html=" – Source:
CNN
" data-fave-thumbnails=""big":"uri":"https://media.cnn.com/api/v1/images/stellar/prod/221206232133-alyssa-farah-griffin-trump-split.jpg?c=16×9&q=h_540,w_960,c_fill","small":"uri":"https://media.cnn.com/api/v1/images/stellar/prod/221206232133-alyssa-farah-griffin-trump-split.jpg?c=16×9&q=h_540,w_960,c_fill"" data-vr-video data-show-name data-show-url data-check-event-based-preview data-network-id data-details>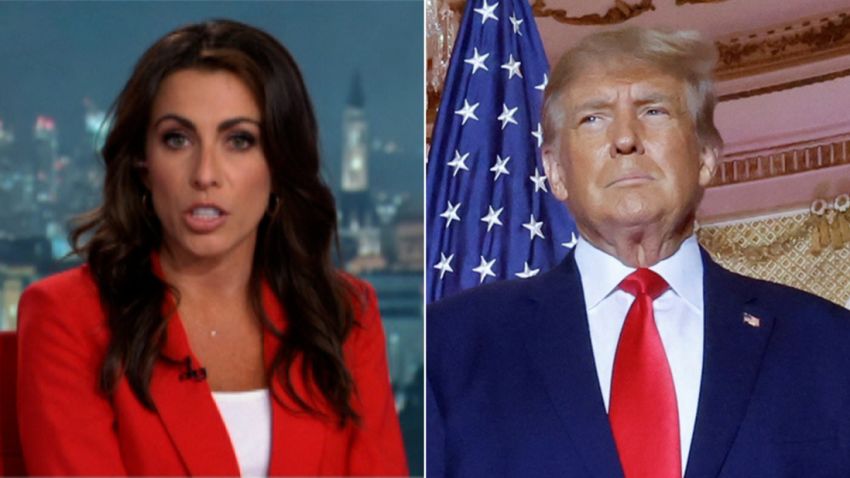 Ex-Trump White House official says Trump is liable for Walker's loss
Walker's loss, despite a massive infusion of cash from Republicans in Washington and the borrowed ground game of recently reelected Republican Gov. Brian Kemp, a Trump antagonist, provided another painful reminder for Republicans that their general election losses come when election deniers and Trump allies face general election voters.
"Every Republican in this country ought to hold Donald Trump accountable for this," said Georgia Lt. Gov. Geoff Duncan, who noted that the difference between Walker and the Georgia Republicans who won statewide office this year was Trump's involvement. He said the party must pivot to stay competitive.
Conviction by jury vs. witch hunt

Trump will dismiss all setbacks as part of the "witch hunt," but that may be a harder catchall to use against a jury of peers than of public officials.
And it's more difficult to say the case against his companies is flawed when it's built on the testimony of the former chief financial officer he worked with for decades.
The Trump Organization was found guilty on all charges, which stemmed from a years-long scheme in which prosecutors from the Manhattan District Attorney's Office said generous perks and benefits were paid to Trump employees but not reported to tax authorities as income.
Neither Trump nor his family were personally charged in this case. But Trump and three of his children face a separate civil suit brought by the New York attorney general that's not likely to go to trial until next October.
Many shades of scrutiny

The scrutiny New York authorities applied to Trump's company's finances has yielded these tax fraud convictions.
An even larger question racing to its conclusion is whether the scrutiny applied by the House select committee investigating the January 6, 2021, attack and the Department of Justice will lead to federal criminal charges for his effort to overturn the 2020 election and his role inspiring US Capitol rioters.
The January 6 committee can recommend that the Justice department bring charges against Trump or his allies and CNN has reported that members on the panel have been in wide agreement that Trump and some of his closest associates committed a crime by pushing a conspiracy to prevent the peaceful transfer of power.
But the committee, which includes outgoing Republican Reps. Liz Cheney and Adam Kinzinger, has been split over what to do.
What kind of criminal referrals?

Committee chair Bennie Thompson, a Mississippi Democrat, said Tuesday the members would issue criminal referrals, but did not elaborate, saying the panel has not narrowed down the universe of individuals who may be referred.
As CNN has reported, the committee went so far as to appoint a subcommittee of members to assess "how to present evidence of possible obstruction, possible perjury and possible witness tampering as well as potential criminal referrals to the Department of Justice, according to multiple sources familiar with the committee's work."
A criminal referral by the committee, which could come in conjunction with its much anticipated final report and just before an incoming GOP House majority shuts the inquiry down, could help focus a sprawling Department of Justice investigation into the effort to overturn the election and the riot.
"We know the committee has really been ahead of the Justice Department," CNN's Jamie Gangel said Tuesday, noting the Justice Department has sought testimony and evidence gathered by the January 6 committee.
Helping alleged rioters

Instead of focusing on the next election, Trump continues to fixate on his 2020 loss.
Among his few appearances since announcing a 2024 run is an effort, by video, to help raise money for a group that helps people put on trial by the government for joining the Capitol riot.
Trump's obsession with his 2020 loss continues to motivate his public statements and is complicating his plan to consolidate power in the party and clear anticipated GOP primary challengers out of his path.
Call to terminate the Constitution is not catching on

The bizarre call in a post on his Twitter-like Truth Social platform to terminate laws and the Constitution in favor of a 2020 re-do continues to reverberate in a party whose rhetoric is often built around fidelity to the nation's hallowed founding documents.
"It would be pretty hard to be sworn in to the presidency if you're not willing to uphold the Constitution," Senate Minority Leader Mitch McConnell told reporters on Tuesday.
There's little surprise in the Kentucky Republican's criticism of Trump. But the dodges of House Minority Leader Kevin McCarthy are more telling.
A split in the GOP

McCarthy's mission impossible is to find 218 votes from 222 House Republicans to gain the speaker's gavel when the full chamber votes in January.
His problem is that the far right of the party – the roughly 40 Trump-aligned Freedom Caucus members – want assurances he'll adopt a damn-the-torpeodes approach to using the debt ceiling as a bargaining chip in government funding. He needs their support and is having trouble getting it.
Against that backdrop, the California Republican only said, "I fully support the Constitution," when asked about Trump's call.
Other top Republicans were caught off-guard when asked by CNN about the comments.
Rep. Steve Scalise, the No. 2 Republican in the House and a possible fill-in if McCarthy can't get the support among Republicans to become speaker, said he doesn't support terminating the Constitution when Trump's comments were read to him.
"Next to the Bible, it's the most important document in the history of the world," the Louisiana Republican said, refusing to comment on whether the former president should move on from election denialism.
Scalise and McCarthy are relatively mainstream Republicans and Trump's recent taste in company has veered more extreme, such when he dined with the White Nationalist Nick Fuentes and the antisemitic rapper Kanye West, now known as Ye.
That was last week's controversy. But this week is off to just as bad a start.
As Georgia runoff wraps, Supreme Court considers who wields America's election power
Another day, another interesting intersection for modern American democracy — this one between the 2022 campaign trail, the perennial search for election integrity, and the road to the highest court in the United States.
Protesters plan to gather outside the U.S. Supreme Court today as North Carolina Republicans seek to persuade the high court of the near-absolute power they believe state legislatures have to regulate federal elections.
Conservative lawmakers hope to strike down a North Carolina Supreme Court ruling that used the state constitution as the basis to reject a congressional map for the 2022 midterms that overwhelmingly favoured Republicans.
That the right-leaning Supreme Court is willing to entertain what's known as the "independent state legislature" theory says a lot about the current political moment, said Duke University professor Asher Hildebrand.
"This radical theory has no basis in history, no basis in legal precedent and no basis in common sense," said Hildebrand, an associate professor at Duke's Sanford School of Public Policy.
Should the challenge succeed, critics say it would undermine established norms for administering presidential elections, and likely upend state efforts to prevent the sort of partisan gerrymandering at the heart of the North Carolina case.
It could clear the way for more restrictive voting laws, spell the end of ranked ballots and non-partisan primaries and create a national patchwork of rules and regulations that brings with it a parade of court challenges, he said.
And then there's the biggest fear: "Those who seek to subvert the will of American voters in future elections would view the decision as a green light to take their chances in a permissive legal environment."
The outcome will be closely watched in several states, including Utah, Ohio, Kentucky and New Mexico, where Democrats and Republicans alike have filed lawsuits to dispute House district maps or challenge lower court rulings that protect them.
"This court should put a stop to the North Carolina judiciary's usurpation of the General Assembly's specifically enumerated constitutional authority to regulate the manner of congressional elections," the applicants write in their Supreme Court brief.
"Anything less will surrender North Carolina's 2022 elections to a congressional map that palpably violates the U.S. Constitution, rewarding judicial activism of the most brazen kind."
The high-stakes arguments come after the final battle of the 2022 midterms, a runoff in Georgia made necessary by a 1964 state law originally intended to blunt the growing power of Black voters.
Ironically, both contenders in the Georgia runoff are Black: incumbent Democrat Sen. Raphael Warnock and Republican challenger Herschel Walker, the former football star and friend to ex-president Donald Trump.
With 85 per cent of the ballots counted Tuesday, Warnock was nursing a narrow lead of about 7,000 votes, which if it were to hold would give Democrats a slim 51-49 majority in the Senate.
Of course, in the U.S. these days, elections don't end just because all the votes have been counted.
Trump has made "election denier" a standard part of the American political lexicon by refusing to accept the results of the 2020 presidential contest — a trend that fuelled delays in Arizona, where it took until Monday for officials to finally certify the results of last month's midterm elections.
Defeated Republican gubernatorial hopeful Kari Lake has promised to fight those results all the way to the Supreme Court, where some fear the 6-3 conservative majority makes the justices more receptive to such challenges.
Walker refused to answer questions Tuesday about whether he would concede a loss.
Even if the former president were to change his ways, the post-campaign denial tactic wouldn't go away any time soon, said Matthew Lebo, a political science professor at Western University in London, Ont.
"It might go down a little bit, but he didn't invent it," Lebo said.
"If Trump were to sail into the sunset tomorrow, you'd still have Kari Lake and a lot of crazies in the House and the Senate, and a lot of governors who deny elections."
Trump went even further Saturday than he typically does, using his Truth Social platform to call for "the termination of all rules, regulations and articles, even those found in the constitution" in order to get his old job back.
That has been making it difficult — but not impossible — for prominent Republicans on Capitol Hill to avoid denouncing the former and would-be future presidential hopeful.
"Anyone seeking the presidency who thinks that the constitution could somehow be suspended or not followed, it seems to me, would have a very hard time being sworn in as president of the United States," said Senate Minority Leader Mitch McConnell.
McConnell stopped short of saying he would not support Trump if he became the Republican nominee.
McConnell was on hand Tuesday for another stark reminder of the fragility of the American experiment, this one a stirring congressional gold medal ceremony for police officers who confronted rioters on Jan. 6, 2021.
Relatives of Capitol Police officer Brian Sicknick, who died from injuries he sustained in the riot, refused to shake hands with McConnell and House Minority Leader Kevin McCarthy.
Family members later said they remain angry over the failure of senior Republicans to aggressively denounce Trump's steadfast refusal to accept the results of the 2020 election.
"We admire and respect them," McConnell said when asked about the snub. "They laid their lives on the line. And that's why we gave a gold medal today to the heroes of Jan. 6."
This report by The Canadian Press was first published Dec. 7, 2022.