True North Commercial Real Estate Investment Trust Closes Acquisition of Federal Government Tenanted Property in Downtown Ottawa – Canada NewsWire
174,000 square feet, 98% occupied, 6.4 years WALT, LEED Gold Certified
/NOT FOR DISTRIBUTION IN THE U.S. OR OVER U.S. NEWSWIRES/
TORONTO, Aug. 22, 2022 /CNW/ – True North Commercial Real Estate Investment Trust (TSX: TNT.UN) (the "REIT") is pleased to announce it has closed the previously announced acquisition of a Federal government tenanted office property located at 400 Cumberland Street, Ottawa, Ontario (the "Ottawa Property") and the renewal of its revolving credit facility. The acquisition of the Ottawa Property continues the REIT's strategy of expanding into urban locations and allows the REIT to capitalize operational efficiencies with its existing assets in downtown Ottawa. Renewal of the credit facility for a two-year term maturing on December 1, 2024 includes an increase from $60 million to $68 million, with the additional $8 million expiring on June 30, 2023 to align with the sale of 32071 South Fraser Way, Abbotsford, British Columbia.
The Ottawa Property is an 11-storey, LEED Gold certified office property totaling 174,000 square feet with 53 underground parking stalls. The Ottawa Property has an average remaining lease term of 6.4 years and is 98% occupied with the majority leased to the Federal Government of Canada. The Ottawa Property is in close proximity to Rideau Station on the recently completed O-Train LRT and is located in Ottawa's Byward Market neighbourhood with various surrounding amenities such as hotels, convention centres, restaurants and shopping centres.
The purchase price of the Ottawa Property is $40.5 million, exclusive of closing costs. The acquisition was satisfied by a combination of first mortgage financing of approximately $30.4 million and the REIT's secured credit facility.
About the REIT
The REIT is an unincorporated, open-ended real estate investment trust established under the laws of the Province of Ontario. The REIT currently owns and operates a portfolio of 47 properties consisting of approximately 5.0 million square feet in urban and select strategic secondary markets across Canada. The REIT is focused on growing its portfolio principally through acquisitions across Canada and such other jurisdictions where opportunities exist.
For more information regarding the REIT, please visit www.sedar.com or the REIT's website at www.truenorthreit.com.
SOURCE True North Commercial Real Estate Investment Trust
For further information: Daniel Drimmer, Chief Executive Officer, (416) 234-8444; or Tracy Sherren, President and Chief Financial Officer, (416) 234-8444
Canadian Real Estate Has Never Been Less Affordable, Price Correction To Fix It: RBC – Better Dwelling
Investors Take Adler to Court Over Plan to Sell Real Estate Unit's Assets – BNN Bloomberg
(Bloomberg) — A group of Adler Real Estate's shareholders started litigation proceedings against the parent company to prevent a plan to sell almost all of the unit's assets.
The group hired Munich-based law firm Martius to begin litigation, which was filed to Berlin's regional court at the end of last month, according to people familiar with the matter. The motion seeks to block the Adler Group SA's proposed sale of almost 95% of Adler Real Estate's residential and commercial units to a third party, the people said.
The move is the latest initiative taken by Adler Real Estate's investors concerned that assets and cash are being moved out of their reach. The group is seeking to pay down €6.3 billion ($6.2 billion) of debt just as Germany's once booming real estate market shows signs of turning.
The German landlord has been thrust into limelight by allegations leveled by short-seller Viceroy Research and a former associate of Cevdet Caner, the tycoon accused of pulling the strings behind the company. Investors are concerned about the financial position of the landlord, after large-scale asset sales and a forensic probe into allegations of fraud failed to stop a slide in its shares and bonds.
Adler made a number of writedowns this year, including hundreds of millions of euros in receivables that Viceroy had flagged in the report, and has also written down the value of its development arm Consus Real Estate AG.
Adler's management said an investigation led by KPMG didn't find evidence of "systematic fraudulent and looting transactions." The forensic report couldn't disprove some allegations regarding Caner's involvement and deals. KPMG has since resigned as Adler's auditor.
Adler declined to comment for this story but has previously said it is engaged in constructive discussions with the majority of its bondholders, including a larger group of creditors to the parent company. Representatives for Martius did not respond to a request for comment.
Key Unit
Adler Real Estate is the unit that led a three-way merger with Consus and ADO Properties to form Adler Group in 2020. The parent company now owns almost 97% of its shares, while the unit has about €1.5 billion of debt, including €500 million of bonds due in April 2023.
The troubles now engulfing the company have made some creditors nervous about its ability to raise sufficient funds from asset sales to meet those obligations. The subsidiary moved almost €600 million in loan and cash to Adler Group since December.
Some hedge funds that specialize in distressed debt have also bought the bonds in an attempt to capitalize on the situation. Notes due April are indicated at 82 cents on the euro, while bonds maturing in 2026 are at 69 cents, according to CBBT prices.
©2022 Bloomberg L.P.
5 Recent Western Canada Commercial Real Estate Deals You May Have Missed – Storeys
After the usual summer dip, Western Canada saw quite a few commercial real estate transactions in September. Here are a few notable deals that may have flown under the radar.
2M Sq. Ft Industrial Portfolio (Alberta)
Value: $309M
Seller: Unconfirmed
Buyer: Skyline Industrial REIT
Skyline Industrial REIT announced in early September that it had completed its largest-ever transaction, comprising of 16 industrial buildings on 129.5 acres of land across four industrial parks in Calgary and Edmonton, which are 97.7% occupied and total to over 2M sq. ft of industrial space.
The deal is shrouded in a little mystery, however, as the seller has not been publicly named, with Skyline only saying that it purchased the portfolio from "a major Canadian pension plan."
However, Skyline did list the properties it acquired, one of which was the Rampart Business Park on 157th Avenue NW in Edmonton, and development information for one of the buildings at Rampart Business Park listed on the Province of Alberta website named the developers as LaSalle Investment Management, a Chicago-based real estate investment management firm that has previously acquired large amounts of industrial space in Alberta.
72,088 Sq. Ft Industrial Building (Edmonton)
Value: $15.8M
Seller: Unknown.
Buyer: BTB REIT
BTB REIT, another real estate investment management firm, purchased one of the buildings within McIntyre Industrial Park in early September, which is leased to a single tenant: Redco Equipment Sales, which makes tools for the oil industry. The building is located on 8743 50th Avenue and was originally built in 1998.
READ: "A Perfect Storm": Why BC Industrial Real Estate Demand is Migrating to Alberta
220 Prior Street (Vancouver)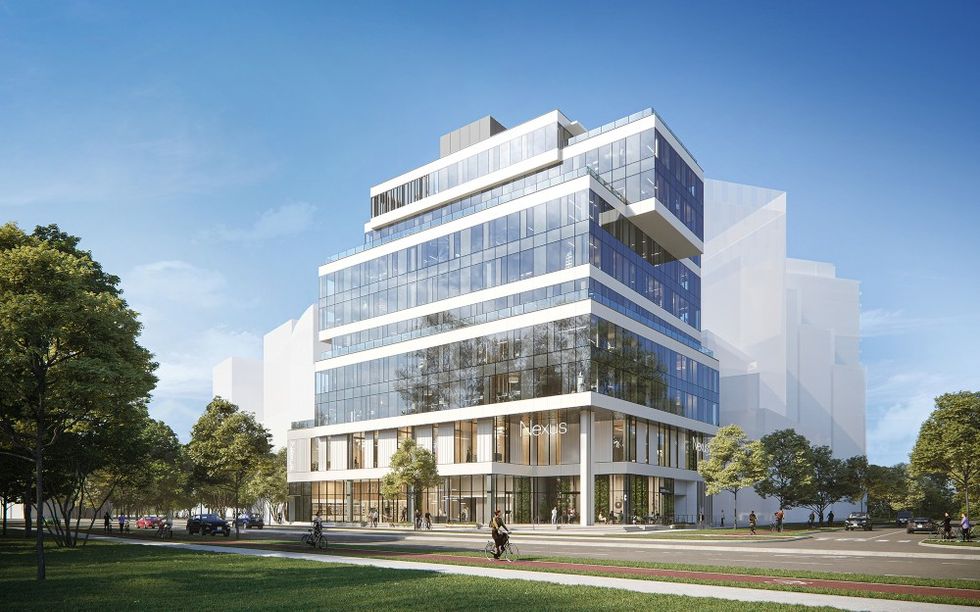 Value: $123M
Seller/Developer: Keltic Canada Development Co. Ltd.
Buyer: Masimo Corp.
This upcoming building was originally going to be developed and leased, like most office space is. However, Keltic eventually decided to sell the building, now owned by California-based company Masimo, which makes a variety of personal and professional heath-tracking devices. The building is in the False Creek Flats area near the site of the also-upcoming St. Paul's Hospital.
The building is set to be 100,000 sq. ft, meaning the deal works out to approximately $1,200 psf. The site was previously a warehouse, which Keltic purchased in 2019 for $25M. Ground broke officially on August 30 and is set to complete construction in 2024.
Gastown Heritage Building Commercial Strata Units (Vancouver)
Value: $3.34M
Seller: Unknown
Buyer: Unknown
This isn't a deal with any particularly eye-catching numbers, but it is nonetheless noteworthy because it involves two commercial strata units in a Gastown heritage building, now called the Koret Lofts, that was built in 1906. The two units — on 57 and 63 East Cordova Street — total to approximately 2,807 sq. ft of space.
READ: Heritage Building Next To Vancouver Gastown Steam Clock To Become Hotel
The Hamlets Senior Housing Portfolio (BC & Alberta)
Value: $300M
Seller: H&H Total Care Services Inc.
Buyer: Axium Infrastructure & Optima Living
The Deal:
This $300M commercial real estate deal is for an eight-property portfolio, together known as the Hamlets, of senior housing communities spread out across Western Canada. Three are in Alberta — two in Red Deer and one in Airdrie — and five in British Columbia, in Vernon, Duncan, Penticton, Kamloops, and Surrey. In total, the deal includes 1,092 suites.
"The portfolio features a balanced mix of assisted living and independent living suites and funded long-term care and complex care beds and private pay complex care beds," said the Newmark Group, who brokered the deal, in a press release. "The portfolio is relatively new, with an average building age of 10 years and three residences opened since 2019. In addition, three of the assets provide the new ownership with over 360 units of development/expansion opportunities. The properties are each positioned well within their respective markets and spread across some of Canada's most desirable retirement communities."
Howard is a Staff Writer at STOREYS. He is based in Vancouver, British Columbia, and has also written about media for One Zero and international politics for WhoWhatWhy. Before STOREYS, he was also the Deputy Editor of 604 Now.