UBC biotech spin-off raises $75M to bring cancer treatments to patients
With roots in UBC research, Alpha-9 Theranostics is developing cancer radiotherapies that target tumours while avoiding healthy tissues.
Alpha-9 Theranostics, a UBC spin-off company founded by three university researchers, has raised $75 million to develop next-generation radiopharmaceuticals that promise to meaningfully improve treatment for people with cancer.
Based on more than a decade of ground-breaking research at UBC and BC Cancer, the cancer drugs act like a homing device — seeking out tumours to deliver targeted radiation treatment, while having minimal impact on nearby healthy tissues. This precision targeting results in drugs that can be more effective and have fewer side effects for patients than traditional radiation treatments.
"We founded this company to turn the research we were doing at UBC and BC Cancer into treatments that will help patients thrive and, ultimately, save lives," says Dr. François Bénard, one of the company's co-founders, and a radiology professor at UBC's faculty of medicine and senior executive director of the BC Cancer Research Institute. "Seeing these treatments move into clinical testing following more than a decade of basic and translational research is inspiring and the result of a tremendous collaborative effort. This new financing will further accelerate development, bringing new cancer treatments to patients faster."
Alpha-9's radiopharmaceuticals are designed to treat a range of solid and hematologic cancers such as prostate cancer, breast cancer, leukemia and lymphoma. According to Dr. David Hirsch, chief executive officer of Alpha-9, the $75 million in Series B financing will enable the company to bring its first five treatments into clinical trials with patients over the next two years.
"Thanks to the cutting-edge research at UBC, these radiotherapies have tremendous potential to address a wide range of cancers," says Dr. Hirsch. "In the coming years, we plan to progress multiple treatments into first-in-human clinical trials, harnessing the potential of radiopharmaceuticals to realize more effective treatments for people living with cancer."
From UBC labs to successful start-up
Alpha-9 was founded in 2019 by Dr. Bénard alongside UBC professors Drs. Kuo-Shyan Lin and David Perrin. But it was a decade earlier that the trio first started working together.
Dr. Perrin, a UBC professor of chemistry, had invented a new method to easily tag molecules with fluorine-18, a radioisotope widely used for cancer imaging. He and Dr. Bénard started exploring how to use this method to label peptides — small molecules that seek out and attach to unique proteins that exist on the surface of tumours — to improve cancer diagnosis.
At the same time, Dr. Lin, a UBC radiology professor and senior scientist at BC Cancer, was developing new cancer-targeting peptides and working with Dr. Bénard to label them with therapeutic radioisotopes. Instead of emitting gamma rays used for imaging, these radioisotopes emit particles, called alpha and beta particles, that destroy cancer cells.
According to Dr. Lin, they each brought unique expertise from their respective disciplines that helped bridge the worlds of cancer diagnostics and therapy.
"Our work was very complimentary and we realized there was tremendous potential to apply it across both the diagnostics and therapeutics spaces. We knew we would need both components, because if we want to do therapy, we also need a diagnostic companion to identify patients who will benefit from therapy," says Dr. Lin.
Leveraging a team science approach, the researchers began developing peptides that home in on cancer cells, and combining them with diagnostic radioisotopes for cancer localization and treatment planning, and with therapeutic radioisotopes to seek and eliminate cancer cells.
"We founded this company to turn the research we were doing at UBC and BC Cancer into treatments that will help patients thrive and, ultimately, save lives."
— Dr. François Bénard
Professor of Radiology
The researchers filed a number of patents for the technologies they developed and worked with UBC's University-Industry Liaison Office and the Technology Development Office at BC Cancer to license the technology and eventually form Alpha-9. Dr. Bénard is quick to credit the success to their multi-disciplinary teams, saying that many of the research trainees continue to play a central role in the company today.
"UBC trainees and students were instrumental in the initial research and several have now taken up leadership roles within the company to lead the science," says Dr. Bénard. "It's one of the many benefits of doing business in B.C. There are many highly-skilled science trainees that come out of UBC, creating a rich environment for companies to thrive in Vancouver."
Dr. Julie Rousseau was one of those trainees, working as a postdoctoral fellow in Dr. Bénard's lab from 2015 to 2019. Now, she's Alpha-9's associate director of translational biology.
"During my UBC postdoctoral training with Dr. Bénard, I was trained in preclinical drug screening, target selection, as well as radiopharmaceutical development strategies. I also had the opportunity to hone my mentorship and leadership skills by training undergraduate and graduate trainees within the lab. This exceptional training period has allowed me to assume a leadership role at Alpha-9."
B.C. a leader in cancer research
Three years after being founded, Alpha-9 has grown to over 15 employees. The company has a research and development facility located in Vancouver as well as offices in Boston.
Alpha-9 plans to leverage the new round of investor financing to continue expanding over the coming year, growing its workforce to as many as 45 employees by the end of 2023. Construction is also underway on a new research facility in the Mount Pleasant area of Vancouver that will house the company's chemistry, biology, translational research and radiochemistry teams, as well as support product formulation.
According to Dr. Bénard, it's a testament to B.C.'s established leadership in cancer research.
"Vancouver is home to tremendous experience in radiopharmaceutical development and nuclear medicine that makes it an ideal location for these research labs," says Dr. Bénard. "There's a critical mass of expertise that is driving biomedical innovation, in part because of the rich talent and research coming out of UBC, and the broader ecosystem that includes world-leading organizations like BC Cancer and TRIUMF, as well as a range of established and emerging biotech companies."
For Dr. Dermot Kelleher, dean of UBC's faculty of medicine and vice-president, health, Alpha-9 is another example of how UBC researchers are driving innovation to tackle today's most pressing health challenges.
"UBC researchers are accelerating the discovery and development of new treatments for a range of diseases such as cancer, Alzheimer's and diabetes," says Dr. Kelleher. "Investors and companies are taking notice of the talent and expertise that exists here and its proximity to the university. They're increasingly choosing B.C. as a place to invest and grow their business, which is in turn, creating jobs and bringing new treatments to British Columbians sooner."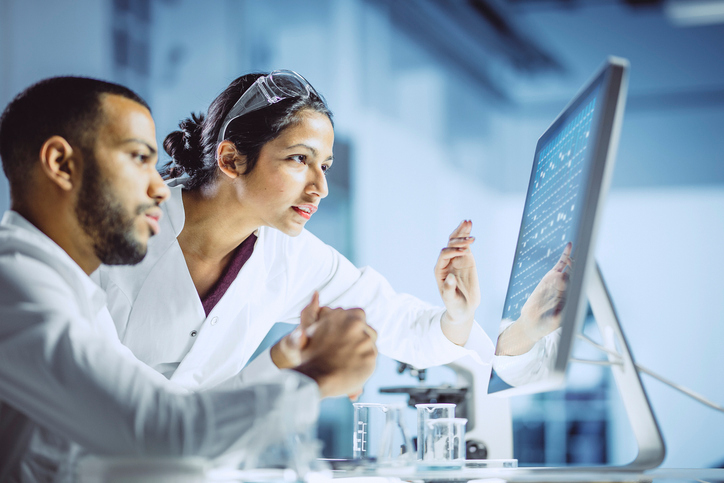 Improving patient outcomes
For Dr. Bénard, what's most exciting about Alpha-9's rapid growth is the potential to impact patients.
"We're not talking about 10 or 20 years down the road. There are real short-term objectives to open up multiple clinical trials with patients in the coming years."
"Thanks to the cutting-edge research at UBC, these radiotherapies have tremendous potential to address a wide range of cancers."
— Dr. David Hirsch
Chief Executive Officer, Alpha-9
Dr. Bénard says that Alpha-9's new radiopharmaceuticals will add an additional treatment option that is different, yet complementary, to existing approaches. And because the treatments are highly-targeted and designed to avoid healthy tissues, patients undergoing treatment could see fewer side effects and enjoy a greater quality of life.
"Patients are what this is all about. While there have been leaps and bounds in terms of cancer treatment options in recent decades, it remains the leading cause of mortality in Canada. We have a real opportunity to change that and improve outcomes for people living with cancer."
---
WDG Public Health reporting an increase in whooping cough cases – Kitchener.CityNews.ca
"I'm not surprised."
Wellington-Dufferin-Guelph Public Health (WDGPH) Chief Nursing Officer Rita Isley explained to CityNews 570 in an interview why she's not at all shocked by the 50 per cent increase in whooping cough (or pertussis) cases in Wellington and Dufferin counties.
"The main reason why is that during the pandemic, we had multiple lockdowns, but we also had limited access to in-person visits with our primary care provider for a variety of reasons. With that happening, a lot of our [patients] needed to get routine vaccines and whooping cough is part of our routine vaccine schedule, particularly for children. We are expecting that, because they are behind, that we have lower immunity in our community."
The total number of cases reported by WDGPH was 18, but that can rise quickly considering how easy the bacterial infection can spread.
The disease affects the respiratory tract, and starts with symptoms like runny nose and cough. It spreads through droplets that are sprayed when someone sneezes, coughs or even talks.
The illness can also get dangerous when the coughs get more frequent and severe. Isley said it can be difficult to catch your breath in between coughs, which can lead to gagging, vomiting or loud "whoops."
Whooping cough can be especially serious for infants, children and those with compromised lungs. In severe cases, it can result in hospitalization or even death.
"This illness can last upwards of 6 to 20 days," said Isley. "With this disease, what we're looking for is a cold that lasts longer and a circumstance where the cough has started and it is continuing to get worse. Anyone that has symptoms that are staying the same up to 9-10 days really should be getting seen by their primary care provider."
Luckily, the disease can be treated with a vaccine, and Isley encourages everyone, including pregnant women in their third trimester, to book appointments to stop the spread of the illness in the region.
Isley also asks that adults and children stay home with colds, and follow the usual public health unit advice of washing hands frequently, covering coughs and sneezes, and not sharing food and drinks.
The next community update with whooping cough case numbers is in the works and could come sometime this week.
If you need to get your child caught up on vaccinations, you can book a K-12 immunization appointment with WDGPH by calling 1-800-265-7293 ext. 7006.
Restrict junk food marketing to kids at grocery stores, restaurants: report – Global News
A new report that looks at the prevalence of marketing to children inside grocery stores and restaurants suggests regulation is needed to help reduce unhealthy food temptations.
The report funded by Heart and Stroke audited displays at more than 2,000 restaurants and 800 stores across Canada and says children may be bombarded with messages that make junk food seem appealing.
Researchers found nearly 53 per cent of stores had "junk food power walls" at checkout aisles, which it says are prime areas to market to kids because products are placed within their reach.
The research says that placement encourages "pester power" — when children nag or pester their parents to make impulse purchases.
University of Waterloo associate professor Leia Minaker says designs and themes such as "magic, adventure and zoo animals" are also commonly seen in beverage and ice cream fridges.
The report says healthy checkout aisle policies and prohibiting toy giveaways with children's meals could help reduce consumption of unhealthy food.
2:01
More students turning to food banks as inflation shrinks already tight budgets
&copy 2023 The Canadian Press
Health unit suspends 1,900 students for incomplete immunization records – Windsor Star
Article content
More than 1,900 elementary school students in Windsor and Essex County have been suspended for out-of-date immunization records, the Windsor-Essex County Health Unit said Monday.
Article content
Parents must provide the health unit with an up-to-date immunization record for the suspension to be lifted and the student to return to school. Immunization clinics are available at both health unit locations in Windsor and Leamington on Monday and throughout this week, while immunization records are accepted in-person between 8:30 a.m. and 4:30 p.m. Monday to Friday at both locations.
Students who were suspended but attend and receive vaccinations at the health unit clinics, or who update their records with the health unit, will receive a notice and can return to school the same day.
Proof of immunization can also be submitted online at immune.wechu.org. Primary care providers can also send immunization records to the health unit at 519-258-7288.
Article content
The Immunization of School Pupils Act requires local health units to maintain and review vaccination records for all students and to enforce school suspensions if records are incomplete. These routine immunizations are often administered by primary care providers, but records must still be updated and on file with the health unit.
The review of student immunization records began in December 2022, when more than 12,000 students received notice their records were not up to date.
Earlier this month the health unit warned 3,200 students faced suspension for incomplete records; ultimately 1,908 were suspended on Monday, according to health officials.
Visit wechu.org/getimmunized for information and clinic times.