UK property register: What three luxury homes reveal about who owns UK real estate
Owners of around 50,000 UK properties held by foreign companies remain hidden from public view, despite new transparency laws.
The Register of Overseas Entities, launched in August 2022, was meant to reveal who ultimately owns UK property.
But analysis by BBC News and Transparency International found almost half of firms required to declare who is behind them failed to do so.
Labour MP Margaret Hodge said the legislation was not "fit for purpose".


The UK government has long promised to crack down on "corrupt elites" from overseas, including "Russian oligarchs and kleptocrats", using UK property to launder illegal wealth.
Ministers insisted they would crack down on foreign criminals using UK property to launder money by ensuring they "can't hide behind secretive chains of shell companies".
As a result, under a law passed in February 2022 in response to Russia's invasion of Ukraine, ministers said anonymous foreign companies seeking to buy UK land or property would be required to reveal full details of the individuals who ultimately owned them. Overseas organisations that already owned land in the UK were given a six-month period to do the same.
Now that six-month grace period is up – all the people, whatever their reputations, behind companies that own thousands of British properties should have been uncovered for the first time.
The BBC and Transparency International matched thousands of filings from the new register with Land Registry records. This analysis suggests that some 18,000 offshore companies – which between them hold more than 50,000 properties in England and Wales – either ignored the law altogether or filed information in such a way that it remains impossible for the public to find out who the individuals are who ultimately own and benefit from them.
"While the register is starting to serve its intended purpose, our analysis reveals there are far too many companies that could be trying to skirt the rules, not knowing they exist, or ignoring them altogether," says Duncan Hames, Director of Policy at Transparency International UK.
To understand how the law is and isn't working, it helps to look at three very expensive properties. The first is a pair of luxury apartments. Another is a sprawling £48m estate in north London, the third a £10m country mansion.
All have been linked in some way to figures connected with Vladimir Putin's regime.
For instance, look at the two luxury flats in central London worth an estimated £11m.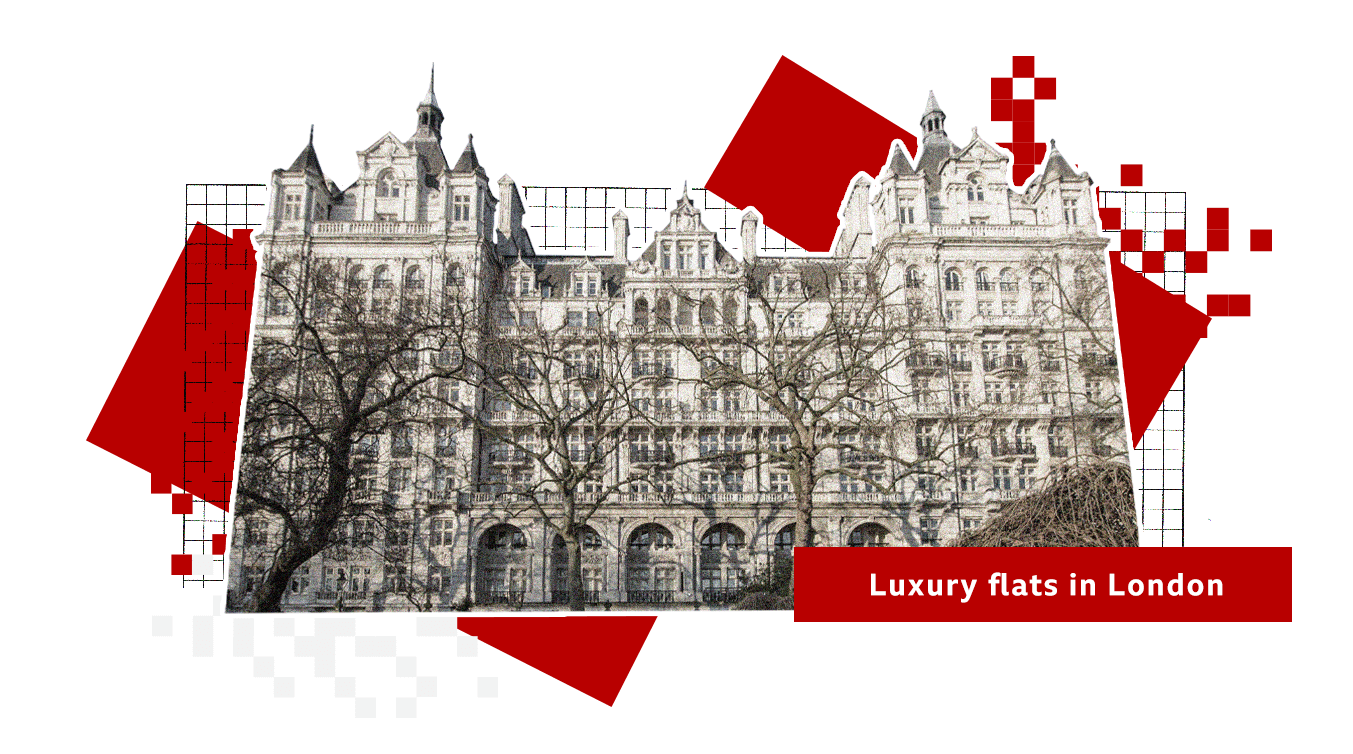 Their ownership by the former Russian deputy prime minister, Igor Shuvalov, was first reported by the Anti-Corruption Foundation, set up by jailed Russian opposition leader Alexei Navalny.
According to the UK government, who placed him under sanction in March 2022, Mr Shuvalov – who heads the management board of a Russian bank – is "a core part of Putin's inner circle".
And now the register has confirmed that he and his wife are the ultimate owners of the flats, held through a Russian company, Sova Real Estate LLC.
Mr Shuvalov's spokesperson told the BBC last year that these issues "have been the subject of competent government audits", and that "no complaints were ever filed".
But while there are thousands of examples where the register is working, the ultimate ownership of thousands of properties remains shielded from public view.
Take Beechwood House, a north London estate bought for £48m in 2008 with a value around £85m.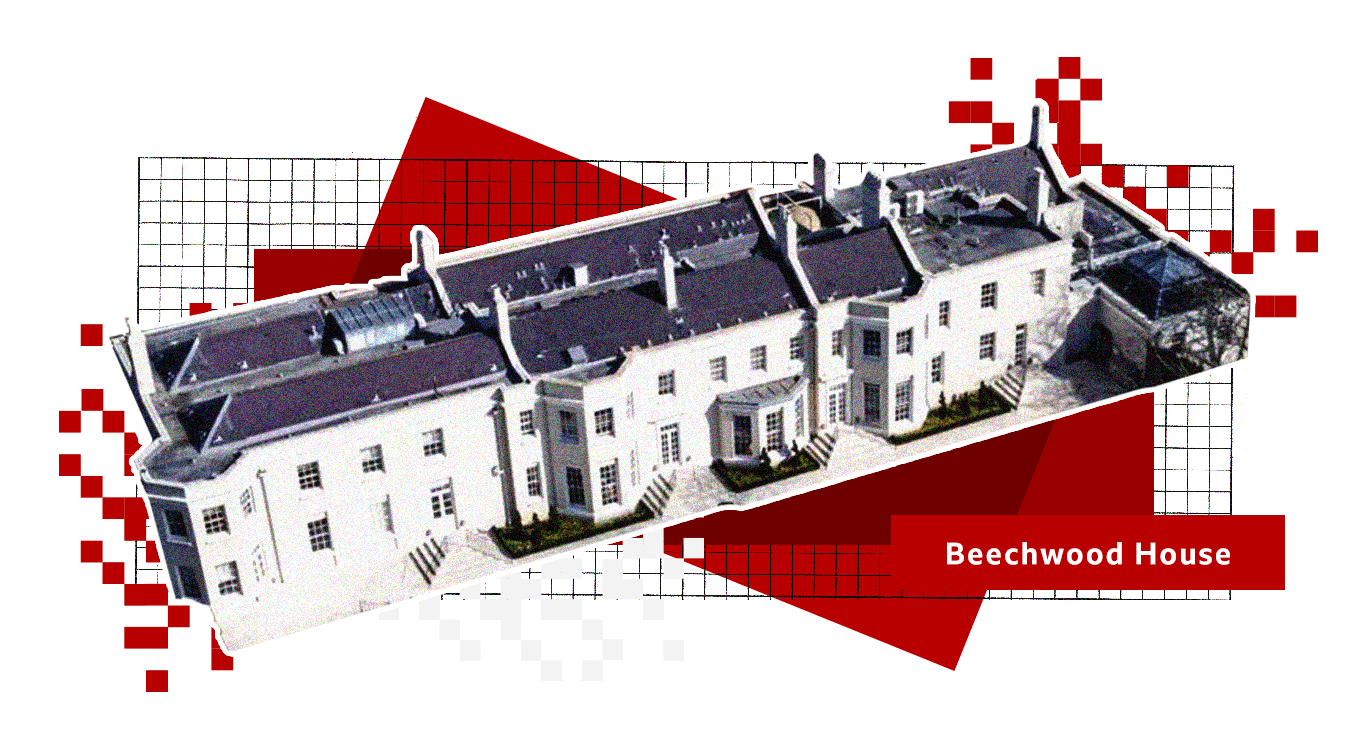 After Russia's invasion of Ukraine 12 months ago, the UK government came down hard on wealthy businessmen close to Putin's regime. Assets were frozen, stopping rich Russians from taking their money out of the UK.
But it wasn't always clear exactly which assets belonged to these oligarchs.
For instance, Beechwood House was listed by the government as owned by oligarch and ex-Arsenal shareholder Alisher Usmanov when it announced sanctions against him.
A spokesperson for the oligarch has now told the BBC that he transferred Beechwood House, as well as other assets, to family trusts "long before sanctions were imposed" and that while Mr Usmanov was a beneficiary for a period of time, he withdrew "on an irrevocable basis".
The spokesperson added: "Neither Mr Usmanov nor members of his family are the beneficial owners of these companies."
You would think the register should shed light on who actually owns Beechwood House. But it does not.
The owner is given as Hanley Limited, an Isle of Man company. And in turn the beneficial owner of Hanley Limited is Swiss company Pomerol Capital SA, which controls it as part of a trust structure.
However, nothing about the individuals who own Pomerol Capital is listed on the public register.
That is because companies owned through trusts – as opposed to other set-ups – are exempt from having their beneficial owner information made public on the register.
So from the filing, it is impossible to identify the people who own, control or stand to benefit from Beechwood House- a property that the government itself said was owned by Mr Usmanov, which would have made it subject to an asset freeze.
While the names of individuals linked to trusts are not included in the register, companies do have to provide their details privately to the corporate registry Companies House.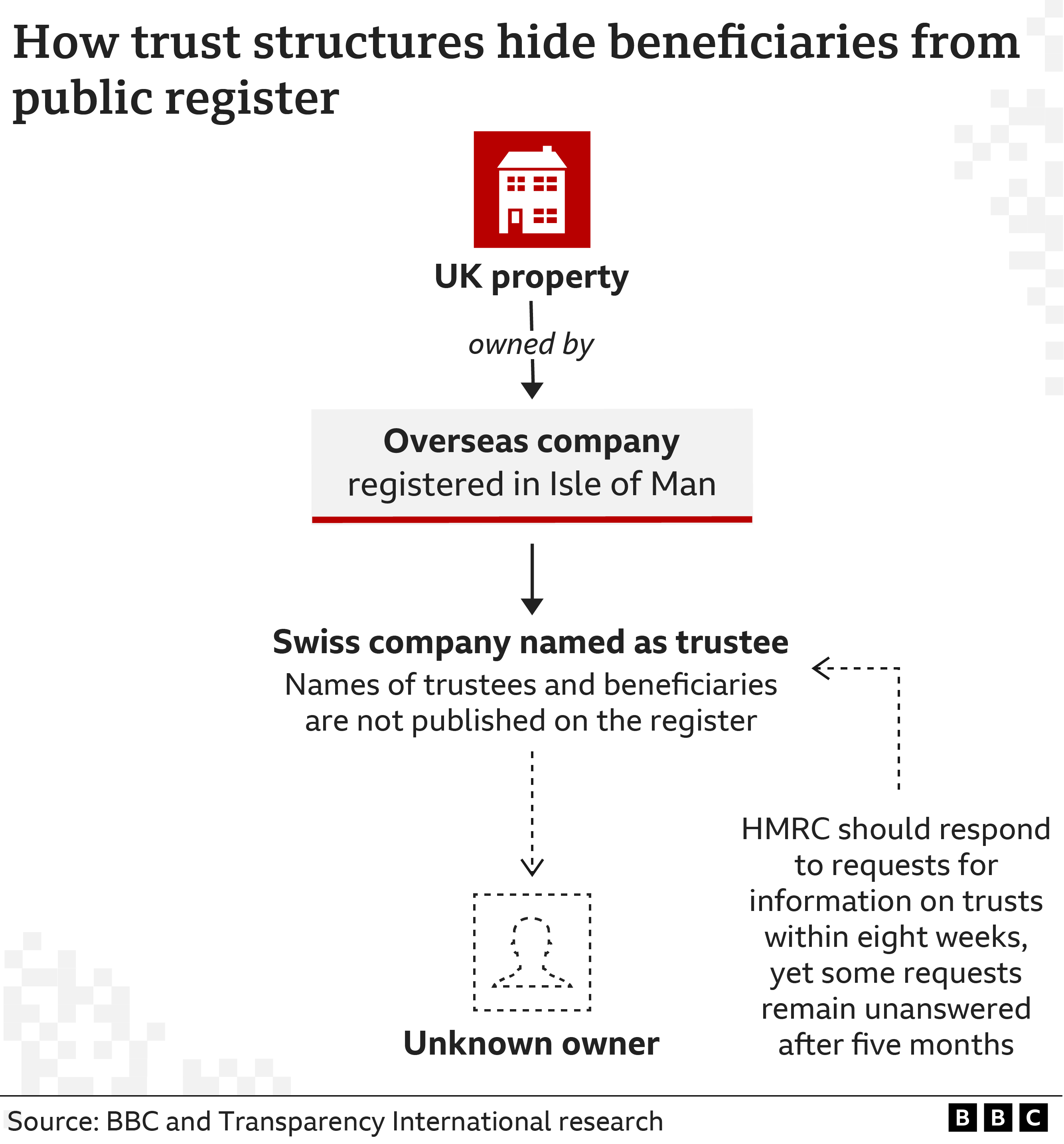 And many other owners have found an even more straightforward means of keeping their names off the register – by simply not complying with the new legislation.
Overseas companies with property in the UK – bought since January 1999 in England and Wales and since December 2014 in Scotland – were supposed to reveal the identity of their owners by 31 January.
But around half of offshore firms with property in England and Wales – approximately 15,000 – had no matching record in the property register before last week's government deadline.
This includes the company that owns a £90m home in west London linked with former Chelsea owner Roman Abramovich. The Cyprus-based firm does not yet appear to have submitted its details to the property register.
Mr Abramovich could not be reached for comment.
As well as the firms that are yet to file, BBC analysis has found that one in four offshore companies that have submitted their details have actually included other foreign firms, not people, as their owners.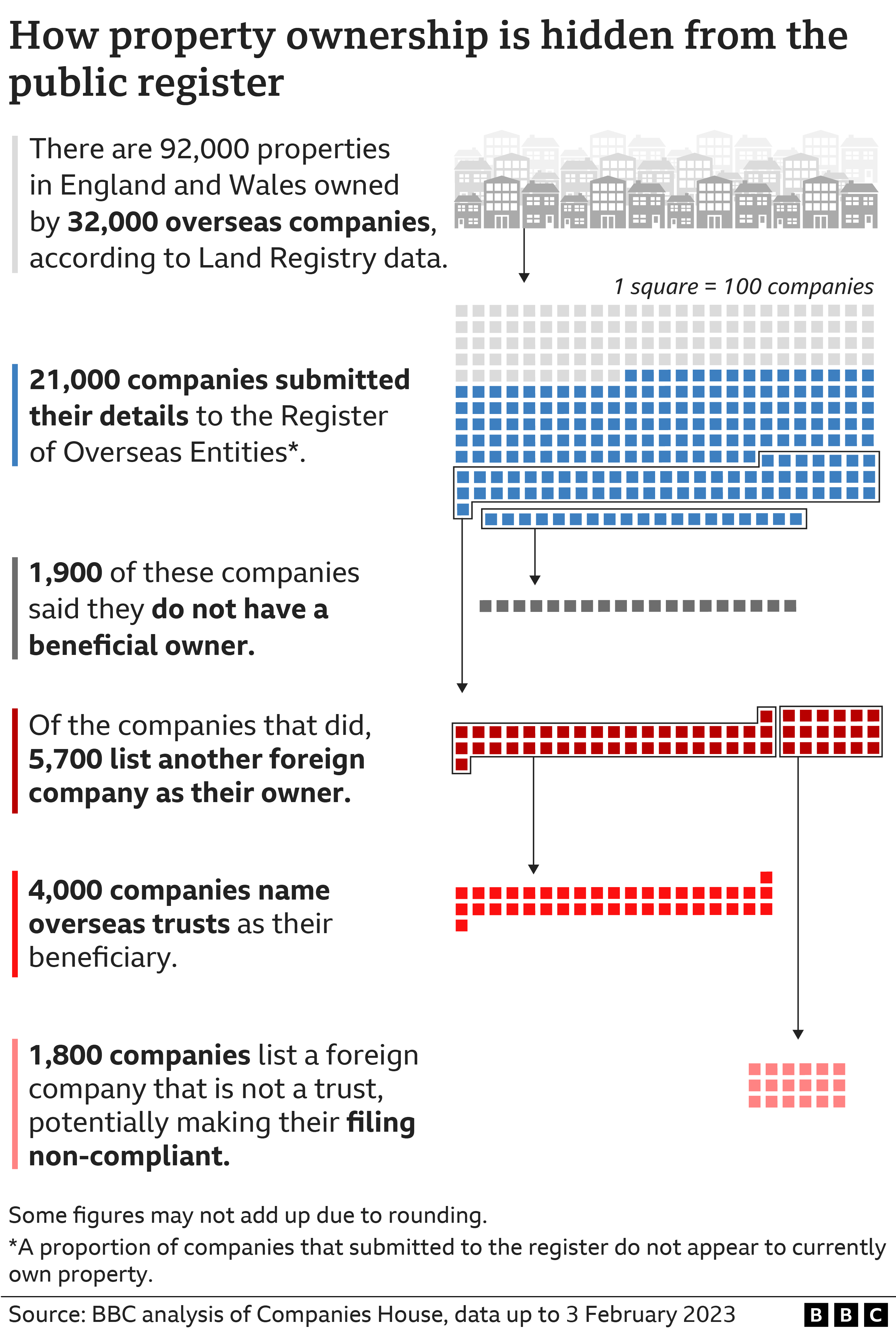 Some of these are owned by trusts, as with Beechwood House.
But that is not the only way in which companies are avoiding publicly disclosing the individuals who are actually behind them.
And there is a third category – companies that have filed their details to the property register, but have not complied with the rules.
The BBC's investigation has identified more than 1,800 companies whose filings do not appear to do so.
Among these is Uart International, a Panamanian company that, according to Land Registry records, acquired a countryside mansion in 2008.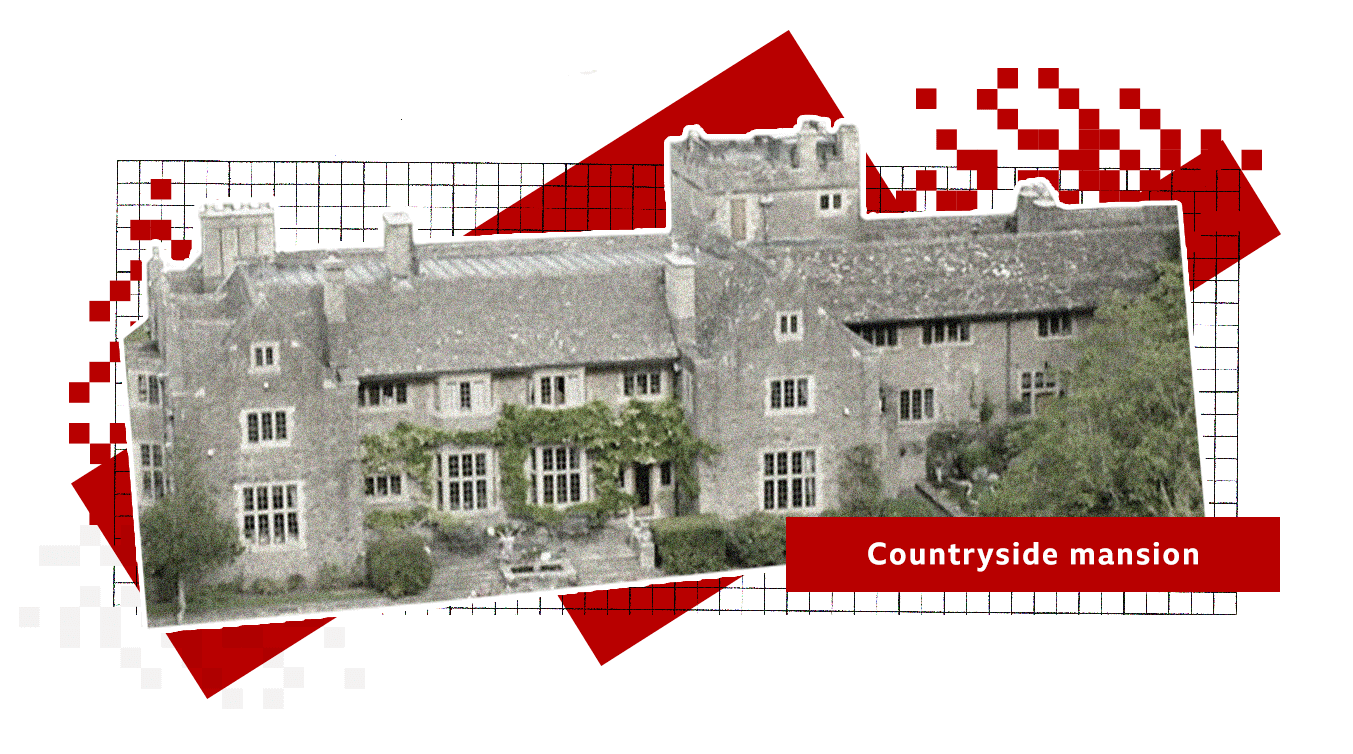 As part of the Pandora Papers, a leak of almost 12 million files, the property was owned through an offshore corporate network controlled by Vladimir Chernukhin and his wife, Lubov.
Mr Chernukhin is a former Russian deputy minister of finance and businessman who had financial links to oligarchs close to the Kremlin. He moved to the UK after being sacked by Putin in 2004 and insists he is not a supporter of the Russian president.
His wife Lubov, whom he married in London in 2007, is a major donor to the Conservative Party, having given the Tories more than £2.3m since 2012.
Companies House records show that Uart International lists another foreign firm as its "person of significant control". This means that the individuals who ultimately own the property remain hidden from the public register, despite the change in the legislation.
Under the new regulations, another anonymous offshore firm should not be named as the owner of a company with UK property.
There is no indication in the filings that the company owner is a trustee, which would exempt the firm from having their person of significant control revealed on the register – suggesting it could be a violation of the rules.
Lawyers for the couple told the BBC that "Mr and Mrs Chernukhin do not support, and have never supported, the policies of President Putin, nor are they allies of President Putin" and that they are "unaware of Uart ever having made corporate filings contrary to the applicable rules and regulations in all relevant jurisdictions".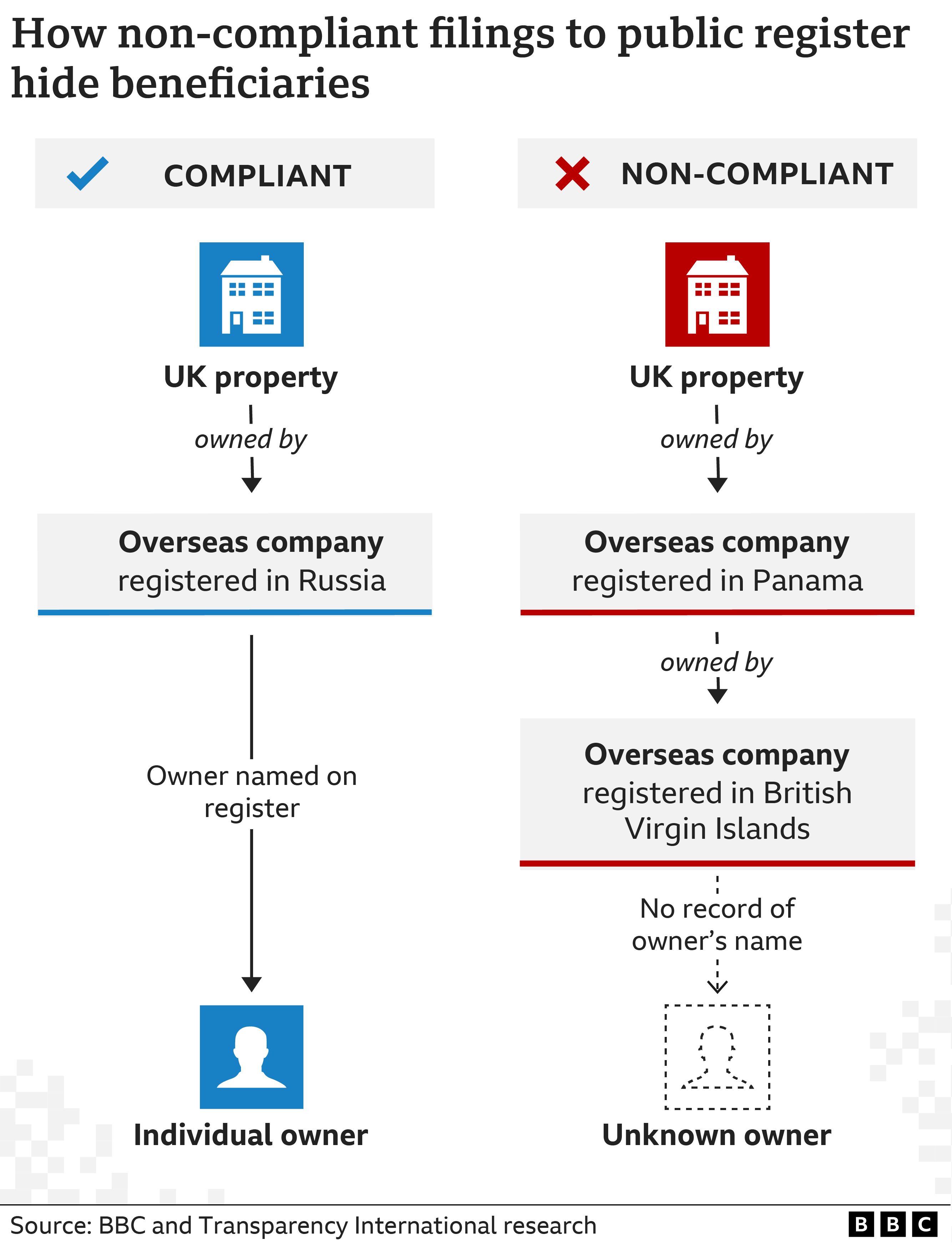 While the new rules include severe penalties for companies and individuals who do not comply, experts have questioned whether this will work.
"Although the legislation contains some stringent penalties for non-compliance, the government has failed to equip Companies House with the teeth and resources to apply these in practice," says Helena Wood, head of the UK Economic Crime Programme at the Royal United Services Institute think tank.
Margaret Hodge MP, chair of the all-party parliamentary group on anti-corruption and responsible tax, said the new register was "turning into a joke".
She added: "We need to know who owns these fantastically expensive properties, why they bought them and how they got the money to do so."
A government spokesperson said that Companies House was now "assessing and preparing cases for enforcement action" and further legislation would allow it to impose fines and pursue legal avenues against companies that are flouting the law.
Additional reporting by Liana Bravo, graphics by Jana Tauschinski
Three unique real estate listings that caught our eye this week – Western Investor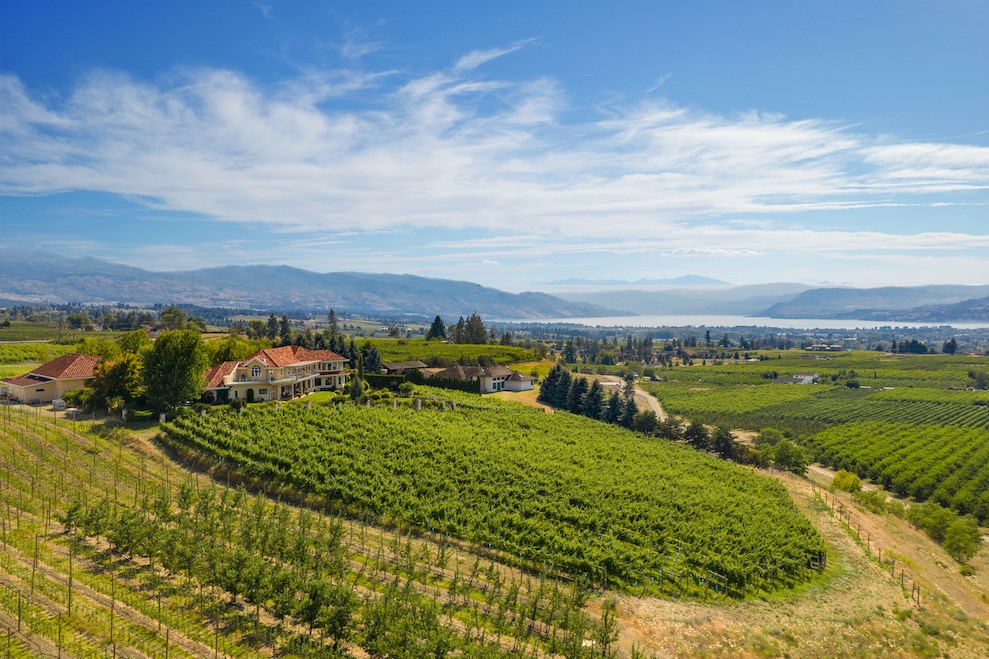 Western Investor is famous for the breadth of its commercial real estate listings. It is perhaps the only publication in Canada where investors can find a high-rise office tower, a remote waterfront lodge, a golf course, an industrial warehouse or a small-town bowling alley for sale within its pages.
We often have unique listings and there are three this month that stood out.
First is an entire city block for sale in downtown Calgary.
The 2.83-acre site borders the popular East Village, and the land is rezoned for a high-density mixed-use project with a generous floor-ratio-area (FAR) of 20.
Flexible commercial zoning allows for residential rentals, condos or hotel and a variety of commercial uses. Current visions include four high-rise towers, but all options are on the table. It is listed by Goodman Commercial, Vancouver, and NAI Commercial, Calgary, at an asking price of $32.4 million.
Second is a rare listing in B.C.'s Central Okanagan.
The property is the 11.3-acre Vibrant Wine vineyard estates in east Kelowna. The property includes a luxury 9,000-square-foot Italian-style villa. The eight-acre vineyard was named the No.1 winery on Trip Advisor and its product was ranked the Best White Wine in the World in 2013. A proven venture that can be expanded, the entire property and equipment is co-listed by HM Commercial and Jane Hoffman Realty, Kelowna, at $13.5 million.
Third of the unique listings is a productive gold mine.
With a private residence and a two-title acreage in the Cariboo, the property covers 3.2 acres near the original Gold Rush town of Likely, B.C.
The land includes an updated three-bedroom house, but the attraction is the operating gold mine. A two person operation on a five-year renewable permit that covers a 100-acre bench, only nine acres have been worked so far, but there has been a consistent average return of 1 ounce of gold per 100 yards mined, with the highest return of 8 ounces in under 100 yards. Note: the price of gold now is around US$1,980 per ounce. The entire operation, including all the mining machinery, is listed by 3A Group, Re/Max Nyda Realty in Agassiz, B.C., at $1.45 million.
Simcoe County's real estate market shows signs of recovery – CTV News Barrie
Real estate experts paint a cautiously optimistic outlook after a year of downward market trends across the country.
Trends in Simcoe County show an increase in viewings and buyers re-entering the market after key interest rate hikes from the Bank of Canada warded off many last year.
Lance Chilton, the broker of record at Re/Max Hallmark Chilton Realty, calls the local market "more or less balanced."
"Inventory conditions are the same as they once were in 2018," he noted." From 2020 to 2022, prices rose to about 43 per cent, which was rather rapid."
Chilton said key interest rate hikes eventually bottomed out the local market by about September – that's when home prices that peaked at around $1 million dropped to about $730,000.
"Since then, it's recovered by about five per cent," Chilton said. "In fact, we actually saw showings increase for the first time in about six months."
The Barrie and District Association of Realtors (BDAR) confirms that showings have picked up again, with people getting that "spring fever."
However, the one key issue that remains is low inventory.
"We saw prices dip because of interest rates and people pulling out of the market, but we never saw that supply come back online," said Luc Woolsey, BDAR president, adding the situation creates multi-offer bids.
"So there's still a lot of people having to come in firm, waiving conditions and inspections because they're having to compete."
'Million Dollar Listing' star warns CA mansion tax will deliver 'hardest hit' to market since 2007 – Fox Business
Though it's home to some of the most luxurious and expensive real estate listings in America, California is readying to pass a housing bill that one "Million Dollar Listing" agent warned could create the "hardest hit" to the market since the 2007-08 crash.
"In about ten days or so, there's a measure called the ULA measure that's going to go into effect, which is going to be probably the hardest hit to the real estate market that we've seen since 2007," broker and television personality Josh Altman said on "Varney & Co." Monday.
Altman's comments come in response to the recently-passed "United to House L.A." (ULA) measure in California, which adopts a so-called "mansion tax" on property sales or transfers over a certain value to pay for affordable housing.
Properties sold above $5 million but below $10 million are subject to a 4% sales or transfer tax, while properties that sold for more than $10 million will face a 5.5% tax, according to the city clerk's voter information pamphlet.
'MILLION DOLLAR LISTING'S' JOSH ALTMAN GIVES INSIDE LOOK AT 'BOTCHED' STAR PAUL NASSIF'S $27.9 MILLION HOME
At least 92% of taxpayers' money would "fund affordable housing under the Affordable Housing Program and tenant assistance programs under the Homeless Prevention Program," the pamphlet also clarified.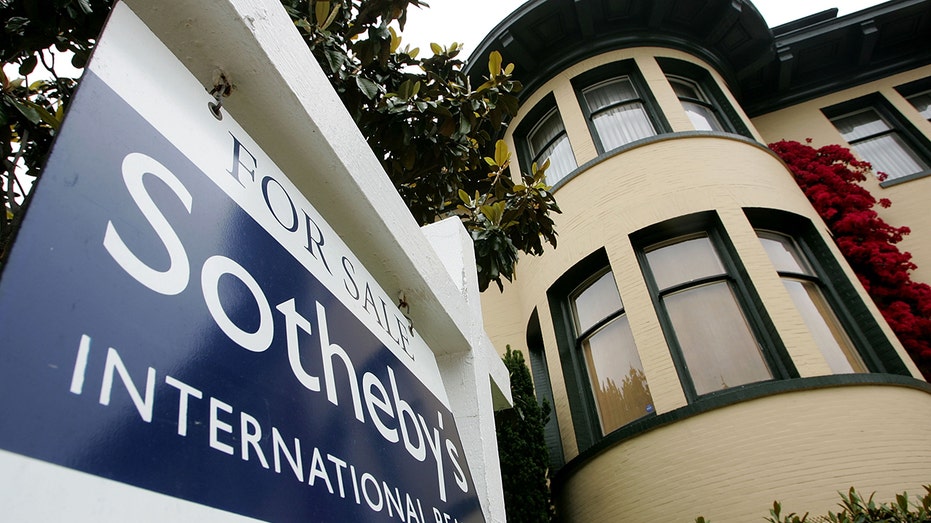 "The way that this ULA measure was passed is just mind-boggling to me," Altman added, "and I think it's one of the most ridiculous bills that I have ever seen in my entire 20-year career."
The Los Angeles city administrative officer estimated the proposed tax could generate $600 million to $1.1 billion in revenue each year. However, he noted it would "fluctuate" based on how many property transactions with values within the scope of the tax actually occur.
While those who support the measure argue it could help solve L.A.'s housing affordability and homeless crisis, others like Altman caution the tax policy would lead to higher home prices and bureaucracy.
"Think about these people that bought houses three years ago for $5 million and they want to sell now," Altman hypothesized. "The market's down, rates are up, that happens. But now they got to cut a check for $200,000 out of their own pocket because there's no profit on that. So it's really going to rock the real estate market that we're in here in Los Angeles."
California's real estate market, the "Million Dollar Listing" star further argued, is on "a race to the bottom" over the next 10 days as buyers try to close deals before the mansion tax is enacted.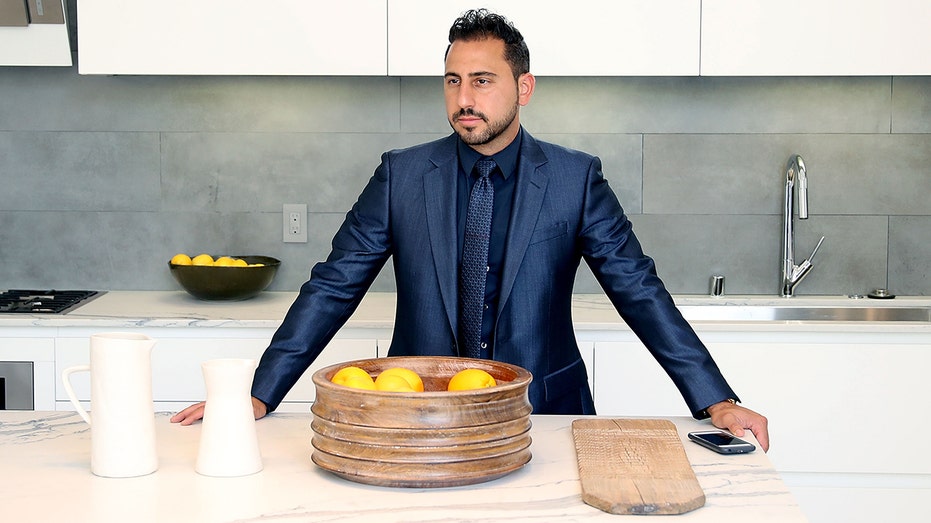 "I'm seeing deals get done that should never have gotten done," the L.A. agent said. "I've even done as much as, on a $28 million listing that I have, we have offered a $1,000,000 bonus for anybody who buys and closes before April 1."
The "main issue" with the ULA measure remains its "trickle down" effect — not on mansion or luxury homeowners, but on working and middle-class California families.
GET FOX BUSINESS ON THE GO BY CLICKING HERE
"People who voted who said, 'Oh, I don't have a $5 million house,' which by the way, is not a mansion in L.A., we're talking about a four-bedroom, 4,000 square-foot house in L.A. is $5 million, so this isn't a mansion tax," Altman said.
"This isn't a $30, $40, $50 million house tax – these are regular people that work bill to bill, that have to pay their mortgage just like everybody else, and now they're being penalized here."
FOX Business' Aislinn Murphy contributed to this report.