UK sets out plans to boost global digital trade
Improving digital trade would provide huge opportunities for British businesses and help boost economic growth, the government's Board of Trade said, setting out how it aims to become a world leader in modern services and online goods.
In a report on digital trade to be published on Friday, the board, headed by trade minister Anne-Marie Trevelyan, said the government should look to strike digital trade deals and help shape global trade rules suitable for the modern world.
"By addressing digital protectionism on the global stage and championing a free, open, and competitive digital economy, more UK companies will be able to export their innovative, high-quality services and goods globally," Trevelyan said in a statement.
In October, Britain helped broker a deal between the Group of Seven wealthy nations on principles to govern cross-border data use and digital trade in a first step to reducing barriers.
The Board of Trade, a government body tasked with championing exports and inward investment, said Britain should aim to build on the G7 agreement by working with partners to pursue a wider international consensus on digital rules, norms and standards.
Digital trade is broadly defined as trade in goods and services that is either enabled or delivered digitally, encompassing activities from the distribution of films and TV to professional services.
The report said Britain should focus particularly on securing Free Trade Agreements with the fast-growing Indo-Pacific market and large, service-based economies, as well as rapidly progressing the UK's accession to the Comprehensive and Progressive Agreement for Trans-Pacific Partnership (CPTPP).
It should also seek a Digital Economy Agreement with Singapore, viewed as a global leader on digital, in order to demonstrate the potential for digital trade rules to others in the World Trade Organization, it said.
(Reporting by Kylie MacLellan; Editing by Alistair Smout)
Charting Global Economy: Latin America at Top of Inflation Wave – BNN
(Bloomberg) — Sign up for the New Economy Daily newsletter, follow us @economics and subscribe to our podcast.
While prices are rising all over the world, the increases are especially striking in Latin America, which has the highest inflation forecast for both this year and next.
U.S. and U.K. inflation metrics recorded multi-decade highs, while big price jumps in New Zealand led the central bank to raise interest rates for the second time in as many months. India's economy is showing signs of strengthening, while an increase in Covid-19 infections is denting business sentiment in Germany.
Here are some of the charts that appeared on Bloomberg this week on the latest developments in the global economy:
U.S.
Personal spending rose in October from a month earlier by the most since March, while a closely watched inflation measure posted the largest annual increase in three decades. The figures come as some Federal Reserve officials are advocating for a faster tapering of the central bank's asset-purchase program than initially planned.
The supply crunch that's helped drive inflation to multi-decade highs shows some signs of easing in the U.S. -– but it's still getting worse in Europe.
Applications for U.S. state unemployment benefits plunged last week to a level not seen since 1969, which if sustained would mark the next milestone in the labor market's uneven recovery. However, the larger-than-expected drop was largely explained by how the government adjusts the raw data for seasonal swings.
Europe
German business confidence took another hit in November, with a new wave of Covid-19 infections looming over the economy and rising inflationary pressures threatening to weigh on manufacturing. Expectations for the next half year also worsened.
U.K. companies reported the strongest inflation in more than two decades during November, adding to pressure on the Bank of England to lift interest rates as early as this month. IHS Markit Ltd. said 63% of purchasing managers reported increased cost burdens, driving the fastest growth in an index tracking inflation since the report started in 1998.
Asia
Singapore expects gross domestic product to expand 3% to 5% next year, a slower pace than this year as its rebound from the worst of the pandemic steadies. The first official forecast for 2022 compares with about 7% this year, the Ministry of Trade and Industry said Wednesday, reflecting the impact from easing pandemic restrictions and a stabilizing global economy.
China pulled back on its already halting progress toward meeting its U.S. trade deal targets, slowing purchases of all types of goods covered by the agreement despite calls from the Biden administration for Beijing to adhere to its commitments.
Emerging Markets
Price surges are busting through policy makers' targets in all of Latin America's major economies, with annual inflation prints this month of 6% in Chile, 10.7% in Brazil and a whopping 52% in Argentina. Consumer prices in Mexico rose 7.05% in the first half of November from a year prior, the highest in 20 years.
India's economy showed steady signs of strengthening in October as services, manufacturing and exports kept it on course to post the world's fastest growth.
World
New Zealand's central bank raised interest rates for the second time in two months and signaled it will need to tighten policy more quickly than previously expected to contain inflation.
©2021 Bloomberg L.P.
What's Happening in the World Economy: Virus Fears Return – Bloomberg
Hello. Today we look at how coronavirus fears are rising again after the discovery of a new variant, the state of China's economy and concerns about the outlook for trade.
B.1.1.529
Inflation, central bank tapering, supply chain snarls, a looming fiscal cliff — they all dropped a notch on the global economy's list of concerns Friday as the Coronavirus shot back to the top.
A new variant called B.1.1.529 has been identified in South Africa and has already spread as far as Hong Kong, where it infected two travelers in hotel quarantine. See here for more details.
Stocks, Treasury yields and oil sank while the yen jumped — all hallmarks of investors bracing for uncertain economic times.
"What was expected to be another quiet day for markets, as U.S. activity is muted, is now likely to be rife with anxiety over the new variant and its implications for economic activity going forward," Siobhan Redford, a Johannesburg-based analyst at FirstRand Bank, told clients in a report.
For South Africa's economy, the news is a particular body blow especially for its already shaky tourism sector, which would have been eager to welcome foreigners chasing winter sun. The European Union, U.K. and Singapore have already curbed travel.
More broadly, there will be fears the new strain could fuel outbreaks in more countries, stretching health systems, potentially evading vaccines and complicating efforts to reopen economies and borders. The concern alone could dampen the confidence of consumers and companies, which had been showing signs of picking up.
Money markets are offloading bets on central bank interest-rate hikes in a hurry, as inflation fears give way to concerns that the variant may spread globally.
If contained, the new as-yet unnamed strain may prove to be just a scare for markets. The coming days and decisions from the World Health Organization will be closely watched for any broader spread.
At a minimum, however, it's yet another reminder that Covid-19 is going to remain the wild card for the global economy and will continue to shape the recovery and what policy makers do next.
"Each new variant entails the risk of the vaccination progress being undone," said Ulrich Leuchtmann, head of currency strategy at Commerzbank. "The thoughts of a world post-Covid suddenly become all confused."
—Malcolm Scott and Simon Kennedy
The Economic Scene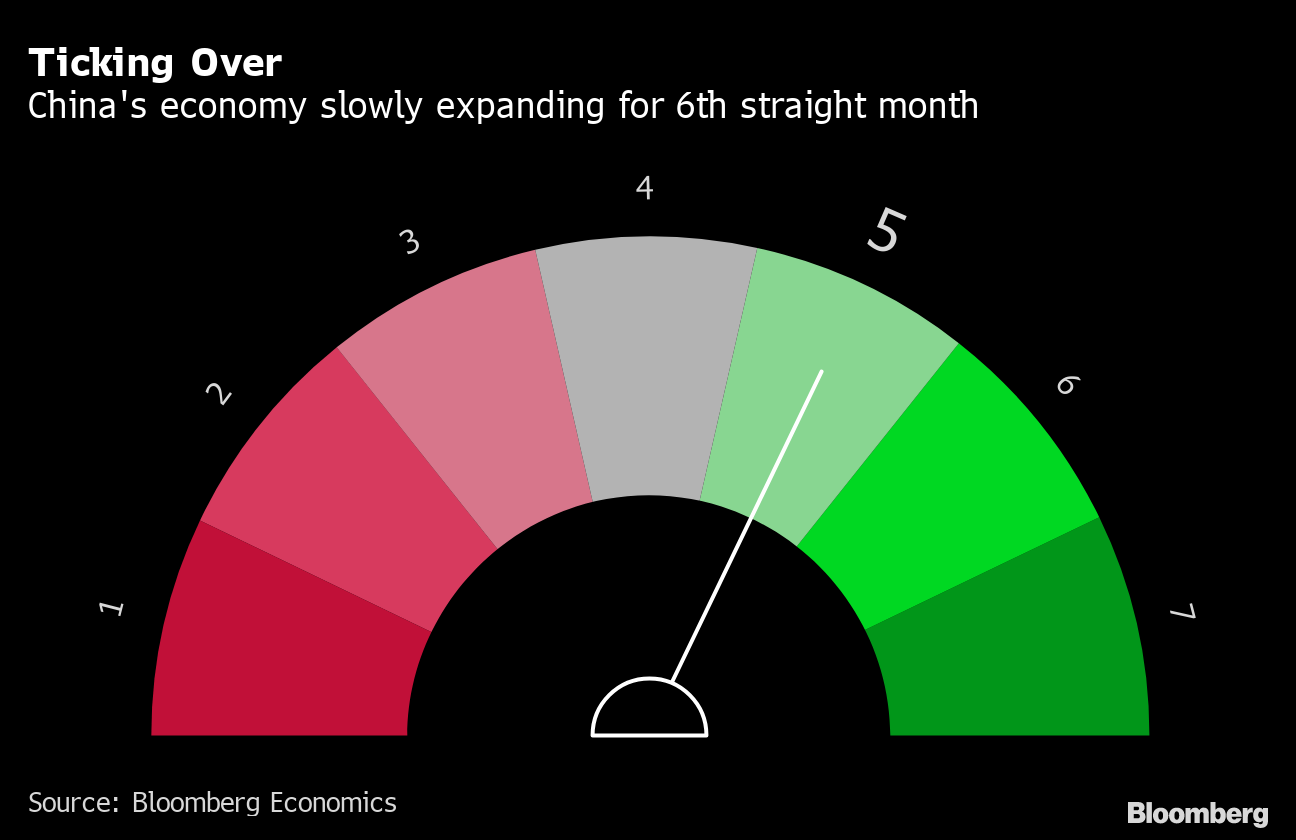 China's economy continued to slow in November with car and homes sales dropping again as the housing market crisis dragged on.
That's the outlook from Bloomberg's aggregate index of eight early indicators for this month. While the overall number stayed unchanged, under the surface there was a further deterioration in some of the real-time economic data.
Today's Must Reads
Need-to-Know Research

"Faintly in the distance: the contours of a big export slump are becoming visible."
That's the ominous warning from HSBC's co-head of Asian economic research Frederic Neumann in a research note. He notes that export volumes have contracted in recent months and new export orders are declining. And that's set to continue as the shift away from goods demand towards services will knock down shipments from Asia.
"After powering through the pandemic, a trade hangover now looms," he says.
On #EconTwitter

Read more reactions on Twitter
Enjoy reading the New Economy Daily?
Ocean Economy: The Next Wave of Sustainable Innovation – Visual Capitalist
Exploring the Digital Asset Ecosystem
The digital asset sector has undergone a rapid expansion over the past couple of years, growing in value and functionality.
Beyond the price growth of popular cryptocurrencies, digital assets are powering innovative applications that enable value transfer beyond just payments. From tokens that grant dividend-like revenue to holders, to tokens backed by other digital and physical assets, the digital asset ecosystem is redefining asset and financial structures before our very eyes.
This framework created by Arca explores and defines the state of the digital asset ecosystem, looking at how traditional assets might one day be integrated into this new taxonomy.
The Functions and Types of Digital Assets
Digital assets can be broken down into three different types of assets that fulfill three primary functions. The first two functions of digital assets, store of value and medium of exchange, are well established functions of digital and traditional assets.
However, a third functionality of being able to pass through values to holders has emerged, with benefits like discounted application fees, governance voting rights, and monetary rewards passed onto token holders.
These functions are fulfilled by three main types of digital assets:
Currency: tokens that are a unit of account and medium of exchange
Asset-backed tokens: tokens backed by hard assets like equity, debt, or physical assets
Pass through tokens: tokens that grant revenues, rewards, and network benefits to holders
Many know of Bitcoin, the founding cryptocurrency that functions as a digital currency today. Along with this, tokens whose value is backed by other assets like Arca Lab's ArCoin (Ticker: RCOIN) are also straightforward in nature and functionality.
Pass through tokens are where digital assets explore innovative concepts and structures unique to the blockchain networks that underpin the assets.
For example, cryptocurrency exchange FTX issued an exchange token (FTT) at launch, which provides holders with reduced trading fees on the platform. FTT holders can also stake, or lock up, their tokens to receive increased referral rebates, more votes in FTX polls, and more airdrop rewards (tokens exclusively given out to holders or stakers of another token).
Classifying Governance and Decentralization
Along with token types and their functionality, it's important to understand the governing bodies and governance structures behind digital assets.
The governing body is the entity that issues and controls the function of a digital asset, ultimately defining the purpose and proposed value of a digital asset. These range from centralized governments and organizations, like the government of the Bahamas (issuer of the CBDC, the Bahamian Sand Dollar) to Decentralized Autonomous Organizations and blockchain protocols like Ethereum (ETH) and Solana (SOL).
| Governing Body | Governance Structure |
| --- | --- |
| Government | Centralized |
| Organizations | Centralized |
| Individuals | Centralized |
| Decentralized Autonomous Organizations (DAOs) | Decentralized |
| Protocols, Platforms, and Dapps | Typically decentralized |
Governance structures define the framework and procedures which decide and implement changes for a digital asset. These changes can be about anything, like the digital asset's tokenomics, pass through values, or future development goals.
While some governing bodies like governments and organizations have centralized governance structures, centralization and decentralization isn't all or nothing and can be seen as more of a spectrum.
Certain DAOs or protocols might have a core team of developers that propose certain features, which are then voted on and ultimately decided by the holders of the digital asset.
The Future of Traditional Assets in a Digital Framework
With an established taxonomy of digital assets, we can start to map out how traditional assets fit into this framework.
From tokenizing real estate and commodities for easier digital exchange and settlement to equity-like tokens issued by companies that provide holders with voting rights or non-financial rewards, digital assets will reshape the traditional asset structures of today.
By providing unbound and transparent asset structures, digital assets are providing people around the world with more freedom in storing, transferring, and accruing value.
Go to Ar.ca to learn more about digital assets today.