UK's Development-Finance Arm Plans $6 Billion African Investment – Financial Post
British International Investment Plc, the UK government's development-finance arm, plans to invest $6 billion over the next five years in Africa in areas ranging from renewable power and digital infrastructure to supporting women-owned businesses.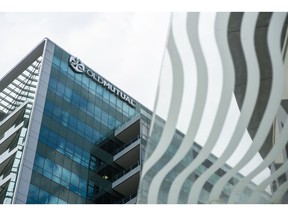 Article content
(Bloomberg) — British International Investment Plc, the UK government's development-finance arm, plans to invest $6 billion over the next five years in Africa in areas ranging from renewable power and digital infrastructure to supporting women-owned businesses.
Article content
The spending, which is part of a $10 billion global program, includes a $76 million contribution toward a planned $500 million fund being raised by Old Mutual Ltd.'s African Infrastructure Investment Managers that was announced on Wednesday.
"Investment priorities will be driven by the size of the economy, and the development needs in that economy," BII Chief Executive Officer Nick O'Donohoe said in an interview.
BII's investment plans come as a host of development finance institutions ranging from France's Proparco to Germany's KFW Group jostle to provide the finance needed to address climate change concerns in Africa and to meet digital connectivity needs. The region needs as much as $108 billion in infrastructure investment a year, according to the African Development Bank.
Article content
BII, formerly known as CDC Group, is restricted to investing in the private sector and while it will focus on the "powerhouse" markets of Ethiopia, Kenya, Nigeria and Egypt, some money will go to South Africa because of its drive to attract climate finance, he said.
The institution last week agreed to provide Oslo-based energy producer Scatec ASA with about $157 million in debt and equity finance for a solar and battery-storage project in South Africa.
The investment firm, which is fully-owned by the UK government, has made significant equity investments in African companies such as Liquid Telecom, the continent's biggest fiber company, and Globeleq, a power producer. Bloomberg this week reported that BII has hired Rothschild & Co. to review how to grow the latter business. Options include bringing on a third investment partner.
"We have been a significant investor in power in Africa, originally in fossil-fuel power, and over the last three or four years, almost exclusively renewable power," said O'Donohoe.
Over the next five years, at least 30% of BII's total new commitments by value will be in climate finance, he said.
BII's plans also include "actively investing" in funds, said O'Donohoe. FMO, a Dutch-government controlled entrepreneurial development bank, invested $40 million into the Old Mutual fund alongside BII.
How rising interest rates impact insurers' investment decisions – Canadian Underwriter
Recent interest rate hikes aimed at curbing inflation, and the potential for more rate hikes next year, has the insurance industry keeping an eye on its investment returns.
But while the transition from a low-interest-rate environment to a higher-rate environment will create short-term challenges, it also creates a long-term opportunity, noted Gord Dowhan, CFO at Wawanesa Insurance in a recent Canadian Underwriter interview.
"Over time…higher interest rates can create an opportunity for us to increase our yield moving forward," Dowhan said. "As bonds mature, it gives us the opportunity to invest at a higher rate.
"You've seen this experience in Europe and elsewhere, where they were at zero percent and negative interest-rate environments in some cases. Having higher rates is healthier than being in that environment [of extremely low or negative interest rates], and there's definitely an opportunity for us to pick up yield and investment returns within our investment portfolio as those instruments mature."
For an insurer's portfolio, Dowhan noted a rising interest rate environment makes certain investment instruments more attractive. And his firm has some of these in place, including preferred shares, limited recourse capital notes, and floating-rate or variable-rate debt.
"We're also looking at real estate and infrastructure investments. From a rate-reset, preferred-share perspective, this gives us the opportunity to increase our yield; the dividend yield resets regularly based on five-year government bond yields," he said.
"In a rising rate environment, this gives us an opportunity to increase our returns. Floating-rate, or variable-rate, debt has become increasingly attractive as rates rise. We've invested in and will continue to invest in floating-rate debt and look for opportunities to grow our portfolio there."
What's more, Dowhan said that during high inflationary periods, real estate and infrastructure tend to outperform other asset classes.
"The underlying instruments within these products, leases and other revenues that produce revenue streams linked to inflation, is one reason why they typically outperform other asset classes during periods of high inflation," he told CU. "So, opportunities exist for us to enhance our yield in the long term and continue to deliver value for our policyholders."
This article is excepted from one that appeared in the August-September issue of Canadian Underwriter. Feature image by iStock.com/porcorex
Landa Sees More Growth, EPac Gets New Investment And More | Label and Narrow Web – Label & Narrow Web Magazine
Demonstrating its commitment to supporting its growing customer base and interest from future customers, Landa Digital Printing is aggressively expanding its global team and business development infrastructure with the appointment of several new sales professionals.
New Landa appointments include:
Bill Lawver, Inside Sales Representative
Michael Weyermann, Regional Sales Manager – Northeast
Steve Smith, Regional Sales Manager – Southeast
Danny Green, Regional Sales Manager – Mideast
Michelle Weir, Regional Sales Manager, Southwest
Sharon Cohen, chief business officer, Landa Digital Printing, comments, "We are delighted to have secured the talent and experience of Bill, Michael, Steve, Danny and Michelle. Their highly relevant backgrounds will be instrumental in supporting our growth plans across North America, while also supporting the wider team to ensure continued high customer satisfaction, innovation and success.
Meanwhile, Amcor has announced a further strategic investment of up to $45 million in ePac Flexible Packaging. The investment will increase Amcor's minority shareholding in ePac Holdings LLC.
Amcor's executive vice president of strategy and development, Ian Wilson, comments, "This additional investment reflects our confidence in ePac's entrepreneurial team and their proven ability to rapidly scale in the high growth, often higher value short run segment. Since our initial investment last year, we have been deeply impressed with ePac's focused and innovative business model centered around deploying a very high level of digitalization and customization. ePac's proven digital technologies enable the delivery of exceptional service levels and significantly reduced lead times. These specializations are designed to meet the unique speed to market and service needs of locally based small to medium customers, skill sets that are highly transferable to areas of Amcor's core business.
Here are the highest-trafficked news items for the week ending on September 23:
1. Landa announces five senior additions to NA sales team
2. Amcor expands investment in ePac Flexible Packaging
3. FLAG enjoys productive Labelexpo Americas
4. Mondi invests in new research and development center in Germany
5. S-OneLP recognized as Global Label Award winner
Britain outlines tax incentives for new investment zones – Reuters UK
LONDON, Sept 23 (Reuters) – British finance minister Kwasi Kwarteng outlined what he called an "unprecedented set of tax incentives" for businesses in newly-announced investment zones, saying the government would also liberalise planning rules for specified agreed sites.
The government said there were potential investment zones in England so far but it would work with the devolved administrations in Scotland, Wales and Northern Ireland to deliver them around the United Kingdom.
"On purchases of land and buildings for commercial or new residential development, there will be no stamp duty to pay whatsoever," Kwarteng told lawmakers in a fiscal statement on Friday.
"On newly-occupied business premises, there will be no business rates to pay whatsoever. And if a business hires a new employee in the tax site, then on the first 50,000 pounds ($55,800) they earn, the employer will pay no National Insurance whatsoever."
The government said more detail on how a liberalised planning offer in the zones would work in due course.
Areas interested in becoming investment zones include Liverpool and Greater Manchester in northwest England, Somerset and Plymouth in the southwest, Sunderland and the Tees Valley in the northeast and Southampton and Essex in the south and east.
The government also said infrastructure projects would be accelerated, aiming to get as many as possible under construction by the start of 2023.
The list of projects to be accelerated included nuclear energy sites Hinkley Point C and Sizewell C, oil fields search as Cambo Phase 1, and several train lines, stations and roads.
($1 = 0.8961 pounds)
Reporting by David Milliken and Alistair Smout, editing by Elizabeth Piper
Our Standards: The Thomson Reuters Trust Principles.