US economic growth slows as firms cut investment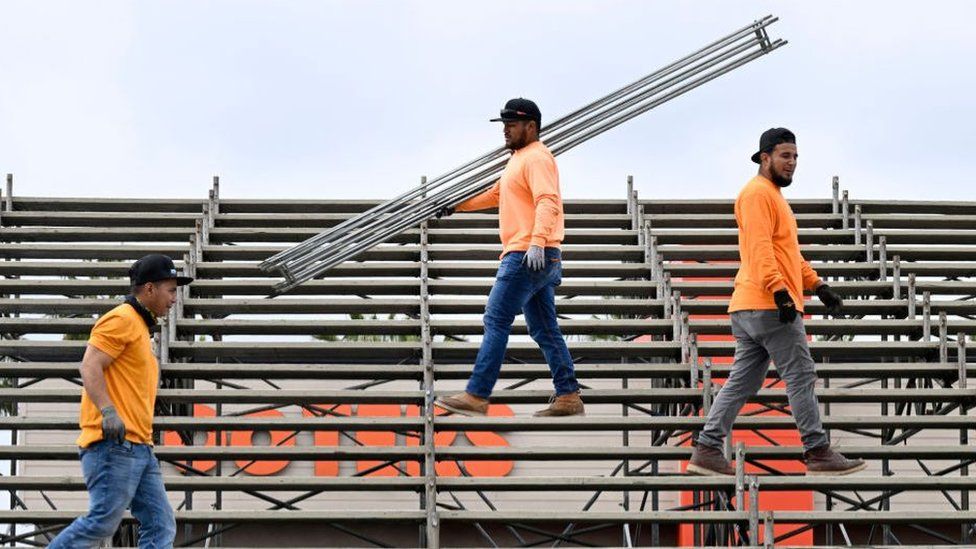 The US economy slowed in the first three months of the year, as businesses reduced investments in the face of higher borrowing costs.
The economy grew 1.1% on an annualised basis, the Commerce Department said.
That was down from a rate of 2.6% in the prior quarter, despite strong consumer spending.
The latest report on gross domestic product – the widest measure of economic activity – showed the economy has now grown for three quarters in a row.
The US economy had contracted in the first half of last year as trade flows adjusted from the pandemic and higher borrowing costs led to a sharp slowdown in home sales.
But a strong job market has kept consumer spending – the main driver of economic activity – resilient, despite rising living costs, helping to defy predictions of a recession.
Spending was up 3.7% on an annual basis in the January-to-March period.
However, many forecasters still expect the US to fall into economic recession sometime this year.
"Overall, the data confirm the message from other indicators that while economic growth is slowing, it isn't yet collapsing," said Andrew Hunter, deputy chief US economist for Capital Economics.
"Nevertheless, with most leading indicators of recession still flashing red and the drag from tighter credit conditions still to feed through, we expect a more marked weakening soon."
Are we in a recession right now? What economists have to say – USA TODAY
Over the past year, economists have proclaimed that the U.S. is headed toward recession so relentlessly, you might think we're already knee-deep in a slump.
But the economy has been remarkably resilient and, though wobbly at times, has repeatedly defied forecasts of a downturn. Economists, in turn, have continued to push out their estimates of when a recession will begin.
Yet forecasters still say there's a 61% chance of a mild slide this year, according to those surveyed by Wolters Kluwer Blue Chip Economic Indicators.
All this begs the question: Are we in a recession now?
What happens in a recession?
Many Americans are familiar with the informal definition of a recession: Two straight quarters of declining gross domestic product, which is the value of all goods and services produced in the U.S.
But the real litmus test is more subtle. A recession is "a significant decline in economic activity that is spread across the economy that lasts more than a few months," according to the National Bureau of Economic Research. NBER looks at a variety of indicators, particularly employment, consumer spending, retail sales and industrial production. The non-profit group often announces when a recession has begun and ended months after those milestones have occurred.
GDP fell each of the first two quarters of 2022 but much of the drop was traced to changes in trade and business inventories – two categories that don't reflect the economy's underlying health.
Why do economists expect recession?
Over the past 14 months, the Federal Reserve has raised interest rates at the fastest pace in 40 years to bring down inflation. Typically, when the Fed hikes rates so aggressively, borrowing to buy a home, build a factory and make other purchases becomes much more expensive. Economic activity declines, the stock market tumbles and a recession results.
Was there already a recession?
No. During the pandemic, households amassed about $2.5 trillion in excess savings from hunkering down at home and trillions of dollars in federal stimulus checks aimed at keeping workers afloat through layoffs and business closures.
As a result, Americans have a big cushion of savings to help them weather high inflation and interest rates. They've whittled down much of those excess reserves but about $1.5 trillion still remains, according to Moody's Analytics.
Consumers also still have lots of pent-up demand to travel, go to ballgames and dine out now that the health crisis has receded. So while consumption has flagged, rising just 1% annualized at the end of last year, it bounced back and grew 3.8% in the first quarter.
Also, both households and businesses have historically low debt levels, Moody's says, and so they're not burdened by high monthly debt service payments.
Back in a bull market: As stocks pass a key milestone, here's what you should know
Are we in a recession right now?
The vast majority of top economists say no. Housing has been in the doldrums, with home prices starting to decline, because of high mortgage rates. And manufacturing activity has contracted for seven straight months, also in part because of high rates that have dampened business capital spending.
But consumer spending, which makes up about 70% of GDP, has been surprisingly healthy, jumping 0.5% in April after adjusting for inflation.
As a result, the most critical economic indicator- employment – has stayed strong, with the public and private sector adding an average of 283,000 jobs a month from March through May. Also, longstanding labor shortages have led many businesses to hold onto workers instead of laying them off despite faltering sales.
All told the economy has lost some steam but it's not shrinking. GDP grew at a 1.3% annual rate in the first quarter. And it's projected to grow 1% in the current quarter, according to S&P Global Market Intelligence.
Will there be a recession in 2023?
Most economists still expect a recession in the second half of the year. They say the Fed's high interest rates eventually will be felt more profoundly by consumers and businesses. At the same time, banks are pulling back lending because of deposit runs that led to the collapse of several regional banks early this year.
Perhaps the most reliable indicator of a coming recession is an inverted yield curve. Normally, interest rates are higher for longer-term bonds than shorter-term ones because investors need to be rewarded for risking their money for a longer period.
But the yield on the 2-year Treasury bond has been well above the 10-year Treasury for months. That's been a consistent signal of recession because investors move money into safer longer-term assets – pushing their prices up and their yields down – when the economic outlook grows dimmer.
US and Allies Condemn Economic Coercion With Attention on China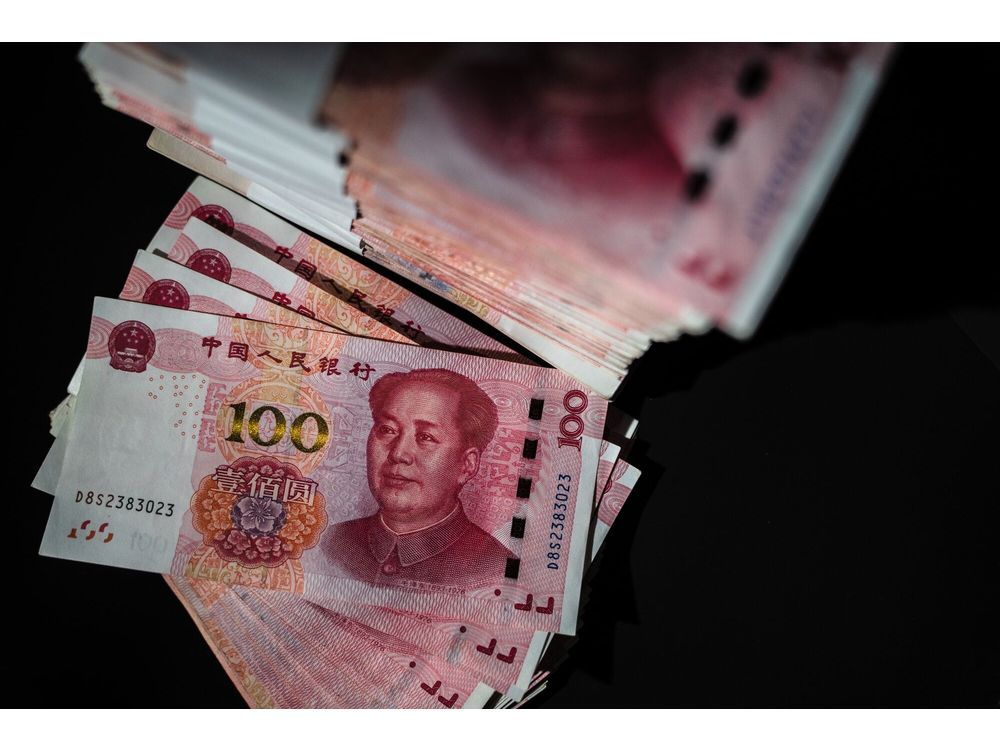 (Bloomberg) — The US and five major allies condemned economic coercion and non-market policies regarding trade and investment in a joint declaration that didn't cite China by name but clearly had Beijing in mind.
The six countries expressed concern about practices that they say "undermine the functioning of and confidence in the rules-based multilateral trading system."
The message from the US, Australia, Canada, Japan, New Zealand and the UK carries no economic consequences and mirrors one released by Group of Seven nations after a meeting of leaders last month.
A US Trade Representative official, speaking to reporters on condition of anonymity before the statement's release, said China has been the biggest perpetrator of the behavior condemned in the declaration.
The official mentioned China's decision to cut off trade with Lithuania in 2021 after that Baltic nation allowed Taiwan to establish a diplomatic office there as an example of the kind of economic coercion that the declaration singles out.
Read More: G-7 Eyes China With New Joint Effort Against Economic Coercion
In response to a reporter's question, the official rejected any comparison to the US, which has become one of the most prolific purveyors of measures that could be seen as economic coercion, chiefly through financial sanctions and limits on technology exports to countries including China.
US sanctions occurred in accordance with US laws and procedures, and in light of relevant rules and norms, the official said. The declaration makes explicit that it didn't apply to actions that have "a legitimate public policy objective."
"These legitimate public policy measures include: health and safety regulations, environmental regulations, trade remedies, national security measures and sanctions, and measures to protect the integrity and stability of financial systems and financial institutions from abuse," according to the declaration.
Euro zone economy slips into technical recession after German revision
The euro zone economy was in technical recession in the first three months of 2023, data from European statistics agency Eurostat showed on Thursday, after downward revisions of growth in both the first quarter and the final quarter of 2022.
Euro zone gross domestic product (GDP) fell by 0.1 per cent in the first quarter compared with the fourth of 2022 and was 1.0 per cent up from a year earlier, Eurostat said in a statement.
That compared with flash estimates of growth of 0.1 per cent and 1.3 per cent published on May 16. Economists polled by Reuters had forecast on average respectively zero and 1.2 per cent expansion.
The revision was principally due to a second estimate from Germany's statistics office showing that the euro zone's largest economy was in recession in early 2023.
The euro zone figure for the fourth quarter of 2022 was also cut to –0.1 per cent from a previous reading of zero. The revisions confirmed that the euro zone was also in a technical recession.
This had been expected towards the end of last year as the euro zone wrestled with high energy and food prices and rising interest rates designed to curb inflation, but initial estimates had suggested the region had avoided this.
Along with Germany, GDP also declined quarter-on-quarter in Greece, Ireland, Lithuania, Malta and the Netherlands.
Eurostat said that household spending stripped 0.1 percentage points, public expenditure 0.3 points and inventory changes 0.4 points from quarterly GDP. Gross fixed capital formation added 0.1 points and while net trade a further 0.7 points as imports declined.