US economy adds 467,000 jobs in January, calming Omicron fears – Al Jazeera English
The United States economy added a better-than-expected 467,000 jobs last month, despite a wave of workers calling in sick as Omicron infections peaked.
Sometimes economic forecasters are too glum for their own good. That sure was the case on Friday with the release of the closely watched monthly US jobs report.
The United States economy added a robust 467,000 jobs in January, the US Department of Labor said on Friday. That was far, far better than most analysts were expecting and quells fears that the fast-spreading Omicron variant of COVID-19 temporarily dented the labour market recovery in the world's largest economy.
"The labor market started the year off on a stronger-than-expected note defying expectations that the rapid spread of Omicron would lead to a temporary pullback," said Oxford Economics chief US economist Kathy Bostjancic in a note to clients.
The US jobs market also closed out 2021 on a stronger footing than first thought. Jobs creation for November and December last year were revised up by a combined 709,000.
The nation's unemployment rate edged up slightly in January to 4 percent after falling to 3.9 percent in December. But it's not as bad as it seems at first glance because the number of people either working or actively looking for a job – a metric called the labour force participation rate – increased to 62.2 percent, the highest level since the coronavirus pandemic struck in March 2020.
The bump suggests that workers are moving off the sidelines – a development that is likely to cheer business owners who are struggling to fill a near-record number of job openings and have been sweetening benefits and pay packages to lure scarce job seekers.
That enhanced worker bargaining power was on display in average hourly earnings, which climbed 5.7 percent in December compared to the same period a year ago.
But as earnings go up, it further stokes inflation, which is also being fed by ongoing supply-chain disruptions and shortages of raw materials. That double whammy increases input costs for businesses, and they are increasingly passing on at least a portion of that financial burden to consumers.
That's why the January jobs report falls at a critical juncture in the nation's economic recovery.
US inflation is running at its hottest level in nearly 40 years and those higher prices erode purchasing power – undercutting the windfall from fatter paycheques.
Soaring costs for essentials like food, gasoline, and rent are also especially hard on low-income households that are forced to shell out a larger share of their financial resources to cover those basic needs.
Finally, too much inflation is bad for consumer confidence, which is bad for the economy. Because when consumers don't feel good about their financial fortunes and prospects, it saps their spending mojo – and consumer spending drives some two-thirds of US economic growth.
Cue the Fed
For most of the recovery, the steward of the US economy, the Federal Reserve, has kept interest rates low to encourage jobs creation.
But late last year, with job openings abounding and inflation soaring, the Fed signalled a hard pivot away from job-boosting easy money policies and towards raising borrowing costs to keep a lid on rising prices.
Fed chief Jerome Powell said in January that the Fed will likely start raising interest rates in March. What's more – he said that there is "quite a bit of room to raise interest rates without threatening the labour market".
The Fed has a dual mandate to achieve maximum employment while keeping inflation under control. And right now inflation is running far above the Fed's target rate of 2 percent.
The Fed insists there are no signs yet of a dreaded "wage-price spiral" – that's when workers keep asking for a raise to keep up with inflation, feeding consumer demand for goods and services, which raises prices further.
If labour force participation continues to increase, it should help calm wage pressures. And Fed policymakers still think inflation will start to moderate later this year.
But the January jobs report is bound to fuel mounting speculation that the Fed could hike rates by as much as half a percentage point in March, or signal a more aggressive tightening cycle ahead.
The US economy shrank 1.6% in the first quarter, adding to recession fears – CNN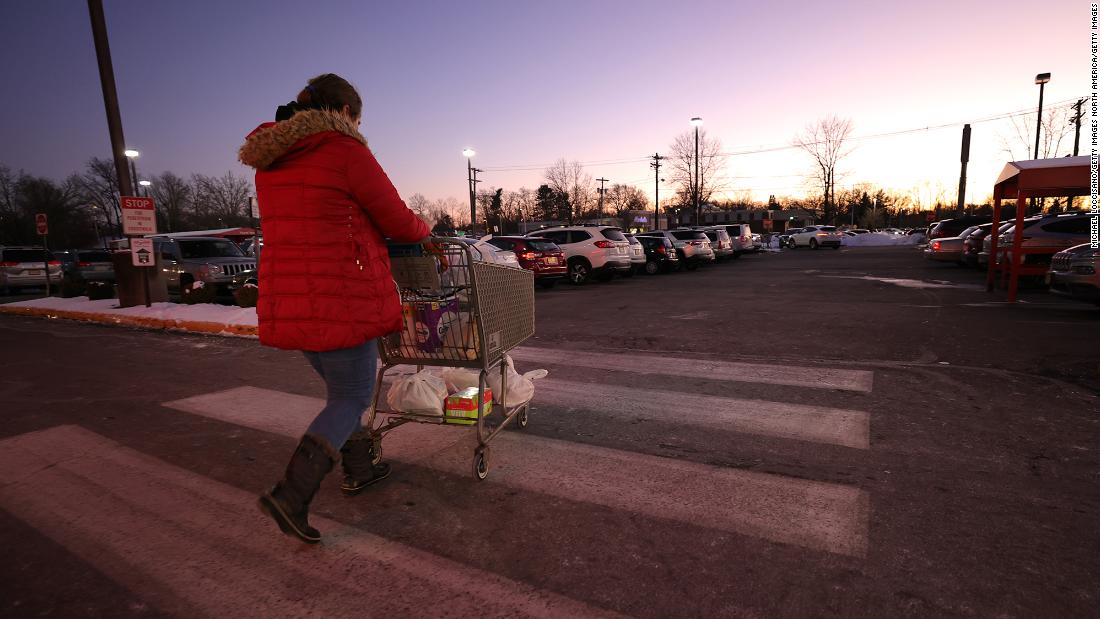 Minneapolis (CNN Business)The US economy shrank at a slightly faster rate than previously estimated during the first quarter, the Bureau of Economic Analysis said Wednesday.
With one quarter of negative economic growth in the books, the data adds to fears that a recession may be looming.
Real gross domestic product declined at an annualized rate of 1.6% from January to March, according to the BEA's third and final revisions for the quarter.
Previously, the advance estimate released in April showed a contraction of 1.4%. Last month, that was revised to a decrease of 1.5%.
The first quarter GDP performance, which the BEA noted includes some unquantified effects from the pandemic and the Omicron variant surge, stood in contrast to the fourth quarter of 2021, when the economy grew at a rate of 6.9% from the prior quarter.
The first quarter of 2022, however, marked the start of Russia's invasion of Ukraine, which sent economic shockwaves throughout the global supply chain, as well as the food, finance and energy markets.
Domestically, US inflation has soared to levels not seen in decades amid ongoing supply chain challenges, rising costs for commodities and labor and spiking oil prices.
The BEA attributed the latest decline of 0.1 percentage point to slower-than-expected growth in consumer spending, although that was partially offset by gains in private inventory investment.
The shift in estimates on consumer spending puts additional emphasis on the latest Personal Consumption Expenditures price index data, one of the Federal Reserve's preferred gauges of inflation, said Shannon Seery, a Wells Fargo economist. The latest report is set for release on Thursday.
Wells Fargo expects a mild recession to occur in the second quarter of 2023, though strong household finances and solid consumer and business balance sheets should keep such a downturn, if it occurs, fairly tame, Seery said.
While a recession is commonly defined as two consecutive quarters of GDP declines,
that's not a hard-and-fast rule
, especially for the folks who make the official determination. The National Bureau of Economic Research, the arbiter of US recessions, considers a range of indicators in addition to GDP performance
and defines a recession
as a "significant decline in economic activity that is spread across the economy and lasts more than a few months."
The advance estimate for second-quarter GDP performance is scheduled for release on July 28.
The pandemic may have forever altered the economy, Fed Chair Powell says – CNN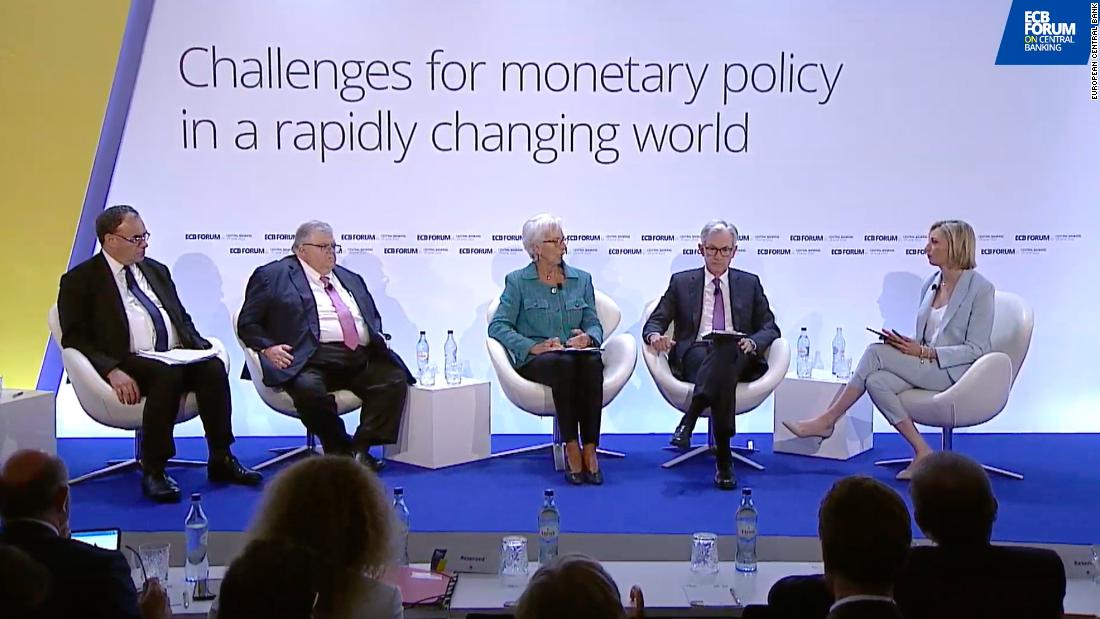 (CNN)It's not yet clear if the US economy will ever return to its pre-pandemic status, Federal Reserve Chairman Jerome Powell said Wednesday at a central banker forum in Portugal.
"The economy is being driven by very different forces. What we don't know is whether we'll be going back to something that looks like, or a little bit like, what we had before," Powell told a panel that included European Central Bank President Christine Lagarde and Bank of England Governor Andrew Bailey.
The central bank heads, who collectively hold around $20 trillion on their balance sheets, discussed how "new forces" have changed
inflationary dynamics
and the global economic landscape — perhaps forever.
"I don't think we're going back to that [pre-Covid] period of low inflation," Lagarde said, noting that Russia's invasion of Ukraine will "change the picture and the landscape within which we operate."
All three central bankers are battling surging inflation in their economies. The Fed embarked on a course earlier this year to hike interest rates and combat the worst US inflation since the 1980s. Earlier this month, Fed officials voted to implement
an interest rate hike of three-quarters of a point,
the first time since 1994 that it has approved an increase of that size.
While a growing pool of analysts and economists fear such aggressive moves could
push the economy into a recession
within the next 12 months, Powell said he believes the US economy is robust enough to withstand a moderation in growth, since households and businesses are both in very strong financial shape.
But the Fed Chair warned that entrenched or persistent inflation would be a worse outcome than an economic downturn.
"Is there a risk that we would go too far [with rate hikes]? Certainly there's a risk," Powell said. "But I wouldn't agree that that is the biggest risk to the economy. The bigger mistake to make would be to fail to restore price stability."
China's Economy Shows Signs of Improvement as Covid Eases – BNN
(Bloomberg) — China's economy showed further signs of improvement in June with a strong pickup in services spending as Covid outbreaks and restrictions were gradually eased.
The official manufacturing purchasing managers index rose to 50.2 from 49.6 in May, the National Bureau of Statistics said Thursday, slightly below the median estimate of 50.5 in a Bloomberg survey of economists. It was the first time since February that the index was above 50, indicating expansion in output compared with May.
The non-manufacturing gauge, which measures activity in the construction and services sectors, climbed to 54.7, the highest in more than a year and well above the consensus forecast of 50.5.
China's CSI 300 Index rose as much as 0.9% while major stock gauges in Asia broadly fell.
Government restrictions to contain Covid outbreaks have gradually eased over the last month. The financial hub Shanghai lifted its two-month lockdown at the start of June by allowing more shops to reopen, more factories to resume production, and for port operation to pick up.
The data suggests "the pace of recovery accelerated as the Covid situation stabilized," said Peiqian Liu, chief China economist at NatWest Group Plc. There was a "broad based but still soft recovery in both production and new orders," and the figures show the rebound is still milder compared with the recovery from the Wuhan lockdown in 2020, she said.
Some 19 of the 21 sectors in the service sectors tracked in the survey returned to expansion last month, up from just six in the previous month, according to the NBS. Gauges of sectors previously hit badly by the outbreaks all improved, such as railway transport, air transport, accommodation, catering and entertainment.
The recovery remains fragile though as the country sticks to its Covid Zero strategy, meaning restrictions could be tightened if outbreaks of the highly transmissible omicron variant flare up again. Chinese President Xi Jinping reaffirmed his Covid Zero policy this week, saying it was the most "economic and effective" for the country.
Economists, meanwhile, are holding firm on their gross domestic product growth forecasts for this year. The median projection in a Bloomberg survey for 2022 growth is 4.1%, well below Beijing's annual target of around 5.5%. Bloomberg's aggregate index of eight early indicators showed some improvement in June, though the recovery remains muted.
(Updates with additional details)
©2022 Bloomberg L.P.