US stocks close at all-time highs as earnings roll in – BNN
Stocks advanced to another record as solid corporate earnings overshadowed disappointing manufacturing data.
The S&P 500 rebounded from earlier losses, led by gains in energy and consumer-discretionary firms. The Dow Jones Industrial Average touched the 36,000 level for the first time. A gauge of small caps climbed 2.7 per cent. A group of retail-trader favorites like GameStop Corp. and AMC Entertainment Holdings Inc. had its best day since late August.
More than 80 per cent of companies in the S&P 500 reporting third-quarter results have topped Wall Street estimates. That has laid the groundwork for a rally in stocks since the earnings season began. Meanwhile, data showed persistent supply-chain challenges weighed on manufacturers in October. Fed officials meet this week as investors fret the economy is facing the most-widespread supply crunch since the oil crisis of 1973.
"There's no shortage of things to worry about," said Evan Brown, head of asset allocation at UBS Asset Management. "I would just say that stocks climb the wall of worry. We do anticipate more of a rotation as people gain more faith that the economy is on sounder footing. We should see rebalancing from growth stocks into value stocks."
For Morgan Stanley strategist Michael Wilson, the bullish trend for equities may continue into the Thanksgiving holiday later this month, but "not much longer" as the Fed is expected to start tapering and earnings growth will slow further into next year.
Some other corporate highlights:
Electric-vehicle giant Tesla Inc. jumped amid a lithium supply deal and the start of the COP26 climate summit.
Zillow Group Inc. is looking to sell about 7,000 homes for US$2.8 billion, according to people familiar with the matter.
Moderna Inc. slumped after its COVID-19 shot failed to secure U.S. regulatory authorization in teenagers.
Some of the main moves in markets:
Stocks
The S&P 500 rose 0.2 per cent as of 4 p.m. New York time
The Nasdaq 100 rose 0.3 per cent
The Dow Jones Industrial Average rose 0.3 per cent
The MSCI World index rose 0.5 per cent
Currencies
The Bloomberg Dollar Spot Index was little changed
The euro rose 0.4 per cent to US$1.1606
The British pound fell 0.1 per cent to US$1.3662
The Japanese yen was little changed at 113.99 per dollar
Bonds
The yield on 10-year Treasuries was little changed at 1.56 per cent
Germany's 10-year yield was little changed at -0.10 per cent
Britain's 10-year yield advanced three basis points to 1.06 per cent
Commodities
West Texas Intermediate crude rose 0.5 per cent to US$83.96 a barrel
Gold futures rose 0.6 per cent to US$1,794.90 an ounce
What's Happening in the World Economy: Virus Fears Return – Bloomberg
Hello. Today we look at how coronavirus fears are rising again after the discovery of a new variant, the state of China's economy and concerns about the outlook for trade.
B.1.1.529
Inflation, central bank tapering, supply chain snarls, a looming fiscal cliff — they all dropped a notch on the global economy's list of concerns Friday as the Coronavirus shot back to the top.
A new variant called B.1.1.529 has been identified in South Africa and has already spread as far as Hong Kong, where it infected two travelers in hotel quarantine. See here for more details.
Stocks, Treasury yields and oil sank while the yen jumped — all hallmarks of investors bracing for uncertain economic times.
"What was expected to be another quiet day for markets, as U.S. activity is muted, is now likely to be rife with anxiety over the new variant and its implications for economic activity going forward," Siobhan Redford, a Johannesburg-based analyst at FirstRand Bank, told clients in a report.
For South Africa's economy, the news is a particular body blow especially for its already shaky tourism sector, which would have been eager to welcome foreigners chasing winter sun. The European Union, U.K. and Singapore have already curbed travel.
More broadly, there will be fears the new strain could fuel outbreaks in more countries, stretching health systems, potentially evading vaccines and complicating efforts to reopen economies and borders. The concern alone could dampen the confidence of consumers and companies, which had been showing signs of picking up.
Money markets are offloading bets on central bank interest-rate hikes in a hurry, as inflation fears give way to concerns that the variant may spread globally.
If contained, the new as-yet unnamed strain may prove to be just a scare for markets. The coming days and decisions from the World Health Organization will be closely watched for any broader spread.
At a minimum, however, it's yet another reminder that Covid-19 is going to remain the wild card for the global economy and will continue to shape the recovery and what policy makers do next.
"Each new variant entails the risk of the vaccination progress being undone," said Ulrich Leuchtmann, head of currency strategy at Commerzbank. "The thoughts of a world post-Covid suddenly become all confused."
—Malcolm Scott and Simon Kennedy
The Economic Scene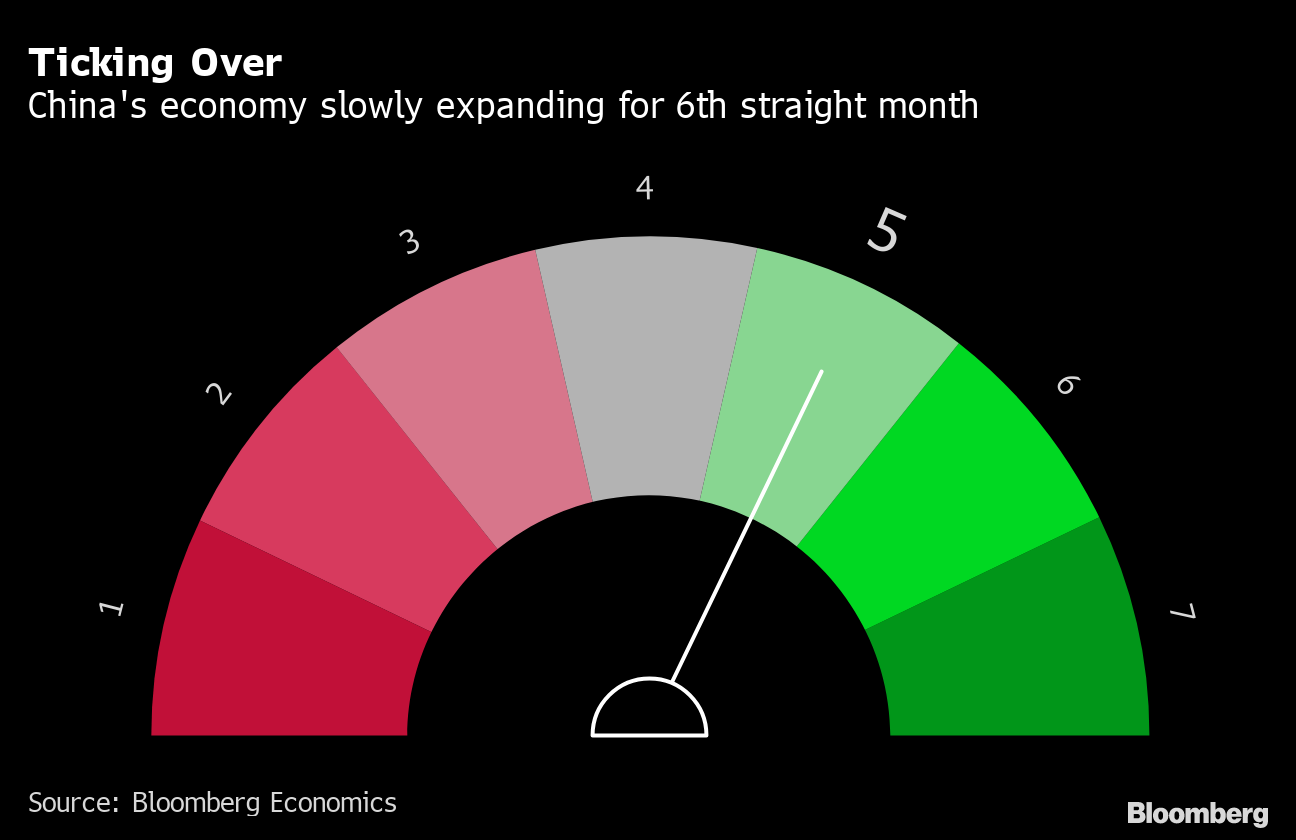 China's economy continued to slow in November with car and homes sales dropping again as the housing market crisis dragged on.
That's the outlook from Bloomberg's aggregate index of eight early indicators for this month. While the overall number stayed unchanged, under the surface there was a further deterioration in some of the real-time economic data.
Today's Must Reads
Need-to-Know Research

"Faintly in the distance: the contours of a big export slump are becoming visible."
That's the ominous warning from HSBC's co-head of Asian economic research Frederic Neumann in a research note. He notes that export volumes have contracted in recent months and new export orders are declining. And that's set to continue as the shift away from goods demand towards services will knock down shipments from Asia.
"After powering through the pandemic, a trade hangover now looms," he says.
On #EconTwitter

Read more reactions on Twitter
Enjoy reading the New Economy Daily?
Ocean Economy: The Next Wave of Sustainable Innovation – Visual Capitalist
Exploring the Digital Asset Ecosystem
The digital asset sector has undergone a rapid expansion over the past couple of years, growing in value and functionality.
Beyond the price growth of popular cryptocurrencies, digital assets are powering innovative applications that enable value transfer beyond just payments. From tokens that grant dividend-like revenue to holders, to tokens backed by other digital and physical assets, the digital asset ecosystem is redefining asset and financial structures before our very eyes.
This framework created by Arca explores and defines the state of the digital asset ecosystem, looking at how traditional assets might one day be integrated into this new taxonomy.
The Functions and Types of Digital Assets
Digital assets can be broken down into three different types of assets that fulfill three primary functions. The first two functions of digital assets, store of value and medium of exchange, are well established functions of digital and traditional assets.
However, a third functionality of being able to pass through values to holders has emerged, with benefits like discounted application fees, governance voting rights, and monetary rewards passed onto token holders.
These functions are fulfilled by three main types of digital assets:
Currency: tokens that are a unit of account and medium of exchange
Asset-backed tokens: tokens backed by hard assets like equity, debt, or physical assets
Pass through tokens: tokens that grant revenues, rewards, and network benefits to holders
Many know of Bitcoin, the founding cryptocurrency that functions as a digital currency today. Along with this, tokens whose value is backed by other assets like Arca Lab's ArCoin (Ticker: RCOIN) are also straightforward in nature and functionality.
Pass through tokens are where digital assets explore innovative concepts and structures unique to the blockchain networks that underpin the assets.
For example, cryptocurrency exchange FTX issued an exchange token (FTT) at launch, which provides holders with reduced trading fees on the platform. FTT holders can also stake, or lock up, their tokens to receive increased referral rebates, more votes in FTX polls, and more airdrop rewards (tokens exclusively given out to holders or stakers of another token).
Classifying Governance and Decentralization
Along with token types and their functionality, it's important to understand the governing bodies and governance structures behind digital assets.
The governing body is the entity that issues and controls the function of a digital asset, ultimately defining the purpose and proposed value of a digital asset. These range from centralized governments and organizations, like the government of the Bahamas (issuer of the CBDC, the Bahamian Sand Dollar) to Decentralized Autonomous Organizations and blockchain protocols like Ethereum (ETH) and Solana (SOL).
| Governing Body | Governance Structure |
| --- | --- |
| Government | Centralized |
| Organizations | Centralized |
| Individuals | Centralized |
| Decentralized Autonomous Organizations (DAOs) | Decentralized |
| Protocols, Platforms, and Dapps | Typically decentralized |
Governance structures define the framework and procedures which decide and implement changes for a digital asset. These changes can be about anything, like the digital asset's tokenomics, pass through values, or future development goals.
While some governing bodies like governments and organizations have centralized governance structures, centralization and decentralization isn't all or nothing and can be seen as more of a spectrum.
Certain DAOs or protocols might have a core team of developers that propose certain features, which are then voted on and ultimately decided by the holders of the digital asset.
The Future of Traditional Assets in a Digital Framework
With an established taxonomy of digital assets, we can start to map out how traditional assets fit into this framework.
From tokenizing real estate and commodities for easier digital exchange and settlement to equity-like tokens issued by companies that provide holders with voting rights or non-financial rewards, digital assets will reshape the traditional asset structures of today.
By providing unbound and transparent asset structures, digital assets are providing people around the world with more freedom in storing, transferring, and accruing value.
Go to Ar.ca to learn more about digital assets today.
'Miracle on Saint-Laurent Street': Quebec economy sees country's strongest post-pandemic rebound – The Globe and Mail
Quebec's economy is poised to outperform every other Canadian jurisdiction this year in a remarkable rebound from the pandemic that has put the province on track to record its highest annual GDP growth on record.
The provincial government will spend some of its windfall on cost-of-living bonuses and training programs to help fight the labour shortage and inflation that plagues the province, Finance Minister Eric Girard said during a press conference announcing his fall fiscal update on Thursday.
But the surprisingly strong revenues will also allow Quebec to continue reducing its deficit and debt burden as it continues to close the persistent wealth gap with Ontario that Premier François Legault has made a fixation.
After economic activity declined by 5.5 per cent in 2020, it is expected to bounce back by 6.5 per cent this year, leaving the province richer than before the pandemic, according to government projections. That is much faster growth than the 4.2 per cent expected and slashes $5.4-billion from the projected provincial deficit.
"The economic performance of Quebec in 2021 was exceptional," Mr. Girard said.
Analysts largely agree with the Finance Minister's rosy assessment. In a recent research paper titled Miracle on Saint-Laurent Street, Bank of Nova Scotia economist Marc Desormeaux observed that growth of 6.5 per cent would be an "all-time record" for Quebec. It would also outpace Ontario and Canada as a whole, a rare distinction for a province that has traditionally lagged the rest of the country in GDP growth.
Quebec's rocketing fortunes were fuelled in part by the timing of public-health measures, which the Legault government rapidly eased in the summer of 2020 after the pandemic's first wave that led to a "staggering" 80-per-cent rise in household consumption in the third quarter of that year, Mr. Desormeaux said. Generous federal and provincial aid also injected life into the economy.
But Quebec's boom times precede the recent recovery, the bank report points out, with large increases in full-time jobs and wages between 2017 and 2019, along with a household saving rate before the pandemic that was significantly higher than in the rest of Canada. Those strong fundamentals have helped the province emerge from the COVID-19 crisis in good shape, Mr. Desormeaux said.
"There's a whole lot of momentum in Quebec's economy."
In his fall update, Mr. Girard acknowledged anxieties about the twin afflictions of inflation and labour shortages facing much of the Canadian economy. To help Quebeckers with a rising cost of living, he announced single lump-sum payments for low- and middle-income households, amounting to $400 for couples and $275 for people who live alone.
The province will also spend $2.9-billion over five years "to combat the labour shortage" by paying for the training, requalification and recruitment of as many as 170,000 workers, with a focus on the health, education, and engineering and IT sectors.
Despite new spending, strong economic growth allowed Quebec to revise its deficit and debt projections downward. This year's budget deficit is now pegged at $6.8-billion, fully $5.4-billion less than expected. The province will also be able to reduce its gross debt level faster than anticipated, from 46.8 per cent of GDP in March of this year to an expected 44.3 per cent next March. The acceleration "can be explained by the strength of the economic recovery," according to the economic and fiscal summary.
The raft of good news has allowed Quebec to play catch-up in its quest to close the wealth gap with Ontario, a goal the Legault government has repeatedly emphasized in its three years in power. Between 2017 and this year, the gap shrunk from 16.4 to 12.9 per cent. On Thursday, the government stated its ambition of eliminating Ontario's wealth advantage altogether by 2036.
Asked whether that was an excessively long timeline, Mr. Girard pointed out how persistently Quebec has trailed its richer neighbour. "Fifteen years to close a wealth gap that's been there for almost 100 years, I think that's realistic," he said.
Despite the province's strong showing, some critics charge that it is misspending its unexpected revenue bump. The Conseil du patronat du Québec, a business group, said the work force measures don't go far enough and that it was surprised by the lack of immediate help finding employees, calling this the "most serious labour shortage in [Quebec's] recent history."
While praising the government for continuing on its path to cutting the deficit, Maria Lily Shaw, an economist with the conservative Montreal Economic Institute, said she would have preferred the government to balance the budget sooner.
Our Morning Update and Evening Update newsletters are written by Globe editors, giving you a concise summary of the day's most important headlines. Sign up today.