Valentine's Day alert: Penticton Art Gallery's Loving Mugs packages go on sale today – Penticton Western News – Pentiction Western News
The fourth annual Loving Mugs Project is finally here at the Penticton Arts Gallery, just in time for Valentine's Day.
But due to restrictions surrounding COVID-19, the gallery will not be hosting this event in person like they usually do.
"Instead, we are offering take-home packages just in time for the day of love," said McKaila Ferguson, PAG's collections and communication manager.
Each package will be lovingly wrapped and ready for you to give to your partner on Valentine's Day, a friend on a coffee date, or for you to enjoy for yourself, she said. The packages will also have one handmade mug, a 'Top Secret' recipe book featuring recipes for delicious specialty drinks and treats, as well as coupons for coffee and other goodies from some fabulous local cafes.
The participating cafes are Seis Cielo Specialty Coffees, Blenz Coffee Penticton, Nautical Dog Cafe and KJ Coffee Bar out in Okanagan Falls.
All proceeds from the Loving Mugs Project will benefit the Penticton Art Gallery's events and programming, including Little Leonardos Pro-D Day Camps; Creative Kids Art Adventures; Young@Art after school program; Topics + Tea Lecture Series; Artist Talks; Workshops; Spring Break Creativity Classes; Seniors Wellness art classes and more.
Before COVID-19, the Loving Mugs Project was a must-attend event at the gallery with a chili cook-off where the best local chefs went up against each other to capture the Loving Mug trophy.
In 2019, more than 100 people turned out to the chili cook-off.
That year, the Loving Mug trophy for most popular chili went to Brodo Kitchen's carnitas pork shoulder chili.
Smuggler's Smokehouse, with their smoked pork chili, won the Hipster trophy for the most unusual chili.
The Bench Market laid claim to the "beaniest" of all with their squashed chili, winning the Climate Changer trophy.
Loving Mugs packages are $30 for members and $35 for non-members.
Starting today, Feb. 8, you can pick up your Loving Mugs package.
Call the gallery at 250-493-2928 for more info or go online to pentictonartgallery.com.
To report a typo, email: editor@pentictonwesternnews.com.
---
@PentictonNews
newstips@pentictonwesternnews.com
Like us on Facebook and follow us on Twitter.
Artist Akie Nakata Sells Her Stone Art Almost Instantly Through Facebook – Forbes
It takes less than 10 minutes, and sometimes as little as two, for Japanese artist Akie Nakata to sell her hand-painted stones on Facebook. Mere seconds after sharing a photo of her latest creation, a fan will step up to buy it.
Although Nakata sells her work through the Seizan Gallery in Tokyo and Tokyo's Ginza Mitsukoshi Department Store, Facebook has provided a way to expand her audience outside Japan. Her Facebook group currently has nearly 85,000 followers.
Nakata's pieces are palm-sized river stones featuring detailed images of lifelike animals, which she paints with acrylic gouache paint. Her pieces have sold for between $300 and $1,500.
Letting the Animal Emerge
Her artistic process doesn't start with an intent to paint a particular animal, rather, the rocks she sees guide her. "I paint the animal that I feel is inside the stone, following the backbone and the body structure that is visible on the stone," she explains. "I believe it is the stone that decides what is to be painted, rather than me deciding…I color the animals that I feel inside the stones, so as to let them manifest on the surface."
"What I aspire to draw is something that gets newly born in my hand, through my dialogues with the stones. I want to paint the 'life' of the animals that I felt in the stone," she says. "At the end of my painting process, when I put my brush onto the stone to paint the eyes, there is this moment I feel it is completed, when the eyes look back at me."
"As a work mode, it's important for me to never alter the shape of the stone at all – no polishing/sanding, or no application of any undercoat material," Nakata says.
Her work has included animals ranging from dogs to birds to lions, cats, owls, lambs, fish, elephants, opossum, turtles, koala bears, and polar bears, to name a few. Although she has been painting since 2010, she says she has "encountered only five stones harboring an octopus."
Nakata collects her stones on several favorite riverbanks in Saitama, where she goes to look for "good encounters with the stones." Through those encounters, the animal images emerge to her. "The stones are not canvases to me; they are more collaborative partners that I encounter on riverbanks," she says. "More often than not, I am blessed with good encounters and take home with me several stones, but on other days I might not be so fortunate," returning home empty-handed.
A Born Artist
Nakata's foray into painting stones happened almost by chance, when she was walking on a riverbank during her university days and "encountered a stone that simply looked like a rabbit," she recalls. "I loved it and took it home, and I painted it as the stone led me."
"I've always loved drawing, natural stones, and animals – all living things," she says. However, her university training wasn't strictly in art – it was in art education. "I studied in the department of education, to become a junior high school teacher," she says, studying "the general range of art curriculum." However, her painting process is self-taught.
Today she dedicates herself to her craft full-time. This year her goal is to create more than 100 pieces, though she says her workload, or productivity, varies depending on whether she has gallery exhibitions scheduled.
In addition to Facebook, Nakata has an account on Instagram and Twitter, where she posts her work as they become available. She has not used any form of paid advertising and has organically amassed 105,000 followers on Instagram and 15,000 followers on Twitter, on top of her tens of thousands of Facebook fans.
"I always hope that each and every piece of my work reaches someone who values the encounter with the stone, just as I appreciate my encounter with that particular stone," Nakata says. She suspects that her social media fan base has grown because her audience "feels empathy" for the connection she feels with the animal, the stone, and the earth from which it emerged.
No More Rules: How Boccara Art Galleries Came Full Circle Online – Forbes
While the arts industry is struggling to cope with the post-pandemic rules of public engagement, there are also examples of institutions adapting well and even thriving under the New Normal. Throughout 2020 my reporting highlighted the rise in demand for video art and transition to virtual reality formats as well as establishment of curators as arbiters of culture at large. Recently, I came across a story that at first seemed counterintuitive: a network of contemporary art galleries specialized in physical pieces expanding into new markets despite international movement restrictions and volatility of global financial markets. How does one secure a creative business in our turbulent times? Since 2007, Boccara Art Galleries has been fostering a type of organizational model previously reserved for larger iconic institutions like Louvre Abu Dhabi or Guggenheim Bilbao: several branded locations co-managing multiple agendas. With presence in eight major cities on three continents, Boccara is becoming a known force of intercultural diplomacy. I reached out to the Boccara Art Galleries founder Liubov Belousova and Julia Bogichevich, co-founder of the Boccara Moscow outpost, to see how current cross-industry conditions are impacting their vision, strategy and daily operations.
Many art institutes are closing. You are opening new locations. Tell me, what kind of magic do you practice?
Liubov Belousova, Boccara Art Galleries founder (LB): There is no magic. I've never done anything but sell art since I was 18. You just get better at your job with time. It's the only thing I know how to do and the only thing I want to do.
How does an 18-years old start to sell fine art?
LB: It was destined, I think. [Laughs] In 2001, in my second year at the university, I had to create a website to pass my computer science exam. Most people made personal pages but decided to use photos of art works from several artist friends. Out of the blue, I received a phone call from an international development company with a huge office in the heart of Moscow. They wanted to buy four featured works! My student project, in fact, became one of the first fully digital gallery in Russia. Now everyone wants to take art business online, but we've been doing this for twenty years already.
Is the art market embracing e-commerce as readily as the fashion or music industries?
LB: Sure, it's possible to buy art which costs hundreds of thousands of dollars from your sofa. The Internet has reduced the distance between the artist and the collector. People don't need galleries, because they can find whatever they want. However, art collecting is not about transactions. In today's world "trust" is the most precious commodity. Most people need to understand what they are buying and why before they make their decisions. People need emotional connections, so physical galleries become important in a different way. We don't expect all who come in to buy something immediately. Most people follow their curiosity first. They may discover an artist and buy their works online later.
Did multi-space approach prove to be a liability or strength during the pandemic?
LB: Since our first place opened in 2007, we invested significantly in following the collectors and engaging local art scenes in popular destinations. I said early on, "We want to be everywhere!" It is our strength that you can look up a Boccara gallery in most major art cities and find one. Every gallery of the group shares their local talent with the other branches. It helps to give a better visibility to our artists who can be seen literally around the world. We also participate in a dozen international art fairs each year. Having our own space in some of those host cities is another plus! I think that's part of a much deeper question. How do we see the future of the art business? In this new reality is there a reason for physical shops? For us, so far, the answer is absolutely yes!
How do you see the global art scene changing post-pandemic?
LB: I have spoken with many colleagues over the last months and the only thing everyone agrees on is that there are more buyers today than ever before. We have a lot of new buyers who have never bought art online before. Buyers today have much more freedom to choose and they are much less influenced by trends and headlines. It doesn't matter if you are dealing with works for under $5.000 or competing in the $500.000+ niche. Overall, the market has become much more affordable and transparent.
Is art still considered a risky investment?
Julia Bogichevich, co-founder of the Boccara Moscow outpost (JB): Quite the opposite! There is a growing recognition of art as an investment asset class by investors as well as people becoming more educated and sophisticated in their estate planning. Not so long ago, there was a perception that fine art was reserved for the rich and the very rich. Now a much larger and more diverse community has started to be interested in collecting. The art market is not as sensitive to collective panic cycles. During the 2008 financial crisis, for example, art indexes fell by 4.5% while those of the S&P 500 plummeted by 37.5%. The current socio-economic climate also creates a demand for 'real assets' because many see the ups and downs of tech industries or bitcoin as unreliable.
How do you choose the artists to represent?
JB: It is a matter of personal taste and understanding global trends. We are working a lot with Korean artists right now. Traditionally, Korean art was about harmonizing with nature and refraining from expressing extremes. The new fusion wave from the Gangnam Style hit to last year's Oscar winning Parasite is consistently challenging the conventional boundaries. We introduced Hyun AE Kang to American audiences with an exhibition at Muzeo Museum in Anaheim, California and now bringing the show to Russia in March. Kim Seungwoo's work with coins and buttons is a fascinating critique of monetary relations within the arts. We love the dreamlike installations by Kim Jeong Yeon, too! The fantastic mother- daughter Cha Yun Sook & Hayeon create beautiful textile and paper-based pieces. Meanwhile, Krista Kim is a founder of a revolutionary new art movement called 'Techism'… There is so much to explore there!
Any advice for emerging artists trying to succeed commercially?
JB: Concentrate on growing your name and becoming better and better in what you do! Find your unique vision, your own techniques and cultivate them to perfection. Important to have an international way of thinking because in our days there are no borders for art and collectors are able to find you everywhere in the world. The attention will come.
LB: Remember, there are no more rules! [Laughs]. There is absolute freedom for creating and finding new ways to connect with audiences. Don't be afraid to reach out directly to different galleries to ask their opinion. Keep on re-inventing yourself. It is our business motto, too!
MacLaren launches new public art series using downtown Barrie windows – BarrieToday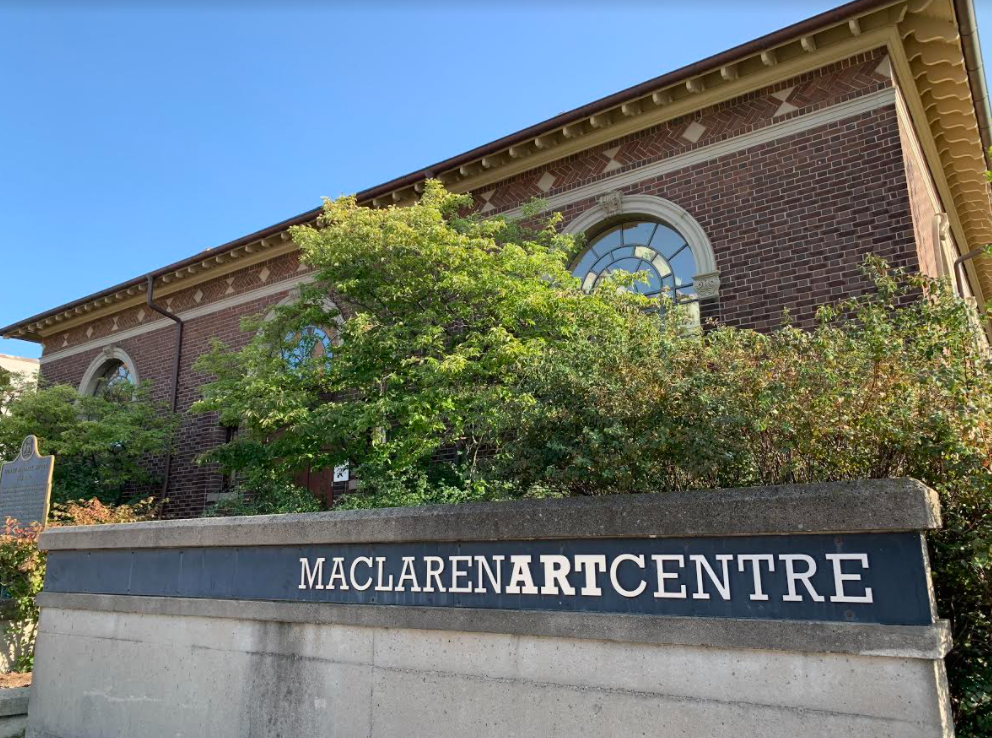 NEWS RELEASE
MACLAREN ART CENTRE
*************************
Barrie buildings are soon to become art canvases as part of an intimate new outdoor public art project Wintertide. An initiative of the MacLaren Art Centre, this three-part series will utilize downtown windows to show projections of works by regional artists as well as a special international feature. From March 10 to 24, the project will transform ordinary public spaces with light, bringing joy and excitement to our community during these dark and difficult times.
Wintertide is intended to be an annual program run in collaboration with the City of Barrie and the local arts community. This year's theme, Return of Light refers to the time change that occurs at the culmination of the project as well as the optimism afforded by mass vaccination and the eventual end of the pandemic.
MacLaren Executive Director Karen Carter says, "The program was conceived by our team, not only to brighten spirits, but also to provide support to local artists who have lost opportunities to show their work due to the pandemic. The projections will encourage residents to go outside, shop locally at downtown businesses and enjoy art while observing safe social distancing protocols."
As part of the two-week installation, artwork and short films will be projected onto the MacLaren Art Centre's Mulcaster and Collier Street windows. Additional displays will feature on windows at City Hall and the empty storefront at 46 Mulcaster St. Each art projection is approximately two minutes long and will be repeated on a continuous loop during the display hours.
Angela Aujla (Barrie), David Andrec (Barrie) and Krystal Ball (Toronto and Jamaica) are artists who have contributed to the project this year. Their artwork was selected to bring light and colour to the downtown core during the darkest days of the year and is meant to be a hopeful presence for passersby.
Joining the local artists, Los Angeles-based filmmaker Tarun Lak, has offered his India Vignettes video compilation to the series. An animator at Pixar Animation Studios, Lak is known for his playful work, which captures the familiar ways in which Indian children revel in their little moments of joy. Audiences can learn more about Lak's practice in a free Zoom talk in March with the artist, Alana Traficante, Executive Director at Gallery 44 and Deepali Dewan, Dan Mishra Curator of South Asian Art & Culture at the Royal Ontario Museum.
Wintertide is part of a broader series of public programs at the Gallery known as MacLaren Offsite, which features local, national and international artists in collaborative pop-up exhibitions and community art projects across Barrie and Simcoe County. The program reflects the Gallery's commitment to building a vibrant, healthy and creative community in the region.
This year's Wintertide initiative was executed with a number of community partners from the Barrie artistic and cultural communities and made possible through the generous support of Founding Partners: the City of Barrie, Georgian BMW, the Sarjeant Company, Canadian Forces Base Borden and Simcoe County Archives.
All art projections featured in Wintertide can be viewed from the intersection of Collier Street and Mulcaster Street in downtown Barrie. They will run daily from dusk to dawn through March 24, 2021.
To learn more about Wintertide, visit www.maclarenart.com or follow along with updates on the MacLaren Art Centre's social media platforms on Instagram, Facebook and Twitter.
*************************