Vancouver council denies art program funding for vulnerable drug users
The majority on Vancouver city council have voted not to approve $7,500 in funding for an art program on the Downtown Eastside, citing – in part – the need to "send a message" to the organization facilitating the drop-in.
At Tuesday's meeting, council was presented with a staff report recommending a combined $4,351,340 in arts and culture grants, to be distributed to 209 organizations.
Coun. Brian Montague, who is with the majority ABC party, asked staff about a particular line item in the report that proposed funding the Vancouver Area Network of Drug Users' art table. His concern, he said, was that the organization failed to deliver what it promised when it was given a sizeable grant to clean up East Hasting Street last year.
"Was the fact that the city terminated that funding to this group last year factored into the decision to grant them more money?" Montague staff.
In response, cultural manager Cherryl Masters said the particular program was funded last year and met all of the criteria.
"The criteria is really about impact in the community," she said.
"This project was well received by the community peer assessors in terms of offering some low income residents of the Downtown Eastside some opportunities to have a voice, be creative, to be off the streets and maybe access some other resources that VANDU provides," she continued.
The termination of the $320,000 street cleaning grant, Masters said, was not relevant to assessing VANDU's ongoing eligibility to receive funding for the art program.
"That was a very new activity for them. We knew we were trying something new and it didn't work out. In this situation, this is a program that they have run before and and it was successful. We do have confidence in this particular program," she said.
AMENDMENT TO DENY FUNDING 
When it came time to vote on the staff report and its recommendations, Montague introduced an amendment to approve everything but the $7,500 for VANDU.
"I have concerns about the guidelines that were used to recommend the grant based on past performance," Montague said.
"I personally don't have confidence that they would deliver the program and service and I disagree with the funding for the organization."
Green Party Coun. Pete Fry was the first of the three non-ABC members to speak out against the amendment, saying the grant itself is modest and that it promotes art as a mode of healing and self-expression.
"I think it would be a mistake to deny this $7,500 for folks to express themselves in the midst of this disastrous overdose crisis," he said.
"We're talking about a drug crisis, which since it was declared a public health emergency in 2016 has claimed more than 10,000 lives in British Columbia. So when we talk about art as a vehicle of expression, we're talking about people in a population who have really suffered some pretty catastrophic losses in that community."
ABC councillors were unanimous in their support of the amendment, all citing the street cleaning grant as evidence that the organization should not be entrusted with more public money.
"I know this is only $7,500 we're talking about and I am a big supporter of the arts and culture sector. But we have to draw the line somewhere, and I believe – as a council – we need to send a message," Coun. Peter Meiszner said.
Coun. Sarah Kirby-Yung said that what was at stake was more than a single grant.
"I think it is incumbent upon us as stewards of public funds that the principle of responsible use of public money is upheld," she said.
A 'POLITICAL' DECISION?
OneCity Coun. Christine Boyle, like Fry, spoke against the amendment, saying the funding was modest and concurring with Fry that the organization was being singled out. She also questioned the motivation for the move.
"This is a small grant for a project that they have delivered successfully in the past and that has had a meaningful impact in the past. I support this grant. I don't support the amendment to remove it and I will also say I am concerned about the politicization of eliminating small grants for very vulnerable residents like this on the floor of council," she said.
"We are nickel and diming a small, frontline organization that really is serving those most at risk and a community that has been witnessing their friends and neighbors die in unbelievable numbers in recent years," she later added.
VANDU, as Fry noted during the meeting, does engage in political activity by organizing protests and rallies and pushing for changes to drug policy. More recently, at the municipal level, the group's activism has included campaigning against the election of Mayor Ken Sim and members of his party – as well as speaking out against particular policies and promises such as increasing funding for the Vancouver Police Department.
Montague is a former officer and spokesperson for the department.
"VANDU have done some political things that have possibly created a scenario where we're, we're looking at VANDU through a different lens," Fry said.
"this is a decision that is being put forward and supported by the majority of one political party at this council. You can interpret that as you will," he later said.
Sim, voting in support of the amendment, said he was doing so to send a message about accountability and responsibility, not to single out one organization.
"The expectation at the City of Vancouver is when you do business with the City of Vancouver, we are going to hold you up to a higher level of accountability. And so that's why I will support this motion. It has nothing to do with VANDU per se," he said.
"It's a privilege not a right to be able to do business with the City of Vancouver. And that's the type of culture that we want to lead here while I'm in office."
Great news: The future of Catholic art is alive and well – Aleteia
Amazing contemporary art is compiled into a gorgeous new volume … a wonderful thing for all fans of sacred art!
You can get Aleteia inspiration and news in your inbox. Our specially curated newsletter is sent each morning. The best part? It's free.
Take a walk through any art museum and you'll see the glorious heritage of Catholic art.
Catholic sacred art is central to the history of Western art. There are countless beautiful examples of art depicting Christ, the Bible, the saints and the angels in museums and churches all over the world.
But most of these works were made centuries ago, and we might wonder whether they will be followed by anything comparable in our present age. After all, much of modern art doesn't exactly inspire a sense of admiration for truth, beauty and goodness.
The good news is that the future of Catholic sacred art is alive and well. And there are plenty of examples to show you.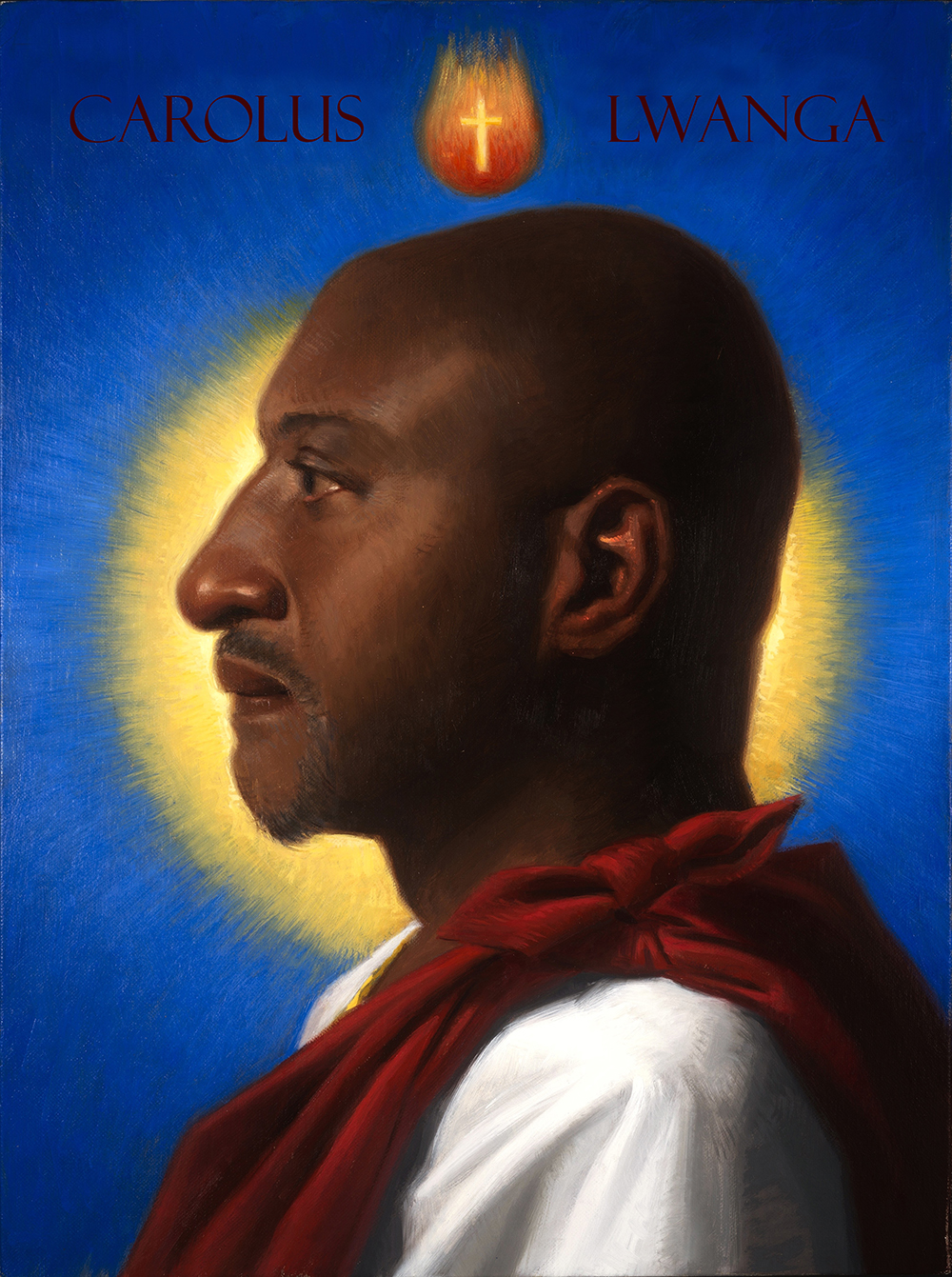 Neilson Carlin | Courtesy of Ignatius Press
One of today's great artists, Marco Caratelli, lives and works in Siena, Italy. He specializes in the rare, ancient and beautiful egg-yolk tempera technique. His work draws comparisons to Fra Angelico and other all-time great artists.
Another is Christopher Alles, a sculptor of sacred art who works in Poughkeepsie, New York. He studied European sacred art in Italy, and today, his award-winning work is both inspired by and reminiscent of Michelangelo.
Even closer to home, there are a number of contemporary Catholic artists producing truly extraordinary works. Samples of their work are now compiled into a breathtaking new volume … a wonderful thing for all fans of sacred art!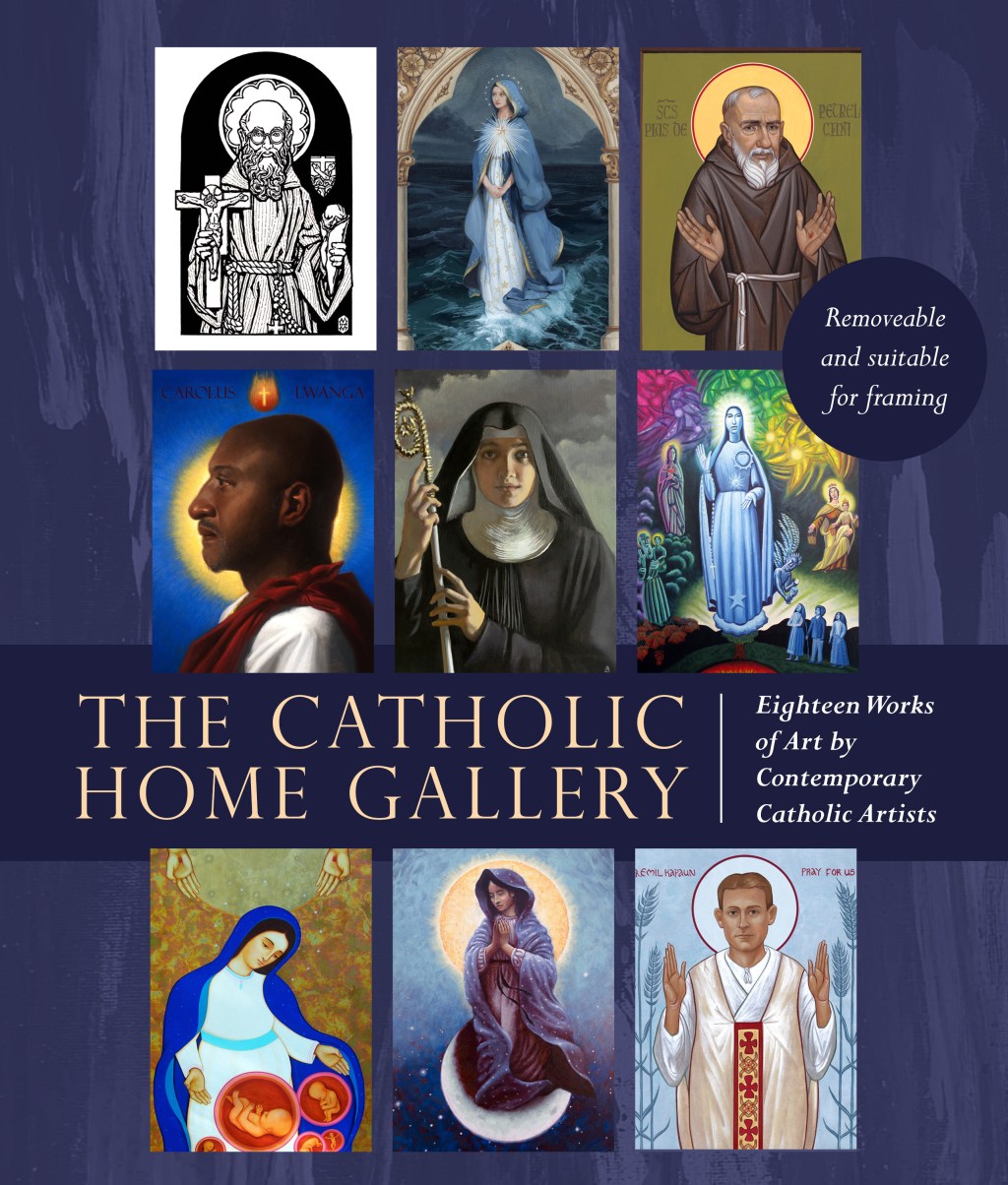 Courtesy of Ignatius Press
This new art collection, The Catholic Home Gallery, makes it clear that Catholic art is not something of the past. The volume showcases 18 works of sacred art by contemporary artists, revealing the beautiful diversity of their impressive talents.
The nine artists represented in the volume are Matthew Alderman, Neilson Carlin, Bernadette Carstensen, Matthew Conner, Gwyneth Thompson-Briggs, James Janknegt, Timothy Jones, Michael D. O'Brien, and Elizabeth Zelasko. The collection is the perfect introduction to their work, and can be a jumping-off point for exploring it in greater depth.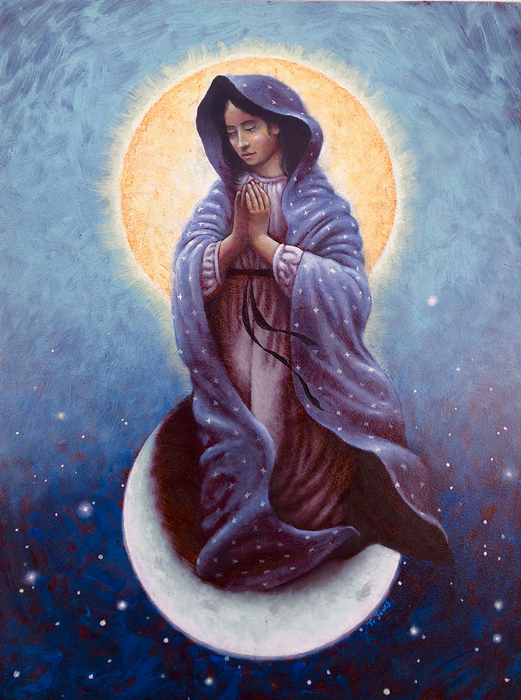 Timothy Jones | Courtesy of Ignatius Press
The editor of the collection is John Herreid, a graphic designer and illustrator for Ignatius Press. He brought a discerning and experienced eye to choosing the artwork for the collection.
Herreid explained some of the inspiration behind the collection, saying, "Most people are familiar with great Catholic art from ages past. But what many don't realize is that we have many, many great Catholic visual artists working today. My hope for The Catholic Home Gallery is that it will introduce people to a few of these artists, as well as lead them to seek out, discover, and support others!"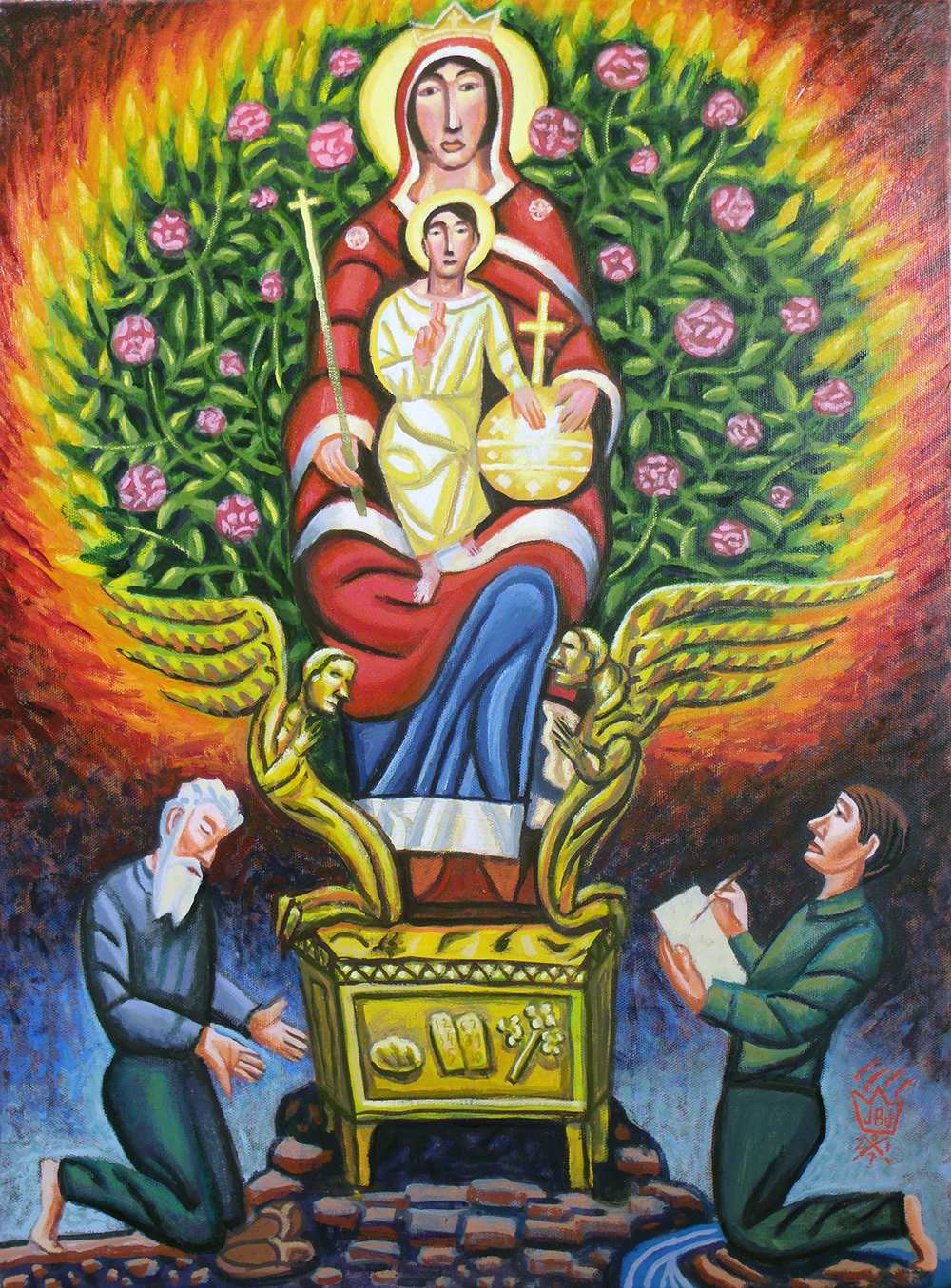 James B. Janknegt | Courtesy of Ignatius Press
He has been moved to see the positive response to the volume, saying:
It's been extremely heartening to see the response The Catholic Home Gallery has generated thus far. It shows that, far from being a static heirloom from the past, Catholic sacred art is an ongoing, dynamic force that can't help but move those who encounter it.
Best of all, each work in the collection is printed on an 8" x 10" detachable page, so you can easily remove it from the book and frame it in your home. What a perfect way to build your own collection of sacred art!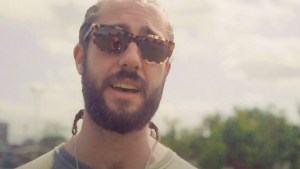 France buys new masterpiece for Orsay museum with LVMH gift – CP24
The Associated Press

Published Monday, January 30, 2023 8:14AM EST


Last Updated Monday, January 30, 2023 8:14AM EST

PARIS (AP) — France has acquired a stunning Impressionist masterpiece for its national collection of art treasures, with a donation from luxury goods giant LVMH paying the 43 million euros (nearly $47 million) for "A Boating Party" by 19th-century French artist Gustave Caillebotte.
The oil on canvas shows an oarsman in a top hat rowing his skiff on languid waters. The work, remarkable in its realism, delicate colors and almost cinematic perspective, as though the artist was in the boat with the rower, went on display Monday in the Musée d'Orsay. It is the latest addition to the Paris museum's already impressive collection of Impressionist art.
The painting was sold by Caillebotte's descendants. It had been one of the last Impressionist masterpieces still in private hands, said Jean-Paul Claverie, an adviser to LVMH boss Bernard Arnault.
Builder's clothing drive, tiny art show in Cowichan – Victoria Times Colonist – Times Colonist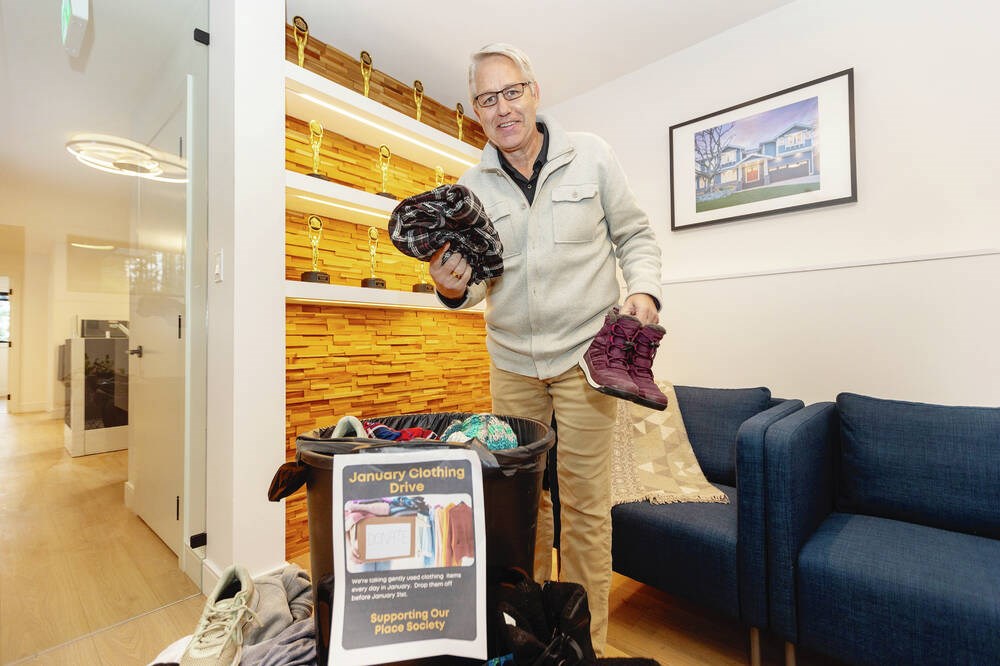 Builder's clothing drive to boost families in need
Donations of gently used clothing, shoes and ­accessories for all ages and sizes are being sought for a clothing drive hosted by LIDA Homes, now until Jan. 31.
All donated items will be given to Our Place Society to be distributed to families in need in the community.
"As a community-focused business, we feel it is our responsibility to give back to the families and ­individuals who have supported us throughout the years," said Dave Stephens, president of LIDA Homes. "We hope that this clothing drive will make a ­meaningful impact on those in need and encourage ­others to do their part as well."
Stephens has also issued a challenge to other ­builders to see who can collect the most clothing and have ­bragging rights.
The hashtag #LIDAclothingdrive has been created to encourage everyone to use it in their social media posts.
Donations will be accepted at LIDA Homes, 6015 Patricia Bay Hwy.
Tiny art show in Cowichan
More than 100 original artworks will be up for auction at the Six by Six Art Show and Auction, a special one-week fundraiser for the Cowichan Valley Arts Council, Feb. 3 to 11.
The name for the show stems from the fact that each of the locally produced original artworks is limited to six by six inches in size. In addition to paintings, the show includes some sculptures.
Janet Magdanz, president of the group, says working at that scale can be a real challenge for artists used to creating larger pieces.
"Yet our talented local artists have produced some outstanding work, creating landscapes, abstracts and pieces both whimsical and thoughtful," she said. "For buyers, the auction is a chance to pick up a small piece of work by a professional artist at a great price."
The art will be available to view and bid on both online and in person, with bids starting at $30.
Proceeds from the auction will support and expand the art council's youth programs and bringing regional shows to the gallery.
The finale of the week-long event will be a gala reception featuring live jazz, gourmet food and a cash bar, at the gallery Saturday, Feb. 11. Tickets are $25 and are available by calling the office at 250-746-1633 or at cowichanvalleyartscouncil.ca.
In your neighbourhood
Victoria council has voted to increase the maximum amount available for its My Great Neighbourhood Grants to $7,500 for placemaking and resiliency projects and up to $1,500 for activities in 2023.
The money is expected to support up to 36 community projects.
"The My Great Neighbourhood Grant program is incredibly important during these times when community is coming together again," said Mayor Marianne Alto. "It is exciting to see residents start to reconnect with the goal of adding vibrancy and resiliency to their neighbourhoods."
The funds are contingent upon matching equivalent contributions from applicants, including volunteer time and in-kind donations.
Grants are available to residents and community groups in the city. Not-for-profit organizations, schools or groups of residents can apply, although a sponsor is required for those without not-for-profit status.
In 2022, the city funded 13 community activities, 12 placemaking projects and 11 community resiliency projects.
Intake for the 2023 program will open in April, with city staff available to help residents through the application process.
Opera's the ticket
Pacific Opera Victoria is making a night at the opera more attainable by distributing more than 1,000 free tickets to more than 40 community organizations for a second year.
The organizations hand out the tickets to members of the community who may be experiencing barriers, giving them the opportunity to attend one of three Pacific Opera's 2022/23 mainstage live performances at the Royal Theatre.
"The North Park Neighbourhood Association was thrilled to participate in Pacific Opera's Ticket Access Program," said Sarah Murray, executive director of the association. "This program eliminates financial barriers to access, making Victoria's thriving arts and culture scene a more equitable and inclusive space."
Community organizations interested in taking part in the program should contact Pacific Opera. More information about the program is available at pacificopera.ca/ticket-access-program.
Art for Prospect Lake
The Prospect Lake District Community Association is looking for donations of artwork for its upcoming Art at the Lake fundraising online auction.
Proceeds from the event will be used for the maintenance of the heritage Prospect Lake Hall on the Saanich Peninsula, one of the last community-owned and maintained halls in British Columbia.
"Downsizing or just tired of looking at certain pieces? Give your old art pieces new life by donating them to Art at the Lake," said Barbara Newton, a volunteer organizing the sale.
The association is looking for donations of any type of art — prints, watercolours, pastels, oils, posters, collectibles, statuary, vases or objects d'art.
• To donate, email jackie.wrinch@shaw.ca or telephone Mavis at 250-361-3236 by March 19.
$400M recovery fund
Community service organizations, non-profit organizations, Indigenous governing bodies and charities on Southern Vancouver Island and the Cowichan Valley can apply for funding through the federal government's $400-million Community Services Recovery Fund, now until Feb. 21.
The money will help fund one-time projects focused on people, systems and program innovation. Organizations can apply for one of two tiers. Tier one includes funding ranging from $10,000 to $100,000, while tier two covers $100,001 to $200,000 for applicants that meet specific criteria.
United Way Southern Vancouver Island, the Canadian Red Cross and the Victoria Foundation will accept applications locally.
All unincorporated non-profits should apply to the Canadian Red Cross for funding for one-time projects that focus on how organizations recruit, retain, engage and support their personnel, including staff, volunteers and boards of directors.
Apply to the Victoria Foundation with projects that invest in systems and processes involved in creating the internal workings of an organization's overall structure.
The United Way Southern Vancouver Island will accept applications for funding to support projects primarily focused on program and service innovation and redesign using information gained during the COVID-19 pandemic.
"United, we champion initiatives, programs, and projects that integrate and make a significant, positive change in people's lives," said Danella Parks, director of community impact with United Way Southern Vancouver Island. "As society recovers and rebuilds, United Way is honoured to support this investment by the Government of Canada with a focus on program and service innovation and redesign in the nonprofit sector."
• For more information, go to communityservicesrecoveryfund.ca.
parrais@timescolonist.com