Vancouver councillor outs 'shocking' racism in B.C. real estate — but it's not the only example – Globalnews.ca
As the only kid of Chinese heritage at his school, Marcus Wong, who grew up in the posh West Vancouver neighbourhood known as the British Properties, says he got some strange looks.
"People would look at me and remind me subtly, 'This is why the British Properties are called the British Properties,'" said Wong, 39.
When Wong bought a house, he realized why he felt so unwelcome. There it was, in writing: a covenant on the land title barring people of African and Asian descent from living in this enclave.
"No person of the African or Asiatic race or African or Asiatic descent except servants of the occupier of the premises in residence shall reside or be allowed to remain on the premises," it read.
"The language is very striking and shocking," said Wong.
Wong is now a councillor for the municipality and has introduced a motion to have this particular language redacted from land titles. Technically, the province of British Columbia declared these types of covenants null and void in 1978.
But this part of Canada isn't the only neighbourhood that has had a history of real estate rules that promote racial segregation.
In 1920, an equally troubling covenant was enacted in the Calgary neighbourhood of Victoria Park to deter Black families from settling there.
Residents who lived in the Broadview Avenue and O'Connor Drive area of Toronto weren't allowed to sell to "Jews or persons of objectionable nationality." That was deemed illegal in 1945.
And it wasn't until 2019 that the same anti-Semitic sentiment was removed from the books in the city of Saint-Jean-sur-Richelieu, a community near Montreal.
"It was like a contract. You couldn't sell to a non-white, and if you did, they could take you to court," said historian Henry Yu.
Yu teaches history at the University of British Columbia and has studied racism in real estate as far back as the beginning of colonialism in Canada.
He doesn't believe these covenants should actually be erased.
"I'd be opposed to this because it is as if the history didn't occur," Yu said.
Meanwhile, Wong is steadfast in his resolve to have the covenant redacted to serve as a history lesson.
"We really have to have frank discussions about who we want to be as Canadians and our values," Wong said.
Wong says he's had other residents say how uncomfortable they are when they read the covenant.
West Vancouver's council votes on the motion in the fall.
© 2020 Global News, a division of Corus Entertainment Inc.
Toronto eyes tax on empty homes in bid for real estate revenue – BNN
Toronto is proposing a tax on empty homes as concerns build over speculators' role in driving up housing costs in Canada's largest city.
If adopted, the tax would bring in as much as $66 (US$52 million) million in revenue, assuming 1 per cent of Toronto's housing stock is currently empty and those owners chose to pay rather than rent out their properties, according to a statement on Thursday.
The proposal calls for the levy to be implemented in 2022, part of a bid to free up rental housing in one of North America's tightest markets and generate revenue that could be used for affordable housing.
"We simply can't afford, from the housing supply perspective, to have housing accommodation for thousands of people sitting empty," Toronto Mayor John Tory said in a statement. "You can live in it, you can rent it, but if it sits empty you will pay a tax that helps us build more affordable housing people can live in."
As governments across the world face pandemic-fueled shortfalls, lawmakers are looking at new real estate taxes as way to plug shortfalls. The proposal in Toronto comes after Prime Minister Justin Trudeau said earlier this week that Canada would impose a tax on "the unproductive use" of housing by non-resident foreign owners sometime over the next year.
A recent report from Canada's national housing agency found that a pair of similar taxes by local governments in British Columbia may have caused nearly 9,000 condominiums to be converted to rentals in Vancouver.
While rent has dropped in Toronto in recent months as the coronavirus rattles the economy, the city's rental market remains tight.
In September, the vacancy rate for apartment buildings in the Toronto metropolitan area reached the highest in 10 years, but at 2.4% that's still far lower than New York or San Francisco, expensive U.S. cities that have taken a hit as residents flee for more space in the suburbs.
A report recommending the Toronto levy on vacant homes is scheduled to go to Toronto's executive committee next week.
Real estate group beats prices of luxury mansions with smaller post and beam houses – North Shore News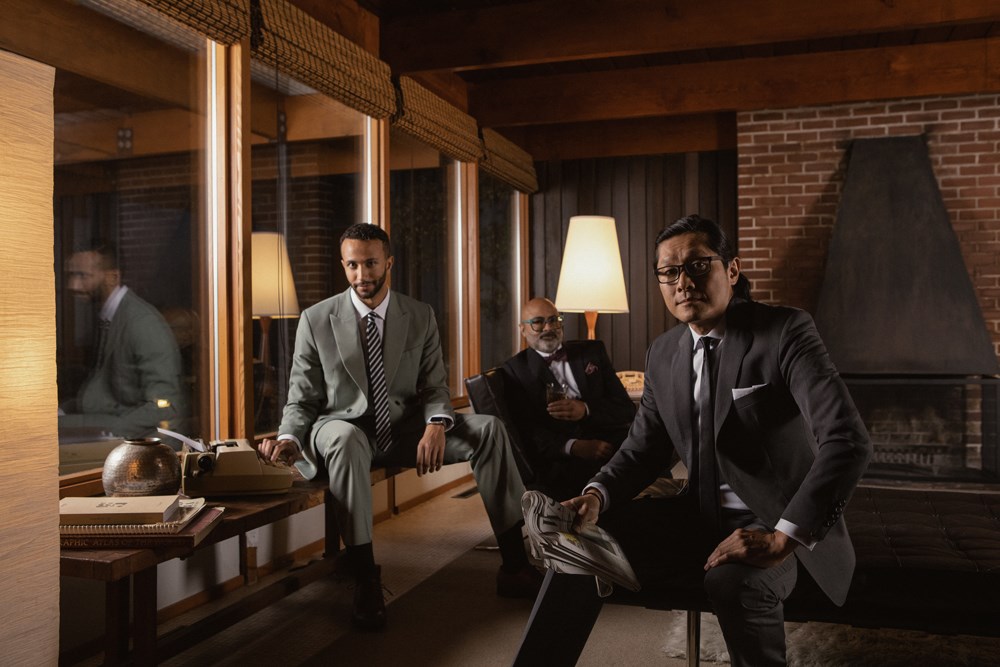 Real estate in Canada's most expensive community isn't usually a David versus Goliath struggle. For decades, West Vancouver real estate has followed a simple rule—bigger is better—10,000 square feet of living space, Swarovski chandeliers and five-car garages.
West Coast Modern Group takes a radically different approach. Using a marketing program that elevates architecturally-designed homes as collectable works of art, the namesake team (Jason Choi, Trent Rodney and Karim Bhatia) markets 60 to 70-year-old homes into hot selling properties that can out-price even brand-new luxury spec builds.
"Vancouver used to be about big shiny monster houses breaking sales records. We just proved David can win against these Goliath mansions, " says Rodney.
Case in point, the custom Sea Ranch house in West Vancouver. This lovingly-restored A-frame was originally designed by architect Barry MacLeod in 1970 as an homage to iconic homes built on the coasts of California, almost three hours north of San Francisco.
When marketing such one-of-a-kind properties, it can be challenging for Realtors ® to attract the right buyers who value these homes. Given today's penchant for gaudy faux Georgian or Tudor homes that dominate an entire building lot, it's easy for realtors to tell clients that their homes are "lot value only," and much of the time, assessment values reflect that.
When Sea Ranch owners, Steve and Sarah, planned on selling, they expected that it would command around $2.8 million, an identical price to a similar-size Colonial that had just sold across the street. The customized marketing campaign created by the West Coast Modern Group illuminated how living in a smaller, sensitively designed space integrated into the natural landscape could live better than a spec house that maximizes it's buildable envelope.
The group then reached out to an international network of design aficionados and eventually sold the 3,000 sq. ft. property to a Manhattan buyer for $3.5 million—a premium over a brand new 6,000 sq. ft. luxury mansion that just sold across the street.
"I've always told people that our client base doesn't want these big bloated houses, and I'm not sure if people believed me. I'm excited to announce that for the first time ever, we've beat out the sales price of a brand new luxury mansion with one of our smaller West Coast moderns that's half the size. It's exciting," says Rodney, a listing agent for the property.
The West Coast Modern Group is Vancouver's only dedicated real estate team for architectural houses.
Discerning home buyers from around the world appreciate what makes the West Coast special. From Horseshoe Bay to Deep Cove, mid-century modern homes are finally coming into their own, thanks to sellers who care and buyers who appreciate timeless design, creative landscaping and unbeatable views.
"Few real estate agents authentically understand the world of architect-designed homes. We don't do cookie-cutter subdivision homes or faux-chateaux. When you contact us, we will share your architectural gem to the world and help put Vancouver on the map. That's the West Coast Modern Group advantage. Trust us to gain a premium price for your listing," says Rodney.
5 Reasons for Tenants to Buy Instead of Renting – An Economic Perspective
If you are presently a Tenant anywhere in North America, before you plan to remain a Tenant, you should read this article. There are several good reasons for ownership to prevail over the tenancy and the real estate profession is littered with extremely clever pointers as to why Tenants should buy – and buy now. But quite aside from all the hype characteristic of real estate sales, there are five solid economic reasons for Tenants to purchase instead of renting. Here they are:
CAPITAL APPRECIATION
Real estate appreciates over time. This is due to a variety of factors, the most important of which is that bare land does not depreciate. The economic rationale behind this is that bare land cannot depreciate because free, available land diminishes as population increases. You may not notice this immediately if you live right in the middle of the Sahara desert, but in urban environments everywhere there is no question that land is scarce and, in turn, pricey. What depreciates in real estate is the structure, such as the walls, plumbing and electrical circuitry. This is normal functional depreciation due to the constant use – and subsequent wear and tear of the place. But functional depreciation rarely offsets land appreciation, with the result that even if you mistreat your property, you still end up building up equity.
Capital appreciation applies just as well to single-family detached houses as to condominium units. The 'land' of a condominium unit is the strata lot, so that if you do happen to live – say – on the twenty-fourth floor of a highrise tower in the downtown like I do, your condo unit still sits on a strata lot. And on the twenty-fourth floor, your strata lot does appreciate while the structure of your condo is subject to functional depreciation.
RENT MATCHES INFLATION
Inflation, as it is widely known, is defined as the loss of purchasing power of money. Inflation is due to a variety of economic factors and political choices. Still, no matter what our governments do – or fail to do – at any given time, it all boils down to increased borrowing and increased monetary supply and availability which, in turn, decreases the purchasing power of money. In layman's terminology, what this means is that it will cost tomorrow, for the sake of an example, ten cents more to buy a certain good in the economic basket than it does today. You still end up buying the same good, but you pay more for it.
These days inflation is not a problem in North America – at least not the way it used to be. But every year our currencies still lose value, albeit minimally: two per cent in the United States and almost three per cent in Canada on the respective currencies as of last year's count. Rent typically increase at the rate of inflation, so that a tenant in Vancouver that was paying – say – CAD, $1,000 per month in 2005 can expect to pay CAD 1,030 approximately in 2006. Rent paid is, in essence, the cost of just another service this time offered by a Landlord, and once the rent money is into the Landlord's pockets, it can never be recovered.
MORTGAGE CAPITAL AND INTEREST PAYMENTS
Naturally, when you go buy a house and contract out a mortgage with a lender, you will have to pay interest because you are using someone else's money. But every time you make your monthly mortgage payment, you also pay back some of this money. This builds up your equity which then grows over time. Equity growth is typically more evident in the United States where mortgages are amortized in a straight line over the term of the loan. In Canada, lenders are more complicated and apply a process known in the business as compound interest, i.e. interest on the interest. Still at about halfway through over a typical 25-year amortization span, in Canada too principal repayment takes over interest payment, so that equity growth builds up faster.
CAPITAL GAINS
Capital gains are not to be confused with capital appreciation, although they are a consequence of it. Simply put, there is a realized capital gain when the amount of money you sell your property for minus the price you paid for it is positive. The real estate market may fluctuate, but it is a matter of fact that house prices increase over time. Economic capital gains are adjusted for inflation and expressed in Dollar/Year. For instance, here in Vancouver, a single-family detached home that sold in 1975 for CAD 57,000 in 1975 Dollars may very well sell today for CAD 525,000 in 2005 Dollars.
On a cursory count, CAD 57,000 in 1975 are equivalent to approximately CAD 80,000 in 2005, so that your economic capital gains from the time you bought the house in 1975 to the time you sold it in 2005 are the difference between CAD 525,000 and CAD 80,000 expressed in 2005 Dollars, or a whopping $445,000. You can easily determine from this example how much real estate has appreciated over time in my hometown, with the appreciation already adjusted for inflation.
PRIVACY AND CONTROL
In a Tenancy Agreement, you are entitled to privacy typically for the period you pay rent for, subject to the Landlord's rights. These rights include the Landlord's right to inspect the tenanted premises on reasonable notice, the Landlord's right to sell the tenanted premises, the Landlord's right to repair and soothe and so forth. In essence, just because you pay rent that does not make you the owner. The rent guarantees your exclusive use of the premises for a certain period, again subject to the Landlord's rights.
Likewise, in most cases, you as the Tenant have no control over items such as remodeling, repainting and redecorating. It is true that in most jurisdictions, Landlords must rent premises reasonably fit for human habitation. Still, then it is also true that many Landlords do not go one inch over and above the minimum threshold required by law. But from an economist point of view, if you spend money, you should be entitled to reap the rewards – something you entirely miss out in a tenancy situation.
Too many tenants and renters think that owning a property is a farfetched goal. Yet, now more than ever, it is the best time for them to take the plunge and buy real estate. Mortgage rates are still historically low, and the buying process is easier than ever.