Vancouver weather: YVR addresses winter storm cancellations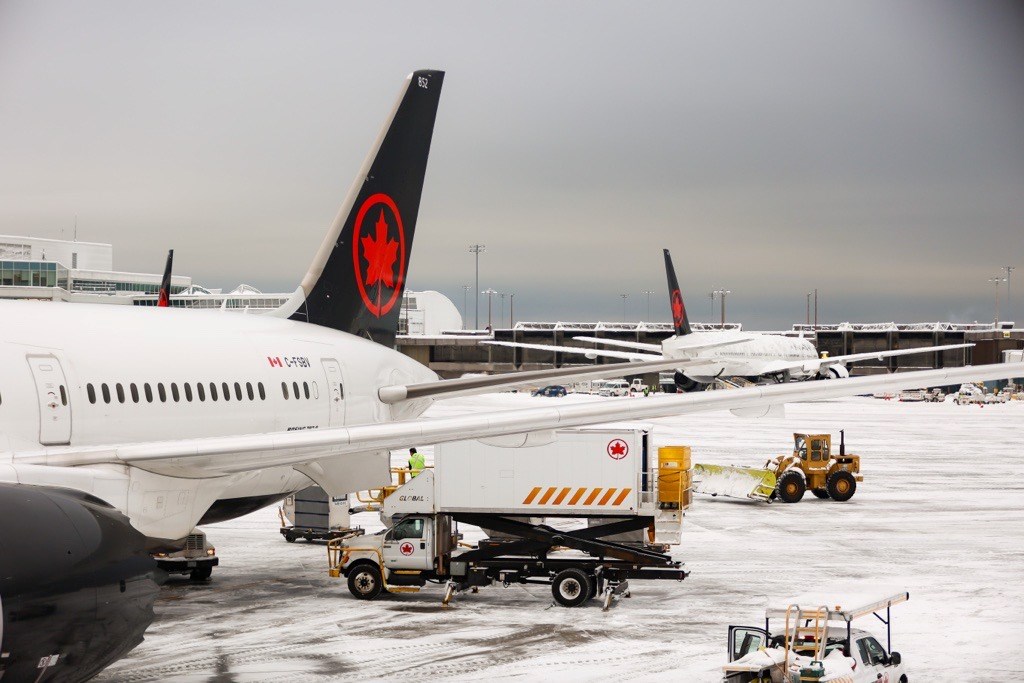 Vancouver International Airport (YVR) has released a statement following an "unprecedented" number of flight cancellations caused by the worst winter storm of the year.
B.C.'s biggest airport says that flights are now "steadily arriving and departing" on Thursday (Dec. 22) after the airline was forced to cancel the lion's share of international flights due to inclement weather.
Many passengers waited for hours on the YVR tarmac in planes, with some people waiting upwards of 10 hours. Tamara Vrooman, President and CEO at Vancouver Airport Authority, addressed the long waits in a press conference Thursday, calling them "unacceptable."
Runways, taxiways, and aprons are now "open and clear of snow and ice," and all de-icing facilities are operational.
"We've 100 cancelled flights out of a total of 660 flights," added Vrooman, noting the improvement in operations as of Thursday.
"We recognize that travel has been challenging for passengers and the effects that extreme winter weather is having on individuals and families this holiday season," she said.
"We want to assure our community that we have taken every measure possible to keep people, planes and bags moving safely."
Metro Vancouver weather to cause delays at YVR
The airport warns travellers to expect more delays and cancellations in the coming days due to another major winter storm.
Travellers are encouraged to check flight details with YVR online or with their airline before arriving.
To maintain operations moving into the next winter storm, YVR has temporarily limited some arriving international flights through Friday at 5 a.m.
The airport is also working with its airline partners to provide updated schedules to travellers in advance of the next storm. For arriving flights, YVR will collaborate with airlines to provide access to gates in sequential order so passengers are not held on aircraft.
Additional airport staff will also be deployed to help organize luggage and help passengers locate their belongings. They will also support travellers in the terminals, by "providing blankets, refreshments, and real-time assistance."
YVR advises travellers to arrive at least two hours before domestic flights and three hours before U.S. and international ones. However, travellers should give themselves more time right now — and more time on their commute to the airport — due to the inclement weather.
Fed Chair Powell: There will be more rate increases to get to our 2 percent inflation goal – CNBC Television
[unable to retrieve full-text content]
Ship-To-Ship Loadings Of Urals Hit Record High As Russian Oil Heads To Asia
Loadings of Russia's flagship Urals crude using ship-to-ship (STS) transfers in the Mediterranean surged eight times in January from December to a record in the first full month in which the EU banned seaborne imports of Russian oil.
STS loadings, used by traders to move the crude from smaller tankers onto larger ones to make the journey to Asia profitable, have soared since the EU ban came into effect on December 5, according to data from Refinitiv Eikon cited by Reuters on Tuesday.
The key STS loading points in the Mediterranean are near Kalamata in Greek waters and near the Spanish port of Ceuta in the Strait of Gibraltar.
STS loadings in the Mediterranean hit an all-time high of 1.7 million tons in January, an eightfold surge compared to December, per Refinitiv Eikon data and Reuters calculations.
Since Urals is no longer being imported into the EU, cargoes are being diverted to Asia, mostly to India, China, and Singapore.
While the Urals crude is now finding a home outside Europe, the low price of Russia's flagship grade is reducing Russian revenues from oil, due to the steep discount at which Urals trades relative to Brent Crude.
Russia's budget revenues from oil and gas plunged in January by 46% compared to the same month last year. Russian budget revenues from energy sales – including taxes and customs revenues – plummeted last month to the lowest level since August 2020.
In January 2023, the price of Urals grade averaged 42% lower than in the same month of 2022, as its discount to Brent Crude grew wider following the EU embargo and the G7 price cap, which came into effect on December 5. The average price of Urals in January, at $49.48 per barrel, was 1.7 times lower than in January 2022, when it averaged $85.64 per barrel, Russia's Finance Ministry said last week.
Russia is considering taxing its oil firms based on the price of Brent – instead of Urals – to limit the fallout on the Russian budget revenues due to the widening discount of Urals to Brent, Russian daily Kommersant reported last week, quoting sources.
By Tsvetana Paraskova for Oilprice.com
WestJet pilots' union says arbitration may be needed to avert a strike – CBC.ca
[unable to retrieve full-text content]
WestJet pilots' union says arbitration may be needed to avert a strike CBC.caView Full Coverage on Google News




Source link