Vatican indicts 10 people in London real estate deal – Pique Newsmagazine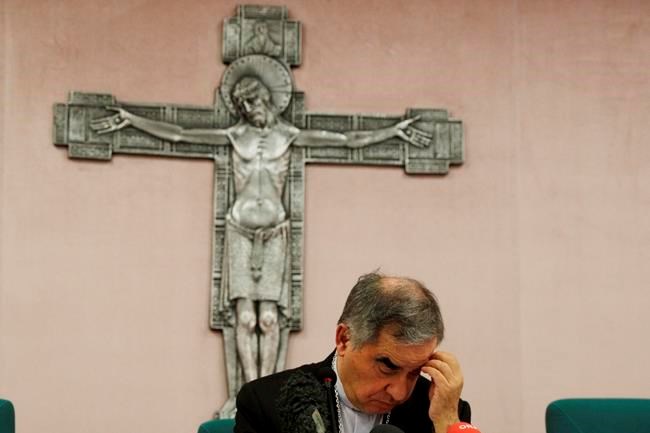 ROME (AP) — A Vatican judge on Saturday indicted 10 people, including a once-powerful cardinal, on charges including embezzlement, abuse of office, extortion and fraud in connection with the Secretariat of State's 350 million-euro investment in a London real estate venture.
The president of the Vatican's criminal tribunal, Giuseppe Pignatone, set July 27 as the trial date, according to a Vatican press statement.
The indictments were handed down following a sprawling, two-year investigation into how the Secretariat of State managed its vast asset portfolio, much of which is funded by the Peter's Pence donations from the faithful. The scandal has resulted in a sharp reduction in donations and prompted Pope Francis to strip the office of its ability to manage the money.
Five former Vatican officials, including Cardinal Angelo Becciu and two officials from the Secretariat of State, were indicted, as well as Italian businessmen who handled the London investment.
Also indicted on alleged embezzlement charges was an Italian intelligence expert accused of buying luxury goods with Holy See money intended to help free Catholics held hostage
Vatican prosecutors accuse the main suspects of bilking millions of euros from the Holy See in fees and other losses related to financial investments that were funded in large part by donations to the pope for works of charity. The suspects have denied wrongdoing.
One of the main suspects in the case, Italian broker Gianluigi Torzi, is accused of having extorted the Vatican out of 15 million euros to turn over ownership of the London building in late 2018. Torzi had been retained by the Vatican to help it acquire full ownership of the building from another indicted money manager who had handled the initial investment in 2013, but lost money on what the Vatican said were speculative, imprudent investments.
Vatican prosecutors allege Torzi inserted a last-minute clause into the contract giving him full voting rights in the deal.
The Vatican hierarchy, however, signed off on the contract, with both the pope's No. 2, Cardinal Pietro Parolin, and his deputy approving it. Neither was indicted. In addition, Francis himself was aware of the deal and Torzi's involvement in it.
Vatican prosecutors have produced evidence suggesting the Vatican hierarchs were hoodwinked by Torzi and aided in part by an Italian lawyer — who was also indicted Saturday — into agreeing to the deal.
Torzi has denied the charges and said the accusations were the fruit of a misunderstanding. He is currently in London pending an extradition request by Italian authorities, who are seeking to prosecute him on related charges.
Also indicted was a onetime papal contender and Holy See official, Cardinal Angelo Becciu, who helped engineer the initial London investment when he was the chief of staff in the Secretariat of State.
Francis fired him as the Vatican's saint-making chief last year, apparently in connection with a separate issue: his 100,000-euro donation of Holy See funds to a diocesan charity run by Becciu's brother.
Vatican News, the in-house media portal, said Becciu had originally not been part of the London investigation but was included in May 2020 after it appeared that he was behind the proposal to buy the building. Prosecutors also accuse him of interfering in the investigation, by allegedly trying to have one of the witnesses change his story.
In a statement Saturday issued by his lawyers, Becciu insisted on the "absolute falsity" of the accusations against him and denounced what he said was "unparalleled media pillory" against him in the Italian press.
"I am the victim of a plot hatched against me and I have been waiting for a long time to know any accusations against me, to allow myself to promptly deny them and prove to the world my absolute innocence," he said. "Only by considering this great injustice as a test of faith can I find the strength to fight this battle of truth."
Becciu has denied wrongdoing in the London investment; he has admitted he made the donation but insisted the money was for the charity, not his brother.
One of Becciu's proteges, Cecilia Marogna, was indicted on embezzlement charges. Becciu had hired Marogna as an external consultant after she reached out to him in 2015 with concerns about security at Vatican embassies in global hotspots. Becciu authorized hundreds of thousands of euros of Holy See funds to her to free Catholic hostages, according to WhatsApp messages reprinted by Italian media.
Her Slovenian-based holding company, which received the funds, was among the four companies also ordered to stand trial.
Marogna has said the money wired to her was compensation for legitimate security and intelligence work and reimbursements for her expenses. Vatican News, citing the indictment, say she spent the money on purchases that were incompatible with the humanitarian scope of her company.
Also indicted were the former top two officials in the Vatican's financial watchdog agency, for alleged abuse of office. The watchdog agency had actually launched an international investigation into the London deal months before Vatican prosecutors had. But prosecutors say that by failing to stop the Torzi deal, they performed a "decisive function" in letting it play out, Vatican News said.
Other suspects didn't immediately respond to a request for comment Saturday.
Nicole Winfield, The Associated Press
Vatican Owns Over 5,000 Properties Worldwide, It Reveals In First Disclosures On Its Real Estate Holdings – Forbes
Topline
The Vatican owns more than 5,000 church and investment properties around the world, a central office at the Catholic Church revealed for the first time Saturday, according to several news outlets — but the church is struggling with a budget deficit, plus years of alleged mismanagement tied to its investment strategy.
Key Facts
Most of the Vatican's real estate holdings (4,051) are in Italy, the majority of which are used by church-affiliated groups or rented out at reduced prices instead of getting leased at market rate, according to a report from the church-run Administration of the Patrimony of the Holy See (APSA) obtained by Reuters, Catholic News Service and other outlets.
Forbes has reached out to the Vatican for comment.
Tangent
The Roman Curia — the Catholic Church's central administrative body — ran a $76.3 million operating deficit in 2020, down from a $93.2 million deficit in 2019, according to a budget statement obtained Saturday by the Jesuit America magazine. In an interview with the church-run Vatican News, church official Father Juan Antonio Guerrero Alves called the Curia's 2020 performance "better than what we expected," partly because the church slashed expenses during the coronavirus pandemic. The church reported a larger overall deficit in 2020 than 2019, however, largely due to a drop in unrealized financial gains.
Key Background
The Vatican's financial practices — and particularly its real estate holdings — have drawn scandal and scrutiny for years. Pope Francis reorganized how the church's real estate investments are overseen last year, following years of sometimes fraught attempts to reform the Curia amid claims of embezzlement and endemic financial mismanagement. Several people are on trial for allegedly scamming the church out of millions of dollars in connection with its London real estate investment nearly a decade ago.
Further Reading
Behind the Vatican's London real estate scandal (Associated Press)
Vatican reveals property holdings for first time in transparency drive (Reuters)
LACKIE: As life — and T.O. real estate — gets back to normal, what's next? – Toronto Sun
The Toronto real estate market, having boomed for the better part of the pandemic, is finally taking a rest
Article content
Is it just me or is life starting to feel a little normal again?
Article content
Summer is in full swing, restaurants are open for business, and vaccines are now pretty easy to come by.
The pandemic is far from over, but still there's a subtle ease to life again that feels good.
Perhaps it was this week's announcement that the federal government would be moving forward with reopening the Canada-US border in early-August.
Or the news that Ontario's colleges and universities would be returning to in-person classes this fall.
Things are inching back to a pre-pandemic status quo.
The Toronto real estate market, having boomed for the better part of the pandemic, is finally taking a rest. Things are quiet. It's lovely.
Which begs the question: what comes next?
While most experts agree that it was a combination of low interest rates, pent-up demand, and changing buyer priorities that joined forces to drive sales to record levels, even through multiple stay-at-home orders, the undercurrent of it all has been something entirely more structural.
Article content
A healthy balanced market is when, simply put, there is an equal level of buyers and sellers.
When there are more sellers than buyers, you have a "buyer's market."
When you have more buyers than sellers, you have a "seller's market."
Broadly speaking, with the exception of a few blips along the way, Toronto has been a seller's market for as long as I have been in the business.
In the neighbourhoods popular with upsizing young families, bidding wars are simply the norm.
And why is that? Some might say that it's because of the widely adopted practice of underpricing as a means of driving multiple offers.
And while, yes, that certainly brings more buyers to the table and thus adds an overt layer of competition, that's not it. It's just a symptom of the broader issue.
Article content
And this issue is this: if we had sufficient supply in the city of Toronto to meet demand, our current market conditions would be vastly different.
They wouldn't be spilling out into the secondary markets around us.
The pandemic just shone a light on what has been a mounting reality: our population has grown faster than our housing supply and our government has failed to address it.
At 1.8 million homes behind the G7 average, Canada falls dead last in the number of housing units per 1,000 residents.
Frustratingly, the top-down solutions to this impending crisis have been interruptions to the demand cycle: playing with interest rates, tightening lending qualifications, introducing non-resident speculation and vacancy taxes.
Article content
These are Band-Aids. At best they are tools to be used to slow things down while the real solutions come down the pike. We need density. We need intensification. We need thoughtful, strategic building policies that marry environmental responsibility with pragmatic solutions to sprawl.
Instead, the most recent federal budget promised an additional $2.5B over five years to address affordable housing via their Rapid Housing Initiative.
This is a drop in the bucket.
We need expedience not hand wringing.
If government flipped a switch tomorrow it would still take four to five years to see the housing units come to market. The time was yesterday.
So, for those wondering what comes next in our real estate market, it's a safe bet that once people have enjoyed their summer of reprieve from the strange pandemic reality we find ourselves in, the market will reawaken.
It will simply have to in order to meet the return of students and the backlog of immigration produced by almost 18 months of closed borders. The demand-driven rental and condo sectors that have "softened" and "balanced" these past months will surely surge.
And it was predictable. Market forces, while undeniably complicated and nuanced, have a few inescapable fundamentals – until we prioritize sufficient supply to meet demand, housing unaffordability will be the norm. That part isn't rocket science.
On Twitter: @brynnlackie
Real Estate newsletter: A billionaire buyer revealed – Los Angeles Times
Welcome back to the Real Estate newsletter, which arrives on the heels of a mystery being solved.
Reporters and readers alike have been trying to figure out who paid $25 million for San Marino's famed USC presidential mansion, and records finally revealed that the buyer was Chinese billionaire Tianqiao Chen. It makes a lot of sense, as the philanthropist recently donated $115 million to Caltech for neuroscience research, and the university dedicated a new 150,000-square-foot facility to him that opened earlier this year just a mile away from the home.
It's still a great time to sell, and this week saw a few celebrities test their luck in the high-risk, high-reward real estate market. "Charlie's Angels" star Shelley Hack did about as well as one can do, selling her Santa Monica Craftsman for $11.43 million — or $2.58 million more than her asking price.
Actress Helen Mirren and director Taylor Hackford are hoping for similar success in Hollywood Hills, where their colossal compound on 6.5 acres is on the market for $18.5 million. If the power couple get their price, it'll be one of the priciest sales the ritzy neighborhood has seen so far this year.
If you don't believe me regarding the seller's market, believe the data. The numbers are in for June, and Southern California's median home price soared to $680,000 last month. That's an all-time high, shattering a record that stood for all of … 31 days.
Some news on what may come ahead: UC Berkeley researchers published a new report on a California Legislature bill that would allow denser home building in single-family zones. The study says the bill, which passed the state Senate, would produce an uptick in the state's housing supply, but it likely wouldn't cause the mass redevelopment that skeptics fear.
While catching up on the latest, visit and like our Facebook page, where you can find real estate stories and updates throughout the week.
Billionaire buys USC house
When USC's presidential mansion set a San Marino record by selling for $25 million in early July, it was initially unclear who the buyer was. Real estate records now show it was purchased by Tianqiao Chen, a Chinese billionaire with deep philanthropic ties to the community.
It was pure circumstance how he first came to the area. While watching the news, he and his wife, Chrissy, saw a story of a Caltech scientist helping a quadriplegic man use his thoughts to control a robotic arm and grab a beer.
Shortly after, the couple flew to Pasadena to meet the scientist — a trip that led Chen to give Caltech $115 million for neuroscience research, one of the largest gifts the university had ever received. In 2016, he founded the Tianqiao and Chrissy Chen Institute for Neuroscience at Caltech complete with a three-story, 150,000-square-foot facility on campus that was dedicated to the couple earlier this year.
He'll have a short commute if he ever visits it, because his home sits about a mile away from the facility.
Actress gets way over asking
In the latest example of Southern California's seller's market, "Charlie's Angels" actress Shelley Hack sold her Santa Monica Craftsman for $11.43 million — or $2.58 million more than she was asking.
Hack and her husband, director Harry Winer, are walking away with a huge profit. Not only did they haul in significantly more than their original asking price of $8.5 million, but they also paid just $1.6 million for the property in 1988.
The secluded compound sits about a mile from the ocean in Santa Monica's North of Montana neighborhood. Across half an acre, there's a 99-year-old main home, one-bedroom guesthouse, rustic barn and manicured backyard with a deck and pool surrounded by gardens and fruit trees.
Power couple will either sell or lease
Space is at a premium in Hollywood Hills, but not on the sprawling hillside compound of actress Helen Mirren and director Taylor Hackford. The power couple's longtime property, which spans 6.5 acres at the foot of Runyon Canyon Park, listed for sale at $18.5 million.
If you're eyeing a shorter stay, it's also available to be leased at $45,000 per month.
At 6.5 acres, it's the second-largest property currently available in Hollywood Hills. To put its relative size into perspective, only three estates on the market in the star-studded neighborhood claim more than 3 acres.
According to the listing, there have only been four owners — all famous — since the home was built more than a century ago: "The Squaw Man" actor Dustin Farnum, writer Mark Hellinger, "Perry Mason" producer Gail Patrick, and Mirren and Hackford, who acquired the estate in the 1980s.
SoCal home prices break another record
Southern California's real estate market hit another historic peak in June, with home prices soaring to yet another all-time high, though analysts see the extreme bidding wars of the last year beginning to ease.
June's median home price of $680,000 tops the previous record of $667,000, set in May, according to data released Tuesday by data firm DQNews. It represents a 22.5% increase from June 2020, when the market in the six-county region slowed significantly as sellers pulled homes off the market because of COVID-19 stay-at-home orders.
Since then, a dramatic rebound has seen 11 straight months of double-digit median home price rises.
Experts credit multiple factors: the fast-expanding buyer market of millennials, more demand for space as more people work from home, and ultra-low mortgage rates, which are attracting wealthy investors who compete with the middle class for limited housing stock.
Housing bill put in perspective
A bill advancing through the California Legislature to allow for denser home building in single-family zones would be likely to produce an uptick in the state's housing supply, but the so-called upzoning probably won't cause mass redevelopment, according to a report published Wednesday.
Andrew Khouri and Ari Plachta write that the study by the Terner Center for Housing Innovation at UC Berkeley offers the most detailed analysis yet of the potential effect of Senate Bill 9, designed to allow up to four homes on most single-family lots and spur the construction of badly needed new housing.
Because of the way unit development would pencil out, the study found that "the vast amount of single-family parcels across the state would not see any new development," said David Garcia, policy director at the Terner Center, which supports the bill written by Senate President Pro Tem Toni Atkins (D-San Diego).
SB 9 passed the state Senate and is expected to be taken up in the Assembly Appropriations Committee by Aug. 27. If approved, it would go to a final vote in the Assembly and then to Gov. Gavin Newsom's desk. The Terner Center study found that under the bill, a total of 714,000 new homes would make financial sense to build, and it would take years to build them — if they ever are, since not all homeowners would want to sell or develop their own property.
What we're reading
USC is on a selling spree. After unloading its presidential mansion, the school is offering up another home it owns in the Hollywood Hills for $4.25 million, according to House Beautiful. Designed by Frank Lloyd Wright, the stunning abode is listed on the National Register of Historic Places.
If you're bidding for a home, there's an increasing chance that the other contenders aren't trying to live there. They could be an investor, a house flipper, or even a hedge fund, according to NBC News, who reported that investment groups are scooping up homes across the country thanks to their unmatchable financial firepower.