Vile video taken in Nova Scotia jail and posted to social media humiliates woman prisoner – Halifax Examiner
A vile video taken by a guard inside a Nova Scotia jail and that was shared on social media violates a female prisoner's privacy and makes disparaging comments about her medical condition.
The Halifax Examiner was provided the 20-second video clip by a person who captured it on the SnapChat app. The video was posted to the app either Wednesday or Thursday evening by someone known by our source to be a correctional officer.
The video shows a woman in her cell, and is captioned "Feeding this fat fucking retard ice cream at 1:30am so she'll go back to sleep and stop crying 'diabetic low.'"
The video appears to have been taken in the East Unit at the Central Nova Scotia Correctional Facility (the Burnside jail). The Examiner has viewed the entire video; in it, the woman is identifiable. Her clothing is of the same variety as worn by prisoners at the jail, and other women who have been jailed at the facility tell us the video was likely taken from the vantage point of "the bubble" — the area where guards sit to observe prisoners during the guards' shifts.
To protect the privacy and identity of both the woman filmed and the person who provided the clip to the Examiner, we will not publish the entire video. However, here is a redacted still from it:
The Nova Scotia Department of Justice, which oversees the jail, has not immediately responded to a request for comment. We will update this article if and when they do.
Bianca Mercer, an advocate for women who was featured in the documentary Conviction was formerly incarcerated at Burnside. She said the video makes her feel "sick" and "violated."
Just the thought of them watching me on camera being strip searched and how easy it was for them to take a video of an "inmate."

I am feeling violated, and it's not even myself in the video that was posted. Being a former resident of CNSCF I can't help but wonder how many other women have been exposed in such a disgusting way.

I want to see correctional staff who took the video fired. My heart breaks for this woman, she doesn't even know this is happening to her. I just hope she knows we are advocating on her behalf out here and someone will be held accountable.
In 1994, women in Kingston Prison for Women were held down and forcibly stripped by guards. The prison initially attempted to cover up the incident, only for video to emerge months later. The strip search led to the Arbour Report by Justice Louise Arbour.
For advocates, the video from Burnside recalls many previous incidents where incarcerated women have been violated and abused. Most recently, in March, Sara Tessier launched a lawsuit alleging Correctional Services Canada staff failed to protect women in Nova Institution from sexual assault. Brian Wilson, a guard who worked at the prison, now faces 13 charges related to sexual assaults of seven women.
Dawna Ward, whose sister Ashley Smith died in Grand Valley Institution while guards stood outside her cell door and watched, told the Examiner that the video is "chilling."
This woman is in medical distress. She is calling out for help and the guards, instead of getting her a doctor, are filming her and treating her like she's not a human being. I can never forget how staff watched Ashley die and then covered it up for years.

Watching video of Ashley begging for help while she was strapped down, seeing so many images of the violence and abuse she suffered, this video brings that all back. Nothing has changed.

For years we have been drawing attention to the conditions in Burnside. We hear over and over about the use of segregation, people asking for medical help and never getting it, abuse from guards, terrible conditions. and so many other horrific things. When you do nothing and allow a culture of violence to grow, this is what it looks like. Guards posting a video of a woman in public without any fear of the consequences because these women are not seen as mattering.
A "diabetic low," known medically as Diabetic hypoglycemia is a serious medical condition. Without immediate treatment, symptoms include seizures, unconsciousness, and even death. In an editorial written in 2018 during the Burnside Prison Strike, the lack of treatment for people with diabetes was highlighted:
It's hard to even get a Tylenol, never mind medical treatment. I've seen people with diabetes and asthma not get the medication they need. If you don't believe us about the conditions in here, you should believe the auditor general's reports, or even what staff who work here have been saying.
Diabetes Canada has established guidelines on the treatment of people with diabetes in institutional settings. They emphasize:
People with diabetes should receive care that promotes the highest quality of life, regardless of the setting. They have a right to timely, affordable and ongoing diabetes education and comprehensive treatment services provided with seamless coordination by a diabetes health-care team and other specialists, as specified in Diabetes Canada's Clinical Practice Guidelines for the Prevention and Management of Diabetes in Canada(This link opens in a new window) and Standards for Diabetes Education in Canada(This link opens in a new window).
Reports back to at least 2017 by advocates for the East Coast Justice Prison Society and the Elizabeth Fry Society show people in the facility being denied adequate diabetic care including blocking access to medical staff and placing a diabetic prisoner in solitary confinement while his blood sugars were high. People in the facility also report that pressing the medical distress button or demanding medical care are treated as being annoying or disruptive rather than as medical emergencies.
Formerly incarcerated people who have seen the video and who have knowledge of the jail say the woman in the video may be Mi'kmaq. The violation of any woman's privacy is serious; filming an Indigenous woman in distress to degrade and humiliate her in public also furthers the colonial violence Indigenous women and girls continue to experience. Indigenous women are now over 42% of the federal prison population.
Repeated reports by people incarcerated in Burnside testify to violent conditions, abuses by guards, the near-constant state of lockdown, and the violation of rights. In recent weeks, men incarcerated in the facility report that a man with a cane was beaten by guards, and his head was slammed into the stairs.
When an institution has no accountability, when there is no meaningful oversight, and where there has been no action for years to address worsening conditions, staff can and do act with impunity. As disgusting as this video is, it is only a small piece of the terrible things that take place every day in Burnside and other provincial jails while courts, politicians, and oversight agencies refuse to do anything.
Women in Burnside deserve a full review not only of the staff who took the video, but of all the conditions that led up to guards feeling comfortable to post such dehumanizing slurs and to violate women in the facility in this way. Firing the guards is not enough: it is past time for a full public acknowledgement of the wrongdoings committed at the jail.
Nobody should accept this sickening treatment of women. This video is only the most public expression of the treatment people receive in this facility.
---
The Halifax Examiner is an advertising-free, subscriber-supported news site. Your subscription makes this work possible; please subscribe.
Some people have asked that we additionally allow for one-time donations from readers, so we've created that opportunity, via the PayPal button below. We also accept e-transfers, cheques, and donations with your credit card; please contact iris "at" halifaxexaminer "dot" ca for details.
Thank you!
<!–
–>
'Godzilla vs. Kong' Tops Box Office Again, Crosses $80 Million in the U.S.
OTTAWA (Reuters) – Canada will set aside C$12 billion ($9.6 billion) to extend its main pandemic support measures in a budget to be presented on Monday, the Toronto Star reported, as much of the country battles a virulent third wave of COVID-19 infections.
The emergency wage subsidy and the emergency rent subsidy, due to expire in June, will be extended to the end of September, the Star reported on Sunday.
Separately, the government will create the "Canada Recovery Hiring Program" in June meant to help those companies depending on the wage subsidy to pivot to hiring again, the newspaper said.
The Finance Ministry declined to confirm or comment on the report. However, Environment Minister Jonathan Wilkinson told the Canadian Broadcasting Corp on Sunday that government pandemic supports would continue for as long as needed.
"If Canadians need that support and the pandemic continues, the government will certainly have their backs," Wilkinson said.
Wilkinson also confirmed that the budget would be "ambitious" and that the government would "invest for jobs and growth to rebuild this economy," though he also said there would be "fiscal guardrails" to put spending on a "sustainable track".
Finance Minister Chrystia Freeland will present the country's first budget in two years on Monday after promising in November up to C$100 billion in stimulus over three years to "jump-start" an economic recovery during what is likely to be an election year.
Canada has been ramping up its vaccination campaign but still has a smaller percentage of its population inoculated than dozens of other countries, including the United States and Britain.
Amid a spiking third wave of infections, Ontario, Canada's most populous province, announced new public health restrictions on Friday, including closing the province's borders to domestic travelers.
($1 = 1.2501 Canadian dollars)
(Reporting by Steve Scherer, Editing by Nick Zieminski)
GLAAD Media Awards presenters support transgender athletes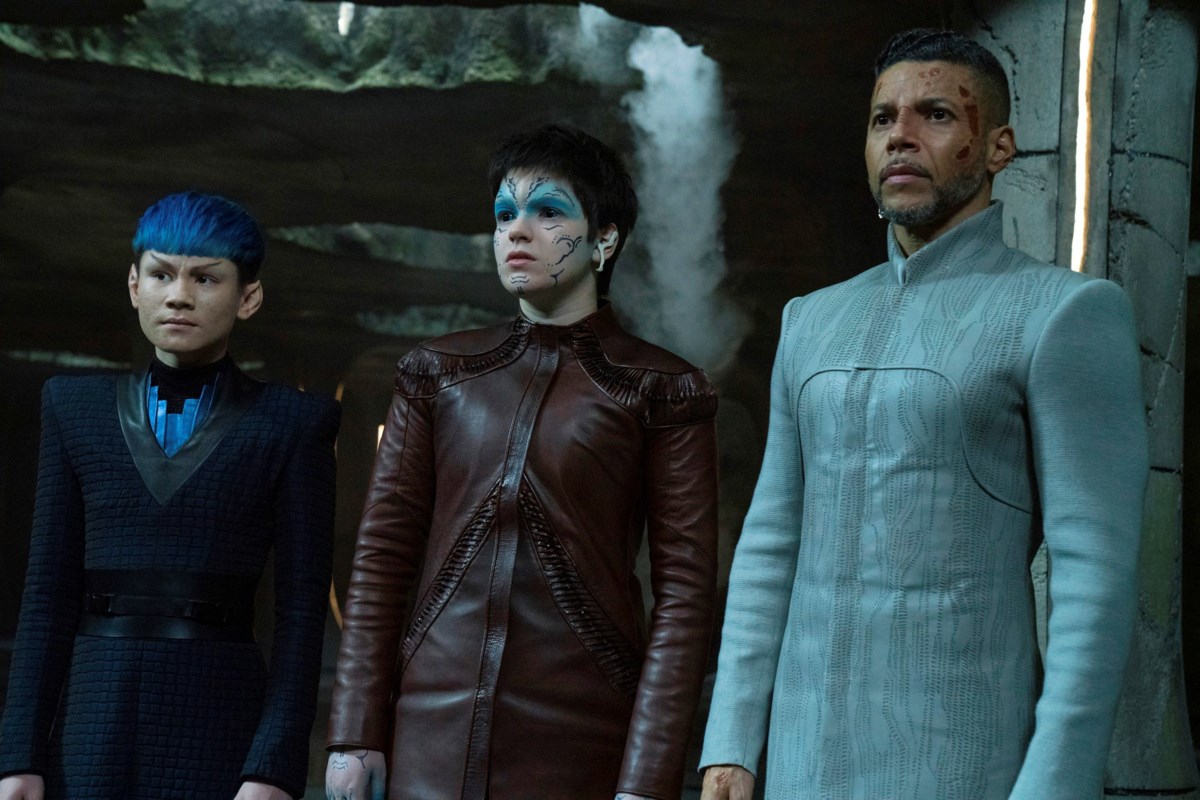 LOS ANGELES — "Schitt's Creek" and "The Boys in the Band" were winners at the GLAAD Media Awards, which included soccer's Ashlyn Harris and Ali Krieger calling for transgender students to be accepted as "part of the team" in sports.
Harris and Krieger, spouses who play for the Orlando Pride and were on the 2019 World Cup-winning U.S. women's national team, presented an award in Thursday's virtual ceremony to the film "Happiest Season," about a lesbian romance.
The couple drew attention to transgender athletes amid widespread efforts to restrict their participation, including a recently signed Mississippi bill that bans them from competing on girls or women's sports teams. It becomes law July 1.
"Trans students want the opportunity to play sports for the same reason other kids do: to be a part of a team where they feel like they belong," Krieger said.
Added Harris: "We shouldn't discriminate against kids and ban them from playing because they're transgender."
"Star Trek: Discovery," "I May Destroy You" and "A Little Late with Lilly Singh" were among the other projects honoured in the pre-taped ceremony hosted by Niecy Nash. It's available on Hulu through June.
The GLAAD awards, in their 32nd year, recognize what the media advocacy organization calls "fair, accurate, and inclusive" depictions of LGBTQ people and issues. Presenters and winners in this year's event highlighted priorities including the importance of solidarity and self-respect.
"Friends, I'm so proud to stand with the LGBTQ community tonight, just as the LGBTQ community stands with Black and diverse communities," said Sterling K. Brown, who presented the outstanding documentary award to "Disclosure."
The "This Is Us" star, citing the Black Lives Matter and Black Trans Lives Matter movements, said that "we're going to keep spreading that message of unity and justice until every one of us is safe to live the lives we love."
JoJo Siwa, the teenage YouTube personality and performer, presented the award for outstanding children's programming to "The Not-Too-Late Show with Elmo." She said in January that she's part of the LGBTQ community.
"I have the best, most amazing, wonderful girlfriend in the entire world who makes me so, so, so happy and that's all that matters," Siwa said. "It's really cool that kids all around the world who look up to me can now see that loving who you want to love is totally awesome" and should be celebrated.
Other awards went to Sam Smith, who was honoured as outstanding music artist for the album "Love Goes"; Chika, named breakthrough music artist for "Industry Games," and "We're Here" won outstanding reality program.
Cast members from "Glee," including Chris Colfer, Amber Riley and Jane Lynch, paid tribute to Naya Rivera and her character in the series, gay cheerleader Santana Lopez. Rivera, 33, died in an accidental drowning in July 2020.
___
Online:
https://www.glaad.org/
Lynn Elber, The Associated Press
Source:- Coast Reporter
Social Media Etiquette Review
Despite your best efforts, you may cause someone pain with that Tweet or Facebook post. Here's a refresher on social media best practices, along with advice for some pandemic-only dilemmas.
In an ideal world, your followers would think every photo, video or thought you post on social media is like a little gift to them. In reality, it's hard to predict how posts on Instagram, Facebook and other social media will land, especially during the pandemic. After so much loss and isolation over the past year, people are on edge. That vaccine selfie may feel joyous and hopeful to you, but it could be a digital slap in the face to someone who hasn't received a vaccine shot or who has suffered a grave loss.
"Someone could be experiencing loss in such a way that there's no way someone else won't post something that compounds their grief," said Catherine Newman, who has written the Modern Manners etiquette column for Real Simple magazine for 10 years. "That's how grief is."
Still, it's hard not to overthink things — and to worry that despite your best efforts, you may cause someone pain. Some social media experts say you should review your sharing practices periodically, so here's a refresher on social media etiquette, along with advice for some pandemic-only situations.
Ask why are you posting.
First, identify your motivations. Are you sharing that picture of the exquisite cake you baked because you want praise, or do you want people to feel bad that what they made themselves wasn't as good? If it is to receive affirmation, that's OK. But if you find yourself trying to get all your needs met by social media likes, it might be time to think about what else is missing in your life.
Second, focus on your friends. If you tried to consider every possible person who might be hurt by a post — your seemingly unobjectionable photo of tulips could very well remind a follower of someone they have lost — you might never post anything on social media. But absolutely think about your inner circle carefully.
Ms. Newman, for one, hasn't posted about her own post-vaccination visits with family because so many in her immediate friend group have lost a parent in the past year. If you're in a similar situation and you still want to post your vaccine selfie or the first time you've hugged your father in a year, consider acknowledging your own good fortune.
"I still appreciate it when people say, 'We're so lucky and there's been so much loss and I'm sorry if you're experiencing loss,'" said Ms. Newman, whose best friend died of cancer five years ago.
Before you hit "share," read your words in multiple tones of voice, as different people can interpret the text differently, suggested Diane Gottsman, an etiquette expert and the founder of the Protocol School of Texas, a San Antonio company specializing in corporate etiquette training. If there's any doubt, add a cue, such as an emoticon, about your tone.
Don't go low, go high.
If you want to post something negative, keep in mind that what you say or share often says more about you. Disagree (respectfully), but avoid sweeping generalizations about entire groups of people — or about one business based on your interaction with a single employee.
Additionally, remember that any message you share, even with close family members, will be amplified to your entire online community. (The tension may also be amplified around vaccines, health measures and the stress of a not-normal year.) If you are replying to your sister online about something, that doesn't mean you can speak to her as harshly as you might privately. Ms. Gottsman advises taking a heated family debate offline.
"Don't start a family feud on social media," Ms. Gottsman said. "It can affect the next family holiday."
If you are soliciting donations for a particular cause or charity, or asking for money to pay someone's rent or medical bills with a GoFundMe campaign, recognize that the financial situations of many people have changed this past year and there may be many other appeals compared to times past. Skip shaming phrases, like "How can you not help this person?" Instead, Ms. Gottsman said, use ones like "If your heart moves you, I'm sharing this."
Consider your audience.
Think less vigilance is needed, because your text group is small or your settings have been changed to private? Think again. When Heidi Cruz, the wife of Senator Ted Cruz of Texas, shared her family's plans to flee a devastating winter storm in Texas for a vacation in Mexico, she texted only a small group of neighbors and friends. Screenshots of the messages ended up with journalists. Elaine Swann, an etiquette expert and founder of the School of Protocol in Carlsbad, Calif., points out that it wasn't just one person who shared the chat with The New York Times; there were others who confirmed it.
"Even if you think it's just your inner circle, there's always somebody there who isn't 100 percent on your team," she said. "That's the person who takes the screenshot before you delete whatever it is."
Ban body-size talk.
Posting about food and fitness may be even more tempting than usual, given that a lot of people have changed what they eat and how much they exercise during the pandemic. But confine your commentary to how these lifestyle changes make you feel, not how they make you look. Among other things, not all people have had the luxury of more time to exercise during the pandemic — or if they did, they might not have had the energy to do so.
Dr. Lindsay Kite is a founder of Beauty Redefined, a nonprofit that promotes body image resilience, and an author of "More Than a Body." She noted that your "before" photo — talking about how fat you look — may be someone else's "after."
If you really want affirmation and accountability for your fitness goals, avoid the sports-bra selfie and posts about body measurements. Instead, Dr. Kite suggested posting a picture of yourself in a blood pressure cuff, or a less body-focused snapshot of you jogging to your favorite coffee shop.
"Loving your body and improving your health doesn't always lead to a more ideal-looking body," she said.
Acknowledge your mistakes.
There may be situations in which a post doesn't land as you had intended. Maybe you shared a photo of a masked-up pandemic wedding, but followers pointed out that attending still involved travel. Or you posted a video of your family's Easter egg hunt, because all the adults participating had been lucky enough to be vaccinated.
Ask yourself how many people reacted negatively. If only one follower is unhappy, it may just be that one person is raw.
"We have a genre in my family we call 'hurting your own feelings,'" Ms. Newman said. "Where you're looking for something to hang some pain on and you find it."
You don't have to own the person's grief, but you do have to take responsibility for yourself and apologize. You can keep it simple, Ms. Newman said: I see your pain. I'm so sorry.
If you post something that is hurtful to a wider audience — you inadvertently said something offensive or you didn't consider all the issues — it should absolutely be deleted if it's causing people pain.
If it's not, consider keeping the post up, Ms. Newman said, because deleting it erases the post from public view but does not address the hurt it caused. On Facebook, she suggested an "edited to add" with your heartfelt apology. This should not include the words "but" or "if," as in, "I apologize if you were offended." These words don't acknowledge the hurt person's truth and their situation, or your role in hurting them.
"If you accidentally step on someone's foot, you don't say, 'I'm sorry if I stepped on your foot,'" Ms. Swann said. "You did it. It's not a question."
Your apology should also include a thoughtful plan about how you'll do things differently in the future, which can be calibrated based on how grievous the offense. For lesser instances, Ms. Gottsman said, a sentence like "I'll think twice before I post," may be enough.
These are words all of us could live by.
Source:- The New York Times