Voyager 2 flew through a giant magnetic gas bubble during Uranus flyby – The Weather Network
When NASA's Voyager 2 spacecraft flew past Uranus in January of 1986, it gave us our first up-close look at the distant ice giant. Now, over three decades later, the data collected by the probe's sensors has revealed that it flew straight through an immense magnetic bubble, known as a plasmoid, that was ejected from the planet's atmosphere.
Uranus is certainly the oddball of all the worlds orbiting our Sun.
Tilted over on its side by some cataclysmic event in the early years of the solar system, this ice giant has a bizarre 'wobbly' magnetic field that scientists are still trying to make sense of, even now.
"The structure, the way that it moves… Uranus is really on its own," Gina DiBraccio, a space physicist at NASA's Goddard Space Flight Center and project scientist for the MAVEN mission, said in a press release.
Roughly 34 years ago, Voyager 2 discovered rings around Uranus, found never-before-seen moons circling it, and it took readings of the planet's extremely frigid atmosphere.
Voyager 2 flies past Uranus on January 24, 1986. Credit: NASA/JPL-Caltech
According to a new study, data from Voyager 2's flyby also picked up one other thing, which was missed at the time.
DiBraccio and fellow NASA Goddard scientist Dan Gershman were in the midst of planning possible missions for NASA to revisit the Ice Giant planets, Uranus and Neptune, but to stay this time. One aspect of this process is to look for compelling mysteries that a planetary spacecraft could investigate and potentially solve. Poring through the data collected by Voyager 2's Magnetometer instrument, over three decades ago, they found something interesting.
As the spacecraft swung by, at around 80,000 km above Uranus' cloudtops, it picked up a weird magnetic blip that lasted for just one minute of the total 45-hour flyby.

Magnetometer data from Voyager 2's Uranus flyby, showing the data averaged over 8-minute periods (red), and the same data plotted every 1.92 seconds (black), revealing the zigzag signature of a 'plasmoid'. Credits: NASA/Dan Gershman
After examining this blip closely, DiBraccio and Gershman came to the conclusion that it was a 'plasmoid' – an immense magnetic bubble being expelled from Uranus' magnetic field.
A plasmoid often forms as a planet's magnetic field is shaped by the solar wind, and influenced by solar storms. While the magnetic field lines near to the planet form a fairly spherical 'shield', the flow of the solar wind causes the outer field lines to stretch back into a 'magnetotail' on the night side the planet. If a solar storm or a fast stream of the solar wind pushes the field lines in the magnetotail closer together, they can 'reconnect', closing off a magnetic bubble that then gets caught up in the solar wind's flow.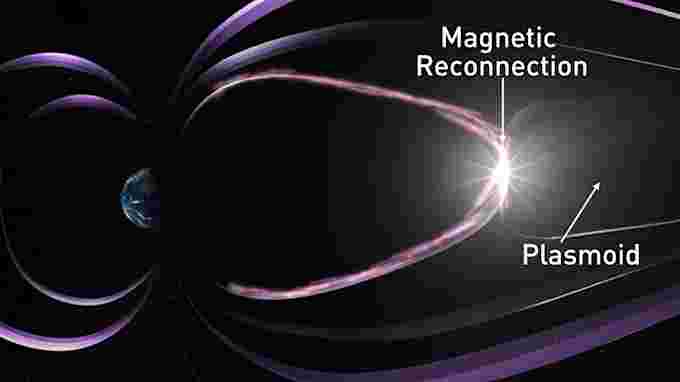 Magnetic reconnection in Earth's magnetotail forms a plasmoid bubble. Credit: NASA's Scientific Visualization Studio/Scott Sutherland
Based on what Voyager 2's Magnetometer picked up, the spacecraft apparently passed straight through one of these plasmoids as it was passing Uranus. At roughly 400,000 kilometres wide, this magnetic bubble was found to be filled with mostly ionized hydrogen. There was a bonus, too. The magnetic field inside the bubble was found to form smooth, closed loops. This told DiBraccio and Gershman that the ionized hydrogen was very likely a blob of Uranus' atmosphere, being carried away by the plasmoid.
While plasmoids are known to form in Earth's magnetotail, and they've been observed at Mercury, Jupiter and Saturn, this is the very first evidence that this process happens at Uranus too.
Currently, there is great interest in the space exploration community to send new missions out to the Ice Giants, as we have with the Gas Giants, Jupiter and Saturn. After Voyager 1 & 2's flybys of the outer planets, NASA sent Galileo, and then Juno, to orbit Jupiter. Cassini explored Saturn, and its rings and moons, for over 14 years.
Sending spacecraft to Uranus and Neptune would give us new up-close looks at these distant worlds. It would provide new data that could help scientists solve existing mysteries that were discovered, either by telescopes or the Voyager probes. It would undoubtedly give us new mysteries to study, about the Ice Giants themselves and about our solar system in general.
Sources: NASA | NASA's Scientific Visualization Studio
RELATED: VOYAGER 2 HAS GONE INTERSTELLAR!
COVID-19: Fanshawe team studies possible way to stop virus's spread in body – London Free Press (Blogs)
Article content
Fanshawe College researchers in London are studying a process that could lead to an effective treatment for COVID-19.
"When a virus enters the body, its ability to produce devastating effects is due to its capacity to make copies of itself while evading the body's immune system," said Abdulla Mahboob, manager of Fanshawe's Centre for Applied Research and Innovation in Biotechnology (CARIB) labs, where the study is underway.
We apologize, but this video has failed to load.
COVID-19: Fanshawe team studies possible way to stop virus's spread in body
Back to video
The college team is testing a custom inhibitor they hope will block virus proteins from binding together to help the virus's genetic material get past cell defences, he said. "If we stop the proteins from binding together, we can expose the virus to the cell's immunity, which in turn will stop the spread of the virus itself in the patient."
Scientists are testing the inhibitor using mammalian cells containing the specific proteins targeted in the study, with promising results, the college said.
If effective, the inhibitors would then be tested on the virus in lab-grown cells and work would begin to turn it into a viable treatment for the respiratory disease.
It's the latest in a number of studies by college scientists, including one looking at the potential benefits of cannabis extract in treating blood clots and inflammation in life-threatening COVID-19 cases.
Take 2 for SpaceX's first astronaut launch with more storms – CTV News
CAPE CANAVERAL, FLA. —
SpaceX pressed ahead with its second attempt to launch astronauts for NASA — a historic first for a private company — but more stormy weather threatened more delays.
Elon Musk's company came within 17 minutes Wednesday of launching a pair of NASA astronauts for the first time in nearly a decade from the U.S., before the threat of lightning forced a delay.
NASA Administrator Jim Bridenstine said managers were debating whether to bump the next launch attempt from Saturday to Sunday to take advantage of a slightly improved forecast at Kennedy Space Center.
At an outdoor news conference Friday, Bridenstine stressed the need for safety for astronauts Doug Hurley and Bob Behnken — no matter how many times it takes to launch them in a SpaceX Dragon capsule atop a SpaceX Falcon 9 rocket to the International Space Station.
"We cannot forget this is a test flight. This — is — a — test — flight," he repeated. "We will go when everything is as safe as we can possibly make it."
Forecasters put the odds of acceptable weather conditions Saturday at 50-50, with the outlook improving to 60% favourable on Sunday. Rain and clouds were the main concerns for both days.
While NASA urged spectators to stay home because of the pandemic, prime viewing spots at area parks and beaches were packed Wednesday. A weekend launch could draw even bigger crowds. The Kennedy Space Center Visitor Complex reopened Thursday, after a 2 1/2-month shutdown, and within a few hours, all 4,000 tickets were snapped up for Saturday's launch attempt.
President Donald Trump and Vice-President Mike Pence were expected to return for the Saturday attempt. The number of employees, journalists and guests inside remained extremely limited because of the pandemic.
Whether an attempt is made Saturday or Sunday, "There will be no pressure. We will launch when we're ready," Bridenstine said.
The last time astronauts launched to orbit from the U.S. was in 2011 when Atlantis closed out the 30-year space shuttle program. Hurley was on that mission as well.
NASA hired SpaceX and Boeing in 2014 to get the ball rolling again — kicking off a commercial revolution for getting people to low-Earth orbit, according to officials. In the meantime, NASA has spent billions of dollars to buy seats on Russian Soyuz capsules for U.S. astronauts, in order to keep the space station staffed.
Boeing's first astronaut flight, on the company's Starliner capsule, is not expected until next year.
Bridenstine offered high praise for Musk on Friday and all his personal touches: spiffy spacesuits, Tesla rides to the launch pad, a colour-co-ordinated rocket and capsule — and more.
Musk has brought "vision and inspiration" to the American space program, Bridenstine said. While there's occasionally a little tension between NASA and SpaceX, "he gives me a commitment and he delivers on that commitment. That has happened every single time."
——
The Associated Press Health and Science Department receives support from the Howard Hughes Medical Institute's Department of Science Education. The AP is solely responsible for all content.
Proxima b, a confirmed — potentially habitable — Earth-sized planet, is a mere 4.2 light years away – The Post – Ontario
At 1.17 Earth masses and in the habitable zone, scientists says it's orbiting the nearest star to our sun
A team of scientists from the University of Geneva has confirmed the existence of an Earth-sized planet orbiting the star closest to the sun. The planet, called Proxima b, is 1.17 times the mass of Earth and is located in the habitable zone of Promixa Centauri, 4.2 light years away.
Because Proxima Centauri is a red dwarf, much smaller and cooler than the sun, its habitable zone or Goldilocks zone — neither too hot nor too cold for liquid water to exist — is very close to the star. Proxima b orbits about 20 times closer to its star than Earth does to the sun, and a year on the planet is just over 11 Earth days long.
Red dwarf stars emit huge quantities of X-rays, and the scientists estimate the planet gets 400 times as much radiation as Earth. But Christophe Lovis, a researcher in the astronomy department of the university, was optimistic that this might not rule out the possibility of life, or at least habitability.
"Is there an atmosphere that protects the planet from these deadly rays?" he asks. "And if this atmosphere exists, does it contain the chemical elements that promote the development of life — oxygen, for example? How long have these favourable conditions existed?"
Proxima b could have a moon-sized neighbour.
Such questions will, he hopes, be answered in the next few years by the next generation of spectrometers, which will tease out data from the light of the star and its planet. The recent confirmation of Proxima b came from data from a spectrograph called ESPRESSO (Echelle Spectrograph for Rocky Exoplanet and Stable Spectroscopic Observations) mounted on the Very Large Telescope (yep, that's its name) in Chile.
Proxima b was first detected by an earlier instrument called HARPS, or High Accuracy Radial Velocity Planet Searcher. "We were already very happy with the performance of HARPS, which has been responsible for discovering hundreds of exoplanets over the last 17 years", says lead researcher Francesco Pepe. "We're really pleased that ESPRESSO can produce even better measurements."
Related
In addition, data from ESPRESSO included a second signal that could indicate yet another planet orbiting even closer to the star. "If the signal was planetary in origin, this potential other planet accompanying Proxima b would have a mass less than one third of the mass of the Earth. It would then be the smallest planet ever measured using the radial velocity method," says Pepe. Proxima b could have a moon-sized neighbour.
Despite the relative nearness of Proxima Centauri as the sun's closest stellar neighbour, we will have to rely on spectrographic data for the foreseeable future. Our fastest interplanetary probes, the Voyagers and New Horizons, would take tens of thousands of years to reach Proxima Centauri, even if they were headed in that direction. A plan called Breakthrough Starshot imagines a tiny probe travelling at 20 per cent of light speed, and making the journey in 20 years, but it's still very much on the drawing board.