Warframe Continues To Evolve After TennoCon 2020 – CGMagazine
Heart of Deimos reveal, Pilotable Mechs, and a Brand New Warframe
TennoCon's 2020 online keynote has officially wrapped up and with it comes a huge set of announcements coming to Warframe across all platforms on August 25. From new open worlds to explore, to even pilotable mechs, Digital Extremes continues to pump Warframe full of rich content for its devoted playerbase to sink their teeth into.
Starting with Heart of Deimos, players will be able to explore a new open world set on a living and infected moon overrun by the parasitic forces of Warframe's infested faction. It's here on this grotesque world that players will set off to uncover the twisted origins of the infested and the vile experiments run by the fabled Entrati family.
A new twist Digital Extremes has introduced with Heart of Deimos' open world is that the series of underground tunnels that run beneath the moon's surface are going to be procedurally generated, which aims to make the exploration of this living bio mass feel fresh every time.
To push back the threat of the infested hivemind and its seemingly unending hoard, players will need to quickly become familiar with their new weapon left behind by the Entrati, the Necramechs. These pilotable hulking suits of armour are likely going to be the key to your survival in this expansion, allowing players to delve deeper into the horrific tunnels of the Infested's homeworld all the while unleashing a new arsenal of serious firepower.
Lastly, the 44th Warframe, Xaku, has been unveiled. Known in concept and in the community as "The Broken Warframe", Xaku wields the power of the void to manipulate the space around it and to control the enemies weapons as if it were it's own. What makes Xaku interesting is that on-top of being primarily community designed, Xaku is also the first gender-netural frame to be added to the game. Xaku's release in the Heart of Deimos update will soon be followed by the recently revealed Alchemist and Wraithe frames that will be shown off at a later date.
Epic being sued over Fortnite's Coral Castle – GoNintendo
Coral Castle is a location in the current Chapter of Fortnite, which you can see in the image above. Turns out Coral Castle is also the name of a real-life location in Florida. The company behind that location, which is also known as Florida's Stonehenge, is out to sue Epic for using the Coral Castle name in Fortnite.
There's more to the lawsuit than just the name, though. The people at Coral Castle museum feel that the Fortnite location has a lot of similarities to the real-life spot, including "nautical/beach motifs, castle structures, partial castle walls, and stone objects."
Coral Castle wants to get monetary damages associated with the confusion between the two, and for Epic using the trademarked name without their permission.
Active COVID-19 cases drop by two Friday – BlackburnNews.com
Active COVID-19 cases drop by two Friday
August 15, 2020 5:27am
Lambton Public Health reported Friday night that the number of active COVID-19 cases dropped from 13 to 11.
There are 331 confirmed cases of the virus, unchanged from Thursday, with 295 of those resolved, up two.
The death toll remains at 25.
On its website Saturday, Bluewater Health reported that there are no positive patients in hospital and 16 are awaiting test results, including pre-surgical screening.
'Fortnite' app removal threatens social lifeline for young gamers – Fox Business
NEW YORK/BENGALURU – A YouTube alert interrupted Jack Erricker's schoolwork on Friday morning as he and kids all over the world woke up to the news that their favorite game, Fortnite, had been taken down from Apple's Store and Google Play store.
"It's basically the only game I play," said Erricker, an 11-year-old in Bengaluru, India, an avid Fortnite player on his Apple iPad. "I'm not happy, I don't think it's a good move."
Fortnite, which has attracted more than 350 million players globally, is especially popular among younger gamers and has become one of the few lifelines to the outside world for kids trapped at home during the coronavirus pandemic. Unable to play outside, kids are spending hours with friends chit-chatting and fighting on Fortnite, which is free to play and available on nearly all devices.
APPLE AND GOOGLE GO TO WAR WITH EPIC GAMES OVER FORTNITE
Apple and Alphabet Inc's Google on Thursday removed Fornite from their app stores for violating in-app payment guidelines, and the news spread rapidly among kids who are otherwise too young to get headlines off CNN, the BBC or the New York Times.
Removal means no new players can download the game and the app will not receive updates from the store. But the game will continue to work for now for those who already have it.
Calum Jack, an eight-year-old from London, heard the Fortnite news from friends in Asia as soon as he woke up at 6 a.m. The topic was "all over YouTube," he said.
FACEBOOK BASHES APPLE JOINING THE FRAY ON WAIVING COMMISSION FEES
He is online up to 10 hours a day, playing, building or just chatting with up to 20 friends as far apart as Canada and India. Fortnite and other online games have been Jack's main social outlet since coronavirus lockdowns closed schools across the world in March.
"It's been very important since we've been on holiday. We play all the time," he said.
Fortnite-owner Epic Games has challenged Apple's policy of taking a cut of purchases made inside the app by allowing users to pay Epic directly at a cheaper price. The financial ramifications of the move were apparent even to young gamers.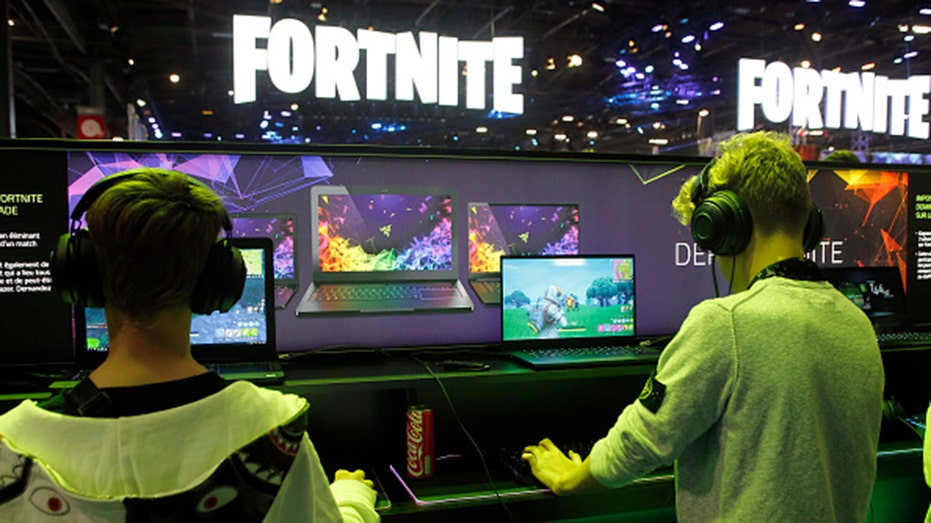 GET FOX BUSINESS ON THE GO BY CLICKING HERE
"Epic was cutting into Apple's profit margins," said Zoraan Kunnel, 13, of Bengaluru, India.
On Thursday, Epic released a video within Fortnite, on YouTube and other social media channels mocking Apple's iconic "1984" ad with the hashtag "FreeFortnite." The hashtag has trended on social media and racked up nearly 26 million views on short-form video app TikTok.
"My friends think that Fortnite is going to win the argument," Erricker said. "There's a lot of people who play Fortnite, and they'll be against Apple."
As to what Jack will do if the game stops working on his iPad, he said: ""I'd just play on the [Sony] PS4."
READ MORE ON FOX BUSINESS BY CLICKING HERE