We're #25! Industrials power modest Q3 gain for the TSX – BNN
The S&P/TSX Composite Index rose 3.91 per cent in the third quarter, with gains moderating after a blowout Q2 as equity markets digested the shocks from the COVID-19 pandemic, prospects for continued economic shutdowns and the impact of lower-for-longer interest rates.
Those gains have the Toronto benchmark ranked 25th out of 92 global peers, sandwiched between Romania's Bucharest BET Index and Germany's DAX Index, and comfortably lagging the performance of the U.S. broad-market S&P 500 and the blue-chip Dow Jones Industrial Average.
In all, nine of the 11 TSX subgroups were in positive territory for the quarter, indicating a degree of breadth to the gains.
Below, BNN Bloomberg takes a look at the TSX leaders and laggards for the quarter that was.
Sector leaders:
Industrials: +13.22 per cent
Utilities: +9.88 per cent
Materials: +8.76 per cent
Industrials led the way for the TSX, as investors looked to parse the impact on Canada's economic reopening on the nation's transport, construction and equipment makers. Utilities, which typically perform well in a low-rate environment due to their need to borrow capital to fund expansions and have a habit of paying steady dividends, took second spot with a nearly 10 per cent gain. The materials subgroup took third sport with a nearly nine per cent gain, with gold prices holding near a multi-year high due to global economic uncertainty. But it wasn't just the precious metal that helped the subgroup, with some strength in copper lifting base metals producers amid speculation Chinese industrial activity was beginning to recover from the pandemic-induced demand destruction.
Lead gainers:
Trillium Therapeutics Inc.: +72.45 per cent
Pretium Resources: +50.00 per cent
Ritchie Bros. Auctioneers: +42.88 per cent
Trillium Therapeutics:
Trillium hasn't just been a standout performer in the third quarter, it's been the top performer on the TSX Composite Index so far this year, rising more than 1,000 per cent. The company, which develops cancer treatments for conditions including lymphoma, has seen encouraging results for some of it's treatments, buoying investor enthusiasm. Trillium's efforts haven't gone unnoticed by some of the heavy hitters in the pharma industry, with Pfizer Inc. taking a US$25 million equity stake in the firm during the quarter. Trillium also raised $150 million in Q3 through a share offering.
Pretium Resources:
The rising price of gold lifted all boats, but none more than single-mine operator Pretium. The company, which operates its Brucejack mine in north-west British Columbia, surged past analyst expectations in its most recent quarter. The rising price of bullion prompted Pretium to raise its full-year free cash flow expectations, based on an average gold price of US$1,800 per ounce. However, Pretium also warned that COVID-19 measures would raise costs as it looks to protect its workers and operations from the ravages of the virus. Pretium's Brucejack mine is a sprawling claim with difficult geological hurdles and is seen as a potential acquisition target, with Barrick Gold Chief Executive Officer Mark Bristow having been reluctant to say the mining giant wouldn't take a look at a potential tie-up.
Ritchie Bros Auctioneers:
Canada's preeminent dealer of used industrial, farming and construction equipment has thus far weathered the pandemic-induced slowdown. Net income decreased a paltry two per cent in the company's most recent quarter, even in the face of lockdowns and a drop in overall economic activity. There is, however, a degree of counter-cyclicality to Ritchie Bros results. As a middleman for the sale of second-hand equipment, the firm often benefits from customers seeking out deals on the second-hand market rather than shelling out for brand new equipment.
Sector laggards:
Health care: -14.44 per cent
Energy: -9.39 per cent
Communications services: +0.79 per cent
Trillium's outsized gains weren't enough to spare the health care sector from posting the weakest performance of the composite's 11 subgroups in the quarter. Health care was hammered by some noticeable weakness in the cannabis sector as pot stocks continue to be punished for rocky performances. Energy's rough ride continued, albeit with a disconnect from underlying energy prices. While individual stocks have been under pressure, crude oil prices have largely been in a holding pattern, with North American benchmark West Texas Intermediate hovering around US$40 per barrel as investors assess how the pandemic and subsequent economic reopenings impact the demand picture. Communications services has seen a bit of a mixed bag through the quarter, as Canada's Big Three telcos spar with new entrants over wholesale network access rates and Cogeco battles a takeover offer from Altice USA and Roger Communications, which muddies the picture when it comes to overall performance.
Lead laggards:
Aurora Cannabis Inc: -63.07 per cent
Vermilion Energy Inc: -48.51 per cent
Enerplus Corp: -36.13 per cent
Aurora Cannabis:
Aurora's stock has been demolished amid persistent cannabis oversupply concerns. Shares in the company plunged more than 25 per cent in one trading session alone after the company disappointed investors with its fourth-quarter results as growing pains persist in the cannabis market. The firm was also chastised by MKM Partners, with their analyst calling on Aurora to stop growing so much cannabis as the market remains out of balance with consumer demand. The company says it expects to reach positive EBITDA (earnings before interest, taxes, depreciation, and amortization) by the second quarter of 2021, about 18 months later than earlier projected.
Vermilion Energy:
The geographically-diversified energy company, which operates not only in North American but also off the coast of Ireland and France, has seen its share price swing with the vagaries of international energy markets. Fund flows from operations, a key metric in the energy sector, plunged 52 per cent in the company's most recent quarter as concerns over global energy demand mounted. Vermilion has also been hampered by price impacts from internal squabbling over production quotas for OPEC members and suspended its dividend in April.
Enerplus:
The energy price pressures also took a toll on Enerplus in the third quarter. The company, which operates in Western Canada, North Dakota, Montana and Pennsylvania, posted a 13 per cent decline year-over-year in its most recent quarter, reflecting a troubled picture for overall consumer demand. Enerplus also booked significant impairment charges in the quarter, further hampering results.

Which top TSX gainer are you most likely to invest in?
Total Results: 0
Coronavirus: Alberta's top doctor says "we have a challenge" as 1440 cases confirmed over weekend – Global News
[unable to retrieve full-text content]
Cenovus Energy shares plummet on news of its $3.8B deal to buy Husky Energy
The all-share deal by Cenovus Energy Inc. to buy Husky Energy Inc. for about $3.8 billion will likely spark more mega-mergers among Canadian oil and gas majors, according to a veteran oilsands analyst.
"This is likely just the start of big deals in Canadian energy land and thus it begs the question of who is next?" said analyst Phil Skolnick of Eight Capital in a report on Monday.
"As seen in the U.S. with the accelerated M&A activity, when there's one meaningful transaction, there's likely more to come."
Several industry observers point to Calgary-based oilsands producer MEG Energy Inc. as the leading potential target, noting Husky's failed $3.3-billion hostile takeover attempt of its smaller rival two years ago.
In his report, Skolnick presents scenarios where Canadian Natural Resources Ltd. (sometimes referred to by its stock ticker, CNQ) or Imperial Oil Ltd. buy MEG, while also outlining the numbers involved if Canadian Natural combined with Imperial or Suncor Energy Inc., and if Suncor were to merge with Imperial.
"Some (scenarios) have been asked about before and I was just bringing up some new ones _ like a CNQ and Suncor merger is not something I've heard out there, but nor was Cenovus-Husky," he said in an interview.
"I'm not going to give zero chance to anything anymore."
Analysts generally applauded the surprise Cenovus-Husky hookup announced Sunday for its operational advantages but criticized the plus-20-per-cent premium in the price for Husky.
"The deal does makes strategic sense," said Manav Gupta of Credit Suisse in a note to investors.
"Like U.S. E&P (exploration and production companies), Canadian energy companies also need to come together, cut costs and become leaner to better adapt to lower energy demand in post pandemic world."
He said Cenovus's reputation as an efficient operator in its steam-driven oilsands projects will help Husky overcome its struggles with operational issues, including higher operating and administrative costs.
The companies have identified $1.2 billion in potential annual cost savings which will include workforce reductions.
But Gupta added the premium is "excessive" and joined other observers in predicting Cenovus shares would trade lower, as they did, falling by as much as 15 per cent to $4.15 in Monday trading in Toronto before closing down 8.4 per cent at $4.47.
Husky, meanwhile, gained as much as 14.2 per cent to $3.62 before closing up 12 per cent at $3.55 .
Husky shareholders are to receive 0.7845 of a Cenovus share plus 0.0651 of a Cenovus share purchase warrant in exchange for each Husky common share if the deal is concluded.
Cenovus shareholders would own about 61 per cent of the combined company and Husky shareholders about 39 per cent.
The transaction must be approved by at least two-thirds of Husky's shareholders but Hong Kong billionaire Li Ka-Shing controls 70 per cent of Husky's shares and has agreed to vote them in favour of the deal.
The announcement Sunday came just as Calgary's oilsands companies are about to start rolling out third-quarter financial results, with Suncor Energy Inc. set to report Wednesday and both Cenovus and Husky scheduled to report on Thursday.
© 2020 The Canadian Press
1 New Case Of COVID-19 In Windsor Essex As Of Monday – windsoriteDOTca News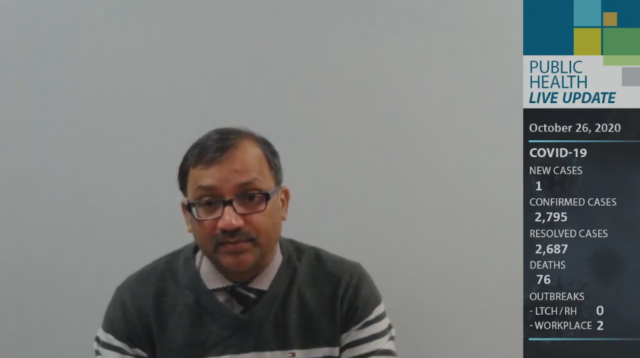 The Windsor Essex County Health Unit has announced 1 new case of COVID-19 as of Monday, bringing the local total to 2,795. They say 2,687 people locally have recovered.
Cases increased from 2,794 on Sunday October 25th to 2,795 on Monday October 26th and 32 cases of COVID-19 are currently active in Windsor-Essex.
The Health Unit says Monday's one new case is still under investigation.
Article Continues Below Local Sponsor Message
There have been no additional deaths due to COVID-19 as of Monday and the local death toll stands at 76.
As of Monday, the Health Unit lists 1 person as hospitalized with a confirmed case of COVID-19 in Windsor Essex, and 1 person in the ICU. Zero hospitalizations are listed at Windsor Regional Hospital.
Workplace Outbreaks
As of Monday, the Health Unit says the following workplaces are under outbreak:
1 construction company (in Lakeshore)
1 food & beverage services company (in Kingsville)
A workplace outbreak is declared when two or more employees test positive for COVID-19 within a reasonable timeline to suspect transmission in the workplace, according to the Health Unit. Officials with the Health Unit have said a workplace will only be named if a threat to the public exists.