West Vancouver creatives at the centre of free art tour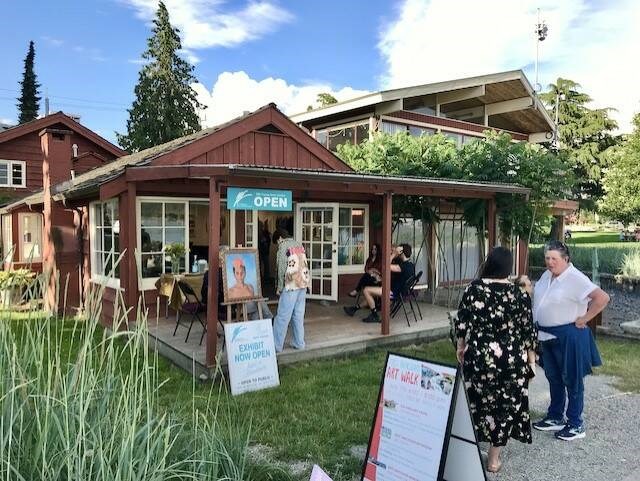 Dotted with galleries and teeming with esthetically pleasing nooks and crannies, there is no alternative but to take the scenic route when in West Vancouver.
Starting this Thursday, May 4, and taking place the first Thursday of every month until September, the West Vancouver Community Arts Council will celebrate the beauty of Ambleside and Dundarave with an art walk, designed to help locals discover and champion local art and artists.
Dubbed First Thursdays Art Walk, the self-guided tour will weave through local galleries, community spaces and pieces of public art, checking off 30 pieces along the way.
"It is a great way to discover all of the arts and culture offerings that are here in West Vancouver, and to familiarize yourself with the Ambleside and Dunderave neighbourhood if you're new to the area or if you're just visiting the North Shore," said the West Vancouver Community Arts Council's Steven Snider.
"There will likely be some things, like pieces of public art, that people might not even realize are there, or different types of activities going on at these art galleries that people aren't usually aware of," he said.
Features on the billing include exhibitions from the recently opened Ferry Building Gallery, the Silk Purse Arts Centre, the West Vancouver Art Museum and the West Vancouver Memorial Library, with each open from 6 p.m. to 8 p.m. and free to the public.
The venues will host work from local artists alongside tours, art demonstrations, live music, workshops and opportunities to meet exhibiting artists and local creatives.
On May 4 at the Music Box, wanderers will be encouraged to get involved and create their own pieces, with Indigenous artist James Groening hosting a painting workshop inspired by the story of Turtle Island and his own community's Woodland Art style of painting.
Over at the Ferry Building Gallery, artist Leslie Gould will be hosting an experiential life drawing demo, while the Silk Purse Arts Centre will reel in the crowds with artist talks from printmaker Rick Herdman and abstract artist Colette Tan, as well as live music from pianists Lively Li and Paniz Moslehi.
For both big and little kids who have been champing at the bit to see Paul Hetherington's Bricktacular West Coast Modern Show, an exhibition of local landmarks created entirely by LEGO pieces, the West Vancouver Memorial Library will be offering a sneak peek.
"The crawl is great for everyone, all ages, families and friends. It doesn't really matter if you're well versed in arts," said Snider. "It's just a great experience for anyone to just see what's out there, and see what creative people are doing in the community."
For more information on the monthly event visit the First Thursdays Art Walk website. 
Renowned Queen Elizabeth II portrait on display at Art Galley of Peterborough – Global News
As he stood in the Art Gallery of Peterborough looking at the large portrait of Queen Elizabeth II, Alex Bierk says he can "hear my dad painting on it, being excited about working on it."
The city councillor spoke passionately about his father David Bierk as the portrait went on public display Wednesday evening for the first time since it was removed from the Peterborough Memorial Centre last fall where it hung over the ice for nearly five decades.
"So intuitively and immediately I'm connected to my dad's big presence and his energy when I view this work," Bierk told the audience.
READ MORE: Art Galley of Peterborough acquires Queen Elizabeth II portrait from Memorial Centre
In February, the gallery acquired the eight f0ot-by-12-foot portrait, which was first installed at the arena in January 1980 and remained there until the State Funeral of the Queen on Sept. 19, 2022.
Original commissioning documents, held at Trent Valley Archives in Peterborough, state that if the painting ever needed to be removed, it should be donated to the Art Gallery of Peterborough, or the Peterborough Public Library, whichever was preferred.
Briefly in 2003, the painting was removed from its original location due to arena renovations. However, public protest saw the portrait rehung.
Bierk follows in his father's footsteps as an oil painter and says the portrait is a labour of love. He recalled running around the Memorial Centre as a kid looking up at the painting. Bierk's brother Zac is a former Peterborough Petes player. David died in 2002 at the age of 58.
"The painting intersects my dad's love of sports and his life as an artist and how it hung over Zac's head all those years he played for the Petes," Alex said.
The portrait was launched as part of the gallery's Special Project: Tea with the Queens exhibition, a short-run project to showcase David Bierk's painting, Portrait of Her Majesty Queen Elizabeth II before it goes into collection storage joining the Permanent Collection.
The portrait will hang in the gallery until June 29 alongside works by artists who are Indigenous, queer, and living with disabilities.
"We've got a lot of works by David Bierk so it's pretty exciting to have this joining a number of his other pieces," curator Fynn Leitch said.
There will also be a series of afternoon tea sittings or "Tea with the Queens," hosted by local drag performers Betty Baker and Sahira Q. Seatings will take place on June 11 and June 14 from 2 p.m. to 4 p.m. and June 22 at 4 p.m. Tickets are available to purchase in person at the gallery or by calling 705-743-9179 during regular business hours.
Mayor Jeff Leal recalled he and others taking classes under David Bierk who was seen as an "artistic genius" and helped many to "develop a unique love of the arts."
Bierk says his family is appreciative of the gallery for accepting the painting.
"The amount of calls I got asking if I was going to take the painting — no!" he quipped as he waved his hands. "We're really glad it's here. It's safe and being a part of the collection at the Art Gallery of Peterborough will ensure it will live on in our community in really beautiful ways — ways like I felt when I walked into this room tonight."
Also launched Wednesday was Wayfinding: Works from the Youth Art Mentorship Program, a collection of works by youth artists Amber Rose, A. Carabine, Charley Pesonen, Kellan Mackenzie, Lauren Armstrong, and Mujgan Hussein Zada who spent the last three months working with artist-mentor Spencer J. Harrison. The goal was to explore the professional practice of being an artist and produce an exhibition of their work. The youth were selected by a jury of arts professionals earlier this year.
&copy 2023 Global News, a division of Corus Entertainment Inc.
Winnipeg Art Gallery sells four QEII prints to purchase Indigenous art – CityNews Winnipeg
[unable to retrieve full-text content]
Winnipeg Art Gallery sells four QEII prints to purchase Indigenous art CityNews Winnipeg




Source link
Andy Warhol paintings sell for $936,000 at auction | CTV News – CTV News Winnipeg
Four Andy Warhol paintings that were part of the Winnipeg Art Gallery's collection have sold at auction, with the money being used to help increase the Indigenous art collection at the gallery.
Four colour silkscreens of Queen Elizabeth II created in 1985 were on the auction block Thursday at Cowley Abbott Auctioneers, where the realized price when the auction ended was $936,000.
A spokesperson for the gallery says the money from the sale will go towards an endowment that will sit for at least one year. The gallery will use the accumulated interest to begin purchasing artwork by Indigenous artists to add to its permanent collection.
While the Winnipeg Art Gallery contains the largest public collection of contemporary Inuit art, only around one per cent of its collection is from First Nations and Metis artists.
The artwork by the famed pop artist was estimated to sell for between $700,000 and $900,000. It was donated to the WAG in 1999 by a collector.
-With files from CTV's Taylor Brock