What It's Like to Be Immersed in the World of Immersive Art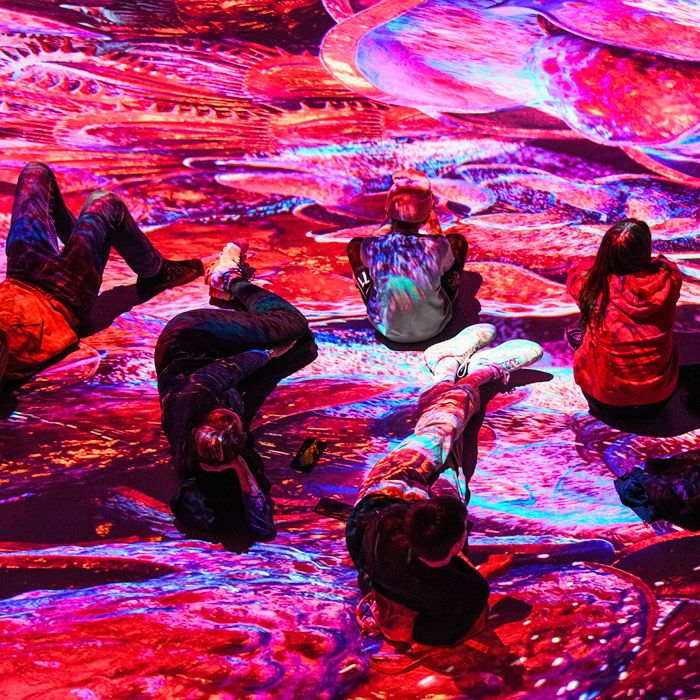 This article was featured in One Great Story, New York's reading recommendation newsletter. Sign up here to get it nightly.
Is this the end of the movie or the beginning?" I heard someone say. We were in the Hall des Lumières, which is the name these days of the landmarked former bank building on Chambers Street, and I too was attempting to orient myself in its trippy gloom. On a continuous loop, strange cucumber-shaped whales were beamed onto the ceiling of the great vaulted room, and images of sunflowers and forests flecked with gold shone on the walls. Viennese waltzes played from speakers. This was "Gustav Klimt: Gold in Motion," one of the latest cultural exhibitions (and surely not the last) to advertise itself with the ubiquitous words immersive experience. 
The space was half-filled with the characters you tend to see in galleries and museums on rainy weekday afternoons: distracted parents, pods of teenagers, tourists wearing dazed expressions and matching flannel shirts. Unlike at most traditional art venues, however, many of them were sprawled on the hall's cold marble floor in various attitudes of contemplation and wonder, and a few of them, like me, may have even briefly been asleep. There was also an entire room downstairs dedicated to Klimt selfies.
Wandering the dimly lit chambers, I met a salty older gentleman with a Hemingway-style beard who frowned silently when I asked him what he thought of the show. But a younger patron from Miami named Isha, whose phone was alight with TikToks of her Klimting, told me she liked "the feeling of being inside the artist's mind." This was her first immersive, she said with a gleam, but she and her friends were already planning to visit many more.
That wouldn't be difficult. These kinds of shows have been around for years, but lately they've reached a saturation point — in high art, tourist schlock, and the blurry regions in between. New York has recently hosted "Beyond King Tut: The Immersive Experience," "Monet's Garden: The Immersive Experience," and "Van Gogh: The Immersive Experience," which is not to be confused with "Immersive van Gogh." Also "Frida Kahlo: The Life of an Icon" ("An immersive biography"), "Magentaverse NYC" ("Explore the boundless sights, sounds, feelings and inspirations of the Pantone Color of the Year 2023"), and "INTER_" ("Ancient wisdom meets tech-enabled art" that's "now open for beta in Soho"). Tourist guides promote immersive activities at the museums of Broadway, Ice Cream, Illusions, and Sex, and the haughtier bastions of culture are scrambling to install their own experiential exhibits. MoMA has Refik Anadol's "Unsupervised," and David Zwirner will unveil a Yayoi Kusama "infinity mirrored room" in May.
If you spend enough time at these increasingly elaborate and inescapable spectacles, you'll notice two things. The first, obviously, is the exorbitant cost of your ticket: "Gold in Motion" cost $34, which is $4 more than the Met and $9 more than the Neue Galerie, both of which have actual Klimts on their walls. And the second thing, I can report with some surprise, after immersing myself in quite a few, is the easy, dreamy, slightly addictive quality of the shows. As you move from one pleasantly distracting set piece to another, pondering when to ingest the lemon-flavored edible in your pocket, it feels like playing hooky — a reprieve from the hushed, ponderous solemnity of the Establishment museums and galleries.
These shows are connecting with people, and we have many stories to tell," says Mark Lach. We're meeting one morning at the echoing pier space by the East River where "Beyond King Tut" has recently ended its holiday run. Lach, who is 65, is the King Tut show's creative producer and the president of a company called Immersive, which designed the project with National Geographic. Like many people in this mushrooming industry, he began his career in theatrical management, staging big-hair rock shows in Florida, and has many multisensory exhibits to his credit on topics ranging from Saturday Night Live to Cleopatra to the Titanic. Disarmingly ebullient and wearing a baseball cap, he reminded me of Steven Spielberg or maybe the Wizard of Oz.
The immersive craze began with a series of van Gogh shows that originated in the south of France in the mid-aughts, which proved that consumers would pay more to see re-creations of art in event halls than they would to view oil-on-canvas originals at proper museums. But only in the past few years have these exhibits truly proliferated, thanks to the confluence of several specific trends. Social media stoked a bottomless appetite for filming ourselves in maximalist settings; digital video and sound technology got better and cheaper; and COVID created a glut of empty, inexpensive urban real estate.
Most conventional exhibits unfold linearly along a path planned painstakingly by curators. The classic immersive experience is a nonlinear environment that people can move in and out of like schools of fish without having to worry about a beginning, middle, or end. Usually, there is no original artwork hanging on the walls, and all of the stimulus is generated digitally through projectors and speakers.
"People say, 'Why not just go see the van Gogh hanging on the wall? Why do we need to see it 20 feet tall?'" Lach says. "But I don't see this as an either/or proposition." Whether it's a projection of Irises or King Tut's impressive collection of walking sticks, the idea of a multisensory experience is to enhance, rather than duplicate, what Lach calls "the magical experience of coming face-to-face with the original artifact." He's a populist. If people have never been to Egypt, his immersive room can give them a taste of the sand and pyramids, and if it's all a little schmaltzy, so be it.
Until recently, immersive shows, especially those in the U.S., tended to be like concerts or circuses: They would pop up in one city, play until demand slackened, then move on. But this model is changing. The Hall des Lumières, which opened in September, is part of a joint venture by the American entertainment company IMG and France's Culturespaces, the industry's most notable pioneer. They're creating a network of permanent museum-style locations in cities from New York to Paris to Seoul that feature a stream of what the company describes as "bespoke digital art experiences."
The shows are complex. "Beyond King Tut," for example, requires several dozen speakers and projectors, along with hundreds of lighting instruments. But the exhibits can operate with minuscule staff and development costs can amortize to nothing the longer a tour goes on. As one veteran told me, "It's much easier to send a single hard drive across the Atlantic than a whole series of precious, expensively insured paintings."
In London, a company called Lightroom has leased a new building in King's Cross. For an opening act, Mark Grimmer, one of the directors of 59 Productions, a London-based interdisciplinary design company, spent the past three years collaborating with the Instagram-friendly David Hockney to produce one of the first immersive blockbusters by a living artist. "David Hockney: Bigger & Closer (not smaller and further away)" opened in late February. Reviews by members of London's art cognoscenti have ranged from respectfully polite to predictably scathing (the Guardian called it "an overwhelming blast of passionless kitsch"), but the spectacle has been mobbed by patrons willing to pay upwards of £25 per ticket.
"People are more digitally savvy now, of course, especially younger people, but post-pandemic, I think we're seeking out these kinds of communal experiences," Grimmer says. According to him, one of the most-talked-about digital experience in London these days is the $175 million "ABBA Voyage." It's priced like a live concert, with many tickets above £100, but stars digitized avatars of the original band. After the Hockney show ends, Lightroom plans to present all sorts of collaborations beyond the visual arts. It's not hard to imagine a near future in which eerily sophisticated and immortal AI approximations of cultural icons (from Jeff Koons to Ai Weiwei to Led Zeppelin) loop endlessly in immersion venues around the globe, further erasing the distinction between art and performance. It would make the economics of the old museum game seem small.
The Met, though, doesn't have anything quite so loud and disheveled as "Beyond King Tut." When I visited, the galleries, which described the discovery of Tutenkhaman's perfectly preserved tomb and the ritual steps of his ceremonial journey into the afterlife, were divided in some places by a flimsy network of flapping black curtains. The most boring section was Lach's supposedly immersive hall with generic shots of camels and shimmering desert suns rising over the pyramids. The most interesting area by far was the last, where for an extra $15 you could rent a pair of virtual-reality goggles, recline in what looks like a chair heisted from the business-class section of Egyptian Airlines, and peer like a time traveler inside his tomb, seeing a tiled floor below your feet, the ceiling above, and all of the boy king's favorite things (a chariot, his canes, jars of honey and smoked ox tongue) neatly stacked along the walls in wooden shelves and boxes.
Later that afternoon, I walked across the Manhattan Bridge to Dumbo to saturate myself in "Frida Kahlo: The Life of an Icon." A dazzled, slightly more artsy-looking crowd took selfies in a series of smallish subterranean rooms filled with the piped-in sounds of tropical birds, and images of peacocks and fields of flowers bloomed and swirled across the walls. The strangely meditative show featured a series of multimedia exhibits devoted to various stages of Kahlo's life, including a debilitating bus crash and her long convalescence, represented by a large hospital bed. I stood and watched in a kind of stupor for minutes, or possibly hours, as it sprouted leaves and changed colors.
There were VR goggles here too, although you had to be much higher than I was to appreciate the squadrons of watermelons and skull-headed mariachi bands flying through the air. Unlike most of the immersion halls I toured, however, the artful moving images that filled this one managed to tell a coherent story of Kahlo's life and work with Diego Rivera. At one point, I found myself in a kind of Mexican courtyard, decorated with flower boxes and hung with colorful paper cutouts. Groups of young Brooklyn professionals were sitting at a long wooden table, earnestly coloring in famous Kahlo images with crayons, the way I'd seen schoolchildren do in more traditional museums. "I think it's a work team-building thing," one of the gallery assistants said. And so I sat at one of the tables and started coloring, too.
The established museums have grudgingly acknowledged that they need to get into this game. Michael Connor, a curator with long experience in digital art — he's the co-executive director of Rhizome, which works with the New Museum — has a diplomatic take. "The immersive van Gogh exhibit, it looks like maybe a pleasant place to visit, but it doesn't feel like it's altering the cultural palate," Connor says. "But it's also establishing a kind of benchmark. It's popular. People are paying money to see it, so artists have to work harder to do something weird and interesting and experimental to be part of it. Refik is an example of this, and I'm excited to see how other artists go beyond, or mess with, or subvert this moment."
Connor is referring to Anadol, the tech-driven immersive star who recently unveiled "Unsupervised" — a luminous big-screen installation supposedly influenced by AI "to interpret and transform more than 200 years of art" at MoMA. Reviews have been almost as bad as Hockney's; New York's Jerry Saltz compared it to being in the presence of a giant lava lamp. But when I dropped in, there were many more people sitting goggle-eyed in front of Anadol's exhibit than there were wandering the lavishly curated Ellsworth Kelly celebration just up the stairs.
"People want to do more than just look at art passively on the wall these days," says Tati Pastukhova, whose Washington, D.C.–based venture, Artechouse, has helped develop a variety of digitally inspired multimedia projects. "There's a bit of a boom on to curate experiences that are a little more theatrical and that pique people's curiosity and touch them in different ways," she says.
In 2019, Artechouse leased a former boiler room on the corner of Chelsea Market and opened an enterprise showing immersive pieces by a series of digital artists. Recent spectacles have included "Magentaverse" (created with Pantone) and "Life of a Neuron" (affiliated with the Society for Neuroscience), as well as a popular digitized pageant called "Spectacular Factory: Holiday Multiverse," featuring digital packages and wreaths spinning through the air.
Like most of the immersion entrepreneurs I talked to, Pastukhova was cagey about the profit side of the operation. She would clearly rather have Artechouse seen as an artistic endeavor and not a commercial one, but there's no reason you can't have both. When I took in the holiday show, the tickets cost $17 to $30 and there were 30 or so customers, many of them sprawled in various states of consciousness on the floor. There was a bar upstairs selling cocktails and a small merch area with Artechouse hoodies priced at $60. As colors climbed up the walls a little metronomically, a steady stream of curious new customers trickled in from the masses of tourists and fressers who flock Chelsea Market most hours of the day and night.
Grimmer says the immersion model depends on an endless flow of crowds and on telling stories in what he calls a "democratic" way. He points out that thanks to "Bigger & Closer," more people may get a taste of David Hockney than will see the more canonical megaretrospective that opened in 2017 and is still slowly making its way around the museums of the world. "David sees this as a way of reaching more people. That's what's exciting him about the medium," Grimmer says.
Pierre Battu, who spent years in the immersive business before becoming the general manager of Hall des Lumières, agrees. "We are opening people's eyes to the wonders of the fine arts," he says. "You have the music, you have the movement. You don't necessarily need a background in the artist to appreciate it. You feel things right away. And afterward, we've found, people are much more likely to go to traditional museums to continue the journey."
My own immersive journey ended with a visit one afternoon to "Monet's Garden" on Wall Street. Since it opened in the fall it had been "extended" several times — a common tactic in this gold-rush stage of the immersion game, Battu says, to manufacture a sense of urgency. My ticket cost $35. The person who took it said that roughly 200 people had already come through the gates that afternoon and that on peak weekend days the show saw an average of 1,000 visitors.
"I could explain to you why Monet was the greatest artist who ever lived, but this might not be the place to do it," Jerry Saltz said as we ascended the escalator toward the gardens, which were planted with lengths of artificial grass and plasticated flora, including tulips, ivy, and, obviously, water lilies. This was Jerry's first immersive, and I wanted to get his professional critic's opinion. He was on record saying the immersive art world would probably one day have its version of Francis Bacon, but we were now in the sector of entertainment rather than high art, and today he seemed happy to be entertained.
"Monet's Garden" had a selfie station where a family from New Jersey was gesticulating wildly in front of their phones, and other visitors were standing and recording yet more images of themselves on a replica of the famous Japanese footbridge that the Impressionist painted obsessively in his gardens at Giverny. There was a coloring room and a place where your own water-lily designs could be captured and projected alongside the artist's. Jerry sat for a spell under a wall of fake ivy with a slightly perplexed look on his face, attempting to process the meaning or non-meaning of the digital art phenomenon.
"So far, nothing has happened on your interior, but I guess we're okay with that," Jerry said as we made our way to the main immersion hall. People were perched on uncomfortable boxlike seats and sprawled here and there on the floor. Employees were handing out vinyl "Monet's Garden" seat cushions, like at an amusement-park ride. On the ground, disjointed images of crows and purple haystacks and snowy days swirled around, and Jerry said a little loudly and to no one in particular: "That's a Monet floor, kids! It's good that it moves, kids!"
Afterward, we stood blinking in the gift shop, pricing water-lily wine totes ($19) and Monet silk shawls ($45). We met a couple named the Comos from Wilton, Connecticut, devout culture connoisseurs, who said they enjoyed immersive shows and visited them regularly. They'd been to the Hall des Lumières ("We were underwhelmed") and the original van Gogh spectacle ("It blew this one away").
Did they think this was the end of traditional museumgoing and high culture as we know it? Of course not. It was a distraction and an entertainment and a way to experience the work of "artists we know and love."
Jerry and I walked out into the rain. "Let's do one more of these today," he said. "Let's do a doubleheader."
Art in the Park sees another year of huge crowds – Windsor Star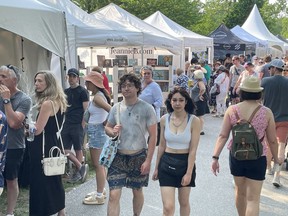 Article content
Perfect weather helped to draw big crowds to Art in the Park at Willistead Park on the weekend.
Article content
"We like to say summer begins with Art on the Park," said the organization's chairman Allan Kidd.
The event, run by the Rotary Club of Windsor (1918), is now in its 44th year and it continues to grow, he said.
"A hot day like this is perfect," he said. "This is potentially another record crowd. We set a record last year," with 27,000 paying attendees. "We're on track to do that again."
The annual show is attended by people from other provinces in Canada and Kidd noted one person who was familiar with Art in the Park when he lived in South Africa.

With 275 exhibitors and 15 musical performers, the event is a major fundraiser for the Rotary Club to support community projects around the world, Kidd said.
Last year, Art in the Park raised $80,000 to help with the maintenance and restoration of Willistead Manor, which itself provides the ideal setting for the event, he said. The Rotary Club also uses funds raised to support other causes.
Article content
"We're a charitable group. We buy wheelchairs and we drill water wells and we build schools," said Kidd , who noted people don't realize the event supports charitable causes.
"There's a disconnect in the public eye," Kidd said. "I like to say this is our gift to the community. We have this festival, everybody comes (and) for a couple of bucks they have a ball. All of these people are philanthropists without knowing it."

Solange Silivria of Windsor and friend Todd Mansell relaxed at a picnic table late Saturday. Silivria comes to the event every year.
"It's something that I used to do every year with my mum and she has since passed," she said. "I continue to do the tradition and come every single year and walk around. It's something that she loved to do."
Article content
Silivria's mother, Charlene Evon, used to run Bart Evon Designer Furniture, in LaSalle.
"I always try to meet up with friends or bring friends and come and enjoy the lovely artwork and the amazing talent, and walk around and just enjoy the day," she said.
Exhibitor Jasmine Samsair, a Windsor mixed-media abstract artist, put her work on display at the park for just the second year.
"I've always loved coming to Art in the Park," she said. "I didn't know there was such a market for abstract art. I thought why not give it a shot. I actually ended up doing really well last year and it was just so great meeting so many people."
Art in the Park is a good opportunity to get artists' work in front of the public, she said.
"Even if I don't make any sale… the biggest thing that I find is exposure. I find that doing Art in the Park, the main thing was people discovering you, noticing your work and getting your name out there."

20,000 people attend Art in the Park
It was a lovely weekend for a stroll in the park and more than 20,000 people had the same idea for this year's Art in the Park at Willistead Park in Windsor, Ont.
The two-day festival features 275 different art vendors, food and ice cream trucks and music from a number of performing artists.
"It's a wonderful thing because we see that our artists and our performers are being supported and that means a lot to us," said Aggie Sarafianos, who hasn't missed a single year of Art in the Park since it started back in 1979.
"The history, the atmosphere, the feeling that you get when you're here is just second to none," she said. "The camaraderie of the neighborhood is here, it's very blatant."
Vendors seemed quite pleased with the turnout, reporting strong sales this weekend.
"We're told that it's the best organized festival that we go to, so we love to hear that," said Allan Kidd, the chair of Art in the Park, indicating they will try to squeeze in 300 vendors next year.
The event is put on by the Rotary Club of Windsor, with proceeds going to restoring Willistead Manor, digging water wells in Africa, and buying wheelchairs for kids in Windsor.
"Everybody that comes in here has a good time but they are all philanthropists because I can't do it without them," said Kidd. "Every dollar is put to good use cause we're all volunteers. We're grateful for the public and I think they love what we do too."
Tomás Saraceno: Web(s) of Life; Tate Britain rehang review – a five-star show that's all generosity, and a reckoning with history
To reveal what happens inside Tomás Saraceno's new show for the Serpentine Gallery is hardly a spoiler. Nothing could lessen the impact. In galleries of pitch darkness, spotlights pick out an unfolding sequence of ethereal silver visions, all of them apparently floating in midair.
One spreads like the Milky Way – points of light gathering in cosmic drifts. Another hovers like spectral morning mist. A third has a gleaming upright disc at its centre, woven of what seems to be the most exiguous gauze of metal threads, held in place by barely visible guy lines.
They appear to be drawings in thin air; and yet they are also sculptures – silk structures so tremulous and fine they shiver in the circumambient air. To learn how they are made (and who made them) is still to know nothing at all of the mysterious workings of the artists themselves – none other than several rare species of spider.
Saraceno is the great spider man of contemporary art. Born in Argentina in 1973, he trained first as an architect, and one senses his profound appreciation of the way spiders create buildings as works of art. So much so that he has not boxed in their structures. There is no glass. Whisper ever so slightly and these webs move with your breath. The wonder they engender is exactly what stops you from reaching out to touch.
These spiders, who create such beauty, have very poor sight. They do not hear as we do either. Visitors can sit in a repurposed confessional box staring closely at a spectacular web that hangs where the priest would usually sit; through the wooden seat run occasional tremors. This is roughly what the spider senses of the world as it works. Saraceno's marvellous installation is a form of synaesthesia as homage: you witness the web while experiencing intermittent vibrations and blinking through a filigree grille.
A riveting film, in another gallery, shows the spider diviners of western Cameroon at work with clay pots and cards made of distinctively incised leaves. These cards are effectively the answers to vital questions asked by local people (or perhaps even by you too, now that Saraceno has built the diviners a website through which you can correspond). The spiders move the cards to give their wisdom. It feels as strange and mythical as the Oracle at Delphi.
By now, having surrendered your mobile phone on entry to some charming artists who return it with a divination card on exit, you will have realised that webs are a metaphor for the way Saraceno works. The spiders have answers that no phone can give; no phone can capture the magical webs. And phones involve batteries that require lithium, subject of another of Saraceno's art campaigns, and of a beautifully shot film screening in the central rotunda.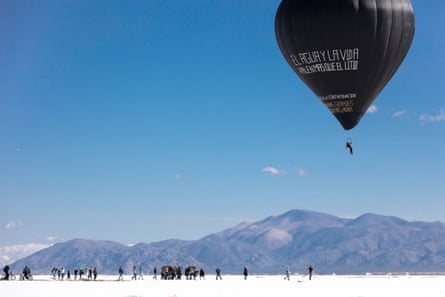 This concerns the Indigenous communities of Jujuy in Argentina who are fighting for the preservation of vital land and water threatened by the relentless mining for lithium to supply our wretched batteries. The narrative of words, images, protests and interviews is deeply absorbing. And, not incidentally, you will also see a flotilla of black balloons (sculptures, too, in their way) that are powered to fly across the sparkling white salt flats of Jujuy using solar energy. These are another of Saraceno's attempts to find a way, as he puts it, "to levitate without any violence to the earth". His flight in 2020 broke 32 records and was then the longest fossil-free flight in history.
One side of the Serpentine Gallery is entirely open to the green landscape outside. Animals of all sorts are welcome (there is a ladder for squirrels, a house for birds, welcoming sculptures of dogs, deer and hedgehogs). Children have their own secret gallery. The roof is laid with solar panels to supply energy. Pedal the bicycles outside and you power up the voices of Jujuy on headphones.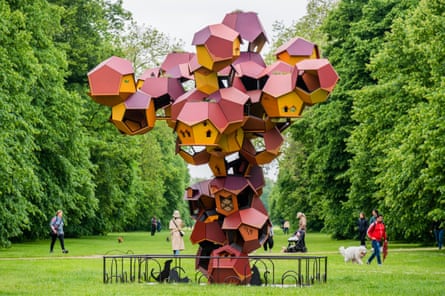 Saraceno's work is as delicate and involving as the webs he displays. Artist, scientist, activist, philosopher, inventor, composer, he is a Renaissance mind for the 21st century. And what is so striking about this captivating exhibition, in all its generosity, is that Saraceno believes that everyone else is as curious and optimistic as he is: that art can have active agency.
It is 10 years since Tate Britain last reorganised its collection, a decade so turbulent even art institutions could not remain heedless. The new rehang embraces many more women and artists of colour, introduces much more historical context about patronage, society, race, class and politics, and stints (mercifully) on Bacon, Hockney, Freud et al, who scarcely need further enlargement. There are sufficient new names, overdue revivals and close-focus galleries – an electrifying William Blake, a fascinating room of one's own devoted to Woolf-era women – as to educate the mind and eye and renew the experience.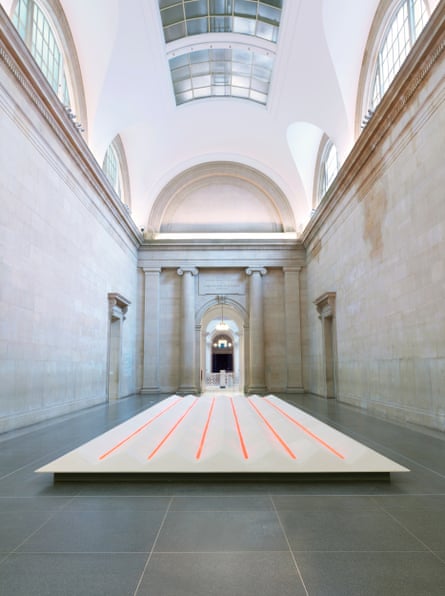 The faults are many and obvious. Above all, this rehang treats artworks as documents. An 18th-century tea party allows for sermonising on tea (imperialism), sugar (slavery) and servants (oppressed), but the picture itself is atrocious. George Stubbs and Samuel Palmer are told off for ignoring rural conditions in their spellbinding harvests and twilights. Annie Swynnerton gets a whole room for her cloyingly awful art because she was a suffragist who painted Millicent Fawcett.
And for a rehang more interested in history than art, it's oddly erratic. Thin on the English civil war, say; Waterloo, the welfare state, LGBTQ+ rights. As for the spelling: Magna Carter?
But the Duveen Galleries are terrific: Vong Phaophanit's 1993 neon rice field in its mysterious glowing dunes; Rachel Whiteread's mind-splitting cast of a double staircase, labyrinthine and vertiginous; Susan Hiller's reprise of the walls of sudden and heroic deaths from London's Postman's Park.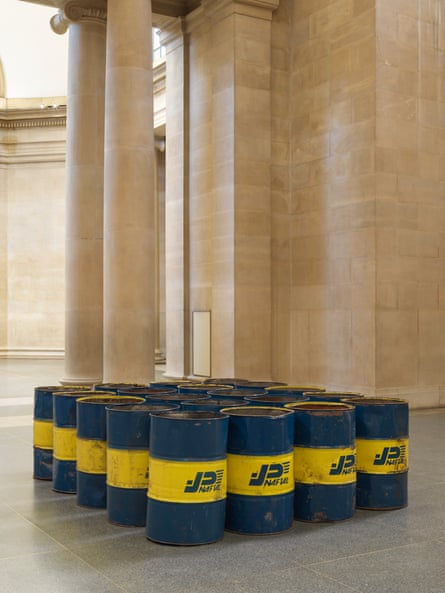 The rooms are jewel-coloured and densely hung. All the old favourites remain – Turner, Gainsborough, Constable, the pre-Raphaelites – alongside sharp recent purchases: the haunting interiors of Iraqi painter Mohammed Sami; Zineb Sedira's superbly wry films (early hit of the last Venice Biennale); Lydia Ourahmane's haunting oil barrel installation – the first artwork legally to leave Algeria since it gained independence in 1962, with its redolent scent and its ghostly inner music, which finally reached here in 2014.
It will all change again – and quite possibly should, in much less than a decade this time. Some of the texts will have dated by then, some of the biases faded. But in the meantime, this rehang opens its arms to the present. The art can hold its own against the preaching any day, after all. Just look more and read less.
Star ratings (out of five)
Tomás Saraceno: Web(s) of Life ★★★★★