What Olaf Scholz means for the world economy – BBC News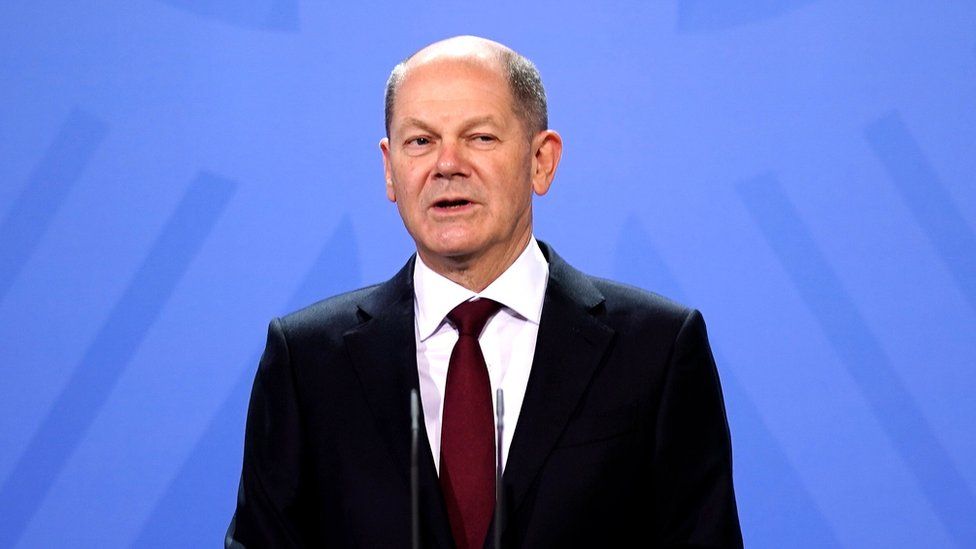 It is an important moment for Europe. A new German chancellor. And what happens in the German economy affects us all.
It also happens to be the elevation of an incumbent finance minister to the most powerful position in European politics.
I did the last lengthy English-language interview with Olaf Scholz, when he was visiting London in summer to seal a deal on global multinational taxation, before he became favourite for the German chancellorship.
He was almost tearful with joy at the G7 agreement, on a topic he had suggested years before. The agreement "will really change the world", he told me, of a move impossible a year before with President Trump.
A political rival once likened his grin to that of the Smurf cartoon characters. He retorted that they are "small, crafty and always win".
Signature policies
There are three signature economic policies he has been associated with that are of ongoing significance.
For one, he told me of his pride that the short-time working schemes, whose use was promoted in Germany by his ministry in the aftermath of the global financial crisis, were now being used around Europe, including the UK, in the guise of the furlough scheme.
"It was right that we gave very strong fiscal answers to fight against the pandemic," he told me.
"We supported the health of our people with the money we spent, but also the economy and many jobs.
"Short-term allowances, Kurzarbeit – the method which I used when I was the minister of labour in Germany 10 years ago with the last crisis – are now something that is used, not just in Germany, but all over the EU and many other countries of the world. And this shows that it is right to do something against a crisis like this."
He was also responsible for the Agenda 2010 reforms of the last centre-left Chancellor Gerhard Schröder. Those reforms saw significant reductions in labour costs in Germany, the establishment of low-paid "mini jobs" and also a rapid rise in German export competitiveness, as well as the revival of its economy.
The inability of southern Europe to compete helped lead to the profound eurozone crisis. The view in Germany, that the rest of Europe had to go through the same "internal devaluation" before Germany would sign off on bailouts of bankrupt eurozone nations, prolonged that crisis.
Amid that fearful moment, he also signed off on the "debt brake" policy that meant in normal times, Germany would not invest. It has been suspended during the Covid pandemic for obvious reasons.
The brake will return under the coalition agreement just struck with the Greens and Liberals, but not before a splurge in investment spending. The challenge is how to square ongoing spending plans with no tax rises and controls on borrowing.
Germany's long history of state-backed investment lending institutions such as KfW will help bridge this gap. But this will be a source of tension in this untested three-party coalition.
But lessons have been learnt from the eurozone crisis. Mr Scholz now backs non "mini-jobs", but a €12 minimum wage. As finance minister, he helped Brussels sign off its own centralised capacity to borrow money to help growth and deal with crises.
Climate club
Chancellor Scholz is very focused on climate change, in the home of the European automotive industry. His concept is massive investment to further green Germany's industrial base. And internationally, the establishment of a "climate club" of like-minded nations to manage frictions over trade.
"Success in fighting against climate change will only be feasible if we include all the nations and if everyone understands why it's good for himself and for his people. We are now discussing the question of co-operation," he told me.
How German industry deals with, for example, the EU-proposed border tax on carbon emissions will be a crunch point on the path to net-zero.
All this comes at a time when inflation has spiked up to 6% in the famously inflation-averse nation. And German industry has been hit for six by the supply chain constraints on microchips and other parts in the post pandemic rebound.
Pre-Omicron, most forecasts suggest the German economy will avoid the feared "bottleneck recession", but the situation is definitely more challenging than at the time of the election in September.
And then there is Brexit and fears over a trade war. Will the famous German carmakers force a new chancellor to fold over Article 16 to protect their exports to the UK? It is not a priority in the Bundeskanzleramt, the washing-machine-like version of the White House in Berlin.
There will be continuity with the policies of the Merkel administration. When I asked about frictions with the UK, Olaf Scholz was diplomatic but pointed.
"I'm always optimistic and happy that we got a deal in the end on the relationship between the European Union and the UK, and I hope that everyone will follow the deal and that everything will be exactly to what we have just written down," he told me.
"And if this is the case, I think we can be assured that we will have good trade relations also in the future, which would be good for the people of the UK as well as for the European Union."
So some reason for optimism, as long as the deal is followed. For now, Chancellor Scholz has his own economic challenges closer to home.
Dollar finds buyers as Fed flags hikes
The dollar was perched near a five-week high on Thursday, bolstered after Federal Reserve chair Jerome Powell primed investors for U.S. interest rate hikes beginning in March.
Overnight the Fed left policy unchanged but Powell foreshadowed a sustained battle to tame inflation.
He told reporters there was "quite a bit of room to raise interest rates without threatening the labour market" and said the Fed was of a mind to begin lifting rates in March.
The dollar leapt 0.7% against the yen in the wake of the Fed's decision and Powell's remarks, its steepest daily jump in more than two months as the prospect of imminent hikes spooked stock markets and drove bond yields higher.
The yen inched a fraction lower to 114.74 per dollar early in the Asia session.
The euro was also sold and fell about 0.5% overnight to a five-week low of $1.1235, holding at that level in Asia.
Sterling and the Australian dollars also dropped with the mood and the New Zealand dollar fell to its lowest since Nov. 2020.
"While communication from Fed members in the lead-up to this meeting meant that the pivot should not have been a surprise, risk appetite shrivelled as Powell's press conference progressed and the extent of the Fed's commitment to act in the face of significant inflation pressure became clear," said ANZ analysts.
The Australian dollar fell close to its 2022 low in the overnight session before recovering a little to $0.7119. The kiwi posted a fifth consecutive daily loss to touch $0.6639. Both Antipodeans steadied in early trade. [AUD/]
Sterling is hovering at $1.3469 as investors await a Bank of England meeting next week and have an eye on the political turmoil enveloping Prime Minister Boris Johnson, who is under pressure after attending parties during lockdowns.
On Thursday, data showed New Zealand inflation a little hotter than forecast and running at a three-decade high.
Chinese industrial profits data is due later in the day, as well as U.S. economic growth and jobless claims figures.
After a battering last week, cryptocurrencies held their ground in the wake of the Fed's meeting and bitcoin last bought $35,869.
========================================================
Currency bid prices at 0006 GMT
Description RIC Last U.S. Close Pct Change YTD Pct High Bid Low Bid
Previous Change
Session
Euro/Dollar
$1.1242 $1.1243 +0.00% -1.11% +1.1242 +1.1236
Dollar/Yen
114.7450 114.6800 +0.01% -0.28% +114.7700 +114.6900
Euro/Yen
129.00 128.91 +0.07% -1.02% +129.0100 +128.8600
Dollar/Swiss
0.9239 0.9243 -0.03% +1.30% +0.9243 +0.9240
Sterling/Dollar
1.3465 1.3465 +0.00% -0.44% +1.3467 +1.3465
Dollar/Canadian
1.2663 1.2663 +0.02% +0.17% +1.2670 +1.2659
Aussie/Dollar
0.7116 0.7115 +0.01% -2.10% +0.7121 +0.7113
NZ
Dollar/Dollar 0.6657 0.6654 +0.04% -2.75% +0.6660 +0.6646
All spots
Tokyo spots
Europe spots
Volatilities
Tokyo Forex market info from BOJ
(Reporting by Tom Westbrook. Editing by Lincoln Feast.)
Canadian dollar weakens as BoC foregoes rate hike
The Canadian dollar fell against its broadly stronger U.S. counterpart on Wednesday as the Bank of Canada surprised some investors by leaving interest rates on hold, offsetting support for the currency from higher oil prices.
The Bank of Canada will soon start hiking interest rates from record lows to combat inflation, Governor Tiff Macklem said, after the central bank left its policy rate at a record low of 0.25%.
Money markets had seen about a 70% chance that the central bank would hike on Wednesday for the first time since October 2018. They now expect lift-off in March.
"The disappointment from the Bank of Canada will quickly fade while the tailwind from oil is significantly growing," said Adam Button, chief currency analyst at ForexLive.
"The open question is how much of the recent rise is fundamental and how much is political."
Rising political tensions between Russia and Ukraine have added to concerns about further disruption in an already-tight market for oil, one of Canada's major exports. U.S. crude oil futures settled 2% higher at $87.35 a barrel.
The Canadian dollar was trading 0.4% lower at 1.2680 to the greenback, or 78.86 U.S. cents, after trading in a range of 1.2560 to 1.2688.
The U.S. dollar rallied against a basket of major currencies and Wall Street gave back its earlier gains as the Federal Reserve signaled that it is likely to raise U.S. interest rates in March and later launch a significant reduction in its asset holdings.
Canadian government bond yields rose across the curve although by much less than U.S. rates. The 10-year was up 2.2 basis points at 1.826%.
Last Wednesday, it touched its highest level in nearly three years at 1.905%.
(Reporting by Fergal Smith; Editing by Bernadette Baum and Sandra Maler)
Poll suggests some Canadians are feeling brighter about the economy, own finances – Coast Reporter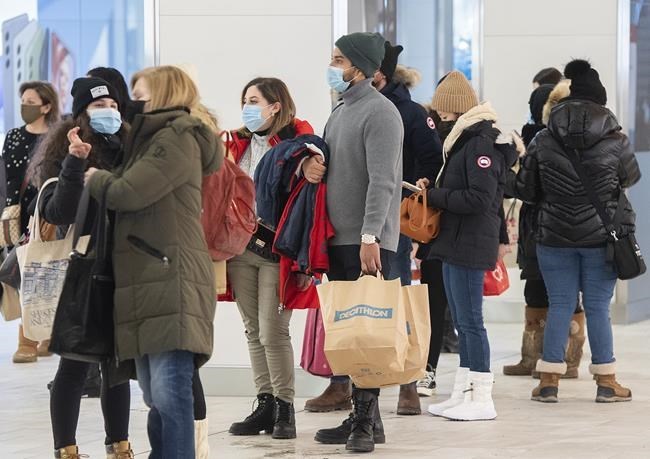 OTTAWA — A new poll suggests some Canadians are feeling more upbeat about the state of the domestic economy and their own pocketbooks, though not quite as positive as they were before the COVID-19 pandemic.
The annual Leger survey of economic confidence found that nearly two in every five respondents rated the economy as being good or very good, which was up from the same survey last February.
Still, just over half of respondents weren't as chipper on the state of the economy, with 54 per cent rating it as poor or very poor.
That figure was a drop from the 61 per cent of respondents in last year's survey, but still above the 36 per cent recorded in February 2020 just before the first wave of the pandemic.
About two-thirds of respondents also showed confidence in their personal finances, a figure that has remained steady through surveys in each of the previous two years.
The poll of 2,399 Canadians who took part in an online panel between Jan. 7 and 12 cannot be given a margin of error because internet panels are not considered to be truly random samples.
Christian Bourque, Leger's executive vice-president, said the results suggest respondents are more optimistic about the economy than markets and economists who have downshifted expectations for the year. The poll indicates that optimism also extends to their personal finances despite high inflation rates.
"People feel a little bit more upbeat than one would have thought and it's certainly an increase from what we saw over the past year in terms of overall optimism," Bourque said.
Downgrading expectations comes on the back of signals from central banks on both sides of the border that their rock-bottom interest rates will go up this year to combat high inflation. There are also supply-chain problems and the spread of the Omicron variant that have created economic headwinds to kick-start 2022.
On Wednesday, the Bank of Canada released its updated outlook for the economy.
The central bank estimated the economy grew by 4.6 per cent in 2021, down half a percentage point from its previous forecast in October, and now projects growth in real gross domestic product in 2022 at four per cent, down from 4.3 per cent.
The Bank of Canada said part of the downgrade this year is due to the impact of Omicron, hints from governments that spending is easing earlier than expected, and supply chain issues that will have "larger and more broad-based negative implications on economic activity" this year.
Canadians generally are fairly upbeat about the national economy, mixed with some level of prudence for what may come, which Bourque noted played out in regional results.
The biggest boost in optimism for the economy between last year and now came from respondents in Alberta. But the oil-producing province also had the largest percentage of respondents, at 61 per cent, who had the least confidence in the economy.
"For Premier Kenney, it's another 'what do I do about this now?'" Bourque said. "Let alone management of the pandemic, now he has to face up to a population that feels that things are not going Alberta's way."
Among the top financial worries cited by respondents were the value of their investments, the safety of their savings, and being able to pay their bills.
Those were the same top issues in the poll done last February, although the results suggest fewer respondents were worried about those issues overall.
This report by The Canadian Press was first published Jan. 26, 2022.
Jordan Press, The Canadian Press