When will the economy return back to "normal"? – Marketplace
Pfizer has begun to roll out its COVID-19 vaccine after the Food and Drug Administration authorized it for emergency use on Dec. 11. About 2.9 million doses of the vaccine, developed by Pfizer and the biotech company BioNTech, were sent to locations around the U.S. during the first week of delivery. A second vaccine, developed by Moderna, was granted FDA approved for emergency use last Friday.
Over the coming week, the U.S. plans to distribute 7.9 million doses of both vaccines. Amid the rollout, COVID-19 cases are surging, with over 17.2 million cases in the country and more than 310,000 deaths. California is the new epicenter of the crisis, with the state setting nationwide records and an ICU capacity that fell to 0% last Thursday.
Dr. Anthony Fauci, the United States' senior official for infectious diseases, said that with the vaccines, we could begin to reach the early stages of herd immunity by late spring or summer. That's when economic experts think we might start to see some economic recovery, provided enough people opt to take the vaccine. But going back to full employment is likely going to take several years, cautioned Daniel Bachman, senior manager with Deloitte Services LP.
In the most optimistic scenario, we could see a normalization of activity — think being able to head back to work — by April or May, said Bachman. But most likely, it'll be over the summer.
That's also when Ryan Demmer, an associate professor of epidemiology and community health at the University of Minnesota said he thinks business at places like restaurants, which were some of the hardest hit by the pandemic, will begin to pick up again.
"There might be masking and distancing and precautions in place, but I think things will be much more open" by mid-summer, Demmer said.
The restaurant industry has been in dire straits, with some regions in the U.S. imposing bans on outdoor dining and other regions facing blustery weather conditions that make outdoor dining difficult.
Jerome Jaggernath, who's worked as a cashier at the New York City restaurant Black Burger for several years, said the business is just trying to survive the winter as sales have declined.
"Suffice to say, we've been struggling. So far, we've been, you know, head above water," Jaggernath said.
Daniel Zhao, senior economist for Glassdoor, said he thinks there is a case for cautious optimism about the economy.
"If the vaccine does reach widespread public availability, there are some economic indicators which point to a faster recovery in 2021," Zhao said.
He said that data on Glassdoor shows that job openings are down roughly 10% below pre-crisis levels.
"That's actually a very accelerated recovery relative to what we saw after the Great Recession," Zhao noted. "After the Great Recession, job openings dropped by over half. And it wasn't until several years later that demand for new workers actually recovered to pre-Great Recession levels."
Zhao said that some sectors will take longer to return back to normal activity than others, like live events.
"I think even if it becomes fully safe to do so, to return to large live events by the end of 2021, people will be hesitant just because of the recent pandemic," Zhao said. "There are going to be psychological barriers for people to fully return to pre-pandemic activity."
Congress' next steps for a relief package is going to have an effect on the economy as well. Republicans and Democrats agreed on Sunday to a $900 billion relief deal that will include $600 payments to individuals making $75,000 a year or less, and an extra $300 a week in unemployment benefits for 11 weeks. It won't include direct aid or state and local governments, nor the Republican-led stipulation that would prevent businesses from getting sued for their response to the coronavirus.
Heidi Shierholz with the Economic Policy Institute told Marketplace that the economy is backsliding without more stimulus spending to help shore up state and local government budgets.
"What happens in recessions is state and local governments see a big drop in revenues, because people have less money to spend," Shierholz said. "Unless the federal government steps in to fill in their budget shortfalls, they have to make big cuts."
She said that after the Great Recession, Congress didn't provide enough relief to state and local governments, which meant they had to make big cuts.
That, she said, probably delayed recovery by over four years.
Which essential workers should be prioritized for vaccines?
Americans have started to receive doses of the first COVID-19 vaccine. Front-line health care workers and residents of long-term care facilities will be first to get the shots, according to Centers for Disease Control and Prevention guidance. Essential workers will be considered next, but with limited vaccine doses and a lot of workers considered essential, the jockeying has already started over which ones should go to the front of the line: meatpacking workers, pilots, bankers and ride-share drivers among them. The CDC will continue to consider how to best distribute the vaccine, but ultimately it's up to each state to decide who gets the shots when.
Could relaxing patents help poorer countries get vaccines faster?
The world's poorest countries may not be able to get any vaccine at all until 2024, by one estimate. To deliver vaccines to the world's poor sooner that, some global health activists want to waive intellectual property protections on vaccines, medicines and diagnostics. India, South Africa and Kenya have asked the World Trade Organization to allow pharmaceutical plants in the developing world to manufacture patented drugs without having to worry about lawsuits. The United States, Britain and the European Union, have repeatedly rejected the proposal at the WTO.
The Pfizer vaccine has to be kept in extreme cold at minus 94 degrees Fahrenheit. And keeping it that cold requires dry ice. Where does that dry ice come from?
Also, is there enough of it to go around? And how much is it going to cost? The demand for dry ice is about to spike, and a whole bunch of industries are worried. Now, dry ice sells for $1 to $3 a pound. While the vaccine gets priority, smaller businesses and nonessential industries may end up losing out.
As a nonprofit news organization, our future depends on listeners like you who believe in the power of public service journalism.
Your investment in Marketplace helps us remain paywall-free and ensures everyone has access to trustworthy, unbiased news and information, regardless of their ability to pay.
Donate today — in any amount — to become a Marketplace Investor. Now more than ever, your commitment makes a difference.
Canadian dollar drops, posts weekly decline on greenback short-covering
By Fergal Smith
TORONTO (Reuters) – The Canadian dollar weakened against its U.S. counterpart on Friday as a decline in risk appetite led to broader gains for the safe-haven greenback, with the loonie giving back this week's gains despite data showing record home sales.
The Canadian dollar was trading 0.8% lower at 1.2732 to the greenback, or 78.54 U.S. cents, pulling back from a near three-year high on Thursday at 1.2621. For the week, the loonie was down 0.4%.
"It has primarily been some covering of short U.S. dollar positions," said Bipan Rai, North America head of FX Strategy at CIBC Capital Markets. "It's a move in line with what we have seen in other currencies … So it's not the Canadian dollar on its own."
Higher U.S. Treasury yields in anticipation of additional fiscal spending, have been supportive of the greenback since earlier this month.
President-elect Joe Biden proposed on Thursday a stimulus package of $1.9 trillion, but investor sentiment wavered as China reported the highest number of daily COVID-19 cases in more than 10 months.
Investors have also been grappling with the slower than expected rollout of vaccines. Pfizer Inc said it would slow production of its vaccine due to changes to manufacturing processes aimed at boosting production.
Global shares fell and U.S. crude oil futures settled 2.3% lower at $52.36 a barrel. Oil is one of Canada's major exports.
Canadian home sales rose 7.2% in December from November, setting a new record, the Canadian Real Estate Association said.
The housing market has benefited from record-low interest rates set by the Bank of Canada. The central bank is due to make an interest rate decision next week.
Canadian government bond yields were lower across a flatter curve in sympathy with U.S. Treasuries. The 10-year was down 4.6 basis points at 0.810%.
(Reporting by Fergal Smith; Editing by Andrea Ricci and David Gregorio)
Third wave, constrained government spending biggest risks to economy: Poloz – BNN
Former Bank of Canada Governor Stephen Poloz said the worst thing that could happen to the Canadian economy during the COVID-19 pandemic is for the federal government to put the brakes on its virus-related spending spree.
"My biggest risk is we get 'Wave Three' and more, and for that reason maybe governments lose faith in the model and they have to constrain their spending. That would be my biggest concern, but right now, I'm feeling more optimistic given the vaccines," he said.
While Canada entered the pandemic with an economy that Poloz described as "the best shape it's been in for a long time," data from Finance Canada shows the government's support measures relative to GDP were among the highest across G7 countries.
But Poloz said it's because of the targeted government aid and temporary measures like mortgage payment deferrals that Canadians have been "well-armed" through the pandemic.
"It boosted their savings quite a lot and at the same time they're actually spending more," he said. "So we have a very lively consumer with pent-up demand."
He acknowledged there has been some permanent loss of demand and damage done to the economy because of the pandemic, but added the government appears to be thinking differently about fiscal policy.
"It sounds like they're focusing a lot more on what we call 'structural' policies or investments. The first thing you think of is infrastructure. For example, you do a big piece of infrastructure and it serves us for 30, 40 or 50 years and it adds to the productivity of the economy," he said.
"Anything that comes along that can tilt upwards the long-term growth trend of the economy will be really timely at this stage."
Poloz said sustainability will be key when it comes to Canada's ballooning debt.
"The rate of growth in the economy needs to exceed the rate of interest you must pay on the debt. Provided it does so, the stock of debt will shrink as a share of the economy while they service the debt. And today, debt service is quite inexpensive," he said.
Charting the Global Economy: Economic Pain Lingering Into 2021 – Bloomberg
The economic distress of the Covid-19 pandemic is picking up where it left off at the end of 2020.
The latest high-frequency data show activity in the advanced economies softened in the first two weeks of the new year. In the U.S., government figures showed retail sales fell for a third month in December as a resurgent virus prompted another tightening of business restrictions. Europe is facing the possibility that output will shrink in consecutive quarters.
Here are some of the charts that appeared on Bloomberg this week on the latest developments in the global economy:
U.S.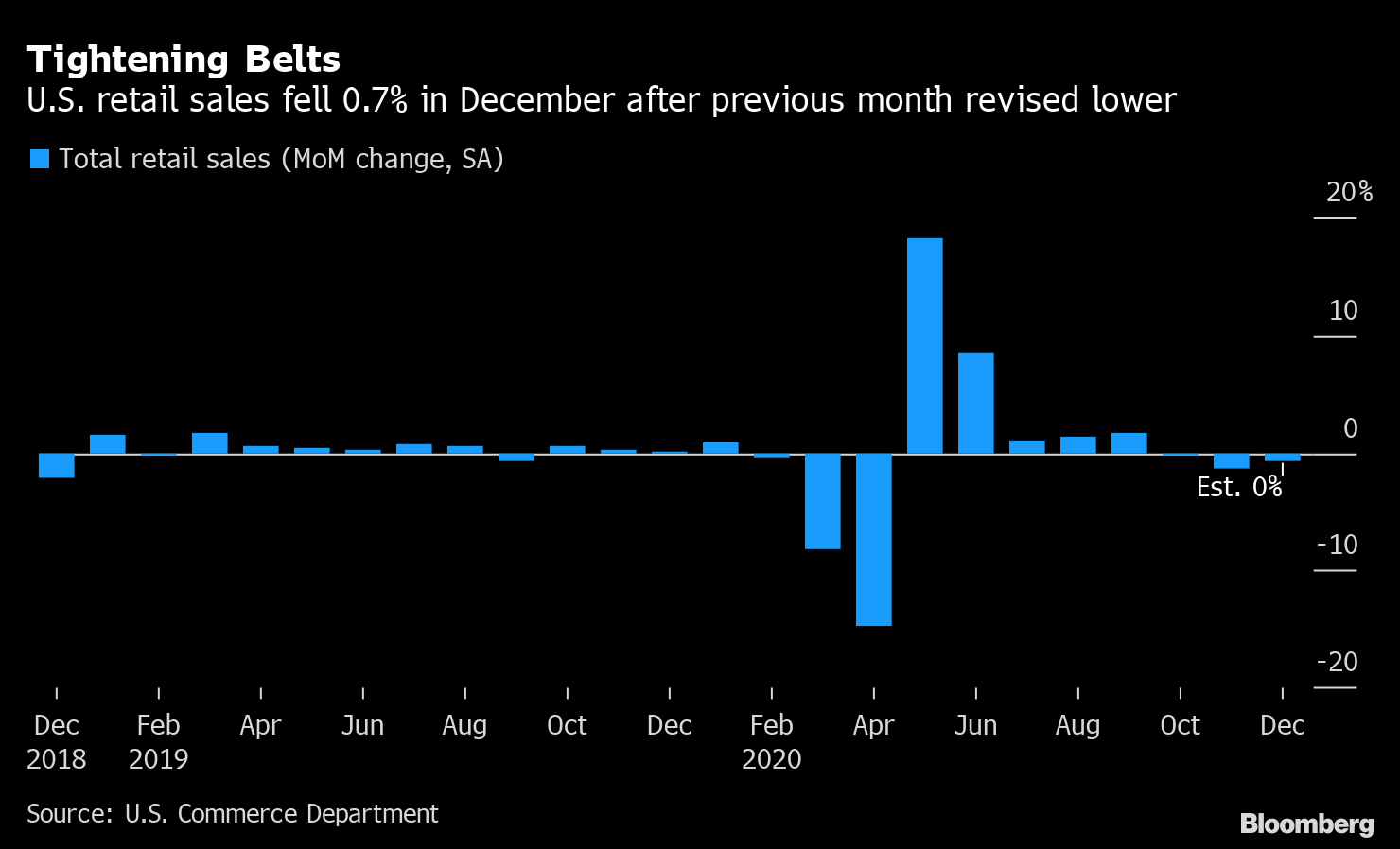 Retail sales declined at the close of the holiday-shopping season, wrapping up a painful year for the nation's merchants as the pandemic forced store closures and kept consumers at home. The value of receipts for all of 2020 rose just 0.6%, the weakest performance in 11 years.

Meanwhile, the U.S. factory sector continues to show promise. The rate of job openings, or number of available positions as a share of total employment in the non-durable goods industry plus the vacancies, hit 5.1% in November, the fifth straight record in data back to 2000.
Europe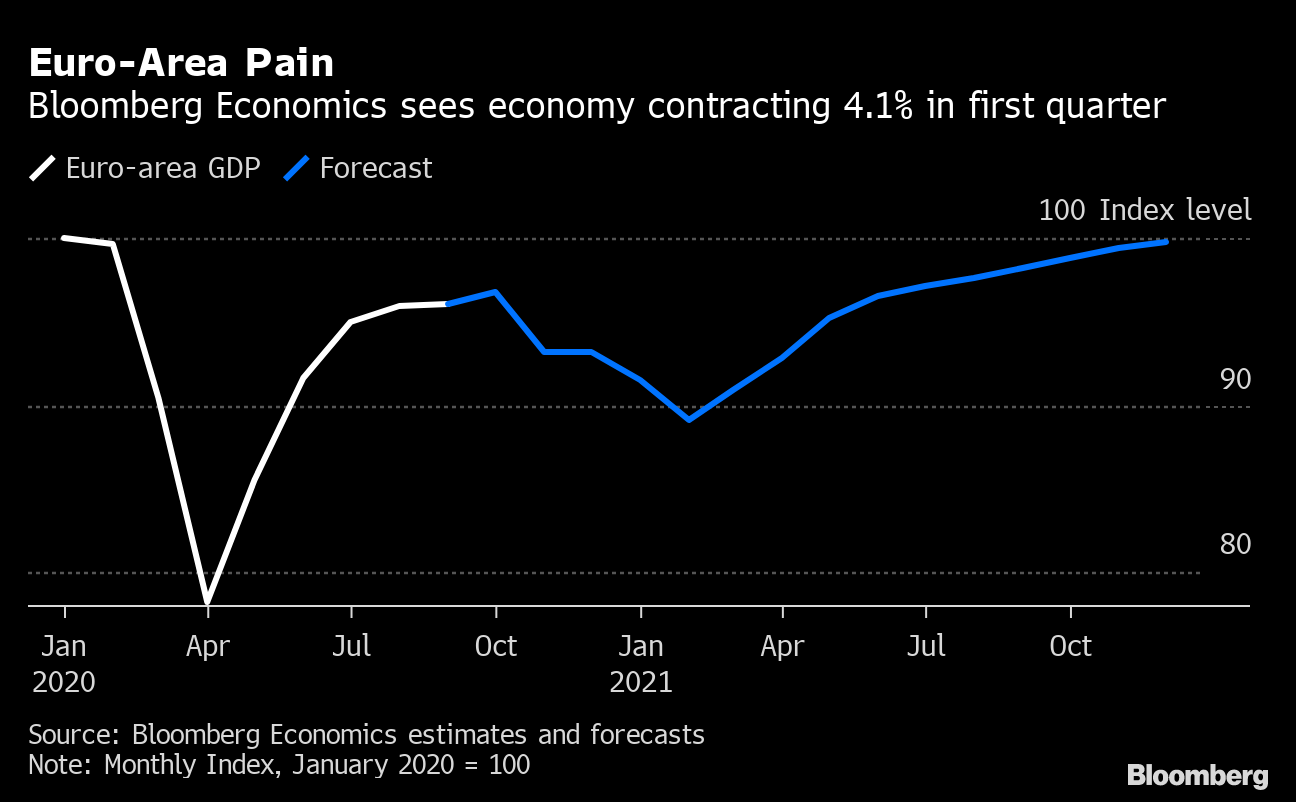 Under pessimistic assumptions on the duration of new lockdown restrictions to contain the spread of Covid-19, Bloomberg Economics lowered its first-quarter estimate for the euro-area economy to a 4.1% contraction, after a 1.5% drop in the final three months of 2020.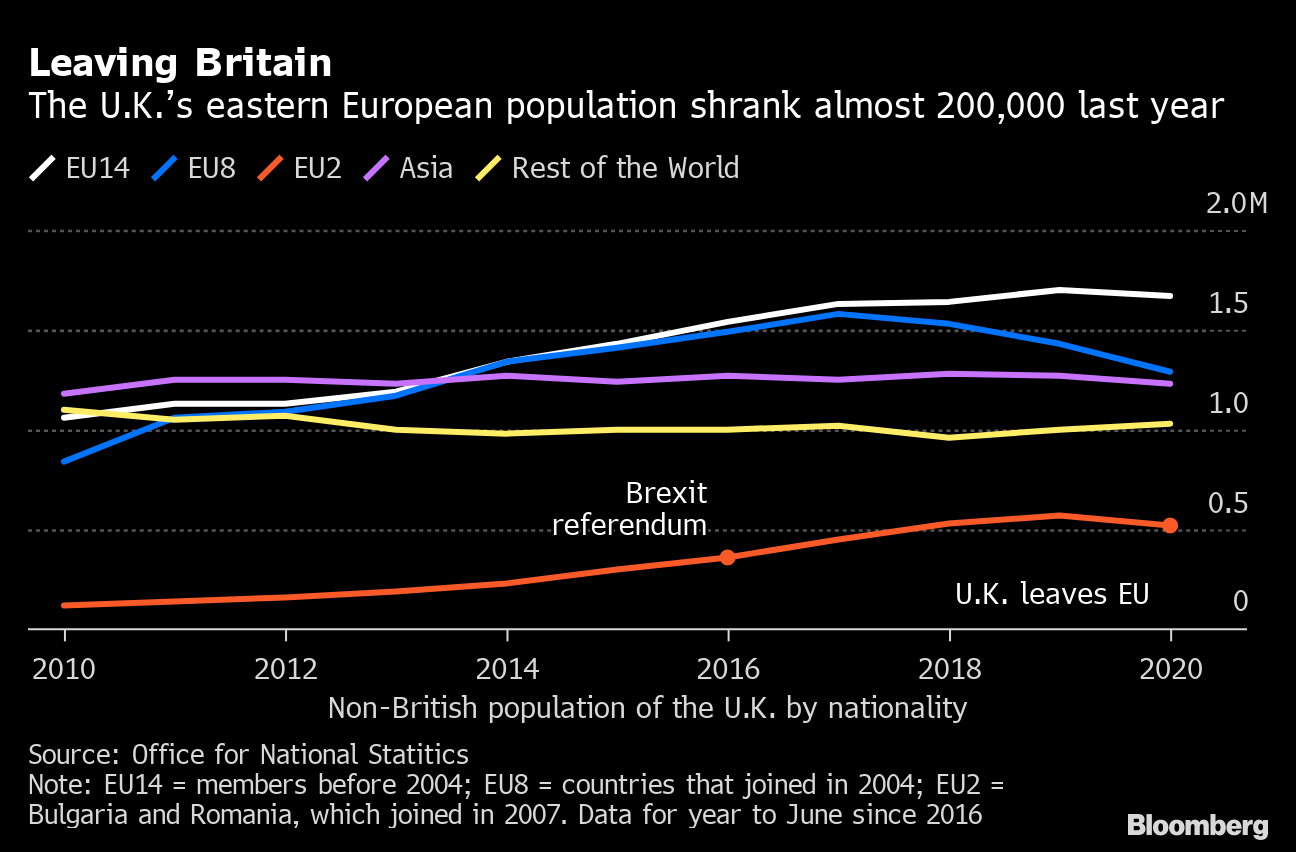 The number of eastern Europeans living in the U.K. last year slumped to levels last seen in 2015 ahead of the end of the Brexit transition and as the coronavirus lockdowns closed huge parts of the economy.
Asia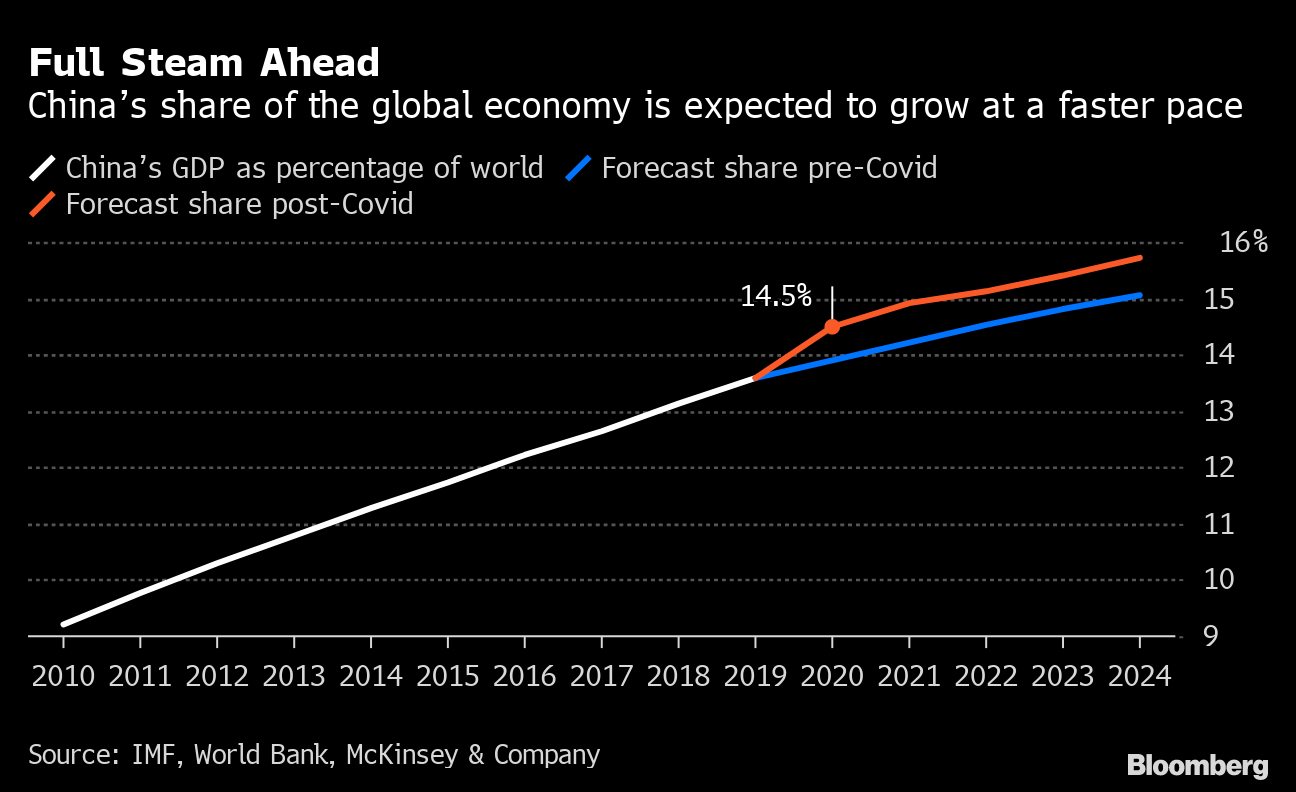 China's economic ascent is accelerating barely a year after its first coronavirus lockdowns, as its success in controlling Covid-19 allows it to boost its share of global trade and investment.
Emerging Markets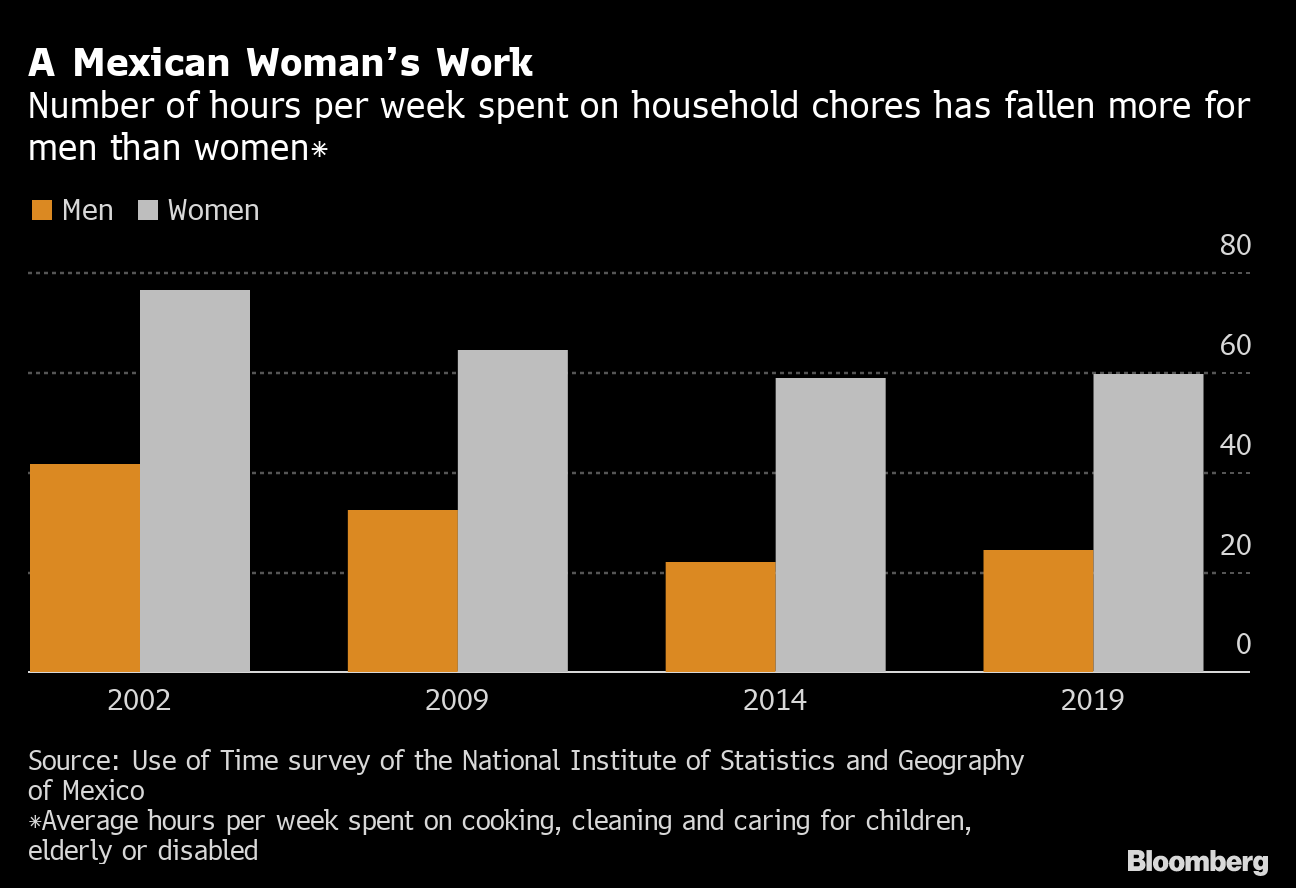 The women of Mexico already faced the worst economic prospects in Latin America. Now the pandemic threatens to sink them even further, aggravating chronic inequality and dragging down the country's fortunes.
World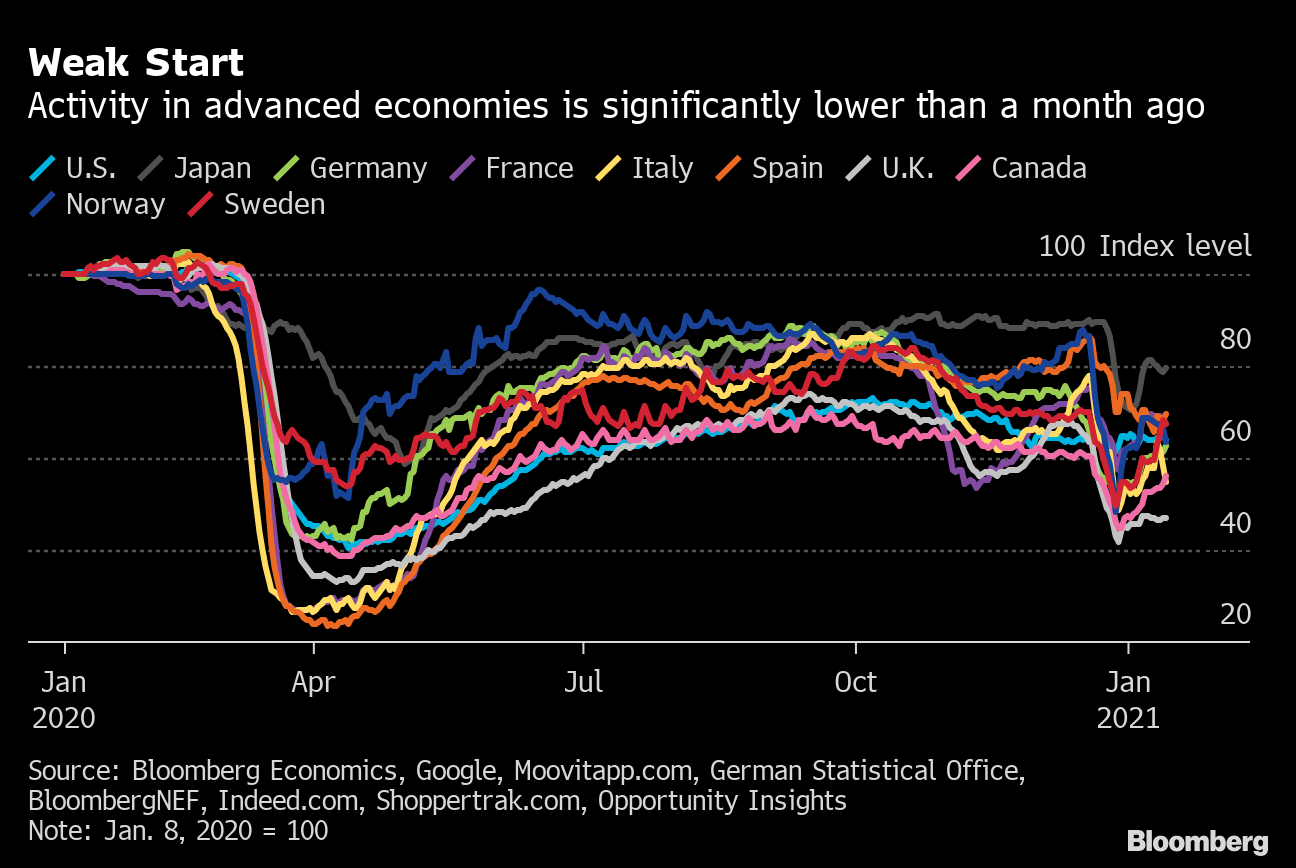 After the holiday slump, activity in several of the world's largest advanced economies extended their recovery in the second week of January. Yet compared with early December, Bloomberg Economics gauges that integrate data such as mobility, energy consumption and public transport usage remain significantly lower.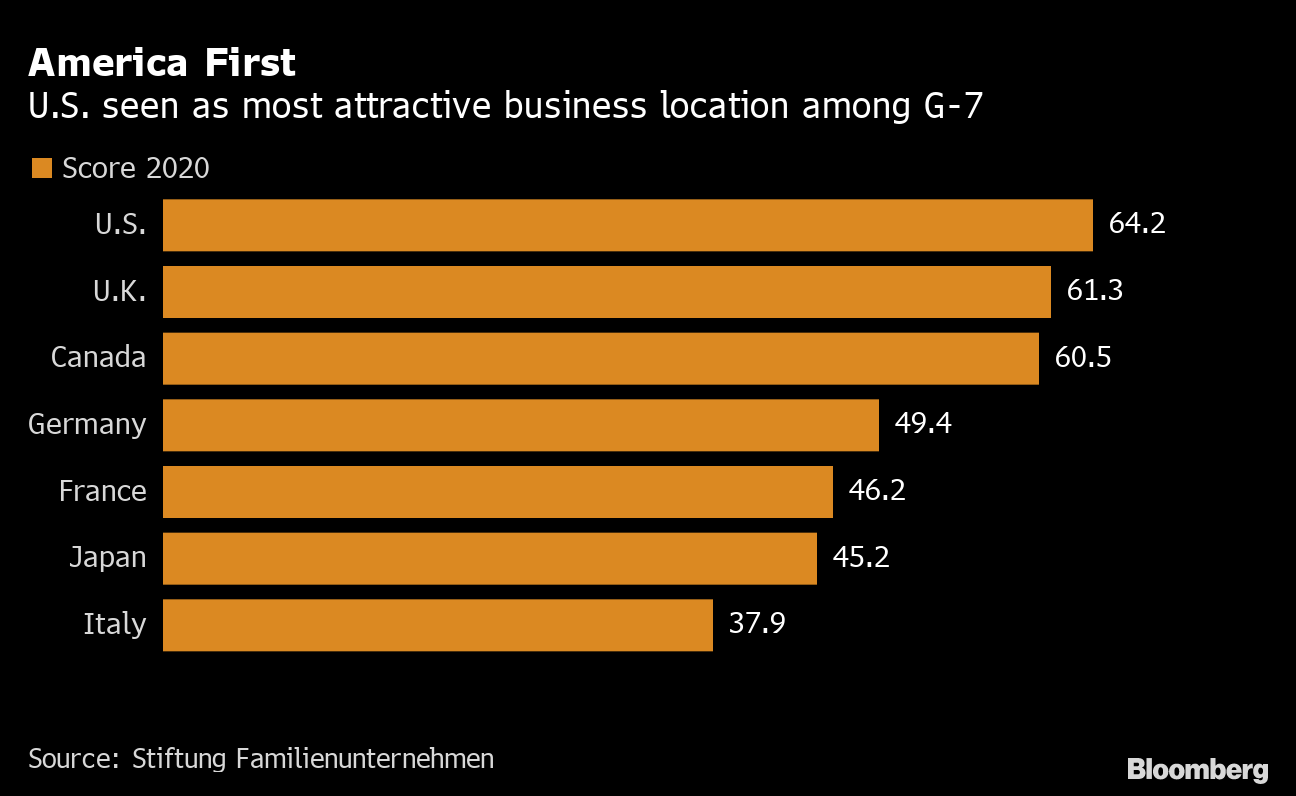 The U.K. dropped behind the U.S. as the best international business location for the first time since the ranking was created by Germany's Foundation for Family Businesses in 2006. Even so, it's still ahead of other Group-of-Seven countries, with Italy at the bottom of the list.
— With assistance by Maeva Cousin, Tom Orlik, David Powell, Bjorn Van Roye, Jamie Rush, Maria Eloisa Capurro, Sophie Caronello, Enda Curran, Max De Haldevang, Tom Hancock, Lucy Meakin, Iain Rogers, and Jordan Yadoo