Top 10 Investment Themes For 2021 – Forbes
2020 was a year like none other on so many different fronts, and I am sure that we are all happy to turn the calendar page to a new year that is hopefully filled with good health and some form of a return to relative normalcy. As you may recall, our overall theme for 2020 was initially, "The Year of the 3 Big E's" – Earnings, the Economy, and the Election, given the interconnected nature of these three factors. However, 2020 quickly turned into the "Year of the COVID-19 Pandemic," where stocks and the economy were initially devastated by the lockdown measures that were put in place to help limit the spread of COVID-19 and later staged remarkable recoveries into the end of the year. As effective vaccines and therapeutics are now becoming available, we believe that the overriding macro theme of 2021 will be "The Reopening of the Global Economy." In this regard, below are our "Top 10 Investment Themes for 2021" for your review and consideration, remembering that while 2021 may turn out to be less volatile than 2020, the days of heightened bouts of volatility are certainly not behind us.
1. Areas of COVID-19 Leadership Continue through 2021 – how humans and businesses operate and interact continues to evolve, and that rate of change has never been quicker than it is right now. This evolution has occurred in areas including technology, commerce, and health care. We contend that the already rapid evolution taking place, combined with the force of change brought on by the COVID-19 pandemic, will allow the areas of technology, commerce (notably E-commerce), and health care to continue to provide economic and market leadership for years to come.
2. Expect more Innovative Healthcare Solutions from Biotech – the COVID-19 pandemic served as a painful reminder of the need for innovative healthcare solutions worldwide. However, healthcare innovations were needed before the onset of COVID-19 and will likely still be required to help treat and cure other rare and chronic diseases in the future. These innovative solutions typically come from smaller-cap Biotech firms, which are then pursued as take-over targets by larger-cap pharmaceutical companies. We don't anticipate the rate of Biotech mergers and acquisition (M&A) activity to slow down considerably anytime soon.
3. Transformational Technologies for a Transforming Society –while we anticipate the gradual re-opening of the global economy throughout 2021, many pre-COVID societal norms have undergone immense transformation. Society will likely continue to communicate, work, shop, and educate more remotely than they ever have before. Technology will continue to assist with this societal transformation. Specifically, transformational or revolutionary technologies, such as artificial intelligence, robotics, blockchain, and even 5G, will be of paramount importance to individuals, corporations, and governments. These transformations' critical nature should help provide growth potential for the stocks of well-run and well-positioned companies providing these types of technologies.
4. More Exponential Growth for E-commerce – the transition from traditional, in-person retail sales to online sales was well underway before the COVID-19 pandemic due, in large part, to the speed and convenience of shopping online. Consider that E-commerce sales accounted for just 4.2% of total U.S. retail sales in Q1 2010 and recently accounted for 16.1% in Q2 2020, according to Statista. COVID-19 has accelerated the transition from traditional brick-and-mortar shopping to online commerce further. For example, during the height of the COVID-19 associated lockdowns in April 2020, U.S. E-commerce increased by 49%. It is also estimated that E-commerce sales will increase by approximately 36% during the 2020 holiday shopping season, while traditional brick-and-mortar sales are expected to decrease by nearly 5% over the same timeframe. E-commerce isn't just a short-lived fad, it's here to stay, and investment opportunities exist for companies that derive revenue from their overall E-commerce ecosystem roles.
5. Smaller Caps Positioned to Outperform Larger Caps – Large-cap U.S. stocks have been on quite a run. Consider that the large-cap dominated Dow Jones Industrial Average and S&P 500 Index both hit all-time highs in 2020. The S&P 500 even staged a remarkable recovery from the low closing level of 2237 recorded on March 23, 2020. Consider that the S&P 500's closing level of 3663 on December 11, 2020, equated to a 64% rebound off of the March 23 bottom. However, this record run has resulted in some lofty valuations as the price/earnings ratio (P/E) of the S&P 500 as of December 11, 2020, was 28.65, compared with a 10-year average P/E for this index of 18.40. This historically high valuation level does not suggest that U.S. Large-cap stocks can't, or won't, move higher in the New Year. On the contrary, investors will likely need to be a lot more selective to find additional pockets of growth opportunities. One additional pocket to consider is smaller-cap stocks whose valuations are not as stretched as their larger-cap brethren and historically perform well during periods of economic recoveries.
6. International Equities Return to Prominence – while many investors understand the benefits of diversification, the notion is often not entirely practiced when it comes to geographical diversification. Studies have shown that many investors tend to exhibit home country bias and are typically under-allocated to international stocks. This bias may have recently proved beneficial as these same investors have enjoyed the relative outperformance of the U.S. stock markets compared to their international developed counterparts over the last decade. However, in addition to their potential diversification benefits, there are several reasons that international stocks should be on your radar for 2021, including, but not limited to, an expected weaker U.S. Dollar, attractive relative valuations, and the anticipated global rollout of COVID-19 vaccines.
7. Sustainable Impact Investing Goes Mainstream – many studies have concluded companies with superior environmental, social, and governance (ESG) profiles have usually met, and often exceeded, the performance of comparable traditional investments. These performance results are on both an absolute and a risk-adjusted basis, across asset classes, and over time. As a result, feeling good about the companies that one invests in and the returns that their stocks may potentially generate are no longer mutually exclusive outcomes. For these reasons, we see continued adoption of ESG-oriented strategies in the New Year and believe that sustainable impact investing will soon become part of the mainstream of the overall investment landscape.
8. Dividend Paying Stocks Used for Growth and Income Objectives – dividends accounted for 42% of the total return of the S&P 500 Index for the period 1930-2019. After recognizing the importance of dividends, the next step is to find companies with a history of increasing their dividends and less likely to cut or suspend their dividends. This task became increasingly important and yet more difficult during the COVID-19 pandemic. According to CNBC, 639 companies either cut or suspended their dividends during the peak of the shutdown orders that were put in place during the second quarter to help limit the coronavirus's spread. This marked the highest number of dividend cuts or suspensions since 2009. Looking ahead, pressure on dividends should subside in 2021 as the economy continues to recover. Also, we would anticipate investors embracing dividend-paying stocks as an alternative to lower-yielding fixed income instruments.
9. Preferreds become a Preferred Source of Income Potential – one security type that income-oriented investors tend to forget about, or possibly are not aware of, is preferred securities. Preferred securities represent ownership in a corporation and have both bond and stock-like features. They usually pay a fixed income, have a par value, hold a credit rating, and trade on a major exchange. Often referred to as "preferred stocks," Preferreds also generally experience less daily volatility when compared to common stocks, have dividends that are paid out before dividends to common shareholders, and typically have a higher stated dividend payout than the corporation's common shares – and even the company's bonds in some cases. As the Federal Reserve has indicated, it is likely that they will keep rates near zero through 2023 or until substantial progress is made on the inflation and employment fronts. For all these reasons, we expect Preferreds to become a popular choice for income-oriented investors.
10. Demand for Municipal Bonds Remains High – we contend that demand for municipal bonds (and municipal bond strategies) will likely stay strong for the foreseeable future as income-oriented investors continue their search for attractive yield-based alternatives in this challenging yield environment, particularly those investors in higher tax brackets. While an additional supply of municipal bonds, both tax-free and taxable, may be brought to market in 2021 to help fund critical infrastructure projects in the U.S. as a result of an infrastructure spending bill that will likely be passed in the New Year, this new supply has a high probability of quickly being absorbed by yield-hungry municipal bond investors. Other potential benefactors of an infrastructure spending bill will be the American people, in general, from an employment perspective and also sectors of the Equities market, including materials, industrials, energy, utilities, and telecommunication services.
Best wishes for happy and healthy 2021 to everyone!
———————————————————————————————————————
Disclosure: Hennion & Walsh Asset Management currently has allocations within its managed money program, and Hennion & Walsh currently has allocations within certain SmartTrust® Unit Investment Trusts (UITs) consistent with several of the portfolio management ideas for consideration cited above.
Ovintiv faces proxy challenge from investment firm Kimmeridge – The Globe and Mail
Kimmeridge Energy Management Co on Tuesday launched a proxy fight against Ovintiv Inc to win three seats on the oil producer's board.
The private investment firm urged Ovintiv to alter its capital spending, focus on governance and said that the board had allowed Ovintiv to become an environmental laggard, trailing peers on key environmental metrics.
Kimmeridge has nominated its founder Ben Dell, Cambiar Investors' Katherine Minyard and Columbia University research scholar Erin Blanton as independent directors to Ovintiv's board.
Ovintiv, responding to the Kimmeridge notice, said it will carefully review the nominations.
Kimmeridge owns 2.5% of Ovintiv's common shares and is one of the oil driller's top ten shareholders.
"Despite our best efforts to engage constructively with the company, the Board was dismissive of our recommendations to help position Ovintiv as a leading E&P," said Mark Viviano, managing partner and head of public equities at Kimmeridge.
Earlier this month, Kimmeridge had urged Ovintiv to focus on capital allocation, management compensation issues and establishing environmental strategy.
Your time is valuable. Have the Top Business Headlines newsletter conveniently delivered to your inbox in the morning or evening. Sign up today.
NEW Fidelity Investment Solutions: Fidelity Multi-Asset Innovation Fund and Fidelity All-in-One ETFs – Canada NewsWire
TORONTO, Jan. 26, 2021 /CNW/ – Fidelity Investments Canada ULC ("Fidelity"), one of Canada's top investment management firms, today launched new investment products available to Canadian financial advisors and investors – Fidelity Multi-Asset Innovation Fund, Fidelity All-in-One Balanced ETF/ETF Fund and Fidelity All-in-One Growth ETF/ETF Fund.
"In today's uncertain times, Canadian financial advisors and investors are looking for more stability to help them achieve their investing and life goals − balanced funds are an ideal solution for this. Moreover, investors are looking to invest with managers that have the experience and global resources to navigate and capitalize on the constant changes all around us", said Kelly Creelman, Senior Vice President, Products & Marketing. "With today's launch of Fidelity's new products, we are meeting demand by offering advisors and investors convenient ways that can help them grow their savings in a balanced manner."
Fidelity Multi-Asset Innovation Fund
Fidelity Multi-Asset Innovation Fund harnesses the experience of renowned portfolio managers Mark Schmehl, Jeff Moore and Michael Plage. This new fund leverages the vast research resources of Fidelity that span across asset classes and the globe. This global balanced mandate aims to achieve a high total investment return by investing primarily in, or providing exposure to, a mix of equity and an expansive set of fixed income securities of U.S. and other issuers from around the world.
"Mark Schmehl's strong historical track record in equities coupled with the fixed income investing acumen of Jeff Moore and Michael Plage form the basis of the new Fidelity Multi-Asset Innovation Fund, "said Creelman. "By bringing Mark's focus on positive change and Jeff's and Michael's focus on income and risk mitigation, this Fund can serve as a core holding for advisors and investors aiming for strong risk-adjusted returns with lower volatility."
When investing in equity securities, portfolio manager Mark Schmehl seeks to identify companies that are positioned to benefit from innovative emerging technologies or business models. On the fixed income side, portfolio managers Jeff Moore and Michael Plage aim to generate income while focusing on mitigating risk through investing in global investment grade bonds, higher yielding lower quality fixed income securities and more.
Fidelity All-in-One ETFs
Fidelity All-in-One ETFs are a convenient and cost-efficient one-ticket solution for advisors and investors looking for exposure to a globally-diversified portfolio of stocks and bonds. These ETFs, sub-advised by Geode Capital Management LLC, will provide broad market exposure that goes beyond a passive approach, by harnessing the power of Fidelity Factor ETFs and Fidelity's systematic and active fixed income management. We have combined the best features of an ETF – choice, simplicity, and cost – with the attraction of professional management. The Fidelity All-in-One ETFs are designed with strategic asset allocation and portfolio rebalancing with indirect management fees from the underlying ETFs. These funds are expected to begin trading on the NEO Exchange effective January 26, 2021. They are also available in mutual fund versions.
Fidelity All-in-One Balanced ETF (FBAL) aims to achieve capital growth through total returns by using a strategic allocation approach. It invests primarily in underlying Fidelity ETFs that provide exposure to a diversified portfolio of global equity and fixed income securities. It generally follows a neutral mix of 60% global equity securities and 40% global fixed income securities.
Fidelity All-in-One Growth ETF (FGRO) seeks capital growth through a strategic allocation approach with generally more emphasis on equities. It invests primarily in underlying Fidelity ETFs that provide exposure to a diversified portfolio of global equity and fixed income securities. It generally follows a neutral mix of 85% global equity securities and 15% global fixed income securities.
For more information, visit fidelity.ca
About Fidelity Investments Canada ULC
At Fidelity, our mission is to build a better future for Canadian investors and help them stay ahead. We offer investors and institutions a range of innovative and trusted investment portfolios to help them reach their financial and life goals.
As a privately-owned company, our people and world class resources are committed to doing what is right for investors and their long-term success. Our clients have entrusted us with $175 billion in assets under management (as at January 19, 2021) and they include individuals, financial advisors, pension plans, endowments, foundations and more.
We are proud to provide investors a full range of investment solutions through mutual funds and exchange-traded funds, including domestic, international and global equity, income-oriented strategies, asset allocation solutions, managed portfolios, sustainable investing and our high net worth program. Fidelity Funds are available through a number of advice-based distribution channels including financial planners, investment dealers, banks, and insurance companies.
Read a fund's prospectus and consult your financial advisor before investing. Exchange-traded funds are not guaranteed, their values change frequently, and past performance may not be repeated. Commissions, management fees, brokerage fees and expenses may all be associated with investments in exchange-traded funds and investors and may experience a gain or loss.
Find us on social media @FidelityCanada
SOURCE Fidelity Investments Canada ULC
For further information: Chris Pepper, Vice-President, Corporate Affairs Fidelity Investments Canada ULC T: (416) 307-5388, M: (416) 795-7762, E: [email protected]
Related Links
Raise a glass to this resilient alternative investment – Wealth Professional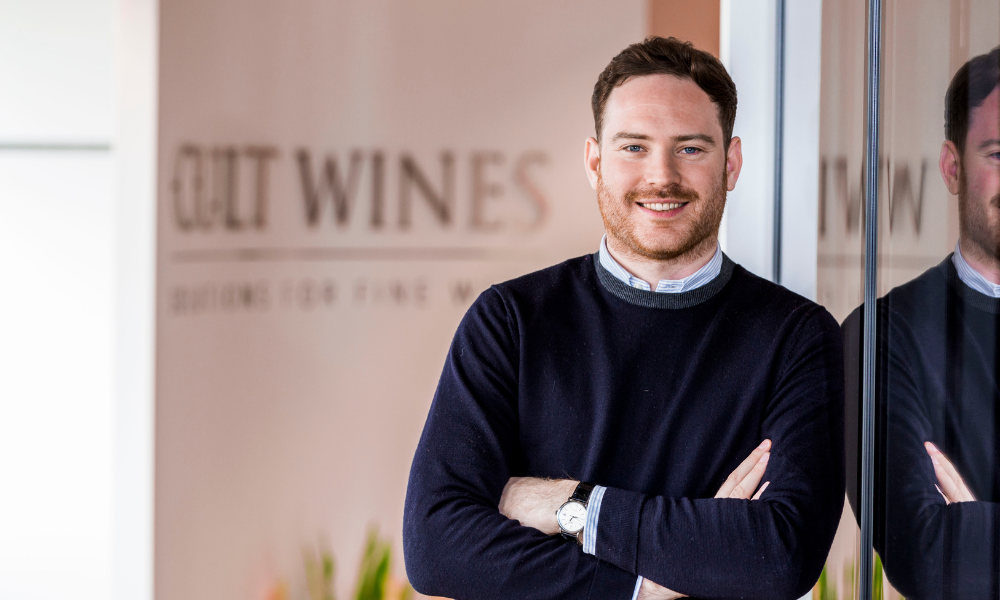 "We created a company that completely turned [wine investing] on its head, which wasn't to lose the sexiness or the passionate side of wine, we embrace that. But it was also to go to serious investors and say, 'we've got the access, we've got the capacity, we have a top-down asset management approach, we have the right checks and balances internally, and we build portfolios based upon someone's risk profile."
Gearing said its portfolios are built to deliver the best risk-adjusted returns. Integral to this is its in-house data science team, which has developed its own bespoke proprietary software. The past two years has seen the company invest heavily in machine learning and AI algorithms, which are a big part of modelling and making sure they get the best portfolio balance.
Gearing said: "We use the human touch where the human touch is needed. Wine is a qualitative product in that it's subjective. You need a human to have some input on the taste or feeling or emotion you get from it. You're never going to get computers to be able to tell you that because a computer can't tell you if the wine is over its maturity rate, for example.
"It's going to take an expert sommelier to taste the wine and say that. We can then build data patterns around that based upon historical knowledge and subjective tasting notes but it's about combining the two – and that's what we try to do. We're not trying to be a quant."
Cult Wines, therefore, marries the expertise of its in-house sommelier with its tech talent and investment committee. These touch points have helped grow a global company that, as well as a 24,000 square foot warehouse in Wiltshire, U.K., has storage facilities in northern central France, Singapore, Shanghai, Hong Kong, Brazil, and New York state.