Why Media Sage Jay Rosen Has The Tyee on His New York Radar – TheTyee.ca
On Oct. 23, news media pros, students, tech innovators and entrepreneurs gathered in Brooklyn for the first day of Hearken's Engagement Innovation Summit.
Hearken, a company that creates tools for "public-powered journalism," said those attending shared the goal "of cultivating community and improving democracy through information sharing."
The stakes were Trump-sized. As the website put it: "With profoundly important elections coming up in the United States and across the world, this gathering had a special track on how innovators are creating engaged elections coverage."
As the opening session got going, Geoff Dembicki walked onto the stage. He was there to talk about his work covering the climate emergency for The Tyee.
Why was a journalist from British Columbia helping to kick off this summit of U.S. journalists and democracy advocates readying themselves for their nation's critical national election?
The Tyee had been invited to tell its story by Jay Rosen, the noted New York University professor who closely monitors digital journalism and heads a research initiative called the Membership Puzzle Project.
Membership, because Rosen and others are coming to the conclusion that the future of independent journalism rests on publications that involve their audience as members. Not just members who contribute financial support — though that is crucial — but also members who help inform and frame the publication's areas of reporting.
Puzzle, because news organizations are still trying to figure out how best to grow and involve their membership — and for many it's a race to survive.
That's where The Tyee comes in. For over a decade we've invited readers to help pay for special reporting projects, and sometimes advise us where to focus our efforts.
This year, we built on that record when deciding how to cover the federal election. We made a close study of what Rosen calls The Citizen's Agenda, and incorporated a lot of his ideas.
In mid-May, we asked readers to "Help shape the Tyee's federal election coverage." What questions did they think The Tyee should investigate — and put to candidates — during the campaign?
We received 600 responses, which we sifted and refined into 10 potential questions. We then asked readers to vote on their favourites so we could reduce the list to a manageable five issues. This time we received 2,000 responses. The fundraising drive we held at the same time exceeded our target, allowing us to add an additional question.
Our readers' top question: "Do you agree Canada should be on an emergency footing regarding climate change, and if so what actions will your party take?'"
To read all six of the final questions, see this story's sidebar. And here is the report we issued on all the stories — about 100 total — we produced during a very busy election season.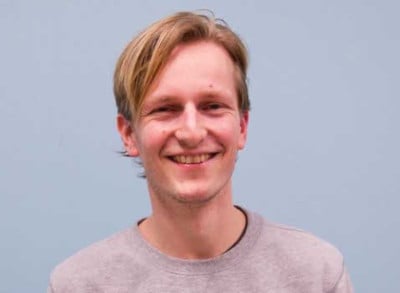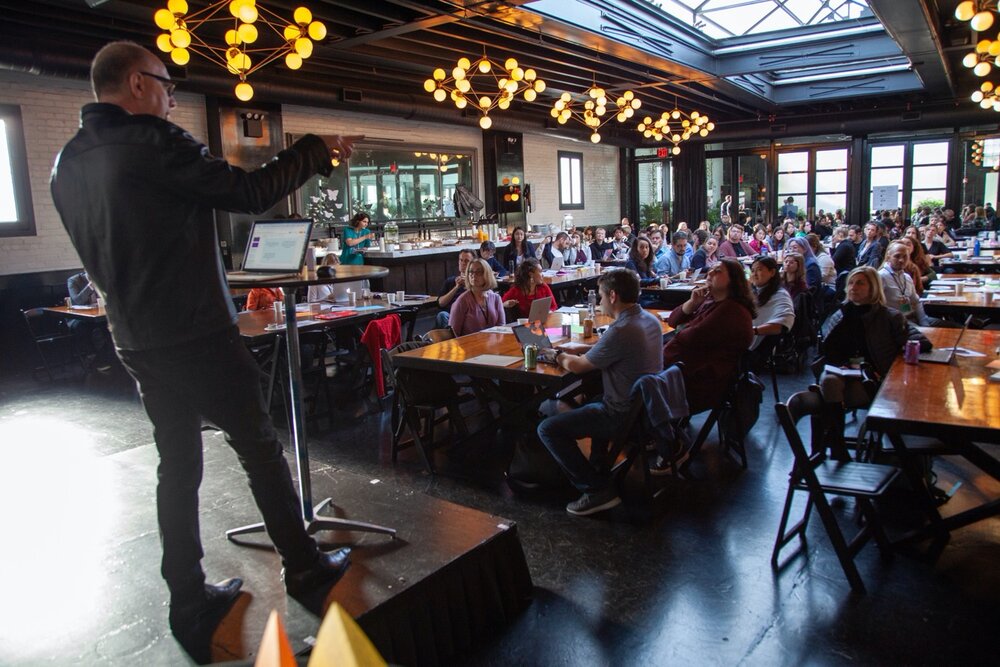 So, back to Brooklyn. On stage for that first session, Rosen laid out elements of The Citizen's Agenda, a concept he proposed in November 2018 on his widely read blog PressThink.
Its principles start with "know who your community is." Then ask them, he says, "What do you want the candidates to be discussing as they compete for votes?"
If the process is done right, "journalists covering the campaign have what they need to name, frame and synthesize the citizen's agenda. The product is a ranked list, a priority sketch. The top 8-10 issues or problems that voters most want the candidates to be talking about."
This was not the first time Rosen had floated the idea. Nor was it the last (here's a recent twitter thread by Rosen that cites The Tyee.) And his original inspiration was an experiment run by the Charlotte Observer in North Carolina way back in 1992.
But this year Rosen concluded that you — The Tyee's readers — had participated in a model worth sharing with the new wave of U.S. independent media. That's why he invited a Tyee rep to present with him at Hearken. (Luckily for us, Dembicki had just moved to Brooklyn.)
Rosen started the session by sharing his Citizen's Agenda concept with the Hearken crowd.
Then Dembicki explained how British Columbia became home to a long-running independent site for news, ideas and solutions that depends on the financial support of its readers (we call them Tyee Builders) to do top-notch journalism.
How at The Tyee he'd gone from intern to reporter to globally known author of Are We Screwed?, a book on the climate crisis challenge.
And how this autumn Tyee Builders had empowered him to draw on his expertise to write a number of pieces addressing their prime question for the federal election.
Rosen's prescription had played out very well at The Tyee, Dembicki told the audience, and so they might consider a similar approach. Ask your readers to tell you their coverage priorities. Treat them as members in the effort. And deliver and report back. That's the formula that Rosen recommends and which The Tyee has put into practice.
By all accounts, attendees of the Engagement Innovation Summit were inspired by what Rosen and Dembicki shared and many intend to follow suit.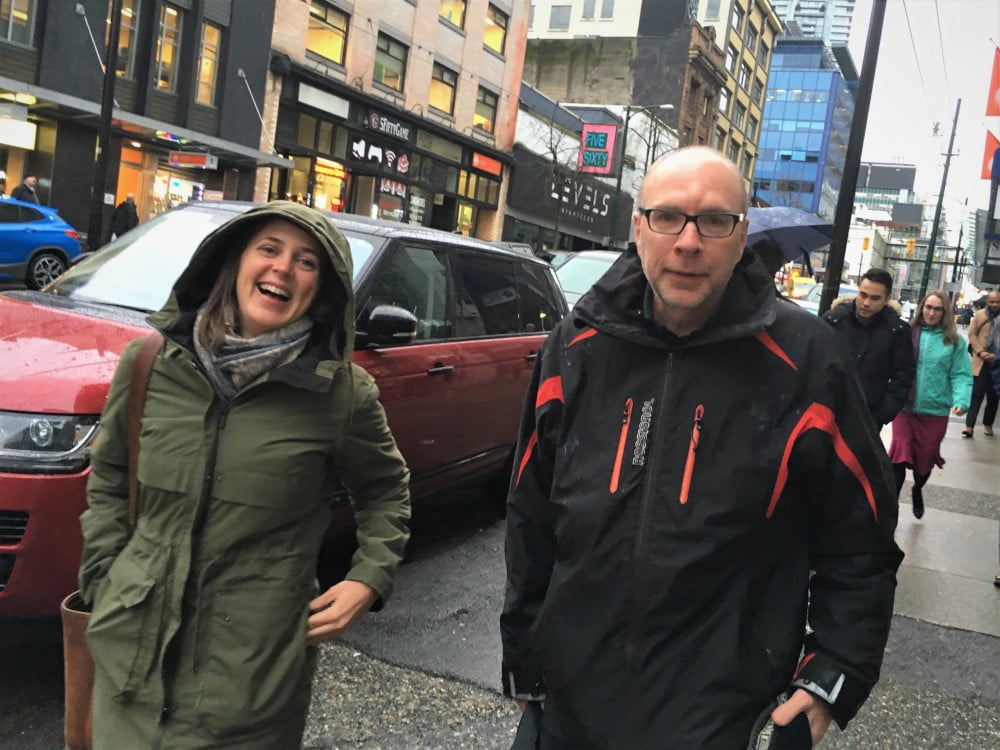 Rosen was in Vancouver earlier this month and dropped in at The Tyee's offices where we exchanged updates. He was happy to say the Membership Puzzle Project will continue another year at least. We were happy to say our current drive to add 500 new monthly Builders was on track to succeed.
We asked him: "You watch the important trends in the evolution of journalism. Where do you see The Tyee fitting into a key trend or two, and where do we buck trends?"
"A portion of the readership that feels strongly about the Tyee supports it for the others," he responded. "That fits into the trend toward membership models in news."
"At the same time, there is no talk of paywalls, which would not be a good fit within The Tyee's tradition," Rosen added. "That bucks the much larger trend toward subscription."
We pointed out that "The Tyee is gambling on The Guardian model — one type of membership model, without a paywall. Are we crazy?"
"I don't think it's crazy at all," Rosen said. "But you need fans who are passionate about your site. The site in turn has to be passionate about something big — in your case equity and environment in British Columbia. No 'view from nowhere' allowed."
When Rosen talks of "the view from nowhere," he's keying off the thinking of philosopher Thomas Nagel. Self-styled "traditional" news media, he says, claim their carefully cultivated "objective" voice is superior. That non-committal voice simply makes their biases harder to spot and address, he says. The resulting reporting, in trying to appear "balanced," too often gives equal time and weight to harmful actors and false claims.
Rosen has said the "voice from nowhere" stems from "arrogance born of monopoly" in traditional media.
Breaking down that monopoly is a main reason The Tyee was established in 2003.
Perhaps it's clear now why we are pleased to be on Rosen's radar, as we and our members enter an exciting year in which we transform into a non-profit organization.
Rosen predicts that the future belongs to "engagement journalism" that is "audience-first and public-powered." We could not agree more.
Happy holidays, readers. Our comment threads will be closed until Jan. 2 to give our moderators a break. See you in 2020!

London social media campaign celebrates newcomers working in the health sector – Global News
Saskatchewan reported 19 new cases of the novel coronavirus on Saturday as the province hit a new single-day testing record.
Of the new cases, 15 are in the Saskatoon area, with 13 of them being linked to known cases or events, says the Ministry of Health.
Two new cases have been reported in the central east and Regina zones.
As of Saturday, Saskatchewan has a total of 1,863 reported cases. Two cases previously reported have been removed as they live outside of Saskatchewan, say officials.
There are 134 active cases of COVID-19 in Saskatchewan, with a total of 1,705 people who have recovered from the virus.
Here is a breakdown of where Saskatchewan's active cases are:
Saskatoon: 83
Regina: 19
Central West: 8
Central East: 5
South East: 5
South Central: 4
North Central: 3
South West: 3
North West: 1
Far North East: 1
Far North West: 1
North East: 1
There are eight people in hospital, all who are receiving inpatient care.

1:33


Saskatoon chamber of commerce asks SHA for mask-wearing ad blitz



Saskatchewan's COVID-19 death toll remains at 24 people.
[ Sign up for our Health IQ newsletter for the latest coronavirus updates ]
Coronavirus breakdown
Here is a breakdown of total Saskatchewan cases by age:
318 people are 19 and under
603 people are 20 to 39
577 are 40 to 59
303 people are 60 to 79
62 people are 80 and over
Women make up 51 per cent of the cases, men make up 49 per cent.
Officials said 931 cases are linked to community contact or mass gatherings, 279 are travel-related, 534 have no known exposure and 119 are under investigation by public health.
There have been 69 cases involving health-care workers.
Saskatchewan has completed 183,216 COVID-19 tests to date, up 2,984 from Friday, making it the highest daily number of tests performed to date, according to data provided by the Ministry of Health.
The previous record was set on Sept. 18, when 2,984 tests were performed.
Questions about COVID-19? Here are some things you need to know:
Symptoms can include fever, cough and difficulty breathing — very similar to a cold or flu. Some people can develop a more severe illness. People most at risk of this include older adults and people with severe chronic medical conditions like heart, lung or kidney disease. If you develop symptoms, contact public health authorities.
To prevent the virus from spreading, experts recommend frequent handwashing and coughing into your sleeve. They also recommend minimizing contact with others, staying home as much as possible and maintaining a distance of two metres from other people if you go out. In situations where you can't keep a safe distance from others, public health officials recommend the use of a non-medical face mask or covering to prevent spreading the respiratory droplets that can carry the virus. In some provinces and municipalities across the country, masks or face coverings are now mandatory in indoor public spaces.
For full COVID-19 coverage from Global News, click here.
© 2020 Global News, a division of Corus Entertainment Inc.
Bill Maher Scolds Media For Being "No Help Amplifying" His Concerns Donald Trump Won't Leave Office Peacefully – Deadline
UPDATED with video: President Donald Trump pretty much secured the main talking point for this week's Real Time With Bill Maher after a Wednesday press conference in which Trump refused to commit to a peaceful transfer of power if he lost the November election to Joe Biden.
The topic of the concern over whether Trump would refuse to vacate the White House peacefully has been front and center for Maher for almost two years. It came up time and time again in Friday night's show, from pressing Sen. Bernie Sanders on what a plan might look like if Trump declined to exit in January if Biden wins, to clear frustration that it's taken "mainstream media" outlets so long to catch up to his concerns.
"It does f*ckin' stick in my craw that nobody listened to me and that I got no help from the New York Times, Washington Post, CNN — mainstream media, should have amplified," he said. "Mainstream media — I got no help amplifying the point I was making."
The subject took up the majority of the opening conversation from Sanders, who appeared via video (Maher was back in the studio for a third week in a row in front of a notably small, socially distanced audience).
"If Trump attempts to stay in office after losing, there will be a number of plans out there to make sure he is evicted from office," Sanders said, echoing some of what he said in his last Real Time appearance in April. At one point during a Sanders answer, Maher nudged back, "I still don't know what the plan is." (See the entire video above.)
During the midshow panel with author and CNN political analyst Bakari Sellers and Manhattan Institute fellow and podcaster Coleman Hughes, an engaging discussion on race eventually turned back to what Maher called "the theme that has obsessed me."
He showed two montages — one of previous Real Time episodes dating to April 2018 featuring Maher asking the question of what if Trump doesn't leave office if he loses, another of Trump mentioning Maher's theory during several rally speeches.
[embedded content]
Afterward, he turned to Trump's comments earlier in the week.
"There's a headline I saw in the New York Times yesterday, 'Trump Won't Commit to Peaceful Transfer of Power' — and it was on page 15," Maher said. "This was not the paper I grew up with, but OK."
He relayed the main points of Trump's comments, in response to a question from Playboy reporter Brian Karem, which included the president saying "we're going to have to see what happens." Maher read a passage from NYT reporter Michael Crowley's report, which said in part that "Mr. Trump's refusal — or inability — to endorse perhaps the most fundamental tenet of American democracy, as any president in memory surely would have, was the latest instance in which he has cast grave uncertainty around the November election and its aftermath."
"I would put that on the front page – but that's just crazy me," Maher said.
He added that he was going to drop the subject — though that doesn't seem likely with 38 days to go until the election.
Maher is off next week and returns with a fresh show October 9.
Molly Russell social media material 'too difficult to look at' – BBC News


.css-94m6rd-HeadingWrapperborder-bottom:solid 1px #BABABA;padding-bottom:1.5rem;.css-94m6rd-HeadingWrapper > *:not([hidden]):not(style) ~ *:not([hidden]):not(style)margin-top:1rem;
.css-1c1994u-StyledHeadingfont-family:ReithSerif,Helvetica,Arial,freesans,sans-serif;font-weight:500;font-size:2rem;line-height:2.25rem;color:#3F3F42;@media (min-width:37.5rem).css-1c1994u-StyledHeadingfont-size:2.75rem;line-height:3rem;.css-1c1994u-StyledHeading:focusoutline-style:none;.css-1c1994u-StyledHeading:focus-visibleoutline-style:auto;

.css-11c8au8-MetadataStripfont-family:ReithSans,Helvetica,Arial,freesans,sans-serif;font-weight:400;font-size:0.8125rem;line-height:1rem;margin-top:-0.25rem;color:#696969;
.css-8d0yke-MetadataStripItemdisplay:inline-block;white-space:nowrap;margin-top:0.25rem;max-width:calc(100% – 1em);.css-8d0yke-MetadataStripItem::aftercontent:";display:inline-block;height:1.25em;border-left:#BABABA 1px solid;margin:0 0.5em;vertical-align:-0.25em;.css-8d0yke-MetadataStripItem:last-childmax-width:100%;.css-8d0yke-MetadataStripItem:last-child::aftercontent:none;
.css-2yhany-StyledTagContainerfont-family:ReithSans,Helvetica,Arial,freesans,sans-serif;font-weight:400;font-size:0.875rem;line-height:1.125rem;
Related Topics
.css-1emjddl-Clusteroverflow:hidden;
.css-1oubwgi-ClusterItemsdisplay:-webkit-box;display:-webkit-flex;display:-ms-flexbox;display:flex;-webkit-flex-wrap:wrap;-ms-flex-wrap:wrap;flex-wrap:wrap;margin:calc(0.5rem / 2 * -1);.css-1oubwgi-ClusterItems > *margin:calc(0.5rem / 2);
.css-dh1p3g-StyledTagdisplay:-webkit-box;display:-webkit-flex;display:-ms-flexbox;display:flex;white-space:nowrap;
.css-1sd1v8r-StyledLinkcolor:#3F3F42;border:1px solid #DB7F7F;font-weight:bold;padding:0.5rem;-webkit-text-decoration:none;text-decoration:none;.css-1sd1v8r-StyledLink:hover,.css-1sd1v8r-StyledLink:focusbackground:#B80000;color:#FFFFFF;Social media regulation debate
.css-r83t2i-ComponentWrappermargin:1.5rem 0;
.css-1759m9z-StyledFigurefont-family:ReithSans,Helvetica,Arial,freesans,sans-serif;font-weight:400;font-size:0.875rem;line-height:1.125rem;
.css-uf6wea-RichTextComponentWrappermargin:1rem 0;max-width:36.25rem;
.css-83cqas-RichTextContainercolor:#3F3F42;.css-83cqas-RichTextContainer > *:not([hidden]):not(style) ~ *:not([hidden]):not(style)margin-top:1rem;
.css-14iz86j-BoldTextfont-weight:bold;Instagram has passed thousands of pages of "pretty dreadful" material from the account of Molly Russell to her family's legal team, a court heard.
The 14-year-old killed herself in 2017 after viewing graphic images of self harm and suicide on the platform.
A pre-inquest hearing on Friday was told not all the material had been studied yet as it was too difficult for lawyers and police to look at for long.
A date for the inquest itself is yet to be set.
The inquest will look at how algorithms used by social media giants to keep users on the platform may have contributed to her death.
Oliver Sanders QC told Barnet's Coroner's Court how Instagram's parent company Facebook had recently released a "significant volume" of material relating to the case.
He said: "We haven't been able to review it all yet. Some of it is pretty dreadful and it is not something that can be reviewed in a long sitting and certainly not late at night."
He added certain parts of the material had been redacted and lawyers and police were trying to find out why.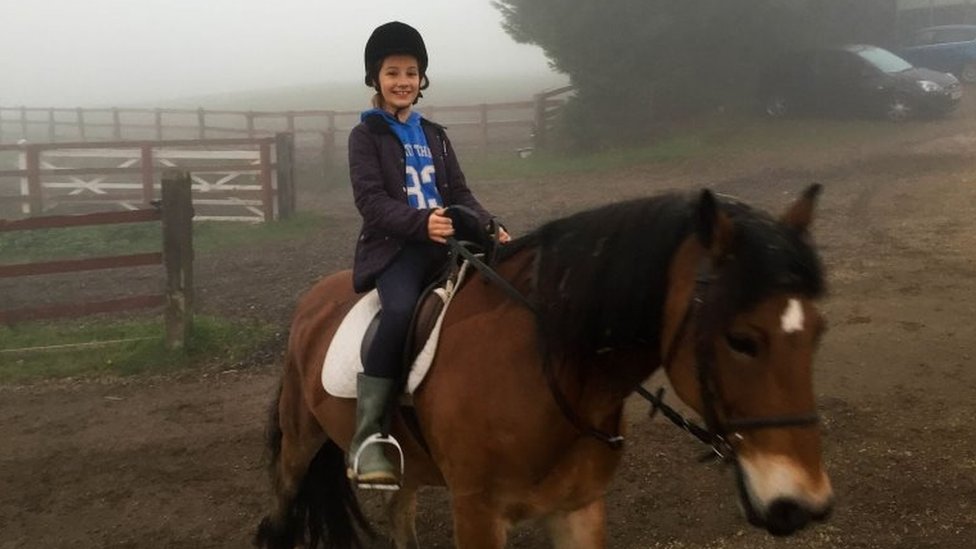 The court also heard the investigation was seeking the cooperation of Snapchat, WhatsApp, Pinterest, Facebook and Twitter, although until recently only Pinterest had co-operated fully.
But Snapchat could not disclose data without an order from a US court, WhatsApp had deleted Molly's account and Twitter was reluctant to handover material due to European data protection laws, the hearing was told.
Coroner Andrew Walker said "some or all" of those social media companies could be named as interested parties in the inquest as they would be "best placed" to give technical information for the case.
He also asked for a psychologist with expertise in the potential psychological impacts of viewing extreme material to be appointed to give evidence.
A further pre-inquest review is due to take place on 26 November.
.css-po6dm6-ItalicTextfont-style:italic;
If you've been affected by
.css-yidnqd-InlineLink:linkcolor:#3F3F42;.css-yidnqd-InlineLink:visitedcolor:#696969;.css-yidnqd-InlineLink:link,.css-yidnqd-InlineLink:visitedfont-weight:bolder;border-bottom:1px solid #BABABA;-webkit-text-decoration:none;text-decoration:none;.css-yidnqd-InlineLink:link:hover,.css-yidnqd-InlineLink:visited:hover,.css-yidnqd-InlineLink:link:focus,.css-yidnqd-InlineLink:visited:focusborder-bottom-color:currentcolor;border-bottom-width:2px;color:#B80000;@supports (text-underline-offset:0.25em).css-yidnqd-InlineLink:link,.css-yidnqd-InlineLink:visitedborder-bottom:none;-webkit-text-decoration:underline #BABABA;text-decoration:underline #BABABA;-webkit-text-decoration-thickness:1px;text-decoration-thickness:1px;-webkit-text-decoration-skip-ink:none;text-decoration-skip-ink:none;text-underline-offset:0.25em;.css-yidnqd-InlineLink:link:hover,.css-yidnqd-InlineLink:visited:hover,.css-yidnqd-InlineLink:link:focus,.css-yidnqd-InlineLink:visited:focus-webkit-text-decoration-color:currentcolor;text-decoration-color:currentcolor;-webkit-text-decoration-thickness:2px;text-decoration-thickness:2px;color:#B80000;
self-harm
,
eating disorders
or
emotional distress
, help and support is available via
the BBC Action Line
.
.css-144ki52-SectionWrappermargin:1.5rem 0;padding-top:1.5rem;