Why Media Sage Jay Rosen Has The Tyee on His New York Radar – TheTyee.ca
On Oct. 23, news media pros, students, tech innovators and entrepreneurs gathered in Brooklyn for the first day of Hearken's Engagement Innovation Summit.
Hearken, a company that creates tools for "public-powered journalism," said those attending shared the goal "of cultivating community and improving democracy through information sharing."
The stakes were Trump-sized. As the website put it: "With profoundly important elections coming up in the United States and across the world, this gathering had a special track on how innovators are creating engaged elections coverage."
As the opening session got going, Geoff Dembicki walked onto the stage. He was there to talk about his work covering the climate emergency for The Tyee.
Why was a journalist from British Columbia helping to kick off this summit of U.S. journalists and democracy advocates readying themselves for their nation's critical national election?
The Tyee had been invited to tell its story by Jay Rosen, the noted New York University professor who closely monitors digital journalism and heads a research initiative called the Membership Puzzle Project.
Membership, because Rosen and others are coming to the conclusion that the future of independent journalism rests on publications that involve their audience as members. Not just members who contribute financial support — though that is crucial — but also members who help inform and frame the publication's areas of reporting.
Puzzle, because news organizations are still trying to figure out how best to grow and involve their membership — and for many it's a race to survive.
That's where The Tyee comes in. For over a decade we've invited readers to help pay for special reporting projects, and sometimes advise us where to focus our efforts.
This year, we built on that record when deciding how to cover the federal election. We made a close study of what Rosen calls The Citizen's Agenda, and incorporated a lot of his ideas.
In mid-May, we asked readers to "Help shape the Tyee's federal election coverage." What questions did they think The Tyee should investigate — and put to candidates — during the campaign?
We received 600 responses, which we sifted and refined into 10 potential questions. We then asked readers to vote on their favourites so we could reduce the list to a manageable five issues. This time we received 2,000 responses. The fundraising drive we held at the same time exceeded our target, allowing us to add an additional question.
Our readers' top question: "Do you agree Canada should be on an emergency footing regarding climate change, and if so what actions will your party take?'"
To read all six of the final questions, see this story's sidebar. And here is the report we issued on all the stories — about 100 total — we produced during a very busy election season.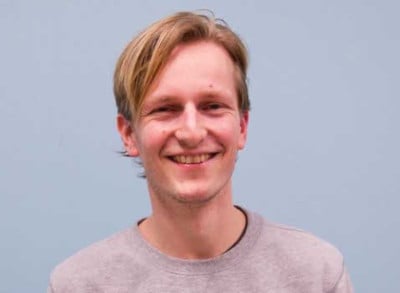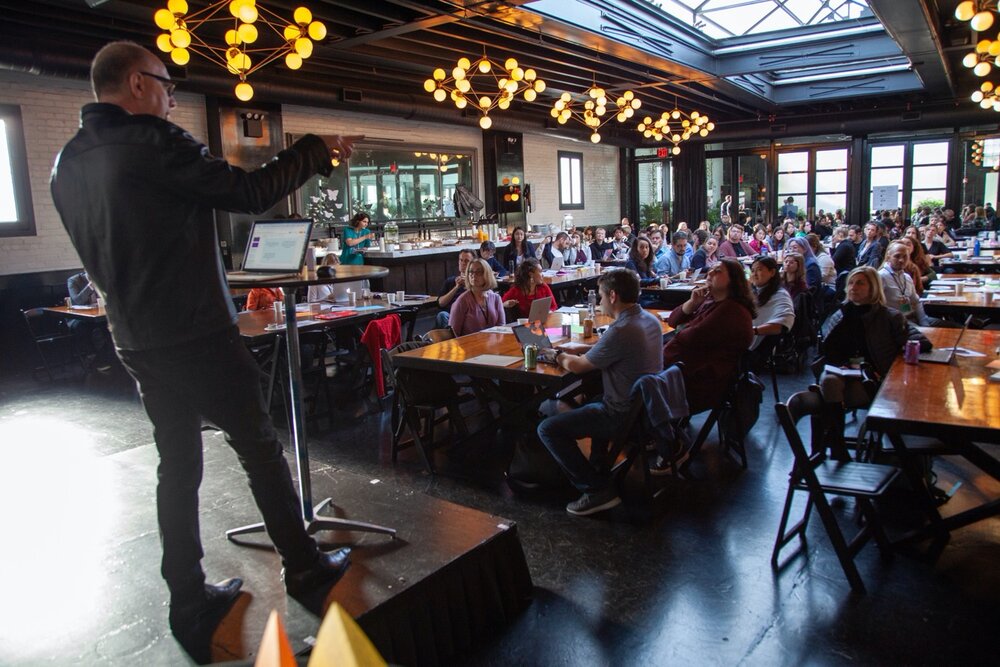 So, back to Brooklyn. On stage for that first session, Rosen laid out elements of The Citizen's Agenda, a concept he proposed in November 2018 on his widely read blog PressThink.
Its principles start with "know who your community is." Then ask them, he says, "What do you want the candidates to be discussing as they compete for votes?"
If the process is done right, "journalists covering the campaign have what they need to name, frame and synthesize the citizen's agenda. The product is a ranked list, a priority sketch. The top 8-10 issues or problems that voters most want the candidates to be talking about."
This was not the first time Rosen had floated the idea. Nor was it the last (here's a recent twitter thread by Rosen that cites The Tyee.) And his original inspiration was an experiment run by the Charlotte Observer in North Carolina way back in 1992.
But this year Rosen concluded that you — The Tyee's readers — had participated in a model worth sharing with the new wave of U.S. independent media. That's why he invited a Tyee rep to present with him at Hearken. (Luckily for us, Dembicki had just moved to Brooklyn.)
Rosen started the session by sharing his Citizen's Agenda concept with the Hearken crowd.
Then Dembicki explained how British Columbia became home to a long-running independent site for news, ideas and solutions that depends on the financial support of its readers (we call them Tyee Builders) to do top-notch journalism.
How at The Tyee he'd gone from intern to reporter to globally known author of Are We Screwed?, a book on the climate crisis challenge.
And how this autumn Tyee Builders had empowered him to draw on his expertise to write a number of pieces addressing their prime question for the federal election.
Rosen's prescription had played out very well at The Tyee, Dembicki told the audience, and so they might consider a similar approach. Ask your readers to tell you their coverage priorities. Treat them as members in the effort. And deliver and report back. That's the formula that Rosen recommends and which The Tyee has put into practice.
By all accounts, attendees of the Engagement Innovation Summit were inspired by what Rosen and Dembicki shared and many intend to follow suit.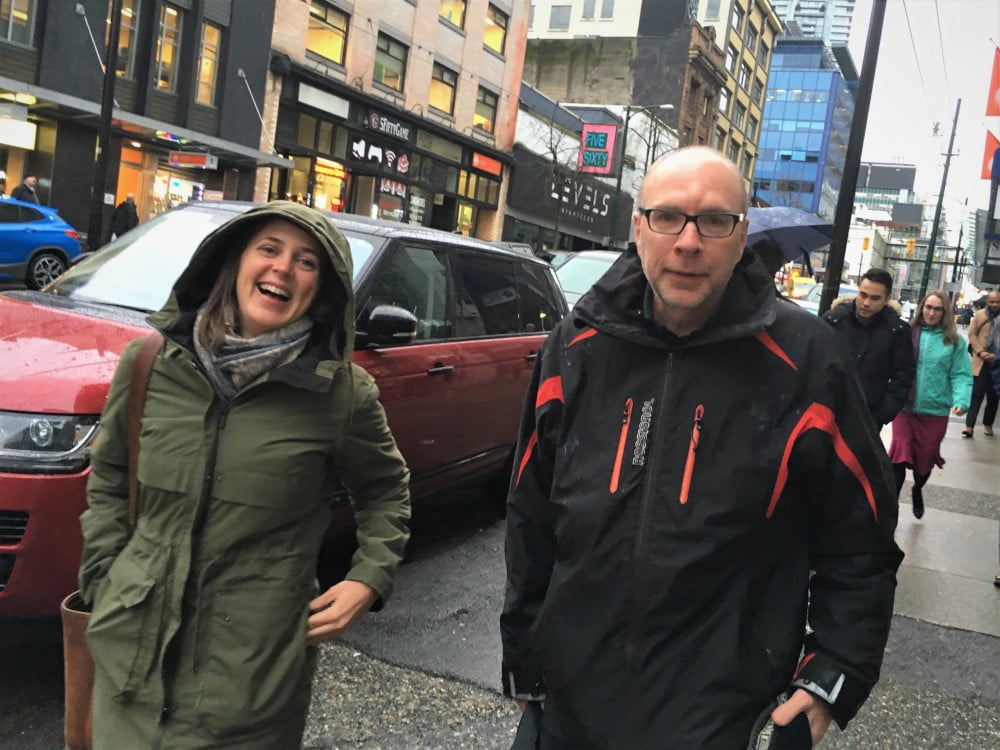 Rosen was in Vancouver earlier this month and dropped in at The Tyee's offices where we exchanged updates. He was happy to say the Membership Puzzle Project will continue another year at least. We were happy to say our current drive to add 500 new monthly Builders was on track to succeed.
We asked him: "You watch the important trends in the evolution of journalism. Where do you see The Tyee fitting into a key trend or two, and where do we buck trends?"
"A portion of the readership that feels strongly about the Tyee supports it for the others," he responded. "That fits into the trend toward membership models in news."
"At the same time, there is no talk of paywalls, which would not be a good fit within The Tyee's tradition," Rosen added. "That bucks the much larger trend toward subscription."
We pointed out that "The Tyee is gambling on The Guardian model — one type of membership model, without a paywall. Are we crazy?"
"I don't think it's crazy at all," Rosen said. "But you need fans who are passionate about your site. The site in turn has to be passionate about something big — in your case equity and environment in British Columbia. No 'view from nowhere' allowed."
When Rosen talks of "the view from nowhere," he's keying off the thinking of philosopher Thomas Nagel. Self-styled "traditional" news media, he says, claim their carefully cultivated "objective" voice is superior. That non-committal voice simply makes their biases harder to spot and address, he says. The resulting reporting, in trying to appear "balanced," too often gives equal time and weight to harmful actors and false claims.
Rosen has said the "voice from nowhere" stems from "arrogance born of monopoly" in traditional media.
Breaking down that monopoly is a main reason The Tyee was established in 2003.
Perhaps it's clear now why we are pleased to be on Rosen's radar, as we and our members enter an exciting year in which we transform into a non-profit organization.
Rosen predicts that the future belongs to "engagement journalism" that is "audience-first and public-powered." We could not agree more.
Happy holidays, readers. Our comment threads will be closed until Jan. 2 to give our moderators a break. See you in 2020!

Are You Missing Life's Moments Because of Social Media?
Recently my wife and I watched the movie Before Sunrise [1995], starring Ethan Hawke as Jesse and Julie Delpy as Celine. While travelling on a Eurail train from Budapest, Jesse, an American, sees Celine, who's French. It's Jesse's last day in Europe before returning to the US. Jesse strikes up a conversation with Celine, and they disembark in Vienna to spend the night wandering Austria's capital city.
Summary: Before Sunrise is a back-and-forth conversation between a romantic [Celine] and a cynic [Jesse].
During the closing credits, I turned to my wife and said, "That wouldn't have happened today. Jessie and Celine would have been staring at their respective smartphone throughout the train ride, which in 2021 would have free Wi-Fi, not noticing the passing scenery, their fellow passengers or each other, let alone start a conservation."
How much of real life are we trading to participate in the digital world?
I have this problem; actually, it's more of an addiction I need to keep in check constantly. I suffer from FOMO [Fear of Missing Out].
You've probably heard of FOMO. Odds are you suffer from it to a degree. FOMO is that uneasy feeling you get when you feel other people might be having a good time without you, or worst, living a better life than you. FOMO is why social media participation is as high as it is. FOMO is why you perpetually refresh your social media feeds, so you don't feel left out—so that you can compare your life. FOMO is what makes social media the dopamine machine it is.
FOMO has become an issue, especially for those under 40. More and more people choose to scroll mindlessly through their social media feeds regardless of whether they're commuting on public transit, having dinner in a restaurant, or at a sports event. Saying "yes" to the digital world and "no" to real life is now common.
Your soulmate could be sitting a few seats over on the bus (or Eurail train), or at the diner counter, or in the doctor's waiting room. However, you're checking your social media to see if Bob's vacationing in Aruba with Scarlett or if Farid got the new job and may now be making more money than you. Likely, your potential soulmate is probably doing the same.
Look around. Everyone is looking down at the screen in their hand, not up at each other.
We all know Facebook, Instagram, Twitter, Snapchat, et al. [even LinkedIn] doesn't provide a very well-rounded picture of people's lives. Most of what people post is cherry-picked to elicit self-affirming responses, such as likes, thumbs-up and hand-clapping emojis, retweets, shares, and those coveted comments of "Congratulations!", "Way to go!", "You're awesome!", "Looking good!"
The Internet, especially its social media aspect, equates to "Look at me!"
Sometimes I wonder, if bragging and showing off were banned on social media sites, how much would posts decrease?
"Stop paying so much attention to how others around you are doing" was easy advice to follow pre-Internet (the late 90s). Back in the day, it would be only through the grapevine you were a part of that you found out if Bob was in Aruba with Scarlett and that be without pictures. Evidence of how others are doing, strangers included, is pervasive because undeniably, most of us care about status. In 2021 how people are doing is in the palm of our hands, so we tend to give more time to the device we're holding at the cost of neglecting the real-life happenings within our immediate surroundings.
Social media has made us a restless, anxious bunch underappreciating the present moment. With lockdown restrictions lifting and more social activities taking place, people will be hunkering down on their smartphones more than before to see what others are doing. They'll see the BBQ they weren't invited to or people they consider to be friends having a few laughs on the local pub's patio or camping or at the beach without them. Loneliness, questioning self-worth, depression will be the result.
Trading engaging with those around you to feed your FOMO angst is what we've come down to. In my opinion, Guildwood is the GTA's most walkable neighbourhood. You can choose to take walks around Guildwood, getting exercise, meeting people or stay addicted to the FOMO distress social media is causing you.
Instead of catching up with an old friend or colleague in person over lunch, coffee, or a walk in Guild Park & Gardens, people prefer to text or message each other on social media platforms eliminating face-to-face interactions. Instead of trying to reconnect with old friends verbally, people would rather sit at home with their technology devices and learn what their friends are up to through social media platforms, thus the start of a slippery slope towards anti-social behaviour.
Social media's irony is it has made us much less social. How Jesse and Celine meet [you'll have to see the movie] and the resulting in-depth conversation they have as they gradually open up to each other, thus beginning a postmodern romance wouldn't have happened today. They'd be too preoccupied with their smartphones feeding their FOMO addiction to notice each other.
Social media will always nudge you to give it attention, but that doesn't mean you have to oblige. Take it from me; there's more to be had in enjoying life's moments outside of social media.
______________________­­­­­­­___________________________________________
Nick Kossovan is the Customer Service Professionals Network's Director of Social Media (Executive Board Member). You can reach Nick at nick.kossovan@gmail.com and him on Instagram and Twitter @NKossovan.
Jennifer Lopez and Ben Affleck pictured kissing as 'Bennifer' returns
Jennifer Lopez and Ben Affleck have been pictured exchanging passionate kisses, apparently confirming weeks of fevered rumors that they have rekindled a romance that dominated celebrity media almost 20 years ago.
Paparazzi photos printed in the New York Post on Monday showed the two actors kissing while enjoying a meal with members of Lopez's family at Malibu's posh Nobu sushi restaurant west of Los Angeles on Sunday.
Representatives for Lopez, 51, declined to comment on Monday, while Affleck's publicists did not return a request for comment.
Lopez and "Argo" director Affleck, dubbed "Bennifer," became the most talked about couple in the celebrity world in the early 2000s in a romance marked by his-and-her luxury cars and a large 6.1-carat pink diamond engagement ring. They abruptly called off their wedding in 2003 and split up a few months later.
The pair have been pictured together several times in Los Angels and Miami in recent weeks, after Lopez and her former baseball player fiance Alex Rodriguez called off their engagement in mid-April after four years together. Monday's photos were the first in which Lopez and Affleck were seen kissing this time around.
Celebrity outlet E! News quoted an unidentified source last week as saying Lopez was planning to move from Miami to Los Angeles to spend more time with Affleck, 48, and was looking for schools for her 13-year-old twins Max and Emme.
Max and Emme, along with the singer's sister Lydia, were also photographed walking into the restaurant in Malibu on Sunday.
Lopez married Latin singer Marc Anthony, her third husband, just five months after her 2004 split with Affleck. Affleck went on to marry, and later was divorced from, actress Jennifer Garner.
(Reporting by Jill Serjeant; editing by Jonathan Oatis)
TikTok debuts new voice after Canadian actor sues
After noticing a new female voice narrating the videos on the popular video-sharing social networking service, users of TikTok were baffled as to why. It actually turns out that the Canadian actress behind the old voice filed a lawsuit against the platform for copyright violation as her voice was apparently being used without her permission.
Bev Standing, a voice actor based in Ontario, is taking China-based ByteDance to court. TikTok's parent company has since replaced her voice with a new one, with Standing reportedly finding out over email after a tip-off from a journalist. On the matter, Standing said: "They replaced me with another voice. I am so overwhelmed by this whole thing. I'm stumbling for words because I just don't know what to say."
TikTok is said to be considering a settlement for Standing outside of the courts, but nobody knows whether or not this is true. According to legal experts, the fact TikTok now has a new voice on the popular social media app suggests they acknowledge Standing's case and potentially understand that she may have suffered as a result of the company's actions.
Thanks to the emergence of the powerful smartphone devices of today, alongside taking high-quality images for Instagram, getting lost down YouTube wormholes, and accessing popular slots like Purple Hot, people are turning to relatively new platforms like TikTok. The service has 689 million monthly active users worldwide and is one of the most downloaded apps in Apple's iOS App Store. This latest news could harm the platforms future, although many of its younger users potentially aren't aware that this type of scenario is unfolding.
For Bev Standing, the ordeal is a testing one. She wasn't informed of the voice change, there is no mention of it in TikTok's newsroom online, and the development is news to her lawyer also.
This all comes after her case was filed in a New York State court in early May after the voice actor noticed a computer-generated version of her voice had been seen and listened to around the world since 2020. Speculation is rife as to how TikTok managed to obtain the recordings but Standing believes the company acquired them from a project she took part in for the Chinese government in 2018.
The Institute of Acoustics in China reportedly promised her that all of the material she would be recording would be used solely for translation, but they eventually fell into the hands of TikTok and have since been altered and then exposed to a global audience.
According to Pina D'Agostino, an associate professor with Osgoode Hall Law School at York University and an expert in copyright law, the fact that the hugely popular social media platform has now changed Standing's voice could result in a positive outcome for the distraught voice actor. She said: "It's a positive step in the way that they are mitigating their damages. And when you're mitigating, you're acknowledging that we did something wrong, and you're trying to make things better."
When assessing social media etiquette and how both companies and users should act, this type of news can only do more harm than good. Not only does it make the company look bad, but it could have an effect on revenues and, ultimately, TikTok's reputation.
With a clear desire to move on and put this whole process behind her, Bev Standing is eager for the case to be resolved and get back to the daily work she loves and has been doing for a large part of her life. TikTok has until July 7 to respond to her claim.