Why US Voters Trust Trump on the Economy
It's been 28 years since adviser James Carville helped propel Bill Clinton to the presidency by posting a sign in campaign headquarters reminding everyone there: "It's the economy, stupid." That was his singular way of drilling home the message that the economy mattered more to voters than anything else.
So far in 2020, though, it doesn't seem to be the economy. Even though voters today prefer President Trump to handle the economy as much as ever, he remains behind as the race enters its final two weeks. That raises two questions: Why? And could the economic issue still propel him to a final-days turnaround?
Five times this year, The Wall Street Journal/NBC News poll has asked voters who they think would be better at handling the economy, Mr. Trump or Democrat Joe Biden. Five times they have named the president, by margins ranging from seven to 11 percentage points. Plenty of Americans, in short, appear to buy the president's argument that the economy was in fine shape before the coronavirus hit, and that it isn't his fault it has plunged since then.
More than that, when the poll asked voters just last week which issue is most important to them, they named the economy more than any other issue, including the coronavirus. All of that simply serves to frame the mystery of why that set of conditions isn't working better for Mr. Trump.
The answer starts with evidence suggesting the dominance of the economic issue may be something of a myth, which has its roots in that 1992 campaign. It simply isn't true that the candidate or party given better marks on handling the economy wins an election, even when the economy seems to get top billing. Voters have other issues propelling them with nearly equal force—and sometimes they view those as matters that also affect their own everyday economy.
Bill McInturff, a Republican pollster who co-directs the Journal/NBC News poll, notes that the same set of conditions prevailed in 2018: Voters said they thought Republicans would do a better job handling the economy, yet the party lost 41 seats in House elections that year. In some respects—the shift of suburban women toward the Democrats, more energized minority voters, concern about health care—this year resembles 2018 more than 2016 when Mr. Trump won.
With the second debate between President Trump and Democratic challenger Joe Biden's canceled, they instead appeared in simultaneous town halls on competing TV networks. The two candidates offered Americans a contrast in tone and style. Photo: Jim Watson/Agence France-Presse/Getty Images,Evan Vucci/Associated Press
And though it's little remembered now, a similar set of circumstances prevailed in 2012. Voters called the economy the most important issue, and more said they preferred Republican Mitt Romney to Democratic President Barack Obama on handling it. Yet Mr. Obama won re-election.
Then, as now, there was a cluster of other issues that, when taken together, rivaled the economy in importance to voters. This year the coronavirus, health care, race relations, climate change and ability to unite the country also are pressing and emotional matters for many voters. On every one, voters tend to prefer Mr. Biden, sometimes by wide margins.
More broadly, now as in 2016, the race seems as much about a struggle over the nation's culture as about economic issues.
Moreover, voters relate the health of the economy to the handling of the pandemic: If they buy Mr. Biden's argument that the economy can't improve until the coronavirus is under better control, they actually see the pandemic as an economic issue. That benefits Mr. Biden.
Democratic pollster Peter Hart, who helps oversee the Journal/NBC News poll, says that as Americans already are standing in long lines to cast ballots, 2020 is a year in which voters see the broader course of the country as the real issue. "The massive turnout in 2020 is occurring because voters understand the stakes that go far, far beyond the two candidates," he says. "Hidden behind the pandemic are the big issues of race, climate, gender, and safety."
Mr. Trump also hasn't played his advantage on the economy particularly well. He talks about his record of accomplishment, but doesn't lay out many specifics about what he'd do in a second term to revive and extend economic growth. And his fabled rallies tend to veer down side alleys as they did in Michigan on Sunday, when the president's argument that Michigan Democratic Gov. Gretchen Whitmer needs to do more to open up the state's economy veered into chants from the crowd of, "Lock her up." Mr. Trump echoed "Lock them all up" just days after the FBI arrested a group of men for plotting to kidnap the governor. That put the emphasis on a divisive message rather than a unifying economic one.
Perhaps Mr. Trump will find better ways in the campaign's final days to focus voters on the economy, to his benefit. Presidential elections tend to tighten in the end, as wandering voters return to their home base, and as candidates manage to frame the final choice to their benefit. Mr. Trump gets one more big chance, in Thursday's debate, to bring the argument back to the economy.
Write to Gerald F. Seib at jerry.seib@wsj.com
Source: 
Bloomberg New Economy: The Global Promise of Vaccine Development – Bloomberg
Pandemic has devastated India's economy and left its children vulnerable to exploitation as cheap labour – CBC.ca
Ajay Tomar regularly scans the platforms of the New Delhi Railway Station, the busiest in India, running through a checklist in his head.
The social worker is trained to spot signs of children being trafficked into forced labour. One telltale sign is seeing one or two kids are surrounded by a group of adults, the children isolated. He always glances at their hands to check if they are worn, a clue the child has been working illegally.
Child labour is illegal in India for anyone under 14 except in special circumstances, such as working for a family business. But it's a problem that has been exacerbated by the coronavirus pandemic, with indications pointing to a sharp increase in the number of children being exploited as cheap labourers.
India's last census, in 2011, showed the country had nearly 8.2 million child labourers between the ages of five and 14, mainly in the country's poor rural states, such as Bihar and Uttar Pradesh. Children's rights groups say that number improved significantly this past decade but fear the pandemic will reverse much of that progress.
India's swift and severe lockdown to stop the spread of COVID-19, imposed in March with mere hours' notice, made a desperate situation worse and created "fertile ground" for traffickers, according to Sudarshan Suchi, CEO of Save the Children India.
It abruptly shut all of the country's schools and forced migrant labourers out of work, Suchi said, and once the measures started to ease, industry turned to the cheapest labour available to make up the shortfall: children.
Schools in many parts of the country remain shut
The country has the second-highest number of COVID-19 cases after the U.S., at 9.6 million, and third-highest number of deaths, at almost 140,000.
Reopening orders vary from state to state, but schools across the country are still closed or operating at a much-reduced capacity, and children in some of India's poorer communities are not in class because they don't have access to online learning.
On the heels of its deadliest month from COVID-19 cases, Delhi's Deputy Chief Minister Manish Sisodia said schools would remain shut until a vaccine is available.
In other states, such as Gujarat, classes were set to resume in late November before authorities, spooked by a rise in infections, decided to hold off.
As a result, Suchi said, his crews have seen a "marked increase" in child labour in urban and rural areas, where children are often pushed into working at garment factories, car repair shops or garbage dumps, where they pick out plastics to earn a few cents.
"The vulnerability is at its highest right now," he said.
Suchi also worries the damage has already been done, since once children from poorer communities leave class for work, it's much harder for them to return.
WATCH | In pandemic, children have become source of cheap labour in some parts of India:
In India, with a COVID-19 case count second only to the U.S., it's children who've become the cheapest and easiest sources of income for families ravaged by economic fallout. 2:32
Families complicit in child labour
Tomar, who works for the Delhi-based non-governmental organization Prayas, has been seeing more of that vulnerability, too, as families turn to children to help scrape together enough money to survive.
"We find kids here who have come to work … with their fathers and mothers," Tomar said.
While he was speaking to CBC News, Tomar's fellow social workers on the railway rescue team were interviewing a preteen boy who tried to run away from the two adults who had forced him into manual labour. One of them was his cousin; the other his brother.
The boy eventually told the social workers that his relatives forced him to work 14 days in a row at a bicycle-chain repair factory near the New Delhi train station until he got so tired he tried to travel back to his home state of Bihar, hundreds of kilometres away, to see his mother. His captors tailed him to the station, where Tomar's team noticed the group and intervened.
Tomar said the fact the boy's brother was involved in forcing him to work is all too common.
"We find out every day that families are almost all OK [with it]," said Tomar. "We can't say anything to them. They are vulnerable, marginalized people."
Economy contracted 24% during pandemic
Chaman Shagufta, who works as a counsellor with the same organization at a children's shelter in one of Delhi's poorest neighbourhoods, knows that all too well.
She often has to tease the stories out of the children and track inconsistencies before handing their files over to India's child welfare authorities, who determine if a child should be allowed to return to their family or be sent to a shelter.
Shagufta's rapid-fire questions, punctuated by terms of endearment, are effective in getting two young boys picked up at the New Delhi Railway Station on their way to Maharashtra from the poverty-plagued state of Bihar to tell part of their story.
"Before the lockdown, we were in school," said one boy.
He insisted he was 15, but Shagufta was unconvinced, suspecting the boy was closer to 12.
"It's very much a probability that they have come for work since schools are locked down and nobody is studying," she said.
Many parents know children are being sent off to work, she said, and reason that they may as well "earn something" during the shutdown period.
It's a sign of the dire straits families are in in an economy that has contracted 24 per cent between April and June of this year, according to government GDP figures.
'Nowhere children'
Children are most at risk under those circumstances, said Amod Kanth, the former Delhi police officer who founded the NGO Prayas.
"I prefer to call them 'nowhere children,' he said. "They are not on the radar. They are not visible. They are not accounted for because they happen to be drifting, traveling, migrating.
"They suffer more compared to others in the pandemic."
In another children's home operated by Prayas, Poonam waits patiently for a quick visit in the hallway outside the large room where her three eldest children are getting an art lesson from social workers.
The 30-year old mother of four boys lives in one of Delhi's poorest slums and told CBC News the eight months since the start of India's lockdown order were the hardest she's had to endure.
"It was tough," she said. "My children were starving."
Her husband, an addict, had already left her and she was also caring for her own mother, who has health problems.
Desperation pushed her to send three of her sons, ages 5, 7 and 11, to beg on the streets outside a local temple and at busy intersections while she ran her vegetable stand, making about 150 rupees (less than $3 Cdn) a day, she said.
Only, fewer people were out buying vegetables and the struggle to find enough money for the family to eat was crushing.
The boys were spotted begging a month ago and taken in by social workers, who alerted the authorities and started the child welfare committee process to determine whether the three can be sent home.
They are living temporarily at the Prayas shelter, and Poonam desperately wants to keep it that way.
"It's too hard. They will die if they come back to me," Poonam said, her voice breaking with emotion.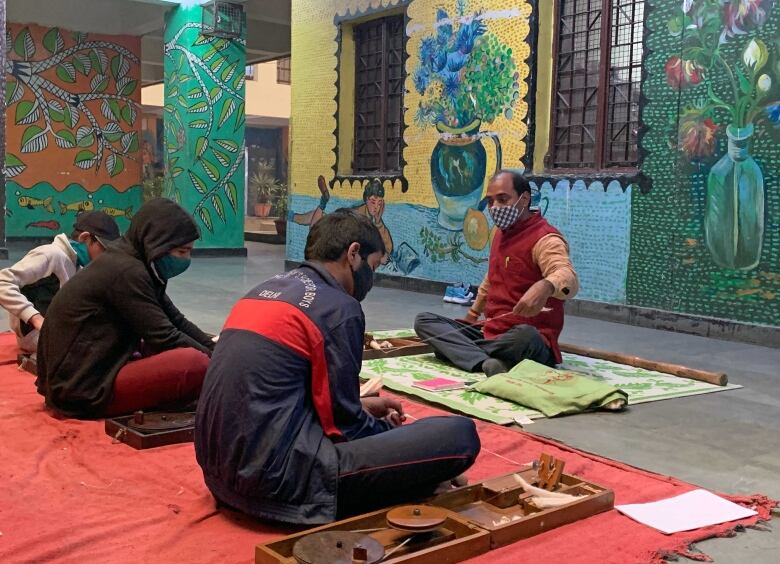 Kuwaitis go to polls as economy poses challenge for new emir – TheChronicleHerald.ca
By Ahmed Hagagy
KUWAIT (Reuters) – Kuwaitis voted in legislative polls on Saturday with the Gulf state mired in its worst economic crisis in decades, which poses a challenge for the government's often stormy relationship with a parliament blamed for blocking reforms.
More than 300 candidates, including 29 women, are vying for 50 seats in the Gulf's oldest and most outspoken assembly with legislative powers. Critics say it has stalled investment and economic and fiscal reform in the cradle-to-grave welfare state.
Campaigning, which took place mostly on social media and local TV channels due to COVID-19 restrictions, has focused on the economy, corruption and demographics in a country where foreigners make up the bulk of the workforce.
"Kuwait needs development. The streets are broken and there is no development and no economy … and coronavirus has affected everything in every way," said Ibrahim, a government employee, after voting in Kuwait city.
Turnout is expected to be lower than in past elections due to concerns about COVID-19 which, along with low crude prices, has battered state finances in the wealthy oil-producing nation.
A low turnout could strengthen the hand of tribal, Islamist and other candidates who can rally supporters to head to polling centres, analysts said.
"Kuwaiti opposition who boycotted (previous) polls are moving to run and vote, and this could strengthen their presence," said Kuwaiti political analyst Mohamad al-Dosayri.
Frequent clashes between the cabinet and the assembly have led to successive government reshuffles and dissolutions of parliament. Kuwait's emir, who has the final say, picks a prime minister who selects a cabinet.
The current government is due to resign after the elections.
Sheikh Nawaf al-Ahmad al-Sabah took the reins as emir in September following the death of his brother.
FACE MASKS AND SANITIZER
Kuwait's economy, which is worth nearly $140 billion, is facing a deficit of $46 billion this year. A government priority is to overcome legislative gridlock on a bill that would allow Kuwait to tap international debt markets.
Sheikh Nawaf has called for unity to face challenges at home and in a region experiencing heightened tension between Kuwait's larger neighbours Saudi Arabia and Iran.
Late ruler Sheikh Sabah al-Ahmad broke the hold of opposition groups on parliament in 2012 by using executive powers to amend the voting system, sparking large protests.
Under the old electoral system, voters were allowed to cast ballots for up to four candidates, which the opposition says allowed alliances that partly made up for the absence of political parties, which are officially barred.
The system introduced in 2012 allows votes for only a single candidate, which the opposition says makes alliances difficult.
At al-Waha School in Jahra City, a polling station for men, voters in Arab robes protected themselves with face masks and hand sanitizers before putting their votes into the ballot box.
About 20 female observers watched a male judge checking the identity of women voters at the Bahsira school for girls before they cast their ballots.
Kuwaiti opposition figures have proposed electoral reforms and a pardon for dissidents, many in self-exile.
"There have been some reforms in the judiciary and the Emiri Diwan," or court, said a Kuwaiti politician who asked not to be named. "We heard echoes of more reforms after elections."
(Reporting by Ahmed Hagagy in Kuwait; Additional reporting by Stephanie McGehee; Writing by Aziz El Yaakoubi; Editing by William Mallard and David Clarke)