Will your investment property actually make money? – Financial Post
The monthly cash flow from your rental property is important, but it's not everything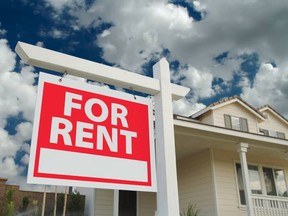 Article content
Becoming a real estate investor in Canada may seem like a surefire shortcut to wealth.
Article content
Though it has been for many, few people become successful real estate investors simply by buying whatever properties they can afford and assuming the rent will do all the heavy lifting.
A recent analysis found that, from January 2020 to May 2021, nearly all Toronto homes purchased would lose money for their owners in the rental market. Research has shown that Montreal property investors often lose money on a monthly basis .
Choosing the right property to invest in requires careful consideration. You need to examine the surrounding neighbourhood to understand the appeal it offers residents, take a look at the local economy to ensure it's supportive of long-term housing demand and evaluate the property itself in terms of rentability.
Article content
And one of the most important steps is calculating cash flow, the amount of money the property will either earn or lose every month.
If it's your first time encountering the term "cash flow," don't sweat it. Calculating it is fairly easy.
Monthly income isn't everything
Though ideal, positive cash flow isn't necessary for a property investment to ultimately be considered successful. A negative cash-flowing home can still be a winner in the long run — if it appreciates in value over time, as has generally been the case with real estate in Canada, and if you can afford the monthly cost.
"Most people, and especially beginner investors, believe that successful investing is all about cash flow, and that there's really nothing else that matters. But the real winnings in real estate come from having a long-term view," says Tom Karadza of Rock Star Real Estate in Oakville, Ont.
Article content
Either way, determining what a property will earn (or cost) you every month is critical in helping you understand whether an investment property fits your budget or your overall investing plan.
The cash-flow formula
The first thing to do is determine the property's gross income. Based on the home's condition and local rent values, how much will you realistically be bringing in from rental income every month?
Once you've got that number, it's time to add up your monthly expenses and subtract them from the gross income. Taxes, maintenance fees and property management costs all need to be included here, as do utilities if your tenants won't be paying them.
This part of the equation can be tricky for inexperienced investors, who may not know what to pencil in for maintenance and management.
Article content
Monika Jazyk, an Ontario-based real estate investor and founder of Real Property Investments, says she typically subtracts five per cent of the monthly rental amount for maintenance, and eight per cent for property management. If you're not using a professional property management company, you can ignore this expense.
Jazyk says investors also need to factor in the cost of vacancies. She suggests basing this figure on your local market's vacancy rate and subtracting that amount from your gross income. So if your local market has a five per cent vacancy rate, you would subtract five per cent from gross income.
"There are times when it could be zero because there's such a demand for housing, but you will have times during your hold period when tenants leave, so you should always just put that number in there anyways," she says. "I always do three per cent."
Article content
Finally, subtract your monthly mortgage payments from your gross income. What's left over will give you a clear idea of what your monthly cash flow will be.
An example
Let's run the numbers on a single-family home in Toronto that's been assessed at $1 million. The tenants are paying all utilities and you'll be managing the property yourself, so no need to factor in those costs.
Monthly rental income: $4,000
Monthly expenses: $509 (taxes), $200 (maintenance), $120 (vacancy)
Mortgage cost: $3,501 ($800,000 principal, 25-year amortization, five-year fixed rate of 2.29 per cent)
This particular property would be cash-flow negative by $330. For Toronto, circa now, that's not bad.
If it's not good enough, improving a property's cash flow is possible. Working with your mortgage broker to get a lower interest rate will make a difference, as will adding a second rental unit, renting out space in the garage or even putting billboards up on your property, if those are options.
But you won't be able to find solutions to your cash flow problems until you know how to correctly identify them. Make sure you know how much you're making or losing every month.
This article provides information only and should not be construed as advice. It is provided without warranty of any kind.
Ford sees $8.2 billion gain on its investment following Rivian's IPO – Driving
Ford continues to gain, despite abandoned plans to jointly develop an EV with the startup
Article content
Ford Motor Co. expects to record a gain of $8.2 billion in the fourth quarter on its investment in RivianAutomotive Inc. after the electric-truck maker's blockbuster initial public offering late last year.
Article content
The legacy automaker disclosed the gain Tuesday along with several special items it intends to report when Ford releases earnings on Feb. 3. The Dearborn, Michigan-based company will also reclassify a non-cash gain of about $900 million on the Rivian investment from the first quarter of last year as a special item, meaning it will be excluded from the full-year adjusted results, according to a statement.
The disclosures show Ford continues to gain from its connection to the startup even after the auto giant exited Rivian's board in September and subsequently announced it had abandoned plans to jointly develop an electric vehicle. Ford, which has invested a total of $1.2 billion in Rivian since early 2019, has a 12 per cent stake that the company has said was valued at more than $10 billion in early December.
Article content
Since a November listing that was the largest IPO of 2021, Rivian has been on a roller coaster. The shares peaked at more than $172, but have tumbled 57 per cent since then as the company faced new competition in the electric-vehicle market. Rivian was briefly valued at more than $100 billion, then more valuable than Ford, but Ford has subsequently reclaimed the lead after it topped $100 billion in value for the first time last week.
Ford shares were little changed in after-hours trading Tuesday in New York, while Rivian climbed less than one per cent.
ByteDance reorganizes strategic investment team, causes panic – Yahoo Movies Canada
What a roller coaster day for China's tech industry. TikTok's parent company ByteDance has dissolved its strategic investment team, sending worrying messages to other internet giants that have expanded aggressively by investing in other companies.
At the beginning of this year, ByteDance reviewed its "businesses' needs" and decided to "reduce investments in areas that are not key business focuses," a company spokesperson said in a statement.
ByteDance isn't halting external investments outright, though; instead, the investment team will be "restructured" and "integrated across the various business lines to support the growth" of its business.
In other words, some members from its strategic investment team, which has backed 169 companies, according to Chinese startup database IT Juzi (some deals may not be public), will be reassigned roles in other business departments and continue to invest there.
The "restructuring" still stirred up a wave of panic in the industry. China's cyberspace regulator has drafted new guidelines that will require its "internet behemoths" to get its approval before undertaking any investments or fundraisings, Reuters reported, citing sources. Some Chinese media outlets also reported similar drafted rules.
"Behemoths" refer to any internet platform with more than 100 million users or more than 10 billion yuan ($1.58 billion) in revenue, said Reuters' sources. That rule, if true, will put a slew of Chinese internet giants, from Tencent, Alibaba, Pinduoduo, JD.com to Baidu, under regulatory review for their investment activities. Tencent in particular is famous for its expansive investment portfolio, which earns it the moniker "the SoftBank of China."
In a surprising turn, China's cyberspace regulator said that the "rumored guidelines for internet companies' IPO, investment and fundraising are untrue." Furthermore, the authority will "investigate and hold relevant rumormongers responsible in accordance with the law."
ByteDance's motive for restructuring may indeed be to generate more synergies between its external investments and internal businesses. We don't know for sure yet. But there are signs that China's antitrust action on its internet darlings are nowhere near the end.
Tencent recently sold a great chunk of its shares in two of its most important allies, Chinese online retailer JD.com and Singaporean video games and e-commerce conglomerate Sea. While antitrust pressure wasn't cited as the cause for its divestments, speculation is rife that China is continuing to blunt the monopolistic power of its largest interent platforms. A handful of them have received various degrees of fines for violating anticompetition rules, but a pause on their investment game will carry much greater consequences. The question now is who's next.
CSA shines a light on greenwashing – Investment Executive
Greenwashing has become an issue for regulators who worry that investors could be intentionally or inadvertently misled about the green credentials of the funds they buy.
"In addition to leading investors to invest in funds that do not meet their objectives or needs, greenwashing may also have the effect of causing investor confusion and negatively impacting investor confidence in ESG investing," the CSA warned in its notice setting out the new guidance.
The regulators reported that targeted reviews of investment funds' continuous disclosure in this area revealed a number of shortcomings. Some funds had potentially misleading disclosure, the CSA found, while others featured inadequate reporting to investors on investment strategies, proxy voting practices and ESG performance.
Many funds "lacked detailed disclosure" about the specific ESG factors considered in their investment strategies and how those factors are evaluated.
Regulators also found that many funds provided more detailed ESG disclosure in their marketing materials than in their prospectuses; that most funds didn't detail portfolio changes that were driven by ESG considerations; and that more than half of the funds that use proxy voting as part of their ESG strategies didn't set out specific voting policies.
"In addition, the vast majority of the funds reviewed did not report on their progress or status with regard to meeting their ESG-related investment objectives," it said.
In the wake of that review, the regulators indicated they don't believe current disclosure requirements need to be revised to specifically address ESG factors. However, the CSA said "regulatory guidance is needed to clarify how the current disclosure requirements apply to ESG-related funds and other ESG-related disclosure in order to improve the quality of ESG-related disclosure and sales communications."
The new guidance doesn't add requirements for fund managers, but it does provide insight into areas where firms may be falling short of meeting existing disclosure expectations.
On the issuer side, the CSA is consulting on proposed new climate risk disclosure requirements for public companies.
For investment funds, the regulators are hoping that guidance will be enough by bringing "greater clarity to ESG-related fund disclosure and sales communications to enable investors to make more informed investment decisions."
Among other things, the guidance recommends that funds that aim to generate a measurable ESG outcome report their results to investors.
"For example, where a fund's investment objectives refer to the reduction of carbon emissions, investors would benefit from disclosure in the fund's [performance report] that includes the quantitative key performance indicators for carbon emissions," it said.
On marketing materials, the CSA said that "a sales communication that does not accurately reflect the extent to which a fund is focused on ESG, as well as the particular aspect(s) of ESG that the fund is focused on, would both be misleading and conflict with the information in the fund's regulatory offering documents."
It also said that the use of fund-level ESG ratings, scores or rankings may be misleading. Reasons include conflicts with the rating provider, cherry-picking positive scores, and failing to disclose qualifications or limitations to a rating or ranking that would supply added context.
"Interest in ESG investing is on the rise and this enhanced and practical guidance will play an important role in helping investors make informed decisions about ESG products, as well as preventing potential greenwashing," said Louis Morisset, chair of the CSA and president and CEO of the Autorité des marchés financiers (AMF), in a release.
The CSA indicated that it will continue to review ESG-related disclosures as part of its continuous disclosure reviews.