Work remains before NHL can drop the puck for 2020-21 season – TSN
Game on.
Hockey is back just on the other side of the holidays.
A shade more than three weeks before puck drop, the NHL and NHL Players' Association formally approved on Sunday a 56-game regular season slated to begin on Jan. 13.
It's quite literally going to be a sprint to Lord Stanley. Training camps for all 31 teams open in two weeks, setting off a scramble for players to make their way back to their playing cities, contending with quarantines and holidays at home.
Once it arrives, a 56-game campaign will be crammed into just 116 days – nearly one game for every two days – in a baseball-style schedule with mini two- and three-game series dotting each team's exclusively intra-division schedule designed to minimize travel and the spread of COVID-19.
There is still much work to be done.
The plan is to play in all 31 NHL arenas, where possible. Some arenas will be able to host fans starting next month. Other arenas may not be able to host games at all – even without fans.
The issue remains unresolved in Canada.
The NHL and NHLPA are still hoping to find common ground in short order with the five provincial health authorities who have jurisdiction on whether NHL games can be played in British Columbia, Alberta, Manitoba, Ontario and Quebec.
According to several sources, multiple provincial health authorities have not signed off on the NHL's plan and protocol. There is expected to be minimal risk to public health, since traveling players will be restricted to only the rink and then sequestered in their team hotel – with all meals being consumed there. That means no visits to bars, restaurants or shopping.
But COVID-19 numbers continue to skyrocket across the continent and hockey does not seem to be at the top of provincial priority lists to grant exemptions with hundreds dying per day.
The provincial health authorities met with the NHL and NHLPA in a group call on Saturday. More discussion will take place early this week, but it is possible that the provinces decide to band together with a group philosophy – presenting a potential all-or-nothing scenario.
If the provincial health authorities do not sign off, the NHL could be forced to move the seven Canadian teams to a hybrid hub in Canada (likely in Edmonton) or south of the border for the season.
"It is the current plan to play games in the home arenas of participating teams while understanding that most arenas will not, at least in the initial part of the season, be able to host fans," the NHL's press release said Sunday. "However, depending on prevailing conditions both in local markets and across North America, the league will be prepared to play games in one or more neutral site venues per division should it become necessary."
The NHL temporarily realigned divisions to create close geographic rivalries in the United States. The 24 American-based teams will face each of the seven teams in their new division eight times.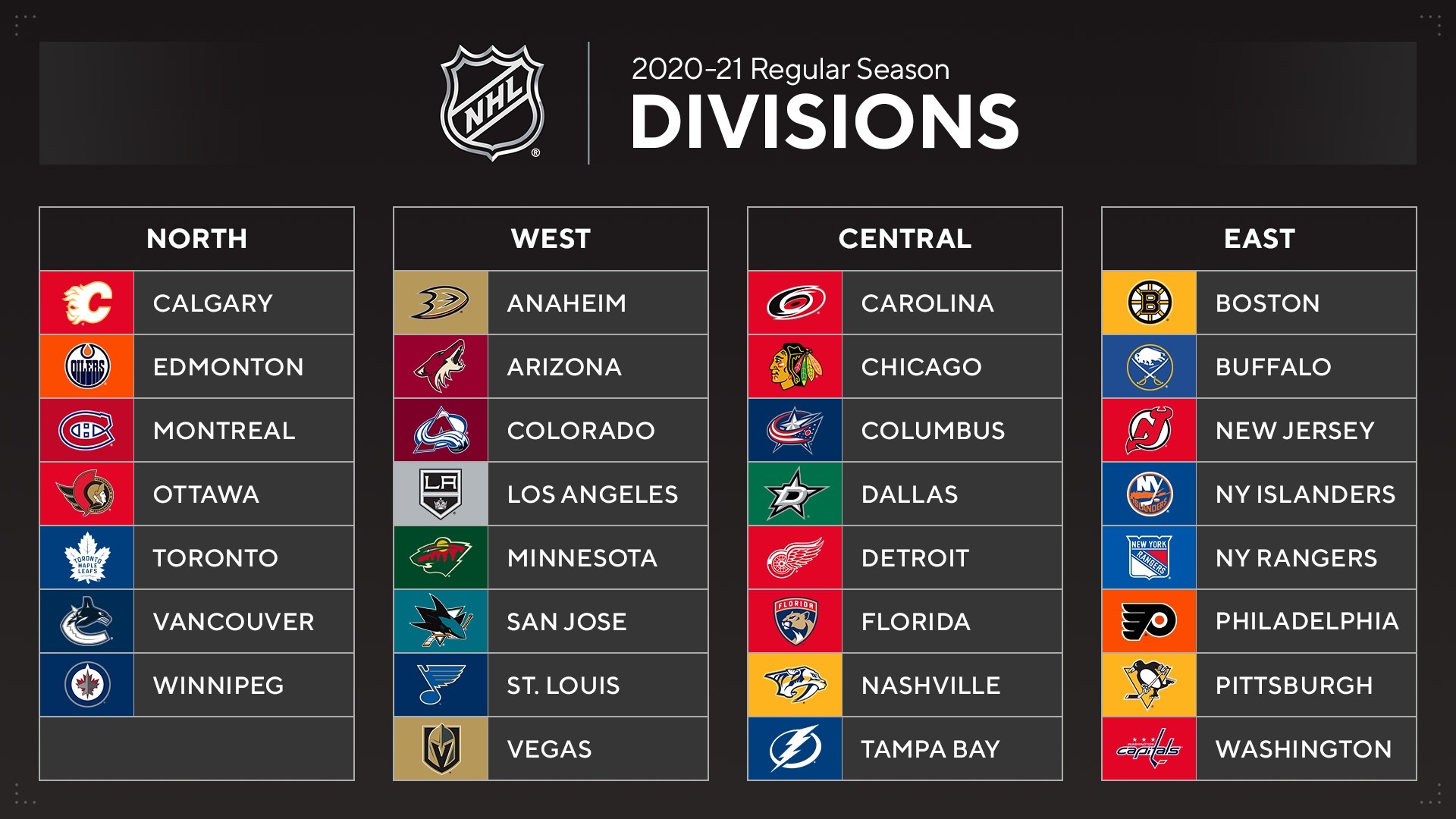 Some arenas will be able to host fans, with the Dallas Stars saying they expect up to 5,000 fans per game at American Airlines Center next month. The Florida Panthers and Tampa Bay Lightning are both also permitted to have fans.
The San Jose Sharks will conduct training camp in Scottsdale, Ariz., but GM Doug Wilson said Sunday the team is still hoping to begin the season in San Jose, pending a change to Santa Clara (Calif.) County's ban on mass gatherings, which included pro sports teams.
Meanwhile, harkening back to the pre-expansion NHL when the Original Six faced each other 14 times a year, the seven Canadian clubs will square off nine or 10 times apiece for 196 glorious one-anthem matchups across the country. With a divisional playoff format, Canada would be guaranteed a one-in-four shot at the Stanley Cup.
But that's not the best part.
Drool about the healthy hate that will be worked up with 10 renditions of the Battle of Alberta, including two or three potentially packed into a five-day span. Or Matthew and Brady Tkachuk going nose to nose nine times, with at least that many tilts between the Leafs and Habs.
It would be hockey nirvana.
With most of the heavy lifting behind the NHL, we will soon be traveling to that familiar and oh-so-needed hockey headspace, where the focus can be on trades and signings again instead of testing and complicated season transition rules.
The Bolts still need to unload $10 or $11 million off the Stanley Cup winning-roster. Teams like the Oilers have decisions to make replacing long-term injured players such as Oscar Klefbom. The Capitals need a replacement for Henrik Lundqvist to support Ilya Samsonov. Talented free agents such Mike Hoffman, Erik Haula and Corey Perry remain on the market after a Free Agent Frenzy unlike any other.
Hockey is on the horizon.
Giddy up.
2021 STANLEY CUP PLAYOFF FORMAT
> Top four teams in each division qualify.
> Traditional four-round, best-of-seven format.
> Intradivisional matchups for first two rounds (1 vs. 4, 2 vs. 3).
> Four division winners advancing to semifinals will be seeded based on regular season points total (1 vs. 4, 2 vs. 3).
> Two semifinal winners will meet in Stanley Cup Final. Since it is no conference or division-based, it is possible to see two traditional conference rivals (e.g. Habs vs. Bruins) in the Stanley Cup Final this season.
CRITICAL DATES FOR 2020-21 NHL SEASON
Dec. 31: Training camps open for seven non-playoff teams.
Jan. 3: Training camps open for the remaining 24 teams.
Jan. 13: Opening Night, Tampa Bay Lightning raise Stanley Cup banner.
April 12: Trade Deadline.
May 8: End of Regular Season.
May 11: Stanley Cup Playoffs begin.
July 15: Last possible day of Stanley Cup Final.
July 21: Expansion Draft (Seattle Kraken)
July 23-24: NHL Draft (Location: TBD).
July 28: Opening of Free Agency.
October: Beginning of 2021-22 season.
Contact Frank Seravalli on Twitter: @frank_seravalli​
Perry scores in debut to help lead Canadiens past Canucks – Sportsnet.ca
VANCOUVER — Corey Perry scored in his debut for the Montreal Canadiens on Saturday — even if putting the puck in the back of the net wasn't exactly his aim at the time.
Midway through the second period, the veteran right-winger slid a puck through the crease and saw it glide through the pads of Vancouver netminder Braden Holtby.
"I'll always say I wanted to shoot but I think I did see (Canadiens centre Jesperi Kotkaniemi) backdoor and I think it went off the d-man's stick or something and in the net," Perry said after Montreal topped the Canucks 5-2.
"But (Kotkaniemi) made a great play going to the back post and it kind of opened up a seam for me."
Perry slotted in for Joel Armia who suffered a concussion in a hit from Vancouver's Tyler Myers as the Canadiens trounced the Canucks 7-3 on Thursday.
Montreal was quick to avenge Armia's injury on Saturday.
Edmundson and Myers dropped the gloves 3:09 into the first period. The Montreal defenceman got a few good whacks in before the pair were separated by the officials and each given a five-minute sanction for fighting.
"Our team wasn't a big fan of the hit and he stepped up and didn't back away," Edmundson said of the fight. "So you got to respect that. But I still wasn't a fan of the hit."
After 14 seasons with the Anaheim Ducks, Perry spent last year with the Dallas Stars. The 35-year-old signed a one-year, US$750,000 deal with Montreal in December.
Getting back on the ice with the Canadiens felt good, he said.
"It was quick, the first couple shifts. But once you get in the flow of the game, I've played a few games in this league so it comes back," Perry said of his debut. "I felt good overall. The hands felt good. I played with some pretty good players tonight so it made it easy on me."
Saturday's game — the third in four nights between the two sides — also saw Nick Suzuki, Brendan Gallagher and Joel Edmundson score for Montreal (4-0-2). Jonathan Drouin had a goal and an assist.
Carey Price made 23 saves to collect his 350th NHL win.
The Canadiens now have points from their first six games of the season, all of which were played on the road. The only other team to accomplish that feat in NHL history is the 1968-69 Canadiens.
Montreal coach Claude Julien said there's still work to be done, but there are a lot of positives to come out of his team's first trip of the year.
"We took it one game at a time, I thought we played well and we got better as the games went on, and obviously building a little bit more chemistry along the way as well on the ice and off the ice," he said.
"So, there's a lot of good things that came out of this road trip and as a coach, you have to be happy when you can come up with that many points in that short trip."
The Canucks (2-5-0) were down 2-0 heading in to the third and had been outshot 18-13 across the first two periods.
Elias Pettersson ignited a comeback 3:50 into the final frame, batting a long shot by defenceman Jordie Benn out of the air and between Price's legs for his first goal of the season.
The marker snapped a five-game point-less skid for Pettersson, the longest drought of his short career.
Nils Hoglander tied the score at 2-2 just over two minutes later with a backhanded shot from the slot that beat Price stick side.
Gallagher put away the game winner 9:07 into the third with a wrist shot from low in the faceoff circle.
Drouin added some insurance about two minutes later, beating Holtby on a breakaway, and Edmundson scored an empty-netter with 2:54 left on the clock.
Holtby stopped 28-of-32 shots.
Despite the final score, Canucks coach Travis Green liked much of what he saw from his squad in the loss.
It was a tight-checking game where Vancouver hit some posts, saw some shots sail wide of the net but stuck with the game, he said.
"I felt bad for our group," Green said. "I thought for 50 minutes it may have been our best game to date. A couple of mistakes cost us the game in the last 10 minutes."
After turning heads in the Edmonton "bubble" during the playoffs last year, the Canucks hoped to take another step this season.
So far, that hasn't been the case.
"Obviously it isn't the start we wanted, but I don't think anyone's sulking and hanging their heads at this point in time," defenceman Quinn Hughes said Saturday.
"We're only seven games in and we've got a lot of hockey left to play. We've got time to figure it out, but hopefully sooner rather than later."
The Canucks will host the Ottawa Senators in the first match of a three-game series on Monday. The Canadiens are headed back to Montreal where they'll host the Calgary Flames on Thursday.
NOTES: Suzuki has a point in all six of Montreal's games this year, tallying two goals and four assists to start the season…Tyler Toffoli was credited with an assist on Perry's goal, extending his point streak to four games (five goals, three assists)…A pair of veteran defencemen returned to Vancouver's lineup… Alex Edler slotted back in after missing Thursday's tilt with an undisclosed injury and Benn made his season debut after sitting out the start of the year due to COVID-19 protocols.
Canadiens cruise past Canucks 5-2 and pull into first place in Canadian Division – Montreal Gazette
Article content continued
The Canadiens' depth continues to be factor as veteran Corey Perry came off the taxi squad and scored in his first game as a Canadien to give Montreal a 2-0 lead in the second period.
Montreal caught a break when Canucks defenceman Olli Juolevi hit a post and Jesperi Kotkaniemi blocked a shot by Hoglander to start a 3-on-1, which ended wth Perry's goal.
Tyler Toffoli, who fired wide on an open net on a feed from Perry earlier in the period, picked up an assist on the Perry goal. That gave him five goals and three assists in the Vancouver series.
Nick Suzuki, who was the player the Columbus Blue Jackets coveted when the Canadiens expressed an interest in acquiring Pierre-Luc Dubois, showed why Marc Bergevin was reluctant to make the trade. Suzuki opened the scoring with a quick shot on a pass from Brett Kulak, who picked up a loose puck in the neutral zone and led the rush. It was Suzuki's second goal of the season and he has a point in each of the Canadiens' six games.
Stanley Johnson turns the tides as Toronto's defense recovers against the Miami Heat – Raptors Republic
The game, as so many Toronto Raptors games do this season, was drifting out of reach like a released helium balloon. The Raptors had allowed the Miami Heat to fight back into the game during the third quarter, as Toronto's previous offensive fluidity froze stiff and solid. The Raptors couldn't break inside the arc. They came to rely on difficult shots. Sometimes they went in, as Chris Boucher hit a triple, then OG Anunoby a late-clock, side-step one of his own. Norman Powell hit a one-legged 18-foot (!) floater.
Such heroics kept the Heat at bay. But if Toronto couldn't find a way to score against Miami's zone, then they weren't going to win the game. When the fourth quarter started, Andre Iguodala and Kendrick Nunn began to heat up for Miami, and the game seemed eerily similar to the first Toronto-Miami game, one in which the Raptors led for much of the game before eventually sputtering before the finish line.
Then Stanley Johnson made his mark.
First he hit a moonwalk triple as he slid back to the right corner and received a pass from the driving Terence Davis. It had been the first instance of paint penetration in what felt like hours; the Raptors had endured yet another stretch of three-plus minutes scoring in the third quarter that allowed the Heat to tie the game at 61-apiece, making this their fourth game of the season with such an ignominious stretch. Yet Johnson's triple put the Raptors ahead by 11. Even more than that, it was Toronto's first shot out of a solid offensive possession in the half-court for some time.
Johnson didn't stop there. A minute later he saw Chris Boucher cutting along the baseline and knifed a pass through the zone for the dunk. To my eyes, it was one of the only baskets Toronto scored all game off a cut. Johnson wasn't all that impressed with himself and explained it to me in simple terms.
"They're looking at the people they're guarding or looking at the ball," explained Johnson. "So Chris makes a cut, two people looking at the ball, I can throw it right between them."
"That's what we're supposed to be doing. It's not really difficult to beat a 2-3 zone. I think all of us have played against it our whole lives, but we got to stick to the script and do what we are supposed to do."
A minute after that, Johnson caught the ball in the middle of the zone. That position had been Toronto's only chance at good offense against the Heat's zone throughout the night, and Johnson took advantage. He took one dribble, sucking in the wing defender, and immediately pivoted to hit Anunoby for an open triple, one of the five he hit on the night. Johnson only finished with three points and three assist, but his contributions came at a key point in the game, only a few nights after Toronto folded in a similar situation.
Toronto put the game away as the stars did the last of the heavy lifting. Anunoby flew for a dunk (an alley-oop, in fact, assisted by Jonson); Siakam took a charge; VanVleet stole the ball for a pick-six layup. But it was Johnson who held the team up in the moment when it seemed they may flounder.
Of course, Johnson may have kept the Raptors afloat offensively for one brief stretch, but the team as a whole was a mirror image of itself defensively. Entering the game, Nick Nurse was as curt and forthright as he has ever been with media members.
"Normally you can walk out of there and say at least we were putting an effort out there," said Nurse. "It's too bad because I think we played really hard for about six or seven straight games. We were building and building and building and building, and it kind of culminated with that defensive effort against Dallas. And then there was just nothing there the other night. It's hard to explain. It just happens.
But it's unacceptable."
Norman Powell said after the game that it constituted one of the two or three proper bouts of criticism Nurse gives per year. And, according to Powell, it was "definitely warranted."
To the team's credit, they responded to Nurse's public prodding. Siakam played his best defensive game of the season. He played with effort and attention to detail, and with his physical gifts and incredible mind on the defensive end, he is able to stop almost any matchup. He switched freely from guards to bigs, and Toronto was all the better for it.
Siakam wasn't alone. Aron Baynes played his best game of the season. He bullied Bam Adebayo on the defensive end and grabbed available rebounds with both hands. He finished with two blocks, six boards, and a made triple, as Toronto won his minutes by a solid five points. OG Anunoby and Fred VanVleet returned to their brilliant defensive ways. In general, the team was itself again.
If you're counting at home, Toronto now has two statement wins over good teams in the Dallas Mavericks and Miami Heat. Yes, ignore the fact that both teams were down approximately half the rotation. But the Raptors are rapidly becoming themselves again. And at 6-9 in the standings, the Raptors are only two games out of fifth place in the East.
The bad vibes that haunted Toronto's early season may not be over, but it's clear that there's a light at the end of the tunnel, if we aren't already there. You can credit Stanley Johnson's steady and timely play against the Heat as a key reason why the Raptors prevailed in this one, but so too has his solidification in the roster been a key reason why the Raptors may now be out of the tunnel.