World Economy Risks 'Dangerously Diverging' Even as Growth Booms – Bloomberg

The world economy is on course for its fastest growth in more than a half century this year, yet differences and deficiencies could hold it back from attaining its pre-pandemic heights any time soon.
The U.S. is leading the charge into this week's semi-annual virtual meeting of the International Monetary Fund, pumping out trillions of dollars of budgetary stimulus and resuming its role as guardian of the global economy following President Joe Biden's defeat of "America First" President Donald Trump. Friday brought news of the biggest month for hiring since August.
China is doing its part too, building on its success in countering the coronavirus last year even as it starts to pull back on some of its economic aid.
Yet unlike in the aftermath of the 2008 financial crisis, the recovery looks lopsided, in part because the rollout of vaccines and fiscal support differ across borders. Among the laggards are most emerging markets and the euro area, where France and Italy have extended restrictions on activity to contain the virus.
"While the outlook has improved overall, prospects are diverging dangerously," IMF Managing Director Kristalina Georgieva said last week. "Vaccines are not yet available to everyone and everywhere. Too many people continue to face job losses and rising poverty. Too many countries are falling behind."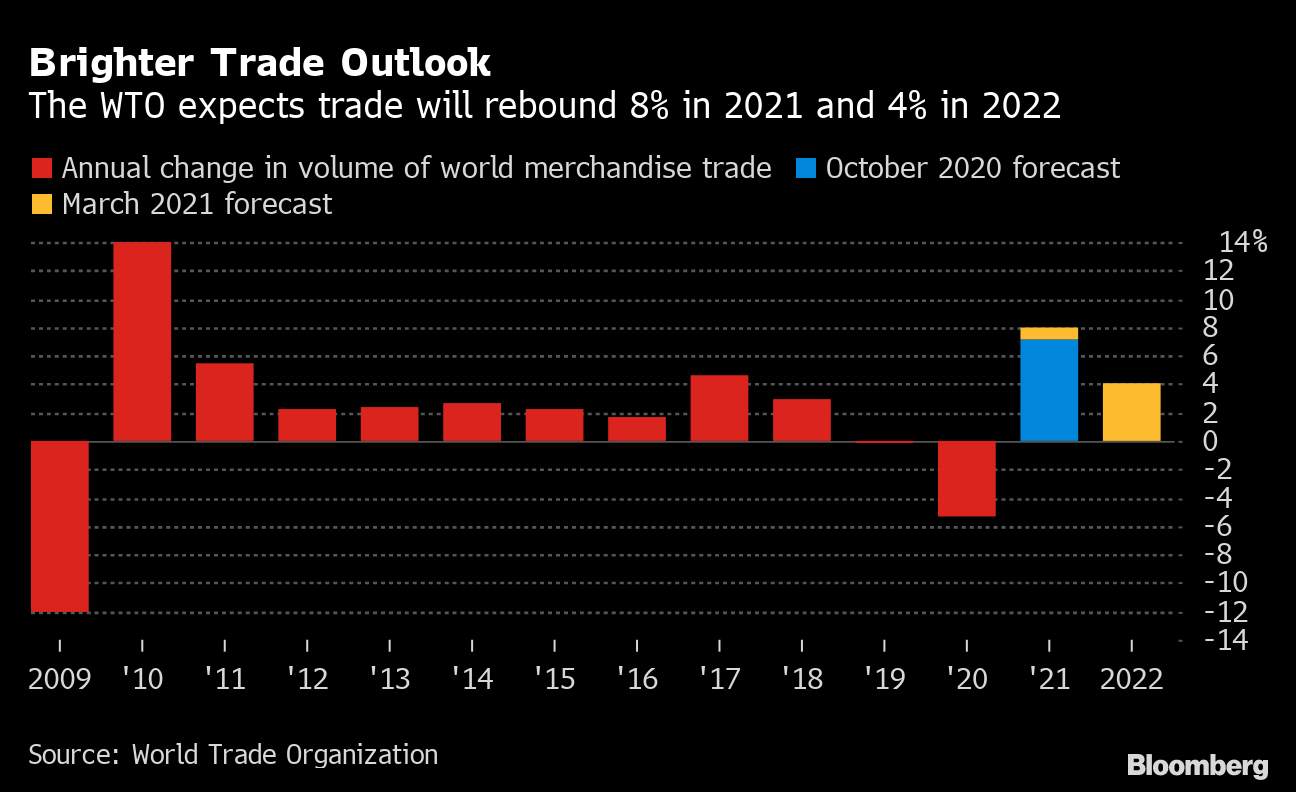 The result: It could take years for swathes of the world to join the U.S. and China in fully recovering from the pandemic. By 2024 world output will still be 3% lower than was projected before the pandemic, with countries reliant on tourism and services suffering the most, according to the IMF.
The disparity is captured by Bloomberg Economics' new set of nowcasts which shows global growth of around 1.3% quarter on quarter in the first three months of 2021. But while the U.S. is bouncing, France, Germany, Italy, the U.K. and Japan are contracting. In the emerging markets, Brazil, Russia and India are all being clearly outpaced by China.
For the year as whole, Bloomberg Economics forecasts growth of 6.9%, the quickest in records dating back to the 1960s. Behind the buoyant outlook: a shrinking virus threat, expanding U.S. stimulus, and trillions of dollars in pent-up savings.
Much will depend on how fast countries can inoculate their populations with the risk that the longer it takes the greater the chance the virus remains an international threat especially if new variants develop. Bloomberg's Vaccine Tracker shows while the U.S. has administered doses equivalent to almost a quarter of its people, the European Union has yet to hit 10% and rates in Mexico, Russia and Brazil are less than 6%.
"The lesson here is there is no trade-off between growth and containment," said Mansoor Mohi-uddin, chief economist at the Bank of Singapore Ltd.

Former Federal Reserve official Nathan Sheets said he expects the U.S. to use this week's virtual meetings of the IMF and World Bank to argue that now is not the time for countries to pull back on assisting their economies.
It's an argument that will be mostly directed at Europe, particularly Germany, with its long history of fiscal stringency. The EU's 750 billion-euro ($885 billion) joint recovery fund won't start until the second half of the year.
The U.S. will have two things going for it in making its case, Sheets said: A strengthening domestic economy and an internationally respected leader of its delegation in Treasury Secretary Janet Yellen, no stranger to IMF meetings from her time as Fed Chair.
But the world's largest economy could find itself on the defensive when it comes to vaccine distribution after accumulating massive supplies for itself. "We will hear a hue and cry emerge during these meetings for more equal access to vaccinations," said Sheets, who is now the head of global economic research at PGIM Fixed Income.
And while America's booming economy will undoubtedly act as a driver for the rest of the world by sucking in imports, there could also be some grumbling about the higher market borrowing costs that the rapid growth brings, especially from economies which aren't as healthy.
"The Biden stimulus is a two edged sword," said former IMF chief economist Maury Obstfeld, who is a now senior fellow at the Peterson Institute for International Economics in Washington. Rising U.S. long-term interest rates "tighten global financial conditions. That has implications for debt sustainability for countries that went deeper into debt to fight the pandemic."
JPMorgan Chase & Co. chief economist Bruce Kasman said he hasn't seen such a wide gap in 20 to 25 years in the expected out-performance of the U.S. and other developed countries when compared with the emerging markets. That's in part due to differences in distribution of the vaccine. But it's also down to the economic policy choices various countries are making.
Having mostly slashed interest rates and started asset-purchase programs last year, central banks are splitting with some in emerging markets beginning to hike interest rates either because of accelerating inflation or to prevent capital from flowing out. Turkey, Russia and Brazil all raised borrowing costs last month, while the Fed and European Central Bank say they won't be doing so for a long time yet.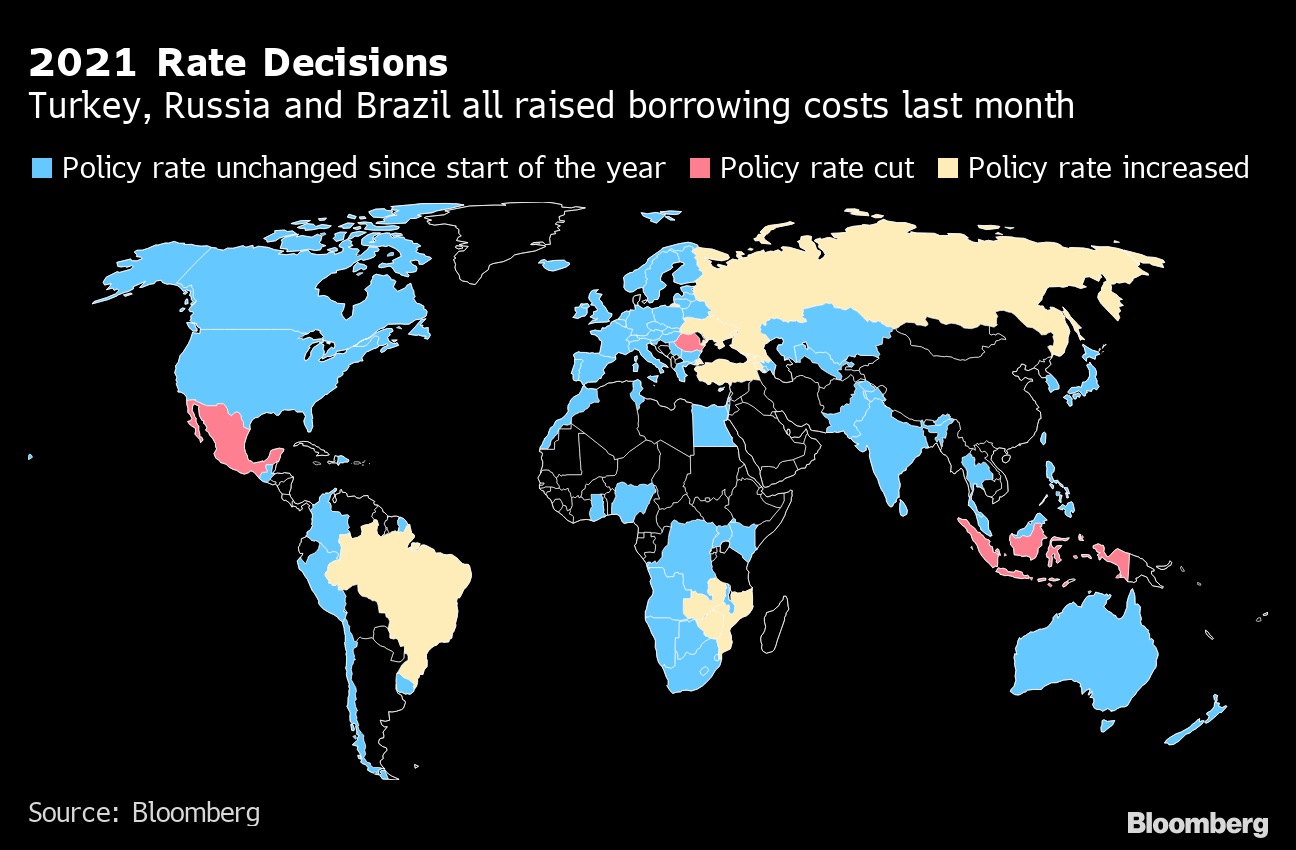 Rob Subbaraman, head of global markets research at Nomura Holdings Inc. in Singapore, reckons Brazil, Colombia, Hungary, India, Mexico, Poland, the Philippines and South Africa all risk running overly-loose policies.
"With major developed market central banks experimenting on how hot they can run economies before inflation becomes a problem, emerging market central banks will need to be extra careful to not fall behind the curve, and will likely need to lead, rather than follow, their developed market counterparts in the next rate hiking cycle," said Subbaraman.
In an April 1 video for clients, Kasman summed up the global economic outlook this way: "Boomy type conditions with quite wide divergences."
— With assistance by Eric Martin
Canada to go big on budget spending as pandemic lingers, election looms
By Julie Gordon
OTTAWA (Reuters) – Canada's Liberal government will deliver on its promise to spend big when it presents its first budget in two years next week amid a fast-rising third wave of COVID-19 infections and ahead of an election expected in coming months.
Finance Minister Chrystia Freeland has pledged to do "whatever it takes" to support Canadians, and in November promised up to C$100 billion ($79.8 billion) in stimulus over three years to "jump-start" an economic recovery in what is likely to be a crucial year for her party.
Prime Minister Justin Trudeau's Liberals depend on the support of at least one opposition group to pass laws, and senior party members have said an election is likely within months as it seeks a clear majority and a free hand to legislate.
Furthermore, by September, all Canadians who want to be vaccinated will be, Trudeau has said.
Freeland has said the pandemic created a "window" of opportunity for a national childcare plan, and that will be reflected in next Monday's budget along with spending to accelerate Canada's shift toward a more sustainable economy.
"It will be a green and innovative recovery plan aimed at creating jobs," said a government source who declined to comment on specific measures. The budget will aim to help those "who have suffered most" the effects of the pandemic, the source said.
Critics say the government would be better to hold off on blockbuster spending because the economy has shown it is poised to bounce back, and to prevent the country from racking up too much debt.
"Clearly a garden-variety stimulus package is the last thing we need. This is pile-on debt," said Don Drummond, an economist at Ontario's Queen's University.
"The risk is that at some point interest rates are going to go up and we're going to be in trouble," he said, pointing to the mid-1990s when Canada's debt-to-GDP ratio skyrocketed, leading to rating agency downgrades and years of austerity.
The Bank of Canada cut its benchmark interest rate to 0.25% to counter the economic fallout of the COVID-19 crisis and has said rates will not rise until labor market slack is absorbed, currently forecast for into 2023. That may change when it releases new projections on April 21.
EXPANDING ECONOMY
More than 3 million Canadians lost their jobs to the pandemic. As of March, before a third wave forced new lockdowns, only 296,000 remained unemployed because of COVID.
Despite still-high unemployment levels in hard-hit service sectors, the economy has expanded for nine straight months even as provinces have adjusted health restrictions to counter waves of infections.
"Once we see sustained reopening, we do think that the recovery will have quite a bit of momentum on its own," said Josh Nye, a senior economist at RBC Economics.
"We think Canada's economy will be operating pretty close to full capacity by this time next year," he said.
Economists surveyed by Reuters expect Freeland to project a deficit in the range of C$133 billion to C$175 billion for fiscal 2021/22, up from the C$121.2 billion ($96.7 billion)
deficit forecast in November. https://tmsnrt.rs/3wSJPcm
The deficit for fiscal 2020/21 ended in March is forecast by the government to top a historic C$381.6 billion ($304.5 billion).
Canada announced on Monday a C$5.9 billion ($4.7 billion) aid package for the country's largest airline carrier, Air Canada, and said talks were ongoing with No. 2 carrier WestJet Airlines Ltd and others.
(Reporting by Julie Gordon in Ottawa; Additional reporting by Fergal Smith in Toronto; Editing by Steve Scherer and Peter Cooney)
CANADA STOCKS – TSX ends flat at 19,228.03
* The Toronto Stock Exchange's TSX falls 0.00 percent to 19,228.03
* Leading the index were Corus Entertainment Inc <CJRb.TO​>, up 7.0%, Methanex Corp​, up 6.4%, and Canaccord Genuity Group Inc​, higher by 5.5%.
* Lagging shares were Denison Mines Corp​​, down 7.0%, Trillium Therapeutics Inc​, down 7.0%, and Nexgen Energy Ltd​, lower by 5.7%.
* On the TSX 93 issues rose and 128 fell as a 0.7-to-1 ratio favored decliners. There were 26 new highs and no new lows, with total volume of 183.7 million shares.
* The most heavily traded shares by volume were Toronto-dominion Bank, Nutrien Ltd and Organigram Holdings Inc.
* The TSX's energy group fell 1.61 points, or 1.4%, while the financials sector climbed 0.67 points, or 0.2%.
* West Texas Intermediate crude futures fell 0.44%, or $0.26, to $59.34 a barrel. Brent crude  fell 0.24%, or $0.15, to $63.05 [O/R]
* The TSX is up 10.3% for the year.
Canadian dollar outshines G10 peers, boosted by jobs surge
By Fergal Smith
TORONTO (Reuters) – The Canadian dollar advanced against its broadly stronger U.S. counterpart on Friday as data showing the economy added far more jobs than expected in March offset lower oil prices, with the loonie also gaining for the week.
Canada added 303,100 jobs in March, triple analyst expectations, driven by the recovery across sectors hit by shutdowns in December and January to curb the new coronavirus.
"The Canadian economy keeps beating expectations," said Michael Goshko, corporate risk manager at Western Union Business Solutions. "It seems like the economy is adapting to these closures and restrictions."
Stronger-than-expected economic growth could pull forward the timing of the first interest rate hike by the Bank of Canada, Goshko said.
The central bank has signaled that its benchmark rate will stay at a record low of 0.25% until 2023. It is due to update its economic forecasts on April 21, when some analysts expect it to cut bond purchases.
The Canadian dollar was trading 0.3% higher at 1.2530 to the greenback, or 79.81 U.S. cents, the biggest gain among G10 currencies. For the week, it was also up 0.3%.
Still, speculators have cut their bullish bets on the Canadian dollar to the lowest since December, data from the U.S. Commodity Futures Trading Commission showed. As of April 6, net long positions had fallen to 2,690 contracts from 6,518 in the prior week.
The price of oil, one of Canada's major exports, was pressured by rising supplies from major producers. U.S. crude prices settled 0.5% lower at $59.32 a barrel, while the U.S. dollar gained ground against a basket of major currencies, supported by higher U.S. Treasury yields.
Canadian government bond yields also climbed and the curve steepened, with the 10-year up 4.1 basis points at 1.502%.
(Reporting by Fergal Smith; Editing by Andrea Ricci)