World Parkinson's Day 2022: Essential tips on balance, reflex, standing and walking – The Indian Express
Parkinson's disease, a progressive nervous system disorder, primarily affects movement due to the loss of specific brain cells. To spread awareness about the condition, World Parkinson's Disease Day is observed every year on April 11. This year, the theme for the day is 'integrated health care' – considered vital for all those living with Parkinson's disease.
The theme aims to stress the importance of a multidisciplinary approach involving mental health support, nutritional support, exercise, and language for the holistic well-being of those affected by this disease. As such, it is significant to pay special focus towards one's balance, walking, standing, reflexes and lifestyle to cope with Parkinson's disease along with required medical treatment.
Talking about the commonly observed symptoms Dr Jyoti Bala Sharma, director of neurology, Fortis Hospital, Noida said, "The main symptoms include tremors, stiff muscles and joints, and slowness or difficulty in walking."
Dr Sharma shared some tips to take better care of these symptoms.
Balance
*If you have a tendency to fall backward or feel lightheaded, move slowly when changing positions.
*When turning around, don't pivot your body. Walk forward and make a wide U-turn to avoid sharp turns that could cause you to lose your balance.
*When arising from bed, sit on the side of the bed for 15 seconds before standing. Stand in place with support for an additional 15 seconds before walking. This can prevent dangerous falls.
*For balance, try using a single-point cane with a large rubber tip.
When arising from bed, sit on the side of the bed for 15 seconds before standing. (Source: Getty Images/Thinkstock)
Reflexes
A decrease in automatic reflexes complicates trying to do two things at once. For instance, it may be difficult to walk and look away at something or attend to a conversation at the same time, the expert explained.
"Try to minimize distractions for maximal gait and balance control," she suggested.
Standing
*If you have to stand for an extended period, keep your feet slightly apart for better balance.
*If getting out of a chair is difficult, place your feet directly under your knees and stand up firmly to overcome the pull of gravity. Rather than bearing excessive weight on the hands and arms to stand erect, use the large thigh muscles to propel the body upward.
"Practicing this manoeuvre strengthens the quadriceps muscle and helps maintain independent ambulation," Dr Sharma said.
Walking
*Avoid shoes with rubber or crepe soles. These stick to the floor and may cause you to trip.
*Consciously lift your feet when you walk. This will help you to keep from shuffling or falling due to foot drag.
*Don't carry objects in both hands when you walk. This can cause you to lose your balance.
*Swing both arms freely when walking. Gently swinging the arms helps maintain balance and lessens fatigue.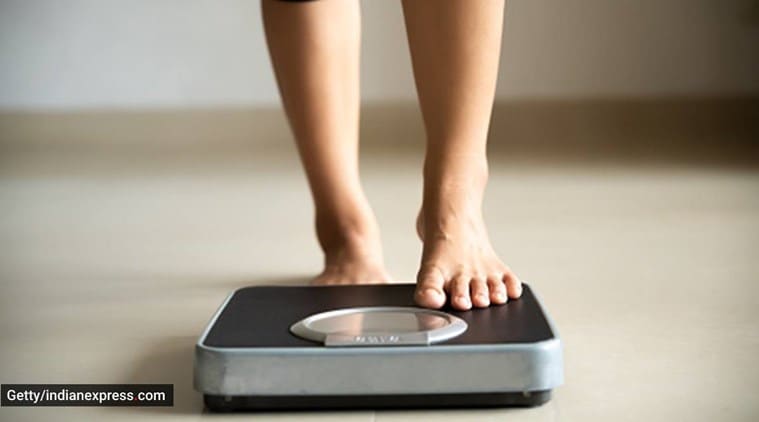 Try to keep your weight at a normal level as being overweight puts additional strain on your joints and may affect your mobility. (Source: Getty Images/Thinkstock)
If the feet feel frozen when initiating movement, several physical strategies can break the pattern, she said. "One can step over an actual or imaginary obstacle in the path to continue forward motion. Rocking from side to side also can break the sensation of being stuck in place. It is not helpful for a companion to pull the patient forward or urge the patient verbally as this will often prolong the freezing period."
Lifestyle modifications
*Staying active can help to loosen stiff muscles and improve speech or posture. Exercises daily, and practise yoga and meditation.
*Try to keep your weight at a normal level as being overweight puts additional strain on your joints and may affect your mobility.
*Eat a healthy diet — consume fruits and green vegetables; avoid junk food.
*Try to relieve symptoms of anxiety as this can make any tremor more severe and can also affect your sleep.
📣 For more lifestyle news, follow us on Instagram | Twitter | Facebook and don't miss out on the latest updates!
What's behind the rise in monkeypox cases? Here is what scientists know so far – The Globe and Mail
A handful of cases of monkeypox have now been reported or are suspected in Britain, Portugal, Spain and the United States.
The outbreaks are raising alarm because the viral disease, which spreads through close contact and was first found in monkeys, mostly occurs in west and central Africa, and only very occasionally spreads elsewhere.
Here is what scientists know so far.
'Highly unusal'
Monkeypox is a virus that causes fever symptoms as well as a distinctive bumpy rash. It is usually mild, although there are two main strains: the Congo strain, which is more severe – with up to 10 per cent mortality – and the West African strain, which has a fatality rate in about 1 per cent of cases. The UK cases have been reported as the West African strain.
"Historically, there have been very few cases exported. It has only happened eight times in the past before this year," said Jimmy Whitworth, a professor of international public health at the London School of Hygiene and Tropical Medicine, who said it was "highly unusual".
Portugal has logged five confirmed cases, and Spain is testing 23 potential cases. Neither country has reported cases before.
The United States has also reported one case.
Transmission
The virus spreads through close contact, both in spillovers from animals and, less commonly, between humans. It was first found in monkeys in 1958, hence the name, although rodents are now seen as the probable main animal host.
Transmission this time is puzzling experts, because a number of the cases in the United Kingdom – nine as of May 18 – have no known connection with each other. Only the first case reported on May 6 had recently traveled to Nigeria.
As such, experts have warned of wider transmission if cases have gone unreported.
The UK Health Security Agency's alert also highlighted that the recent cases were predominantly among men who self-identified as gay, bisexual or men who have sex with men, and advised those groups to be aware.
Scientists are now carrying out genomic sequencing to see if the viruses are linked, the World Health Organization (WHO) said this week.
Why now?
One possible scenario behind the rise in cases is increased travel as COVID-19 restrictions are lifted.
"My working theory would be that there's a lot of it about in west and central Africa, travel has resumed, and that's why we are seeing more cases," said Whitworth.
Monkeypox puts virologists on the alert because it is in the smallpox family, although it causes less serious illness.
Smallpox was eradicated by vaccination in 1980, and the shot has since been phased out. But it also protects against monkeypox, and so the winding down of vaccination campaigns has led to a jump in monkeypox cases in areas where the disease is endemic, according to Anne Rimoin, an epidemiology professor at UCLA in California.
She said urgent investigation of the new cases was important as "they could suggest a novel means of spread or a change in the virus, but this is all to be determined".
Experts urged people not to panic.
"This isn't going to cause a nationwide epidemic like COVID did, but it's a serious outbreak of a serious disease – and we should take it seriously," said Whitworth.
Our Morning Update and Evening Update newsletters are written by Globe editors, giving you a concise summary of the day's most important headlines. Sign up today.
Montrealers 'do not have to panic' about monkeypox, Drouin says – Montreal Gazette
Public health authorities are investigating 17 suspected cases of monkeypox in the Montreal area. It is the only known outbreak in Canada of the rare disease, which can cause painful pustules and scabs to break out. Recent outbreaks have been reported in Europe and the United States.
Montreal public health director Dr. Mylène Drouin said authorities will put protective measures in place, but stressed that all cases so far have been minor and there is no cause for alarm.
"We do not have to panic at this time. It's not something that is going to go to sustained community transmission," she said at a hastily organized news conference Thursday, the day after Radio-Canada reported there were several suspected cases in the city.
"It's not something you can acquire if you go to the grocery store or go on public transportation."
The disease is spread primarily through close, sustained contact, which includes but is not limited to sexual contact, Drouin said. Contacts considered at risk are those who live in the same household with an infected person, or who have had sexual relations with someone who has had the disease.
To date, 15 suspected cases have been identified in Montreal, as well as one on the South Shore and one on the North Shore. The infected are mainly men who had sexual relations with other men, between the ages of 30 and 55.
Drouin stressed that monkeypox is not a sexually transmitted disease and warned against stigmatizing a particular segment of the community, as anyone can catch the virus.
The first cases were declared on May 12 from clinics specializing in sexually transmitted diseases. The cases were initially thought to be chancroid, a rare sexually transmitted disease that causes painful genital ulcers.
It wasn't until Tuesday, when authorities learned of a suspected case from the United States who had travelled to Montreal, that monkeypox was suspected. Several of the cases in Montreal have been linked to a traveller who came from Boston.
Montreal's cases have not yet been confirmed by a laboratory, but Drouin said recent outbreaks in Europe and a case reported in the United States suggest they are likely cases of the virus.
Monkeypox is typically limited to Africa, and rare cases in the United States and elsewhere are usually linked to travel there. A small number of confirmed or suspected cases have been reported this month in the United Kingdom, Portugal and Spain.
Drouin said the disease is transmitted by close contact and droplets.
Monkeypox typically begins with such symptoms as fever, headache, backache and fatigue, then progresses to a rash on the face and body. The Public Health Agency of Canada says the swelling or enlargement of lymph nodes that accompanies monkeypox distinguishes it from smallpox.
The incubation period is seven to 17 days and most infections of monkeypox last two to four weeks, the agency says. Montreal officials said there is no treatment at this time.
The first symptoms of the disease that were identified in Montreal have been traced back to April 29. People who have been in contact with a suspected case will not have to isolate, but they are asked to monitor for symptoms and go to a doctor if they suspect they have contracted the disease. Health workers in contact with possible cases are advised to wear full protective gear, including a gown, N95 mask and gloves.
The Public Health Agency of Canada notes that the smallpox vaccine, which was routinely administered to Canadians born before 1972, protects against monkeypox. Smallpox was eradicated in 1977.
Some people who have been in contact with cases in the U.K. have received a smallpox vaccine as protection. Drouin said the decision on whether similar actions will be taken here depend on availability of the vaccine, and will be decided on a provincial and federal level.
The Massachusetts Department of Public Health reported Wednesday that it had confirmed the first U.S. case of monkeypox virus infection of 2022. The individual is an adult male who recently travelled to Canada. The agency didn't indicate what province or provinces he visited and did not respond to questions.
This story will be updated.
Canada's COVID-19 infections among adults tripled in early 2022 due to Omicron: study
TORONTO — The number of Canadian adults infected with COVID-19 tripled during the fifth wave of the pandemic compared with the total number of adults infected in the previous four waves, according to a new study led by Toronto researchers.
More than 5,000 Canadian adults — members of the Angus Reid Forum, a public polling cohort — participated in the fourth phase of the Action to Beat Coronavirus (Ab-C) study. The findings of the study were published as a letter to the editor in The New England Journal of Medicine Wednesday.
The adult participants took a self-administered dried blood spot test between Jan. 15 and March 15, 2022 and sent the blood samples back to the researchers for analysis. The research team then tested the samples for antibodies related to COVID-19.
From those results, the researchers found nearly 30 per cent of Canadian adults were infected during the first Omicron wave of infections compared with roughly 10 per cent who had been infected in the previous four waves.
Of those fifth waveinfections, one million were among the country's 2.3 million unvaccinated adult population — representing 40 per cent of all unvaccinated adults, the study notes.
Patrick Brown, a lead author of the Ab-C study and biostatistician at the Centre for Global Health Research at St. Michael's Hospital, said the study is meant to portray a "complete and representative picture" of COVID-19 in the country in the absence of widespread PCR testing and COVID-19 data tracking.
"This is quite important for us to be able to understand COVID in the population," he said in a phone interview Wednesday.
"The testing data is incomplete and we've essentially stopped PCR testing for the most part in Canada, or in Ontario, at least, so having a representative sample of people who receive these test kits is very important to figure out how much COVID there has been and how much immunity we have in the population."
The study also found that antibody levels were much lower amongst adults with only two doses of a COVID-19 vaccine compared to those with three doses, meaning those with three doses had stronger immunity in the face of the virus.
And amongst the unvaccinated population — including those who had a COVID-19 infection — their antibody levels were "quite" lower than people with three doses of the vaccine, Brown noted.
"(In) Canada, we had quite a bit less COVID-19 than some other countries, especially the U.S. We have less natural protection and we're really relying on vaccines in Canada to build up immunity in our population," he said.
"Certainly three doses plus an infection was the maximum protection, but three doses of vaccine certainly gave a very good amount of protection — a big improvement over two doses alone."
The Ab-C study is a collaboration between Unity Health Toronto, the University of Toronto's Dalla Lana School of Public Health, the Angus Reid Institute and the Lunenfeld-Tanenbaum Research Institute at Sinai Health. It's funded by the federal government through its COVID-19 Immunity Task Force.
The team of researchers has been tracking the pandemic in Canada with periodic polling about lived experience and blood sample collection since May 2020.
Brown said the next phase of the study is already being conducted. The team has started surveying roughly 1,300 Canadian adults who were not infected by the initial Omicron variant known as BA.1 to determine whether they were infected by the Omicron subvariant called BA.2 from March to June 2022.
"We are preparing test kits now to send out our panel of people we've come back to several times, and this will be the fifth round of tests we're sending them to better understand the second wave of Omicron," he said.
"We found that the number of cases reported by public health isn't as high as the previous wave, the number of hospitalizations hasn't risen very much, but there has been a lot of infection … so we're expecting to see that there's been quite a lot of COVID throughout the population."
This report by The Canadian Press was first published May 18, 2022.
———
This story was produced with the financial assistance of the Meta and Canadian Press News Fellowship.
Noushin Ziafati, The Canadian Press