World's oldest known fossil forest found in quarry in upper New York state – CNN International
The fossilized roots– footprints of an ancient landscape– belonged to trees with wood and leaves, similar to what we see today, the study says.
This find was made in Cairo, about 40 miles south of Albany. Previously, scientists thought a fossilized forest in Gilboa, New York, was the earliest, but the one in Cairo is two or three million years older and dramatically different.
A person from the New York State Museum was the first to spot the large, root-like structures in the bottom of the quarry.
Christopher Berry
, study co-author and a paleobotanist at Cardiff University in the United Kingdom, told CNN he was a bit skeptical the first time he visited the site. He thought a modern tree might have grown into the rock and been removed.
Upon closer inspection of the soil profile, researchers quickly confirmed they were looking at the footprint of something much, much older.
"The scale of the root systems were really striking," said William Stein, lead author and emeritus professor of biological sciences at
Binghamton University
, located about two hours west of Cairo.
The team carefully swept away layer upon layer of dirt, meticulously mapping the extraordinary find.
The team hypothesizes a catastrophic flood killed most of the trees in the forest and preserved the root system as fossils. They even found fish fossils near the largest trees.
What an ancient forest teaches us
The discovery provides a snapshot of one of the planet's great transitional periods, between an earth with no forests and an earth that's covered in forests, Berry said.
For context, the Cairo forest is about 140 million years older than the first dinosaurs that roamed the earth. The oldest known
insect
lived around 400 million years ago, and a few million years after that, the first four-legged animals conquered the land.
During the middle of the
Devonian
period (about 419 to 359 million years ago), Berry told CNN, the Cairo forest was actually located about 30 degrees south of the equator, in between a temperate and arid climate.
Ultimately, they identified three types of trees, two of which were unique to the site, pointing to an ecology distinct from the nearby Gilboa site.
"With the advent of forests, we see a major shift in the kind of ecology that the earth has… both in the terrestrial and the marine realm," Stein told CNN.
During the Devonian, scientists say a drastic drop in CO2 levels led to a cooling of the earth, which may have caused an
extinction
at the end of the period.
"That's sort of the opposite of what we're experiencing today, with the possibility of an extinction as well," Stein said. So in that sense, history matters. If we look at the origin of these forests and their effects, and particularly the plants themselves and what they're doing, we may have an insight into processes that are going on today."
Elephants counted from space for conservation – BBC News


.css-94m6rd-HeadingWrapperborder-bottom:solid 1px #BABABA;padding-bottom:1.5rem;.css-94m6rd-HeadingWrapper > *:not([hidden]):not(style) ~ *:not([hidden]):not(style)margin-top:1rem;.css-vk3nhx-ComponentWrappermargin:1.5rem 0;
.css-2y05cd-StyledFigurefont-family:ReithSans,Helvetica,Arial,freesans,sans-serif;font-weight:400;font-size:0.875rem;line-height:1.125rem;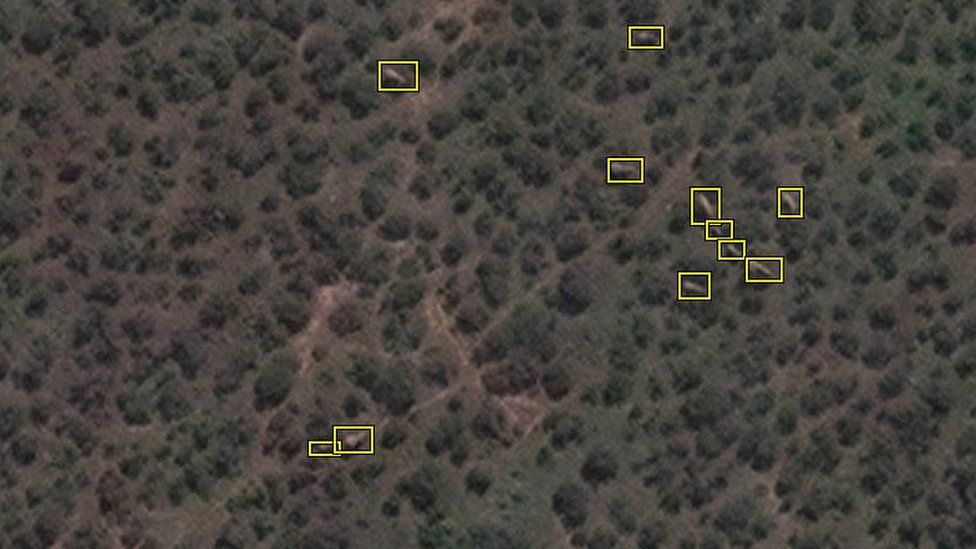 .css-uf6wea-RichTextComponentWrappermargin:1rem 0;max-width:36.25rem;
.css-83cqas-RichTextContainercolor:#3F3F42;.css-83cqas-RichTextContainer > *:not([hidden]):not(style) ~ *:not([hidden]):not(style)margin-top:1rem;
.css-14iz86j-BoldTextfont-weight:bold;At first, the satellite images appear to be of grey blobs in a forest of green splotches – but, on closer inspection, those blobs are revealed as elephants wandering through the trees.
And scientists are using these images .css-1xgj2ad-InlineLink:linkcolor:#3F3F42;.css-1xgj2ad-InlineLink:visitedcolor:#696969;.css-1xgj2ad-InlineLink:link,.css-1xgj2ad-InlineLink:visitedfont-weight:700;border-bottom:1px solid #BABABA;-webkit-text-decoration:none;text-decoration:none;.css-1xgj2ad-InlineLink:link:hover,.css-1xgj2ad-InlineLink:visited:hover,.css-1xgj2ad-InlineLink:link:focus,.css-1xgj2ad-InlineLink:visited:focusborder-bottom-color:currentcolor;border-bottom-width:2px;color:#B80000;@supports (text-underline-offset:0.25em).css-1xgj2ad-InlineLink:link,.css-1xgj2ad-InlineLink:visitedborder-bottom:none;-webkit-text-decoration:underline #BABABA;text-decoration:underline #BABABA;-webkit-text-decoration-thickness:1px;text-decoration-thickness:1px;-webkit-text-decoration-skip-ink:none;text-decoration-skip-ink:none;text-underline-offset:0.25em;.css-1xgj2ad-InlineLink:link:hover,.css-1xgj2ad-InlineLink:visited:hover,.css-1xgj2ad-InlineLink:link:focus,.css-1xgj2ad-InlineLink:visited:focus-webkit-text-decoration-color:currentcolor;text-decoration-color:currentcolor;-webkit-text-decoration-thickness:2px;text-decoration-thickness:2px;color:#B80000;to count African elephants from space.
The pictures come from an Earth-observation satellite orbiting 600km (372 miles) above the planet's surface.
The breakthrough could allow up to 5,000 sq km of elephant habitat to be surveyed on a single cloud-free day.
.css-1pzprxn-BulletListContainermargin-left:1.5rem;.css-1pzprxn-BulletListContainer *:not([hidden]):not(style) ~ *:not([hidden]):not(style)margin-top:1rem;.css-1pzprxn-BulletListContainer ullist-style-type:disc;.css-1pzprxn-BulletListContainer ollist-style-type:decimal;
.css-18mjolk-ComponentWrappermargin:1.5rem 0;max-width:50rem;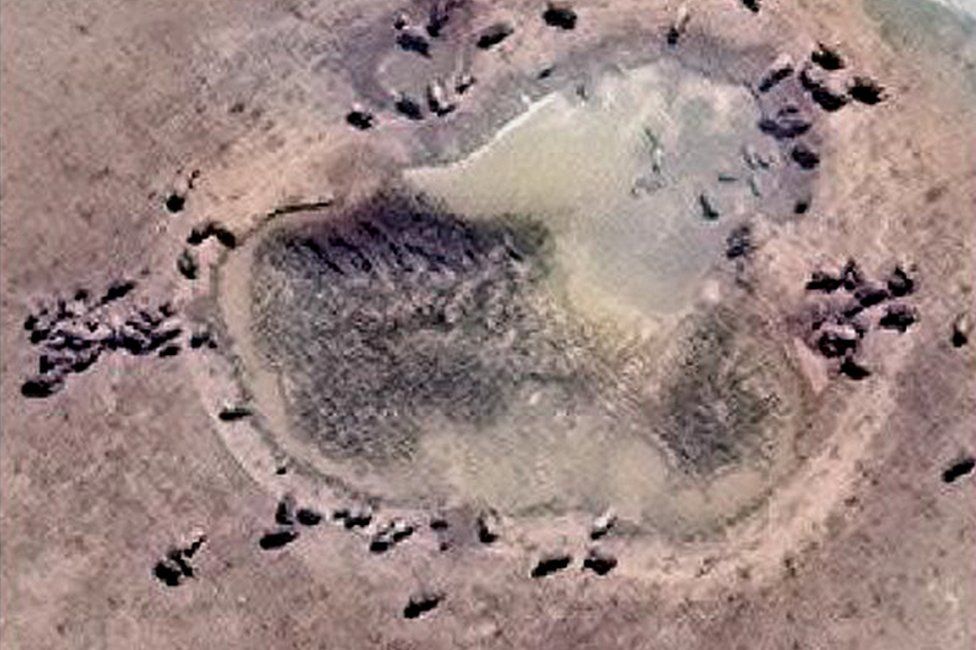 "We just present examples to the algorithm and tell it, 'This is an elephant, this is not an elephant,'"Dr Olga Isupova, from the University of Bath, said.
"By doing this, we can train the machine to recognise small details that we wouldn't be able to pick up with the naked eye."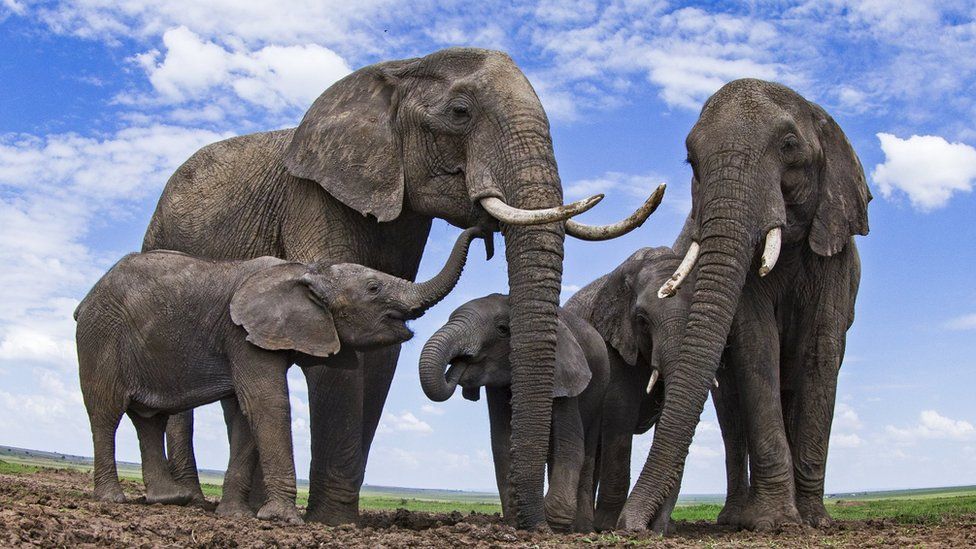 The scientists looked first at South Africa's Addo Elephant National Park.
"It has a high density of elephants," University of Oxford conservation scientist Dr Isla Duporge said.
"And it has areas of thickets and of open savannah.
"So it's a great place to test our approach.
"While this is a proof of concept, it's ready to go.
"And conservation organisations are already interested in using this to replace surveys using aircraft."
Conservationists will have to pay for access to commercial satellites and the images they capture.
But this approach could vastly improve the monitoring of threatened elephant populations in habitats that span international borders, where it can be difficult to obtain permission for aircraft surveys.
.css-mysbf6-ComponentWrapper-CrossheadComponentWrappermargin:1.5rem 0;max-width:50rem;padding-top:1rem;max-width:36.25rem;
.css-qozapo-StyledHeadingfont-family:ReithSerif,Helvetica,Arial,freesans,sans-serif;font-weight:500;font-size:1.5rem;line-height:1.75rem;color:#3F3F42;@media (min-width:37.5rem).css-qozapo-StyledHeadingfont-size:2rem;line-height:2.25rem;.css-qozapo-StyledHeading:focusoutline-style:none;.css-qozapo-StyledHeading:focus-visibleoutline-style:auto;
'Cutting-edge techniques'
The scientists say it could also be used in anti-poaching work.
"And of course, [because you can capture these images from space,] you don't need anyone on the ground, which is particularly helpful during these times of coronavirus," Dr Duporge said.
"In zoology, technology can move quite slowly.
"So being able to use the cutting-edge techniques for animal conservation is just really nice."
.css-kqym7f-SectionWrappermargin:1.5rem 0;padding-top:1.5rem;font-size:0.875rem;line-height:1.125rem;
Canadians Can Now Sign Up for Starlink Internet Beta Without an Invite, If Eligible – iPhone in Canada
SpaceX has made changes to its Starlink internet beta website, to now allow sign-ups without an invite, if your address is eligible for service, reports Tesla North.
Previously, Starlink website sign-ups for the beta program would be contacted via email to let them know about eligibility. But as of Wednesday, users in Canada and the United States can enter their address on the Starlink website—and if eligible, sign up right away.
All you have to do is visit the Starlink website here, enter your email and your home address. You'll be able to confirm your exact location with a pin on a map.
After that's done, you'll then be notified instantly if you can sign up for the internet beta program. If you are eligible, you'll be able to place an order right away for the Starlink hardware package, which contains a dish and router.
Tesla North reports Canadians in Ontario, Manitoba and Alberta were able to sign up today or received emails to join the Starlink beta. Eligible latitudes seen so far have been in the range of 43.1 to 45.3, and 50.01 to 50.71.
As for Starlink internet pricing in Canada? The dish is priced at $649 CAD, while the service is at $129 CAD per month. Starlink is targeting those in rural areas, lacking high-speed access.
Starlink internet beta invites hit Canada back in September. The low-Earth orbit satellite internet offers lower latency and faster download speeds compared to traditional satellite internet. This is because Starlink internet satellite constellations are hovering 550 km above Earth, whereas conventional satellite internet is at roughly 35,700 km above the globe, resulting in slow speeds with high latency.
[embedded content]
On Thursday morning, SpaceX's Falcon 9 rocket launched 60 more satellites into orbit, resulting in over 1,000 Starlink satellites in space. SpaceX has plans to launch 12,000 satellites and at its current pace, has a leg up on competitors.
The first location in Canada to use Starlink internet was the Pikangikum First Nation.
In Canada, the federal government recently inked a $600 million deal with Ottawa-based Telesat for its low-Earth orbit satellite internet. So far? There's only one Telesat satellite in space, but plans are to send more into orbit in 2021 aboard Amazon-backed Blue Origin rockets. Telesat satellites at 800 kg each, weigh more than three times that of a Starlink satellite, at just 227 kg.
Moreover, Telesat will sell its satellite internet services to internet providers, who will then sell directly to consumers. This is different than Starlink's direct-to-consumer business model, mirroring Tesla. Time will tell if $600 million of your tax dollars will see Telesat compete with SpaceX's Starlink internet.
For rural Canadians, Starlink internet will allow for high-speed internet connectivity that's unheard of, allowing for video conferencing and also streaming 4K video and playing video games. Beta testers have seen download speeds of 150 Mbps or higher.
Were you able to sign up for Starlink internet beta via the website?
Paleontologists finally have their first good look at a dinosaur's butt – CNET
Paleontologists spend their entire academic careers studying the anatomy of dinosaurs. Now a team of scientists from the University of Bristol has finally described in detail a dinosaur's cloacal or vent, which is used for everything from defecation and urination to attracting a mate to breed with (or, less scientifically, a jack-of-all-trades butthole).
In a new study, published in the journal Current Biology on Tuesday, Scientists revealed a range of theories about the cloacal vent on a dog-sized dinosaur called Psittacosaurus, a relative of Triceratops from the early Cretaceous era, which lived about 120 million years ago.
"I noticed the cloaca several years ago after we had reconstructed the color patterns of this dinosaur using a remarkable fossil on display at the Senckenberg Museum in Germany which clearly preserves its skin and color patterns," Dr. Jakob Vinther from the University of Bristol's School of Earth Sciences said in a statement on Tuesday.
"It took a long while before we got around to finish it off because no one has ever cared about comparing the exterior of cloacal openings of living animals, so it was largely unchartered territory," Vinther added.
The researchers reveal the dinosaur's cloaca has similar features as cloacas on alligators and crocodiles. The dino's outer cloaca areas were also likely highly pigmented. This pigmentation may have been used to attract a mate, much like baboons use theirs.
"We found the vent does look different in many different groups of tetrapods, but in most cases, it doesn't tell you much about an animal's sex." Dr. Diane Kelly from the University of Massachusetts Amherst said. "Those distinguishing features are tucked inside the cloaca, and unfortunately, they're not preserved in this fossil."
It's not just the appearance of the dino's vent that got the attention of mates, but also its smell. The large, pigmented lobes on either side of the cloacas could have also included musky scent glands to get the attention of a mate.
"Knowing that at least some dinosaurs were signaling to each other gives palaeo-artists exciting freedom to speculate on a whole variety of now plausible interactions during dinosaur courtship," palaeo-artist and study artist Robert Nicholls said in a statement.
"It is a game-changer!"