Writ Large: Who says Canadian politics are dull? – iPolitics.ca
Good morning, iPolitics readers.
Monday's the big day. Our Elxnometer continues to keep us on the edge of our seat, and a whole lot more can shift over the weekend as Canadians waiting for election day to cast their ballots hem and haw and peruse party platforms in a bid to make an informed decision.
iPolitics' Janet Silver and Kady O'Malley were joined by the Toronto Star's Tonda MacCharles and Alex Ballingall on the No Talking Points podcast to dissect the final days of the campaign. Give it a listen.
Here's the latest:
---
Elxnometer


Our barometer keeps track of which party seems likely to win — and whether it's on track to secure a coveted majority. Check in during the campaign as the winds shift, and follow @elxnometre on Twitter.
Today's takeaways
Thursday was a very active day across the country, producing a few interesting developments.
The Conservatives are back up in this very close and perpetually back-and-forth race to the finish — they are definitely closing the gap in the seat counts.
We're seeing a lot of movement in ATLANTIC CANADA. On a bad night for the Liberals, the Conservatives moved ahead in as many as eight seats, making important gains particularly in New Brunswick. A lot of these seats are close and could still shift either way, but clearly the strong Liberal grip on on the region is slipping.
In QUEBEC, the Bloc Québécois' surge has stalled. The momentum swing that threatened a few ministers and several incumbent Liberals will probably not pan out. Still, a lot of damage has already been done, and many of the seats the Bloc stole from the Liberals in 2019 will stay pale blue.
In Trois-Rivières, one of the hottest races in la belle province, it looks like the Conservatives may pull out a close one. The same goes for Beauport—Limoilou, which the Tories also appear poised to swipe from the Bloc.
In ONTARIO, we are seeing a small surge for the NDP, who are close to taking three Liberal seats: Hamilton, Nickel Belt and Thunder Bay.
The Liberal lead in Ontario is down to four per cent and the party stands to lose seven seats from 2019, five of them to the NDP.
The Liberals have rebounded somewhat in the PRAIRIES, where they are on track to claim five seats in Winnipeg. They are still leading in Edmonton Centre and Calgary Skyview, though both ridings are too close to call.
Jason Kenney's COVID-19 announcements yesterday have upset a lot of people in ALBERTA. Time will tell what impact it will have.
The NDP and Conservatives are tied at 29 per cent in BRITISH COLUMBIA, with the Liberals at 22 per cent. That leaves the NDP and the Conservatives to fight over a bunch of close ridings, while the Liberals hope they can keep the 11 seats they won in 2019.
In a race that is growing noticeably tighter every day this week, it looks like the People's Party's purple wave may just help the Liberals secure re-election. Nobody is opening up a clear lead this late in the campaign, which is a bit unusual. But that will make these last days extremely interesting. Every seat will count.
That much sought-after Liberal majority now seems like a distant memory, leaving many Canadians wondering why we are going through this. Who says that Canadian politics are dull!?
How is the election affecting Canadians' trust in government? Check out the latest instalment of The Governance Monitor.
---
Hustle in the hustings
It's Day 34 of campaigning. Do you know where your party leaders are?
NDP Leader Jagmeet Singh starts his day in Quebec with a morning announcement at the University of Sherbrooke before jetting off to Nova Scotia, where he'll make a 2:30 p.m. stop at the Futures Cafe in Sackville and a 3:30 p.m. meet-up with supporters by the Halifax Common pavilion.
Bloc Québécois Leader Yves-François Blanchet will drop by the power plant in Saint-Étienne-des-Grès this morning to make an announcement on Muskrat Falls and GST. This afternoon, he'll chat with the press at the Davie shipyard in Lévis.
You'll find Conservative Leader Erin O'Toole at London's Bellamere Winery and Event Centre this afternoon. He'll attend an event with supporters in St. Catharines at 7:30 p.m.
Also in Ontario is Liberal Leader Justin Trudeau. He's in Windsor, Ont. this morning to make an announcement.
Finally, People's Party Leader Maxime Bernier is holding a rally this evening in Strathmore, Alberta.
Details of Green Party Leader Annamie Paul's scheduled haven't been confirmed.
ICYMI from iPolitics
---
Ridings in the spotlight
TROIS—RIVIÈRES (Quebec)
Who's running?
Martin Francoeur (Liberal)
Andrew Holman (Green)
Jean Landry (PPC)
Yves Lévesque (CPC)
Adis Simidzija (NDP)
René Villemure (BQ)
What's the buzz?
Several of Quebec's 78 seats are in play as we count down to election day. One seat we'll continue watching like a hawk this weekend is Trois-Rivières on the north shore of the Saint Lawrence River.
According to Mainstreet Research's latest polling from the riding, the Conservatives would win the riding with 34 per cent of the vote from decided and leaning voters if the election were held today. Another 31 per cent would pick the Bloc, and 30 per cent would favour the Liberals.
Louise Charbonneau won the seat for the Bloc with 28.48 per cent of the vote in 2019, but she announced in June she wouldn't seek re-election, leaving Trois-Rivières up for grabs. The Tories are running Yves Lévesque, who served as mayor of Trois-Rivières from 2001 until his retirement for medical reasons in 2018. He also ran for the CPC in 2019, finishing in third place, 2000 seats behind Charbonneau.
The riding has been held predominantly by the Bloc over the past 30 years, save for an eight-year orange streak from 2011 to 2019.
Janet Silver has more on this red hot riding.
---
THÉRÈSE—DE BLAINVILLE (Quebec)
Who's running?
Vincent Aubé (PPC)
Ramez Ayoub (Liberal)
Marc Bissonnette (CPC)
Louise Chabot (BQ) — incumbent
Simon Paré-Poupart (Green)
Julienne Soumaoro (NDP)
What's the buzz?
Another of Quebec's tight races is playing out in Thérèse—De Blainville, where Bloc Québécois incumbent Louise Chabot is hoping to hold her seat. Her top opponent is Liberal candidate Ramez Ayoub, who represented the riding north of Laval from its establishment in 2015 until Chabot's win in 2019.
Polling conducted in the riding by Mainstreet Research on Sept. 13 suggests that 41 per cent of decided and leaning voters would re-elect Chabot if an election were held that day. 39 per cent would vote for Ayoub and the Conservative candidate would come in a distant third, with 11 per cent of the vote.
The tables are turned when all voters are factored in. In that scenario, the Liberals would win the riding with 37 per cent of the vote, with the Bloc hot on their heels with 36 per cent. The Conservatives would remain in third place with 11 per cent.
Check out our election dashboard for the latest from ridings across the country.
---
iPredict
Thursday's iPredict Results
The majority of Writ Large readers would disagree with Liberal candidate and hype man Dominic LeBlanc about his party's chances of snagging a majority government. Responding to Thursday's iPredict poll, 59 per cent of you said "heck no" the Liberal's don't have a shot at a majority, while 26 per cent said it could "maybe" happen and 12 per cent share LeBlanc's confidence in Team Trudeau. We'll know soon enough whose prediction comes to pass.
App user? Access the iPredict poll in your browser.
---
Want to get Writ Large right in your inbox during the election? Sign up here.
Thanks for reading. You can reach iPolitics' briefs team at [email protected].
Doug Ford says Ontario opposition playing politics over his 'bang on' comments about immigrants – CTV Toronto
Ontario Premier Doug Ford said he believes opposition parties are playing politics over his comments on immigrants and said he's been told his remarks were "bang on."
Ford was asked on Wednesday by Brampton East MPP Gurratan Singh in Question Period whether he is ready to apologize for the comments that "play into racist stereotypes about new Canadians."
"Those comments were hurtful, divisive, and wrong," Singh said.
Ford responded to Singh by saying he has been "inundated with messages from your community, the Sikh community, that said 'You were bang on.'"
The comments about immigrants were made in Tecumseh while Ford was speaking to reporters about a labour shortage on Monday.
"We're in such desperate need of people from around the world," he said.
The premier then specified that he only wanted "hard-working" people to come to Ontario.
"You come here like every other new Canadian. You work your tail off," Ford said. "If you think you're coming to collect the dole and sit around, it's not going to happen. Go somewhere else."
On Wednesday, Singh asked Ford if he was ready to apologize, adding the comments were "just plain wrong."
"Stop playing politics and let's speak the truth," Ford responded to Singh. "You know the backbone of this province are great hard-working immigrants."
"My phone is blowing up all night, all day, day before, from immigrants telling me their story … I'm the biggest pro-immigrant premier we've ever seen here."
Ford told Singh he will "go to his community and door knock and see the response from the Sikh community."
He said he's been told already by the Sikh community that his comments were "bang on" and that he needs to "stay focused."
Many Ontario politicians spoke out and demanded Ford apologize on Monday.
Ford was asked on Tuesday by the NDP to apologize for the "discriminatory" comments. He did not, and instead used the opportunity to say he is "pro-immigration."
How green politics are changing Europe – BBC News
An ocean of conservative blue blankets the electoral map in Germany's southern state of Bavaria.
And yet the conservative vote actually fell across Germany in last month's federal vote, while the Greens achieved their biggest success yet,.
In an election dominated by climate change, a speck of green has made a ripple in Bavaria. For the first time a Greens candidate was directly elected to represent Bavaria in the federal parliament.
It is symbolic of the creeping rise in support for European green parties, from Hungary to Finland.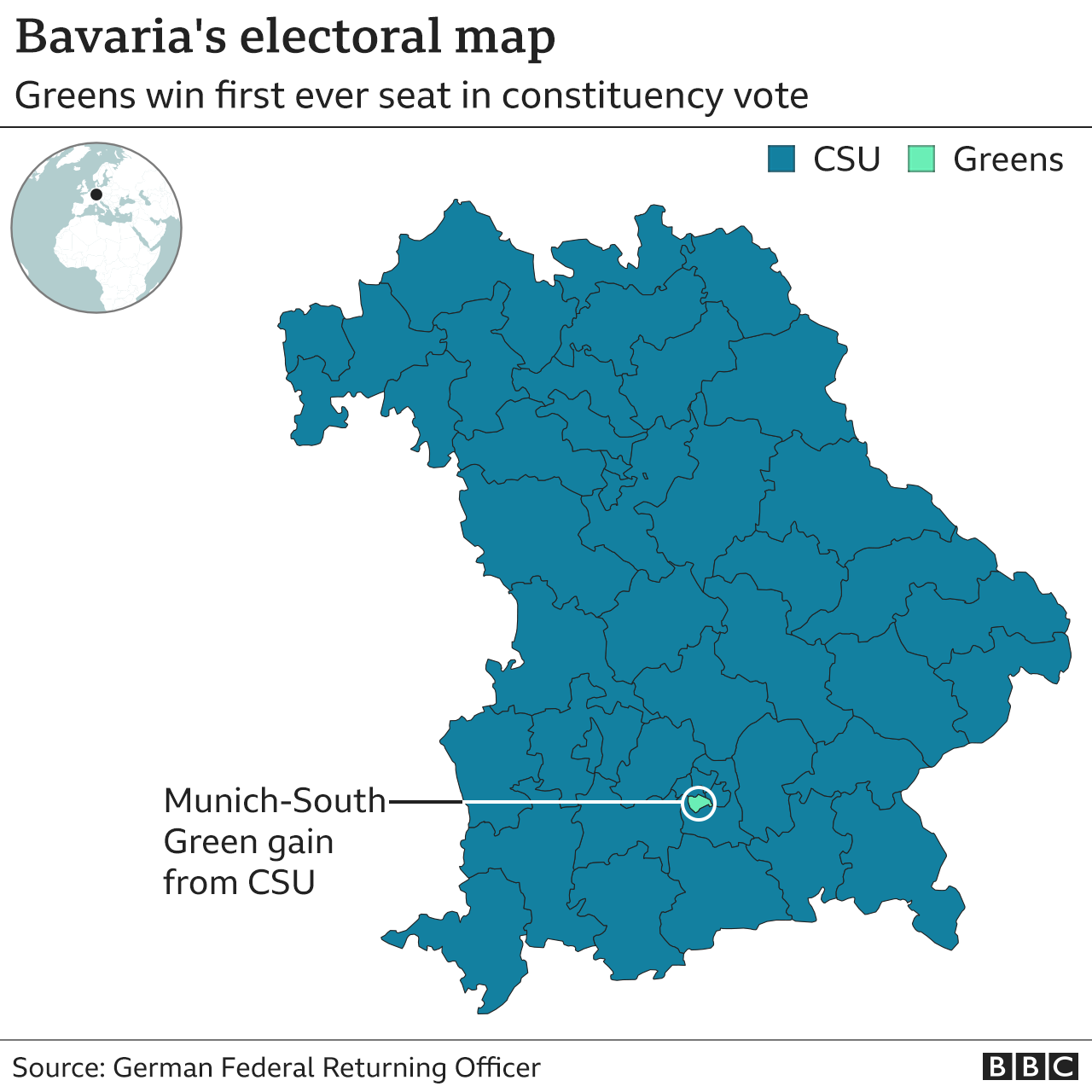 The new MP, Jamila Schäfer, beamed with satisfaction when she recalled her surprise victory in Munich-South, by a wafer-thin margin of 0.8%. Only once before had the CSU lost the constituency since 1976.
"This is a major sign of change," Ms Schäfer told the BBC.
A campaign 'close to the people'
The Greens won 14.8% of the vote nationwide, appealing beyond their eco-protest roots with Annalena Baerbock standing as candidate for chancellor. Now they are in talks to share power as part of a three-way coalition.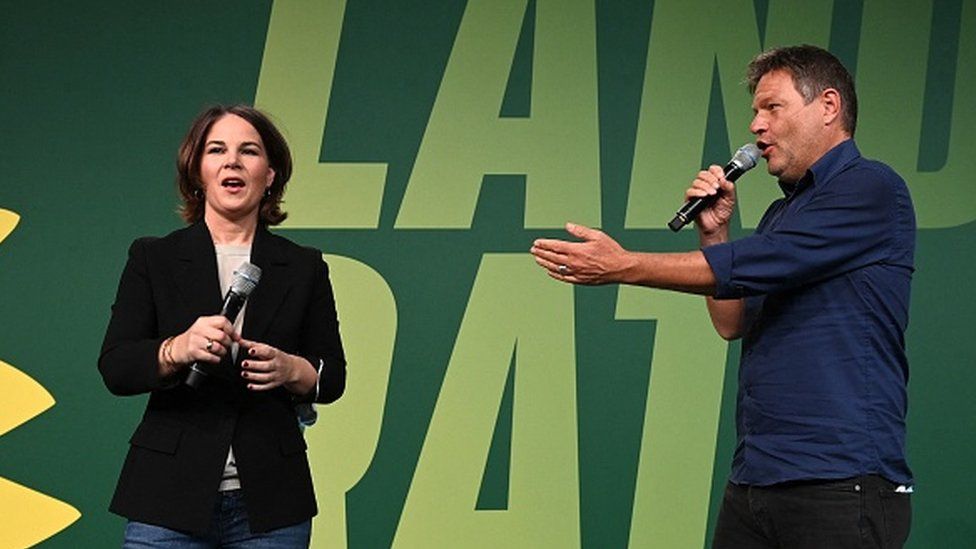 Ms Schäfer, 28, is the Greens' deputy federal chairwoman and typifies a party that has undergone a national makeover after years of power-sharing in several German states (Länder).
She rose through the ranks of Green Youth, taking part in school strikes against education reforms, long before Swedish activist Greta Thunberg made her name by skipping classes for climate protests.
Climate change was consistently ranked as the most serious facing Germany in opinion polls ahead of the election.
Even so, Ms Schäfer targeted her "close-to-the-people" campaign in Munich-South on housing, pensions and taxes.
Green shoots of success
Once ridiculed by many as idealistic hippies, Green parties increased their vote share in 13 European countries at the most recent national elections. In six of those countries – Austria, Belgium, Finland, Ireland, Luxembourg and Sweden – green parties have a share of power in coalition governments.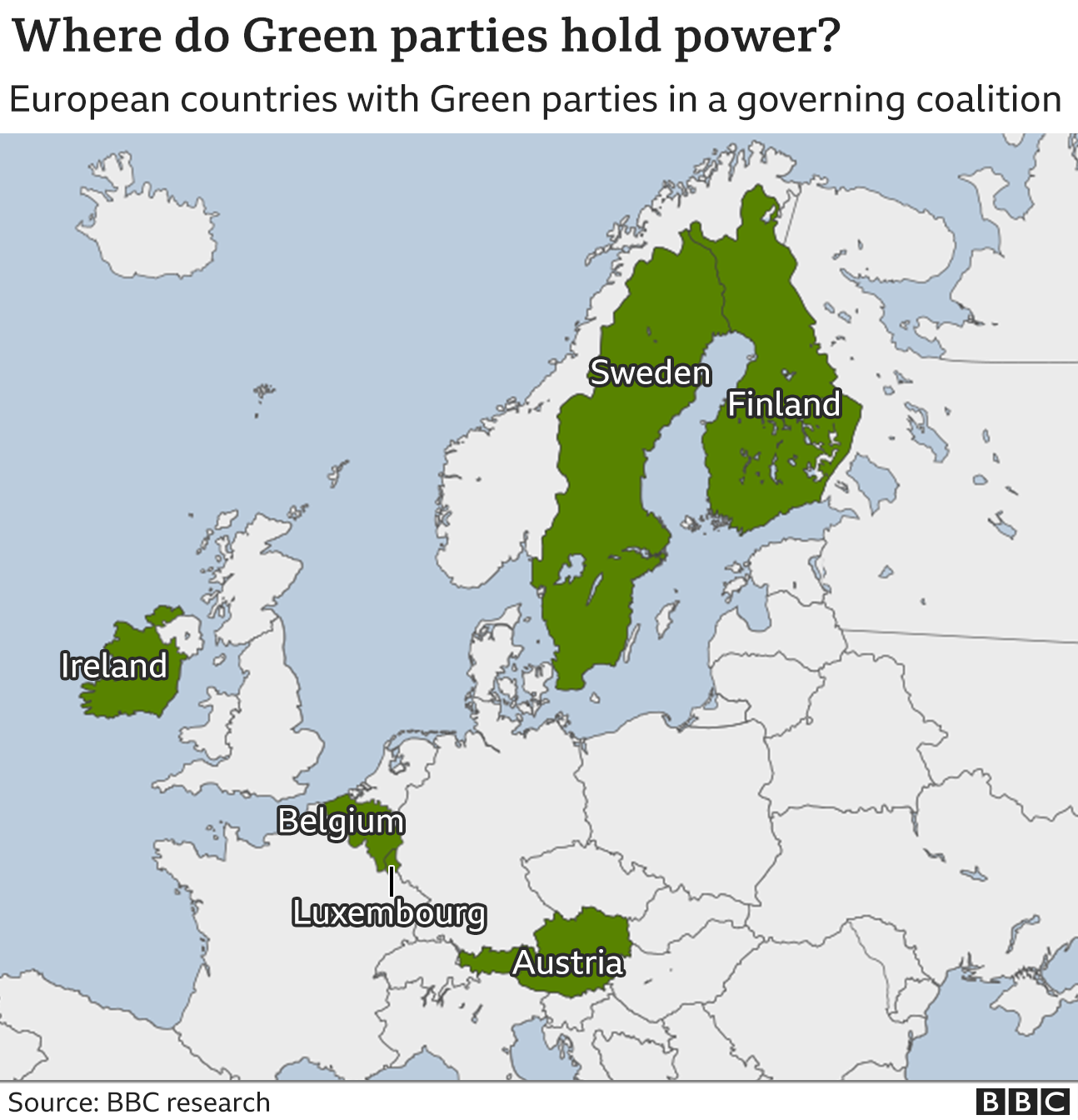 In all those cases, the Greens are pressing their partners to adopt more ambitious targets for lowering carbon emissions. Elsewhere, the green mayors of Amsterdam and Budapest are aiming for carbon neutrality by 2050 and 2030 respectively – to balance the greenhouse gases emitted and absorbed by their cities.
Despite last month's election success for the German Greens, even co-leader Ms Baerbock admitted they had failed to live up to early opinion poll ratings: "We wanted more. We didn't achieve that."
Given the urgency of curbing emissions, what's holding the Greens back?
Trust and fear of change
One explanation is that mainstream parties across Europe have elevated climate change to the top of their agendas.
"If you're concerned about the climate, it doesn't follow that you're going to vote green," Adam Fagan, a political scientist at King's College, London, said. "It means you're going to scrutinise the manifestos of the main parties for their green credentials."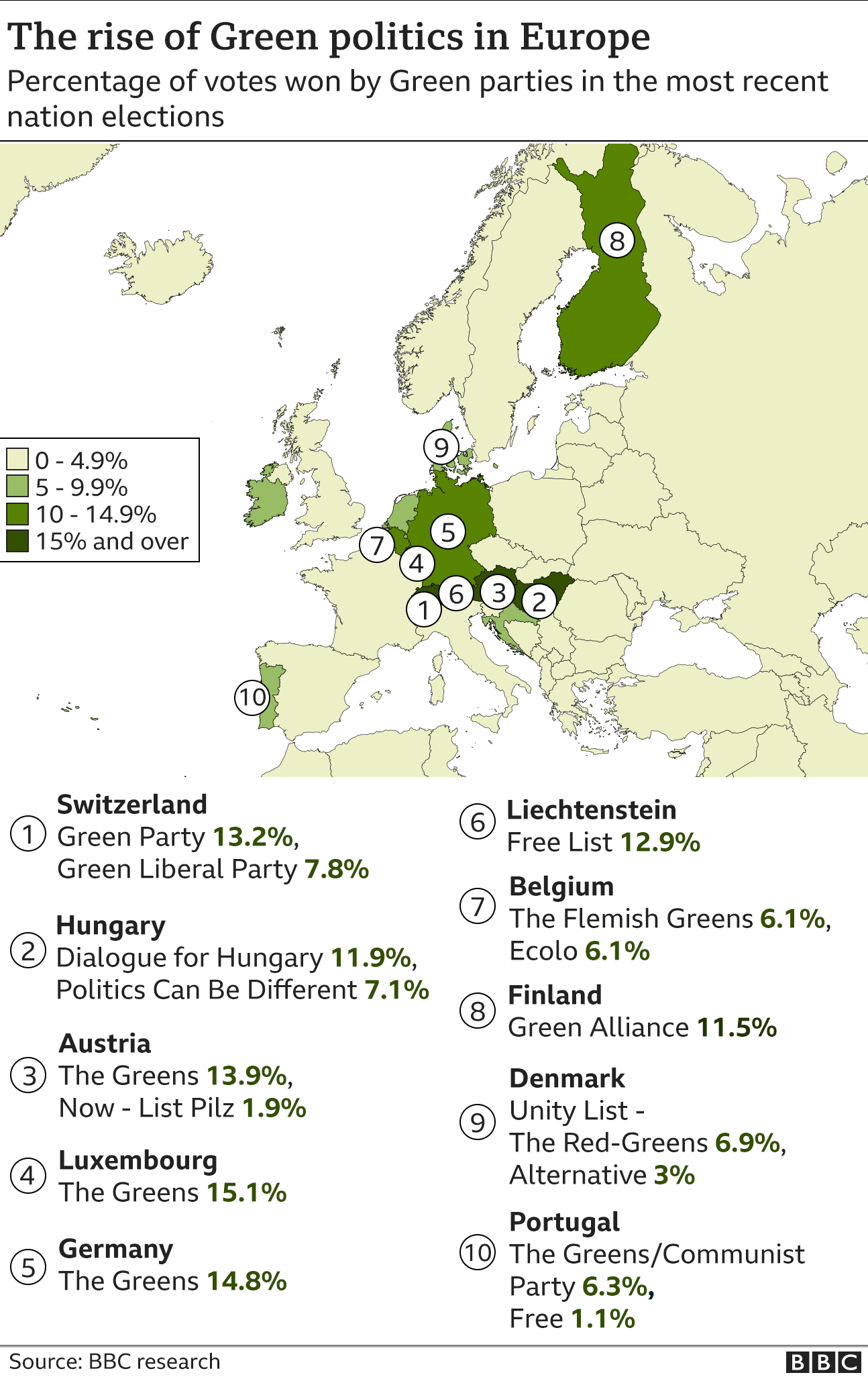 Green parties tend to do better in countries with more proportional systems, as used by the European Union for its parliamentary elections. For example, the Greens/EFA bloc gained 25 seats with 10.8% of the vote in the 2019 election to the European Parliament.
"People think putting the Greens in power [in the EU] is less dangerous," said Philippe Lamberts, co-president of the Greens/EFA.
"From the right and the left, there's always a question hanging over us: can you really trust the Greens with the economy?"
National election results suggest the answer is no.
To reduce emissions, the Greens say big structural changes to the economy are needed. While those reforms are necessary, they scare people and put them off voting green, Ms Schäfer said.
"They're worried they'll be the losers of big transformation," the MP said. "It's a lack of control that people are afraid of. But we need to convince people that our politics is not about giving up control."
'Killing the planet'
It's even more difficult in Southern and Eastern European countries, where support for green parties is fragmented or non-existent. Surveys show that climate change is far from a top priority in post-communist countries such as Poland, the Czech Republic and Lithuania.
Voters and political parties there are generally more concerned about economic development or migration, leaving environmental issues to civil society groups.
Mr Lamberts believes voters find the message that their country's model is "killing the planet" unpalatable.
Unlike in many of the other former Soviet-bloc states, green parties have made inroads in Hungary.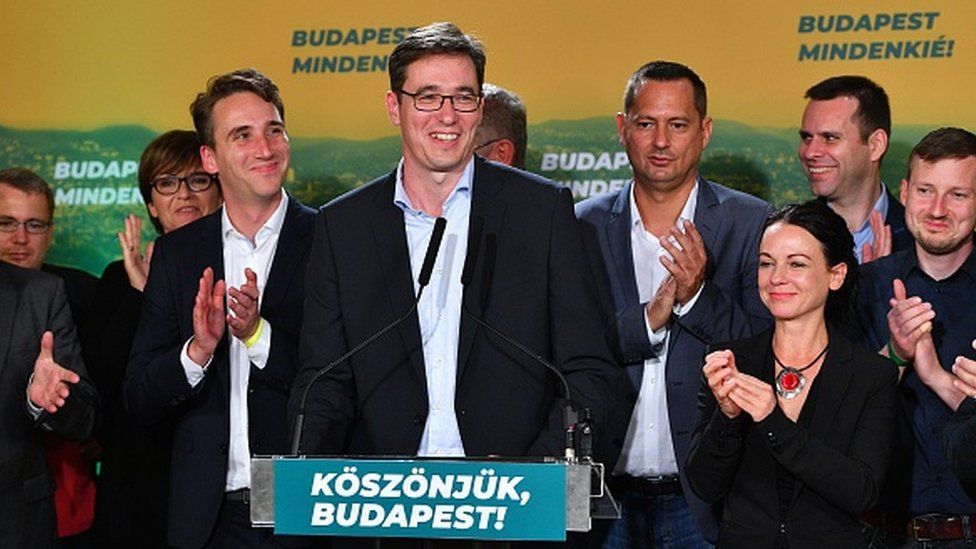 The green LMP party has won seats in three consecutive national elections since 2010, while Dialogue received 11.9% of the vote in an alliance with the Hungarian Socialists in 2018.
Dialogue's success came under the leadership of Gergely Karacsony, who was elected mayor of Budapest in 2019.
He defeated the nationalist incumbent by rallying opposition parties behind his liberal platform, and promising solutions not only to environmental issues, but economic and social ones too.
"In Hungary today, there are three different crises. A democratic crisis, a social crisis and an environmental crisis," Budapest's mayor told the BBC. "The advantage of the green movement is that we have proposals for all three."
He linked green policies such as urban foresting and carbon-free public transport to Hungary's poor record on air quality and other environmental problems.
Particularly in post-Soviet countries, the mayor said, social justice must go hand in hand with the green transition.
"We cannot put the costs of sustainability on disadvantaged segments of society."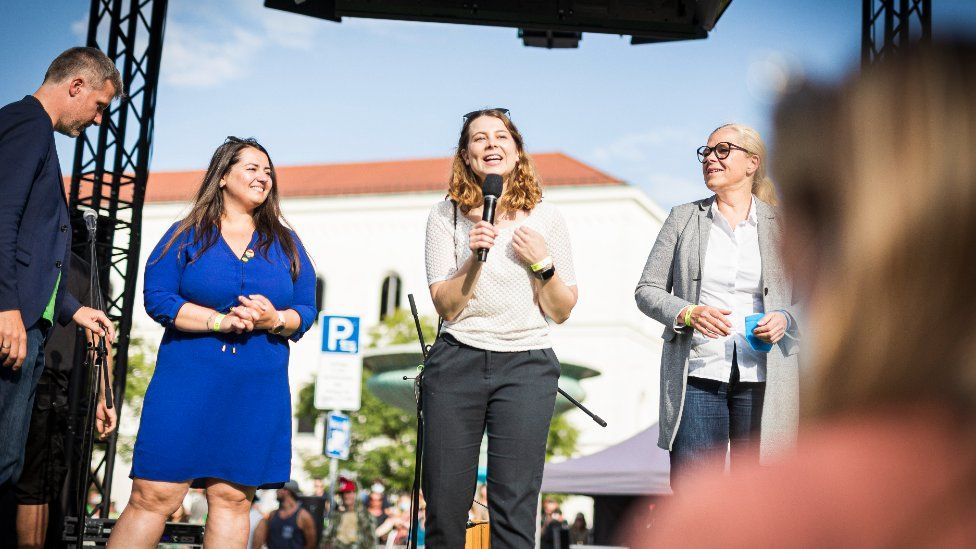 What worked in Budapest may not necessarily follow elsewhere, but green candidates have achieved electoral success where they have channelled voter discontent, united the opposition and diversified their offer beyond the environment.
If the Greens can build on these gains, there is a future for them in coalitions, Professor Fagan said.
"Green politics in Europe is getting bigger and stronger, and I'm sure it will grow in the coming years," Ms Schäfer said.
Biden says he's concerned about Chinese hypersonic missiles
U.S. President Joe Biden said on Wednesday he is concerned about Chinese hypersonic  missiles, days after a media report that Beijing had tested a nuclear-capable hypersonic glide weapon.
Asked by reporters as he was boarding Air Force One for a trip to Pennsylvania whether he was concerned about Chinese hypersonic missiles, Biden said, "Yes."
The Financial Times said at the weekend that China had tested a weapon in August that flew through space and circled the globe before cruising down toward a target that it missed. China's foreign ministry denied the report.
(Reporting by Nandita Bose; Writing by Mohammad Zargham; Editing by Leslie Adler)