Xiaomi Mix 4 is an Android flagship unlike anything else on the market – BGR
There's a reason why Xiaomi took advantage of Huawei's problems with the US government to capture a large chunk of the market. The Chinese smartphone maker faced plenty of criticism over the years for copying Apple. But Xiaomi has also taken risks of its own, debuting technology that rivals can't match. The company also had highly competitive prices and connected devices to make its mobile ecosystem even more appealing. The Mix 4 smartphone which Xiaomi unveiled this week is the latest proof of that. The new device is unlike anything else on the market, featuring technological advancements that can't be found on other Android flagships.
Today's Top Deal Amazon's Echo Dot is flying off the shelves at just $35! Price:Was $50, Now $34.99
Buy Now Available from Amazon, BGR may receive a commission Available from Amazon BGR may receive a commission
Xiaomi unveiled the new phone at quite an interesting time. The Mix 4 was made official a day before Samsung's Z Fold 3 launch event. The Mix 4 introduces several exciting new features, including an under-display camera.
Xiaomi Mix 4's specs are out of this world
On paper, the Mix 4 specs look familiar. But the Mix 4 isn't anything like other high-end Androids. It's the first phone in the world to feature the new Snapdragon 888+ processor, which is faster than the standard Snapdragon 888 that we will see on many Android devices in 2021.
The handset features 8GB or 12GB of LDDR5 RAM, up to 512GB of UFS 3.1 storage, and 5G support. The Mix 4 also introduces Xiaomi's "unique UWB technology," which will improve the way the phone interacts with other internet-connected devices. The Mix 4 features 19 antennas and supports 42 bands to deliver this supposedly superior UWB experience.
The under-screen camera magic
We've been waiting for Xiaomi to launch its first phone with an under-screen camera for a few years now. The Mix 4's 120Hz 6.67-inch screen has something called a CUP, which stands for Camera Under Panel. Xiaomi employed micro-diamond pixels, a redesigned circuitry array, and transparent sub-pixel circuitry to deliver the CUP camera. The Mix 4 is supposed to offer a seamless screen, thanks to all that. You won't see where the camera is located. And Xiaomi says that software ensures that photos and videos captured with the CUP selfie cam "retain true colors and details."
The main camera is also a sight to behold. The phone features a 108-megapixel primary camera with 4-in-1 1.6μm Super Pixels. A 13-megapixel ultra-wide angle camera packs a free-form optical lens that lowers wide-angle distortion. Topping things off is an 8-megapixel periscope camera that supports 5x optical zoom and 50x digital zoom.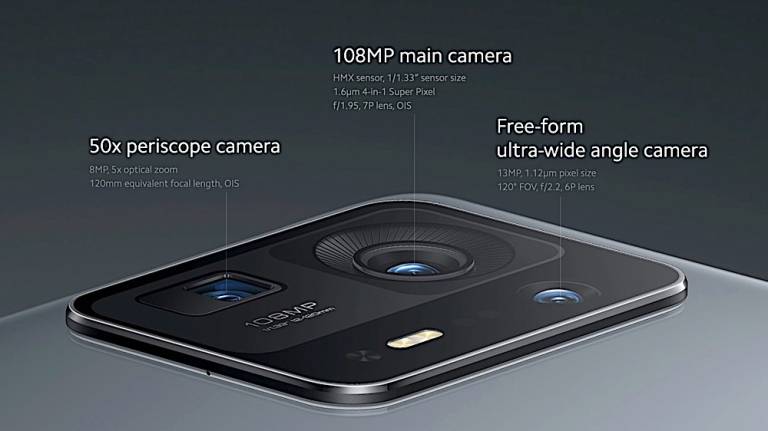 The graphene
The 4,500 mAh battery supports 120W wired charging and 50W wireless charging. The Mix 4 will reach a full charge in 15 minutes or 28 minutes, respectively. The battery features graphene anodes, which are 1,000 times more conductive than carbon black anodes. Xiaomi also says the Mix 4 comes with an intelligent, fast charging that "helps regulate charging temperature and speed for different scenarios, as well as increasing battery charge cycles by up to 25%."
The Mix 4 uses graphene elsewhere for heat management purposes. The material is part of the heat dissipation structure that has a combined area of 11,588 square mm.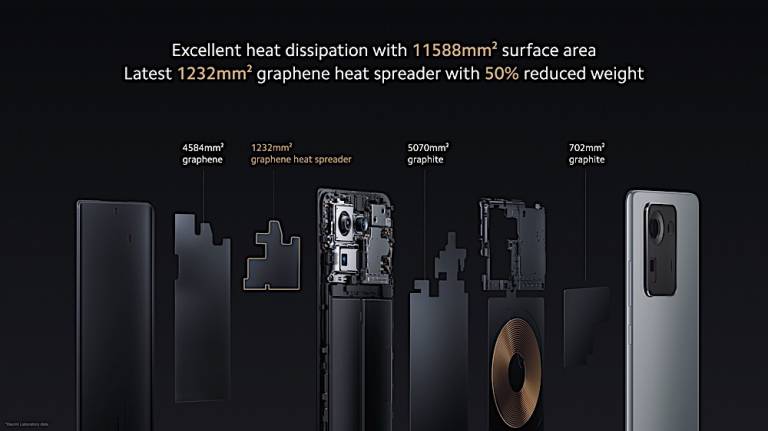 The novel Android features
Xiaomi's Mix 4 will support system-level AI Translation that will work on text, photos, and audio. The service will also translate and transcribe audio, the company says. The SIM lock feature might make it impossible for someone to repurpose a stolen Mix 4. The user will need to enter the correct password when changing the SIM card.
Mix 4 price and release date
The Xiaomi Mix 4 comes in three colors: Ceramic Black, Ceramic White, and Ceramic Gray. They're all ceramic bodies baked at 1,400ºC. Corning Gorilla Glass Victus protects the screen, meanwhile.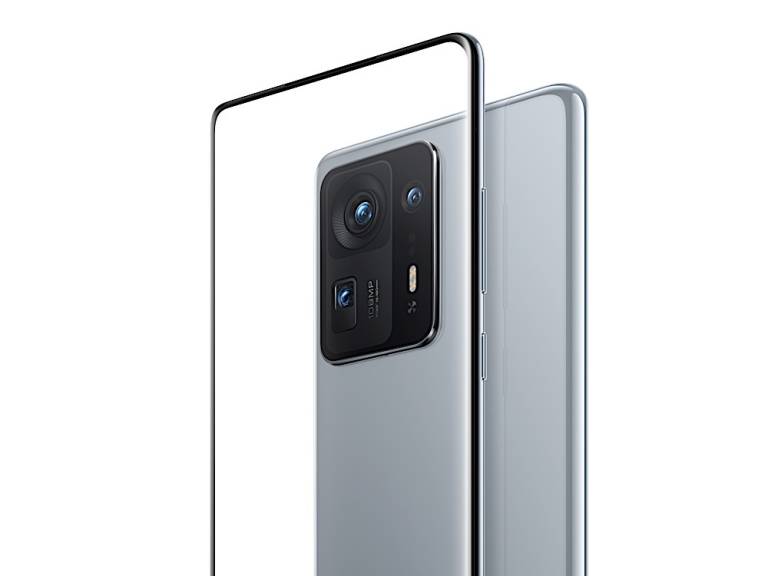 When it comes to configurations, Xiaomi will sell various Mix 4 models come August 16th, as follows:
8GB/128GB: 4,999 yuan ($771)
8GB/256GB: 5,299 yuan ($817)
12GB/256GB: 5,799 yuan ($894)
12GB/512GB: 6,299 yuan ($971)
The Mix 4's price structure is also out of this world. However, there's no telling if or when the Mix 4 will be available in international markets. Xiaomi only listed the phone's release date for China in its announcement.
Today's Top Deal
The best Alexa smart plugs on Amazon are somehow down to just $5 each! Price:Was $25, Now Just $5 Each
Buy Now Available from Amazon, BGR may receive a commission Available from Amazon BGR may receive a commission
Alberta doctors raise alarm on specialist staff shortages in intensive care wards – Saanich News
The Alberta Medical Association says the province's high COVID-19 numbers are behind a desperate shortage of specialized staff to care for critical care patients.
"The demand for (intensive care unit) nurses is currently so high that we need to increase the number of patients assigned to each nurse," the medical association said in a public letter Monday.
"This reduction in staffing ratio is well below our normal standard of care. This will jeopardize the quality of ICU care that we are able to provide."
The letter was signed by members of the group's intensive care section.
Alberta's hospitals and intensive care wards are overwhelmed by critical care patients, most of them stricken with COVID-19. The overwhelming majority are either unvaccinated or partially vaccinated.
Alberta Health Services has been briefing doctors on criteria to use should the health system collapse and they have to make on-the-spot decisions on who gets life-saving care.
Last week, Dr. Paul Parks, the medical association's head of emergency medicine, said the staffing shortage is affecting care in other ways. Parks said some critical care patients are not being put on available ventilators because there aren't enough nurses to monitor them.
Kerry Williamson with Alberta Health Services says while typical ICU care is one nurse per patient, an alternative model, known as a hub, is being used to adapt to the pandemic while ensuring care is delivered.
Each hub includes one or two trained intensive care nurses and two to four registered nurses.
"This model partners registered nurses from other areas with existing trained ICU (nurses) to expand the availability of the critical-care nursing skill set to more patients," said Williamson in an email.
"ICU patients are never cared for by nurses alone. Whole teams work with nurses in ICU, including respiratory therapists and many others. "
In recent weeks, the province has scrambled to create more ad hoc intensive care beds, effectively more than doubling the normal total of 173 to accommodate 312 patients currently receiving critical care.
Staff have been reassigned, forcing mass cancellations of surgeries, including cancer procedures.
Alberta has asked the federal government for help, and the Canadian Armed Forces has said it will respond with eight more intensive care nurses and air transport to take critically ill patients to other provinces.
Almost two weeks ago, Alberta reintroduced gathering restrictions and brought in proof of vaccination requirements for entry to restaurants, bars, casinos, concerts and gyms to try to reduce spread of the virus.
Daily case counts remain well over one thousand and a growing number of doctors and infectious disease specialists are calling for a "firebreak" lockdown, which would include a shutdown of schools, businesses and other activities.
Alberta Premier Jason Kenney, in a weekend radio interview, rejected a lockdown. He said it would make "no sense for the 80 per cent of the population that is vaccinated" and who are much less likely to transmit the disease and be hospitalized.
Alberta has lagged behind other provinces in vaccination. Kenney and his United Conservative government have been trying to persuade more people to get their shots by offering $1-million prize draws, other gifts and, more recently, $100 debit cards.
About 73 per cent of eligible Albertans, those 12 and over, are fully vaccinated, while 82 per cent have had at least one shot.
Opposition NDP Leader Rachel Notley said it's time to partner with community groups and health-care professionals to go door to door and help those who are not vaccinated due to health or work concerns or a language barrier.
Those groups could be "having conversations and offering Alberta vaccines right there on people's doorsteps," Notley said in Calgary.
—Dean Bennett, The Canadian Press
Face ID stops working on iPhone 13 after any third-party screen replacements – XDA Developers
Apple just released the iPhone 13 series earlier this month, with four models to choose from: the iPhone 13, iPhone 13 Mini, iPhone 13 Pro, and iPhone 13 Pro Max. The phones are a step up from previous models, with smoother displays and enhanced cameras, but the iPhone 13 series appears to be a downgrade from earlier iPhones in at least one regard — Face ID will stop working after anyone except Apple (or an Apple-authorized repair center) replaces your screen.
The below video from Phone Repair Guru (via MacRumors) shows the displays on two iPhone 13 phones being swapped. Even though the displays are genuine Apple parts, and the screen assembly doesn't contain any components directly related to Face ID, the result is that Face ID no longer works.
[embedded content]
It's not clear at the moment if this is a software bug, or yet another measure against unauthorized iPhone repairs. Apple has become increasingly hostile to third-party repairs over the past few years. Apple has its own Independent iPhone Repair Program, which provides select companies or third-party repair centers with genuine Apple parts and repair manuals. However, an iFixit report from last year pointed out that it can take several months for repair centers to join the program, and Apple often sells parts to repair centers for high prices. In some cases, the cost for parts exceed what Apple would charge to perform the entire repair.
Apple has not yet published a statement about Face ID and third-party repairs. If Face ID is intended to break, it would likely only give more momentum to the 'Right to Repair' movement, which has pushed governments around the world to force electronics manufacturers to make replacement parts and repair manuals readily available. U.S. President Joe Biden signed an executive order in July that called for the FTC to establish guidelines for device repairs, and other countries around the world are in various stages of crafting similar legislation.
Signal, the encrypted messaging app, is currently down for many users (Update: it's back) – Yahoo Canada Shine On
Update 2: Signal is now back up for "99% of users," according to its Twitter account.
Update: In a tweet, Signal said the disruption is due to a hosting outage.
https://platform.twitter.com/widgets.js
Signal is down for many users right now. Its status website says the encrypted messaging app is "experiencing technical difficulties" and many people are getting an in-app error message that says the same thing. The company says it is "working hard to restore service as quickly as possible." TechCrunch has contacted Signal for comment.
Signal's in-app error message
According to Downdetector.com, users started reporting outages around 11:05 PM Eastern Standard Time this evening, and it appears to be affecting people around the world.
https://platform.twitter.com/widgets.js
In January, Signal experienced a surge in downloads on the App Store and Google Play after WhatsApp changed its data-sharing policy.
Over the past few months, Signal has continued to build out its feature set, adding a default timer for disappearing messages that automatically applies the settings to all new conversations.