11 International Makers Blurring the Line Between Art and Furniture – Architectural Digest
There's something nostalgic about Djivan Schapira's lacquered pieces—a coral-hued 12-person resin dining table that looks more like a vintage surfboard balancing on thick cylindrical legs than it does a piece of furniture, a sultry table lamp comprised of a glossy burlwood disk boasting a fiery red in-lay that creates a warm backdrop for a single exposed bulb, and an eye-catching coffee table featuring subtle brass ribbons looping through the layered mossy green surfaces, among others.
The 28-year-old French expat's retro-inspired works of art are the result of his somewhat disconnected interests: "I'm very inspired by classic cars, Space Age design, lava lamps, and the French countryside where I grew up," he says. "But I'm most inspired by my father, Antoine Schapira," the artistic patriarch of the family. All of his highly diverse influences effortlessly find each other in his work, which the young New York–based artist is putting on display at the High Line Nine Galleries in New York through the end of March.
Partners in both life and business, Audrée Larose and Félix Guyon bring an Old World exquisiteness to their work, which is shaped by local artisans employing savoir-faire and traditional techniques in their Verchères, Quebec, studio. Their pieces, which range from a string of globe fixtures that honor the elegant fashion icon Coco Chanel to a chandelier comprised of glistening aged brass discs that nod to Pierre Le Royer, a 19th-century French-Canadian fur trapper, the pieces donning intricate silhouettes offer as much light as they do charisma. Larose admits, "We often say that we are not doctors and we don't save lives, but we always try to find a purpose to our work. Ours is to bring poetry and magic into people's homes."
Poetry and magic may be the takeaways from their finished pieces, but fine jewelry has always been a source of inspiration behind their sensual collections. From Perle 1, a gently marbled globe light that balances in the center of a satiny metal chain, to Otéro, an elegant tribute to Caroline Otéro and her passion for gleaming, eye-catching jewels, it's clear how big of a role jewelry plays in their studio. Larose adds, "For our new collection, launching spring 2022, we turned our inspirations towards the majestic surrounding nature, as we've been exploring and reinterpreting the moving landscape and the complexity of nature's elements."
Your hand-me-down art can be loved again: Art Attic is back – CambridgeToday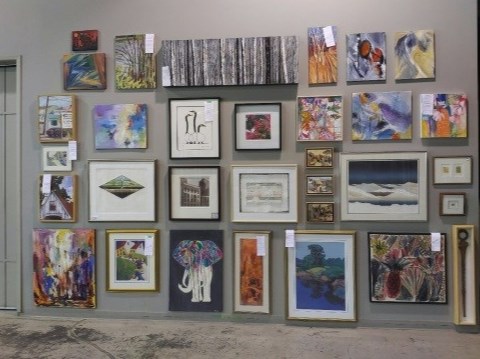 Is there something sitting in your closet collecting dust? The Cambridge Art Attic will take it.
The Cambridge Art Attic Silent Auction is back and looking for donations of art and home décor. As the Cambridge Art Guild's largest annual fundraiser, the event supports the Cambridge Centre for the Arts (CCA).
The 11th annual Art Attic Silent Auction will be held at the Cambridge Centre for the Arts on June 16, from 9 a.m.- 8 p.m., June 17, from 9 a.m.- 9 p.m. and June 18 from 9 a.m. – 1 p.m.
The Art Attic is accepting donations of art including prints, originals, and home décor, all priced to sell.
Visitors will have an opportunity to bid on and purchase art donated by local artists and the community.
The Cambridge Art Attic, an initiative of the Cambridge Arts Guild, is the primary fundraiser that supports the city's art scene.
"We are so excited to see the silent auction return this year," said Lori Bennett, chair of the Cambidge Art Attic.
"This is our major fundraiser that allows us to support our programs and events. Art Attic allows people to donate their previously loved art that they no longer use or have space for, and they know that someone else will love that piece of art again."
Art can be dropped off at 60 Dickson St. For hours visit here.
And for those doing some spring cleaning or decorating and have some art to donate, the Art Attic also accepts pieces year-round.
"We get some items and we think, this doesn't have much value, and then you find out it's an antique piece. Someone will come in and get really excited about it," Bennett said.
Proceeds from the Art Attic Silent Auction will support the Cambridge Arts Guild with local art initiatives including Cookies and Kids Theatre, Cambridge Studio Tour, the Juried Art Show, Artist in Residence, and Christmas in Cambridge. .
The Cambridge Centre for the Arts provides quality arts programming through classes, workshops, an art gallery, special events, and an artist in residence program.
The CCA is a municipally operated community arts centre that enriches and engages area residents, artists and organizations through quality artistic experiences and opportunities that stimulate, promote, and support the arts in Cambridge.
The CCA encourages participation and inspires an appreciation for the arts.
"Art speaks to people," Bennett said.
"You see people's faces light up at the auction when they see that special something that speaks to them. They can give it new life and enjoy it for years to come. It's a win win for everyone."
For more information, visit the Art Attic Facebook page. The Arts Guild is also looking for new volunteers or to help with the silent auction. To volunteer, contact Wanda Schaefer at 519-623-1340 ext. 4491.
For more information, visit here.
Goddesses, she-devils and a tangle with textiles – the week in art – The Guardian
Art Beat: Have you visited the halls of healing arts at the hospital? – Coast Reporter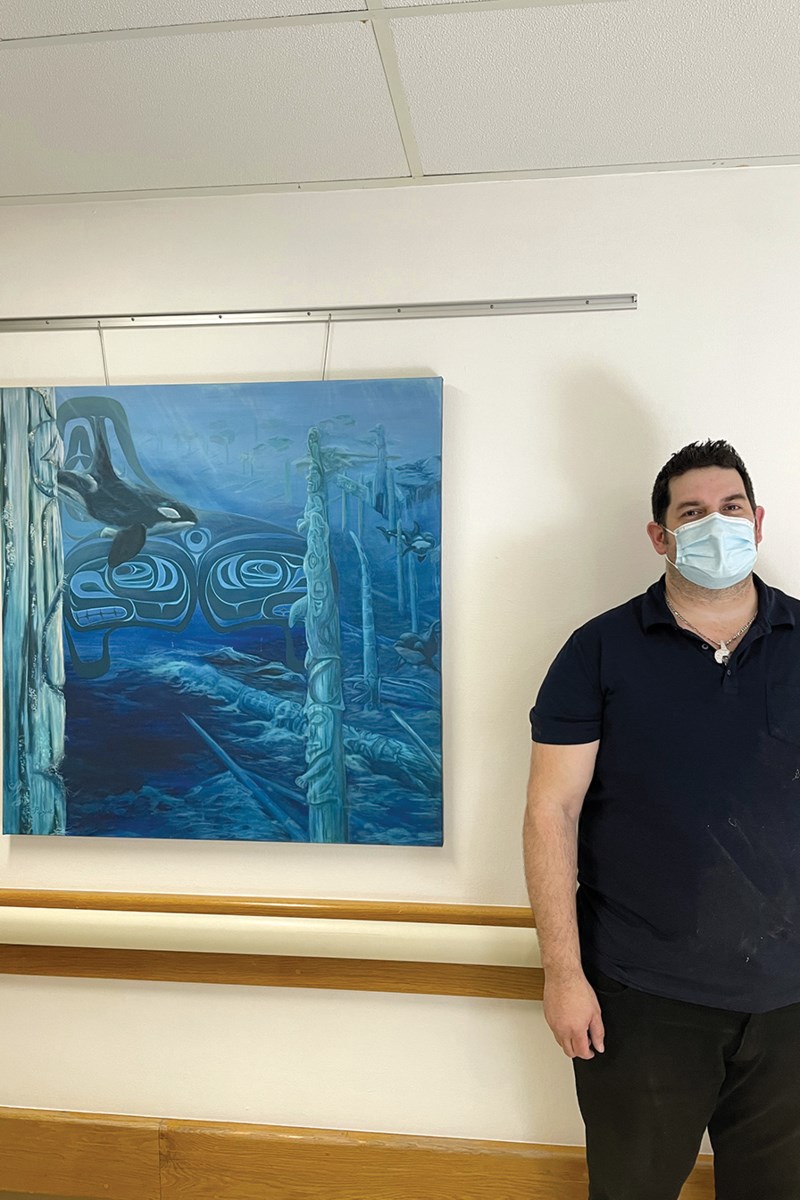 The Sechelt Hospital Foundation has welcomed Levi Purjue, an artist who contributed to the Art of Healing fundraising event, for its May rotating gallery at Sechelt Hospital.
Located between the lab and physiotherapy offices, select works of art are available each month for sale to the general public or hospital staff.
Further down the hall, visitors will find more of Levi's works on display.
Funds from the Art of Healing event helped to purchase a new X-ray for Sechelt Hospital's Medical Imaging Department.
Nature of Grief artist talk at GPAG May 28
The public is invited to learn more about Amberlie Perkin's work in her The Nature of Grief exhibition at the Gibsons Public Art Gallery. Perkin will be providing an artist talk on Saturday, May 28 at 2 p.m.
Amberlie is an interdisciplinary artist whose diverse practice includes sculpture, installation, printmaking, and painting.
With interests in the interplay of grief and ecology, nature and the body, Perkin's creative process evokes "the materiality of mourning" using grief and loss as lively material with which to build new forms while formalizing the presence of absence.
More information is online at gpag.ca
Suncoast Phoenix Community Choir concerts May 28 and 30
The Suncoast Phoenix Community Choir will present an eclectic mix of choral music for all ages on Friday, May 28 (7 p.m.) and Sunday, May 30 (3 p.m.).
The Friday concert takes place at St. Hilda's Anglican Church in Sechelt.
The Sunday matinee will be at Calvary Baptist Church in Gibsons.
The choir's website has more information: suncoastphoenixchoir.ca.
The Peanut Butter Jam at the Roberts Creek Legion May 28
Roger Camp and fellow rockers Slightly Twisted & Friends will present The Peanut Butter Jam at the Roberts Creek Legion on May 28. It's the group's first time performing at the venue since 2020.
Camp's friend and fellow Canadian classic rocker Al Harlow will make an appearance.
As is customary with Peanut Butter Jam events, cash donations will benefit the local food bank.
The show starts at 8 p.m. on May 28.
Coast Fiddler Camp coming in July
The Sunshine Coast Fiddlers are offering a Coast Fiddler Camp, to take place July 18 through 20 at Davis Bay Community Hall. Instructors will include JJ Guy, Gordon Stobbe, Geoff Horrocks, Trish Horrocks and Jennie Bice.
Advance registration is required and is open now. For more information about the Coast Fiddlers and how to join, email csfandbttb@gmail.com.