19 Outrageous Dennis Rodman Stories – Vulture
Dennis Rodman and Vivica A. Fox at the 1997 Oscars.
Photo: Frank Trapper/Corbis via Getty Images
After ESPN's The Last Dance spent its first two installments focusing on the Bulls' Holy Trinity of Michael Jordan, Scottie Pippen, and Phil Jackson, Sunday night's episodes put the team's trickster demigod Dennis Rodman in his favorite place: the spotlight.
As the documentary reminds us, Rodman was a singular character in the Jordan-era NBA, an unheralded player who did the dirtiest jobs on the Bad Boy Pistons, then reinvented himself as a hair-dyeing, ref-abusing, dress-wearing cartoon. He was the league's most controversial star, but The Last Dance makes the point that Rodman was ahead of his time, not just in the tattoos and the piercings, but also in his determination to be exactly who he wanted to be. To the Bulls' credit, they got it. "Dennis was bizarre, but what made it work was Phil and Michael's understanding that, to make it work on the court, you had to give him some rope," former teammate Steve Kerr recalls at the end of episode three. "And they gave him a lot of rope."
The Last Dance covers many of Rodman's most famous moments: his relationships with Madonna and Carmen Electra, his penchant for cross-dressing, his impromptu mid-season trips to Vegas. But Rodman being Rodman, there are still plenty more that didn't make it in. So if you're in need, here is a collection of weird, wonderful, and unexpected Dennis Rodman stories, with a special emphasis on the headlines that you may not have read before — another way of saying we assume you already know about the North Korea thing.
1. He was a late bloomer.
The documentary includes mention of Rodman's background, but it's worth going over in full. A sub-six-foot high schooler who grew up in poverty, he went unrecruited by college programs, and after graduation worked a series of odd jobs, most notably as a janitor at Dallas-Fort Worth airport, where he was fired for stealing watches on a dare. Then, he got a big break: A late growth spurt shot him up to six feet, eight inches. After spending a year at junior college, Rodman finally got a scholarship to Southeastern Oklahoma State, a Division II school. When he was selected by the Pistons in the second round of the 1986 draft, he was already 25 years old. (It took him a while to hit other milestones, too: In his memoir, Rodman wrote that he lost his virginity to a sex worker at the age of 20.)
2. He began cross-dressing as a child.
Rodman's playing with gender performance raised plenty of eyebrows in the '90s, but as he wrote in his memoir Bad As I Wanna Be, it was something he'd also done as a young boy growing up in a largely female environment. "I don't remember the first time I decided to do it as an adult," he wrote. "It was more of a gradual thing, where it progressed from earrings and fingernails to halter tops and tight leather shorts." For Rodman, wearing women's clothing was about self-expression: "When I cross-dress now, it's just another way I can show all the sides of Dennis Rodman. I'm giving you the whole package. I'm becoming the all-purpose person."
3. Early in his NBA career, he would drive into downtown Detroit and hand $100 bills to the homeless.
"There are a lot of people out there that are more worthy of this money," he told the New York Times in 1990. "You can't help everybody, but you can help some people. I make millions now. What's $250?"
4. He once took off his shoes and read a magazine on the bench.
By the end of his time in Detroit, Rodman was so mentally checked out, Michael Wilbon wrote after one game, that he looked "like he was sitting on the lido deck of a cruise ship waiting for the cabin steward to deliver a gin and juice … As God is my witness, Dennis Rodman was reading a magazine. During the game! Like he was at B. Dalton's."
5. His breakdown at the Pistons stadium kick-started his reinvention.
The Last Dance deals briefly with a 1993 incident where Rodman showed up at the Palace of Auburn Hills with a rifle in his car, having fallen into despair over a failed marriage and the departure of his beloved coach Chuck Daly. As he wrote in his book, rather than harm himself, Rodman decided that night to utterly remake his life: "I killed the Dennis Rodman that had tried to conform to what everybody wanted him to be."
6. He credits legendary sideline reporter Craig Sager for saving his life.
Both men confirm that a despondent Rodman was once talked out of suicide by Sager, who'd tracked him down to a strip club to give him a heart-to-heart. (It's unclear whether this was the same night Rodman wound up at the arena.) "He was going to do it," Sager told Sports Illustrated. "I told him how stupid that would be." After Sager's death in 2016, Rodman thanked him on Twitter "for saving my life when I was in dire need of help."
7. He was once late to a stadium opening because he was dyeing his hair.
Rodman's new lease on life was symbolized by his experiments with eye-popping hairstyles. His first attempt came the same day as the opening of San Antonio's Alamodome, where Rodman arrived 30 minutes behind schedule sporting a platinum-blonde look. "The damn bleach job took too long," he recalled.
8. In a three-week span in late 1993, Rodman had three separate games in which he grabbed over 24 rebounds and scored zero points.
Episode three of The Last Dance includes a cracking sequence where Rodman explains his knack for grabbing errant balls. Never was his "relentless, kamikaze, no-holds-barred pursuit of missed shots" more apparent than in his first season with the San Antonio Spurs, where an early-season run saw Rodman combine an ultra-hot stretch on the boards with absolutely no scoring whatsoever. (In those three games he only attempted seven shots total.) His masterpiece came in a game against the Hornets on December 1, where he put up a 0-28-3 statline — the most rebounds ever for a player who didn't score.
9. He once headbutted the Spurs' mascot, the Coyote, during a preseason game.
"I bring excitement to the game," he said afterwards. "Sometimes I get bored with basketball, like I know some fans do. And so I do things to make it more interesting for me, and for them."
10. His best friend in the league was a preppy glue-guy out of UCLA.
Through his eight years in the NBA, Jack Haley was largely an end-of-rotation big man. In the words of Bulls beat writer Sam Smith, "He had a set shot and couldn't really jump, didn't see the floor that well, handle the ball or even take his sweats off effectively." (And that was in his obituary!) But Haley stuck around in the league in part because he had one indispensable skill: He was, as the Times put it, "the only person who speaks fluent Rodman." The two men first played together in San Antonio, and bonded after Rodman invited Haley and his wife to a double-date at a gay bar, where Haley impressed with his unflappability. They got so close that, after trading for Rodman, the Bulls brought Haley along too to ease his transition. He only appeared in one game in the championship 1996 season, but proved his value in the Finals by convincing Rodman not to quit on the team before the pivotal Game 6 — allegedly by telling him there'd be a fun afterparty.
11. One of his best friends, post-NBA, was the film director Penny Marshall.
The pair became pals thanks to Marshall's frequent courtside presence at NBA games, and would spend Thanksgiving together. At the time of her 2018 death, Marshall was working on a documentary about Rodman, which had been in the works since 2012. "I think she saw a little of herself in Dennis — she'd been through difficult times, too," Marshall's son-in-law told THR.
12. He was once fined $50,000 for saying rude things about Mormons.
The same night as Michael Jordan's iconic "flu game" against the Utah Jazz, Rodman was hit with the largest player fine in NBA history for complaining about the "fucking Mormons" in the stands, which violated the league's policy against hate speech. "If I knew it was a religious-type deal, I never would have said it," he said later.
13. He skipped practice during the Finals to attend a professional wrestling event.
The Last Dance highlights Rodman's habit of letting off steam by heading off to Vegas whenever he felt like it. But during the 1998 Finals, Rodman went on a different kind of vacation, blowing off a mandatory film session to appear alongside Hulk Hogan at a WCW event in Michigan.
14. He crashed a Pearl Jam concert and stayed onstage for 45 minutes.
A longtime Pearl Jam fan, Rodman in 1998 lept onstage during the band's Dallas tour stop, and remained there, drunk and shirtless, for the bulk of their set. After attempting to perform backing vocals on "Courduroy" and "Alive," Rodman finally left once the band cut off his mike.
15. While playing for the Mavericks, he lived with owner Mark Cuban.
Rodman's final run in the NBA was a month-long stint with the Dallas Mavericks in 2000. Depending on who you ask, he was signed either for his rebounding ability or to help with ticket sales, but either way, Cuban was so eager for Rodman's arrival that he let the player stay in his guest house. Rodman was released after 12 games, and a few insults thrown Cuban's way — "He doesn't need to be hanging around the players like he's a coach or something" — but there were no hard feelings. Cuban credits Rodman with teaching him how to attract media attention.
16. His retirement routine: strip club all night, early-morning Starbucks run, an Equinox session, then sleeping for days.
A 2013 Broward New Times profile painted a depressing portrait of Rodman's alcohol-fueled post-playing life. "We go to, like, five places and that's it," Rodman's girlfriend told the paper.
17. He once did a radio interview while receiving oral sex.
The juiciest tidbit in Bad As I Wanna Be was an anecdote about Rodman refusing to go down on Madonna, but when it comes to his own pleasure, he has fewer boundaries: In 2013, Rodman called into a sports radio station to discuss the Miami Heat's team chemistry, only for listeners to discover he was engaged in a rarely attempted form of multi-tasking.
18. He was fired from Celebrity Apprentice for misspelling Melania Trump's name.
Three years before the Slovenian model became First Lady, Rodman was kicked off the long-running reality show when his team spelled her name "Milania" on a poster for her skin-care line.
19. He has broken his penis three times.
As memorably described in this video.
Report: NBA owners expected to approve Orlando restart with 20-22 teams – theScore
Find out the latest on COVID-19's impact on the sports world and when sports are returning by subscribing to Breaking News push notifications in the Sports and COVID-19 section.
The NBA's board of governors is expected to approve commissioner Adam Silver's recommendation to resume the 2019-20 season in Orlando in a vote scheduled for June 4, sources told ESPN's Adrian Wojnarowski and Ramona Shelburne.
A 22-team format is gaining support among the board's members, who are also considering a 20-team proposal, Wojnarowski and Shelburne report.
The recommendation lines up one of the proposals Silver and the board reportedly discussed during a Friday conference call; under that proposed format, teams within six games of a playoff berth would continue to play regular-season games, with a play-in tournament determining the final postseason field.
Six teams outside the playoff picture were within six games of a berth when the league announced a hiatus on March 11 due to COVID-19: the Portland Trail Blazers (3.5 games behind), New Orleans Pelicans (3.5), Sacramento Kings (3.5), San Antonio Spurs (four), and Phoenix Suns (six) in the Western Conference, and the Washington Wizards (5.5) in the East.
Targeting July 31 as the date for the NBA's return to action was also reportedly discussed during Friday's call.
Dr. Bonnie Henry open to special arrangement for NHL teams visiting BC | Offside – Daily Hive
After firmly stating that British Columbia wouldn't "bend the rules" for NHL teams earlier in the week, in the event that Vancouver was chosen as a hub city, Dr. Bonnie Henry has clarified things.
The BC Provincial Health Officer noted that a different arrangement could be made for visiting NHL teams, allowing them to quarantine as a group, rather than in self-isolation. Her comments echo what Alberta's top doctor said one day prior.
"We certainly have been talking about how it could be done safely in British Columbia as well," said Dr. Henry. "The bottom line is I have not seen any proposal, certainly not any written proposal from the NHL about how this could propose to be worked. So it's hard to respond to what we think they might be thinking.
"But I do see how we could potentially have small numbers of people cohort together and in self isolation, for example in a hotel and management monitoring regularly. And I know if anybody could do that, then the NHL is probably set up to do it. So I can see how we could have something like that work in British Columbia as well."
Canada's mandatory 14-day self-isolation quarantine rule is a problem for the NHL, as the league doesn't want to stunt the fitness of some its players prior to restarting their season. If a different arrangement isn't made for the NHL, Deputy Commissioner Bill Daly indicated that the league would not select a hub city in Canada. Vancouver, Edmonton, and Toronto are currently on the NHL's shortlist, along with seven cities in the United States.
NHL teams are expected to operate in a figurative bubble, with an arena, practice facility, and hotel blocked off from the public. Commissioner Gary Bettman has said the league would need an "unbelievable amount of testing" for its players, but noted that it would not want to disrupt local medical needs.
NHL Rumors: Oilers, Rangers, Sabres, Phase 3, More – The Hockey Writers
In today's NHL rumor rundown, Edmonton's Connor McDavid spoke about the process of the players voting for the 24-team play-in and how it specifically affected the Oilers. Why did the team vote for the format despite it not being in their favor?
One of the teams out as a result of that vote was the Buffalo Sabres whose season ended. Rasmus Ristolainen of the Sabres told media that he assumes he'll be traded now. And, as a member of one of the seven teams that didn't make the play-ins or the playoffs, could his trade come sooner than later? Technically, these teams can make deals starting right away.
Finally, there is news from the NHL on Phase 3 of the league's return to play plan, even though Phase 2 hasn't technically began yet.
McDavid and Nurse Comment on Oilers Vote

Despite the fact that the approved format hurts the Oilers as much as hurts any of the teams now forced to compete in a play-in game, Connor McDavid noted this is what was best for the league as a whole.
McDavid said, "Lots of guys had to make sacrifices and the Oilers were part of that. We had a good season and put ourselves in a good spot but we still got to play in the Play-In Round and that's the way it goes." Now, if the season resumes, Edmonton has to get past the Chicago Blackhawks.
Ultimately, the Oilers didn't vote based on what was best for them. He said, "It's best for the League and guys understood that."
Darnell Nurse was the Oilers' team rep in meetings and he explained that the Oilers decided by democracy vote. "There's no perfect situation here. We want to play and I think we showed that," he said. He added:
"No matter what position you're in, you got to win every series to get that ultimate goal. We could sit here, complain and hope for a different format but at the end of the day, the Return To Play Committee put together a good format. They worked hard on it and if we have to play an extra series, we're OK with that."
Related: Best & Worst Oilers of the Decade
Rangers Unsure About Kakko's Status
Larry Brooks of the New York Post notes that New York Rangers president John Davidson isn't sure what Kaapo Kakko's status will be for any games the Rangers play during the pandemic. Like Max Domi of the Montreal Canadiens, Kakko has Type 1 diabetes and that means medical staff may determined it's not safe to play.
When it comes to playing in the playoffs, Davidson said, they "will listen to science and the medical people."
Ristolainen Thinks a Trade is a Given
Rasmus Ristolainen spoke with media after confirmation the regular season closed and made a few newsworthy comments. Among them, he told John Vogl of The Athletic, he believes he'll be "one of the first ones that's probably going to get traded".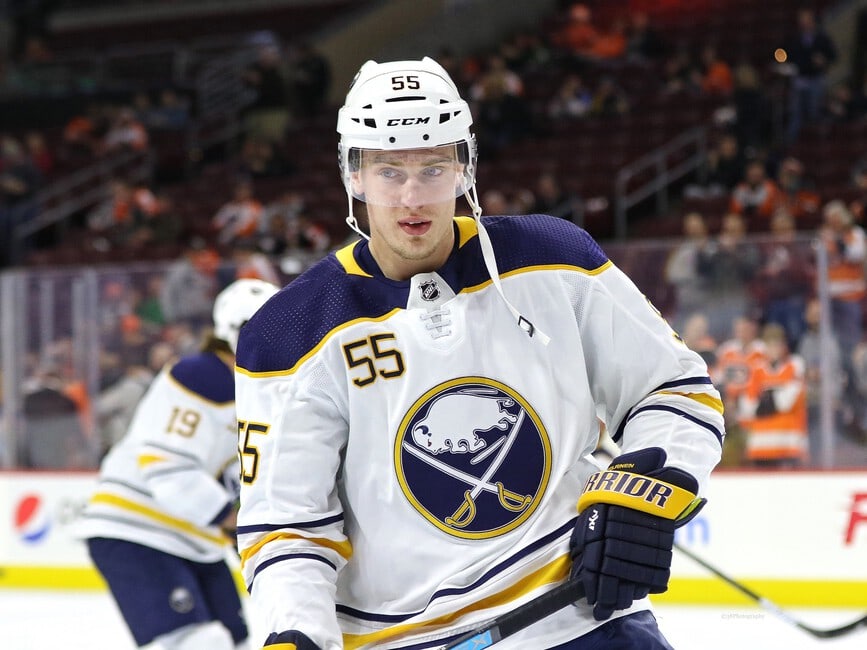 Ristolainen has been a part of trade rumors out of Buffalo for a couple of seasons but recently re-upped GM Jason Botterill referred to him as a "core player" for the organization. Obviously, there's a disconnect there.
If the Sabres do try to trade Ristolainen, some teams will be a bit leery of his advanced stats numbers but he's a strong defenseman that could do well on a team with some cap room. Risotalinen has two years remaining on his current contract which carries a $5.4 million per season.
Related: Sabres Goalie Rocky Farr Recalls Memories From Early Buffalo Teams
Phase 3 Set For July?
According to Elliotte Friedman of Sportsnet, the NHL has informed players that Phase 3 of the league's return to play plan, a three-week training camp, will not start before July 10. This estimate comes without Phase 2 actually having gotten underway yet. Phase 2 is small group workouts, but could being next week.
If mid-July is accurate for a training camp, James Mirtle of The Athletic suggests it could be October before a 2019-20 champion is crowned.
Catch up on all the latest NHL Rumors